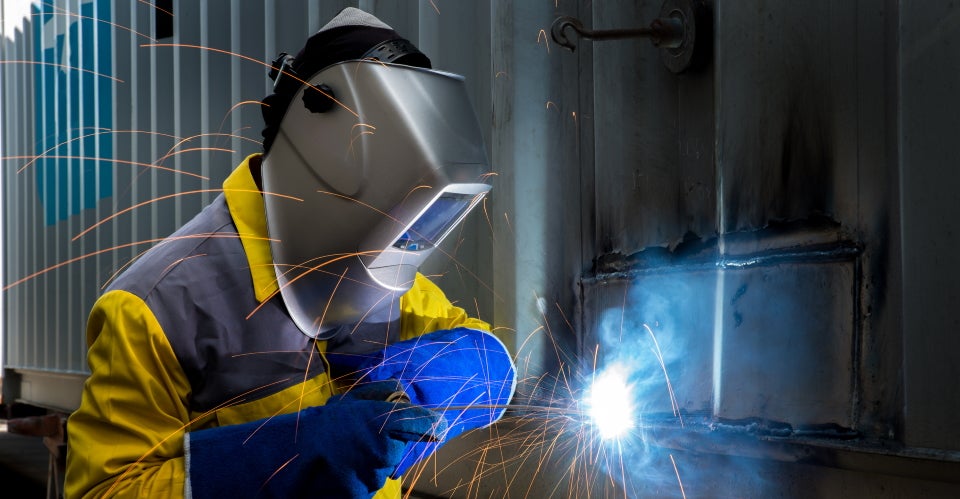 Our Editors independently research, test, and rate what we feel are the best products. We use affiliate links and may receive a small commission on purchases.
In this guide, not only will we introduce you to the 5 top-rated welding helmets, we will also explain the factors you should be considering for when buying the best welding helmet for your needs.
There is also an FAQ to help you determine the criteria to consider when selecting a helmet for welding that meets your needs and also a buyer's guide entitled, How To Choose The Best Welding Helmet For You.
Best Welding Helmets
| | Lincoln 3350 Series Electric Welding Helmet | YESWELDER LYG-M800H Large View Welding Helmet | Antra AH6-260-0000 Welding Helmet |
| --- | --- | --- | --- |
| | | | |
| | | | |
| Colors/styles: | Wide range to choose from | 6 prints to choose from | Matte black |
| Material: | Plastic | PP | Not specified |
| Features: | Industry-leading optics, comfortable and innovative X6 Headgear, 3-year hassle-free warranty | True color technology, solar-powered with lithium-ion battery, external control panel | Auto-darkening filters, fully-automated, compatible with magnifying lens |
| | | | |
Also see: Welding Helmets Comparison Table
---
Quick Answer: The Best-Rated Welding Helmets
---
Welding Helmets Reviews
Lincoln 3350 Series Electric Welding Helmet At A Glance
:
---
Colors/styles: Wide range to choose from
Material: Plastic
Features: Industry-leading optics, comfortable and innovative X6 Headgear, 3-year hassle-free warranty
Lincoln Electric's Viking 3350 Series is a top-of-the-line helmet. It is the ultimate blend of optics, versatility, and comfort.
The 4th generation of Viking 3350 Series welding helmets are available in many different colors and styles, providing professional performance as well as aesthetic appeal that stands out from the crowd.
The Lincoln sports a one-of-a-kind X6 Headgear, which contours to the head to establish 6 contact points to evenly distribute weight, eliminate pressure and provide a personalized fit for extraordinary comfort.
It also features improved battery life. The longer you can see while working, the more you can accurately weld. Improvements to the ADF circuitry enables more, higher performance from the battery.
Increase your productivity without worrying about having to stop frequently over battery life.
4C Lens Technology broadens the visible color range and hues in both light and dark states. By eliminating imperfections and color saturation, it creates the clearest view of the active base material, arc, and puddle during your work.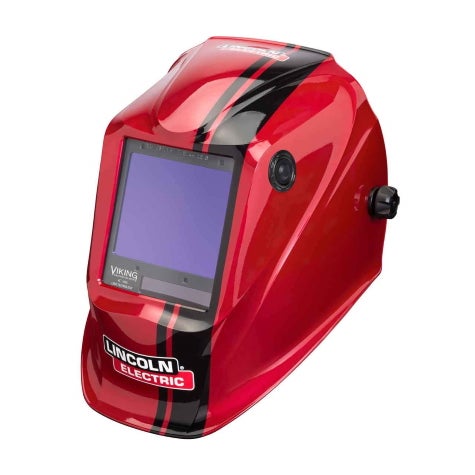 This helmet offers perfect optical clarity with a 1/1/1/1 clarity rating. This rating is determined by measuring the auto-darkening welding lens in terms of blurriness, shade consistency, distortion, and angle uniformity, and with it, you know that you're getting a great piece of protective equipment.
The quality of the auto-darkening lens is crucial, but the size of the lens is also an important feature to think about when choosing a helmet.
The Lincoln Viking 3350 welding helmet features an impressively large 12.5 square-inch viewing area, increasing versatility and operator control.
With all of these great features, it's no wonder that the Lincoln Viking 3350 is continuously seen with favorable, high ratings and feedback from welders who have chosen to purchase it.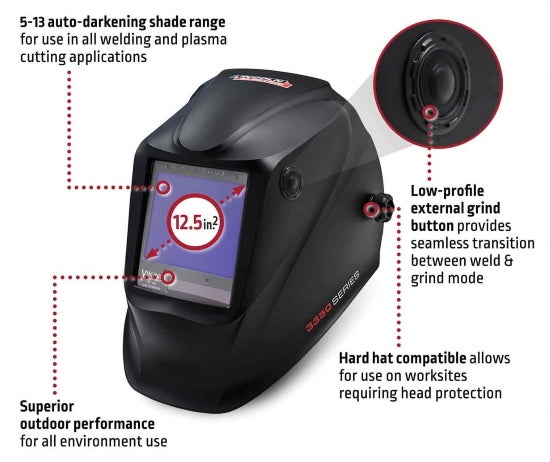 As a bonus, it comes with a 3-year, hassle-free warranty. The Lincoln welding helmet is one of the best welding helmets you can buy.
The Lincoln is the best-rated welding helmet on our list, and for good reason. However, it is also the most expensive, while the others on our list are not only some of the best in general, but are also the best welding helmet under $100.

---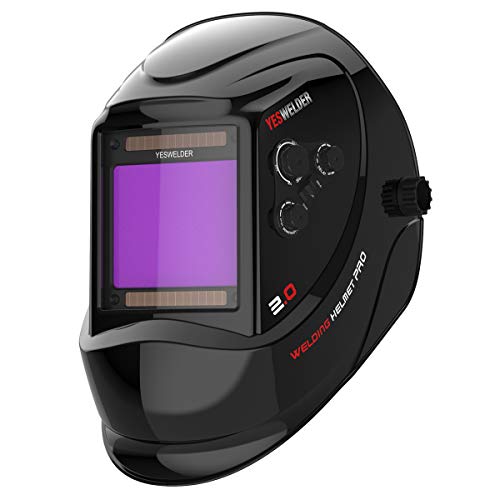 YESWELDER LYG-M800H Large View Welding Helmet At A Glance
:
---
Colors/styles: 6 prints to choose from
Material: PP
Features: True color technology, solar-powered with lithium-ion battery, external control panel
The YESWELDER LYG-M800H welding helmet is a fantastic choice for the welders that needs something affordable to protect their faces. Similar to others on this list, the LYG-M800H has lithium-ion batteries that are backed up by a solar power panel.
With the true-color view and an impressive 1/1/1/2 optical clarity rating, you may already be able to tell that the low cost of this helmet doesn't mean low quality or incapable of fulfilling your welding safety needs.
With a 1/10000 seconds response time on darkening or brightening the screen, you might be expecting a smaller viewing area. But the LYG-M800H boasts a massive 14-square-inch viewport.
With such a large viewing area, operator control is exponentially improved and allows you a full range of vision within the welding area.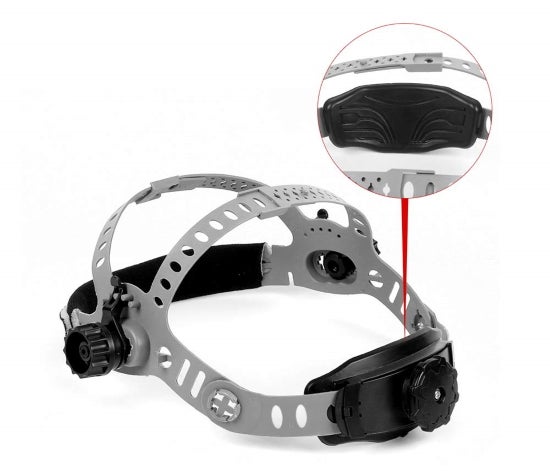 This is a welding helmet that's considered to be a budget helmet, but it gets the job done that it was created for, and for a fraction of the price of some other welding helmets, such as the Jackson welding helmet.

---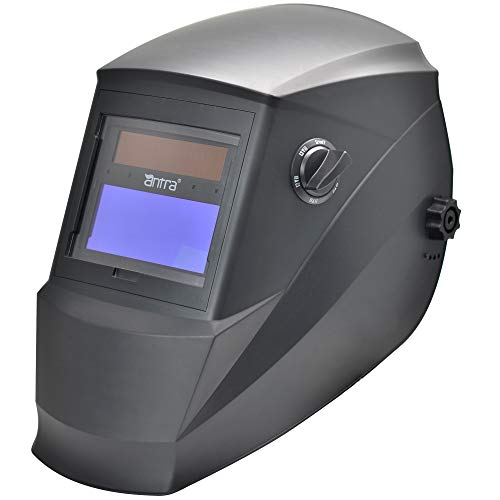 Antra AH6-260-0000 Welding Helmet At A Glance
:
---
Colors/styles: Matte black
Material: Not specified
Features: Auto-darkening filters, fully-automated, compatible with magnifying lens
The Antra AH6-260-0000 Welding Helmet is one you should consider if you want a highly durable, comfortable, and safe helmet no matter what skill level you have as a welder, or what jobs you need to perform.
Don't let its low price fool you into thinking this helmet isn't an impressive piece of equipment.
The main reason why anyone wears a welding helmet is to protect their eyes from the glare of the arc and the splash of the metal.
This helmet has four built-in sensors that enable auto-darkening, giving you ample protection from UV rays and burns from sparks as well as from any splashback from your current project.
It also features solar power assist. This enables you to run on solar energy if your replaceable lithium batteries run out of power, allowing you to resume welding without any hassle.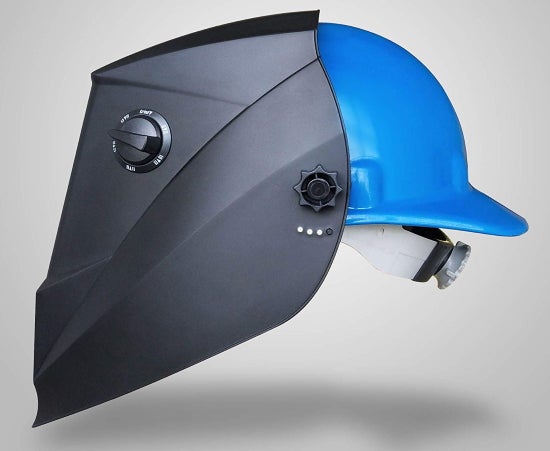 No matter what type of welding you will be performing, you can rely on this helmet to provide you comfort and protection. Its versatility in performing these tasks is as remarkable as the effective protection.
The Antra AH6-260-0000 Welding Helmet is a tool that you can use whether you are a novice or professional welder. It's absolutely the best welding helmet for the money, made with durable, reliable material and the impressive features overall.

---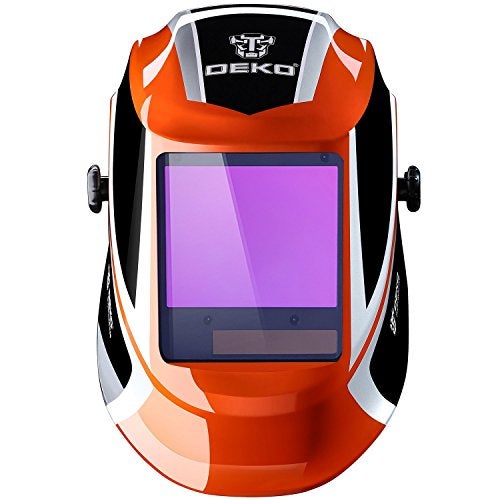 DEKOPRO Welding Helmet At A Glance
:
---
Colors/styles: Black, Blue Eagle, DK Round Black, DK Orange/Black
Material: PP
Features: Optimal eye protection, extended battery life, suitable for any type of welding
DEKOPRO's solar-powered helmet features certified optimal eye protection that is suitable for any type of welding. It is designed with an impressively-sensitive auto-shade that goes from light to dark if there is any welding arc.
With its 7-square-inches and crystal clear view, your welding experience will be undeniably fantastic. You will also be able to see from different angles, as the DEKOPRO has an angular view capability.
This welding helmet has an built-in, intelligently practical auto-darkening feature. This means that it can quickly protect the user from instant light or rays.
It also comes fitted with a solar panel that can be used to charge its long-lasting batteries which have a lifespan of approximately 5,000 hours.
Going a step further, this helmet has a manual adjustment with a high sensitivity and custom delay settings. This makes it ideal for different working environments and dependant on your needs.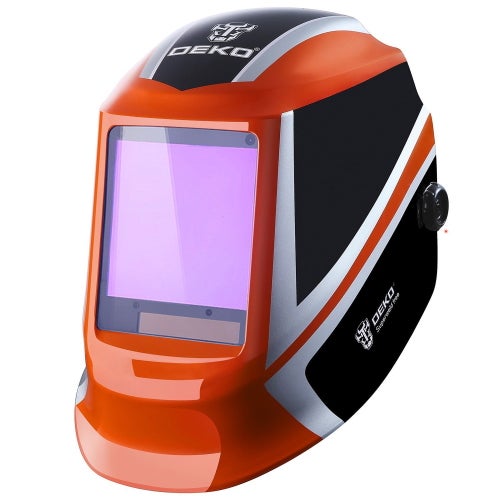 This helmet can be solar- or battery-powered, offering maximum hours of active operation. More importantly, it is designed to handle any working environment or operating conditions, including but hardly limited to cutting and grinding. It is a great recommendation for both beginners and professional welders.
Due to the lightweight construction, this helmet offers fatigue-free working conditions. It also comes equipped with a sensitivity adjustment and delay adjustment.
The welder can easily control these adjustments and tweak them according to their current needs and preferences.
If you are looking for the best value welding helmet, then the DEKOPRO Solar Powered Auto Darkening welding helmet should be included in your list without a doubt.
It is a great option when it comes to affordability and clarity considering other, more expensive options on the market.

---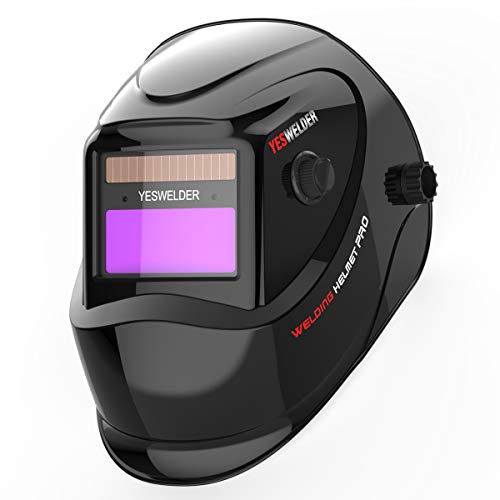 YESWELDER LYG-L500A Auto Darkening Welding Helmet At A Glance
:
---
Colors/styles: Black, Flame, Black/Blue/Pink
Material: PP
Features: Premium sensors, true color view with optical clarity, increased battery life
This is another impressive YESWELDER welding helmet that had to make our list here. This helmet is fantastic for TIG, MIG, MMA, and plasma applications and additionally is great for grinding.
This helmet also comes with the featured true color technology that YESWELDER is known for. It improves visibility and reduces eye strain.
The technology accomplishes this by minimizing the traditionally-seen lime green coloring within the helmet view screen.
The true color technology element preserves the existing 1/1/1/2 optical clarity rating in a wide-screen view. This allows you to see infinitely better and on a wider scope than other traditional welding helmets, and improves overall operator control.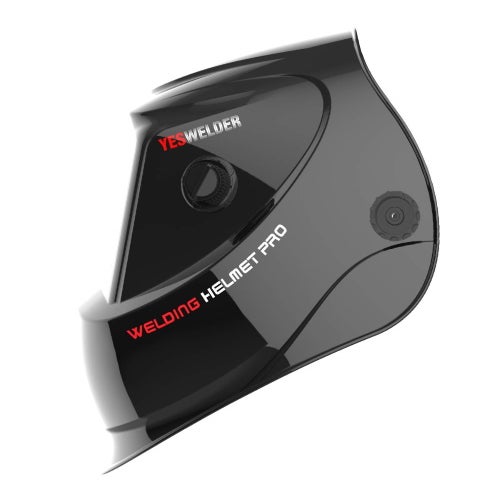 The comfortable headgear is enhanced with an oversized comfort cushion, which provides extensive adjustability, settings, and improved support for a better fit and impressive comfort.
What this means is that you can work longer without worrying about fatigue.
Costing less than $50 through Amazon, this is undeniably a cheap welding helmet. But the low-budget cost is not indicative of the quality, as this helmet has similar qualities to the Miller welding helmet for a much lower price point.

---
Welding Helmets Comparison Table
| Welding Helmets | | Colors/styles | Material | Features |
| --- | --- | --- | --- | --- |
| Lincoln 3350 Series Electric Welding Helmet | | Wide range to choose from | Plastic | Industry-leading optics, comfortable and innovative X6 Headgear, 3-year hassle-free warranty |
| YESWELDER LYG-M800H Large View Welding Helmet | | 6 prints to choose from | PP | True color technology, solar-powered with lithium-ion battery, external control panel |
| Antra AH6-260-0000 Welding Helmet | | Matte black | Not specified | Auto-darkening filters, fully-automated, compatible with magnifying lens |
| DEKOPRO Welding Helmet | | Black, Blue Eagle, DK Round Black, DK Orange/Black | PP | Optimal eye protection, extended battery life, suitable for any type of welding |
| YESWELDER LYG-L500A Auto Darkening Welding Helmet | | Black, Flame, Black/Blue/Pink | PP | Premium sensors, true color view with optical clarity, increased battery life |
---
Choosing the Best Welding Helmet For You
A good, quality welding helmet does not necessarily have to be expensive, and should provide protection in different ways, some more obvious than others.
Trying to weld without a proper protective helmet would be arguably foolish since welding creates specific hazards that other forms of protective gear cannot even hope to address properly.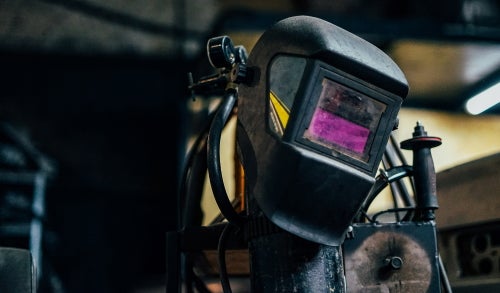 Safety goggles are not a safe alternative to a full and proper welding helmet, as a pair of goggles will not protect your face or neck from hot shrapnel, and more than that, typical sunglasses lenses do not darken enough to protect your vision.
A full-face welding helmet will address the following safety and comfort issues:
Skin protection
Welding often creates a shower of hot debris by design no matter how careful you may be.
Small bits of welding flux can very easily burn your skin or penetrate an eye, so the better your protection, the safer you are from unpleasant burns and potentially permanent wounds.
Eye protection
The lens of a welding helmet is designed to protect your eyes from the intense UV or blue light of an arc.
Without darkening lenses, welders would suffer serious, possibly irreversible retinal exposure and damage from constantly being exposed to a light source that is, quite literally, as bright as the sun.
Fatigue reduction
Painful neuromuscular conditions plagued welders in the past, routinely causing suffering that was primarily triggered by the use of heavy welding helmets.
Today, manufacturers design lighter models that still allow users to tilt their heads down to lower the mask into position, but the masks can now be worn comfortably for longer periods.
Features to consider when buying a welding helmet
Equipped with the knowledge of what kind of protection you will need, and after viewing our top five recommended helmets, you need to know the specifics of some of the main features to consider.
These are essential features that every welding helmet needs to have for maximum protection, ease of use and comfort.
Auto-darkening lens
Most modern welding lenses include a coating that prevents both UV and IR rays. Shaded or auto-darkening lenses are usually rated to allow the user to safely see the material they are working on and with.
Make sure you look for passive lenses since they are available in 10 gradual shades and are typically of better quality.
Weight
Ideally, the helmet will be lightweight since you will be wearing it for long periods while working under intense conditions. The more lightweight, the more the helmet will feel comfortable without weighing you down and causing unnecessary fatigue. Most of the welding helmets on the list are made of lightweight, durable materials for prolonged use.
Switching speed
The time that it takes the lens to change from light to dark depending on the job is referred to as the switching speed of the helmet. When a lens switches faster, it reduces eye strain, which allows you to work for longer periods. The higher the switching speed, the more improved your productivity will be.
Arc sensors
Arc sensors are a non-debatable, crucial feature in welding helmets. The sensors provide fast, excellent response to trigger the auto-shading. They are reliable and are a necessary feature in every welding helmet.
Power supply
Many welding helmets come with replaceable lithium-ion batteries, which typically have a longer battery life. However, these batteries are usually expensive to replace. You can also choose from helmets with solar power batteries or solar-powered backup.
Safety standards
Safety is important, and there are standards. Make sure that you choose a welding helmet that meets various safety standards. Helmets in the USA must meet at least the ANSIZ87.1 safety standards.
Warranty and price
You should also be sure to check that the helmet comes at a great price that matches the features. Don't overpay for something that doesn't meet your needs, and don't go with a cheap option for something that you will barely scrape by with. You should also be aware of whether the helmet comes with a warranty of at least one-year for confidence and insurance.
Welding Helmets FAQ
What types of welding helmets are there?
Passive Welding Helmets
The passive welding helmet is the most basic type of welding helmet. It is not considered to be a modernized helmet, nor does it feature any of the more impressive features that can be found in more up-to-date models, but it remains effective.
Very affordable, the passive welding helmets are made of durable, tough protective materials and protect its wearer from UV rays, extreme heat, and flying objects.
Auto-Darkening Welding Helmets
The passive welding helmet satisfies basic protective needs but has to have the lens manually adjusted consistently throughout use. Auto-darkening welding helmets boast automatic adjustments to the lens as their main feature.
The automated helmet detects the light that is emitted from your arc during the welding process, and will automatically adjust the shade of the lens according to the needs it detects. It is effectively used to increase productivity.
Solar-Powered Lens Helmets
Using solar-powered helmets tends to be more economical for most users. This is because some auto-darkening helmets use a fixed battery that cannot be replaced, and if they can, replacement batteries are usually expensive.
The downside to solar-powered or solar-backed helmets is the user has to remember to place the helmet in the sun the day before a project is due to begin, for the panel to collect a charge.
Battery-Powered Helmets
Battery-powered helmets use a rechargeable or replaceable battery, commonly made of Lithium. They are consistently a good option for infrequent but long tasks.
Helmets with only battery-powered operation are a little costly to maintain because of the cost of replacing the batteries. However, users do not have to worry about charging their helmet in the sun the day before being able to use it, so it boils down to preference between the two power options.
Fixed-Shade Lens Welding Helmets
Fixed-shade helmets are exactly as the name implies. They come, usually, with a conventional shade level of 10. If you plan on only working on one type of project that uses one material, this helmet is ideal, as there would be no reason to adjust the lens in that situation.
Variable-Shade Lens Welding Helmets
Unlike the fixed-shade option, the variable-shade helmet has a feature that allows the lens to adapt to various intensities of light or brightness during welding. It adjusts the darkness that the lens provides, increasing the welder's field of visibility immensely.
What is the best type of welding helmet?
Opinions vary on what the best type of welding helmet is, just as the jobs they pertain to vary. Your choice of welding helmet needs to be based on a combination of factors such as safety standards, the environment you work in, your budget, the tasks you need to perform, the materials you will work with, and also your personal preferences.
Should you talk to your boss before buying your first welding helmet?
Speaking with your employer, contractor, or even a coworker with more experience would be a fantastic idea before investing in a new welding helmet. Certain companies also have strict requirements when it comes to shade levels, fixed or auto-darkening capacity, and weight.
Keep in mind that it is important to make sure any helmet you decide on meets ANSI safety standards.
Why is lens reaction speed so important?
From the best-rated welding helmets to the most entry-level helmets, the lens reaction time is faster than the blink of an eye. That considered, the amount of time between the first burst of intense light and the darkening of the lens can make all the difference in the long run.
Professional welders tend to work for hours at a time, and each unnecessary millisecond of unprotected flash does have possibly lasting effects on the user's eyes, ranging from temporary or mild to severe and permanent.
Why do the welding helmets you've checked out feel lightweight?
With other pieces of safety equipment, such as steel-toed work shoes or leather work gloves, feeling the weight of the product can be a good thing, instilling a sense of security and safety. But, even with all the things a welding helmet helps to protect, a welding helmet needs to be as light as possible to provide comfort as well as protection to the wearer.
Heavier headgear eventually will cause muscle fatigue. The facial visor that contains the auto-darkening and light sensitivity controls ought to be the heaviest part of a welding mask. Do not let the relative thinness or lightweight feel of the material in your helmet be a dealbreaker.
How much will a welding helmet cost?
You can easily find a safe, durable welding helmet for approximately $100, or a bit more. In this price range, you want to be sure to carefully check and confirm that the helmet meets all ANSI protection standards and that the helmet meets any of the minimum requirements set for your worksite.
More expensive helmets are available in the $200 to $600 range. These will offer higher quality features such as larger viewing windows, more light sensors geared to reducing lens reaction time, and more highly-adjustable headbands.
More expensive models will also sometimes provide a wider range of shade levels, and some may even have impact protection.
Welding Helmets – Buyer's Tips
Our list makes amazing recommendations, but that doesn't mean you have to just take our word for which helmets would be the best fit for you.
There are hundreds of great options as far as welding helmets are concerned, and we encourage you to conduct your own research and see what helmet would fit your needs perfectly.
With such a wide price range for different qualities of product, you want to figure out your budget for your new welding helmet ahead of time and set it aside.
Make sure you can check off all of your needs before committing to a particular helmet because making the wrong purchase could be catastrophic to not only your wallet, but the job needing to be completed as well.
As always, be sure to look into reviews, not just for the welding helmet you're looking at, but for the company's customer service team and the warranty they might offer for the product.
Ideally, your helmet will arrive to you in perfect condition and work as intended, but things happen and you need to be sure you and your purchase are protected.
How We Researched
To come up with the top welding helmets, we researched a variety of sources for reviews such as Home Depot, Lowes, Target and AcmeTools along with our own personal experience.
We also consulted online magazines for product research and reviews to get as much unbiased information as we could. To help weed out fake reviews we used Fakespot.com to make sure we only looked at genuine reviews.
With so much quality gear available, we had to narrow it down based on what we felt were the best options were for the price. The staff authors have a wide and varied background in yard maintenance and home repairs.
The authors have decades of experience and are eager to share their knowledge with readers.
To help narrow down the selection we used personal experiences along with recommendations from landscapers, bloggers and contractors.
After extensive research, we came up with our list to help you choose the right one for you.
Sources
Notice:
OutsidePursuits.com is a participant in the Amazon Services LLC Associates Program, an affiliate advertising program. OutsidePursuits.com earns fees from products sold through qualifying purchases by linking to Amazon.com. Amazon offers a commission on products sold through their affiliate links.