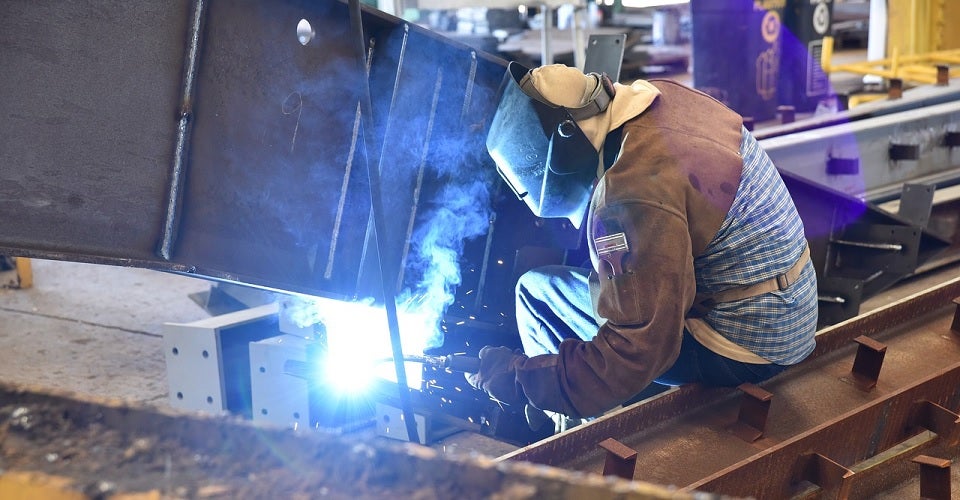 Our Editors independently research, test, and rate what we feel are the best products. We use affiliate links and may receive a small commission on purchases.
Welding and most hard labor or manual jobs can cause a lot of unnecessary injuries, easily solved by wearing the proper protective equipment.
One of the pieces of protective gear you should wear, but that is often overlooked, is proper safety boots. Ordinary boots don't offer the same safety.
The most important things to consider when buying work boots for welding are durability, safety, and comfort.
Here, we have compiled a list of our top picks for welding boots that meet all of these important factors.
After that, you can see how to choose the best boots for your needs, and check out our frequently asked questions about welding boots.
Best Welding Boots
| | Caterpillar Second Shift Steel Toe Work Boot | AdTec Work Boots Steel Toe Logger | Timberland PRO Powerwelt Wellington Boot |
| --- | --- | --- | --- |
| | | | |
| | | | |
| Uppers: | 100% Full-Grain Leather | 100% Premium Crazy Horse Leather | 100% Full-Grain Leather |
| Sole: | Rubber | Rubber | Rubber |
| Steel Toe: | Yes | Yes | Yes |
| Closure: | Lace-up | Lace-up | Pull-on |
| | | | |
For more of my welding gear recommendations, have a look through these popular Outside Pursuits guide links: Welding Gloves, Welding Jackets, Welding Helmets.
Quick Answer: The 7 Best Rated Welding Boots For 2021
Our reviews of the top rated welding boots along with a comparison table and buyers guide will help you choose the right pair of boots.
---
Welding Boot Reviews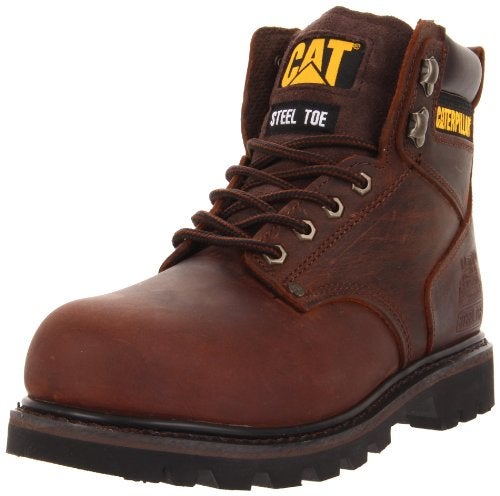 Caterpillar Men's Second Shift Steel Toe Work Boot At A Glance
:
---
Uppers: 100% full-grain or nubuck leather
Sole: Rubber
Steel Toe: Yes
Type: Lace-up
One of the most highly-regarded boots on the market today are Caterpillar Men's Second Shift Steel Toe Work Boots.
Manufactured and produced by a trustworthy and well-known brand, you can count on these boots to protect your feet during even the toughest of jobs.
These boots come built with a variety of features and perks along with having an attractive, rugged detailing that makes them not only functional but stylish.
They have a reliable tread, which will help reduce the risks of slipping. Steel shanks add even more stability, and oil-resistant traction aids in that, making it much more difficult for you to have any accidental slips in any oil you might be working near.
The boots are also decently heavy, which helps to keep you grounded and is a testament to their durability, but may equate to a longer break-in period.
The Caterpillar boots also boast water-resistant features and offer electrical hazard protection for up to 600 volts in dry conditions.
With a removable PU sock liner, a Climasphere insole, and Goodyear welt construction for flexibility, Caterpillar had made not only an attractive and functional boot but also one that has a notable focus on the wearer's comfort.
The ankle support of this model is also of an impressive, high quality, and once the boots have been broken in, they are arguably the most comfortable work boot out there. These boots are great and intended for: welding, construction, HVAC, plumbing, manufacturing, and automotive work.
However, they are not recommended for cold weather conditions or wet conditions. They are water-resistant, not waterproof; you can use a waterproofing oil or other product if you would like, though.
As one of the top-rated, top-selling work boots, with impressive support, comfort, and protection, these boots had to make our list.

---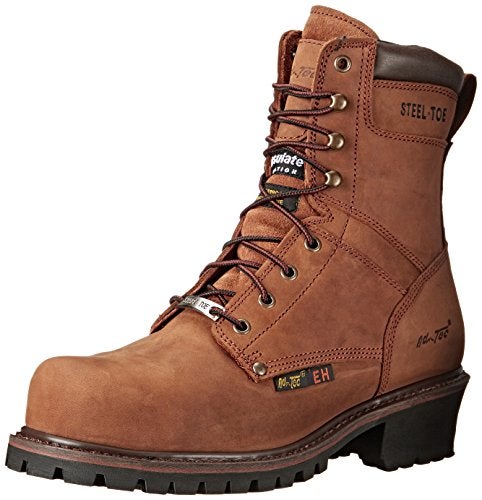 AdTec Men's Work Boots Steel Toe Logger At A Glance
:
---
Uppers: 100% premium crazy horse leather
Sole: Rubber
Steel toe: Yes
Type: Lace-up
AdTec is known for producing quality, and their Logger work boots are no different, especially when you consider their 9-inch Super Logger.
Made from 100% premium crazy horse leather, which is a type of saddle leather made by applying a special wax that enhances the fibers to a full-grain leather that has already been smoothed out.
These boots feature tough steel shanked and an oil-resistant rubber sole, for extra stability and to make sure that your feet stay planted where you want or need them.
Goodyear welt construction adds to the flexibility, comfort, and durability of these boots. As sturdy and durable as these boots are, they remain stylish, attractive, and comfortable.
As a testament to their quality, over an estimated 90% of men that have purchased these boots have said in surveys that they loved it and would purchase them again because of the quality and reliability along with being easy to break in but relatively comfortable from the beginning.
The AdTec Super Logger is a boot you should consider if you are looking to get any welding done or do any heavy manual labor.

---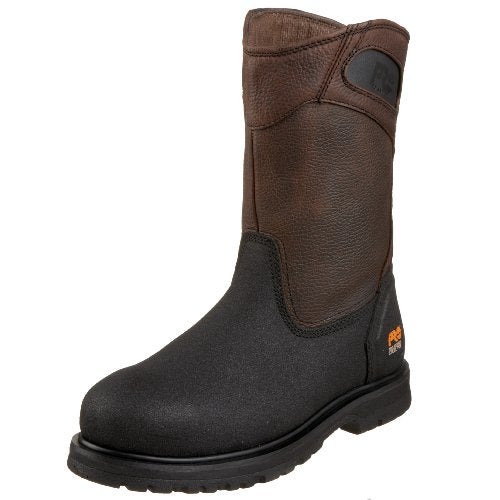 Timberland PRO Men's Powerwelt Wellington Boot At A Glance
:
---
Uppers: Premium, full-grain leather
Sole: Rubber
Steel toe: Yes
Type: Pull-on
Having a pair of Timberland PRO Powerwelt Wellington Boots is arguably one of the best investments into a protective footwear that you might make.
Ranking in high as one of the best quality, high-performance boots on the market, Timberland has made a name for themselves and have produced some of the most iconic boots out there.
The Powerwelt line in particular is built to last, and as a design is here to stay for years to come.
Crafted with premium, full-grain and Everguard leather, and using Goodyear welt construction, these boots are not only sturdy, but are also comfortable and flexible.
The materials combined with the method of construction enhance breathability inside the boots and prevent foot fatigue.
The high breathability also allows proper ventilation, which cuts down on any unwanted foot odor. It's a nice perk to have, especially if you spend an extensive amount of time in your boots.
These boots are slip-resistant and offer excellent grip in even the most slippery environments. The bottom sole has a tread design that helps maintain proper balance in even rough or uneven surfaces and environments, and even keep you upright in slushy areas.
Timberland has designed and manufactured a boot that has all of these features, but is still lightweight enough to not cause fatigue.
The Powerwelt Wellingtons are also abrasion-resistant, and ten times more resistant to abrasion than regular boots are, so there is no worry of anything wearing or tearing through your boots.
They are also relatively inexpensive and come with a 30-day comfort guarantee, so if you don't love them you can always return them to the vendor or manufacturer themselves.

---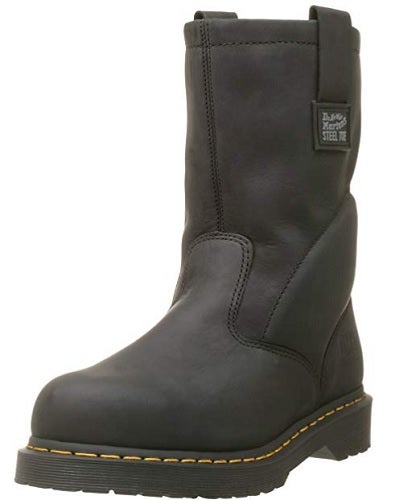 Dr. Martens Men's Icon Steel Toe Boot At A Glance
:
---
Uppers: 100% full-grain leather
Sole: Air-cushioned, synthetic rubber
Steel toe: Yes
Type: Pull-on
Dr. Martens has always made fantastic footwear, and these industrial-strength steel toe boots are no different.
Made of 100% high-quality leather and with a synthetic, air-cushioned rubber and PVC sole, you will get your money's worth out of these work boots.
The sole provides excellent traction and stability on nearly any surface, and as a bonus, they are incredibly slip-resistant.
Dr. Martens makes sure to provide you with the highest quality possible, and as a result, they only use ANSI-rated protective steel in their protective steel toe boots.
Also, the design of the boots is crafted in such a way that ensures they feel comfortable throughout all-day use and wear.
The sturdy, robust leather offers guaranteed longevity and durability, meaning even the toughest jobs will be a breeze to work through. They are both ANSI and OSHA approved, as well.
While the functionality is something to rave about for obvious reasons, the boots are also sleek aesthetically and, with the pull-on design, are not a hassle to put on before every job. It eliminates the need to deal with laces.
These boots were designed for functionality, comfort, and convenience, and should be heavily considered during your hunt for quality protective boots.

---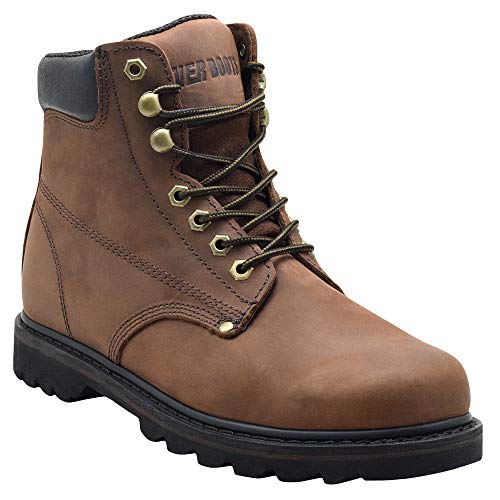 EVER BOOTS Tank Soft Toe Leather Insulated Work Boots At A Glance
:
---
Uppers: 100% full-grain leather
Sole: Rubber
Steel toe: No
Type: Lace-up with quick hooks
The EVER BOOTS leather insulated boots have excellent quality for the price, considering everything from the rubber soles to the quick hooks.
When doing heavy,hazardous work, one of the most important things is a good, high-quality work boot or safety shoes, and these boots meet that standard with flying colors.
Made with high-quality leather and utilizing the Goodyear welt construction method, these soft toe boots were made with durability in mind.
They were designed with new technology, guaranteeing comfort and stability.
The boots are insulated with full-grain leather, so not only are they attractive on the outside, but they are consistent in their use of materials and quality to the inside of the boot.
With non-slip, rubber soles, you will be virtually unable to slip or fall in these boots. The sole stays stuck to the platform of the boot, and grips surfaces well, so you can work efficiently without worry that the sole will detach from your boot or slide loose under your footing.
In addition to the steadfastness of the soles, the bow of the boots is supported by a steel shaft. What the steel bow does is supports the wearer while they ascend or descend ladders, stairs, or any other elevated surface.
The unique thing about these boots is the quick hook the manufacturer built into them. Even being lace-up boots, the quick hooks make it easy to both remove the boots as well as put them on. In instances where time is crucial, this feature is a game-breaking advantage to have.
If all of that wasn't enough, the boots come with a three-month manufacturer warranty.
You can purchase these boots with peace of mind that if anything happens or you happen to be dissatisfied within those three months, EVER BOOTS will do everything in their power to make the situation right.

---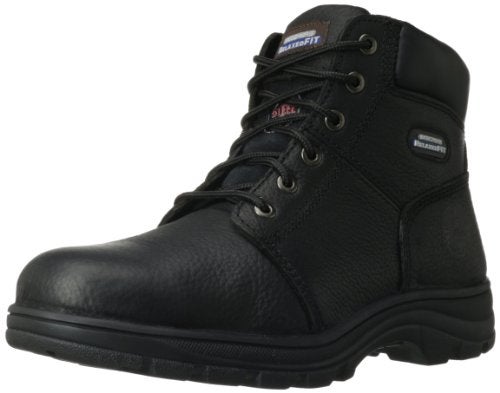 Skechers for Work Men's Workshire Steel Toe Boot At A Glance
:
---
Uppers: 100% leather
Sole: Rubber
Steel toe: Yes
Type: Lace-up
When you think of Skechers, you tend to think of the ever-popular sneaker.
But, Skechers makes boots too, and they are just as great, if not more so than the sneakers you might be used to seeing from them. The Workshire boot is exemplary and made it on our list for a multitude of reasons.
Sketchers does not play around when it comes to safety. The Workshire steel toe boot has been independently tested and certified to not only meet, but also exceed, the Authority ASTM F2413-2011, 1/75 C/75 standards for impact and compression.
Sketchers Workshire boots go above and beyond to protect your toes from any heavy impacts such as crushing weight or excessive force, so you can work and move freely knowing that your toes are well-guarded.
Similarly, Skechers had been sure to also have their Workshires tested and certified to meet electrical hazard requirements. These boots were designed to provide an extra, secondary level of protection from accidental contact with electrical currents.
The rubber sole not only resists electrical discharge but is also oil-resistant and provides high traction. You will not be accidentally shocked or slip on any oily surfaces with these boots.
Not only were they built for safety, but comfort as well. The boots have a unique shock-absorbing midsole, which provides additional arch support and prevents fatigue.
A cushioned, fabric insole and soft fabric lining add another layer of comfort entirely and keeps your feet dry as it wicks away and absorbs moisture.
With all of these features and the overall style of the boot, Skechers has once again proven why they are an award-winning leader in the footwear industry.

---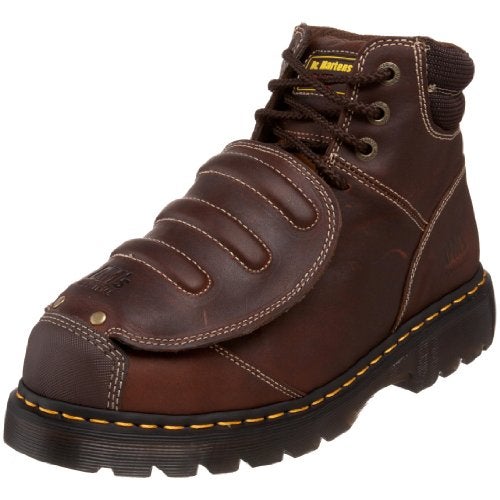 Dr. Martens Men's Ironbridge MG ST Steel-Toe Met Guard Boot At A Glance
:
---
Uppers: 100% full-grain leather
Sole: Synthetic
Steel toe: Yes
Type: Lace-up with metatarsal guard
Dr. Martens is on this list again, this time with their impressive Ironbridge MG ST boot.
While these are a bit on the heavier side, they otherwise remain comfortable and maintain the high-quality you have come to love and expect from the Dr. Martens brand.
You should also note that, like all Dr. Martens footwear, the Ironbridge comes with a lifetime warranty. When talking about heavy-duty work boots, this is great news!
The Ironbridge has a synthetic rubber and PVC sole, air-cushioned to provide extra comfort and durability. They are non-slip and oil-resistant, so you will have no worries about sliding around out of place while trying to get your work done.
Dr. Martens Ironbridge boots are tested to protect against electrical hazards, which is essential when you are welding or otherwise working with electrical currents. They do come with additional insoles, and the Smartmask insoles are removable.
The Ironbridge boots have impressive ankle support, so even if you do decide to remove the Smartmask insole, you will still be comfortable with plenty of stability and support.
These boots are not only slip-resistant and oil-resistant, but they resist other chemicals and elements as well. They are water-resistant and resistant to fats, petrol, and alkali.
They are constructed with 100% full-grain leather, and the padded collar also has a leather ballistic mesh, to keep your feet protected all around.
The unique feature of these boots is undoubtedly the metatarsal guard. Not only does the guard provide an extra layer of protection for your foot with its thick, durable leather, but it also does something most people overlook.
It protects the laces of the boots, which means no accidental untying and no loose laces to trip over.
Primarily the focus of the metatarsal guard is the added protection for a sensitive area of the foot, but it is unwise to overlook something like a loose, broken, or frayed shoelace under even non-hazardous situations.

---
Welding Boots Comparison Table
How To Choose the Best Welding Boots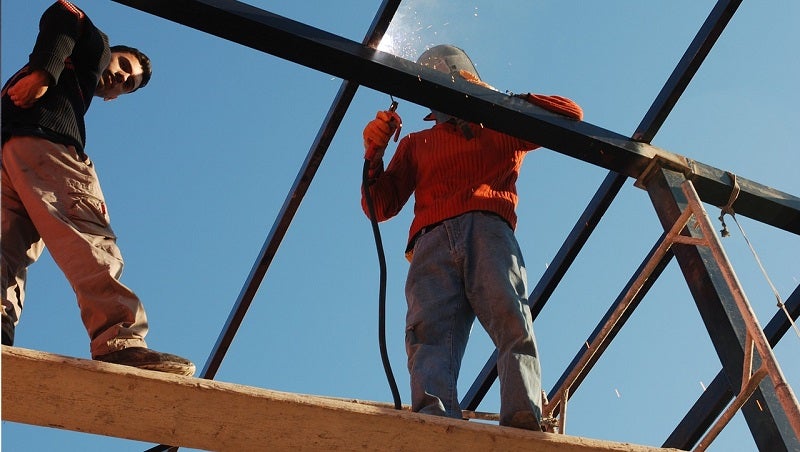 As with any personal protective equipment, you should consider a lot when deciding what protective footwear you need to purchase. Finding the right boots to weld or work in is incredibly important for both safety and comfort during difficult or strenuous jobs. Here are a few things to keep in mind.
Know What Kind of Work Boot You Need
The first step you should take before shopping for work boots is knowing what kind of boot you need. The type of boot you need will vary with the type of work you plan on doing.
Many boots can be used for a multitude of purposes, but decisions like material and soft or steel toe needs to be attributed to use with a primary job. Know what features you will need in your boot, such as weatherproofing or oil resistance before you begin the process of buying a boot.
Choose the Right Material
Leather is the best material in a general sense for work boots, as it naturally rejects sweat and even water in some instances. Leather also molds to the wearer's foot and function. There are different kinds and combinations of leather that you should be aware of during your search.
Side Leather: The most common and versatile leather used when manufacturing work boots. Typically, the hides are split down the back into two sides, which is where the name comes from.
Calfskin: This is leather that comes from young cows or calves. It is soft and pliable, while still being able to withstand hard wear during laborious work conditions.
Kidskin: The leather made from goatskin is lightweight, but still resilient.
Exotic Leathers: Leather made from reptiles or birds is considered exotic. This includes ostrich, alligator, and snakeskin.
Pigskin: The skin of hogs or pigs is usually brushed or sueded leather or used for boot lining.
Nubuck: Nubuck leather is created by buffing the outer surface of leather until it is fine.
Patent Leather: This is leather treated with a film or urethane resin so that the final product has a high gloss.
Suede Leather: Suede can start as any leather, particularly pig or goat, and is buffed from the underside.
Make Sure the Sole Meets Your Needs
One of the most important things in a good work boot is the external sole. Material of the sole as well as the design of the sole itself is crucial and can determine how well your boot or shoe will grip the surfaces you intend on working on.
Materials
PVC: PVC is a thermoplastic material that lends itself to incredible durability. It is recommended as an abrasion-resistant sole, increasing longevity.
Pu Mono Density: Polyurethane (PU) has a low weight and is good for comfort. With good grip and slip resistance, it is recommended for chemicals and hydrocarbons, but not strong acids.
PU/PU: This is a double density of the mono-PU models. It can resist extreme hot or cold temperatures, is antistatic, is great for impact absorption, and has good slip resistance.
PU/TPU: Thermoplastic polyurethane (TPU) is sturdy, flexible, and resists abrasion. It is manufactured for fantastic slip resistance and flexibility with rubber.
Mono Density Rubber: Rubber soles can withstand extreme temperatures in both freezing to boiling temperatures, and are incredibly durable, being resistant to penetration, petrol, oils, and numerous chemicals. They are the best for slip resistance.
PU/Rubber: Typically seen as an injection-molded outsole, where the rubber is injected with the PU. Recommended use includes hot surfaces, chemicals, and acids.
EVA/Rubber: Ethylene-vinyl acetate (EVA) is an insulating foam that will not absorb water. It is mostly recommended for contact with hot surfaces, chemicals, and acids.
The design of the tread should also be a factor in your decision-making process. Enclosed tread patterns trap liquid, which forces a barrier between the surface you're standing on and the shoes itself. This is something you want to avoid with work boots.
You want to look for a shape that creates a sort of tunnel, where any liquids can be properly dispersed and released through. A circle-grip outsole if the best option, since there is no flat edge for liquids to get trapped behind. It also allows more of the sole to come in contact with a surface, increasing overall grip.
Be sure to also monitor the depth of the tread of your boot. The depth will wear over time with the frequency of use as well as duration. Since tread depth helps with surface grip and protection, when it begins to wear thin the boot should be replaced.
Choose a Boot That Fits Your Foot
Safety and picking the right footwear for the job is important, and the only secondary factor to those should be the fit of the boot. You cannot reasonably expect to work, potentially for long periods, in uncomfortable footwear.
But the fit is not just about comfort level, it is also about the length, width, and even the weight of the boot. The laces should be tight but not restrictive or painful, and the boots should flex at the ball of your foot rather than the arch, where they need to be more stiff to provide proper support.
Another thing to keep in mind is the socks you will be wearing when wearing the boots. Some socks, especially work socks or orthopedic socks, can be thicker than others, and this may distort the fit of the boot while being worn if you don't account for it when you make your purchase.
Check the Safety Features
To choose the right boot for you, you need to not only know what features you need for the job, you need to know what features each boot comes equipped with. Knowing what you need relates not only to the job itself, but to the environment of the worksite.
Is it indoors or outside? You could need weatherproof or water-resistant boots depending on the answer, whereas you may not need them if certain conditions are not present. It isn't possible to account for every single possibility, but you can certainly be prepared within reason.
Make Sure the Boot has Support
Support can make or break not only a boot's quality but also your quality of work. Arch support during long hours of labor-intensive work is truly a blessing, and thankfully it is a growing trend in footwear manufacturing to offer arch support as a feature.
However, not all footwear is created equal, so always be sure that the boots you are interested in purchasing come with it. If not, there are supportive insoles that you can purchase to fit in your boot, but be aware that this will subsequently tighten the fit of the boot in other areas.
Make sure that the insoles are comfortable, provide proper support, and fit your boot as well as your foot. If it slips and slides around, it isn't going to offer the support and comfort it is intended to.
FAQs About Welding Boots
Q: Should you get 6- or 8-inch work boots?
A: Whether you get 6- or 8-inch work boots will depend heavily on their intended purpose. For things like hiking or simply as a safety accessory, the 6-inch boot works fine as it is shorter and offers high ventilation because of its smaller size.
For welders, carpenters, loggers, and construction workers, however, an 8-inch boot is the better option. It provides more coverage and therefore can protect more of your body, particularly in the ankles and lower shins, than the 6-inch boot will.
Q: Should your toes touch the end of the boots?
A: Ideally, when you purchase your boots your toes should not be touching the end of the boots, because as the boots are broken in, the leather will shrink and often recede a bit back from the toe of the boot.
However, if you have had the boots for a while and your toes touch the end of the boots, it is not a bad thing. The most important thing is that your toes do not feel cramped, and that your foot is not uncomfortable. There should be no pressure on the front half of your foot or toes if your boot fits properly.
Q: Should you get lace-up or pull-on boots?
A: Both lace-up and pull-on boots have their own benefits depending on your needs, particularly when looking at work boots and safety shoes.
Lace-up boots are often more functional and professional-looking. They offer more joint support, which can alleviate some natural fatigue throughout the workday. The sizing tends to be more accurate, allowing for a better fit, and they are typically more durable.
Slip-on boots are a little larger in terms of general design and may be a bit loose for the average wearer. However, ventilation tends to be better in these types of boots. Additionally, they are easy to put on, and the simple design makes them great for work or leisure.
Q: How do you break in boots?
There are a few steps you can take to properly break in a new pair of boots. Keep in mind that it takes roughly 80 to 100 hours of wear to properly break in new boots, and it's not something that you can do all at once if you want to do it correctly.
Use leather oil.
Especially in leather boots, it is imperative to apply leather oil during the breaking process. Apply a leather oil of your choice two to three times during the first week of wear to soften the leather and allow it to stretch. This will let the leather form to your foot.
During the first week, try not to add oil to the quarters of the boot unless necessary – you want areas such as around the ankle to stay firm, not stretch.
Don't force the boots to break all at once.
It's difficult not to jump right into a new pair of boots, but it is arguably important to do so. This is not only for the benefit of the boot itself, but for your feet as well.
Start by wearing new boots for two to three hours a day for a couple of weeks, then gradually wear them more as the arch of the boot and the arch of your foot adjust to each other.
Adjust the lacing.
Where needed, and only in boots that have laces, you want to adjust the laces to match the task you are performing while wearing them. If your job requires that you do a lot of kneeling, you may want to skip the first set of hooks or eyelets when lacing up your boots to keep the bottom sets from biting you.
Keep them clean and maintained.
Again in particular with leather boots, it is important to keep them clean. This is not just advisory during the breaking in process when the natural oils in the leather of the boot are most imperative, but in the long-term as well.
Mud, cement, and other chemicals or grime will leach or deteriorate the natural oils, making it that much harder to break in your boots in the beginning and decreasing their overall longevity.
If your boots do get dirty with grime, use a mild soap and water along with a leather brush or nail brush to brush them clean. Allow them to dry and then apply some leather oil to them. Even if they aren't dirty, once a month you should apply some leather oil to keep them maintained.
Q: How tight should leather boots fit?
A: There are a lot of factors that go into determining the fit of a boot and what fit works best for you. Generally, the boot should be tight enough to stay on even after rolling your ankle, kicking, and through generally standard ranges of motion. It should not come off or jar your foot for performing certain actions.
That said, make sure that you keep in mind that the fit of the boot will slightly change as it gets broken in and worn more until it fully settles, which can take months depending on how often you work on breaking them in initially.
Consider things like any heel slip, the snugness you feel in the toe box, flex point of the arch, and the manufactured width of the boot. It may not be terrible in the beginning, but over time you may wonder why you bought uncomfortable boots in the first place.
Q: How do you know if a boot is too big?
A: First, make sure you're wearing the work socks that you intend to regularly pair with the boots. After that, there are some simple steps to take in order to test the fit of your boot.
Check behind the heel
Before lacing up your boots, push your foot forward in them. One finger should fit between your heel and the heel of the boot. If not, they're too tight – if more than one will fit, they're too loose.
Toe space
After checking the heel, lace up your boots and stand up. Wiggle your toes. You should be able to touch the inside of the boot without feeling cramped. If you can't, they're likely too loose, and if you feel cramped, they're too tight.
Kick a sturdy wall
It might go without saying, but you aren't looking to put your foot through a wall with this test. Gently kick a wall with your booted foot. If a lot of space appears between the back of the boot and your heel, your boots are too big.
Move your heel
Rock your foot up and down, squat, bounce, whatever you need to do to get an accurate feel of the boot. Your heel shouldn't move too much in the boot, if at all.
Ankle flexibility
Stand on the sides of your feet, or sit and roll your ankle and foot in the boot. You want the fit to be secure, supportive, and flexible without any pain or excess space or looseness.
How We Researched
To come up with the top welding boots, we researched a variety of sources for reviews such as Home Depot, Lowes, Target and AcmeTools along with our own personal experience.
We also consulted online magazines for product research and reviews to get as much unbiased information as we could. To help weed out fake reviews we used Fakespot.com to make sure we only looked at genuine reviews.
With so much quality gear available, we had to narrow it down based on what we felt were the best options were for the price. The staff authors have a wide and varied background in yard maintenance and home repairs.
The authors have decades of experience and are eager to share their knowledge with readers.
To help narrow down the selection we used personal experiences along with recommendations from landscapers, bloggers and contractors.
After extensive research, we came up with our list to help you choose the right one for you.
Sources
Notice:
OutsidePursuits.com is a participant in the Amazon Services LLC Associates Program, an affiliate advertising program. OutsidePursuits.com earns fees from products sold through qualifying purchases by linking to Amazon.com. Amazon offers a commission on products sold through their affiliate links.