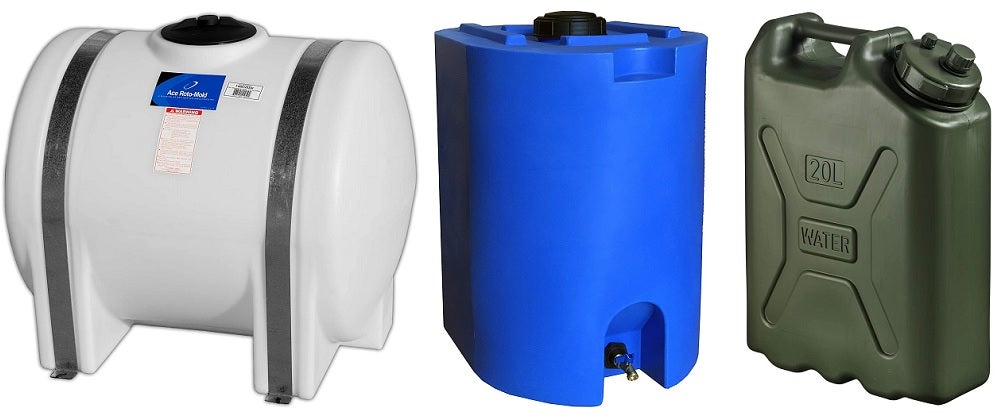 Our Editors independently research, test, and rate what we feel are the best products. We use affiliate links and may receive a small commission on purchases.
p>It doesn't matter where you live – there's always a risk of a water shortage or emergency happening. It's not something that anyone really enjoys thinking about, but we definitely should so if a time comes where we need water, we have it.
What's the perfect solution? One of the best water storage containers, of course! We've done our own firsthand research as well as taken the experience from others to bring you the top models on the market today.
Best Water Storage Containers
For more of my sustainable living recommendations, have a look through these popular Outside Pursuits guide links: Greenhouse Kits, Rain Barrels, Compost Bins.
Quick Answer: The 7 Best Rated Water Storage Containers For 2021
Our reviews to the top rated water storage containers with our comparison table and buyers guide will help you choose the right storage container for you.
---
Water Storage Container Reviews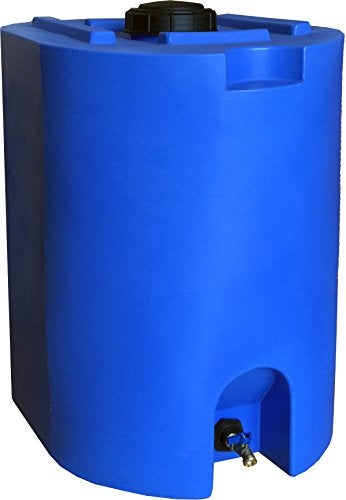 WaterPrepared Blue 55 Gallon Water Storage Tank at a Glance
:
---
Capacity: 55 Gallons
Stackable: Yes
Spigot: Yes
Other: BPA-Free
Deemed by just about everyone to be one of the best stackable water storage containers, the Blue 55 Gallon Water Storage Tank by WaterPrepared is unmissable. It is convenient in style as it saves space and can be stacked up with ease. If you want to ensure you're more than prepared during an emergency situation, then grab this one ASAP.
As you could probably guess by the name, the tank is capable of holding up to an impressive 55 gallons. Made of plastic, you may be initially wondering if the material is safe to store your drinking water in.
Thanks to it being both UV-resistant and BPA-free, it's never been safer to store water in these kinds of plastic (note: not every manufacturer's plastic is).
To expand a bit on the material, it's actually a high-density polyethylene (HDPE) which is completely FDA-compliant and made to hold up to the pressure of gallons of water for years upon years of use.
A large tank cap and garden hose spigot further facilitates operation, ensuring you never waste a drop.  Just hook it up to a hose and you're ready to use the water.
The bright blue design means it's hard to miss, especially if you're feeling frantic or don't remember where you put the tank. Coming with a 3-year warranty against defects, you can rest assured that it'll store water safely.
---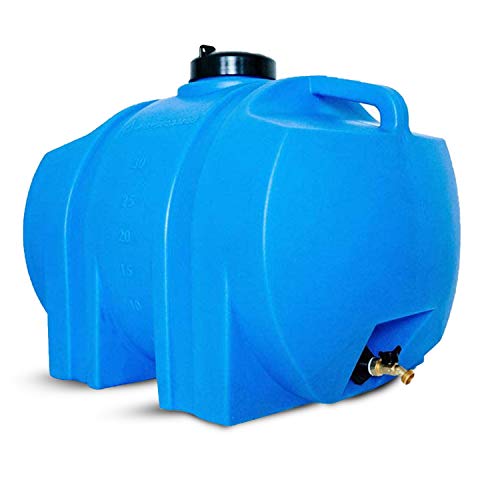 WaterPrepared 35 Gallon Water Storage Tank Emergency Water Barrel Container at a Glance
:
---
Capacity: 35 Gallons
Stackable: No
Spigot: Yes
Other: Easy-Carry Handle
Next up is yet another blue water storage tank, but this time we bring you the WaterPrepared 35 Gallon Emergency Water Barrel Container.
It's great if you don't feel you need as large of a capacity as the previous model, nor do you need it to be stackable. It is notably less expensive, so it's also a smart selection if you're trying to save cash.
The WaterPrepared Water Barrel is one of the most natural to carry in our experience, so you will easily be able to use it and transport it securely. Made with a specially-blended, UV-resistant plastic, your water will be safe – even if it's sitting in direct sunlight.
Not only that, but it's also BPA-free and made to handle even the roughest environments. The large tank cap makes it easy to loosen or tighten up, so you don't have to struggle to open it when you need to the most. It's also integrated directly into the container, so you also don't have to worry about losing it.
A spigot comes included as well, so you have many options in how you use it. Overall, for incredible durability, ease of use, and security, you can't go wrong with this top selection.
---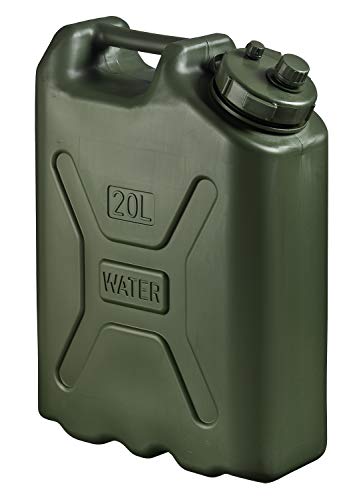 Scepter Military Water Container 5 Gallon at a Glance
:
---
Capacity: 5 Gallons
Stackable: Yes
Spigot: No
Other: Great for travel, cheap
The best water storage containers don't always have to be those with large capacities. In fact, there are many people who prefer something on a smaller scale or simply don't have/need the budget for a bigger one. If that sounds like you, then do yourself a favor and check out the Scepter 05177 Military Water Container.
It's "military" in every sense of the word, indeed. At first glance, you'll see that the container comes in Army (AM) Green, which stays true to that aesthetic but also gives you a feel for real survival equipment.
This is a model that's definitely designed more for those who need to transport their water instead of just leaving it in the car, at home, etc. It has a max capacity of 5 gallons of water, which by contrast may not seem like much but it's more than enough for a lot of people.
Made of lightweight, BPA-free materials, it is completely safe to store water in. A built-in handle on top only adds to the convenience of hauling it around.
The lid is large, and comes with little indents that make turning it very simple – both in terms of securing the contents and opening it up. There is a little spout which forms part of the lid, but it's not the standard type of spigot we've seen on the previous two containers.
---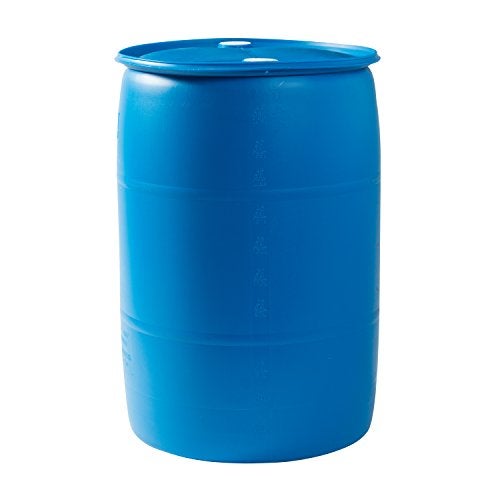 Augason Farms Water Storage Barrel 55 Gallon Drum at a Glance
:
---
Capacity: 55 Gallons
Stackable: No
Spigot: No
Other: Great for very long-term storage
Sometimes, the easiest way to go is just getting a barrel out. The Augason Farms Water Storage Barrel doesn't mess around; capable of holding up to 55 gallons, each. While they're not stackable, they are still pretty convenient to keep in a garage or basement.
Augason Farms is a reputable brand that has been around all the way since 1972. The family-owned brand has made a name for themselves by consistently offering products that stand the test of time. It's good enough for you and your family's health and well-being.
This no-frills, no-nonsense design is a more old school way of doing things: tried-and-true. It's not stackable, nor does it come with a streamlined, cool look. However, it stores large quantities of water safely so if you need it, you have it and don't have to worry about any bacteria getting inside.
Unfortunately, water contamination does happen: especially if you live somewhere where there are natural disasters, like hurricanes or earthquakes. Meeting strict EPA guidelines, these barrels keep water pristine for drinking, bathing, etc.
Each one is BPA-free, so you don't have to hesitate to consume the water inside – even after long periods of time storing it. Just make sure that you're also using water treatment drops along with it.
Made from food-grade polyethylene, they may be relatively inexpensive but are made to hold up to the pressure from dozens of gallons of water. It does not come with an included spigot, but instead has 2 holes to allow you connect hoses.
---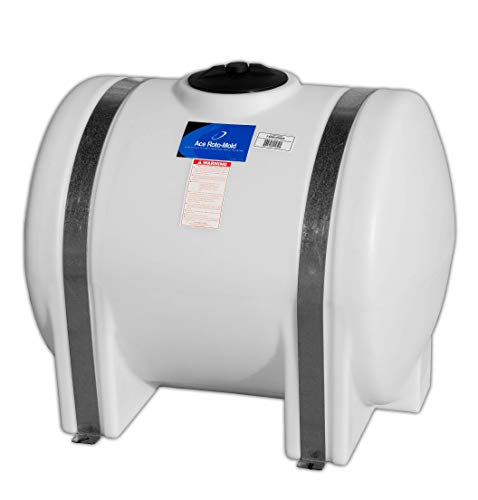 WaterPrepared 125 Gallon Water Storage Tank at a Glance
:
---
Capacity: 125 Gallons
Stackable: No
Spigot: No
Other: Great for huge quantities
While the other models are definitely excellent choices, you may be looking for something more robust – something that can handle larger quantities of water at once. If so, then give the WaterPrepared 125 Gallon Water Storage Tank a good look.
The barrel design is perfect for emergency disaster preparing and due to the design, doesn't risk falling over or rolling away. With the ability to hold up to a whopping 125 gallons, you realistically won't need any other water storage unit. In fact, it can keep 1 person hydrated for 125 days, or a family of multiple people and pets hydrated for around 1 month.
The all-white design is a bit bland in comparison to brighter options, but this really takes a backseat to other features to pay attention to anyway.
Just like the brand's other products, it comes reinforced with a UV-resistant plastic which keeps your water safe. It's all FDA/NSF compliant and made to handle over 100 gallons of water pressure.
We should mention, that we know the design makes it appealing to want to bury. Just remember that it is not structurally designed in a way that can support this additional pressure.
While it doesn't come with a spigot, it does come with easy-to-use valves which are great for versatility in use. The large tank cap rotation system makes it a feasible option if you don't have a lot of upper body strength. You should never have to struggle to open your water tank – especially when you're in an emergency situation.
---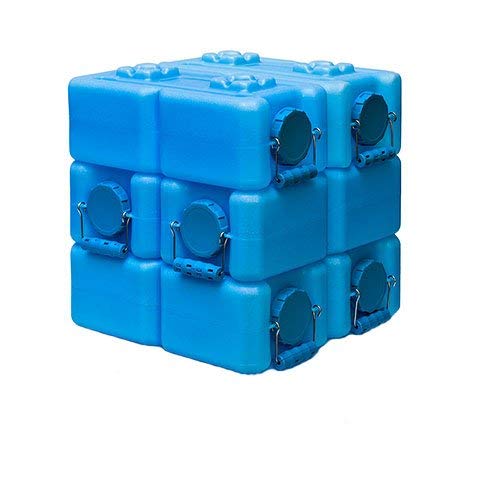 WaterBrick 3.5 Gallon BPA Free Portable and Stackable  at a Glance
:
---
Capacity: 3.5 Gallons
Stackable: Yes
Spigot: No
Other: Grab-and-Go Design
Nearing the end of our list, we bring you the WaterBrick 3.5 Gallon BPA Free Portable and Stackable set. This set comes with 6 individual "bricks", which are each capable of storing up to 3.5 gallons. The benefits of having various smaller bricks instead of one large one are innumerable.
For example, if you want to place them in different areas of your home or even in a different location entirely. The smaller size makes them incredibly portable, which is more convenient from an emergency standpoint and just makes more sense. They're each small enough to fit in a refrigerator, under beds, in closets, and much more.
However, if you would like to store them together, they're all very stackable. They feature a cross-stack and interlock design up to 4 feet. All you have to do is insert a ¾" PVC pipe for added height.
Just like many others on our guide, this best emergency water storage system is made of industrial food-grade materials. It's not only BPA-free, but lets you store water, food, sand, and much more safely to add to the versatility. An ultra violet additive comes with it, extending its lifespan up to 15 years!
Don't take our word for it, though: try them out for yourself and you'll find tons of ways to use and configure the setup. Use them for hunting, traveling, disaster-readiness, and just about any outdoor activity!
---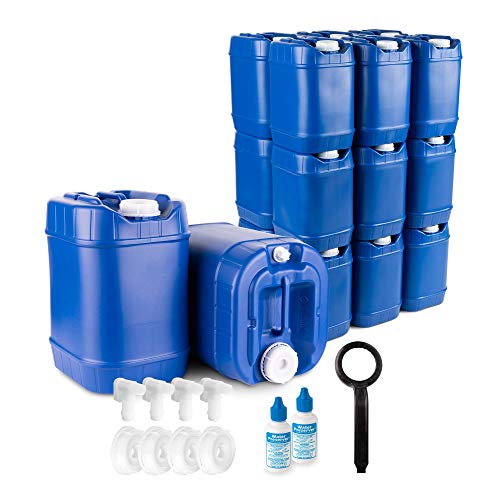 Saratoga Farms 5-Gallon Stackables at a Glance
:
---
Capacity: 5 Gallons
Stackable: Yes
Spigot: Yes
Other: Includes Water Preserver
Last but not least is the best plastic water tank if you want to buy the whole shebang altogether. The Saratoga Farms 5-Gallon Stackables are similar to the previous model in many ways. Not only are they easy to stack and configure just the way you want, they also come in packs of various smaller containers for maximum versatility.
These best stackable water storage containers can individually store up to 5 gallons at a time. The built-in handles on each one are very comfortable and minimize hand cramps due to their design. They're very easy to carry, due to being smaller and pretty lightweight thanks to the 100% food-grade plastic construction.
Each one comes with a twist breathing port for easy pouring. Not only does the smallest kit include 4 containers, but 6 lids, 2 spigots, and one bottle of water preserver which can treat up to 55 gallons of water at once and can keep water safe for up to a whopping 5 years!
A lot of times, it's easy to forget how long we've been storing water so while it may not seem like a big addition, it can really make a difference.
The spigots are really easy and intuitive to use, which thread easily right onto the lids so you don't have to worry about dripping/spilling and wasting even a drop of water.
---
Water Storage Container Comparison Table
How to Choose the Best Water Storage Container – Buying Guide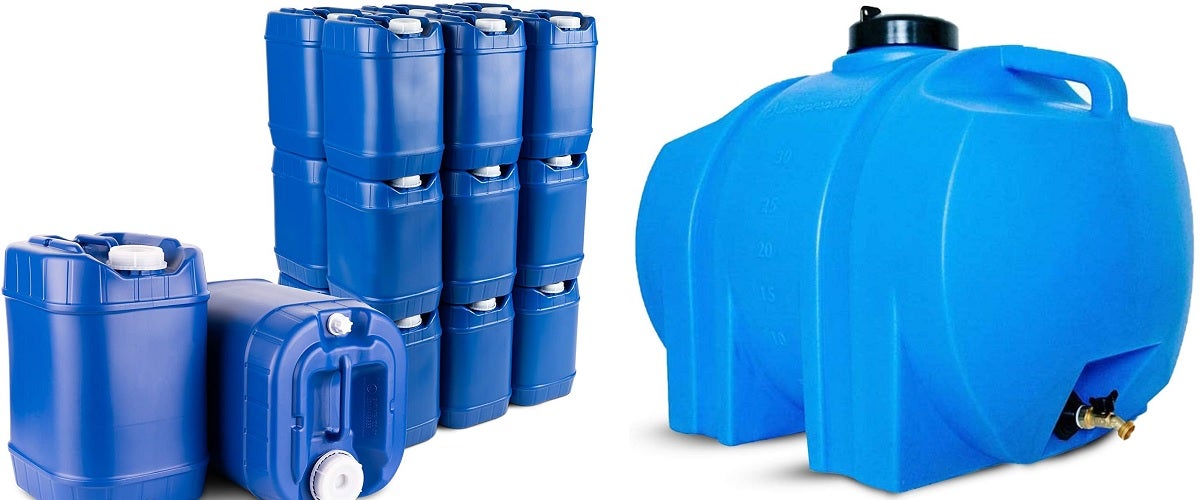 Now that you know all about the top water storage containers, have you decided which one is right for you and your needs? We understand it can be overwhelming, with so many great and different options out there.
That's why we've gone ahead and written up a user-friendly buying guide. This guide will take you through each step of the selection process and what you need to look out for in a good container that will always do the job right.
Water Storage Capability
Before anything else, you need to figure out how much water you need to store. It doesn't matter how cool the container looks or how convenient it may appear – it's not going to be ideal if it can't hold the water you need it to.
So, how do you know how much water to store?
Well, you need to consider how many people it will be hydrating. The EPA recommends a gallon of water per person, with half for drinking and the other for cooking, washing, etc. If you have an emergency situation, then you'll probably want to have enough water for at least 2 weeks.
Moreover, you should consider the size of yourself and every one of your family members. For example, a 4-year-old child isn't going to consume/use as much water as a 200-pound man. The gallon-per-person estimation is usually just fine, though.
If you have pets, you also need to add in water for them. Your average dog drinks around 1 ounce of water per pound of body weight per day, so for a 65-pound dog, that's about ½ a gallon a day. Cats will understandably drink less: around 3.5-4.5 ounces per 5 pounds of body weight daily. If your cat weighs 10 pounds, this is about 8 ounces of water per day.
Size/Configuration
As you probably already noticed earlier up in our guide, there are many different sizes and configurations of water storage containers. You could store, for example, 55 gallons of water in 11 5-gallon smaller stackable containers or simply do so in a 55-gallon barrel.
It all depends on what you plan on doing with it and how you'll store it. If a single barrel works for you, and you'd just like to fill it up and forget about it then that may be the best option for you.
If you want to place smaller containers in different areas, transport them, or use them to store more than just water then the smaller containers are much better.
What's cool about the smaller containers is that you can often stack them securely in different ways to ensure they fit well in your space. You can also use them to store ice blocks, ammo, fill them with sand to use for weighing things down, and so much more.
Material
If you notice, just about every container on our guide is made with the same material: a food-grade, safe plastic. This is ideal as it's cheap, it's tough, it's relatively lightweight, it's obviously safe, and it's a material we're all familiar with.
This makes it great for holding up to the pressure of storing high quantities of water for longer periods of time, but is also effective for transport.
It is important though that the material is UV-resistant and also BPA-free so you and your family's water is safe. BPA is an industrial chemical that's been used since the 1960's and has been shown to be harmful to our reproductive systems and brains so it's crucial you purchase a container that does not include any of it.
Durability
Durability is obviously important, as you'll likely use these for many years to come. While the water itself will last a few years if you use a water preserver and follow the manufacturer's instructions, your container will last even longer. If you can score a container that is rated to last at least 15 years, this is ideal.
Even if you don't plan on having or using it for that long, you just never know. It needs to be able to easily support the pressure from holding various gallons of water, ice, etc.
This goes double if you plan on transporting the container(s). Maybe it'll be sitting on the ground, maybe you'll carry it through a forest, in the back of your truck – what have you. The last thing you want is to be carrying it up camping or something and have it crack or sprout a hole.
Seal
Your container has to have a proper seal – this is not negotiable. This is to not only prevent your water from escaping, but to also prevent anything from getting inside.
This could be anything from some critters to bacteria. Also consider a container that comes with a spigot, so you can create an even threading when in use to avoid any dripping or general wasting of water.
Also take a look at the lid – this is an often overlooked aspect of water storage container. It should be applied very tightly to keep water secure, but then you have to deal with taking it off when the time comes to actually using the contents.
If the lid is small or slippery, it's going to be difficult to take off for most people. You want a larger lid with a textured exterior that make it easier to twist off.
Portability
Are you planning on hauling your water container around at all? Even if you're just moving it from one place to another in your home, you want to start thinking about portability. How much does it weigh? How large is it and how much space is it going to take up?
If you are going to be moving them around at all, we recommend going for smaller capacities, like 5 gallons. There are some that are as small as 3.5 gallons, which are very easy to move around.
Also look at the overall style of the container. Some are bulky and just don't make sense to be carrying around very often. Others are thin and come with handles and are obviously designed for such transportation.
Price
Now that you've taken a look at just about every other factor, how much are you planning on spending on one a great plastic water tank? It's important that you come up with a budget for yourself and don't go over it, as we want you to be happy with your purchase.
The good news is that there are so many options, that you're sure to find something that suits your budget. However, as this container is guarding such an important resource, we highly recommend you splurge a bit on yours. It's going to keep your water safer, be easier to use, and last you longer – thus saving you money in the long run.
FAQs About Water Storage Containers
Q: What is the best container to store water in?
A: Any of the products on our guide are ideal for storing water in. It all comes down to your personal preferences in terms of style and capacity.
Q: Where should I store water containers?
A: Always keep your water in a cool, dark place. Never go lower than 50 degrees or higher than 70 degrees Fahrenheit. Moreover, you never want to have it in the path of direct heat or sunlight. None of the containers on our guide are clear or semi-clear for this reason: sunlight can evaporate your water if in clear containers in its direct path.
Q: What's the best way to store water long term?
A: Make sure you're noting the expiration date if using store-bought water, as well as the date that you began storing the water. While water can last longer with a preserver, try and change out the water every 6 months.
Before filling with the water that you know is safe for use, make sure you're cleaning and sanitizing your water storage container. To be honest, they'll probably already be fine when they arrive on your doorstep, but it's always better to play it safe.
Wash the container, rinsing it out with water. Sanitize it with a simple solution of 1 tsp of unscented liquid chlorine bleach in a quart of water. Cover the container and shake it thoroughly so the bleach touches every inside surface.
After 30 seconds, pour is all out and let the sanitized container air-dry after you've poured the water out. Finally, pour clean water into the now-sanitized container and shut the lid securely.
Q: How long will water last in a plastic container?
A: It should last 6 months, max.
Q: What are the safest plastic water bottles?
A: Just about any that are BPA-free and made of HDPE material.
Tips For Choosing Water Storage Containers
#1: Make sure that if you're going to be storing ice, that you leave at least 6 inches of room at the top.
This is because as the water turns to ice, it's going to expand. You don't want to have your container begin to crack because there wasn't enough room for it to freeze.
#2: Aside from the amount of people and pets in your family, also consider the environment you live in.
If you live in a climate that's pretty temperate, then you won't have to vary too much from the recommended amount we mentioned earlier in our guide. However, if you live in a very hot, humid, or dry climate then you will know you probably need even more than that. Make sure to account for that when choosing the capacity of your new water container.
#3: Make sure you have a way to purify your water.
You could go the old school route of boiling your water, though many sets already come with some type of purifier that can do it for you.
Summary
Now that you know just about everything you could ever want to about the best water storage containers, have you decided which one is ideal for your needs? We hope that our guide has helped you select just the right one for you and your family. Thanks for tuning in, and we'll see you again shortly. Plan well and stay safe!
How We Researched
To come up with the top water storage containers and barrels, we researched a variety of sources for reviews such as Home Depot, Lowes, Target and Wayfair along with our own personal experience.
We also consulted online magazines for product research and reviews to get as much unbiased information as we could. To help weed out fake reviews we used Fakespot.com to make sure we only looked at genuine reviews.
With so much quality gear available, we had to narrow it down based on what we felt were the best options were for the price. The staff authors have a wide and varied background in yard design and home repairs.
The authors have decades of experience and are eager to share their knowledge with readers.
To help narrow down the selection we used personal experiences along with recommendations from landscapers, bloggers and contractors.
After extensive research, we came up with our list to help you choose the right one for you.
Sources
Notice:
OutsidePursuits.com is a participant in the Amazon Services LLC Associates Program, an affiliate advertising program. OutsidePursuits.com earns fees from products sold through qualifying purchases by linking to Amazon.com. Amazon offers a commission on products sold through their affiliate links.