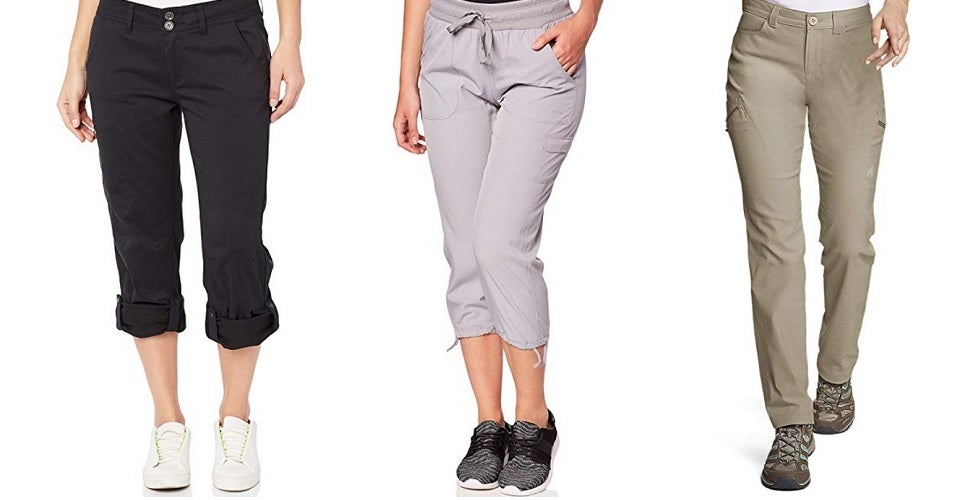 Our Editors independently research, test, and rate what we feel are the best products. We use affiliate links and may receive a small commission on purchases.
When you're traveling, what's the most important thing? Okay, making it on time for your plane and keeping your wallet well-hidden are probably up there, but so is being comfortable.
Not only do you want to look cute while traveling to your destination, but you want to feel good.
We know how difficult it can be to choose the right clothing, so we've gone ahead and done the research for you on the top travel pants for women. Let's take a look!
Best Women's Travel Pants
| | Eddie Bauer Women's Guide Pro | PrAna Women's Halle Pant | Lole Women's Lightweight Travel Pants |
| --- | --- | --- | --- |
| | | | |
| | | | |
| Fabric: | Nylon/Spandex | Nylon/Spandex | Polyester |
| Style: | Full Length | Full Length or Capri | Full Length |
| Pockets: | Two zip cargo pockets | Hidden zip stash pocket | 2 Zippered Hand Pockets, 2 Welt Pockets |
| Colors: | 7 | 11 | 1 |
| | | | |
For more of my travel gear recommendations, have a look through these popular Outside Pursuits guide links: Carry on Backpacks, Travel Backpacks, Carry On Garment Bags.
Quick Answer: The 7 Best Travel Pants For Women – 2021
Our reviews of the top rated women's travel pants with a comparison table and our buyers guide below will help you choose a pair for you.
---
Women's Travel Pants Reviews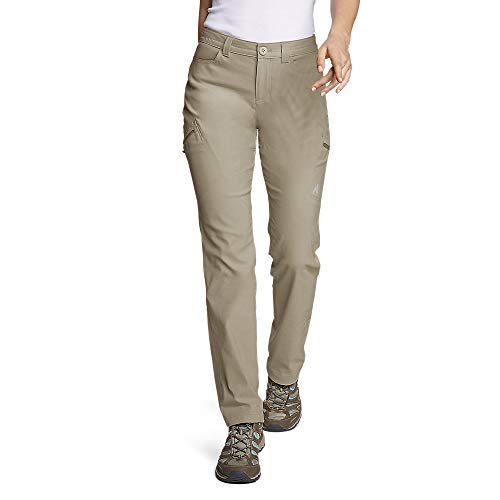 Eddie Bauer Women's Guide Pro at a Glance
:
---
Fabric: Flexion Nylon/Spandex
Style: Full Length
Pockets: Two zip cargo pockets
Colors: Slate Green, Lt Khaki, Dk Plum, Black, Dk Smoke, Med Indigo, Dk Chinaberry
Eddie Bauer, without a doubt, is one of the most well-known and well-respected brands in the outdoor clothing industry.
However, their Women's Guide Pros are perfect for use both indoors and outside due to their flexibility and style.
Used by countless professional mountain guides, this pair is ideal if you're looking to move at a swift pace without being restricted.
Made of Flexion nylon/spandex, they're super stretchy and lightweight so that you can easily hike, climb, or just sprint through the airport with ease.
The two-way stretch along with StormRepel DWR water-resistant finish are great if you want to splash in rain puddles or hang out near waterfalls without worry.
Fabric lets moisture roll off of it, and the FreeShade 50+ UPF sun protection keeps your skin safe, too.
If you want to wear them once you're at your destination, they're perfect for packing up as they fold up into a space-saving size. Two secure zip cargo pockets let you keep your valuables like maps, IDs, keys, etc. at a literal arm's reach, too.
Available in Regular, Petite, Plus, and Tall sizes, this pair of Eddie Bauer pants fits the vast majority of women.
They sit right below the natural waist to ensure they don't cut into the skin and always leave you feeling comfortable and confident. It's easy to see why these are the best travel pants for women!
---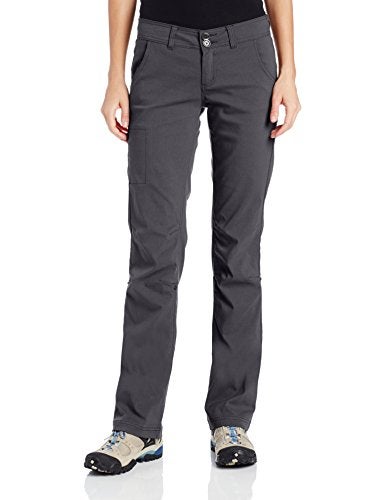 PrAna Women's Halle Pant at a Glance
:
---
Fabric: Nylon/Spandex
Style: Full Length or Capri (can be adjusted to either)
Pockets: Hidden zip stash pocket
Colors: Black, Cargo Green, Coal, Dark Khaki, Moon Rock, Wedge Wood, Equinox Blue, Thistle, Green Jasper, Raisin
When it comes to activewear, not only you but your clothing needs to be flexible. It doesn't get much more flexible than the PrAna Women's Halle Pant, which are perfect for all kinds of weather conditions.
Use them for all-day hikes; keep the pant legs rolled down when it's cool in the morning and when the sun starts making an appearance, simply roll them up and secure them with the button closure for a cute and functional pair of capris!
Coming in 10 "earthy" shades, you're sure to find some that suit your personality or environment best.
The trouser style also translates well from casual to more formal settings. Each is made with their best-selling signature Stretch Zion fabric which is the perfect balance of light weight and stretchiness (as the name suggests).
Take them from the city, to the beach, to the mountains seamlessly. The articulated knees won't hold you back no matter what kind of adventure you're on.
Not only are they unrestricted, but they're water-repellent, quick-drying, and feature UPF 50+ protection. That way, no matter if you're traveling to Iceland or the Caribbean, you'll be prepared for any situation.
---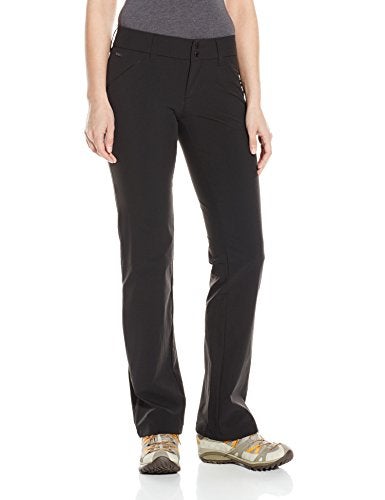 Lole Women's Lightweight Travel Hiking Pants at a Glance
:
---
Fabric: 100% Polyester
Style: Full Length
Pockets: 2 Zippered Hand Pockets, 2 Welt Pockets
Colors: Black
The Lole Women's Lightweight Travel Hiking Pants aren't simply the best women's travel pants on the market today because of their level of comfort.
While they definitely feel great to wear, they're also one of the most attractive. They accentuate every curve of the body while ensuring they're never too tight or restrictive.
While the pair do only come in black, black literally goes with everything! You don't have to worry about them getting too hot in the sun, either.
The Lole's moisture-wicking fabric makes sure you're nice and comfy even in the hottest weather, moving moisture away from your skin to be quickly evaporated.
If you do happen to get them really wet, then know that they are quick to dry, too.
The mid-waist design fits nicely around the waist without cutting in. You'll find two snap buttons for easy on-and-off, for those mornings when you sleep through your alarm and your tour starts in 10 minutes.
Need a place to store your valuables? You get two welt pockets located in the back, as well as two zippered hand pockets to keep little extras like lip balm or a credit card without worrying about them falling out of the rear ones.
---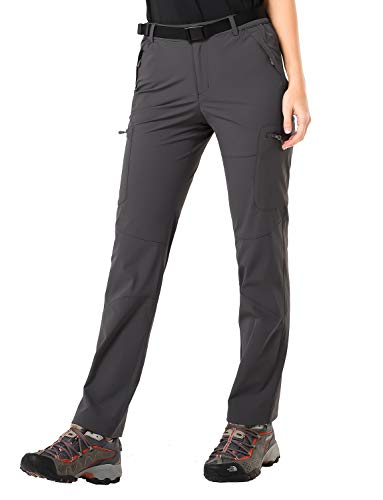 MIER Women's Outdoor Hiking Travel Cargo Pants at a Glance
:
---
Fabric: Nylon/Spandex
Style: Full Length
Pockets: 4 Zipper Pockets
Colors: Graphite Grey, Rock Grey, Black
Are you on the hunt for some of the best women's lightweight travel pants? Then look no further than the MIER Women's Outdoor Hiking Travel Cargo Pants.
Made of nylon and spandex, they way practically nothing which is ideal when you're already exhausted from traveling.
The YKK zippers are ultra-durable, along with the Duraflex buckle belt that will keep everything in its place while keeping you comfortable!
Coming in Graphite Grey, Rock Grey, and Black, you really don't have a lot of variety to choose from but the good thing is the shades do go with just about any other colors.
The 4-way stretch pants are wonderful for climbing up the Great Wall of China or any other activities where you're really going to be bending the fabric to its limits.
They're made to hold up against heavy use, while making sure you're always feeling refreshed.
As they're water-resistant and quick-dry, they're wonderful for using in all kinds of weather conditions and environments.
In fact, you can even use them to work out as they're so breathable and move sweat away from the body.
The 4 zipper pockets are located on the front and the thighs (two by the hands) so you always have your valuables close by and your snacks or other necessities in the thigh pockets.
---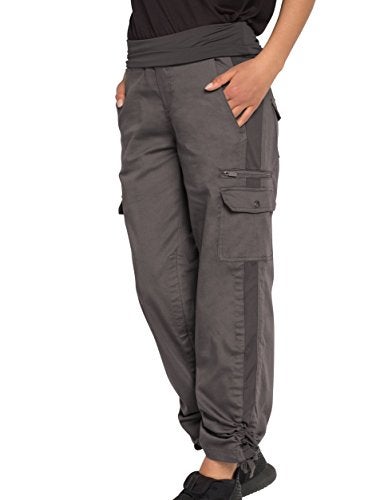 SCOTTeVEST Margaux Cargaux Travel Pants at a Glance
:
---
Fabric: Polyester/Cotton/Spandex
Style: Full Length or Capri (can be adjusted to either)
Pockets: 2 Zip pockets (one hand pocket, one side smartphone pocket)
Colors: Gray, Olive, Black
The SCOOTeVEST Margaux Cargaux Travel Pants not only have a unique name, but also some pretty unique technology.
While they may be a bit more expensive than most other products on our guide, it's well worth it if you want to invest in high-tech clothing that will last for years to come.
Coming in Gray, Olive, and Black, there are only a few colors to choose from, but they're nice and earthy, going with any kind of wardrobe or environment.
Made of a blend of cotton, polyester, and a bit of spandex, they're made to be breathable, durable, and stretchy.
Thanks to various spandex stretch panels down the sides of the legs, they move perfectly with the individual shape of your body, never pulling too tight no matter what you're doing.
They're also incredibly helpful in accommodating whatever you'd like to store in your pockets. Speaking of which, these include various pickpocket-proof pockets which are secured with snaps, zippers, and drop-in sections.
With these, you can keep your phone, cards, wallet, keys, electronics and much more safe and handy.
Of course, these wouldn't be some of the best women's travel pants if you weren't able to change up how you wear them!
Our favorite feature is the fold-over waistband which is ultra-comfy against the body and never rides up or digs in.
The drawstring ensures you always have the perfect level of security, too. Oh, and did we mention that you can also convert them into capris if you get hot or feel like taking a stroll along the ocean shore?
---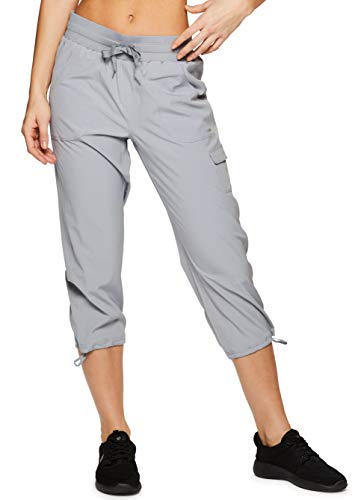 RBX Active Women's Cargo Lightweight Woven Capri Pant at a Glance
:
---
Fabric: Polyester/Spandex
Style: Capri
Pockets: Side Cargo Pockets
Colors: Grey, Black Multi, Charcoal, Green, Taupe, Navy
Are you trying to find a great pair of travel pants for women, but are on a tight budget? If so, then check out the RBX Active Women's Cargo Lightweight Woven Capri Pants.
They're cute, comfortable, and extremely affordable!
Coming in 6 different shades, you do have quite a few colors to choose from. While they're all somewhat earthy colors, they're a bit more unique than the others on this guide and look quite classy.
Keep in mind that these are capris, not full-length pants, so you'll probably want these more for warm environments.
Featuring drawstring leg openings along with the waist, the pair is perfect for convenient adjusting on-the-go. If your legs swell up a bit during hiking, they'll loosen up with ease.
Made with a stretch woven fabric, they're also very light and airy so you never feel muggy and sweaty. While they have a natural, relaxed fit but they also run a bit large so keep that in mind when choosing your size.
While you will find a couple pockets for the hands and 2 more cargo pockets further down the leg, none are secured with a zipper so you may want to take a bag with you to keep your belongings safe.
---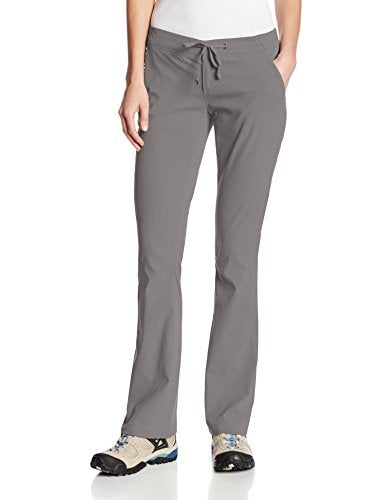 Columbia Women's Anytime Outdoor Boot Cut Pant at a Glance
:
---
Fabric: Nylon/Elastane
Style: Full Length
Pockets: 2 Hand Pockets
Colors: Black, Tusk, Nocturnal, Cypress, Light Grey, Pulse
Lastly, we have the Columbia Women's Anytime Outdoor Boot Cut Pant which is a more simple design but still incredibly comfortable and versatile.
These synthetic-made pair also work well from casual to formal settings, so you can take them on a trip and use them more than once.
Admittedly, we did find the 6 colors these came in to be a bit boring and bland but you can count on them going with pretty much any other color in your closet!
As you may have noticed, this design looks a bit different than the others, offering more of a body-slimming fit rather than relaxed.
Despite this, they're still relaxing to wear during excursions or even just running to the hotel restaurant. The drawstring closure will still ensure a nice fit after you've taken advantage of the blueberry cobbler or a couple beers.
The 2-way comfort stretch pants come made with nylon and elastane which move with your body rather than against it.
Once you're ready to take things outdoors, you'll love that they're also resistant to stains, rain, and UV rays so your skin is always protected.
In fact, the Omni-Shield completely resists the absorption of liquids, so they'll just roll right off!
---
Women's Travel Pants Comparison
How to Choose the Best Women's Travel Pants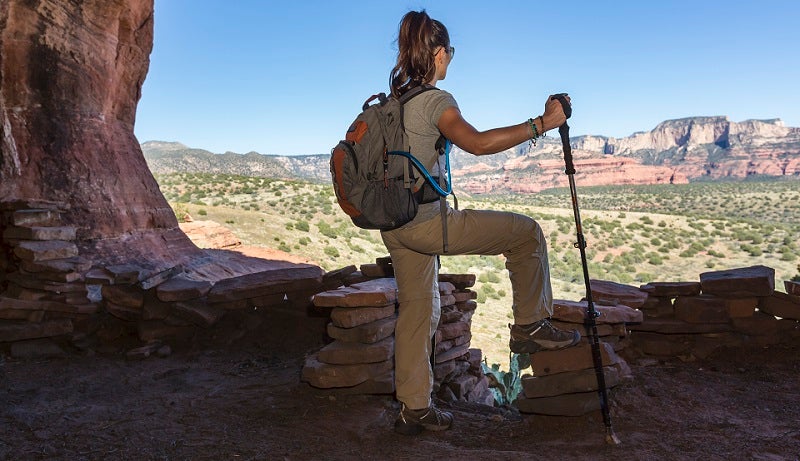 Now that you've had the chance to read all about the best women's travel pants, which pair is right for you? If you're having trouble deciding, that's perfectly okay.
We know how difficult it can be to just choose one model when there are so many great ones to choose from! That's why we've decided to take it upon ourselves to write up the user-friendly buying guide, below.
This guide will take you through each step of the buying process, ensuring that by the time you're done there will be no doubt which one will be landing on your doorstep!
Pants Length
Where are you planning on wearing your new travel pants? Are you going to be going to a warm environment or a cold one? Perhaps you'll be traveling somewhere that has a moody climate, changing every couple of hours.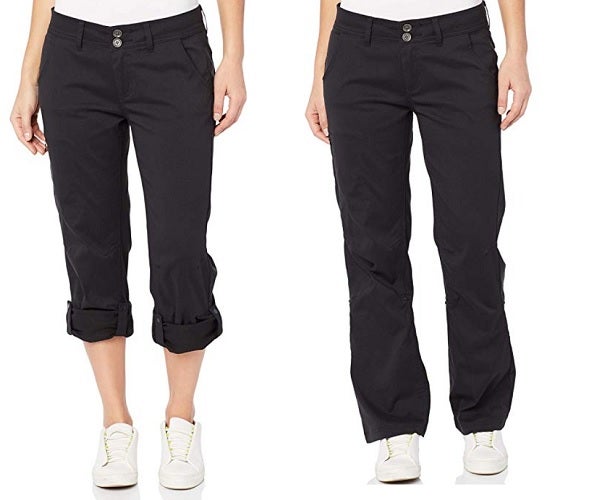 Full-Length
The majority of the models we reviewed above are full-length pants. These are the most popular, as they offer the most protection from water and UV rays, and many people also feel a bit insecure about showing their legs off. If you're going to be going to a cold place, it's best to bring a pair of these along.
Capris
These are perfect if you're going to be in a warm environment, but not quite warm enough to wear shorts. They offer more protection if you'll be hiking, keeping your skin from UV ray exposure (for the most part).
Convertible
Then we have the gems that let you switch from full-length to capri at your will. These are our personal favorites as you never have to choose between the two!
You can have full protection when they're completely rolled down, yet offer a cooling effect when they're rolled up. If you'll be in a changing environment or aren't sure how the weather will be in your destination, it's best to take these along for the ride!
Fit
Next up, you'll want to think about the kind of fit you like and what works best with your body. Most are very stretchy, so it won't affect performance much, but you may have a preference as to what makes you feel more comfortable.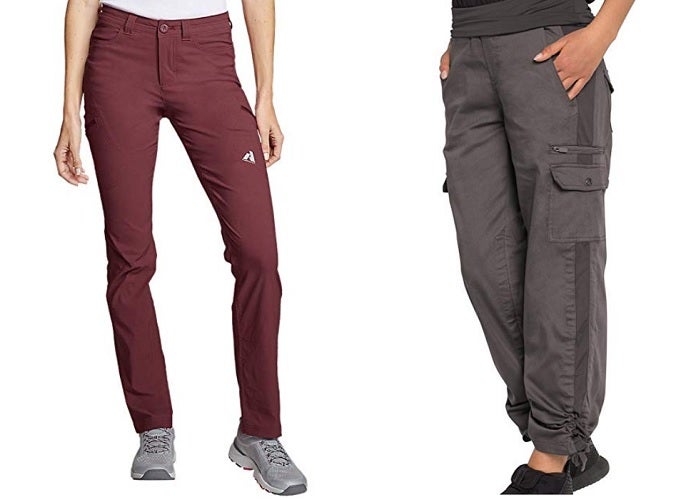 Regular: These are what the majority of the products above come as. They're neither too form-fitting nor too loose. They're great for athletic ventures, but often work well in more formal situations, too.
Loose: These are extremely comfortable and are more wavy. However, if you're going to be in an area with a lot of sharp twigs and plants, you may want to avoid these as they can easily get caught on them. Just remember that many of these styles run a bit large so check with the manufacturer to see about sizing.
Form-Fitting: These work to accentuate the curves of the body, often providing a kind of slimming effect. If you're going to be in cold or chilly weather, these or regular-fitting pants would be ideal to not let the cold air in. They work well in most formal situations, too, depending on the fabric they're made out of.
Weather Protection
These wouldn't be very effective if they didn't offer you real protection from weather conditions, would they? You need to make a checklist to ensure the pants you have in mind also have the features you need.
Moisture-Repelling
Let's face it: no matter where we travel, if we're in the outdoors we're almost always going to encounter some kind of water. That often comes in the form of rain, puddles, the ocean, lakes, and so on. If you're going to be hiking, bike riding, or even walking, this is often in the form of sweat.
No one wants to feel muggy and sticky on their travels. When your pants repel moisture, they're moving the liquid away from your skin so you're always dry and comfy.
UV Protection
No matter what kind of climate you're in, you're going to be exposed to UV rays. If you're outdoors for an extended period of time, then you're potentially putting your skin in serious risk of UV damage.
However, you can minimize this risk with UV-protective travel pants. These form a kind of barrier between your skin and the sun's rays.
Material
Material is one of the most important factors when it comes to any kind of travel clothing. Let's take a look at the most commonly-used ones, below.
Cotton: Cotton is incredibly breathable and generally very soft against the skin, making them great for luxury and lounging clothing. However, it's really not as durable as most travelers need it to be, which is why it's often paired with another material.
Polyester: Polyester, in contrast to cotton, is very durable and does not offer much stretch. This makes it a great addition to blends, but can be a bit stiff and itchy on its own.
Spandex: Spandex is very stretchy, but also not very durable on its own, which is why you'll often see it with polyester. We love when manufacturers add in little spandex patches on the sides of pants to make them move with your body and eliminate any restriction around the knee area.
Waistband/Closure
This all comes down to personal preference, so it's important to know what works best for you.

Snap Closure: These are super quick and easy to take on and off, making them great for traveling as we always seem to have moments where we're rushing to get somewhere on time. However, they're not the most secure when you're moving your body to its limit, like lunging or hiking on steep hillsides.
Button: These are very secure, but not the fastest. They also risk being pulled too tight if the pants are a bit small, and can pop off.
Drawstring: This is our personal favorite, and the crowd favorite, it seems. They have just about everything you need. They're comfortable and offer a customized fit, while remaining secure if you tie them correctly.
Pockets
If you're traveling, then you're going to need a place to securely store your belongings. Sure, you could bring a bag along but that's just another item you need to keep track of. It feels amazing when you can truly travel hands-free, not worrying if you left a card or ID somewhere.
Almost every model listed above comes with at least 1 zippered pocket for you to keep valuables like keys, credit cards, IDs, hotel keys, and so on. There are others that move things up a notch and have a dedicated smartphone pocket, pickpocket-proof hidden pockets, and more.
Price
How much are you willing to spend on a good pair of women's travel pants? It's a good idea to have a number in mind before you really start delving in to things, as it's easy to get carried away and spend more than you intended to. We don't want you to end up with buyer's remorse, so set a budget for yourself now!
FAQs About Women's Travel Pants
Q: How long can I expect my pants to last me?
A: This will of course depend on the manufacturer, but the vast majority of the aforementioned pants will last for a year or two, if not many years to come. They're made to hold up against regular use, as well as the elements so don't expect them to rip or form holes easily.
Q: How should I clean my pants?
A: You should always follow the manufacturer's instructions, but you'll be able to wash any of these like you would a normal pair of exercise pants. As most are quick drying, you'll probably be able to wash any of these pairs in a hotel room, hang them over the back of a chair, and have them dry in the morning.
Q: Will I be able to dry clean my pants?
A: Again, refer to the manufacturer, but we generally advise against it as the dry cleaning solvents may affect performance. Machine or hand washing is the way to go.
Tips For Traveling
#1: If you're trying to pack more into your suitcase, try rolling your pants instead of folding them.
We know it sounds a bit silly, as it still has the same amount of volume, but this method of packing can really save you some space.
#2: Don't be afraid of outfit repeats.
When you're traveling, you're obviously limited on how many pieces of clothing you can bring. The vast majority of the pants we reviewed are perfect for casual and more formal situations, so you can go hiking in them and still wear them to dinner the next night if you'd like. Though, we would recommend washing them, first!
#3: When wearing your pants on a plane, try to opt for drawstring openings on the legs and waist.
When we're high up in elevation, particularly in extreme situations like on a plane, our extremities will swell, like our hands, feet, and even our lower legs at times. When you're flying, you're not going to be able to get blood moving a lot as you'll be stuck in your seat. To avoid cutting off circulation and general discomfort, get pants that let you adjust the tightness around the legs and the waist.
Summary
Now that you're practically an expert in the best women's travel pants, which pair will you be taking along on your next adventure? While all of the models we reviewed are of top-notch quality, it's most important that you choose the one that's ideal for your body, preferences, and where you're going.
We hope that our article has helped you to do exactly that. Thanks for tuning in, and we'll see you again soon. Happy traveling!
How We Researched
To come up with the top women's travel pants, we researched a variety of sources for reviews such as Target, Lowes, Bed Bath & Beyond and Walmart along with our own personal experience.
We also consulted online magazines for product research and reviews to get as much unbiased information as we could. To help weed out fake reviews we used Fakespot.com to make sure we only looked at genuine reviews.
With so much quality gear available, we had to narrow it down based on what we felt were the best options for the price. The staff authors have a wide and varied background in adventure travel, hiking and backpacking.
The authors have decades of experience and are eager to share their knowledge with readers.
To help narrow down the selection we used personal experiences along with recommendations from fellow travelers and tour guides.
After extensive research, we came up with our list to help you choose the right one for you.
Sources
---
Notice:
OutsidePursuits.com is a participant in the Amazon Services LLC Associates Program, an affiliate advertising program. OutsidePursuits.com earns fees from products sold through qualifying purchases by linking to Amazon.com. Amazon offers a commission on products sold through their affiliate links.