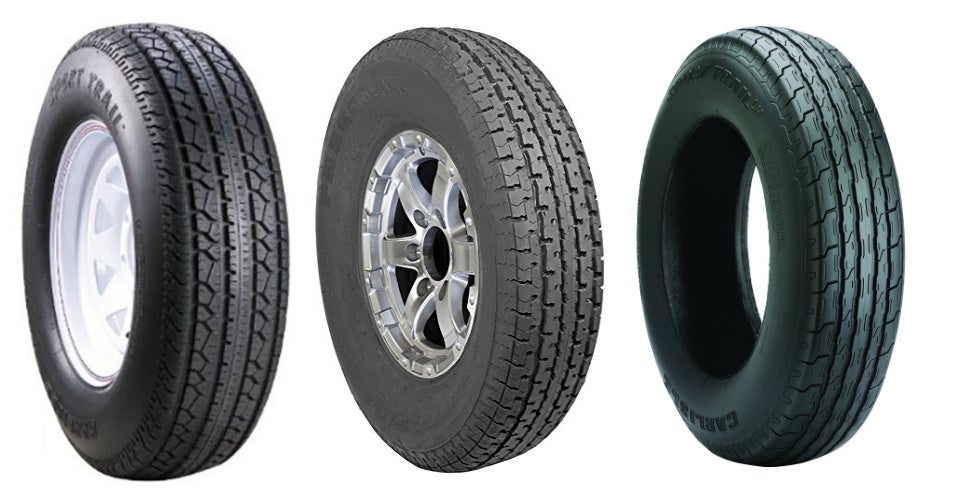 Our Editors independently research, test, and rate what we feel are the best products. We use affiliate links and may receive a small commission on purchases.
In this article we will discuss the top-rated trailer tires and trailer tire brands for different situations, including general use, the best RV trailer tires, the best boat trailer tires, and more.
Included towards the end will be an FAQ section and our buyers guide entitled, Trailer Tires Buyers Guide that will help to clear up any confusion that you may come across throughout the product reviews.
Best Trailer Tires Brands
| | Carlisle Radial Trail HD Trailer Tire | Freestar Radial Trailer Tire | Carlisle Sport Trail Trailer Tire |
| --- | --- | --- | --- |
| | | | |
| | | | |
| Tire Speed Rating: | M | L | N/A |
| Wheel Rim Size: | 14 inches | 14 inches | 12 inches |
| Tire Load Index: | 100 | 100 | 80 |
| | | | |
Also see: Trailer Tires Brands Comparison Table
---
Quick Answer: The 5 Best-Rated Trailer Tires
Best Trailer Tires Overall – Carlisle Radial Trail HD Trailer Tire  
Best RV Trailer Tires – Freestar Radial Trailer Tire 
Best Boat Trailer Tires – Carlisle Sport Trail Trailer Tire 
Best Heavy Load Trailer Tires – Kenda Loadstar Bias Trailer Tire 
Best Trailer Tires with Wheels – eCustomRim Radial Trailer Tire 
---
Trailer Tires Reviews
Best Trailer Tires Overall
Sometimes, you don't need your trailer for common trailer purposes such as for a boat or RV, and you just need it to get something from point A to point B. In that case, the tires listed below will be your best bet for a good fit.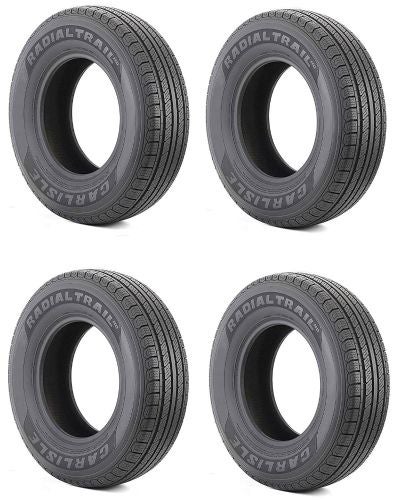 Carlisle Radial Trail HD Trailer Tire At A Glance
:
---
Tire Speed Rating: M
Wheel Rim Size: 14 inches
Tire Load Index: 100
Originating in the year 1917 in Carlisle, Pennsylvania, Carlisle Tire and Rubber Company originally only produced and sold inner tire tubes to Montgomery Ward and Company.
Following the stock market crash of the 20's, Carlisle Rubber and Tire was purchased by Pharis Rubber and Tire Company in 1943, and has since then been renamed Carlisle Corporation. Years and years of tire improvement dedication were to follow.
Fast forward to today, where they are officially called Carlisle Tire and Wheel Company, and are affiliated with industries such as the Association of Rubber Product Manufacturers (ARPM), the Mechanical Power Transmission Association (MPTA), the National Association of Trailer Manufacturers (NATM), and more.
Their ongoing dedication to producing quality trailer tires continues with their Radial Trail HD Trailer Tire set.
Expand To See MoreSee Less

The Carlisle Radial Trail HD Trailer Tires are the best trailer tires you can purchase for general usage. These were deliberately designed for both short and long distance use, fitted for trailers being used for activities such as cargo, utility, horses, boating, and more.

The term 'Radial' means that the tire has plies, often made of steel, that run perpendicularly across the tires, below the tread around the given tires circumference.

This tire comes in weighing 22.7 pounds, and takes up about 26 x 8 x 26 inches of space. The design of the tire consists of a unique tread pattern design that serves to withstand the heat experienced from high speeds on the road, and to navigate through tough conditions.

Almost guaranteed with the purchase of this tire set is durability and longevity. The construction of these tires were made with quality material that has been renowned to last for a long time.

They have a tough and sturdy sidewall on them, contrary to automobile tires, that help to keep your load from swerving from one side to the other.

To know the appropriate tire size and load capacity for your particular activity, refer to the previous tires sidewall or trailer tire owners manual.

The max capacity for this set of tires is 1,760 pounds, and the maximum PSI allowed is 50. These tires are compatible with trailer brands such as Continental, Crestliner, Lund, Mako, Nitro, Tahoe, Tracker and much more.
---
Best RV Trailer Tires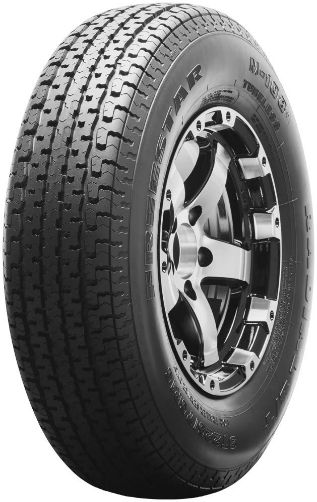 Freestar Radial Trailer Tire At A Glance
:
---
Tire Speed Rating: L
Wheel Rim Size: 14 inches
Tire Load Index: 100
When taking the RV out for either a short or long time, there's no doubt that you want to rest comfortably knowing that you and all of your stuff is fully supported by the wheels transporting your RV.
Over the years, Freestar has been known as a brand that does not skip out on the essential features, and delivers quality tires to its customers. When you are towing some weight, or transporting a mobile home, trailer tires from Freestar can help ensure that you get there safely.
With their affordable M-108+ Trailer Radial Tires, you'll be able to seamlessly place these on your trailer and get going immediately. One of these tires comes in weighing about 20 pounds, and takes up about 27 x 27 x 9 inches of space.
As an affordable, rather lightweight tire, a set of these tires can be a cost-effective way to get your RV back on the road. The M-108+ tire linked above has a wheel rim size of 14 inches, but this set is also offered at 13 inches, 15 inches and 16 inches.
Expand To See MoreSee Less

With the implementation of an optimized grip and improved traction in wet conditions, the safety factor involved with these tires should not be too worried about.

The tires have deep grooves in them that help to get rid of water accumulation. Multiple customers online have left reviews stating how they are satisfied with the tires traction and durability, given the tires price point.

These trailer tires are Radial, meaning that they have plies that run perpendicularly below the tread and across the tires, often made of steel, that serve to give the tire an overall more durable construction.

In different terrains, and tough conditions, such as those you may find yourself in while out on the road, you can rest assured that the M-108+ trailer tires you have equipped will stay strong for the long haul.

This set of Freestar M-108+ Trailer Tires are compatible with most popular trailer brands today, such as Continental, Mako, Ludo, Crestliner and much more. With a low price offered, these tires could be your cheap yet reliable answer to get your RV back on the road ASAP.
---
Best Boat Trailer Tires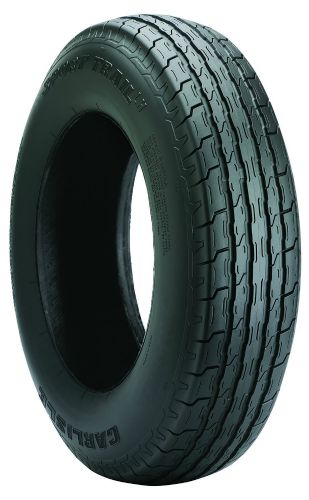 Carlisle Sport Trail Trailer Tire At A Glance
:
---
Tire Speed Rating: N/A
Wheel Rim Size: 12 inches
Tire Load Index: 80
It shouldn't come as a surprise that Carlisle is here appearing on this list for the second time now. With such a longstanding history, with improvements upon improvements taking place, it comes without question that Carlisle produces some of the most quality trailer tires offered on the market today.
In their affiliation with multiple associations within the industry, multiple brands and professionals have relied on them for awhile, making full use of their durable products.
In Carlisle's Sport Trail LH Bias Trailer Tires, you receive the culmination of their hard work. When towing a boat, it's already in your head that you have thousands upon thousands of dollars sitting on top of that trailer, and that you'll do almost anything to ensure its safety from point A to point B.
With the Sport Trail LH Bias tires equipped, you should be able to relax knowing that your tires are doing their job with the most efficiency possible.
Expand To See MoreSee Less

As a lightweight tire, these tires come in weighing 8.7 pounds a piece, and each take up 20.6 x 20.6 x 5 inches of space, and on Amazon you have the option between choosing a style of LRC, LRB, LRD, LRF or LRE.

The tires maximum load capacity is 990 pounds, and the recommended PSI is 90.

These were made for shorter trips, not necessarily meant to support your trailer on a cross country trip, hence the light weight and lower load capacity in comparison to other trail tires.

Refer to your old tires sidewall or owners manual to gain an idea of the load capacity you needed for your previously used tires.

The tread and grip on these tires have been heralded by many customers, who complement its long lasting ability and traction. Even though they are meant for shorter trips at a time, these tires will hold up comfortably after thousands upon thousands of miles of use.

These tires are Bias as opposed to Radial, meaning that it has multiple rubber plies that overlap each other under the tread of the tire, forming a thick layer that is durable but may be more susceptible to overheating issues.

With a tough sidewall, and durable material throughout the tire, you should have no issue moving your boat around on your trailer with Carlisle Sport Trail LH Bias Trailer Tires equipped.

These tires are compatible with trailers from many popular brands, such as Alumacraft, Continental, Sea Ray, Crestliner, Mako, Karavan and others, as well as with utility / cargo trailer brands like Big Tex, E-Z Hauler and Top Hat.
---
Best Heavy Load Trailer Tires

Kenda Loadstar Bias Trailer Tire At A Glance
:
---
Tire Speed Rating: C
Wheel Rim Size: 10 inches
Tire Load Index: 55
Forming in the year 1962 in Yuanlin, Taiwan, the company Kenda Rubber has ever since been creating rubber products and material that have been trusted for the transportation of multiple vehicles.
In the 1970's they began to branch out, and introduce tires for lawn + garden machines, then tires for motorcycles and scooters.
Fast forward to today, and you'll see that Kenda has multiple factories across the globe, and is a top producer of tire and rubber products that customers have relied on for a long time.
In purchasing a set of tires from Kenda's Loadstar Bias Trailer Tire series, your requirements for performance will be certainly surpassed.
These tires come in weighing 17 pounds a piece, taking up 20.5 x 20.5 x 8.1 inches of space, and are the perfect match for your trailer that is being used for a heavy load.
Expand To See MoreSee Less

When carrying a heavy load, you want to ensure you have the tires that were made for that job. Having the right tires for heavy load will improve the safety surrounding the situation, while increasing your likelihood of making it to your destination without any issues arising.

With each tire having a 1,600+ pound wheel capacity, you should have no issue towing around anything that weighs a lot.

With a specially featured low-rolling resistance, your load will be kept off of the ground, deterring it from scraping against the wheels or ground.

This also reduces the safety hazard involved with carrying heavy loads. The rolling resistance is complemented by the tires modern tread design.

The tires in this set are Bias constructed, meaning that the tires have overlapping plies underneath the tread that form to create a thick and durable layer of protection.

Even though that Bias tires may be more prone to overheating at high speeds, the Kenda Loadstar Bias Trailer Tires don't seem to experience this often, and can comfortably go at higher speeds than most heavy-load tires used on trailers.

Purchased from Amazon or most other online tire retailers, you can purchase these tires with an additional 2 year manufacturers warranty that will help to grant you a replacement in the case of any defects becoming present.

These tires are compatible with most popular trailer brands, such as Alumacraft, Continental, Mako, Karavan and others.

At a competitive price, these tires offer you a durable ride that will help to transport your heavy load from one point to another with no problems.
---
Best Trailer Tires And Wheels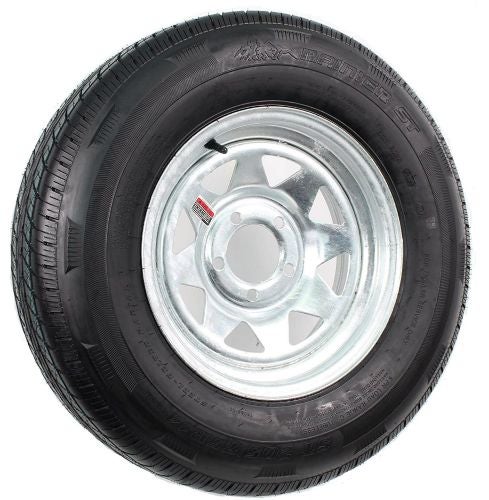 eCustomRim Radial Trailer Tire At A Glance
:
---
Tire Speed Rating: D
Wheel Rim Size: 14 inches
Tire Load Index: N/A
For the past twenty five years, eCustomRim has been committed to bringing you expertise coupled with quality craftsmanship in the form of their products.
As a family-owned business, it's no surprise that they've been able to remain so prevalent, yet to subtle, in the world of trailer tires and rubber products.
Given your request, eCustomRim is also able to fully customize your trailer, with many add-ons and features available for installation.
When looking for a quality tire and rim combination for purchase, look no further than the eCustomRim Radial Trailer Tire that comes pre-mounted on the Rim.
This combination weighs a total of 39 pounds, and takes up 26 x 8 x 26 inches of space. The rims diameter is 14 inches, and its width is 5.5 inches.
Expand To See MoreSee Less

Often, when looking for trailer tires, most are just looking for the tire itself, maybe because they already have the rims needed. But, from time to time, many will need to purchase a tire that comes with a rim it can be installed on, or perhaps already is.

The eCustomRim Radial Trailer Tire + Rim combination provides you with all you need to carry a heavy or light load, for whatever purpose or activity it may involve.

These tires have a weight rating of 2,040 pounds, making them a good candidate for a heavy load pull. They have a tubeless internal tire, and contain a BSW sidewall description.

With a steel construction, the rims are very unlikely to inadvertently give out or pop, providing you with ease of mind on your travels.

The depth of the tread on the tires is 0.24 inches, which is enough to allow for both traction control and water accumulation removal.

These tires are Radial, meaning that they have plies that run perpendicularly on top of one another under the tread, creating a thick and durable layer of protection.

The combination of its quality material and efficient features make it a great option for many purposes.

These tires can easily be suited for trailers from many popular companies, such as Continental, Alumacraft, Mako, Karavan, E-Z Top, Crestliner and others.

The purchase of these tires can almost always be accompanied by a 2 years manufacturers warranty, to help you get a replacement if any defects happen to arise.
---
Trailer Tires Comparison Table
---
Trailer Tires Buyers Guide
From an outside perspective, it seems as if any given tire could work when used for a trailer. After all, it's just a simple tire, right? Aren't they all the same?
Well, unfortunately, it's this line of thought that has left many trailer owners in some sticky situations after their trailer tires happen to give out. Choosing the right tires for your trailer and its haul is almost as important as the trailer itself.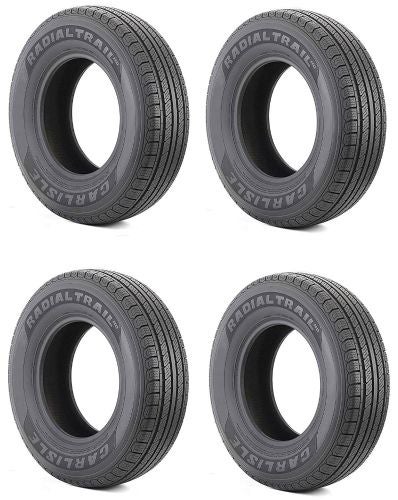 From the get-go, you should be aware of the fact that trailer tires are not, and do not operate , like automobile tires. They both serve slightly different functions, and experience varying amounts of weight pull and sway.
Automobile tires are able to steer, transmit power and swerve out of the way of objects, can can go in conjunction with certain suspension and braking systems.
On the other hand, trailer tires are free spinning underneath your suspension, and are mostly meant to keep your trailer from swaying, with stiffer sidewalls, with a more narrow yet durable width.
They do not execute the same functions that automobile tires do, and are mostly constructed for a durable and long-lasting ride that can pull a lot of weight, and hold it for a long time without popping or deflating.
Reported by Boats U.S, it turns out that almost half of the calls made to them for assistance from their Trailer Assist division were to help out trailer owners with a tire issue.
In order to avoid ending up in this statistic, it would be best to take some time to become familiar with different kinds of trailer tires, and which ones may be more suited for your particular trailer.
To help clear up any confusion, some certain terminology used in this guide will be discussed and analyzed in order to bring you a more clear understanding of the material.
Radial Tires
When selecting trail tires, you'll normally have the option of buying between two types of tires; radial or bias. Radial tires have plies, often made of steel, that run perpendicularly and on top of one another under the tread, giving the tire a more firm and stable construction.
They intend to allow the tread of the tire and the firm sidewall to act as independent features. In other words, the flexing of the sidewall that occurs upon swaying will not be transferred to the tread.
Radial tires do a good job of absorbing shock and impact that's experienced while driving. Ultimately, this will give the driver a more comfortable ride.
Bias Tires
The other type of popular trailer tire type other than radial tires are Bias tires. In contrast to radial tires, bias tires have an abundance of rubber plies that overlap one another, giving a firm
stiffness to the tire. The design of the rubber plies creates a thickness that is durable, but does not absorb much shock. This results in a bumpier ride where the driver can feel the road more, being a bit more uncomfortable than radial tires.
Since the tires are not making as much contact and movement with the ground as radial tires are, they experience a loss of engine power transmission, causing your engine to work harder and burn more gas than necessary in the process.
Tire Speed Rating
A tire speed rating is the max speed that your tires are capable of safely supporting a load. It relates to how long it can carry the load for, and is an indication of performance in lab settings, rather than road settings.
Due to this, you should always follow your tires speed rating closely, making sure not to go over it.
Tire Load Index
The tire load index pertained to a tire is in correspondence with the maximum weight that an be supported by the given tire. The higher the number goes, the more weight the tires are capable of holding.
Frequently Asked Questions
What Is Unique About Trailer Tires?
There is a common misconception out there that you can use regular automobile tires for your trailer. But, in fact, this raises a safety concern that should be avoided at all costs.
Tires on automobiles are made for sharp turning, swerving around objects, and often work in conjunction with the cars suspension or braking system. On the other hand, trailer tires are rolling tires, and are not powered by the transmission, braking system or suspension.
Trailer tires are equipped with strong and sturdy sidewalls, meant to hold the weight above them while fending off debris and other objects that the tires may come in contact with. They are designed to be able to go with the sway that trailers experience often on the road.
Can I Use Trailer Tires On My Automobile?
Trailer tires are made for specific purposes, such as for sidewall strength and trailer sway ability. On the other hand, tires for automobiles have a more flexible sidewall, able to swerve and bend around objects better.
Due to the fact that they are both used for different purposes, it would not be recommended to switch your tires from your trailer to your automobile, or vice versa, as mentioned earlier.
How Long Do Trailer Tires Typically Last?
As for longevity, different types of trailer tires will tend to last for varying amounts of time, considering other factors as well such as wear and tear, driving conditions, weight pulled, and more.
When selecting Radial tires, you can expect them to last for an average of 40,000 miles. As for Bias tires, you can expect them to last an average of 12,000 miles. Depending on how much you plan on pulling your trailer or RV, they can typically last up to around 3-6 years.
Replacing the tires every few years is always recommended, as your trailer tires can become more worn and deflated then they appear on the surface, potentially causing a safety hazard.
After sitting for awhile, they can become flattened in certain spots, and cause unevenness while pulling. Pay careful attention to what condition your trailer tires are in from time to time to stay on top of proper replacement needs.
Why Are My Trailer Tires Blowing Out?
If you happen to be running into the problem of consistent trailer tire blowouts, this may be due to a few different reasons. For starters, not having the tire inflated enough can lead to overheating, eventually causing it to blow out.
On the other hand, pumping the tire with too much air can cause it to blow out. Each tire has a recommended PSI, and you should follow this closely.
After awhile of being stationary, your trailer tires can begin to flatten out on one side, causing an uneven ride. This unevenness can lead to a tire blowout from uneven pressure.
A weakening sidewall will lead to less weight being supported, and the extra pressure can cause your tire to blow out.
Be on the lookout for any wear and tear on the treading to ensure that the tires can still grip properly, and be sure to fill your tires with the correct amount of air.
Are There Any Safety Tips For Trailer Tires?
In order to stay on top of potential safety hazards that relate to your trailer tires, there are a few tips that could help to guide you in the right direction;

Maintain the correct PSI recommended for each tire
Always check it pressure before using, and carry at least one spare with you
Be sure not to overload the tires. Each tire will have a maximum weight capacity, and the total of the four together should not be exceeded by any haul. Exceeding the load capacity of the trailer puts you at risk, and can lead to blown tires
Before each time you take your trailer out, be sure to inspect each tire for any signs of wear and tear, flattening or any other potential safety hazard
As a principle, replace your trailer tires every 3-5 years. If you happen to use it often, every 2-4 years would be recommended
Staying on top of your tires longevity through constant supervision is your best bet. Visual inspection will help you to figure out any possible issues before they arise on the road, ultimately costing you more money than it would have in the first place.
Conclusion
By now, you should know more than enough to be able to get out there and buy the set of tires that are right for you and your trailer. Be sure to buy trailer tires that are suited for your desired activity, and follow the given safety tips to ensure a long life for your tires.
Notice:
OutsidePursuits.com is a participant in the Amazon Services LLC Associates Program, an affiliate advertising program. OutsidePursuits.com earns fees from products sold through qualifying purchases by linking to Amazon.com. Amazon offers a commission on products sold through their affiliate links.