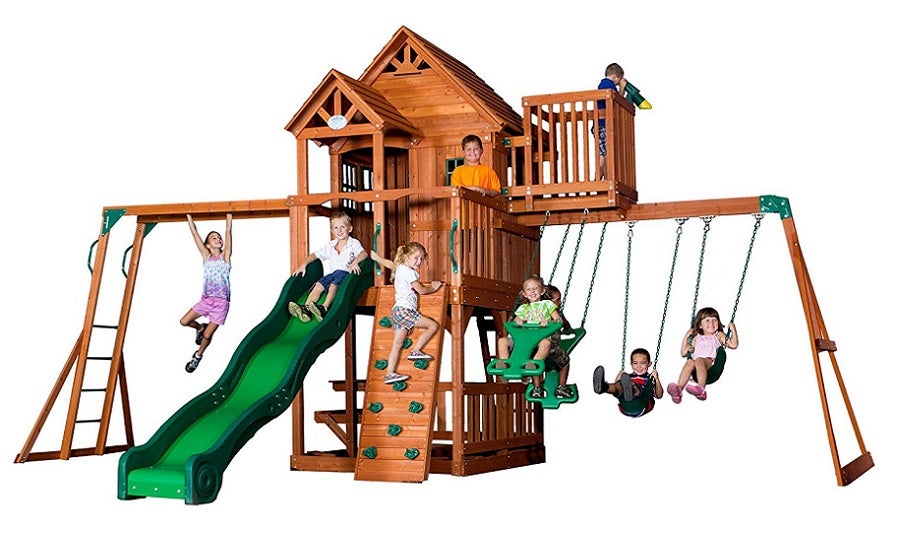 Our Editors independently research, test, and rate what we feel are the best products. We use affiliate links and may receive a small commission on purchases.
One of the best ways to get kids outside and away from cell phones and video games is to give them something fun to do in the yard.
A swing set offers that fun as well as inspiring imagination and staying active.
Here, we review the top swing sets currently available and help you determine which is the right one for your kids.
Best Swing Sets
For more of my kids entertainment recommendations, have a look through these popular Outside Pursuits guide links: Jungle Gyms, Kids Scooters, Tree Swings, Trampolines.

Quick Answer: The 7 Best Rated Swing Sets For 2021
Our reviews of the top rated swing sets with our guide and comparison table will help you choose the right one for you.
---
Swing Set Reviews
The 7 kids swing sets we've reviewed offer everything from a basic set with a few swings to the ultimate in backyard play experiences. Ready to find out which were our favorites? Let's jump into it…

KidKraft Andorra Cedar Wood Swing Set at a Glance
:
---
Play Features: high rail slide, rock wall, two belt swings, vinyl chalk wall
Appropriate Ages: 3 to 8 Years
Frame Material: Cedar Wood
Assembled Dimensions: 108 x 95 x 123 Inches
Warranty: 1 year warranty on accessories, 5 year warranty on wood frame
This kids' swing set is one you definitely won't regret buying. With a high rail slide, rock wall, two belt swings and a vinyl chalk wall, your kids will never tire of playing on this.
The KidKraft Andorra playset is constructed with premium cedar lumber and can support up to 770 pounds – perfect for playdates and birthday parties.
The wood is pre-cut, pre-drilled and pre-stained with a factory-applied, child-safe coating – so you don't have to worry about your little ones ingesting anything harmful.
Though this swing set might look a bit intimidating at first glance, assembly is a straightforward process.
The set is packaged with detailed, step-by-step assembly instructions with diagrams included. It shouldn't take more than a couple hours to fully construct.
This wooden swingset weighs around 130 pounds, so moving it around once it's set up can be a pain. Be sure to check the dimensions before attempting to build it!

---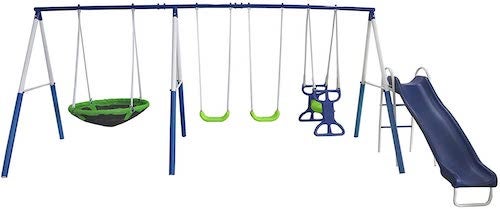 XDP Recreation Swing Set at a Glance
:
---
Play Features:

2 individual swings, 1 ride-on, 1 slide, and disc swing

Appropriate Ages: 3 to 8 Years
Frame Material: Powder coated steel, foam
Assembled Dimensions: 77.3 x 18.2 x 13 Inches
Warranty: N/A
The XDP Recreation Swing Set is another top rated product on our list.
This model features several play activities such as 2 individual swings, 1 ride-on, 1 slide, and a disc swing. If you have high energy children, these play features are perfect for them.
The XDP's steel powder-coated frame and foam leg supports can withstand vigorous play, and give it a high weight capacity of 700 pounds.
The powder coated steel is both sturdy and weather resistant, so no worries if your set gets caught in the rain. After all, it is built to withstand the elements of nature.
This is another playset which may seem intimidating, but with the included step-by-step instructions, assembly is relatively easy.
However, given the playset's heavy weight of 125 pounds, you may consider inviting a friend or two to help with setup.

---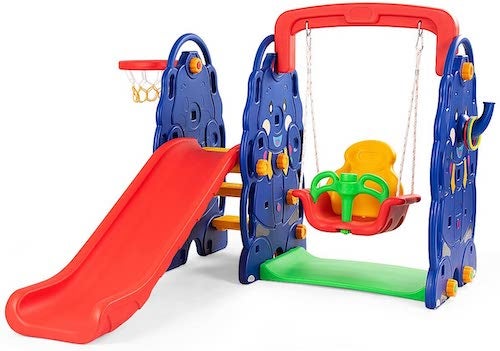 Costzon Climber Swing Set at a Glance
:
---
Play Features: s

lide, swing, basketball hoop, ring-toss

Appropriate Ages: 1 month – 6 years
Frame Material: non-toxic HDPE

material

Assembled Dimensions: 66 x 59 x 47 Inches
Warranty: N/A
Next up, we have the Costzon Climber Swing Set. This is the ideal option for toddlers who are just beginning to experience the wonders of active playtime.
With a slide, swing, basketball hoop, and ring-toss, this play set will keep your little ones entertained for hours.
The Costzon is made from durable and non-toxic HDPE material, making it safe for kids with a penchant for putting things in their mouths.
This model was built with safety as priority. The whole slide is connected smoothly without edges for your baby's tender skin, and a mini staircase is designed to prevent slips and falls.
The swing is equipped with widened seats, forward-leaning safety protection, and a wide backrest for comfortable use.
At a light weight of 46 pounds, it is also relatively easy to pick up and move around, and assembly is speedy and straightforward.
This is a low-maintenance swingset that your children will love growing up with.

---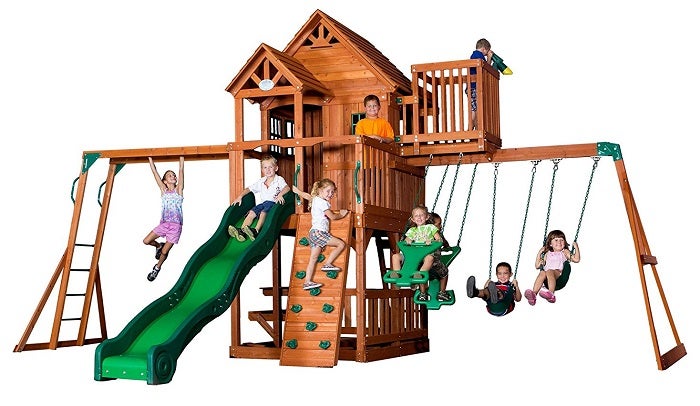 Backyard Discovery Skyfort II at a Glance
:
---
Play Features: Clubhouse, Playdeck, Belt Swings, Glider, Slide, Sandbox, Monkey Bars
Appropriate Ages: Not Listed
Frame Material: Cedar Wood
Assembled Dimensions: 263" x 201" x 148"
Warranty: 5 Year on Wood Frame, 1 Year on Parts
Backyard Discovery is known for designing some of the best backyard swing and play sets. The Skyfort II is of wooden construction, 100% cedar, with T-Fuse hardware that makes it sturdy and easy to assemble.
This makes it extremely resilient when it comes to insect damage and the elements. A couple of features that make this playset stand out from the others are the monkey bars as well as the sandbox.
There are 2 traditional belt swings as well as a glider meant for two.
Have your kids challenge themselves on the rock wall or relax for lunch at the shaded picnic bench that seats four.
The wave slide of the Backyard Discovery Skyfort II is 10 feet tall making it more suited to kids that are a bit older.
However, many features of this backyard playset make it great for a range of ages.
The raised clubhouse is the perfect place for enjoying friends while staying out of the sun making this the best wooden swing set on out list!

---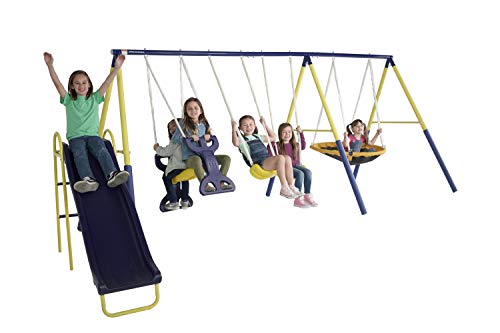 Sportspower Super Star Swing & Slide Set at a Glance
:
---
Play Features:

Glider

, Swings, Slider, Flying Saucer
Appropriate Ages: 5 to 10 Years Old
Frame Material: Steel
Assembled Dimensions: 177″ x 104″ x 72″
Warranty: 5 Year Limited Manufacturer's Warranty
The Kids Outdoor Playground by Sportspower has 5 different play stations from a flying saucer swing to 2 belt swings. Have the kids gather their friends to help them get the most out of this play set.
What sets this outdoor swing set apart is the sports equipment are the safety features like vinyl chain covers and larger, stronger handles along with the ability to use an anchoring set (not included).
The 2 inch powder coated support bars ensure they won't rust and support up to 600 pounds! The Sportspower Super Star meet or exceeds all ASTM safety standards so you can rest assured your children can play safely.
The various features of this outdoor playground keep kids active while giving them choices as to how to do that. With the Sportspower you can keep up to 7 kids active at once in your backyard!

---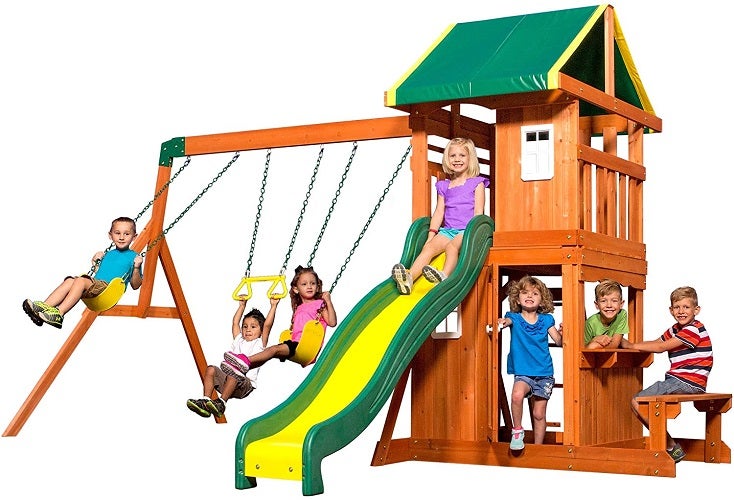 Backyard Discovery Oakmont Playset Swing Set at a Glance
:
---
Play Features: Playdeck, Belt Swings, Trapeze, Slide, Canopy
Appropriate Ages: 36 months – 10 years
Frame Material: Wood
Assembled Dimensions:

14' x 11'3" x 8'7"

Warranty: 5 Year on Wood Frame, 1 Year on Parts
Spark your kids' creative imagination with a balcony and feed their active bodies through a fun snack window. This DIY kit will create a solid, wooden construction, play structure.
The clubhouse is big enough to allow several kids to play in shaded safety.
Just like the other Backyard Discovery play set featured above, the wooden structure is fastened together with Safe-T-Fuse locking nuts and sturdy brackets.
The wood used to construct this Backyard Discovery Peninsula Playset is treated to repel insects and resist decay over time.
As with all Backyard Discovery play sets, this outdoor playset is ASTM compliant to give you peace of mind when your children are playing.

---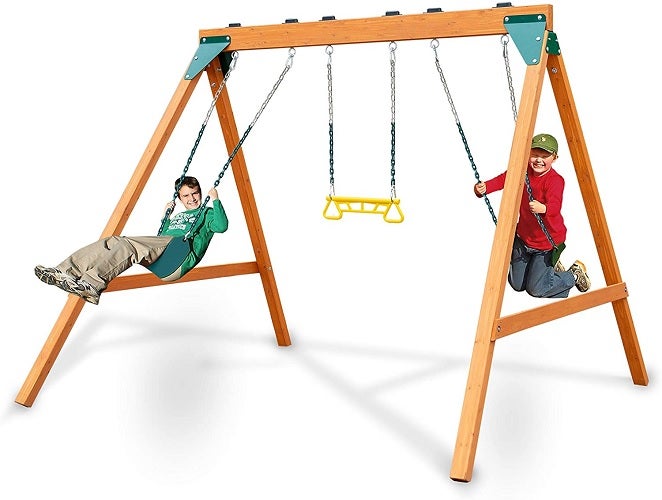 Swing-N-Slide PB Ranger Wooden Swing Set at a Glance
:
---
Play Features: Swings, Trapeze
Appropriate Ages: 3 to 10 Years
Frame Material: Woodguard Treated Wood
Assembled Dimensions:

104″ x 92″ x 82″

Warranty: 5 Year Limited Warranty
This Ranger Wooden Swing Set by Swing-N-Slide is constructed with Woodguard wooden beams.
The wooden beams are treated and then coated in a UV-stabilized plastic specially engineered to surround the wood, making it more resistant to insects and more resilient in the elements than even treated lumber.
It also helps to prevent splinters. These Woodguard treated beams are easy to assemble into a sturdy play set with instructions that feature photos.
Due to the Woodguard treatment, this backyard playground is sturdy and will last many years, even with constant play. The weight of the Woodguard treated beams can be much stronger than metal sets similar to this one.
The Ranger can support three children at a time with the two swings and the ring/trapeze. The chains are adjustable for your child's height and coated for rust resistance and prevent pinched fingers.
You can enjoy a 5-year warranty from this Swing-N-Slide play set. It also meets or exceeds the ASTM standards established for safety.

---
Swing Set Comparison Table
How to Choose the Best Swing Set – Buyers Guide
After seeing 7 very fun but very different swing sets, it is important to know what you and your kids need and want out of a backyard swing set. Here, we discuss factors you should consider before choosing the right one.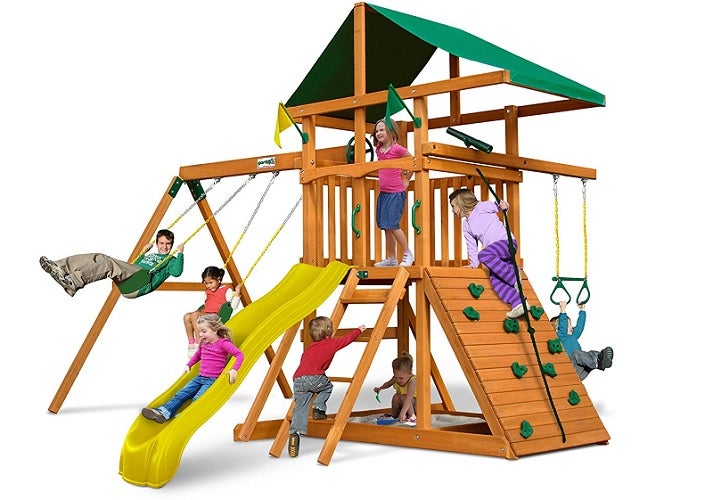 Location
It is important to look at the size of the assembled swing set. Remember that you will need plenty of room around the playset to allow the kids to run and play without getting hurt.
If you have a smaller area set aside for a backyard swing set, make sure you find one smaller. If you have plenty of room, however, feel free to choose the biggest on the list. But location shouldn't be the only factor you consider.

Features
Out of the swing sets we've featured, we have shown you one that has as few as 2 play accessories and ones that have up to 10. If you have one or two kids that will be using it regularly, you may not need something with quite so many play areas.
However, you might want to take into consideration that your kids will be bringing friends over to play as well. You may need something that will keep more that a couple kids entertained.

Material
Most backyard swing sets are either made of steel that has been powder coated or of wood that has been treated to resist decay and also damage from insects.
The wooden play structures are usually much larger and may have more height to them. Metal swing sets are typically smaller and with fewer play features.
Structures made of treated wood may also deteriorate faster in certain climates and metal can rust over time. It is important to look at which would be better for your area.

Age and Weight
Some play sets are made for children of certain ages. This means the play features are made for the size and weight of children of those ages.
Some backyard swing sets can be too tall for smaller kids and some could be too small for older kids.

Installation
Metal play sets can typically be assembled with just one or two people. However, the weight of wooden swing sets can make it difficult without more help.
Most swing sets, both metal and wooden, come with very detailed instructions to make assembly much easier. There may even be videos available to assist you with assembly.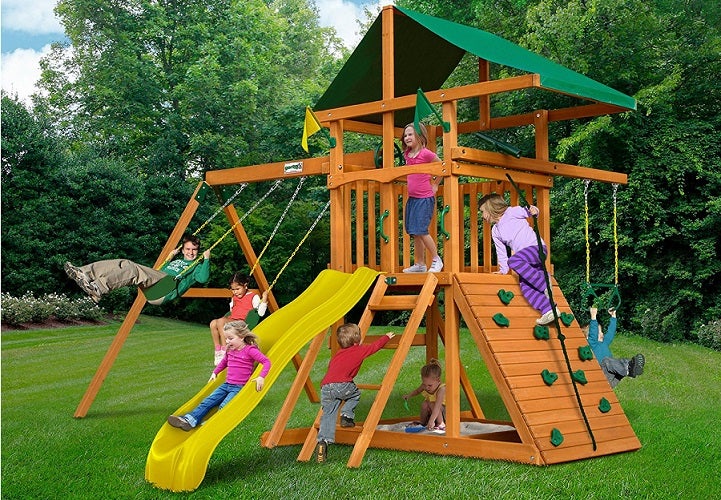 FAQs For Kids Swing Sets
As a backyard swing set can be a big investment, you will want to have questions answered before you push the "buy" button. Here are several questions that many people have when looking for a play set, and our answers to them.
Q: What maintenance is required?
A: With both metal and wooden swing set structures, it is important to check that setup on flat ground. Check it regularly as the ground can shift over time. You also want to regularly tighten all brackets to keep it stable while it is being used. As wooden structures are treated, there is no need to re-stain or paint regularly.
Q: Is the weight limit the same on every accessory?
A: While a swing may have a weight limit of 80 pounds, the slide may be able to handle 120 pounds. For each swing set, no matter what type, that has different play features you will need to read the product manual for the weight limit on each accessory so you can keep the kids safe.
Q: Can an adult safely use a swing set?
A: This depends on the weight limit of each play structure. Just like researching for kids' weight for each feature, you will need to research whether it will hold your weight safely. Typically, wooden structures are more likely to be able to hold the weight of an adult.
Q: How should I anchor the swing set?
A: Metal swing sets will always need to be anchored securely to the ground as they can tip with higher swings or strong use of gliders. Usually metal stakes are used to secure metal swing sets to the ground. Wooden swing sets have the weight to hold themselves to the ground but you may want to add anchor bolts into the ground as a precaution.
Q: Are metal or wood swing sets better?
A: Both building materials are a good choice however wood can require more maintenance. Not only can termites eat the wood, it can suffer from dry rot and fungus. As long as it is maintained it will be fine. Metal swing sets need to be painted otherwise they will rust.
Q: How long do wooden swing sets last?
A: Properly maintained there is no reason a wooden swing set cannot last 20-30 years depending on the wood used.
Q: Where should I put my swing set in my yard?
A: Swing sets need to be level so you need locate the swing set in a level area of your yard. If you don't have a flat area, you will need to level the ground so it can be. You also need to ensure there is enough area around the swing set so that your child will not hit anything around like trees, houses, garages etc.
Q: What age are swing sets for?
A: Height and weight are more important than age however as a general rule they are tall enough to get on a swing by age four.
Q: How do you maintain a wooden swing set?
A: You must regularly inspect the swing set for damage from rot or termites and repair as needed. Clean the swing set to remove dirt and mildew on a weekly basis. Lastly once a year you should apply a fresh oat of paint.
Q: Is a swing set worth it?
A: Most definitely! It's a great way for your kids to have fun and get some exercise at the same time. Most kids spend way too much time on computers, in front of the TV and on their phone. A swing set allows them to play with their neighbors and socialize as well.
Q: What safety rules are important?
A: There are many tips to keep your kids safe when it comes to using a backyard swing set no matter what play types are available with it and whether it is made of metal or wood. To make things a little easier, we are featuring 7 of the most important safety tips for the use of backyard swingsets.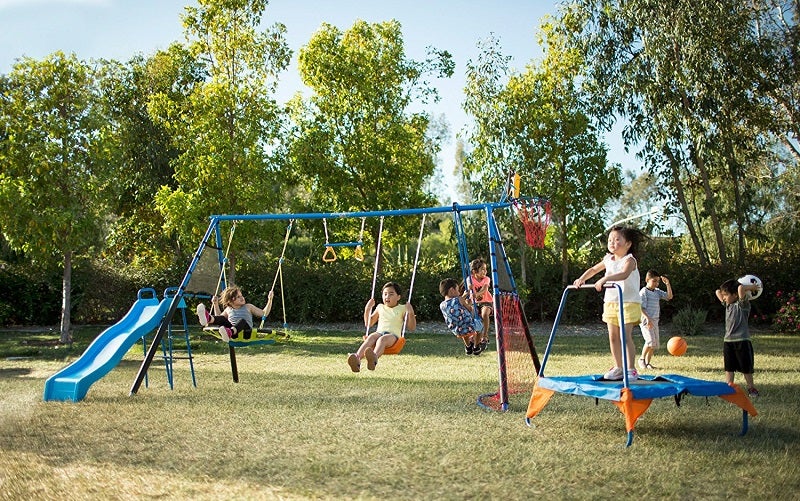 Outdoor Swing Set Safety Tips
As promised, we list 7 safety tips for playground equipment here. We want to make sure that play time in the backyard is safe for all involved.
Tip #1: Never Let Kids Play Unsupervised
There should always be adult supervision when children are playing on any type of backyard swing set. Be sure to stay active with the kids as well so you can change unsafe behavior before it causes an injury.
Tip #2: Establish "No-Zones"
There are certain areas in and around a swing set that should be avoided when other kids are playing. Kids should be taught not to walk in front of or behind a swing and to stay away from ladder and rock walls while another kid is playing on them in the event of a slip or fall.
Tip #3: Dress Kids Appropriately
Kids should never play on a backyard play set with loose clothing. They can trip over pants that are too long for them and baggy shirts can get caught in the chains of the swing or in other areas of the swing sets. Be sure to have them wear clothing appropriate to the weather as well.
Tip #4: Using Swings Appropriately
Kids shouldn't swing too high, as it increases the risk of injury. Kids should also not walk in front of or behind someone else who is swinging. Swings should only ever go forward and back, not side to side. And kids should never stand on top of a belt swing.
Tip #5: Keep the Area Around the Swing Set Clear
There should be extra space around the swing set to allow for kids, and even adults, walking around it. Swings need extra room as well. You will also need to have plenty of room to provide regular maintenance to the play set.
Tip #6: Regular Safety Checks of the Equipment
As mentioned, your swing set needs to be checked regularly. Tighten all bolts so brackets don't loosen. You should also check all anchor points to make sure they are secure. Swing chains should be checked for kinks and to make sure any protective coating is intact.
Tip #7: Teach Proper Use of Each Feature
There should be rules established for the use of each play feature, whether it is a trampoline or a rock wall. These safety rules should be used by every child who uses it and there should be adult supervision in place to make sure these rules are always being followed.
Get Kids to Play Outdoors with a Backyard Swing Set
A backyard swing set can help draw the kids away from cell phones, tablets, computers, and video games. With a lot of options for fun and imaginative play, a swing set might even be the active play they need outdoors to stay healthy.
Be sure to have their friends over to enjoy the fun as well. Are you ready to choose the right swing set for your backyard?
---
I hope this guide was helpful for finding the best swing sets to fit your needs. If you want to comment or recommend a playset I didn't include, please use my contact form to get in touch.
How We Researched
To come up with the top backyard swing sets, we researched a variety of sources for reviews such as Home Depot, Lowes, Target and Wayfair along with our own personal experience.
We also consulted online magazines for product research and reviews to get as much unbiased information as we could. To help weed out fake reviews we used Fakespot.com to make sure we only looked at genuine reviews.
With so much quality gear available, we had to narrow it down based on what we felt were the best options were for the price. The staff authors have a wide and varied background in yard design and home repairs.
The authors have decades of experience and are eager to share their knowledge with readers.
To help narrow down the selection we used personal experiences along with recommendations from landscapers, bloggers and contractors.
After extensive research, we came up with our list to help you choose the right one for you.
Sources
Notice:
OutsidePursuits.com is a participant in the Amazon Services LLC Associates Program, an affiliate advertising program. OutsidePursuits.com earns fees from products sold through qualifying purchases by linking to Amazon.com. Amazon offers a commission on products sold through their affiliate links.