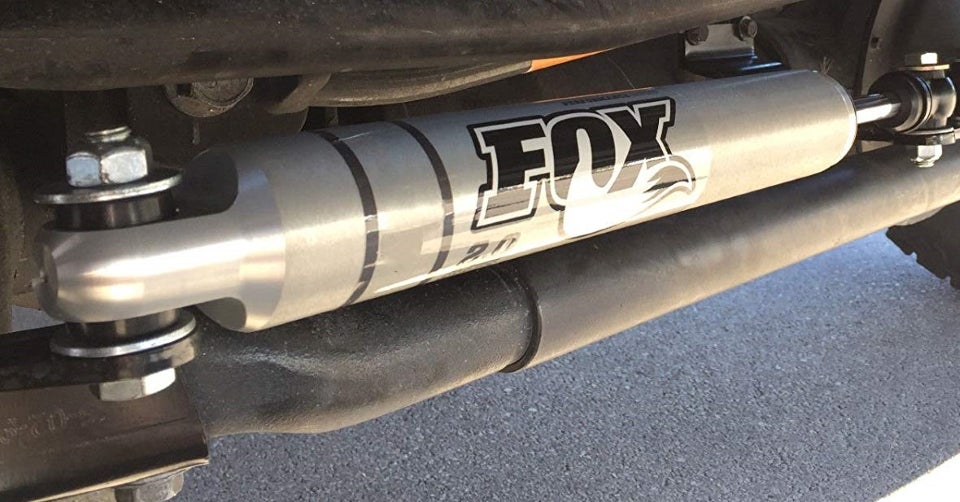 Our Editors independently research, test, and rate what we feel are the best products. We use affiliate links and may receive a small commission on purchases.
If you have done even a little bit of research, you know that there are a lot of different brands to choose from and figuring out which one will work best for your vehicle could be confusing.
First, we take a look at the 5 top-rated best steering stabilizers. Then the criteria and technical specifications are discussed in our Steering Stabilizers Buyers Guide.
Best Steering Stabilizers
| | Fox Racing Shox Steering Stabilizer | Bilstein Steering Stabilizer | ProComp Suspension Steering Stabilizer |
| --- | --- | --- | --- |
| | | | |
| | | | |
| Shaft: | 5/8 inches | 11mm | Not specified |
| Body: | Aluminum | 48mm smooth body | Alloy steel |
| Features: | High-flow piston, high-tech appearance | Zinc plated, monotube | Single stabilizer, includes all necessary brackets |
| | --- | --- | --- |
Also see: Steering Stabilizers Comparison Table
---
Quick Answer: The Top-Rated Steering Stabilizers
---
Steering Stabilizers Reviews
Not all steering stabilizers fit every type of vehicle. So, we are going to give you a review and some background on these manufacturers. We will also include the different product lines each company offers.
(Note: There are multiple models within several of the product lines, and to address each one individually is space and time prohibitive, as some of the differences boil down to a simple mounting bracket. When doing your research, be sure to look at each model to ensure the best choice for your vehicle).
Following the reviews, you will find a "Buyer's Guide" section that will define some terms and give you some technical information to consider when you are deciding on which one to buy. This will be followed by an FAQ section.

Manufacturer Information
This company has a very long history, going back to 1957 when the founder, Bob Fox, set out to create a better shock absorber for dirtbike racing. With now over 60 years of experience, Fox Racing Shox is a leader in the manufacturing of shocks for vehicles in multiple motorsports.
Not only do they produce shocks for competitive vehicles, they have also taken that knowledge and applied it to every day use in off-road shocks. They remain known for high quality products in the steering stabilizer market. If you buy a Fox steering stabilizer, you can be assured that you are buying a product that has years of experience applied to its design, development and production.
Product Line Overview
Fox Racing Shox has three basic product groups, ranging from high performance to stabilizers for more general use.
Fox Shox 2.0 Performance Series ATS Steering Stabilizer
Shaft: 5/8 inches
Body: Aluminum
Features: High-flow piston, high-tech appearance
"ATS" stands for "Adjustable Through Shaft," which means that it addresses steering forces from all directions, which is a step above the usual opposing stabilizers. These stabilizers have external adjustment capability, which allows you to really focus the stabilizer for the perfect balance.
This series also has an integrated reservoir which increases fluid capacity. This is important for cooling during extreme usage.
Fox Shox 2.0 Factory Series Smooth Body Stabilizers
This is a series that was born from competitive racing, and therefore generally improves damping on any terrain. Since these stabilizers were developed and tested in the most challenging competitive conditions, you can be assured that they are well-developed for your everyday use.
Best of all, this product level is a universal fit and not vehicle specific. These direct replacement shocks can be used on multiple vehicles, from lifted to stock, and can also be used as an aftermarket kit replacement.
Fox Shox 2.0 Performance Series Smooth Body IFP Stabilizers
With advanced damping technology, these basic stabilizers are multi-use as well. Based on current user reviews, Ford owners report that this product is the best steering stabilizer for F250 trucks.
---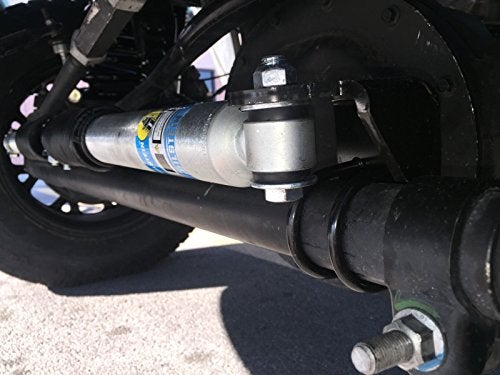 With its start in luxury performance vehicles, this company has adapted to be compatible with a wider variety of vehicles while still maintaining the luxury standard.
Manufacturer Information
The full name of this company is the ThyssenKrupp Bilstein Company. Founded in Germany, they revolutionized automotive technology in 1957 with the introduction of their monotube gas pressure shock absorber.
Originally installed in a Mercedes-Benz series vehicle, Bilstein has gone on to become a leader in performance-oriented cars. Their products can be found in Lamborghinis, multiple Porsche models, and Bugattis. They have also taken their performance standards and applied them to a wide variety of OE mass produced vehicles, including (but not limited to) Ford, Land Rover, Subaru, and Volkswagen.
Their monotube steering stabilizers are now manufactured in Hamilton, Ohio, where they test every product on multiple terrains to ensure wide-ranging applications.  Their constantly evolving, innovative, new technology is used by aftermarket outfits, auto manufacturers, and in motorsports.
Product Line Overview
Bilstein B85100 Series Steering Stabilizers
Shaft: 11mm
Body: 48mm smooth body
Features: Zinc plated, monotube
This product series is an excellent choice for extending the life of your vehicle. Marketed for every-day use, the affordable 5100 series dampens even the smallest of movements in steering. It is also a recommended line for reducing the natural wobble that occurs in older vehicles.
Bilstein B8 5100 Series Steering Dampers
These gas pressure dampers provide maximum heat dissipation which prolongs the life of the damper itself. The adjustable head allows the user to tweak the compression to provide the best performance for any particular vehicle. There are fewer parts in a monotube, which also prolongs the life of the damper.
Bilstein B4 OE Replacement Steering Dampers
The B4 OE Replacement are exactly what their name says: replacements for OEM steering dampers. The manufacturer states that these are tough enough for off road use and heavy hauling, but will still maintain a smooth street ride.
Bilstein 4600 Series Steering Dampers
Monotube
36mm
Front position
Multiple mount options (dependent on model)
Yellow or blue boot included
There are three different models in this line. Depending on your choice, lower mounts are a 10 mm eye, 12 mm eye or stem, and corresponding upper mounts are stem, 12 mm eye, or stem.  The model you choose would be determined by your vehicle make and model, as well as the intended use of the vehicle.

---

Manufacturer Information
Established in 1992, ProComp began as a manufacturer of products specifically designed for off-road warriors. They continued to innovate and build their product base and now offer a complete range of off-road auto systems.
Manufactured for multiple vehicles, but a particular favorite among Jeep owners, Pro Comp USA offers a life time warranty on their suspension products. The warranty actually stays with the Jeep, regardless of a change in ownership. This is unique, as many warranties are voided beyond the original owner.
In addition, Pro Comp's manufacturing facility is in San Diego California, and they are currently the only company that tests their products under true driving conditions instead of via simulations. This ensures the most accurate assessment of their products' real-life applications.
Product Line Overview
Pro Comp Single Steering Stabilizer Kits
Shaft: Not specified
Body: Alloy steel
Features: Single stabilizer, includes all necessary brackets
This single stabilizer kit reduces bump steer issues caused by rough roads. It is suitable for vehicles with oversized tires, and is engineered to reduce vibration while improving handling. There are several versions of the single stabilizer kits, and they fit everything from Jeep models from 1973 to vehicles with High Rider packages.
In fact, this is a favorite Jeep steering stabilizer due to the sheer number of models the products fit.
Pro Comp Dual Steering Stabilizer Kits
Dual stabilizer
Includes all necessary brackets
Look no further for your Jeep Wrangler steering stabilizer. This model fits 2007-2014 Wranglers, Rubicons, and Unlimiteds. The kits come complete and some of the models fit vehicles with special lift specs.
Pro Comp Steering Stabilizer Cylinder
The multiple models of this particular cylinder fit just about any Jeep year and model from the 1980s to the present. This is why Pro Comp is considered the best manufacturer for a Jeep TJ steering stabilizer; where else will you find something that will fit your 1987 TJ Wrangler?
Pro Comp Pro Runner Single Steering Stabilizers
Monotube
Shock boot included
Mounting brackets NOT included
Because the mounting brackets are not included, this is generally considered a replacement stabilizer. It still comes with the aforementioned Pro Comp quality stabilizers.
---

Manufacturer Information
Established in Long Beach, CA in the 1950s, Rancho has been an innovator in suspension, lift, and leveling systems for nearly six decades. Started as Rancho Jeep Supply, they continue to be a leader in on- and off-road products for Jeeps and custom off-road vehicles.
They were bought by Tenneco Inc in 1990, where they joined other recognizable manufacturers like Monroe shocks and struts and DynoMax Performance Exhaust. This greatly expanded their production capabilities, while ensuring that a Rancho steering stabilizer remains a great purchase.
All of their suspension and stabilizing systems include a limited lifetime warranty, and their shocks and stabilizers include a 90-day ride guarantee. This means that you can return the product within 90 days for a full refund of its purchase price. This gives you an excellent opportunity to evaluate the impact their product has on your vehicle.
Product Line Overview
Rancho RS7000MT Monotube Steering Dampers
Shaft: Not specified
Body: Smooth body, liquid metallic finish
Features: Monotube, limited lifetime warranty
This series will help protect front-end suspension components. In turn, there should be a reduction in tire wear and steering shimmy or wobble. Improvement in these areas will ultimately reduce driver fatigue.
Rancho Dual Steering Stabilizer Kits
Dual kit
Includes all brackets, hardware, and stabilizer shocks
[/box] The dual setup kit is specifically engineered for vehicles with 35-inch or larger tires, and is particularly designed for aggressive off-road driving.
Rancho RS5000 Steering Stabilizers
Available in single and dual configurations
Twin tube
Cellular gas
Red dust boot
Built from the RS5000 series shock absorber, which is one of the world's best-selling shocks, these stabilizers are suitable for both street and off-road driving. Like others in the Rancho line, they are engineered specifically for vehicles with oversized wheels.
Another benefit of this series is that there are bracket kits available. So you can install these stabilizers even if your vehicle does not have an OEM mount.
---

Manufacturer Information
Skyjacker Suspensions has been in business for over 40 years, and they continue to provide cutting edge suspension products for multiple makes and models, including Chevy, Dodge, Toyota, and Ford. Based in Louisiana, they listen to their customers and innovate technology to respond to consumer demands.
Product Line Overview
Skyjacker Steering Stabilizer Dual Kits
Shaft: 20mm
Body: Polyurethane
Features: Dual kit, includes all installation hardware
The Skyjacker steering stabilizer dual kit is engineered to reduce bump steering as well as minimize front-end wobble or vibrations. The polyurethane boot is designed to protect the stabilizer from both off- and on-road elements.
Skyjacker Steering Stabilizers
Skyjacker Steering Stabilizer Single Kits
Same specs as the dual, except single
Skyjacker Steering Stabilizer HD OEM Replacement Kit
Competitively priced, this kit comes with all of the parts that are needed for installation. Sturdily built, this replacement kit also comes with the boot to protect the stabilizer from all sorts of debris.
---
Steering Stabilizers Comparison Table
---
Steering Stabilizers Buyer's Guide
If you have a Jeep, 4×4 truck, or other heavy-duty vehicle, you know that there is side-to-side movement of the vehicle's tires that can sometimes cause wobble and make steering difficult. There is good chance that you have considered installing a steering stabilizer to minimize or eliminate that wheel (and steering wheel) movement.
In this section, we will define some terms that you may find in your research, as well as give you a few tips on what to look for when shopping for your steering stabilizer shocks.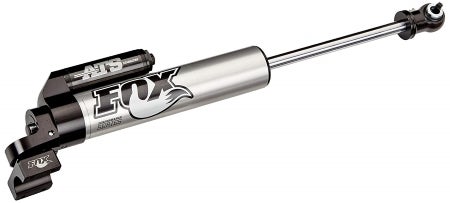 Steering Damper
This is simply another name for a steering stabilizer. It is called this because it "dampens" the excessive movement of the wheels.
Damping
The reduction of oscillation (shimmying or wobbling) due to the pressure being relieved elsewhere in the system. The basic function of a steering stabilizer is to dampen wobble (see below).
Bump Steer
This is what occurs when your vehicle hits a pothole or large bump. If the bump is large enough, the tires can be jarred off course, causing you to briefly lose control of your steering, which can be dangerous. A steering stabilizer can minimize the overcorrection, "stabilizing" the path of the tires.
Cantilever vs Loop Mount
There are two different types of mounts for steering stabilizers. One is a loop mount, which looks almost exactly like a regular shock absorber.
The other is cantilever mount, which will have a threaded stud or loop on one end and a large threaded stud at a 90-degree angle at the other end. You would obviously need to check to see which type is designed for your car before buying.
Front Mount/Rear Mount
This is simply where the stabilizer is attached to the car. Some of the mounts are the same front and rear, and some may have a loop (or eye) mount in the front, but a rear stem mount.
Be sure that you check the stabilizer to ensure that you have the proper tools for whichever mount you will using.
Lift
Used especially in motorsports, but also if you just have a customized vehicle, you have to be careful that you find the proper stabilizer.
You may buy a Dodge Ram steering stabilizer, only to find that it does not fit your vehicle because it cannot be used on a truck that has been lifted or raised (which is an entirely different suspension topic). Make sure you are getting the right one.
IFP
This is the acronym for an Internal Floating Piston. An IFP steering shock has an internal dividing piston that keeps the nitrogen and oil separated. The low mass "floating" dividing piston is kept at a constant pressure by the nitrogen gas. This provides maximum damping.
Death Wobble / Speed Wobble / Wobble
More than a slight vibration, death wobble is the rapid oscillation of the steering components of your vehicle which usually results in your steering wheel shaking quickly from side to side.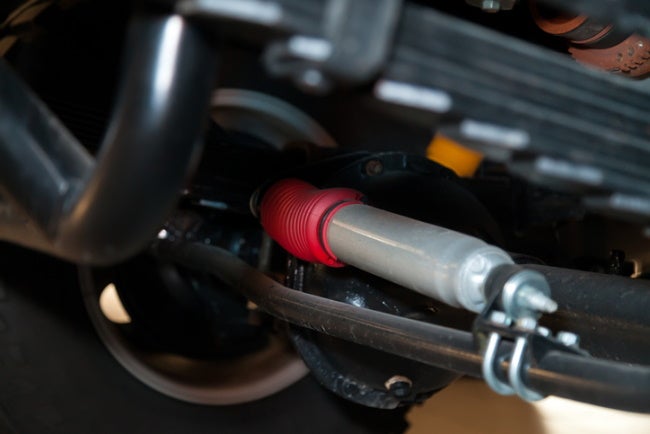 The vehicle becomes extremely difficult to control and feels like it is going to shake itself apart.
The only way to stop the vehicle from the speed wobble is to slow down, or in extreme cases, stop. This has been reportedly mostly with Jeeps but is known to happen with other makes and models. Wobble is also familiar to motorcycle riders.
FAQs – Frequently Asked Questions About Steering Stabilizers
Question: Why do I need a steering stabilizer?
Answer: It may not be as much of a "need" as a "probably want." If you drive a motorhome, elevated truck, or a vehicle with heavy machinery, you know that it is sometimes a struggle to hold onto the steering, especially if the roads are a little rough, or if you have been driving for an extended period of time.
Steering stabilizers absorb the road interference, providing you with a smoother and ultimately more manageable driving experience. If you are driving a particularly heavy vehicle, this could make a big difference for you.
That being said, unless you plan doing some off-road, high speed driving, you probably do not need steering stabilizers in a regular sedan or compact car.
Question: Are shock absorbers and steering stabilizers the same thing?
Answer: Not exactly. They are both used to stabilize movement of the wheels, but shock absorbers limit up and down movement, while steering stabilizers limit side to side movement. Steering stabilizers are mounted horizontally.
Question: Do I need to get dual stabilizers, or is one enough?
Answer: This depends on the size of the tires on the vehicle, and what kind of accessories you have on your vehicle. Generally, if your tires are 35 inches or larger you will need dual steering stabilizers. You will also need duals if you are planning on using your vehicle with heavy duty accessories, like a snowplow or a winch.
Question: Can I install or replace the stabilizers by myself?
Answer: The answer to this is two-fold. First, you need to check to see if your vehicle has an OEM (Original Equipment Manufacturer) stabilizer, meaning verifying that your vehicle had one installed in the factory. If it does have an OEM stabilizer, then replacement should be easy.
If your vehicle does not have an OEM stabilizer, you will need to purchase a full kit and retrofit the mounting apparatus, using the stock location and mounting points in the vehicle. This could be a little bit more involved, and if you are not mechanically minded, you may want to leave it to a professional.
Question: If I prefer to do it myself, do I need special tools?
Answer: You should be able to replace either cantilever or loop stabilizers fairly easily with common hand tools. Installing an entirely new kit may require other tools. Check the requirements of the kit, as well as your vehicle's compatibility, before purchasing anything else.
Question: How long do steering stabilizers last?
Answer: That is completely dependent on how hard the vehicle is driven and how much wear and tear it is exposed to. There are certain things that you can look for which may tell you that your stabilizers are going bad.
If you hear a clunking noise coming from under your vehicle or you notice hydraulic fluid pooling underneath your vehicle, that could be the stabilizer failing. Likewise, if your steering is unstable when you are off-road, your steering wheel feels loose or shakes at higher speeds, those could be other signs.
In short, if you notice anything that was occurring to your car before the stabilizer was installed, it might be going bad.
Question: What about a motorhome steering stabilizer?
Answer: It should be noted that none of the manufacturers on this list specifically mentioned motorhomes or recreational vehicles (RVs), but this does not mean that they may not have stabilizers for vehicles of that size. If you are looking for the best RV steering stabilizer, start with the more heavy-duty stabilizers and see what they are rated for.
Conclusion
As you have seen, there are multiple models in each product line for every manufacturer listed. Your choice should be based on your vehicle's specifications and what you intend to use the vehicle for.
First, check and see if your vehicle comes with OEM stabilizers. This will answer a lot of questions you may have, or at the very least give you a starting point. If you do not have an OEM stabilizer, be sure to double check the mounts and capacities of your vehicle before starting your research.
Once you have this basic information, you should be able to find the best steering stabilizers to fit your purposes.
---
Thanks for reading The 5 Top-Rated Best Steering Stabilizers. We hope our review article will help you pick the right product for your needs from among our top picks for best offroad and luxury steering stabilizers. Wherever you're headed stay safe out on the road and enjoy your travels.
And if you're shopping for other gear take a look at these related review articles from Outside Pursuits:
4×4 TRUCK & JEEP  LED LIGHT BARS | STEERING STABILIZERS | LED OFF-ROAD LIGHTS | ROOFTOP CARGO BAGS | HITCH CARGO CARRIER | ROOFTOP CARGO BOX | JEEP SEAT COVERS | JEEP LED HEADLIGHTS | WINCHES | TRUCK BED COVERS | BED LINERS | TRUCK TOOLBOXES
HOME & AUTO  SHOP VACS | PORTABLE JUMP STARTERS | BATTERY CHARGERS | JUMPER CABLES | LED SHOP LIGHTS | INFRARED HEATERS | GARAGE HEATERS | JUMP STARTERS | LED LANDSCAPE LIGHTS | LED SOLAR LIGHTS | LITHIUM-ION JUMP STARTERS | COOLER ICE PACKS | BUG ZAPPERS | PORTABLE AIR COMPRESSORS | CORDLESS IMPACT WRENCHES | PORTABLE TIRE INFLATORS | PORTABLE GARAGES | CAR DIAGNOSTIC CODE READERS
How We Researched
To come up with the top , we researched a variety of sources for reviews such as 4×4 Magazine and Outside Online Magazine along with our own personal experience.
We also consulted online magazines for product research and reviews to get as much unbiased information as we could. To help weed out fake reviews we used Fakespot.com to make sure we only looked at genuine reviews.
With so much quality gear available, we had to narrow it down based on what we felt were the best options were for the price. The staff authors have a wide and varied background in offroading, motorcycling, and auto mechanics. They are eager to share their knowledge with readers.
To help narrow down the selection we used personal experiences along with recommendations from fellow auto-enthusiasts and industry experts.
After extensive research, we came up with our list to help you choose the right one for you.
Sources
Notice:
OutsidePursuits.com is a participant in the Amazon Services LLC Associates Program, an affiliate advertising program. OutsidePursuits.com earns fees from products sold through qualifying purchases by linking to Amazon.com. Amazon offers a commission on products sold through their affiliate links.