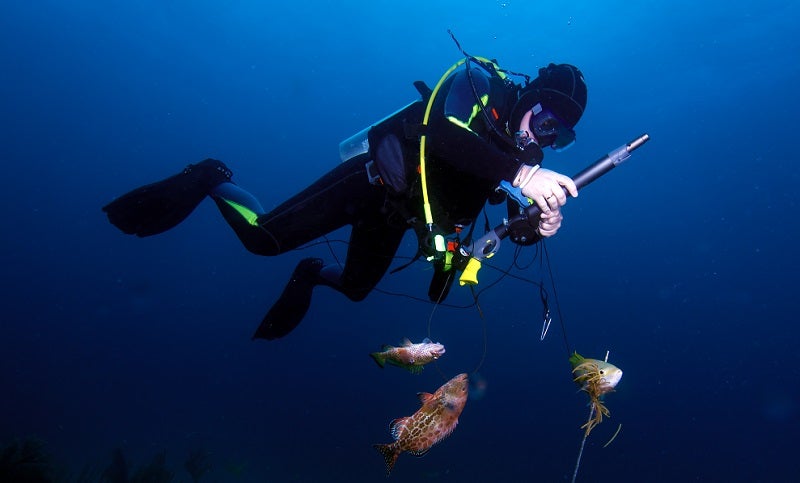 Our Editors independently research, test, and rate what we feel are the best products. We use affiliate links and may receive a small commission on purchases.
The best speargun for you depends on what type of fish you're after, the depths you dive to and if you're freediving or scuba diving.
Smaller, shorter guns have a lower range and can be less powerful, but allow you to maneuver well. They perform best in reef and river fishing as well as caves or wrecks.
Longer and more powerful spearguns are more suitable for targeting big game fish in the open ocean.
After our top rated spearguns, we'll go into more details on types of spearguns, the different spears and how to pick the right one for you.
We will explain the features and strong points of each model so you can select the right speargun for you, whether you're targeting large or small fish.
Best Spearguns
| | AB Biller Wood Mahogany Special Speargun | JBL 6W44 Woody Sawed Off Magnum Speargun | Mares Sten Pneumatic Mini SpearGun |
| --- | --- | --- | --- |
| | | | |
| | | | |
| Type: | 2-3 bands | 3 bands | Pneumatic |
| Length: | 24" - 60" | 43.5" | 16" - 39" |
| Spear Style: | Double Barb Rockpoint | Rotating Rockpoint | Double barbed |
| Best For: | Small to large game | Medium-sized fish to larger fish | Snorkeling, reef fish, smaller game fish |
| | | | |
For more of my scuba gear recommendations, have a look through these popular Outside Pursuits guide links: Wetsuits, Dive Computers, Scuba Masks.
Quick Answer: The 7 Best Spearguns For 2021
Our reviews of the top rated spearguns with our buyers guide and comparison table will help you choose the right one for you.

---
Speargun Reviews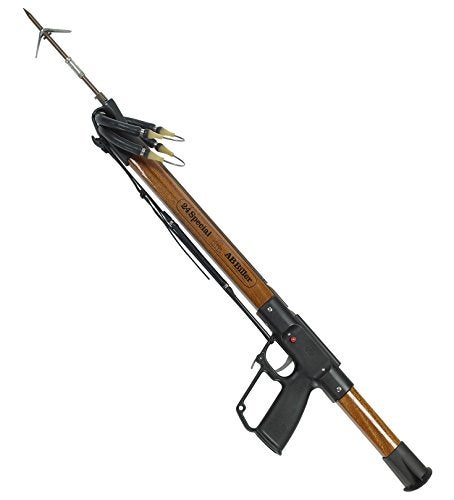 AB Biller Wood Mahogany Special Speargun at a Glance
:
---
Type: 2-3 bands
Length: 24"-60"
Best For: Small to large game
Spear style: Double Barb Rockpoint
Extras: Stainless steel shaft, durable wood design
The AB Biller Wood Mahogany Special speargun is available in seven different sizes from 24 to 60 inches, allowing you to choose according to what and where you'll be spearing.
With greater length comes more power, but this model features two 9/16" rubber bands already. You can swap these for more powerful bands or add a third one for extra power and distance in your shot.
The gun is constructed from a single piece of mahogany treated with three coats of polyurethane. The wood construction gives you great durability while also absorbing recoil and noise.
A groove along the top helps reduce noise and improves accuracy. An added extra is the natural buoyancy of the material.
Combined with a silent safety switch, one-handed operation of the speargun is not a problem. AB Biller manufacturers their products in the USA and stands for quality. The stainless steel trigger and the double barb on the rockpoint tip are proof of this.
The 5/16" shaft is also stainless steel and has been heat-treated. It enables you to quickly change tips in the water, depending on your hunting situation.
All in all, the AB Biller Wood Mahogany speargun is highly customizable thanks to different lengths and the option for up to three rubber bands and different tips. You'll get excellent value at a great price, my top pick for the best speargun!

---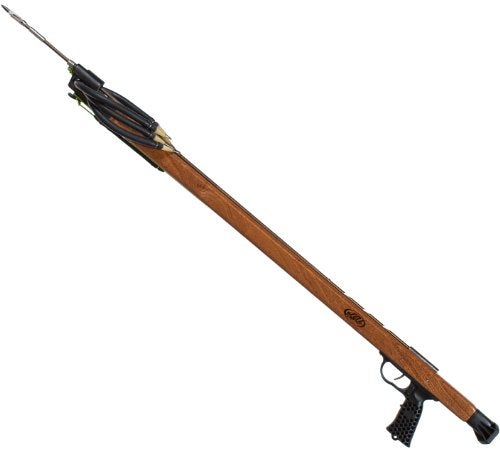 JBL 6W44 Woody Sawed Off Magnum Spear Gun at a Glance
:
---
Type: 3 bands
Length: 44"
Best For: Medium-sized fish to larger fish
Spear style: Rotating Rockpoint
Extras: Stainless steel trigger and shaft, durable and ergonomic wood design, strong and smooth trigger
The JBL 6W44 Woody Sawed Off Magnum speargun features excellent craftsmanship and is a model that might stay with you forever.
Its medium length doesn't compromise your agility in the water too much, while the sawed off design delivers a much greater power than you would expect.
JBL achieves this by a total of three bands: dual Nitro 20" slings are paired with a latex sling.
The three-piece M8 trigger is laser cut from stainless steel and designed to handle pressure up to 2,400 lbs, yet the trigger pull is smooth. JBL gives you a lifetime warranty on the trigger.
The body is machined from hand-selected African Mahogany and fitted for precision. An integrated shaft track delivers maximum accuracy.
The shaft is hand-tuned for alignment and heat-treated for hardness. You can expect optimal energy transfer from this speargun.
The stainless steel spear is 39" by 5/16" rotating rockpoint. Loading is comfortable and easy with a closed muzzle and slide ring design. Thanks to the wood construction, the gun is buoyant and handles well underwater.
JBL promised a "point, shoot, eat" operation, and despite its impressive power and range, even beginners will achieve great results with the 6W44 Woody Magnum speargun.
If you're hunting for medium to larger sized fish, it's a reliable companion. Another top contender for the best spearfishing gun.

---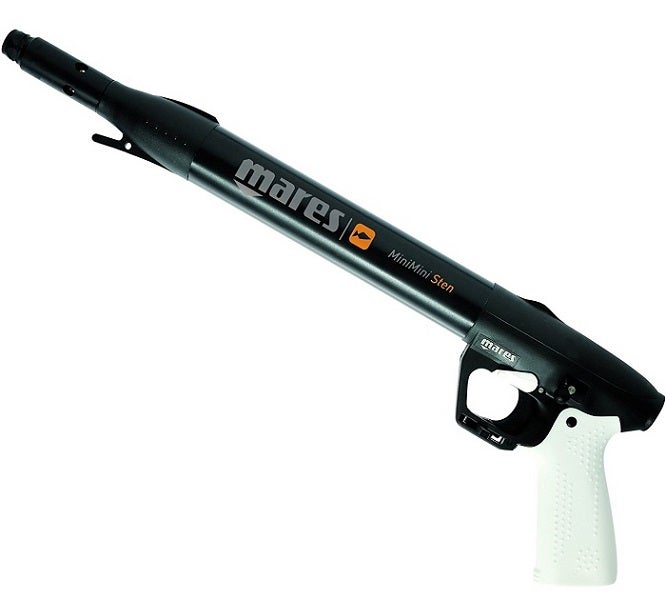 Mares Sten Mini Mini Speargun at a Glance
:
---
Type: Pneumatic
Length: 16″ – 39″
Best For: Snorkeling, reef fish, smaller game fish
Spear style: Double barbed
Extras: Includes loader, pump, shock line, tip, shaft and holster, can use two different shafts
The Mares Sten Mini Mini speargun is the shortest model in a range that features five sizes from 16.5" to 39.4". This short version is ideal for shooting reef fish and smaller game or go snorkelling.
The pneumatic speargun unites precision, power and reliability. It comes with everything you need to go spearfishing, including a pump and shock line, as well as a holster for the short model.
It takes both 8mm (5/16") and 7mm shafts and can be equipped with varying spears to best catch what you're hunting.
An 8mm shaft with a double barbed tip is included. The high capacity air tank allows you to get a couple of powerful shots in before you need to recharge.
The speargun is optimized for performance and easy loading and is suitable for beginners as well as advanced hunters. The ergonomic handle and shock-absorbing technology enable you to shoot with precision and handle the fight of even bigger fish.
The Mares Sten Mini Mini speargun is great for small to large prey and close to shore conditions. It will serve recreational divers as well as professional spearos.
This model is durable, fast and lightweight with a low recoil and good range.

---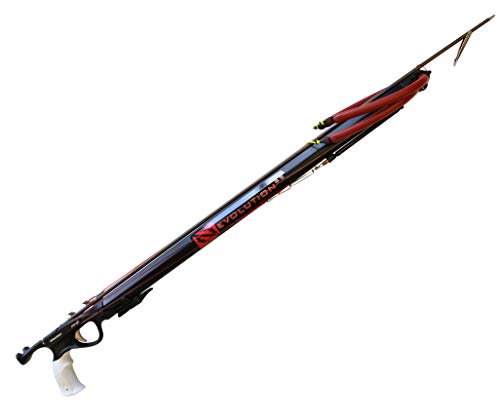 Hammerhead E2 Speargun at a Glance
:
---
Type: Dual band
Length: 21″ – 43″
Best For: Large game fish (e.g. rockfish, halibut, bass, sheaphead, snapper, carp)
Spear style: Single Hawaiian Flopper
Extras: Versatile model, fully railed barrel, 8mm or 6mm shaft, fast reloading, reel NOT included
The Hammerhead Proteus speargun is excellent for beginners who want to start shooting larger game fish straight from the beginning.
If you are looking for a model that will stay with you as you master the skills of spearfishing, this one is for you: at an entry-level price, you get professional value.
Thanks to a dual powerful X-change band and a closed muzzle, loading and reloading the gun is fast and easy.
With the possibility to accommodate a 5/16" (8mm) single Hawaiian Flopper shaft or a 6mm threaded shaft, you can use a variety of spears for different situations.
The speargun is made from quality parts with a heat-treated stainless steel barrel. With a line release, safety mechanism and mono shooting line, you're ready to go spearfishing out of the box.
A clip at the handle allows you to tag the gun onto a float line or to clip on a fish stringer. The handle is reel ready, but a reel is not included.
All in all, the Hammerhead Proteus speargun is a versatile, adaptable and powerful model which spearfishers can rely on and which is easy to use, even when upgraded with different different spear types or a line reel.

---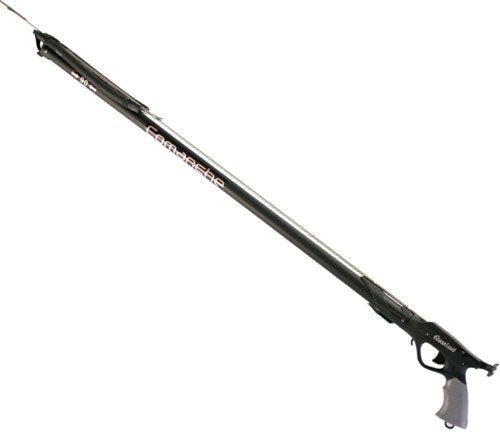 Cressi Comanche Speargun at a Glance
:
---
Type: 1-2 bands
Length: 29″ – 39″
Best For: Large game fish, reef spearfishing
Spear style: Single Flopper Barb Pointed Tip
Extras: Great Precision, easy loading, anti-corrosion aluminum tubes, lowered bands for better aim
The Cressi Comanche speargun is a powerful precision model that is suitable for beginners, since it features an entry-level price and is easy to load and handle.
The gun is constructed from high quality materials and attractive for experienced hunters as well: the comanche was the 2004 world champion of spear guns and is built with anti-corrosion aluminum tubes.
They won't bend and are sealed for buoyancy. Paired with durable thermoplastics for the point and handgrip, the gun is light and precise.
With an anatomical muzzle and lower-positioned bands, you can line up your shot accurately. The extra-reactive bands provide speed and power.
You can operate this model with one or two bands. 16mm ones are included, but you can substitute for 18mm or 22mm as well as S45 bands.
Depending on the length, you can use 6.5mm (.26″) or 7mm threaded shafts, opening up a selection of varying tips. With the Cressi Comanche speargun, you'll load, point and shoot in no time.
Its smart design and construction come with great accuracy, which makes this model appealing for beginners and more experienced spearfishers.

---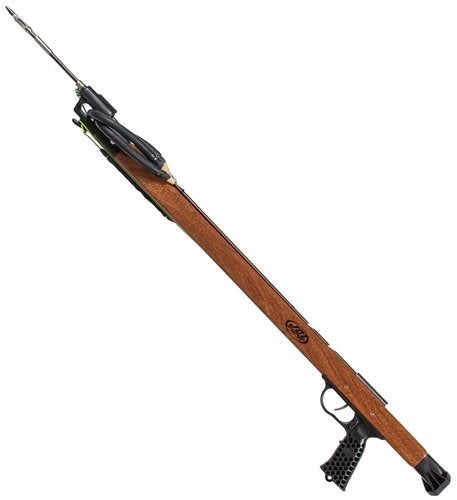 JBL Magnum 38 Special Double Sling Spear Gun at a Glance
:
---
Type: 2 bands
Length: 42"
Best For: Reef spearfishing, shallow waters, small to medium prey
Spear style: Twin Spinner Rock Point
Extras: Quiet, durable, easy to load, long butt extension, corrosion resistant
The JBL Magnum 38 Special speargun is an mahogony model with a double sling design. Its length of 42" paired with two 9/16″ Hi-Mod bands is a great compromise between easy handling, powerful shots and reach.
It's best described as a durable and accurate workhorse. The trigger, shaft and point are made from stainless steel, whereas the barrel is from drawn aluminum alloy.
A long butt extension allows you to quickly and easily load or reload.
Safety and trigger operation can be done one-handed. The twin spinner rock point tips are designed to penetrate nearly any fish.
The speargun comes with a shock line that leaves you in control. It excels especially in reef spearfishing and among rocks where range is less critical. It delivers heavy penetration and is suitable for beginners and more advanced divers.
With this model, you choose a popular gun known for durability, low recoil and fast, accurate firing.

---

Cressi Spearfishing Apache Speargun at a Glance
:
---
Type: 1 band
Length: 14″ – 30″
Best For: Small to medium fish, around rocks, shallows
Spear style: Tahitian style
Extras: Compact & lightweight, closed muzzle, sealed anodized aluminum barrel, ergonomic handle, dual notched shaft
The Cressi Apache speargun is a compact and agile model best-suited for beginners, although advanced hunters also bring it along as a second gun when hunting bigger fish.
This gun performs well in shallow waters when spearing smaller fish, especially around rocks. Loading is easy with a closed muzzle and a single 0.5" (13mm) band mechanism.
You can upgrade the sling to a more powerful one, and the stainless steel shaft of 0.26" (6.5mm) features two notches for variable power.
With a single flopper tip, the speargun emphasizes speed and reef fishing.
The ergonomic muzzle helps you both while loading and pointing the gun. The muzzle provides sufficient accuracy when aiming. A trigger  safety and line drop are included, of course.
With an aluminum barrel anodized for enhanced corrosion resistance, the gun is low in maintenance and its length allows for great maneuverability underwater.
If you're just starting out with spearfishing and are looking for a reliable, easy-to-use companion for snorkeling or spearing in low depth, the Cressi Apache is your match.

---
Speargun Comparison Table
How to Choose the Best Speargun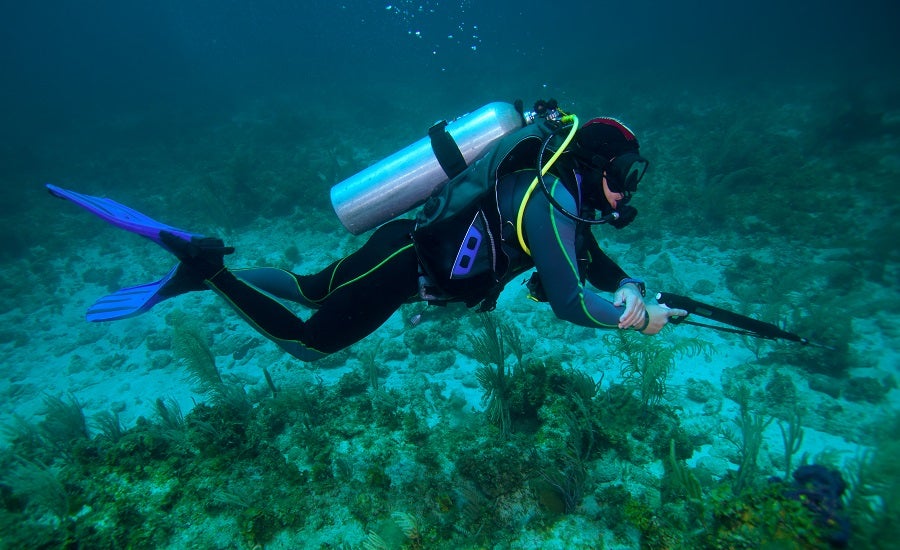 There is no speargun suitable for all situations and all kinds of fish. So even with a more versatile model, you will have to decide in advance what kind of spearfishing you'll do most.
Do you need to maneuver quickly in shallow water or narrow cracks and between rocks? Are you snorkeling or scuba diving in the open ocean?
The bigger the fish you want to catch, the more range and power you'll need. We'll look at options and speargun features so you can pick the speargun that's right for your needs.
Types Of Spearguns
There are two common types of spearguns: those powered by one or more rubber bands, and air-powered (pneumatic) models.
Pneumatic spearguns
Use compressed air to shoot and can therefore feature a more compact design. They can be more convenient to carry and handle underwater, but they require a pump to load.
Servicing this type of gun can be more difficult. Air-powered spearguns perform best in shallow water and are great for snorkeling. As you dive deeper, the compressed air will lose power.
Band spearguns
They can be made from wood or sealed tubing and are quiet to shoot. The power is provided by one or more rubber bands, which are hooked to notches in the spear shaft.
To retain a powerful shoot of adequate range, the rubber bands or slings typically require replacing after six to twelve months of use. What type of gun you prefer is a personal choice. Loading is usually straightforward and easy to learn.
Band guns can be more versatile, allowing you to choose from different sizes for slings: Often you have the option to add on slings as well. They're the most popular spearfishing gun.

Length
The length of a speargun also determines the length of the spear you can load and therefore limits the size of the fish you can hunt successfully.
The bigger they prey, the more powerful and therefore longer the gun needs to be in order to reach and penetrate. However, with increasing length, the gun becomes more tricky to wield and requires precise aim.
If you're still learning or starting out, a short or medium length is best for beginners. Shorter guns also perform well in caves, wrecks, reefs and narrow confines.
The more you spearfish out in the open, the more reach you need. As a rule of thumb, the range of band guns equals roughly three times the length, depending on the strength and number of bands.

Muzzle
You will read about a closed or open muzzle in the description of band speargun. A closed muzzle basically consists of a hole near the front end through which the rubber band passes.
The guns are easier to load as you just need to hook the rubber band to a notch in the shaft. An open muzzle typically requires to hook the band or sling there as well.
You'll find this kind of muzzle on guns that use more than one band. An anatomically shaped muzzle will help you line up your shot and aim with accuracy.

Spear Types
The spear consists of the shaft and the tip. Both are usually made of stainless steel. The shaft width can vary between 6mm and 8mm or even 9mm.
A thinner shaft allows the spear to travel faster but has less penetrating power. Smaller is generally better for smaller fish; if you're hunting big game, you need a thicker haft. As for the tip, it can be fixed or threaded.
A fixed tip cannot be changed, whereas a threaded one allows you to use different tips according to your hunting situation. There are three commonly used tip styles:
Single Flopper
A light option that works well on small to medium sized fish. They travel well and are easy to extricate from the catch. A single flopper or single barb spear tip is also called Tahitian style. They're ideal for reef fishing.
Double Flopper
This tip features two barbs on either side of the shaft. They're suited for larger game to better stick the fish
Breakaway
The heaviest of the three is used for large fish and features a tip that can detach from the shaft.

Extras
When looking at extras for your speargun, a rubber pad or butt extension at the handle end will help you load or reload the gun quickly and easily. Metal tub guns might have the option of adding such an extension later on.
A shaft with more than one notch on a band gun allows you to vary the power according to your current needs. A trigger safety should be standard, but pay note if the gun can be handled with one hand under water.
Another possible extra is a handle clip to attach the gun to a buoy line or float line, or to a fish clipper.
Guns typically don't come with a reel, but some will feature a handle that is reel-ready. When spearfishing with a reel, the real unwinds after you've speared a fish, giving you room to play the fish.
The standard setup is a line rig where the shaft is attached to a line. Most guns include monofilament (mono). The line wraps around the gun and can be released so the line travels with the fired spear.
The shaft can feature a ring or hole to attach the line. You will see that some guns feature shock-absorbing mechanisms so you don't lose control of the gun.
When you're adding or upgrading rubber bands, always make sure to read the specifications of the manufacturer as putting too much pressure on the trigger can cause it to fail.

Best Brands of Spearguns

Choosing the "Best" brand of speargun is subjective of course but there are several manufactures of spearguns that standout:
Cressi: Based in Italy, Cressi is one of the largest manufactures of scuba diving equipment. They make a wide variety of quality spearguns.
Mares: Another manufacturer of scuba equipment based in Italy, they also have a wide variety of spearguns for all types of game fish.
AB Miller: A USA based manufacturer that is focused soley on making quality spearguns.
JBL: Based in California, there are also only make spearguns and accessories.

Conclusion
Even if you know how to fire a gun on dry land, you'll see that hunting underwater requires different skills and a speargun handles quite differently.
If you're a beginner, you'll most likely not be hunting off a boat and stay close to the shore, so pick the length and type of your speargun accordingly.
If you know you'll go for more power and range later on, choose a versatile model where you can add more or different rubber bands eventually.
Our budget options allow you to get started with spearfishing without compromising on quality and value. Best of luck in spearing your next dinner, and enjoy your hunt underwater!
How We Researched
To come up with the top diving spearguns, we researched a variety of sources for reviews such as Leisurepro, Divermag, DiversDirect and Scuba Pro along with our own personal experience.
We also consulted online magazines for product research and reviews to get as much unbiased information as we could. To help weed out fake reviews we used Fakespot.com to make sure we only looked at genuine reviews.
With so much quality gear available, we had to narrow it down based on what we felt were the best options were for the price. The author, Richard Remick has a wide background in scuba diving and snorkeling in many countries, both shore and from boats.
The author is a PADI certified advanced diver with almost a decade of experience and is eager to share his knowledge with readers.
To help narrow down the selection we used personal experiences along with recommendations from fellow divers, bloggers and dive guides.
After extensive research, we came up with our list to help you choose the right one for you.
Sources
---
I hope this guide was helpful for finding a good speargun to fit your needs. If you want to comment or recommend a speargun I didn't include, please use my contact form to get in touch.
Have fun and be safe out there!
Notice:
OutsidePursuits.com is a participant in the Amazon Services LLC Associates Program, an affiliate advertising program. OutsidePursuits.com earns fees from products sold through qualifying purchases by linking to Amazon.com. Amazon offers a commission on products sold through their affiliate links.