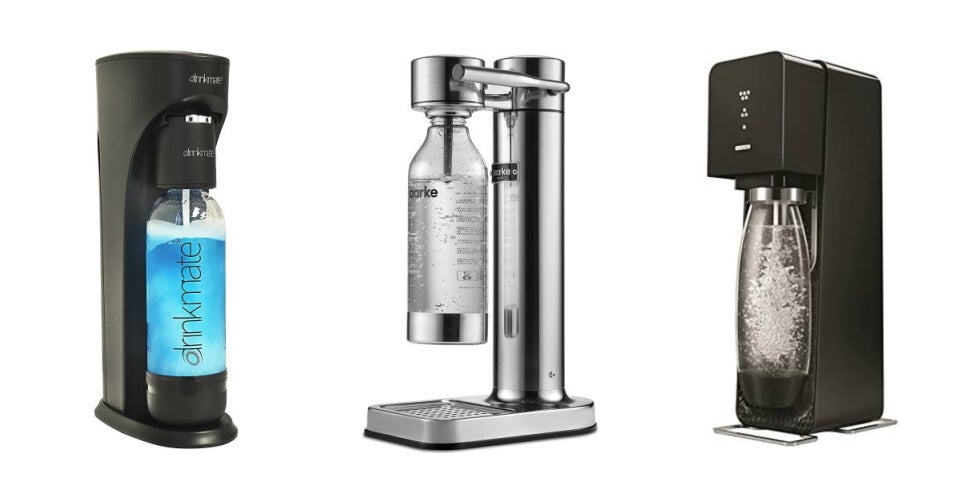 Our Editors independently research, test, and rate what we feel are the best products. We use affiliate links and may receive a small commission on purchases.
Below, we have gone over some of the best of the best when it comes to at-home soda makers. Check out our careful reviews and don't forget to take a look at Sparkling Water Makers – Buyers Guide to help you find the perfect option for your needs.
Best Sparkling Soda Water Makers
Also see: Best Sparkling Soda Water Makers Comparison Table
---
Quick Answer: The 5 Best-Rated Sparkling Soda Water Makers
Also see: Choosing The Best Sparkling Soda Water Makers

---
Sparkling Soda Water Makers Reviews
Best Soda Maker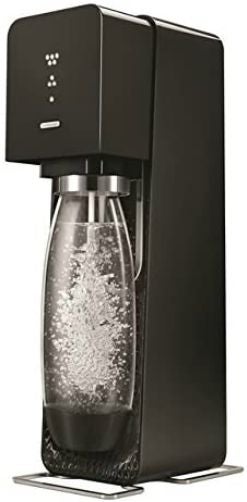 If you want to make things easy and are simply looking for the best sparkling water maker overall, it is hard to go wrong with SodaStream. The best soda makers are easy to use, easy to clean, and work efficiently to provide you with fast and fresh bubbly goodness.
A lot of people are shopping for the best soda maker without anything really specific in mind. In these cases,  a renowned high-quality brand with multiple models will make for easy comparisons and help you find exactly what the best sparkling water maker for you is.
Company Highlights
Originally founded in 1903, SodaStream is an Israel-based company that has come a very long way in the past 117 years. In 1998, they merged with Soda-Club and focused more on the marketing of healthier drinks.
A few years back in 2018, PepsiCo acquired SodaStream and continued to focus the SodaStream machines as healthy, more environmentally friendly alternatives to typical sodas in cans and bottles.
They now make 4 different models of the SodaStream. Many customers question which SodaStream is best, but the 4 models are all best in their own unique ways.
These models include a premium option called the Aqua Fizz that has a counter-friendly sleek appearance and features glass bottles opposed to the usual reusable plastic bottles of SodaStream and other sparkling water makers.
They also have an electric model – the One Touch – that carbonates water with the press of a single button. The Jet is a budget-friendly model of the SodaStream.
Finally, they've got their original, the Fizzi. SodaStream also offers an abundant array of flavors that can be added to your water after carbonating.
The SodaStream Fizzi
The SodaStream Fizzi At A Glance
:
---
User-friendly design
1-liter reusable BPA-free bottles
Co2 cylinders carbonate up to 60 liters each
For carbonating water only
Flavor can be added after carbonation
6 colors available
The SodaStream Fizzi isn't just the best SodaStream model in terms of popularity, it is one of the most popular at-home sparkling water makers ever. The simple design of the SodaStream Fizzi is very user-friendly.
Practically anyone can use this soda maker to start carbonating water in a matter of minutes. The bottles that come with the Fizzi are BPA-free and reusable.
The Fizzi is the only SodaStream model that comes in 6 different colors to best match any kitchen decor.
SodaStream allows you to exchange your Co2 canisters to not only save you money but keep their entire operation better for the planet.
The one downfall with the SodaStream soda makers is that they do specify that only water should be carbonated with them.
You can add a huge variety of flavors to your water after carbonation, but if you want to be able to carbonate a wider variety of beverages, you are better off with a sparkling water maker that is approved for use with liquids other than just water.
SodaStream does offer a wide variety of models and bundles that allow almost anyone to fit a SodaStream option into their budget.

---
Most Versatile Soda Maker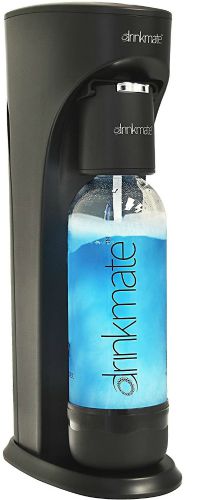 One common problem a lot of people run into when shopping for different soda makers is a lack of versatility. Most of even the best sparkling water maker brands specify that you should only be carbonating plain water with their machines.
DrinkMate changes that! They have designed their carbonators to work with any beverage you wish to carbonate The possibilities are almost limitless!
Further adding to the versatility is the fact that DrinkMate makes a convenient portable carbonator for bubbles on-the-go!
Company Highlights
The DrinkMate line comes from a company called iDrink Products. It is a company based in Ann Arbor, Michigan in the United States of America. They had a goal to create something different for the world of at-home soda makers. That is why their products are so unique and versatile.
They focus on keeping things simple with just 2 models of their product. There is the original DrinkMate that is designed to sit on your countertop. Then there is the DrinkMate portable Spritzer!
This device is designed to be taken on-the-go and can easily be used just about anywhere. DrinkMate even keeps their products reasonably priced letting even more people get in on the sparkle!
DrinkMate Sparkling Water and Soda Maker
DrinkMate Sparkling Water and Soda Maker At A Glance
:
---
Versatile design
1-liter BPA-free reusable bottle
Can carbonate any beverage
Easy to use
Available in 3 colors
Easy pressure release
One of the big differences you get with the DrinkMate Sparkling Water and Soda Maker is that it has a detachable fizz infuser. Rather than this piece being attached to the main machine, it is its own separate piece.
It attaches to the bottle and then can be attached to the machine where the Co2 tank is connected.
This separation of parts is a big part of what allows DrinkMate machines to carbonate any beverage and not just water. You can choose this machine in 3 different colors.
A convenient BPA-free bottle is reusable and helps greatly reduce the number of plastic bottles you go through. The DrinkMate machines are even generally a bit more affordable than SodaStream.

---
Best High-End Sparkling Water Maker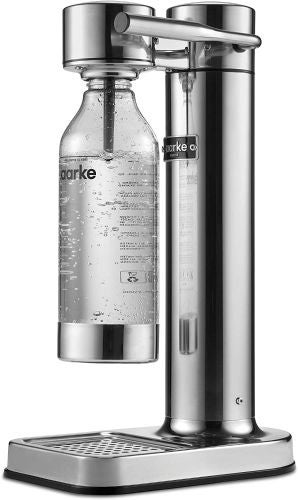 If you've got fancier taste, AARKE may just be the perfect brand for you. This is the best carbonated water maker in terms of quality and appearance.
AARKE has some serious counter appeal with sleek designs and an array of sophisticated finishes to choose from.
The materials used by this brand are top-notch giving the entire thing a heavier look and feel.
They may cost a bit more, but overall the AARKE Caronators are excellent machines that do a great job sparkling your water while also looking especially impressive in your kitchen.
Company Highlights
Aarke is a unique brand of water carbonators. The creators are two industrial designers.
They named their brand Aarke because the word, "aarke" means, "everyday" in a language called Southern Sami spoken by only a small group of people located in the country of Sweden.
Their goal was to create an everyday brand of premium home appliances and they've certainly accomplished that with the Carbonator II.
Carbonator II
Carbonator II At A Glance
:
---
Full stainless steel body
Compatible with any 60L Co2 cylinders
For carbonating water only
Includes a PET plastic bottle
User-friendly design
Must purchase Co2 separately
The Aarke Carbonator II is a lovely high-end soda maker that looks incredible, lasts forever, and works great. It is a very simple design that is easy for anyone to use.
The full stainless steel construction really increases the value and enhances the look of the soda maker. This is one of the many soda makers that only allows you to carbonate plain water.
Flavors can be added afterwards, but Aarke does not produce their own flavor line like SodaStream. In fact, they don't even sell Co2. You must buy Co2 cylinders elsewhere and Aarke actually recommends SodaStream for purchasing your cylinders.
The price of the Carbonator II is definitely the highest of the brands we have gone over. Even so, many find it to be worth the extra cost simply due to visual appeal and material quality.

---
Best Value Soda Maker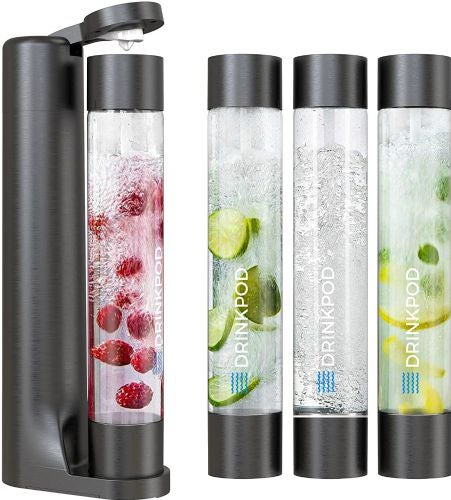 A lot of people may wonder if purchasing a carbonated water maker is worth the money. Most of those that have actually purchased one agree that it is well worth it! If you aren't sure, though, you may want to look for the best carbonated water maker in terms of overall value.
When you consider value, you are looking for a good price that doesn't compromise on quality and features.
These aren't necessarily the cheapest products but instead the products that you give you the best bang for your buck. Drinkpod is a wonderful company that really focuses on value in their products.
Company Highlights
Drinkpod, the company that makes the FIZZpod Soda Maker, is a relatively new company that has come a long way in the last 6 years since it was founded in 2014.
The company is based out of New York City and has a strong focus on innovation and quality.
The company has a larger range of products than many brands that make water carbonators, but the FIZZpod specifically is a popular choice of theirs.
Drinkpod works hard to keep their customers happy, bring new and exciting ideas to the world, and protect the planet we all live on by reducing plastic waste.
FIZZpod Soda Maker
FIZZpod Soda Maker At A Glance
:
---
User-friendly design
Auto-relief valves
Sleek modern design
Can carbonate any beverage
Includes 3 PET plastic bottles
With a relatively affordable price, it is hard to deny the value of the FIZZpod Soda Maker.
This carbonator is another one of the rare machines that is actually designed to carbonate any beverage you want to carbonate rather than only working with plain water.
It uses similar technology to that of the DrinkMate to allow for carbonating anything without issues such as clogs or internal damage to the machine.
This soda maker is also compact with a nice modern design that adds some counter appeal. It is very easy to use and does a great job at carbonating any beverage quickly with minimal effort on your part.
When you buy this soda maker, you get 3 bottles that are BPA-free PET plastic. This adds even more value to the FIZZpod.

---
Best Portable Soda Maker

The DrinkMate brand offers a portable soda maker making the brand more versatile overall, but it might not necessarily be considered the best portable soda maker.
When it really comes to the best water carbonator in terms of portability, you want something very compact and easy to use.
Company Highlights
FomaGas got their start with disposable whip cream chargers, but have since moved into other product areas as well such as this innovative little carbonator.
To effectively achieve a truly portable soda maker that is actually convenient to bring along and use, you have to break away from how other soda makers work. That is exactly what FomaGas has done.
FomaGas Portable Soda Maker
FomaGas Portable Soda Maker At A Glance
:
---
Compact handheld design
Compatible with 8g Co2 cartridges
Explosion-proof PET plastic bottle
Shake to carbonate
Each cartridge carbonates 3 bottles of water
What really sets the FomaGas handheld water carbonator apart from other water carbonators is the way that the device puts the carbonation into the water.
Most options feature a larger Co2 cylinder and you press a button that releases the Co2 into the water.
However, to keep the FomaGas Soda Maker as small as possible for better portability and convenience, it uses smaller 8g Co2 cartridges. Since the entire thing is made to be as simple as possible, it doesn't include a button.
Instead, you put the cartridge into the lid of the bottle. Once you screw the cap on, the Co2 can be released into the bottle.
To carbonate the water, you simply shake the bottle for about 5 seconds! It's super simple and easy. The fact that it is the most affordable carbonator on our list is also a great bonus!
This is not the right choice for those wanting to do a lot of carbonating, but it is great for a bottle from time to time while out and about.

---
Sparkling Soda Water Makers Comparison Table
---
Sparkling Water Makers – Buying Guide
There can be a lot of benefits to choosing to make your own sparkling water, soda, or other bubbly drinks at home. First of all, it is considerably better for the environment.
It can drastically reduce the amount of bottles and/or cans that you and your family go through.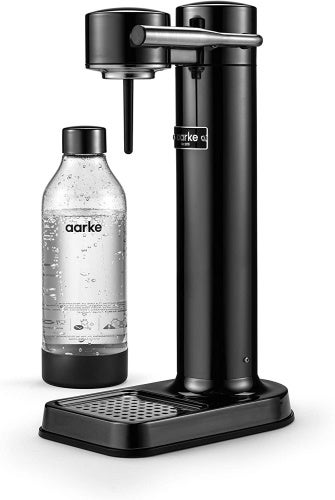 Homemade drinks like these are often healthier for you as well. Some people even find that the best flavored sparkling water can help them quit drinking soda altogether.
Finally, the best sparkling soda water maker can save you money in the long run.
Without taking the time to really look into it, you may think that all carbonated water makers are basically the same. It's an understandable assumption, but it is far from the truth.
Different carbonates vary quite a bit and the right one for each person or family depends on several important factors. Below, you can read through the most important things that you want to take into consideration before purchasing your own soda maker.
Carbonation Method
The first thing you probably want to look at is the carbonation method of soda makers. This basically comes down to how the soda maker puts the carbonation into the water or other beverage.
Most carbonated water makers have a button that you hold down that releases Co2 into the water while you're holding the button. Usually you'll do this in several short bursts to fully carbonate a beverage.
There are outliers to this, though. SodaStream has a one-touch electric option.
This soda maker must be plugged in to work and you literally just press one button one time and the machine automatically disperses the correct amount of Co2 into the water.
There is also the FomaGas that doesn't have a button at all.
Instead, putting the cap onto the bottle begins the release of Co2 and shaking the bottle infuses it into the water. Which method is best for you is based purely off of preference and what you personally find to be the most convenient.
Bottle Type
The bottle type that a soda maker uses can be an important factor to many. You definitely want a BPA-free bottle for starters.
This helps ensure safety and that you won't have anything potentially dangerous leaching into your drinks. PET bottles are an excellent choice offered by many brands. It is strong, shatterproof, durable, and hygienic.
Some options may even have glass as a choice such as SodaStreams premium soda maker. Glass may be preferable for some but if it's outside of your budget, a safe BPA-free plastic bottle such as a PET plastic bottle is still a great choice.
Compatible Co2 Cartridges
This can be pretty important. Different soda makers are compatible with different Co2 cartridges. All sizes can be recycled and many retailers offer an exchange program to encourage recycling. The most common type of cartridge is a 60L.
These are very easy to find and are carried by many major retailers and, of course, are easy to order online. Smaller cartridges may be used by certain soda makers. The DrinkMate has a portable option that uses 10L cartridges instead.
The portable option from FomaGas uses even smaller cartridges that are measured in grams instead. These 8g and 10L cartridges are still easy to order online, but may be a little harder to come by in stores.
What Can Be Carbonated
Most carbonated water makers are specifically designed to carbonate only water. Other types of liquids can clog and damage these machines. The makers of these machines warn strictly to only use plain water when carbonating.
Then, once the water is carbonated, you can add flavors to it as you prefer. This puts a lot of limitations on the beverages you can enjoy.
Fortunately, for those that want to break away from just plain water with some flavor added afterwards, there are some companies that have created soda makers that aren't limited to just water.
These soda makers are able to carbonate any beverage of your heart's desire. From sparkling fruit juice to homemade champagne from wine, the possibilities are endless.
These machines work differently because the carbonation infuser is not directly attached to the machine itself. This makes it easier and safer to wash out and prevents clogs and damage to the machine from liquids other than water.
Materials
What your soda maker is made out of can also certainly help influence your decision on which is the best option for you. Most options are primarily plastic but often have stainless steel elements.
Many plastic options are still well-made and worth the purchase – such as all of the plastic options that we have reviewed above.
However, if you want something a little nicer, fully stainless steel soda makers do exist, such as the AARKE Carbonator II. These are sturdier and more durable.
Size
Something to always consider when adding something to your kitchen is the size of it. The amount of space that will be taken up is an important thing to think about. If you have plenty of space to sacrifice, your options are wide open.
If you do need to keep things as compact as possible, there are some countertop options designed to best utilize space. If you really need something small, the portable soda maker options are great for staying off the counter entirely.
Aesthetics
Anytime you are putting something into your home, the way it looks can be important. Everyone wants their home to look nice.
Other features will usually come first in terms of importance, but it can still be a great idea to try to choose a soda maker that works well in your home.
This way it won't become an eyesore for you and you can enjoy having it around. The materials that a soda maker is made of might help you determine which look is best for you. Some options come in various colors as well.
Cost
Last but certainly not least, the cost of a soda maker has to be considered. There is a pretty wide variety of prices when it comes to these machines.
Consider what your budget is and what features are most important to you as you balance these things and make a final choice.
Sparkling Water Makers FAQs
Can you carbonate anything in a sparkling water maker?
Most sparkling water makers are designed to only carbonate plain water. However, some are designed specifically to be able to carbonate any beverage.
Make sure you follow the directions of your specific soda maker for best results. Carbonating things other than water in soda makers that are not designed for it can clog and/or damage the machine.
How do sparkling water makers work?
To make a beverage bubbly, a sparkling water maker infuses Co2 into the drink. It does this from a pressurized Co2 cylinder. The Co2 gives the water or other beverage the fun fizzy bubbles that soda is so well known for.
Buyer's Tips for Soda Makers
A soda maker can be a great investment for many. Making your own soda, seltzer water, or other sparkling beverages at home can often be healthier than store-bought versions.
They can also save money in the long run and are better for the environment!
The Right Choice
Choosing which soda maker tends to be the hardest part. Our guide above should be of some help as you think of what considerations are most important in choosing your soda maker.
Things like carbonation methods and what the soda maker can carbonate will be the most important factors in your decision.
Where To Buy
After choosing the right soda maker, you will also need to decide where to purchase it from. It is a great idea to look for the best deal on your preferred soda maker, but keep in mind you always want to stick to a reputable retailer.
We find that Amazon offers both reliable service and competitive pricing on a consistent basis. We're sure you will be enjoying delicious homemade sparkling beverages in no time!
How We Researched
To come up with the top soda makers, we researched a variety of sources for reviews such as Home Depot, Lowes, Target and Wayfair  along with our own personal experience.
We also consulted online magazines for product research and reviews to get as much unbiased information as we could. To help weed out fake reviews we used Fakespot.com to make sure we only looked at genuine reviews.
With so much quality gear available, we had to narrow it down based on what we felt were the best options were for the price. The staff authors have a wide and varied background in yard design and home repairs.
The authors have decades of experience and are eager to share their knowledge with readers.
To help narrow down the selection we used personal experiences along with recommendations from landscapers, bloggers and contractors.
After extensive research, we came up with our list to help you choose the right one for you.
Sources
Notice:
OutsidePursuits.com is a participant in the Amazon Services LLC Associates Program, an affiliate advertising program. OutsidePursuits.com earns fees from products sold through qualifying purchases by linking to Amazon.com. Amazon offers a commission on products sold through their affiliate links.