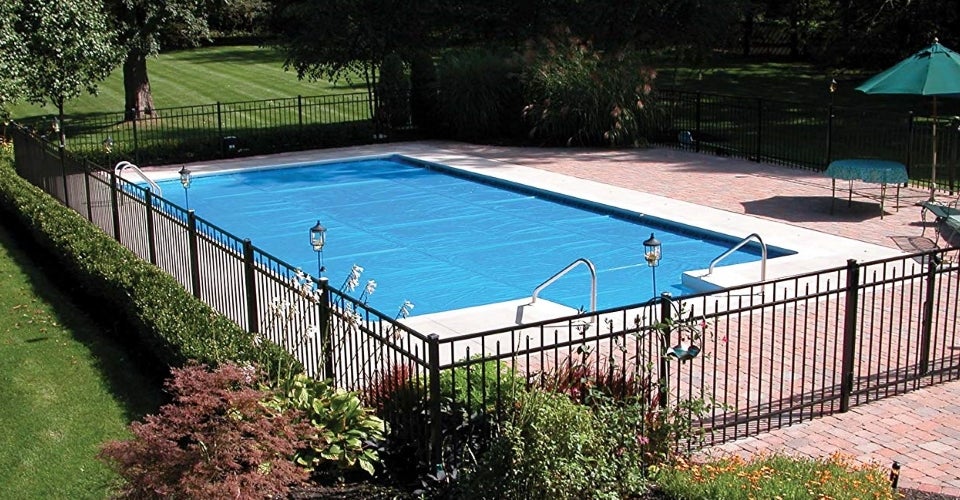 Our Editors independently research, test, and rate what we feel are the best products. We use affiliate links and may receive a small commission on purchases.
Whether you are shopping for above ground swimming pool covers, or you're looking at pool covers for inground pools, we have a perfect top-rated swimming pool solar cover option for you on our list of recommendations. Based on market and customer ratings these 5 are the best solar pool covers, also know as solar pool blankets.
You can also check out our buyers guide, How to Choose the Best Solar Pool Cover for more tips and advice on finding the right option for your specific needs. Also see our recommendation for the best pool cover reel.
Best Solar Pool Covers
Attention: The internal data of table "928" is corrupted!
Also see: Best Solar Pool Covers Comparison Table
---
Quick Answer: The 5 Best-Rated Solar Pool Covers
---
Solar Pool Covers Reviews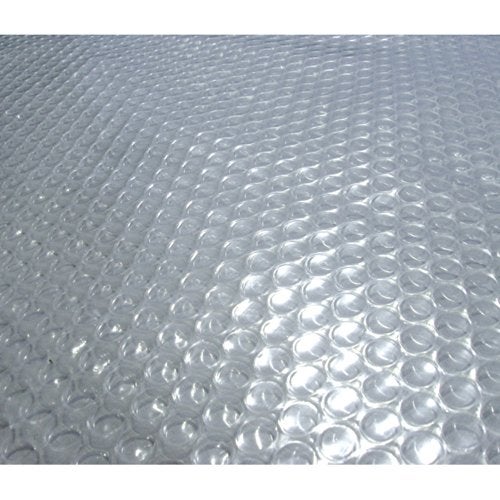 Blue Wave NS520 14-mil Solar Blanket At A Glance:
---
14 mil thickness
Clear color
Small round bubbles
16 feet x 32 feet
Six additional size options
Customizable by cutting
Raises water temp by up to 15 degrees Fahrenheit
6-year warranty
Blue Wave is a fast-growing company and a current leader within the industry of pool products. They were founded just over 10 years ago and have greatly expanded from their original offerings of just pool chemicals.
They now have all sorts of different products ranging from actual pools to pool toys and many different pool care products. This excellent solar blanket pool bubble cover from Blue Wave is just one example of their amazing quality products.
The consistent high quality and customer dedication of this company helped us to determine this solar cover as our top pick for the best solar blanket cover. One of the things we like about this cover is that it is clear.
Clear solar pool covers are able to let the maximum amount of light and heat into the water of the pool. This helps the solar pool tarp to work as efficiently as possible to heat your pool.
The way the cover works is pretty simple. It's like a pool thermal blanket. It works to both heat the pool as well as preserve the heat within the pool. There are small bubbles all over the thermal pool cover.
These little bubbles have a few very important functions. First, they keep the pool cover afloat. Obviously, it must stay afloat if it is actually going to work.
Secondly, the bubbles act as little mini magnifying glasses for the sun. The heat from the sun goes into the bubbles and is amplified inside the water of the pool.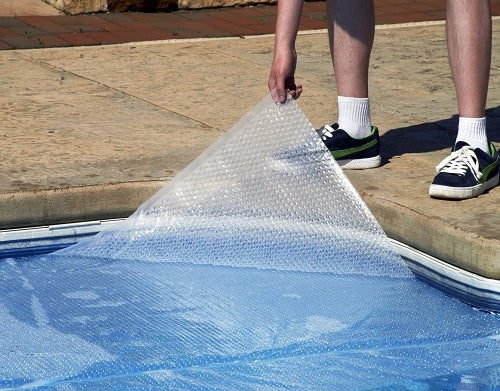 Finally, the bubbles on the pool cover act as insulation for the pool. Once the heat is in, the bubbles trap it and don't let it escape. This is especially important for nighttime and cloudy days as the solar cover holds the heat inside the pool even when the sun isn't out to continue to heat the pool.
The Blue Wave Solar Blanket isn't just good for solar heating of the pool, though. It can also be paired with pool heaters that run on electricity or propane.
When you pair it with another heating method, it helps to reduce the cost required to heat your pool. That's a big part of why solar covers are the best winter pool cover choice. This solar pool cover is 14 mils thick.
A mil is a unit of measurement for length or thickness not to be confused with millimeters. A mil is much smaller than a millimeter, so mils simply provide a clear and easy way to compare thickness of generally thin materials like plastic sheeting and solar pool covers.
A thickness of 14 mils is a pretty decent thickness for a pool cover which means that it can more efficiently hold heat in and is also more durable. Another thing we love about this pool cover is that the bubbles on the cover are relatively small and close together.
This helps increase the heat magnification. This Blue Wave cover is 16 feet x 32 feet, but you can also choose it in 6 other sizes ranging from 12 feet x 24 feet to 30 feet x 50 feet.
We love the high-quality and smart design of this solar pool cover, but it should be noted that it is relatively expensive among solar pool covers.
It can be worthwhile since it has a 6-year-warranty, but there are other good options that are less expensive if that is what you need or prefer.

---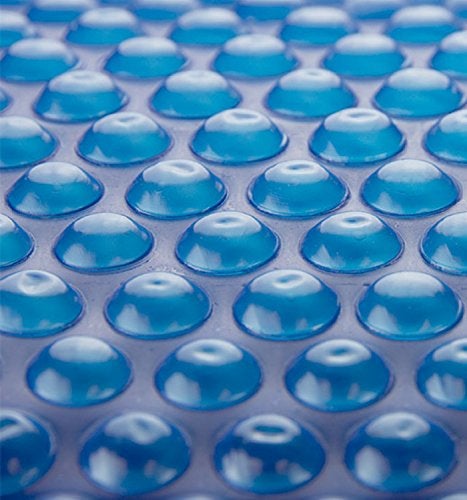 Sun2Solar 16-Foot-by-32-Foot Rectangle Blue Solar Cover At A Glance:
---
16 mil thickness
Clear or blue
Small round bubbles
16 feet x 32 feet
25 additional sizes available
Customizable by cutting
Prevents up to 95% of evaporation
Sun2Solar is another great brand that focuses specifically on solar covers and solar heating for pools as well as accessories such as reels for your solar cover.
This solar pool cover is actually just a little bit more affordable compared to the option above from Blue Wave. It also happens to be a little thicker as it is in the Sun2Solar 1600 series. This simply indicates that this solar pool cover is 16 mils in thickness.
The thicker size of this 16 mil solar pool cover is among the thickest you will find. It can make a big difference in the cover's lifespan since the thicker it is, the more durable it is.
It also really helps to efficiently retain the heat in the water even better than thinner options.
One thing that isn't quite as nice about this Sun2Solar pool cover is that the bubbles are a little farther apart than the Blue Wave option. This basically just means that it might not have quite as strong magnification power.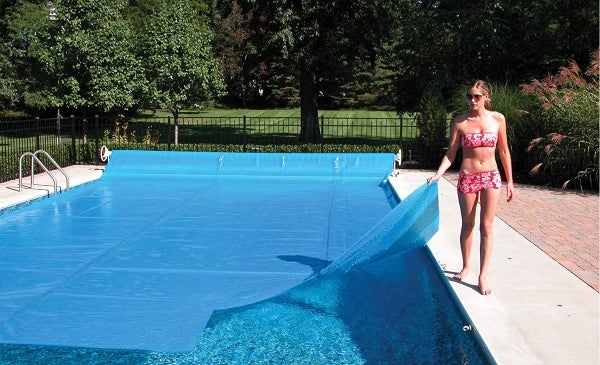 These Sun2Solar pool covers are essentially designed as inground pool covers, but that is really just due to size and shape since most above ground pools are round and these covers are rectangular.
However, thanks to a decent range of sizes, you can definitely still use them as solar cover for above ground pool options.
It's as simple as choosing an option that is large enough to cover your entire pool and then trimming it to a custom fit.
To make a round solar blanket for above ground pool use, simply choose a size of solar cover that's shortest side is equal to or larger than the diameter of your pool. Then, cut the cover so that it fits inside your pool covering all of the water.
This particular Sun2Solar cover is blue in color. There can be some concern that this isn't as effective as clear options, but the blue is highly opaque to easily allow heat through the cover.
Even so, if you are concerned or just don't like the blue color as much, you can choose this cover in clear as well.

---
MidWest Canvas Clear Diamond Rectangle Solar Cover At A Glance:
---
16 mil thickness
Clear
Diamond-shaped bubbles
16 feet x 32 feet
11 additional sizes available
10-year warranty
Customizable by cutting
2"-11" overhang for easier customization
This solar cover from MidWest Canvas is easily the most unique option of solar pool cover within our list of recommendations.
The major difference between this solar cover and our other picks as well as most other solar covers out there is that it features diamond-shaped bubbles opposed to the typical round bubbles.
It might seem irrelevant, but there is actually a cool advantage that these diamond bubbles have over round ones.
The diamond shape of the bubbles creates a pattern that allows there to be more bubbles per square foot. That means that you get more magnification on the water which can help to more efficiently raise water temperature in your pool. Of course, this is also the most expensive option of all of our picks.
The impressive 10-year warranty can help make it worth the higher cost, though. It also might be considered worth the higher cost specifically for above ground pools.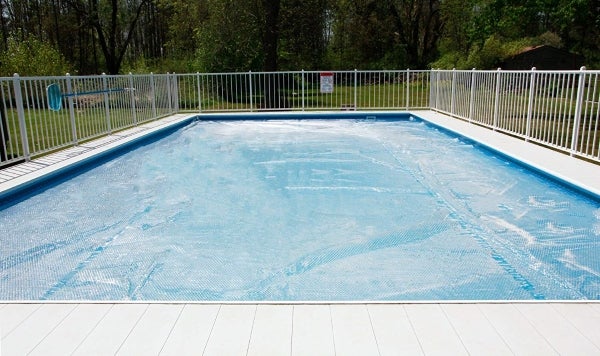 These are certainly great solar covers for inground pools, but since above ground pools tend to lose heat a bit faster, it might be more worthwhile to spend extra money for an option that will more efficiently raise the temperature of the pool.
This is also a solar cover with a thickness of 16 mils. This does mean increased durability and performance for your solar pool cover. This is a 16 feet x 32 feet option, but there are multiple other sizes available. You can choose between a total of 12 different sizes ranging from 8 feet x 8 feet to 20 feet x 40 feet.
The company does encourage you to trim the cover to the best size and shape for your specific pool and even includes 2 to 11 inches of overhang on their covers to allow you to more easily do this.
They also promise that your warranty won't be voided for trimming your cover. If you are able and willing to spend a little extra, this can definitely be one of the best choices out there for efficiently heating your pool, keeping heat in your pool, and drastically reducing evaporation!

---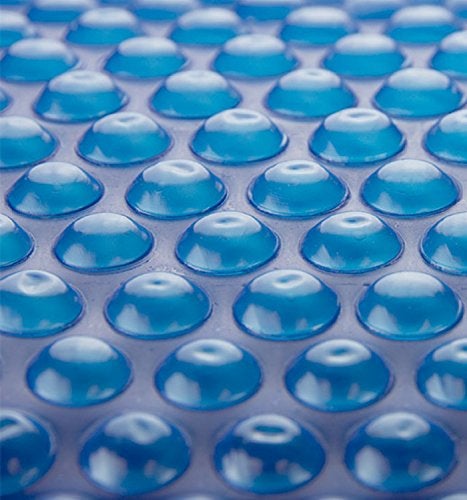 Sun2Solar Blue 16-Foot-by-32-Foot Rectangle Solar Cover At A Glance:
---
12 mil thickness
Blue or clear
Small round bubbles
16 feet x 32 feet
Over 30 sizes available
Prevents up to 95% of evaporation
Customizable by cutting
Another good choice from Sun2Solar is their 1200 Series Solar Cover. This option is considerably less expensive than our previous picks including the Sun2Solar 1600 Series option.
This cover is pretty similar to the 1600 Series pick from Sun2Solar. It features the same small round bubbles as the other Sun2Solar pick and is also available in your choice of either blue or clear for the color.
Some people do prefer blue simply for the way it looks on the water, but others choose clear because it is thought to work a little more efficiently than the darker blue option.
This is a 16 feet x 32 feet cover, but it is available in the largest range of sizes of any our choices including the Sun2Solar 1600 series.
There are over 30 different size choices with this cover starting as small as 4 feet x 8 feet and going up to as large as 30 feet x 60 feet.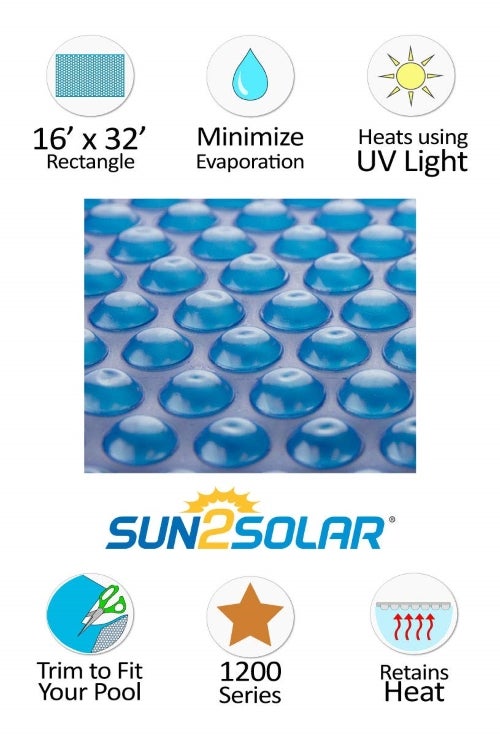 The huge range of available sizes does make this a highly versatile option that should work great for practically any pool that you may be shopping for. The biggest difference, though, between the 1200 Series and 1600 Series is the thickness.
The 1600 Series features a 16-mil thickness and this 1200 Series cover features a thickness of 12 mils. This is a considerable difference and it will affect durability of the cover. That's exactly why it is considerably more affordable than the 1600 Series, though.
Even with a thickness of just 12 mils, this cover will still efficiently prevent up to 95% of evaporation of your pool water and it will also do a good job at raising the temperature through UV heating.
It might be less efficient at insulating the pool to hold heat in and it probably won't last as long. All in all, it is a good solar pool cover that won't break the bank.


---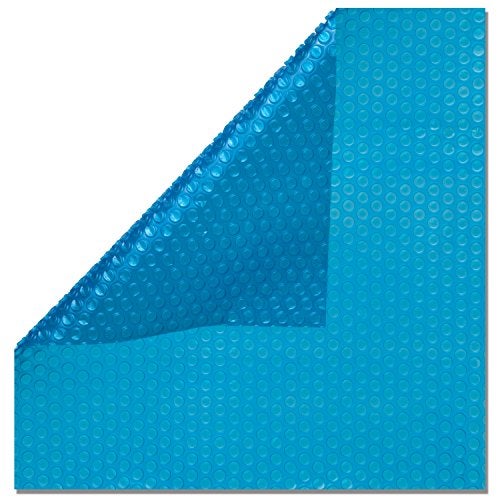 Rectangle Swimming Pool Solar Blanket Cover At A Glance:
---
12 mil thickness
Blue
Small round bubbles
16 feet by 32 feet
13 additional sizes available
Customizable by cutting
7-year limited warranty
Our final pick for the best solar pool cover is this choice from In The Swim. In The Swim pool covers are great for those on a tighter budget.
This particular cover is the cheapest option on our list coming in just below the Sun2Solar 1200 series in regard to cost. So, if you are looking for something cheaper, these make great solar blankets for inground pools or above ground pools.
It is 12 mils in thickness, which is definitely on the thinner side for these solar pool covers. That just means that it may not stay in good condition for as long and that it might not insulate quite as well as thicker options.
It is still excellent for increasing the temperature of the pool through UV heating and it also does a wonderful job at preventing evaporation of the pool's water.
By preventing evaporation, it can help to reduce heat loss and even save you money in other ways.
When less evaporation is going on, it means that you have to add water to your pool less often and even more importantly, you won't need to treat it with chemicals as often. This is a great way to save time and money on your pool care.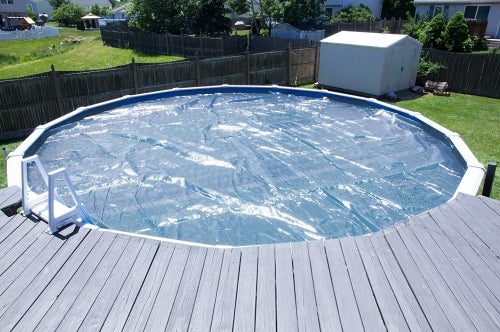 This is another 16 feet by 32 feet cover but it is available in your choice of 14 total different sizes. The smallest option is 12 feet by 20 feet, which isn't very small compared to options available with other covers. This isn't that big of a deal even if you do have a smaller pool, though.
The affordable cost and easy customization by cutting make it a viable option to just purchase a too-large cover and cut it down to your desired size.
This In The Swim cover is only available in blue, so if you do prefer clear, you'll have to choose a different option. This is a good and effective choice of pool cover for anyone on a tighter budget.

---
Best Solar Pool Covers Comparison Table
Attention: The internal data of table "929" is corrupted!
---
How to Choose the Best Solar Pool Cover
If you're on the search for the best solar blanket for pool heating, look no further! We have carefully searched and reviewed this list of the best solar pool covers out there. When it comes to heating your pool, solar pool covers make the best pool covers for above ground pools and the best inground pool covers.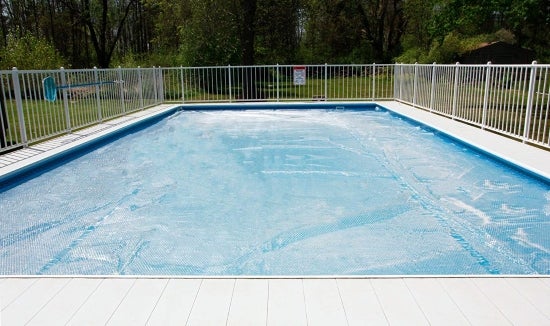 Solar pool covers utilize the simplest of technologies to increase the heat in your pool, keep the heat in your pool, and prevent evaporation of your pool water which can also help with heat retention. Custom pool covers are even super easy when it comes to solar pool covers because they can easily be cut to the perfect shape and size.
There seems to be some confusion about whether the type of pool you have drastically affects what the best pool cover for heating is. It really doesn't matter very much because the type of pool has no bearing on how well the cover works as long as it actually covers the water of your pool.
Similarly it doesn't matter if you are using a gas or electric pool heater to heat your pool. All of the solar pool covers reviewed are designed to insulate the heated water in a pool and to harness sun rays for adding heat.
The best solar cover for above ground pool heating won't necessarily be any different than the best solar cover for inground pool heating. So, instead of worrying about the type of pool you have, consider these simple factors below to help you determine what solar blanket for pool heating is right for you.
Thickness
The first thing to consider when choosing a solar pool cover is the thickness of the cover. The thickness of items like solar pool covers is measured in mils.
These are tiny measurements that are only small fractions of even millimeters. The thickness still has a strong impact on durability and how well the cover preforms in certain ways.
Thickness won't really have a big affect on how well the cover prevents evaporation, but it can change how well it insulates the pool. So, if you live in a fairly warm area, a thinner cover might be just fine for you.
However, if you live somewhere that gets decently cooler at night or if you use a heater on your pool, insulation is more important. If that is the case, a thicker cover is definitely a better choice.
Color
Another factor that can be relevant in helping you choose a pool cover is the color of it. In general, solar pool covers are either blue or they are clear. Some pool covers are only available in one of the colors while others can be chosen in either clear or blue.
Many people prefer blue because it looks nice on the water of the pool. However, clear covers are thought to work a little better with heating the water of the pool because the rays from the sun can penetrate further into the water.
Size
Finally, you need to figure out what size is right for you and make sure that size is available in the cover you want. If you have a rectangular pool, this should be very simple and you can probably find something very close or exactly the size you need with no problem. You may still need to do a small amount of trimming on your pool cover even if your pool is a rectangle.
For a round or irregular pool, more customization will be needed. If you have a circular pool, simply choose a cover that's smallest side is at least the diameter of your pool.
Then you can guarantee it will cover the entire pool and you cut the exact size circle you need out of it. For irregular shape pools, measure your pool at the longest part and the widest part and base your decision off these dimensions. Then you can cut the exact shape out once you get your cover.
Solar Pool Cover FAQs
Question: How do solar pool covers work?
Answer: The way that solar pool covers work is actually quite simple. The main function of a solar pool cover is to increase the temperature of the pool. It does this by magnifying the sun's UV rays as they hit your pool. Then, once the heat is in the pool, the cover keeps it there.
It works similarly to the way a greenhouse works. Also, by covering the water, evaporation is greatly decreased. This is important and helpful because when water evaporates from your pool, it takes heat with it.
Question: How effective are solar pool covers?
Answer: Pool solar cover effectiveness will vary from cover to cover based on things like thickness, color, and even bubble density. However, in general, solar pool covers are very effective at reducing heat loss and increasing temperature.
They can often raise the temperature of the pool by 10 degrees or even more. They also help to drastically reduce evaporation which helps to keep the water warm and reduces your water and pool chemical costs.
Question: What is the best pool solar cover thickness?
Answer: With solar pool covers, there is no doubt that thicker is better. Thicker also tends to cost more, though. If you want to guarantee the most effective results possible, you will definitely want to spring for the thickest of solar pool covers like one of our 16 mil recommendations above.
Slightly thinner options can also work well, though, if you are looking to save more money.
Buyer's Tips for Solar Pool Covers
A pool can be a big investment of both money and time. When you commit to the cost and upkeep involved in a pool, you certainly want to get the most enjoyment out of it as possible. A solar pool cover can really increase the comfort of the pool by raising the water temperature.
More comfort means more enjoyment, so a solar pool cover is definitely a logical purchase that can not only make your pool more enjoyable but can also save you money in the way of heating costs, water, and chemical use.
Consider details like thickness, color, and size before your purchase to ensure you get the pool cover that will best work for your needs. Weather you are shopping for above ground or inground solar pool covers, we believe we have an excellent choice above in our list of recommendations.
If you need more help deciding, Amazon user reviews are an excellent source of information to help you make your purchase.
Amazon also happens to be a great place to make your purchase from with fast shipping, reliable customer service, and hard-to-beat pricing. Feel free to shop around and find the best cover for you at the right price.
---
Thanks for reading The 5 Best Solar Pool Covers Reviewed. We hope this article has helped you to discover the best thermal pool heating cover for your needs and preferences. Also see our review of the Best Winter & Safety Pool Covers.
And if you're shopping for other gear take a look at these related review articles from Outside Pursuits:
HOME & GARDEN LED GROW LIGHTS | HYDROPONICS SYSTEMS | GROW TENTS | HYDROPONIC NUTRIENTS | HYGROMETERS | SOIL PH METERS | HERB GARDEN KITS | LED LANDSCAPE LIGHTS | LED SOLAR LIGHTS | FOOD DEHYDRATORS | COOLER ICE PACKS | BUG ZAPPERS | WHEELBARROWS | PRUNING SHEARS
How We Researched
To come up with the top solar pool covers, we researched a variety of sources for reviews such as Home Depot, Lowes, Target and AcmeTools along with our own personal experience.
We also consulted online magazines for product research and reviews to get as much unbiased information as we could. To help weed out fake reviews we used Fakespot.com to make sure we only looked at genuine reviews.
With so much quality gear available, we had to narrow it down based on what we felt were the best options were for the price. The staff authors have a wide and varied background in yard maintenance and home repairs.
The authors have decades of experience and are eager to share their knowledge with readers.
To help narrow down the selection we used personal experiences along with recommendations from landscapers, bloggers and contractors.
After extensive research, we came up with our list to help you choose the right one for you.
Sources
Notice:
OutsidePursuits.com is a participant in the Amazon Services LLC Associates Program, an affiliate advertising program. OutsidePursuits.com earns fees from products sold through qualifying purchases by linking to Amazon.com. Amazon offers a commission on products sold through their affiliate links.