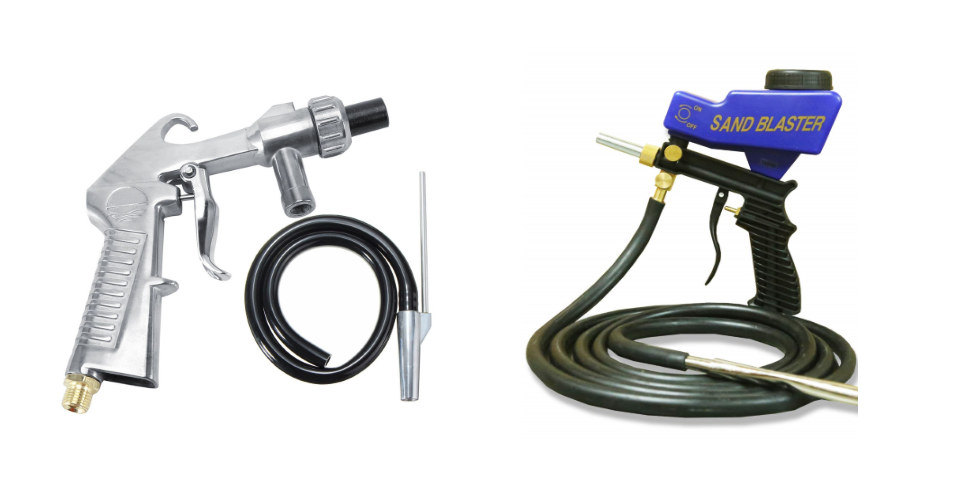 Our Editors independently research, test, and rate what we feel are the best products. We use affiliate links and may receive a small commission on purchases.
In this guide, we'll go over our top picks for the best sandblaster guns and the best sandblaster gun kits.
After that, we'll give you some important information on sandblasters, how to choose them, and then we'll go over some frequently asked questions.
And see our buyer's guide called What To Know About Your Sandblaster.
Best Sandblaster Gun Kits
| | LEMATEC Premium Sandblaster Gun Kit | LEMATEC Sandblaster Gun Kit | TCP Global AEROPRO Sandblaster Gun Kit |
| --- | --- | --- | --- |
| | | | |
| | | | |
| Blast Media: | 8 types, including walnut shell, glass bead, steel shot, and more | Variety, including sand, silicon, baking soda, and more | Multiple up to 14 grit |
| PSI: | 90 | 90 | 60 |
| Feed Type: | Interchangeable between gravity and siphon | Gravity | Gravity |
| | | | |
Also see: Best Sandblaster Gun Kits Comparison Table
---
Quick Answer: The 5 Best-Rated Sandblaster Gun Kits – [2021]
---
Sandblaster Gun Kits Reviews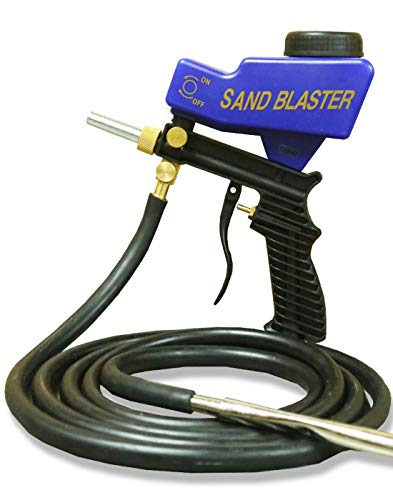 LEMATEC Premium Sandblaster Gun Kit at a Glance
:
---
Blast Media: 8 types, including walnut shell, glass bead, steel shot, and more
PSI: 90
Feed Type: Interchangeable between gravity and siphon
At the top of our list is the LE LEMATEC AS118-2 Premium Portable Sandblaster Gun Kit. This kit is consistently rated as the best portable sandblaster, and for good reason.
It can also be used as a soda blaster, so it's versatile and can be used for a variety of projects.
This kit is adjustable, every aspect can be adjusted easily, including the control valve. It can work with any kind of media, and is advertised as being compatible with eight types.
These vary in level of abrasion, so you can be sure you always have exactly what you need to complete your blasting project.
It operates at an average of 90psi, so it's great for a variety of projects. It can switch between using a gravity feed and a siphon-feed.
It utilizes a simple switch to swap between these options, which is both convenient and simple. It also has a shut-off switch configuration to help you avoid any accidents.
LE LEMATEC is known for producing quality sandblasters, and this model is the best of the best. This portable sandblaster is manufactured and built with tough ABS material. Regardless of your workshop environment, you can rest assured that this sandblaster will perform perfectly.

The gun is impressively impact-resistant, like all LE LEMATEC sandblasters are designed to be. The kit comes with a 10-foot hose and siphon tube. You will be able to perform complete, easy siphon sandblasting anywhere as a result.
Use the AS118-2 to remove rust from metal components or vehicles, remove paint, grease, and grime or tough stains. It's also great for general automotive care and detailing, arts and crafts, and DIY projects.
No matter what job or project you have planned, this sandblaster can handle it all with no trouble at all!
Offering high flexibility, great portability, and impressive versatility, this is definitely the best portable sandblaster for abrasive blasting no matter where you are working.
All LEMATEC products are backed by a risk-free, money-back guarantee. So if you're not totally satisfied with this gun kit, reach out to their customer support team; but we doubt it will come to that.

---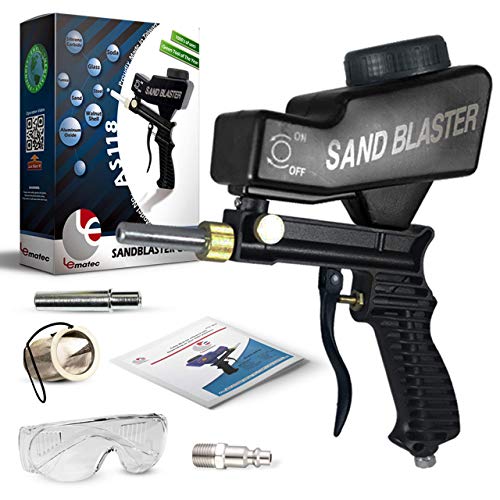 LEMATEC Sandblaster Gun Kit at a Glance
:
---
Blast Media:Variety, including sand, silicon, baking soda, and more
PSI: 90
Feed Type: Gravity
The second sandblasting kit on our list is, yes, another LEMATEC. They make such fantastic products it really is hard not to include at least one more sandblasting gun from them.
This is the AS118-BL. If that model number looks familiar, it's because the upgraded blaster is what is used in the premium kit. This is the baseline model, but rest assured that it is no less impressive than the premium kit model. This is still one of the best sandblasters around.
This is a professional-grade sandblasting gun kit. The sandblasting gun was designed to outperform competitors. It utilizes a gravity-fed reservoir, which keeps you working consistently throughout your product.
Even for longer or larger projects, you won't have to worry about fatigue. This gun is lightweight, ergonomically-designed, and easily portable. It is easy to maneuver and a breeze to use with any abrasive seen on the market. No matter how tough the job, this gun can handle it.
The filter cap of this sandblaster is stainless steel. It has an easy-pour feature which helps to minimize any mess or spills during refilling. You can either leave the filter cap on or remove it during operation – LEMANTEC has made sure that it won't compromise your work or safety at all.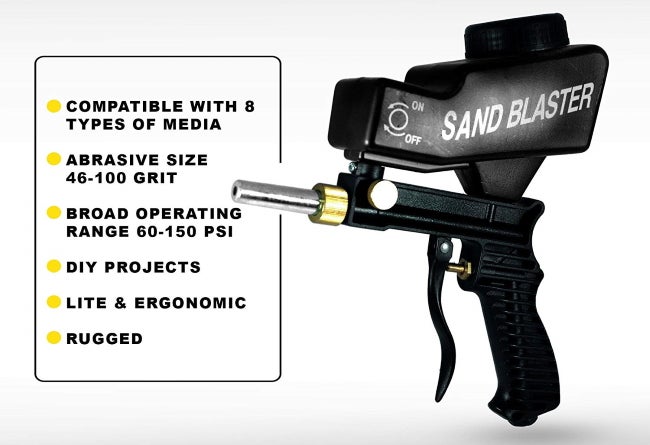 When combined with an in-line filter, the stainless steel filter will eliminate any and all potential clogs in the media being used. This will, as a result, allow you to work effortlessly and without worrying about media clogging or disruptions in the flow and focus of your blast.
Able to handle sand, aluminum oxide, silicon carbide, glass beads, steel grit, and more, this blaster is great for any job. Whether you're blasting rust off of a vehicle or engraving a piece of glass artwork with a sentimental message, you can do it all with this sandblaster.
Operating best between 90 and 125psi, but able to operate as low as 60psi, you can be sure that in any work conditions and with almost any equipment, this blaster will get your work completed with ease and precision.
As with all of their products, LEMANTEC has a hassle-free, money-back guarantee. Additionally, if anything happens to your AS118-BL within the first twelve months after purchase, the company will replace the unit. No questions asked.

---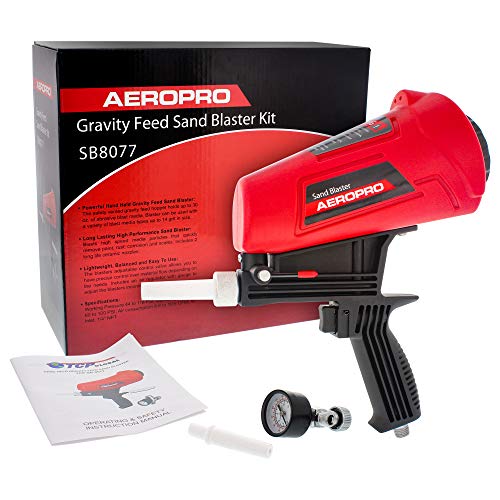 LEMATEC Sandblaster Gun Kit at a Glance
:
---
Blast Media: Multiple up to 14 grit
PSI: 60
Feed Type: Gravity
Another fantastic sandblasting gun kit comes from TCP Global. This is one of the best media blasters on the market. Moderately priced and with fantastic reviews, TCP Global's AEROPRO sandblaster had to make our list.
This handheld sandblaster is lightweight, easy to use, and impeccably balanced. An adjustable control valve on the blaster gives you precise, immediate control over the material flow during operation. There is also an air regulator and gauge included in the kit. You can use these to control and monitor the air pressure and flow.
This sandblaster working pressure sits in the range of 44 to 116psi, with an operating pressure between 60 and 100psi. It has a 30-ounce capacity with an air consumption of 8.8 to 10.6CFM.
This is a powerful little sandblaster, and is one of the best in its class.
This blaster can be used with a variety of media that ranges in cut and size up to 14 grit. You can use everything from sand to glass to aluminum oxide grit with no problems at all.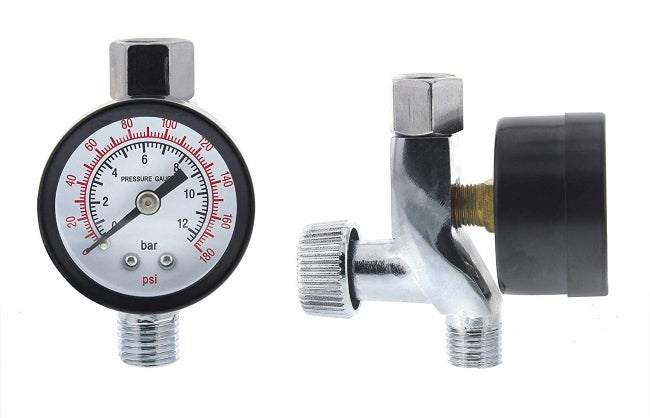 Keep in mind to use the right media for your work, as not all media is created equally.
This is a professional-grade hand-held gravity sandblaster kit. It comes with two durable ceramic nozzles as well as the pressure gauge and regulator mentioned previously.
The gravity hopper of this model of sandblaster is ventilated for safety and can contain up to 30-ounces of abrasive media at a time.
This sandblaster is great for handling rust, paint, scale, and other blemishes on nearly any surface. It will tackle any job you can throw at it, and for extra assurance, TCP Global does have a limited warranty in place on this blaster.

---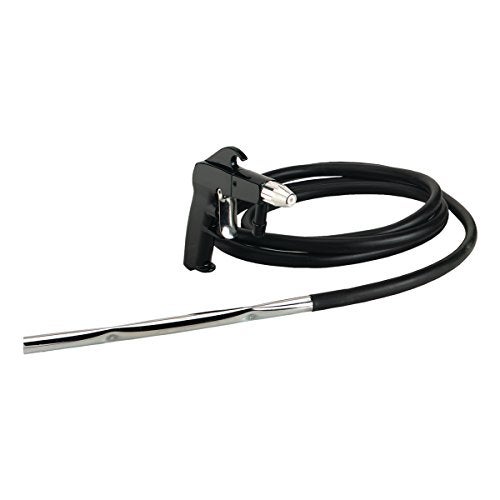 Campbell Hausfeld Sandblaster Gun at a Glance
:
---
Blast Media: Most abrasive media works with this gun
PSI: 90
Feed Type: Siphon
If you're looking for the best small sandblaster at a reasonable, in fact relatively cheap price, then the Campbell Hausfeld Sandblaster Gun is what you should look into.
Right now it's being sold at a low $15.99 on Amazon with free shipping, and that's a price you can't beat.
This sandblaster is ideal for removing rust, scale, and paint from small parts and equipment that may be difficult to reach with larger guns or shorter hoses. It is a siphon sandblaster and is designed to spray most abrasives.
The ten-foot hose that comes in this kit is meant to draw abrasive media from a bucket or bag, so you don't have to fill a chamber or container to fit directly onto the gun.
The length of the hose means you don't have to carry around your bag or bucket to work on large or intricate projects.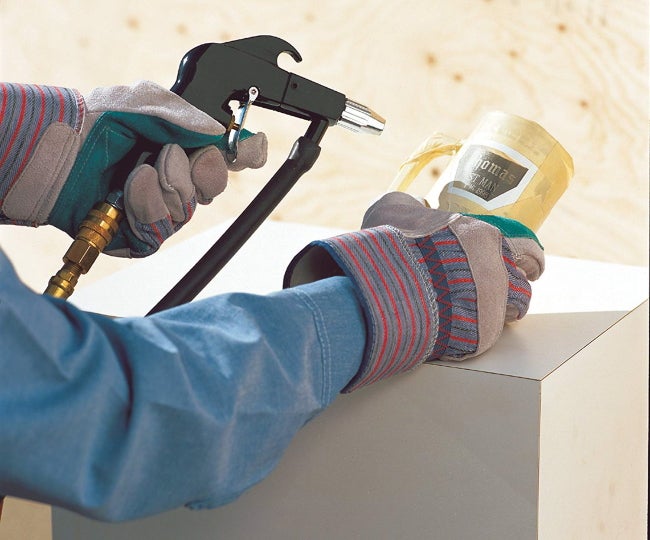 Included in the kit are the sandblasting gun, the hose, a ceramic nozzle, a steel pick-up tube, and an Allen wrench. With these supplies, you will be able to get started on your blasting or etching projects quickly and without hassle!
With unbeatable functionality and portability, this is without a doubt the best small sandblaster on the market today.
It is an indisputably reliable product that boasts a high level of efficiency without breaking the bank. There's also a one-year warranty through the manufacturer.

---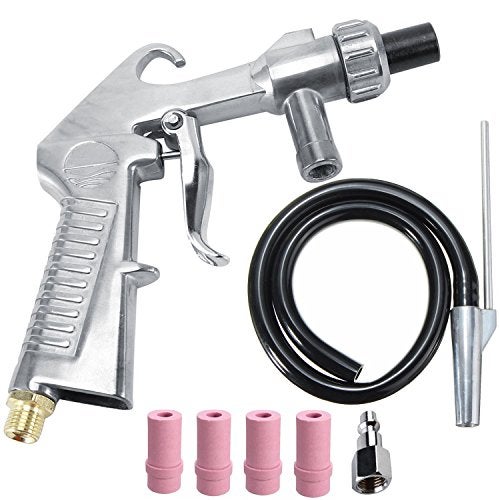 Wogoboo Air Sandblaster Kit at a Glance
:
---
Blast Media: Most media types; liquid or air blasting
PSI: 60
Feed Type: Siphon
This sandblaster is one of the best DIY sandblasters you can find. Not because you have to design and build it yourself, but because of its versatility. You can hook this blaster up to nearly any compressor or hose and it will work beautifully.
This is great for small projects that you want to handle on your own, as well. From cleaning car rims to refurbishing brickwork or glass, this sandblaster from Wogoboo is sure to suit your needs.
This sandblaster was designed and built with high-quality materials and parts. It was made to be a multi-purpose blaster, working well with high-pressure liquids as well as typical sandblasting media.
It can also be used as an air cleaner, and can be used on or with any kind of material.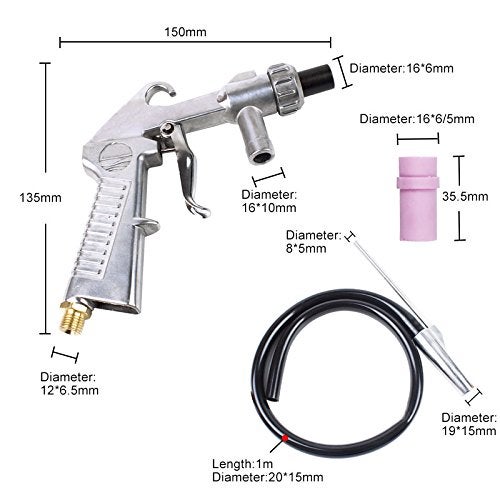 It features an ergonomic, comfortable design meant to fit into your hand with ease while working or maneuvering. This will help to ease any potential fatigue while you're working and holding the trigger during use.
Customer reviews rave about the fast shipping of this quality product. This sandblaster is great for hobbyists and people with DIY projects in mind.
The hose of this kit may seem a little stiff at first, but if you straighten it out and let it rest in some sunlight, it will be extremely pliable.

---
Sandblaster Gun Kits Comparison Table
---
What To Know About Your Sandblaster
If you've ever tried to scrap rust or stubborn grime off of a vehicle or an outdoor surface of your home or garage, you know what a pain it can be.
A great solution is a sandblaster, which uses an air compressor and a media type to blast surfaces. It can be used for more than just blasting grit, though, so keep an open mind!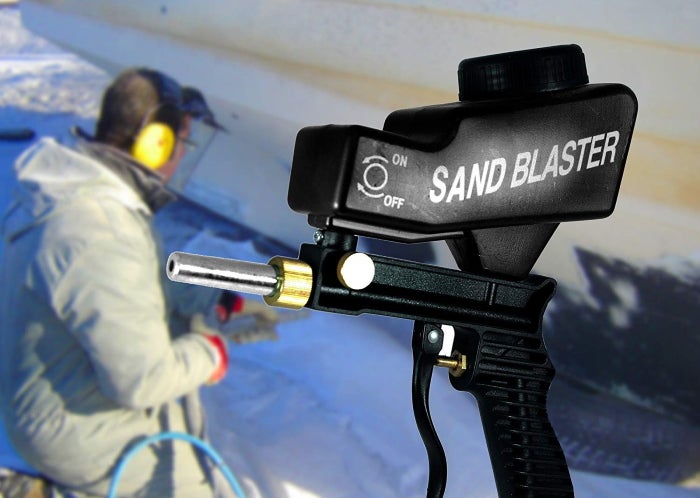 If it's your first time working with or buying a sandblaster, there are a lot of things you should know before diving in headfirst.
There are different types of sandblasters and a sizeable variety of blaster media that you can use with your kit. Knowing all of the options may help you make the best purchase for your needs.
Types of Sandblasters
There are three types of sandblasters you'll come across in your search for the perfect blaster.

Gravity-Feed Sandblaster
In these types of sandblasters, the blaster media is put inside of a container. This container is called a hopper, and it is attached to the top of the gun which is then connected to an air compressor. When the trigger is pulled, air blasts out of the nozzle, and gravity forces the media into the air stream.
Siphon Sandblaster
Siphon sandblasters work in basically the opposite way as the gravity-feed sandblasters. The container for these sandblasters is located below the gun instead of above. The pressure from the air traveling through the gun creates a suction, and the media in the container is caught in it and blasted out.
Pressure Sandblaster
These sandblasters use a highly-pressurized canister. The canister is full of the abrasive media of choice and is hooked to the sandblasting gun. The pull of the trigger easily blasts the media out of the gun. These are typically more expensive to own than siphon or gravity-fed guns, as the abrasive media cannot be reused.
Sizes
All of these types of blasters can be found in different sizes as well, including:

Mini:
Mini sandblasters are perfect for intricate detailing work on vehicles or in tight spaces, or for delicate work such as in art projects or DIY ventures.
Large:
This size of sandblaster usually needs to be mounted to some kind of sturdy, heavy surface. These are usually used to remove paint from a vehicle or other object.
Industrial:
Industrial sandblasters need to be mounted on a large truck or similar vehicle. They are typically used for construction jobs, like removing rust or paint from a building. These are the most expensive and heaviest of the sandblasters.
Types of Blaster Media
Just like with the different types and sizes of sandblaster, there are different kinds of blaster media. More than that, the media also comes in different grits, so you have to consider what media type and grit levels your blaster can handle before purchasing new media.
You should also keep in mind that different types of media will have different, unique attributes and functions that may work better for some jobs but not others. The most commonly-seen blasting media types are:
Steel Shot and Grit:
Steel shot and grit is one of the best choices you can make if you plan to be doing heavy-duty blasting work. It's most often used for removing tough coatings of rust or paint, preparing a surface for epoxy coating, or deburring.
Glass Beads:
If you're looking for a polished finish on your end product, glass beads are a great option to start working with. They are made of soda-lime. These beads are excellent for preparing metallic surfaces for powder-coating or painting and are fantastic for removing unsightly scales.
"Black Beauty":
This is the name of an extremely coarse media that is made of coal slag abrasive material. Its coarseness makes it perfect for industrial and automotive maintenance and repairs. It's also great for removing deep or stubborn rust, scale, and paint.
Soda:
This grit is made of baking soda or bicarbonate of soda. Soda sandblasting is used to remove rust, grit, and grime, and will not damage materials under these blemishes. It is soft enough to handle delicate materials but tough enough to get the job done.
Aluminum Oxide:
Aluminum oxide material is synthesized specifically to be both hard and reusable. It is usually angular rather than smooth or round, and is low in cost. It is a highly popular choice for deburring and grinding tasks.
Silicon Carbide:
This is the hardest medium available for sandblasting currently. It comes in a variety of sizes, and because of how hard it is, it works more quickly than other media. It's particularly good for grinding glass, removing mill scale, and any other job that needs aggressive abrasives.
Staurolite:
Mined from metamorphic rock, this abrasive media is particularly great for removing thin coatings of paint, scale, and rust. It's also fantastic for stripping coatings off of steel or other mechanical components that might have been powdered or painted with a protective coating. This abrasive produces a minimal amount of dust.
Plastic Grit:
Grits made of plastic have a wide range of use because this grit can be specifically manufactured to meet certain needs. This type of grit is usually made of a polycarbonate or polystyrene compound. They're great for any sandblasting needs that involve fiberglass.
Walnut Shells:
Black walnut shells might not immediately seem like a great media for sandblasting, but oddly enough they are. The walnut shells are naturally-occurring and highly-abrasive. This type of media is versatile, being great for both delicate applications as well as for more aggressive uses.
Corn Cobs:
Corn cobs are another naturally-occurring, abrasive media for sandblasting. It is suggested for removing grime, grease, and coatings on delicate surfaces, since it leaves them virtually untouched. It is resistant to breakdown and is reusable.
Sand:
Of course, sand is one of the materials you can use for sandblasting. However, in the modern age, sand is being used less and less frequently when compared to the introduction of the other varieties of media. This is mainly due to the silica content and the amount of dust it causes during blasting, which can lead to respiratory problems.
Sand Blasting Gun Kits – Buyer's Tips
If you're looking at this list and asking how to be sure you use the right media for your projects, have no fear. We have some useful tips to help you determine what you need and when you need it.
Always start soft if you're uncertain of what to use. Whether you're new to sandblasting or you're a pro working with a new material if you aren't sure what media will work best, start soft. You can always switch to a harder abrasive if it doesn't do the job, but you can't undo damage done if you start with the harder material.
Glass beads are great for delicate work and polishing surfaces, but they will actively also polish the actual surface under whatever is being removed, as well. If you need a clean, polished look, glass beads are the best option, and since they're reusable, they're a great way to save money as well.
Aluminum oxide will easily and effectively strip paint off a surface. If that's not something you're looking to accomplish, you should rethink using this media. It is reusable, though, and is great for tough jobs.
Are you working with fiberglass? If so, use plastic grit. It's softer than the metal media options and will safely remove paint without damaging the fiberglass beneath it. This is the best abrasive blasting media for aerospace and marine use.
If you need to quickly but effectively etch something, you can't go wrong with silicon carbide. Being the toughest abrasive available on the market, it makes quick work of etching or removing unwanted paint or rust.
Steel comes in a variety of sizes and is available as both a rounded grit or angular. The angular grit is better for removing paint or other stubborn substances, while the round grit is best for shot-peening and polishing purposes.
Soda sandblasting is great for a wide variety of tasks. It will remove rust from metallic surfaces without causing depressions or damage to the metal. It is also soft enough to use on more delicate materials.
Frequently Asked Questions
Q: What exactly is sandblasting?
A: Sandblasting is the broad term used to describe propelling fine bits of abrasive media at a high-velocity. The primary reasons to do this would be to clean, strip, or etch any given surface. It is called sandblasting because sand was formerly the most commonly-used media to perform this task.
Sand has since become outdated, due to the risk of dust inhalation. Other materials are now more commonplace and range from metal to plastics to natural fibers. Even with the lessened risk of dust inhalation, you should always keep in mind to wear proper protective gear such as goggles and a face mask.
Q: How much air pressure do you need for sandblasting?
A: Since sandblasting requires air compression, the more cubic feet per minute (CFM) that your compressor can process, the better. CFM refers to the volume of air that can be moved within one minute.
Having a high CFM output from your compressor isn't the only important factor though. If your blaster cannot handle the volume being forced through, it could become unsafe to operate. Just as well, if your compressor isn't providing enough CFM, then your blaster won't operate at all.
Most sandblasters will operate best between the range of 50 and 100psi. PSI is pounds per square inch, and the ranges of PSI for your blaster may be different than some of the ones you've used in the past, so you will want to check.
With all of this in mind, you need to remember that the CFM of your air compressor should always be higher than that found on your blaster. If you're unsure and the manufacturer doesn't offer specific parameters (which they probably will, be sure to check your owner's manual or the instructions), you don't have to abandon your dreams of sandblasting.
Your best bet in this instance will be to use a two-stage, 80-gallon or larger compressor with five horsepower or more. This will ensure that the compressor runs in intervals instead of continually, which will allow it to compress more air. You don't have to stop working and neither does your blaster.
Q: How long does sandblasting usually take?
A: This question's answer depends entirely on the blaster, the CFM and PSI, the size of the job and what it entails, and your skill and confidence with sandblasting. Perfection isn't quick, but if all you're doing is blasting paint off of something small, maybe perfection isn't your goal.
That said, some professionals can sandblast the paint or rust off of a 600-square foot area of any given material in approximately three hours. This doesn't give you an accurate estimation of how much time it will take you to etch a design around a mirror, however.
The short answer is that every job, task, or project will be different. There is no set, specific time for how long or short it will take you to sandblast something. This is especially true of beginners, who may not have any previous experience with a blaster.
Our best advice to you is to be slow and diligent with your work, and you will improve and get quicker over time.
Q: Can you use a sandblaster to etch a surface, and how is it done?
A: You can use a sandblaster to etch or engrave a surface, and it's a commonly-used alternative to laser engraving.
If a product is too large for a laser's scope to guide the engravement, sandblasting offers a more mobile, versatile solution.
Etching is actually a fairly simple process. You cover the target item in a stencil that delineates the design or wording you want etched into it.
From here you can either personally sandblast the item, or you can put it in a blasting booth, which will better contain and direct the spray of the abrasive materials.
Areas not covered by the stencil will be blasted and etched. After you're satisfied with the etching, remove the stencil and give your finished product a gentle cleaning. It's that easy!
How We Researched
To come up with the top sandblaster gun kits, we researched a variety of sources for reviews such as Home Depot, Lowes, Target and AcmeTools along with our own personal experience.
We also consulted online magazines for product research and reviews to get as much unbiased information as we could. To help weed out fake reviews we used Fakespot.com to make sure we only looked at genuine reviews.
With so much quality gear available, we had to narrow it down based on what we felt were the best options were for the price. The staff authors have a wide and varied background in yard maintenance and home repairs.
The authors have decades of experience and are eager to share their knowledge with readers.
To help narrow down the selection we used personal experiences along with recommendations from landscapers, bloggers and contractors.
After extensive research, we came up with our list to help you choose the right one for you.
Sources
Notice:
OutsidePursuits.com is a participant in the Amazon Services LLC Associates Program, an affiliate advertising program. OutsidePursuits.com earns fees from products sold through qualifying purchases by linking to Amazon.com. Amazon offers a commission on products sold through their affiliate links.