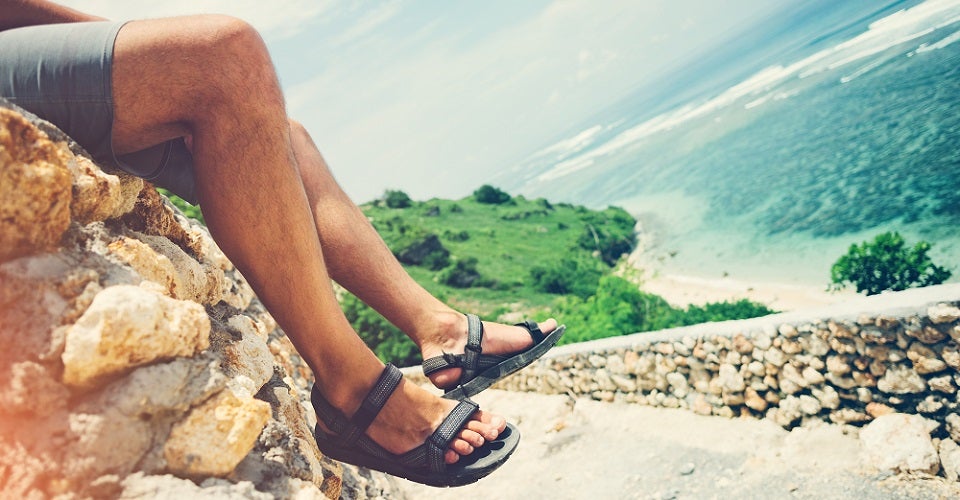 Our Editors independently research, test, and rate what we feel are the best products. We use affiliate links and may receive a small commission on purchases.
You've had it happen before: you're out there trying to take advantage of the nice weather, when you start getting blisters or foot cramps. Maybe your sandals have even started coming apart!
The best sandals can be comfortable, durable and attractive without costing a fortune.
We're going to look at the top sandals for men and women on the market today. They'll let you truly enjoy the sunshine without having to worry about your footwear letting you down.
Best Sandals
| | Under Armour Men's Ignite V Slide Sandal | Birkenstock Women's Mayari Oiled Leather Sandal | KEEN Men's Newport H2 Sandal |
| --- | --- | --- | --- |
| | | | |
| Sizes: | 4 – 18 | 4 – 11 | 7 – 17 |
| Footbed: | 4D Foam | Cork | EVA |
| Upper: | Synthetic | Leather | Polyester |
| Sole: | Synthetic | Rubber | Rubber |
| | | | |
For more of my top gear recommendations, have a look through these popular Outside Pursuits guide links: Beach Chairs, Beach Tents, Beach Shoes.
Quick Answer: The 10 Best Rated Sandals For 2021
Best Sandals For Men
Best Sandals For Women
Here is a feature comparison of my top rated sandals with a comparison table and our buyers guide below will help you choose a pair of sandals for you.
Best Men's Sandals
---

Under Armour Men's Ignite V Slide Sandal at a Glance
:
---
Sizes: 4 US – 18 US
Male/Female: Mens
Footbed: 4D Foam
Upper: Synthetic
Sole: Synthetic
Under Armour is unarguably one of the best performance sportswear companies in the world. However, did you know they also made footwear?
That's right, they have everything from running shoes to flip-flops, but today we're talking about their Men's Ignite V Slide Sandal. If you want the most comfortable sandals for men, these are it.
The upper is made of a synthetic strap, which closes with Velcro, offering you a completely custom fit.
If you've had this type of sandal before, you know how slippery they can become once sweat begins to form. That's why we appreciated the HeatGear lining, which works to keep your feet dry and cool.
The double layer of 4D foam in the footbed is luxurious, while the anatomical design cradles your feet and provide additional cushioning. It feels like you're walking on a memory foam mattress, almost.
If that weren't enough, the lightweight EVA outsole adds to the padding with traction pods in the heel. This also helps improve grip on slippery surfaces, such as wet rocks or sidewalks.
Speaking of wetness, we don't recommend using them in the water as they take quite a bit of time to dry, and begin to give off a weird odor. Just use them in dry environments, and you'll be all set.
---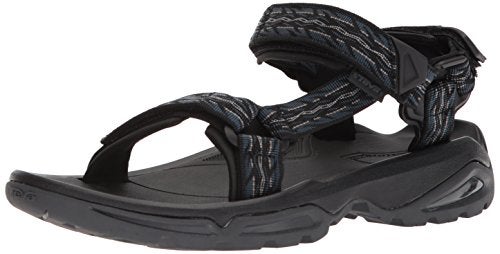 Teva M Terra Fi 4 Sandal at a Glance
:
---
Sizes: 7 US – 16 US
Male/Female: Mens
Footbed: Synthetic/Shoc Pad
Upper: Textile
Sole: Rubber
Teva is another favorite amongst adventurers and those who just appreciate comfortability without having to worry about quality. Their Terra Fi 4 is an updated version of their classic Fi's with an upgraded footbed with their classic style.
Let's start with comfort, since that's obviously crucial in choosing the best men's sandals for walking. These are surprisingly luxurious, with padded straps and a footbed made to provide a certain amount of softness and security.
You can use them dry or wet, and still have a secure hold, thanks to the quick-drying neoprene guards. The Microban zinc-based anti-microbial treatment will make sure they stay odor-free, too.
Their signature Shoc Pad footbed forms to the unique shape of your feet, which also work to absorb the shock of impact quite well.
The "Spider Rubber" soles are made to provide superior grip, making them great to use on uneven surfaces or off the beaten trail.
While they didn't have the most traction, they still ranked quite well for us, making them perfect for just about any summer environment.
None of this will do you any good if you don't have the right fit to start off with. The hook-and-loop strap design are highly adjustable, fitting perfectly around your feet and heels with ease.
Your feet will stay perfectly in place whether you're on the sand, hiking, traversing a river, or riding a bike.
The downside?
The price may be a bit steep for some. We would like to mention, though, that due to the high-quality material and construction, these will easily last you for years to come.
---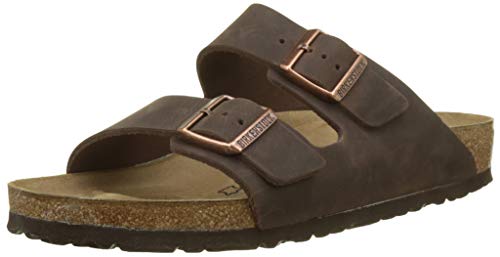 Birkenstock Arizona Birko-Flor Sandals at a Glance
:
---
Sizes: 4 US – 13.5 US
Male/Female: Either
Footbed: Cork
Upper:

Suede

Sole: Synthetic
Birkenstock is a world-famous brand that just about everyone knows for their durability and comfort. It's not unusual for a pair to of their Arizonas to last over a decade if properly taken care of.
If you're looking to make an investment for your feet and for your wardrobe, this is a great option. Let's go back to that "properly taken care of" part. This is where things get a bit tricky.
If you're someone who's super low-maintenance about their things, you may want to opt for another pair of sandals.
However, as the best leather sandals for men, they're going to require a bit of help. You'll want to protect the leather with a saddle soap, and the cork with a cork grease so they don't dry out.
The soft leather upper features two straps, which are adjustable with a buckle on each. However, they're not as easy to adjust as, say, a Velcro closure would be.
The EVA traction outsole is nice and comfortable, with a bit of cushion/squishiness to absorb impact while walking on hard surfaces.
You'll get a bit more flex to them after breaking them in. The footbed is slightly sunken in, so you the edges around the feet will keep them on more securely.
While they're great for various situations such as casual walking around town or camping, we wouldn't recommend them for use in water. The upper is waterproof, but the cork footbed is not, so keep that in mind.
Overall, if you're looking for an excellent pair of men's leather sandals, you can't go wrong with the Birkenstocks.
---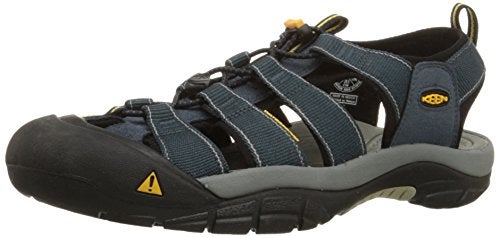 KEEN Newport H2 Sandal at a Glance
:
---
Sizes: 7 US – 17 US
Male/Female: Mens
Footbed: EVA
Upper: Polyester
Sole: Rubber
Perhaps you don't like the whole open-toe sandal designs out there or are looking for something with a bit more protection. If so, then check out the KEEN Newport H2.
These are some of the best sandals in terms of just about everything: comfort, versatility, and quality. In terms of comfort, these can't be beat. The toe box is wide enough to offer a natural toe splay, while providing full protection from stubbed toes.
The Metatomical EVA footbed is made to work with your feet – not against them. The closed cell foam bed is one of the most supportive we've seen, working great with high arches.
The uppers are made of polyester/neoprene so you don't have to worry about any chafing or hard edges. This material dries very fast, making it a great option if you're hunting for a sandal that can be used in or out of water.
A TPU stability shank, combined with a multi-directional lug pattern means that these have an excellent amount of traction to them.
In fact, the only time we weren't completely stable on these, was on super slimy river rocks. But, we doubt there are shoes that could hang on in those situations.
---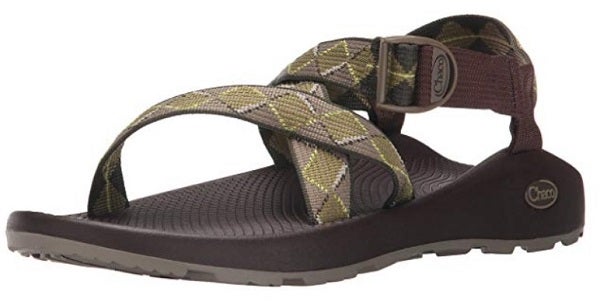 Chaco Z/1 Classic at a Glance
:
---
Sizes: 7 US – 15 US
Male/Female: Mens
Footbed: LUVSEAT
Upper: Polyester
Sole: Rubber
The Classic Z from Chaco was named such, because it is a classic among outdoor enthusiasts. The model ranks as some of the best sandals for men, due to their durability and comfortability while being able to be used in just about any environment.
The sandal sports a sleek silhouette, which not only looks attractive, but feels a bit more freeing.
The upper is made up of quick-drying polyester jacquard webbing, making for completely adjustable straps which hug the foot securely.
They're nice and smooth against the skin, however, so you won't experience any chafing.
The LUVSEAT footbed is unlike any other – offering a completely contoured arch. This not only provides excellent arch support, but a very comfortable ride.
If you're going to be using these in harsh environments, you need them to be strong. That's why we loved their Chaco midsoles, which are made out of polyurethane compounds.
These don't disintegrate or compress with wear, unlike so many other models. The ChacoGrip outsole is made of non-marking rubber, and made for performance tread in even the wettest of conditions.
If that weren't enough, the company also donates 3% of after-tax profits to organizations made to care for the people and planet.
Best Women's Sandals
---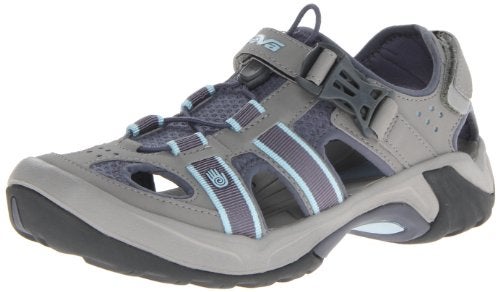 Teva Omnium Sandal at a Glance
:
---
Sizes: 5 US – 11 US
Male/Female: Womens
Footbed: Synthetic/Shocpad
Upper: Synthetic/Mesh
Sole: Synthetic
The Teva Omnium are not only the best women's sandals for walking, but hiking, kayaking, and whatever other adventure you may come across. Providing a great amount of support and coverage, they're surprisingly lightweight and quick-to-dry.
Multiple drainage ports and a mesh lining mean that water is no issue here. As is consistent with the Teva brand, these sandals are highly and easily adjustable.
Their lacing system works in such a way that you only have to pull the top and the entirety of the mesh covers your foot.
The top Velcro strap also clips into a plastic buckle, keeping them securely on your feet. They're relatively easy to take off/put on, but not when you compare them to others on our list.
The elastic gore moves and stretches with you, making it perfect for all-day use. The nylon shank provides extra stabilization for those times when your balance may not be enough.
We loved the shock-absorbing Shocpad in the heel, which takes off some of the impact, leaving you fresher for your activity of choice.
The only thing we would like to mention, is that this model isn't ideal for those with wide feet. They may be a bit too tight for you.
---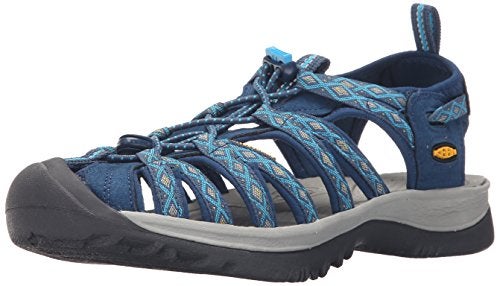 KEEN Whisper Sandal at a Glance
:
---
Sizes: 6 US – 11 US
Male/Female: Womens
Footbed: EVA
Upper: Polyester
Sole: Rubber
It's obvious we love the Keen Newport, but we heard great things about their Whisper, so we had to try them out. We were more than content in most aspects – the downside being the amount of grip they provide.
For being a sandal supposedly great for hiking, we felt it was just average in this regard. That's not to say you'd slide right off of a trail or something, but they didn't perform as well as the Newport with traction.
Now, let's talk about what we loved, because there's a lot of that.
The closed-toe construction provides great protection, but with a bit of a flatter footbed than the Newport. If you didn't like the extra arch support in that model, then you'll probably like these.
The metatomical EVA molded footbed is a nice ride, and comes with Aegis Microbe Shield to cradle your foot's natural shape. It also prevents unpleasant odors from taking up home in your sandals.
The polyester upper is quick-to-dry, and easily adjustable with their bungee cord design. It also helps make for a relatively lightweight shoe.
Overall, we felt these were some of the best sandals for women due to their durability and comfort.
---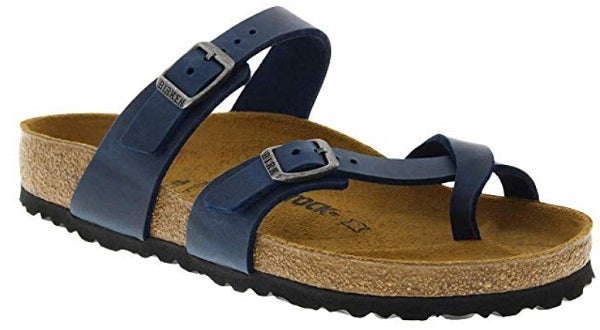 Birkenstock Mayari Oiled Leather Sandal at a Glance
:
---
Sizes: 4 US – 11 US
Male/Female: Womens
Footbed: Cork
Upper: Leather
Sole: Rubber
For us, there wasn't much competition for the title of the best leather sandals for women. The Birkenstock Mayari Oiled Leather Sandals are an elegant model, featuring a trendy crisscross design to come to a loop around the big toe.
While we may not recommend them for long journeys on rough terrain, they're great for casual walks, days at the beach, or camping.
Featuring the classic support of the buckle straps, the women's leather sandals are completely adjustable to fit your feet perfectly.
The durable oiled leather upper is lush, smooth, and incredibly pliable so there's no worry about chafing or discomfort.
If you have wide feet, we highly recommend this model. The reason why, is because it offers a roomy toe box that many others don't.
In addition, you'll love the contoured cork footbed, which provides notable arch and a deep heel which works well to absorb shock. The EVA outsole is lightweight, yet aids in the absorption of impact on hard surfaces.
What's more, is that these leather sandals for women come in a huge array of colors and finishes that there's no doubt you can find the perfect option for you and your style.
---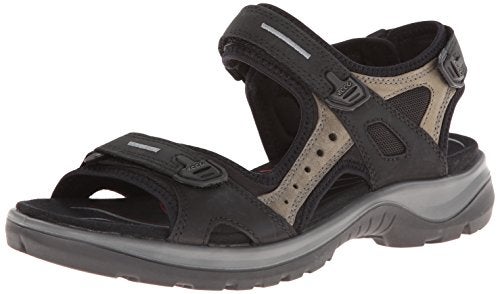 ECCO Yucatan Sandal at a Glance
:
---
Sizes: 4 US – 12 US
Male/Female: Womens
Footbed: EVA/Microfiber
Upper: Nubuck
Sole: Rubber
The ECCO Yucatan Sandals, we have to admit, weren't what we expected. After all, the brand isn't as well-known as most others on our list.
However, these were lightweight, inexpensive and the most comfortable walking sandals we tried. The three hook-and-loop straps make for an easily-adjustable design that can also be taken off at a moment's notice.
The stretch-fit material on the interior is super soft against the skin and prevents any friction from the straps.
As the upper is completely made of Nubuck, it's nice and velvety, while being incredibly long-lasting. Unfortunately, this also means they're not made for use in the water.
The soft footbed is EVA molded to shape to your feet, while being covered in microfiber to add even more padding and stability.
The PU midsole foam only adds onto this cushioning – making them perfect for everyday use. To keep things fresh, the CMEVA cover prevents bacterial growth.
The sole is made of pure rubber, which also makes for a durable design. They're thick enough to be used on long walks or hikes, and we loved how flexible they were rather than feeling like we'd attached a wooden plank to our feet.
---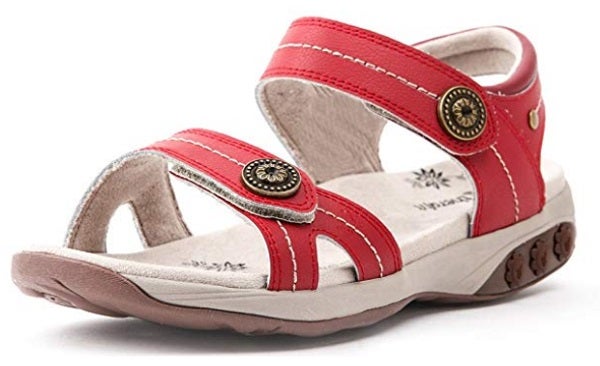 Therafit Grace Adjustable Walking Sandal at a Glance
:
---
Sizes: 6 US – 10 US
Male/Female: Womens
Footbed: EVA
Upper: Leather
Sole: Rubber
Recommended by podiatrists everywhere, the Therafit Grace's are easily some of the most comfortable sandals for women. They're not only made to feel luxurious, but look luxurious as well.
The leather upper is soft and smooth against the skin, making it great for longer walks around the city, up in the mountains, or even at an amusement park.
The padded collar makes sure that they don't dig into the feet, while adjustable straps ensure you have the perfect fit. They work well with narrow and wide feet, alike.
The contoured EVA footbed provides a type of cradle around the foot to add security and comfortability, along with excellent arch support for those who need it.
The deep heel cups create more stability, while giving a bit of a better roll off each time you step.
If you're dealing with arch/heel pain, plantar fasciitis, or other issues with pain in your feet, these could be the solution for you.
---
Sandals Comparison Table
How to Choose the Best Sandals – Buying Guide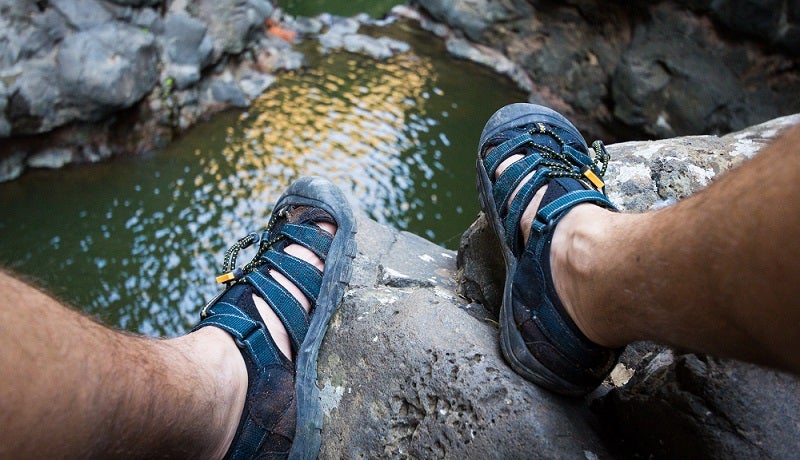 It's a pretty big world of sandals out there, and everyone is claiming to be the best. With claims like that, how can you actually find the leading designs?
That's what we're here for. We aim to give you unbiased reviews. We know that at times, that's not enough, so we've taken it upon ourselves to also write up a buying guide, below.
This will go through each aspect of the selection process, so you are completely happy with your decision.
Activity
What will you be using your new sandals for? Will you just be using them to lounge around by the pool? Will you be traversing rivers and climbing mountainsides? You need to figure this out first. If you plan on a lot hiking, we have a separate list of hiking sandals here.
If you're going to be doing some more casual walking, then you aren't going to need as much grip as say, someone who's climbing all over logs and boulders. They're also not going to need to be as durable or resistant against water.
If you're just taking a stroll on flat ground, you also won't require the shoe to hold on to each side of the foot to ensure you don't slip out of it. There's some huge differences here.
Coverage
How much coverage do you need? It's crazy how much coverage some sandals provide, these days. If you're just going to be hanging out at by the campfire, you probably aren't going to need much coverage.
In this case, you could go for a Teva model or the Chaco. These are more lightweight, and will let in more sunlight.
Both Birkenstock models are also excellent options for easy, level walks.
If you're going to be hiking, then you'll want to aim for more coverage and make sure that they include a TPU toe cap or something similar to protect against stubbed toes.
The Keens offer exactly this. They are just about as close to a regular hiking shoe or running shoe as you're going to get.
Closed Coverage: These are typically a bit heavier than those with less coverage. If you're going to be encountering various obstacles these should be your only option.
Open: These obviously provide more airflow and are usually more lightweight. They're also (though not a rule) often more affordable.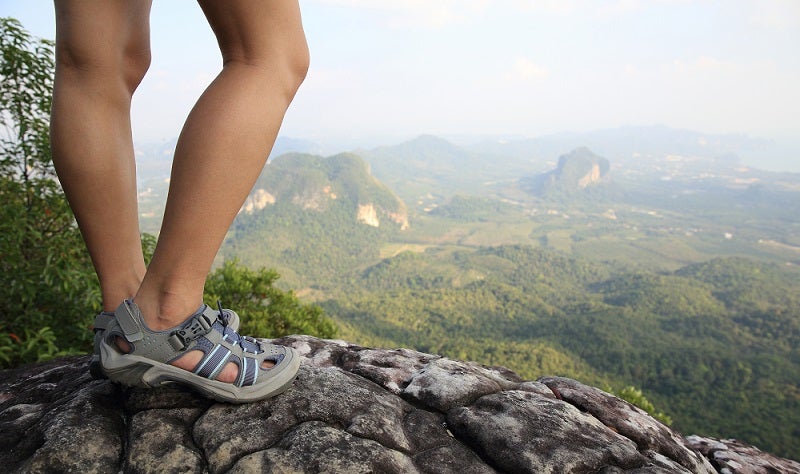 Arch Support/Cushioning
This is the great thing about the sandals on our guide: they're going to provide the kinds of comfort and support you could never get from your standard models. As you're probably going to be active in these, you need something that can support you from start to finish.
Most of those that we've featured here offer excellent arch support. However, you may not need them. If not, the Birkenstocks offer just enough that they won't bother you.
Others, such as the Therafit Grace or the Teva M Terra offer molded footbeds that will make sure your feet don't hurt after a long day on the trail.
There are so many sandals out there that are basically like pieces of cardboard stuck to your feet; they don't offer any support and just work against the natural curves of your feet. Our bodies don't like this, and the risk of injury increases.
That's just one of the reasons why it's so important to select a well-made shoe.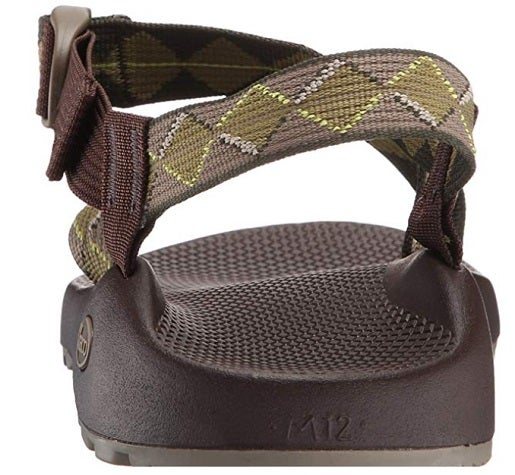 Shock Absorption
This ties into our last point, which was the importance of cushioning and support. You also want to have a shoe that absorbs a good amount of impact when your foot hits the ground.
Imagine if you're walking on the pavement barefoot. You're probably not going to be able to walk a mile very easily like that, right? Your heels and the balls of your feet are going to feel sore just after a short while.
What you need is protection and shock absorption. Each of the sandals on our guide have excellent shock resistance, and will keep your feet feeling new and "fresh" so you can be active for longer.
Sole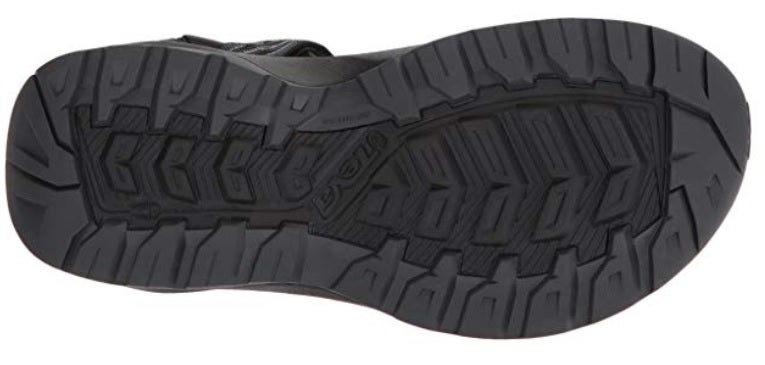 This part essentially creates the backbone of any good pair of sandals. The sole should be adaptive, yet durable. You want them to hold up to regular use on rough terrain, but not be as hard as a rock.
Ideally, the soles will be flexible so you can easily pack them in your bag, and so they move with the natural movement of your feet.
This is even more crucial on uneven surfaces. Select a pair that's pliable enough to adapt to anomalies like twigs and rocks while keeping your feet from feeling tired.
Probably the most common materials for soles in the best sandals for men and women is rubber. Rubber is great because it has a bit of bounce, is inexpensive, yet holds up very well.
Comfort
First off, let's point out that comfort is pretty subjective. While the sandals listed above were our favorites, and the favorites among many other consumers, they may not be yours.
You'll want to take each step listed above into consideration, as everyone has different feet and will be using them for different things.
In the end, make sure they don't rub against your feet and cause irritation, and they should not be so stiff that your arches hurt at the end of the day.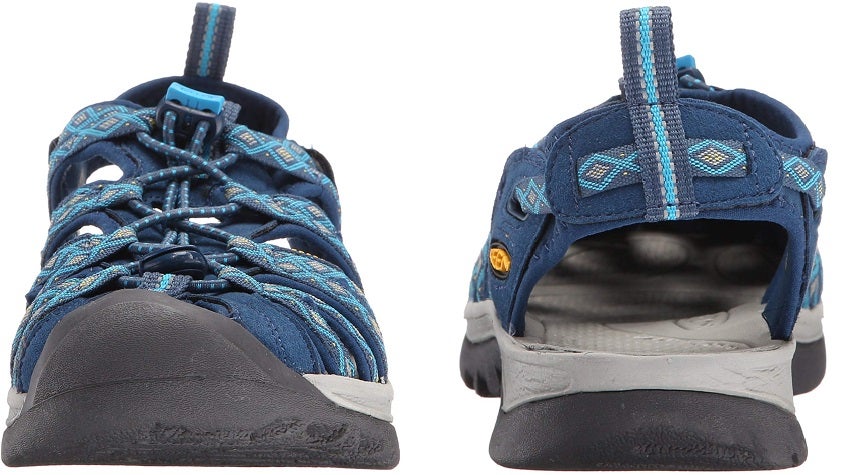 Material
This will have a lot to do again, with the activities you'll be taking your sandals through. If you're going to be using them in water, for example, try not to go for a pair that has a leather upper.
While you can still protect the leather, you're going to be better off with a polyester or fabric that can dry easily.
However, if you're not going to be in the water and are looking for pure durability, leather is definitely the way to go. We all know leather holds up well, but the Birkenstocks are known for lasting literally over a decade!
FAQs About Sandals
Q: Can I wash my sandals in the washing machine?
As with everything, we highly recommend checking the manufacturer's instructions before doing anything. Even so, we'd suggest cleaning them by hand if you can, with just soap and water. This will prolong the life of your sandals.
Q: How do I know if they'll fit me properly?
Always take a look at the size chart on the manufacturer's site, if possible. Also take into consideration that most of these a highly adjustable, so if you're unsure of the width that shouldn't be an issue.
Q: I'm seeing EVA and PU a lot. What's the difference between the two?
PU is an organic polymer, that's very resistant against wear and compression. It is a bit heavier, but also has a higher density. EVA is a synthetic polymer, known for being super cushiony. It's lighter than PU due to its lower density, which means it isn't compression-resistant.
Q: Can I use these with orthotics?
There are a few on our guide which feature removable insoles, but generally speaking, this won't be the case.
Tips For Sandals
#1: To use your sandals during the fall, simply add socks into the mix! Just about every single model on our guide can be used with socks. These work particularly well with those with fuller coverage.
#2: If you'll be using them in the water, make sure to wash them after each use. You don't want the bacteria from the water sitting there in your shoes, as this can definitely cause some unwanted odors to form. In addition, saltwater and other factors can cause them to break down quicker.
#3: If you want to save money, ultimately go for the most durable designs. In our experience, the longest lasting are those made with leather. Keep in mind that they must be cared for properly.
Final Thoughts
We know that was quite a comprehensive read, but now that you know just about everything you could ever want to know, which ones are the best sandals for you? We hope that our guide has helped you select the perfect pair. Thanks for tuning in, and we'll see you again soon!
How We Researched
To come up with the top sandals, we researched a variety of sources for reviews such as Target, Lowes, Bed Bath & Beyond and Walmart along with our own personal experience.
We also consulted online magazines for product research and reviews to get as much unbiased information as we could. To help weed out fake reviews we used Fakespot.com to make sure we only looked at genuine reviews.
With so much quality gear available, we had to narrow it down based on what we felt were the best options for the price. The staff authors have a wide and varied background in adventure travel, hiking and backpacking.
The authors have decades of experience and are eager to share their knowledge with readers.
To help narrow down the selection we used personal experiences along with recommendations from fellow travelers and tour guides.
After extensive research, we came up with our list to help you choose the right one for you.
Sources
---
Notice:
OutsidePursuits.com is a participant in the Amazon Services LLC Associates Program, an affiliate advertising program. OutsidePursuits.com earns fees from products sold through qualifying purchases by linking to Amazon.com. Amazon offers a commission on products sold through their affiliate links.