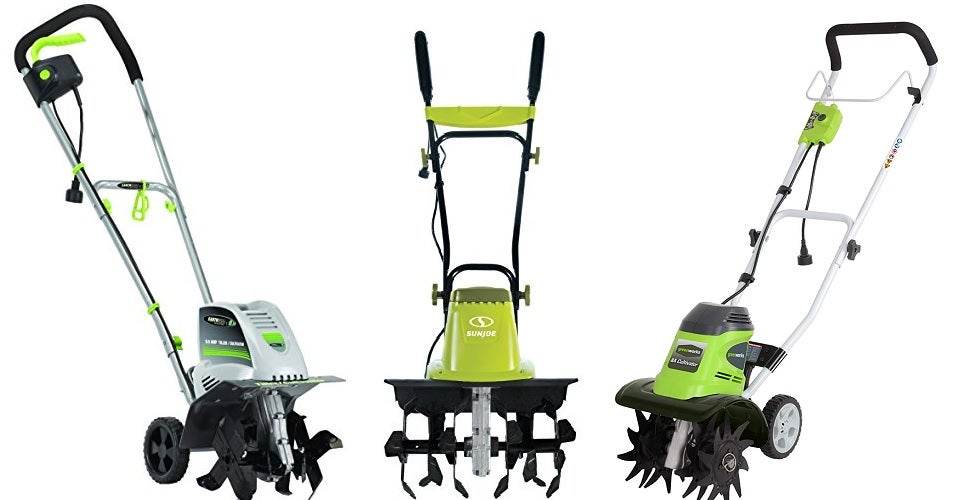 Our Editors independently research, test, and rate what we feel are the best products. We use affiliate links and may receive a small commission on purchases.
For thousands of years people have known how beneficial loose soil was to a flourishing garden. Using the best tiller we can easily create those ideal growing conditions.
So whether you're getting rid of weeds or preparing the soil for your garden, you're going to need a top rated rototiller.
We've done the research so you don't have to. Let's get started!
Best Tillers
| | Earthwise Electric Tiller/Cultivator | Greenworks TL80 Cordless Pro Tiller | Mantis Electric Tiller |
| --- | --- | --- | --- |
| | | | |
| | | | |
| Type: | Electric | Cordless | Electric |
| Power: | 115-volt, 13.5A | 40V, 4Ah | 115-volt, 540 watt |
| Width: | 16-inch | 10-inch | 12-inch |
| Rating: | 4.4 / 5.0 | 4.2 / 5.0 | 4.4 / 5.0 |
| | | | |
For more of my top home and garden recommendations, have a look through these popular Outside Pursuits guide links: Cordless Lawn Mowers, Hedge Trimmers, Cordless Leaf Blowers.
Quick Answer: The 7 Best Rated Tillers & Cultivators
Rototiller Reviews
Our reviews of the top rototillers (electric & cordless), with our buyers guide and comparison table will help you choose the right one.
Now let's take a look at the rototillers in more detail and we'll guide you in selecting one that's right for you. First we'll look at the the electric models.
Best Electric Tillers
---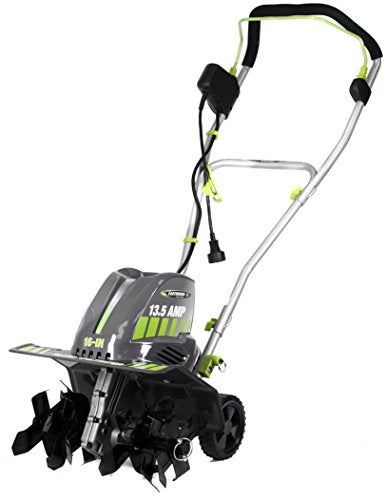 One of the best electric tillers available today, the Earthwise TC70001 16-Inch 13.5 amp model is perfect for beginners and seasoned veterans, alike.
The lightweight design makes it perfect for those with not a lot of upper body strength to precisely maneuver the machine around the yard.
At first glance, you can see that the design is very streamlined and quite attractive for a rototiller.
Expand To See MoreSee Less

The soft, ergonomically designed grip is made to give a natural feel that will allow you to use it for long stretches of time without getting fatigued or cramping up.

The 13.5-amp motor is quite powerful, given how compact the machine is. With 4 tough steel tines, you'll be able to compete your work in an efficient manner, tilling up to 16" wide and 8" deep.

With a push-button start, it requires minimal effort to get going, leaving you to use your energy on the fun things. To keep you and everyone else safe, the tiller only runs when it's actually being used.

When you're done, simply flip down the wheels so you can roll it along the ground without having to drag or carry it. What's more, is that the model is quite affordable given how well-made and precise it is.

For medium-sized gardens, give this one a serious look.

Earthwise Corded Electric Tiller/Cultivator at a Glance

:
---
Type: Electric
Power: 115-volt, 8.5A
Width: 16-inch
RPM: n/a
---
While the last product was by no means flimsy, the Mantis 3550 Electric Tiller is worlds apart in toughness.
Despite being a powerhouse, this best garden tiller weighs in at just 24 pounds, easily making it one of the most lightweight designs currently. You'll be tilling faster than you ever thought possible!
While it may feel light in your hands, it comes packed with a top-of-the-line 2-speed, 540-watt motor which is even tough enough to dig through compacted soil and some types of clay!
Expand To See MoreSee Less

Choose between the three speeds to dig, weed, or cultivate. It's not the most powerful out there, but it works perfectly for getting into tight places and breaking up hard dirt with the special curvy tines that can go up to 10" deep.

The 12" width is pretty decent sized but if you have tight corners and small spaces then this is ideal.

There's no need to waste your energy before you even begin! Thanks to the quiet instant start getting it up and running is as easy as can be. With no emissions nor carbon footprint, use it as much as you'd like knowing that it's eco-friendly.

The solid one-piece cast aluminum housing is incredibly durable, turning the tines up to 240 RPM which lets you power through the soil with ease.

Mantis 3550 Electric Tiller at a Glance

:
---
Type: Electric
Power: 115-volt, 540 watt
Width: 12-inch
RPM: Up to 240
---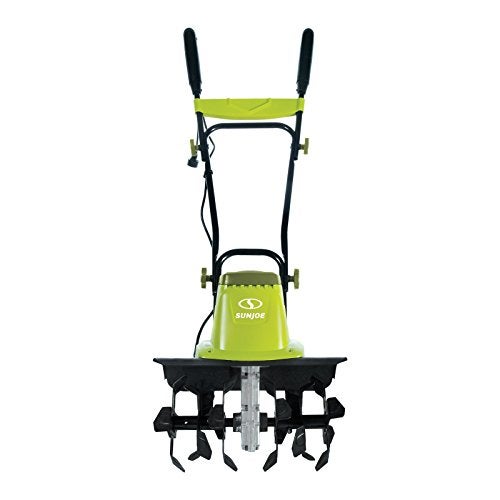 The Sun Joe TJ603E definitely turns heads with its bright green color and interesting design.
If the Mantis was too small or not powerful enough for what you're looking for, then this model may be just the one. With a 16-inch width, it's excellent for use on wider areas that are spread out.
The machine can reach up to 8 inches deep in just moments, helping to take on tough weeds and other challenges with no issue thanks to 6 strong steel angled tines.
Expand To See MoreSee Less

The 12-amp motor can move tines at up to 340 RPM which is quite a bit faster than the previous products, loosening up compacted soil in seconds to give plants the aeration they deserve.

The instant start button makes it effortless to get started, adding a bit of motivation to get outside thanks to its user-friendliness.

A 3-position wheel adjustment makes this best rototiller even more easy to maneuver, while the handle easily folds away when you're done using for seamless transport and storage!

We would have liked to have seen a bit more variability when it came to speed, but overall it's an excellent product.

Sun Joe TJ603E Electric Tiller and Cultivator at a Glance

:
---
Type: Electric
Power: 115-volt, 12A
Width: 16-inch
RPM: 340
---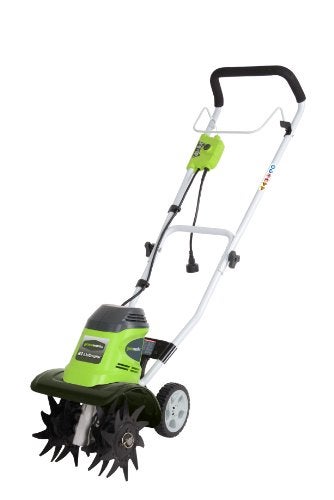 Featuring a sufficiently powerful, clean engine, the Greenworks 10-Inch 8-Amp Corded 27072 Tiller is the best small rototiller that can take on just about anything you throw its way.
Weeding and digging deep into the ground is no problem, due to the four rotating tines which can be perfectly adjusted with width and depth to suit your ground and situation most.
The 8-amp motor features an electric start the moment you want to use it and is one of the most powerful as far as these kinds of tillers go.
Expand To See MoreSee Less

If you have particularly tough soil to break through or impossible weeds to battle, this is a great selection. Couple that with the 8-inch tines and you can do anything.

While it's definitely meant to be strong, it's impressively smooth and quiet during the entire time it's running. As you don't require batteries or charging, you can use it whenever you'd like with the benefit of constant, reliable power.

Finally, when you're all finished for the day, the machine is easy to pack up and stow away. Simply fold the handle down to make it more compact and easy to carry along anywhere you need to.

The only real downside for us was that the cord can get in the way at times so you must always be aware.

Greenworks Corded Tiller 27072 at a Glance

:
---
Type: Electric
Power: 115V, 8A
Width: 10-inch
RPM: n/a
---
Best Cordless Tillers
---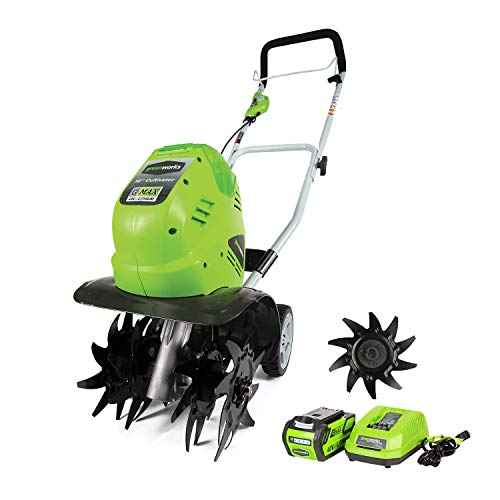 Our next item is one of the best cordless tillers, coming completely powered by an 40V battery.
The Greenworks Cordless Tiller is fully charged in just 40 minutes, so if you don't mind waiting a bit, the freedom of not being attached to a cord may make your gardening more efficient.
Although you will have to spend a bit more than the former products in exchange for this convenience, it's typically worth it.
Expand To See MoreSee Less

If you're coming from a gas tiller, you'll be particularly pleased with how lightweight and easy this machine is to maneuver. While there is a bit of assembly required, it's easy to do in less than 10 minutes.

Coming with 4 forward-rotating steel tines, which is twice as many as comparable products, they're very flexible and removable.

Capable of digging with a 10-inch diameter and 5-inch depth, it moves through even harder dirt with grace. With each full charge you'll get about 45 minutes of run time which is typically enough for most consumers.

What we also took note of was that the Greenworks was extremely low-maintenance and very consistent in performance.

What's more, is the product comes with a 4-year tool warranty and 2-year battery warranty, making this model an excellent investment.

Greenworks Cordless Pro Tiller at a Glance

:
---
Type: Cordless
Power: 40V, 4Ah
Width: 10-inch
RPM: n/a
---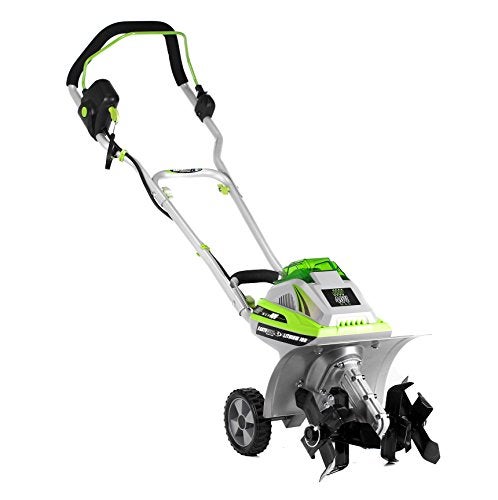 While the aforementioned products are certainly excellent options, if you have a small garden then you're going to need the best small garden tiller to get in those tight spaces.
The Earthwise 40V Brushless Tiller is a bit lighter on power but is still designed to get the job done with supreme performance.
As the battery works with all Earthwise 40V tools, you can use them in any other machine at any time making it incredibly versatile.
Expand To See MoreSee Less

What really sets this model apart from so many, is the fact that it comes with a brushless motor. This means that there's less moving parts involved, which translates to less chance of mechanical failure and extended lifespan.

As it's battery-powered you can expect torque and power that you'd typically only find in gas-powered machines.

While the runtime closes in around an hour, it's recommended for spaces of ¾ of an acre or smaller. In our experience, it wasn't quite strong enough to garner a recommendation for use with hard dirt.

While you can till compacted ground, just know that it is going to take a bit more effort and minutes. If you have soft soil and require precision in tighter areas, then this should move to the top of your list.

With 3 different height adjustments, you can ensure that you'll be able to work in a position that won't cause you any discomfort and allow for the most natural movement possible.

You get a 4-year tool warranty and 2-year on the battery for extra peace of mind.

Earthwise Cordless Electric Tiller/Cultivator at a Glance

:
---
Type: Cordless
Power: 40V, 4Ah
Width: 11-inch
RPM: 1700
---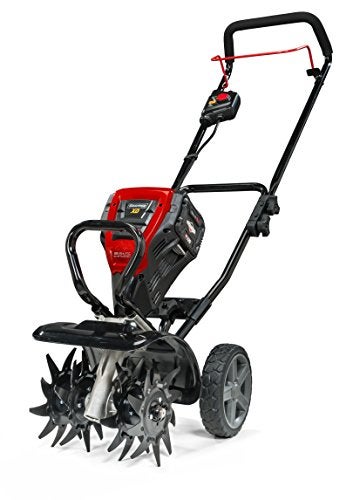 The Snapper XD 82V MAX Cordless Electric Cultivator didn't initially catch our attention, due to the fact that the brand is relatively unknown and doesn't come with a battery or charger.
However, after using it the first time, that all changed.
The 82V battery is by far the most powerful available and it's still quite efficient with an adjustable width of 10″ to 5.25″ with a 5" depth that's excellent in working with packed soil and small spaces that demand exactness.
Expand To See MoreSee Less

No matter whether you're preparing the soil, weeding, or composting, this cordless model has you covered. With no cords in your way you can operate with confidence, focusing on the task at hand.

The charge time was surprisingly short, taking only 75 to fully charge! With a runtime was around 60 minutes, you can cover a serious amount of ground.

The metal alloy steel and ABS blades slide right through soil, but aren't designed for hard, compacted dirt.

Featuring an integrated debris protection shield, you may actually be able to leave the house without a shower after tilling! The shield ensures dirt and soil doesn't go flying everywhere onto your clothes and hair.

To make operation more efficient with less strain on the body, the handle grip easily adjusts its angle so you can work with what's best for you.

Snapper XD Cordless Electric Cultivator at a Glance

:
---
Type: Cordless
Power: 82V, 5Ah
Width: 10-inch
RPM: 280+
---
Rototiller Comparison Table
How to Choose the Best Tiller/Cultivator – Buying Guide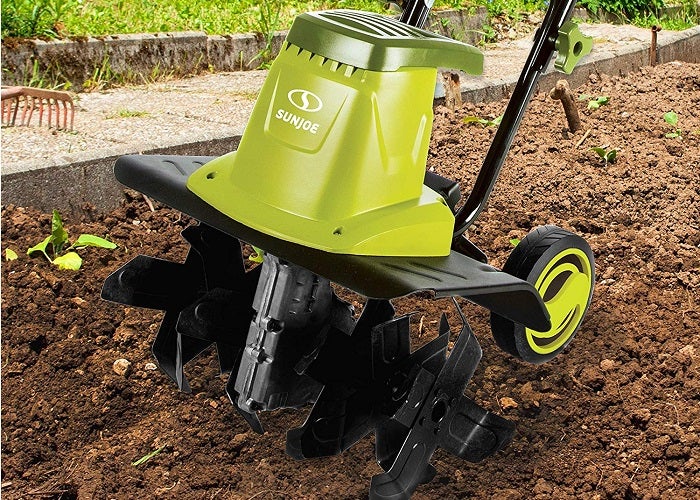 Now that you've had the opportunity to read up on all of the best rototillers, do you know which one's just right for your yard or garden? If not, then that's perfectly normal.
There are a lot of options which can get overwhelming. That's why we've gone ahead and come up with the comprehensive buying guide, below. By the time you're done, there should be no doubt which machine you'll be working with!
Type
As you can see from the above products, there are two general types of tillers we're dealing with: electric and cordless. Both have their own pros and cons, so let's dig in a bit deeper with each one.
Electric
These models come with a cord to supply the tiller with power. If you have a smaller area you're tilling, then having a cord may not be too much of an issue at all. But, it's also personal preference. Some people just like the idea of everything being cordless in this day-and-age.
What's great about electric models, is that they provide a consistent, reliable source of power. You don't need to worry about charging a battery or worrying about the battery losing its charge before you're finished. They're typically slightly less expensive than cordless models, as well.
Cordless
As the name suggests, these products come cord-free, leaving you with the freedom to venture wherever you'd like with the rototiller! If you have quite a large amount of space to cover, then this may be the best option for you. The downside is that you'll need to charge the battery.
Some take less than an hour, which isn't bad at all. However, there are others which take 4 hours, which can really cramp your plans.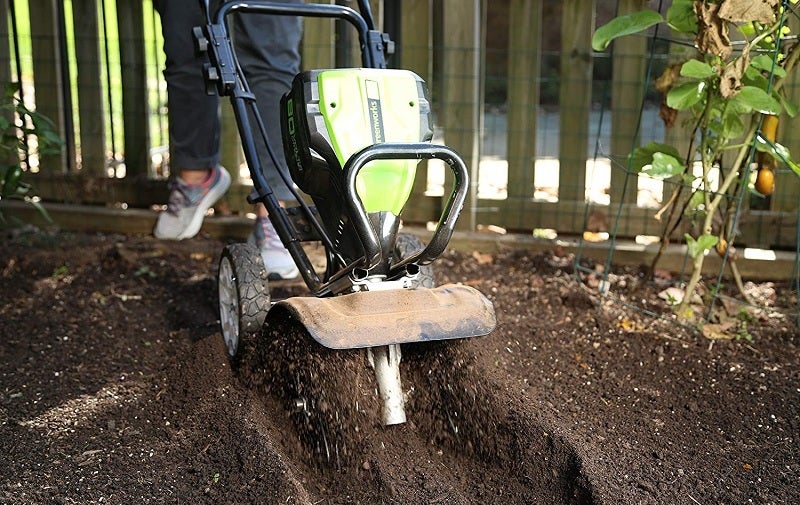 Battery
That brings us to our next subject, which is the battery.
Power: As previously mentioned, there are some that run off of battery alone and that that power varies. The amount of power required for what you need will depend on how large of an area you're covering, how hard the soil is, and if there are rocks and other hard objects involved.
Charge/Runtime: Again, you'll probably need to take into consideration how long it takes to charge the included battery and how long the runtime is. Unless you've specifically set aside time where you know you'll be free to till and can plan ahead, hours-long charge time can really make things difficult. If you're someone who operates on spur-of-the-moment plans.
Speed of Tines (RPM)
This is an often-overlooked point in the selection process, despite it being so important. There are some models which offer you the option of varying the speed, or multiple speed settings to choose from. If you're stuck between a model with multiple settings and one with only one, you're going to fare better with the former.
What's so important about changing up the speeds?
That you can change your machine to make it best-suited for the kind of ground you're tilling. This is crucial if you're dealing with both loose and hard soil. However, if you know for a fact that you're going to only be working with one type of ground, this won't be as big of a deal.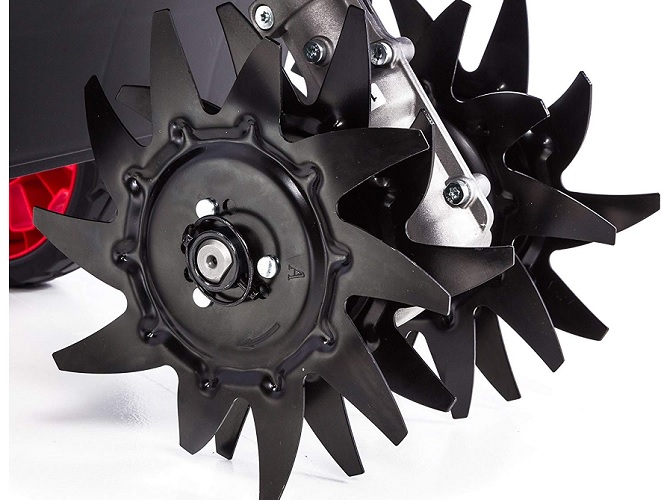 Blade Quality
The blade is an essential factor in how long your rototiller lasts you. That means that if you plan on having it a while, you should look for one with high-quality blades and configurations. If you're unsure, most well-known brands will have you covered which allows for optimal movement.
Ease of Movement/Maneuverability
You want to be able to maneuver the rototiller with ease! At least, you shouldn't be feeling fatigued or cramping up while using it.
Look for one that has a weight you can manage, and soft grips that won't leave your hands in discomfort. If they're ergonomically designed, even better. There are some products that will come with adjustable height settings, too.
As we all vary in height, this is ideal. No one wants to be hunched over for extended periods of time as this can cause discomfort and even injury to the neck and back.
Tilling Width and Depth
You can see from our guide that these vary quite a bit, but what does it mean?
Width: The more width you have, the less you're going to need to run back and forth over a section of land, meaning you will spend less time and energy. If you have a big area of land, then try to go as wide as you can.
Depth: A good amount of depth lets you really break up the ground nicely. This will allow for proper aeration and growth for your plants, letting you reach right where the roots will be growing eventually. Being able to control the depth that the tiller goes is highly valuable.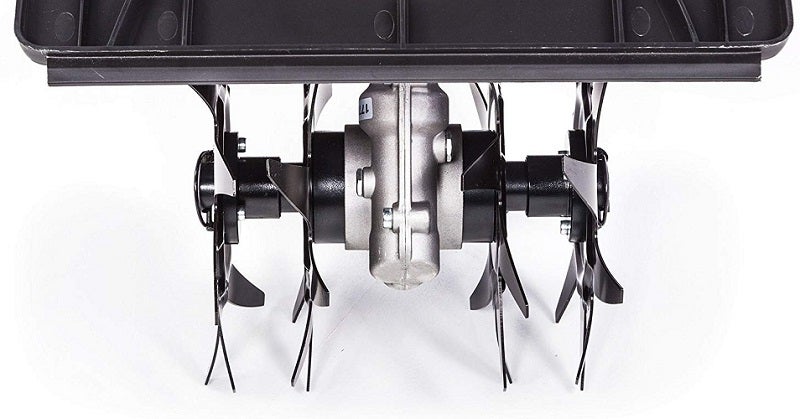 Warranty
Warranties, like just about everything else on this buying guide, seems to differ depending on the model. It seems as if the majority are covered with a basic warranty of 12 months, which isn't bad but not great either.
We'd recommend a minimum of two years for an extra peace of mind, but there are a few really high-quality brands that will offer a whopping 5 years on your tiller.
Extras
There are a few extras that may not be the main features to look for but can definitely affect the experience that you have with your rototiller. Let's take a look at a few:
Number of Tines: You'll find that most tillers are made with two, four, or six tines. The more you have, the more efficient and quick you'll receive your results. Our preference is four, as most people don't need more than that.
Cord Lock: Obviously if you have a cordless model this is a bit irrelevant, but for electric models, having a cord lock makes things a lot easier. Having the cord continue to become unplugged as you're using it is annoying, especially if it keeps happening repeatedly when you're 30 yards away. A cord lock ensures it stays plugged in so you can focus on your work.
Wheels: We highly recommend getting a model that includes some kind of wheels. Some rototillers are quite heavy, and after your done, you may find yourself a bit drained. The last thing you're going to want to do is carry it back. Wheels make it easy to simply push or pull it back without issue.
FAQs About Tiller/Cultivators
To make sure you have all of your questions answered, we've compiled a list of the most frequently asked questions.
Q: Can I convert my backyard into a garden with just my new rototiller?
A: That highly depends on the kind of soil you have in your yard. If the soil happens to be soft and somewhat loose, with thin grass, and you have a larger tiller – no problem. It may take a good amount of effort, but it's 100% possible. However, if you have hard soil with rocks and pebbles in it and/or a smaller tiller, this may not be worth taking on.
Q: Why shouldn't I just get a gas-powered model?
A: There are various reasons why. First off, it's going to require much more maintenance, and can be more complicated to use. Imagine pulling on the cord to start your rototiller for 30 minutes in the blaring sun, as opposed to simply pressing a "start" button and going on your way. Not only that, but they're just not good for you or the planet. We will say that gas-powered equipment provides absolute power that is rarely found in electric/cordless models, however.
Q: What's the difference between a cultivator and a tiller?
A: A cultivator is utilized for maintaining ground that's already been worked, and a tiller comes with more power. It can operate just like a cultivator, but is also able to break new ground.
Tips For Using Your Tiller
#1: Even though they're not gas models, they still require regular maintenance.
Make sure you're always spending at least a few minutes after each use to properly clean off your equipment. If you have doubts on how to go about that, take a look into the manufacturer's instruction/owner's manual.
#2: For better performance, try and switch up the motion a bit.
Try rocking it softly from side to side, or keeping it back a bit every so often. This can help break up the soil more easily by aiding the tines in really digging into the ground.
#3: Always wear gloves and solid work boots while using your rototiller.
This will help to protect your hands and feet. In addition, we recommend always wearing a mask if you're tilling dryer ground. Even though your tiller may include a shield, you don't want to risk a stone being thrown up towards your face.
#4: Never, ever use a damaged extension cable or cord.
Even though it may "work", it should just be tossed in the garbage immediately. The risk of an electric shock is too great. This is one of many advantages of a cordless tiller!
Final Thoughts
So, are you ready to get to breaking up some soil? Which of the best rototillers will you be taking along for the adventure? We know there are a lot to choose from, but what's most important is that you pick the perfect product for you, your land, and what you aim to do with it. We hope that this article has helped you do just that. Thanks for joining us, and we will see you again soon! Happy tilling!
Notice:
OutsidePursuits.com is a participant in the Amazon Services LLC Associates Program, an affiliate advertising program. OutsidePursuits.com earns fees from products sold through qualifying purchases by linking to Amazon.com. Amazon offers a commission on products sold through their affiliate links.