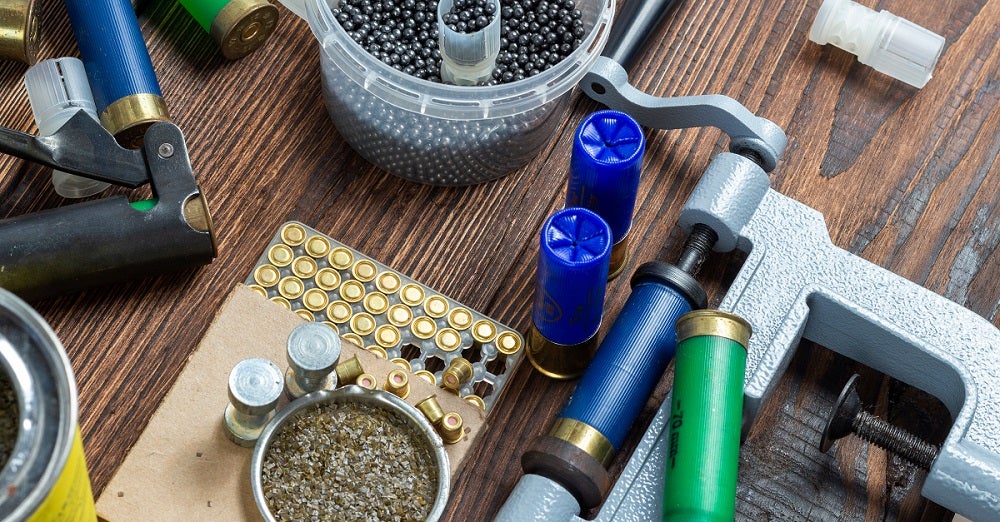 Our Editors independently research, test, and rate what we feel are the best products. We use affiliate links and may receive a small commission on purchases.
Some people reload to try to save money. Other shooters reload for long-range precision shooting or even competitions.
Yet others reload in order to have something to do on a quiet winter evening when boredom might otherwise set in.
No matter your reason for reloading, you'll have to start at the beginning. For most of us, that means we'll need to pick up a reloading press to begin this challenging journey.
Unfortunately, reloading and the presses used to create ammunition aren't as straightforward as many beginners might prefer.
In today's article, we're going to take a look at what reloading presses are, how they work, and which ones you can pick up to get started quickly without getting lost in the muck.
Let's dive in.
Best Reloading Presses
For more of my hunting recommendations, have a look through these popular Outside Pursuits guide links: Night Vision Scopes, Spotting Scopes, Hunting Knives.

Quick Answer: The 6 Best Reloading Presses For 2021
Our reviews of the top rated reloading presses with our comparison table and buyers guide will help you choose the right one for you.
---
Reloading Press Reviews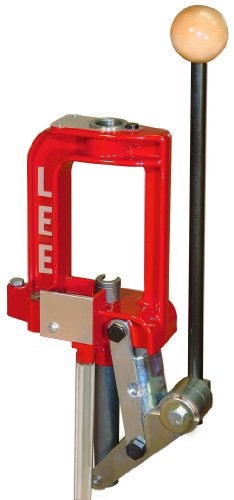 LEE PRECISION Breech Lock Challenger Press at a Glance
:
---
Press Type: Single Stage
Features: Adjustable length lever
Best For: Precision Rifle Reloading
Lee is one of the most fastidious names in reloading. They've been around the block a few times and their equipment rarely misses the mark. For beginners, the Challenger press blends affordability and precision as well as any.
Lee's Challenger press is a single-stage press. That means you have to load the cases one at a time and change dies with each step of the process as you go. Because it has an O-shaped frame it's very sturdy and holds up well against flexing.
In the arm linkage, all the components are made from steel. This is a good thing for reducing flex and improving longevity, though it's not particularly noteworthy.
What is worth paying attention to, however, is the adjustable arm length. This can be helpful in tight spaces, or if you don't want to have too much leverage when working with your loads.
Lee's Challenger press also includes their Breech Lock quick-change bushings. These help you swap dies out faster as you switch steps in the process of reloading.
Best standalone precision reloading press for beginners on a budget.

---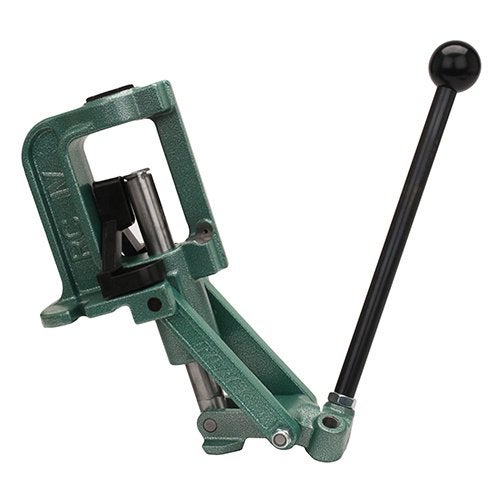 RCBS RC Supreme Master Kit at a Glance
:
---
Press Type: Single Stage
Feature: Left or right-handed
Best For: Precision Rifle Reloading
RCBS is another solid reloading manufacturer. It's hard to make a misstep with an RCBS product and the Rock Chucker Supreme Press is always a go-to. This one comes in a kit with darn near everything you need to start reloading to sweeten the deal.
Reloading kits have one major advantage: they come with almost everything you need to get started. There are so many tools in reloading that it can be overwhelming to figure out where to start.
Kits help with that. Unfortunately, kits never seem to have everything that each reloader needs, so be prepared to have to buy more odds 'n ends.
That said, this kit comes with a tried-and-true press, powder scale (manual), priming tool, powder dispenser, and a handful of the other most important tools for the beginner reloader.
This is a single-stage press again, so remember that it's probably best for small quantities and precision loading rather than mass batches of practice ammo. What you get in exchange, however, is a simple, affordable, and easy to understand reloading press.
Best for beginners who want to pick up most of the tools they'll need to get started.

---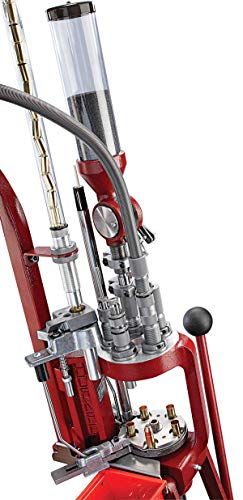 Hornady Lock-N-Load Ammo Plant at a Glance
:
---
Press Type: Progressive
Feature: All-in-One Press
Best For: Bulk High Quantity Reloading
Hornady might be the most popular name in ammo and reloading at the moment. They're always innovating and pushing the envelope. As you'd expect, the Ammo Plant is no different.
Whether you want to batch out hundreds of 9mm or endless piles of .223 this is the press for quantity reloading. Hornady has made sure that it's modular, upgradeable, and adaptable to do just about anything you could want.
Once you get the press set up and dialed in (which may take some practice) all you have to do is keep loading bullets into the case necks while you pull the handle and out pop finished rounds. This press can prime, size, throw powder, and seat bullets all with a simple pull of the handle.
How To Operate the Hornady Lock-n-Load AP Reloading Press
For absolute beginners, however, it may be more press than is warranted. Learning to set seating depth, measure powder throws, and get your case sizing dialed in can be overwhelming when you're also setting up such a complicated progressive press.
Best for reloaders with some experience who want to bulk produce reloaded ammo.

---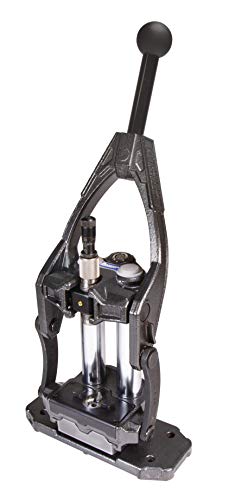 Frankford Arsenal M-Press Coaxial Reloading Press at a Glance
:
---
Press Type: Single Stage
Feature: Quick-change Die Blocks
Best For: High End Single Stage Press
Frankford Arsenal has created a bit of a stir with the release of their M-Press Coaxial. This press defies a few norms and puts together a handful of compact, convenient features into a single press.
With a handle pull starting high above the die holder, the M-Press is compact and unusual in its layout. This makes the press have a more vertical presence as opposed to the handles of most presses which stick far off the edge of the bench.
At the top of the press is a front-loading die block. This means you can quickly and easily swap out dies as you move through reloading stages. However, some users complain that the die block and receiver don't mesh as well as they could – leaving room for inconsistency from case to case.
Underneath the press is a simple, clean looking de-priming box to catch spent primers. Additionally, you'll find an LED work light mounted right into the press itself.
Overall, I think this press is maybe one of the most innovative single stage presses available today.

---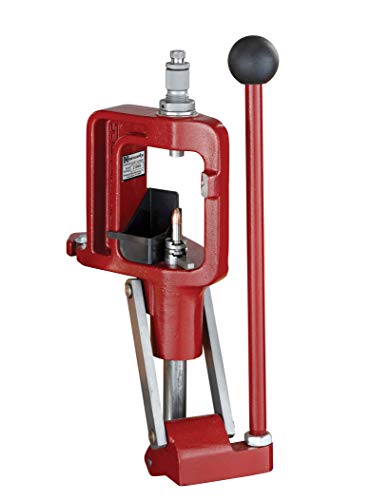 Hornady Lock-N-Load Classic Reloading Press Kit at a Glance
:
---
Press Type: Single Stage
Feature: Quick-change Lock-N-Load System
Best For: Reliable Single Stage Press Kit
Hornady's Lock-N-Load kits are proven, easy to use, and well-rounded. In fact, they might be one of the most popular presses and kits available today.
In the Lock-N-Load lineup, Hornady's presses revolve around the quick-change bushing system. Using bushings that screw onto your dies you can quickly drop in a new die, give it a ¼ turn, and it's good to go. No need to slowly thread the dies in for each change.
This kit features the single-stage press and almost everything you need to start loading rifle ammunition.
You'll get the press, scale, reloading handbook, hand primer, reloading block, and deburring tool. Just beware that you'll need dies and shell holders to do any reloading. There are the "classic" and "classic deluxe" kits available to choose from.
Given that each person's reloading needs are dramatically different, I would start with the classic kit and then add individual dies, tools, and accessories as you need them rather than spending more on the deluxe kit.

---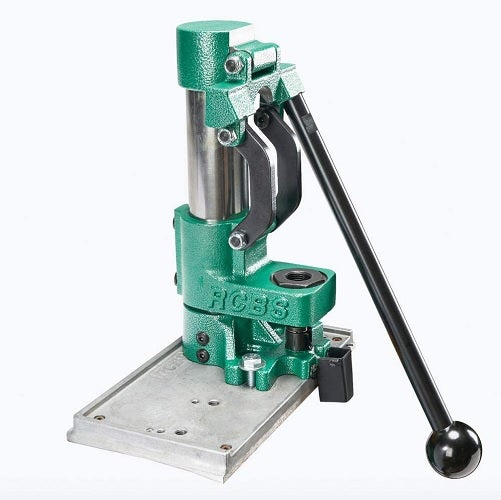 RCBS Summit Single Stage Reloading Press at a Glance
:
---
Press Type: Single Stage
Feature: 2" dia. ram
Best For: Precision Rifle Reloading
RCBS always seems to put out quality reloading equipment. This one is innovative, rugged, precise, and great for precision loaders.
This press looks immediately unusual. Most obvious is the looming central ram pillar around which the press moves. Due to the large 2" diameter of the sliding ram pillar, the press has a very rigid, sturdy frame to operate off of.
Unlike most presses, this press moves the die to the case and not the case to the die. That leaves short linkage arms and a very strong throw for seating, sizing, and de-priming.
Additionally, the press can be used ambidextrously. Plus, the open front design means it's easy to see exactly what's going on with your reloading process.
I think that given the higher price of this press it's probably best suited for those looking to get into the precision rifle reloading game.

---
Reloading Press Comparison Table
How to Choose the Best Reloading Press for You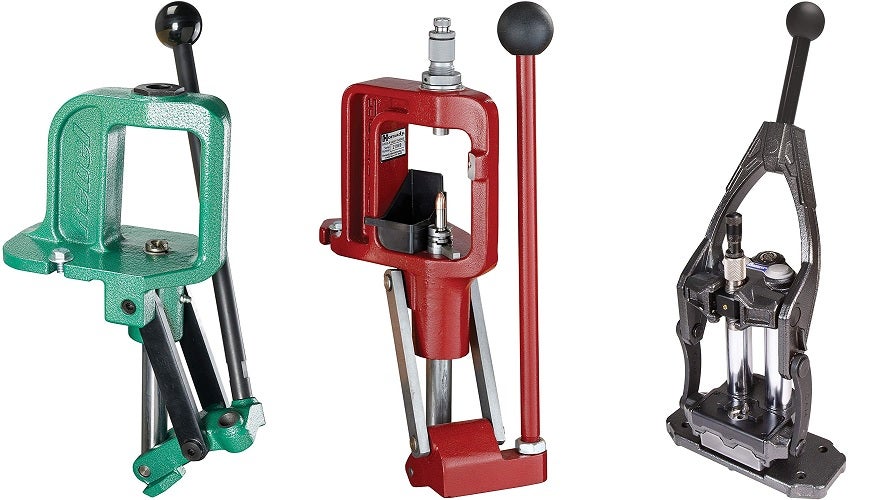 Types of Reloading Presses
By and large, there are two types of reloading presses.
Single-stage reloading presses simply hold a single die at a time. Dies are used for resizing the brass or seating a bullet into the resized brass. That means you have to take out one die and put in the next as you move through stages of the reloading process.
Progressive presses hold more than one die at a time. You can complete multiple steps of the reloading process without having to change out dies in-between stages. Often this includes automatic powder dispensing, priming, and more. This feature, of course, is ideal for loading large quantities of ammunition or reloading processes that may require switching dies frequently.
Turret presses split the difference between single-stage and progressive. They can hold more than one die at a time yet lack the advanced features of a progressive press.
You might be tempted to think the progressive presses are the best type due to their advantages. However, they're typically better at quantity over quality. Due to the inherent movement and slop that is introduced by turning and re-aligning dies in a progressive press, they tend not to yield repeatable precision loads as well as single-stage presses.
There's absolutely nothing wrong with either type of press, however, single-stage presses make more sense for slower, more precise reloading or those looking to save money on a press.
Progressive presses tend to be more expensive due to their complicated designs, but the convenience factor may be important if you plan to spend a lot of time at the bench.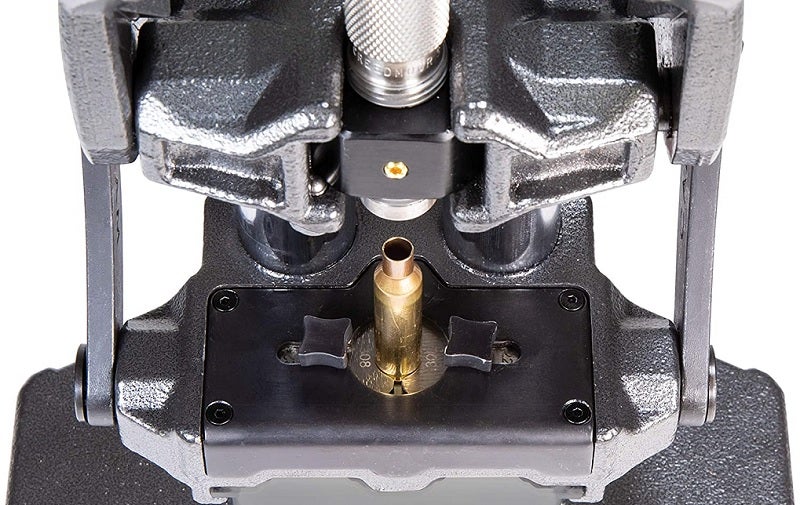 Types of Reloading
A lot of the tools and accessories you choose to purchase will be reflected by what you want to achieve in reloading. There are basically two major divides in the reloading community.
Bulk reloading usually appeals to those who spend a lot of time throwing brass at the range. Reloading bulk ammo means you'll want tools to make the process as fast as possible so you can churn out the highest amount of ammo in the least amount of time. Generally speaking, bulk reloading gives up precision in favor of speed.
Precision hand loading usually appeals to competition shooters or those looking for the best possible rifle-to-ammunition fit. Precision reloaders are seeking the greatest repeatable down-range predictability. For instance, this may mean using tools to measure brass to the thousandths of an inch, trim brass necks, work on case concentricity, measure powder down to a tenth of a grain, and other time-consuming tasks.
If you're reloading for precision you'll probably want to save money and go with a good single stage press. Then spend extra on other tools and accessories you'll need to increase the precision of your hand loads.
If you're reloading for quantity, you may want to invest right upfront in something like the Hornady Ammo Plant. This system is tens of times faster at churning out ammo than you can get with just a single stage press.
Reloading Press Size
Reloading presses aren't small. They take up some serious space on the bench and, due to the long lever arm, they take up space in front of the bench too.
Before you launch into the most complicated progressive press you can find, think about your workspace.
For instance, if you only reload once in a great while and don't have a dedicated space to work, a huge press might not be the right option. They need to be bolted to the work surface to be as effective as possible.
Additionally, I'll throw in here that you should think about which hand you want to operate the press with. Most presses can be changed from left to right-hand operation. You'll need enough open space on your workbench to make that happen, though.
If you have no other options, there are handheld presses available but they're much less ideal than bench-mounted options.
Other Reloading Tools
Reloading presses are just one of many tools you'll need if you want to load ammunition. Here's a list of some reloading tools you may want in addition to the press:
Micrometer
Powder scale
Priming tool
Chamfer tool
Shell holder
Loading block
Brass tumbler
Case lube
Powder trickler
Powder measures
Powder funnel
Case length trimmer
FAQs About Reloading Presses
Q: What is a reloading press?
A reloading press is a tool used to re-shape brass and seat a bullet into the final case. Reloading presses come in many types and styles, however, their job is simple. Presses hold the brass case and provide enough leverage so that the loader can effectively form and seat a new bullet.
Q: Is reloading ammo dangerous?
Reloading ammunition and firing ammunition is, inherently dangerous. Primers and powder used in the reloading process can be dangerous to work with and hazardous to store.
Reloading ammunition should only be undertaken with the utmost care and attention to detail.
That said, reloading ammunition is a common practice. There are a ton of information, classes, and resources out there to help you do this safely. Don't be intimidated by the process, just be sure that you take appropriate steps to ensure your safety and the safety of those around you during the reloading process and when shooting your reloads or handloads.
Q: Who makes the best reloading equipment?
This is a hard question to answer. Different companies tend to be known for different things.
For instance, Rockford Arsenal or RCBS may be most reputable for their quality.
Hornady tends to be best-known for innovation and cutting-edge ideas.
Lee is a classic name that is hard to go wrong with.
Don't get hung up on brand names, though. You should spend more time figuring out what you need for your personal reloading and then buy the gear that matches your needs.
Q: How many times can you reuse brass?
Brass can be reused many times. However, it does have a lifespan.
Brass life can be extended by annealing, neck sizing only, and getting your tolerances as tight as possible when reloading. Additionally, the higher your pressures (hotter loads) the less brass life you'll have.
If you full-size reload, expect about 4-7 reloads before you start to get into brass problems.
If you neck size only and anneal your brass, you may have nearly indefinite brass life.
Of course, these are just rough ballparks and many factors can change the lifespan of your brass.
Q: How long does it take to reload 100 rounds?
Reloading 100 rounds can take anywhere from 20 minutes to 2-6 hours.
If you're reloading using something like the Hornady Ammo Plant and you're experienced with reloading you'll get 100 rounds in no time at all.
If you're reloading 100 rounds of precision rifle ammo and you're taking every step possible to make them as precise and consistent as possible, 100 rounds may take many hours to produce. This is even more true when you're first working up your loads and doing things like ladder testing, trying different brass, different powder, different projectiles, etc.
If you want to shoot a lot with the least amount of time at the bench, just buy bulk ammo and get out there. Reloading is a process in its own right and rushing the process rarely is a good idea.
How to Reload For Beginners
Part 1 Basic Reloading of a Rifle Cartridge (223 Remington)
Conclusion
Reloading or handloading your own ammunition is a great hobby. It's fun to do and rewarding to shoot your own hand loads. Remember that working with primers, powder, and projectiles is inherently dangerous so please take sensible precautions and seek instruction to be sure that you're proceeding safely.
When it's time to start buying your gear, choosing a press is an obvious first step. Which press you choose to purchase, however, should be determined by the type of shooting and loading you want to do. There is no one "best" press – each press is ideal for a different person and their needs.
Enjoy, stay safe, and have fun working on reloading your own ammunition!
How We Researched
To come up with the top reloading presses, we researched a variety of sources for reviews such as Cabelas, Backcountry, Bass Pro Shops and Midway along with our own personal experience.
We also consulted online magazines for product research and reviews to get as much unbiased information as we could. To help weed out fake reviews we used Fakespot.com to make sure we only looked at genuine reviews.
With so much quality gear available, we had to narrow it down based on what we felt were the best options were for the price. The author, Casey Fiedler is an avid hunter and outdoorsman. He has successfully guided hunting parties across remote wilderness areas.
To help narrow down the selection he used his personal experience along with recommendations from fellow hunters and hunting outfitters.
After extensive research, we came up with our list to help you choose the right one for you.
Sources
---
Notice:
OutsidePursuits.com is a participant in the Amazon Services LLC Associates Program, an affiliate advertising program. OutsidePursuits.com earns fees from products sold through qualifying purchases by linking to Amazon.com. Amazon offers a commission on products sold through their affiliate links.