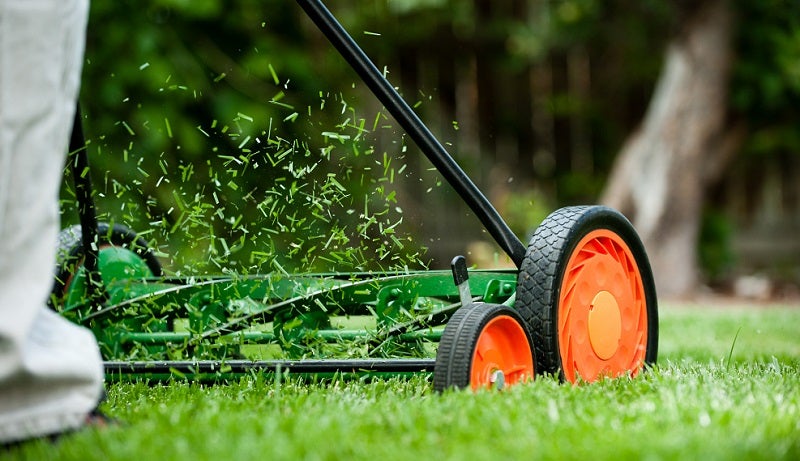 Our Editors independently research, test, and rate what we feel are the best products. We use affiliate links and may receive a small commission on purchases.
Compared to a rotary gas mowers, reel lawn mowers are cheaper and more environmentally-friendly with zero emissions.
They also don't need fuel or electricity and are quieter. A push mower is also better for your lawn because they deliver a gentler, cleaner cut.
We've reviewed the top reel mowers and compiled a guide to help you select the model that best fits your needs.
Best Manual Lawn Mowers
For more of my home and garden recommendations, have a look through these popular Outside Pursuits guide links: Cordless Lawn Mowers, Cordless Weed Eaters, Cordless Leaf Blowers.
Quick Answer: The 7 Best Rated Reel Mowers For 2021
Let's take a look at the top-rated reel lawn mowers, then we'll go over them in more detail followed by our buyers guide.
---
Reel Mower Reviews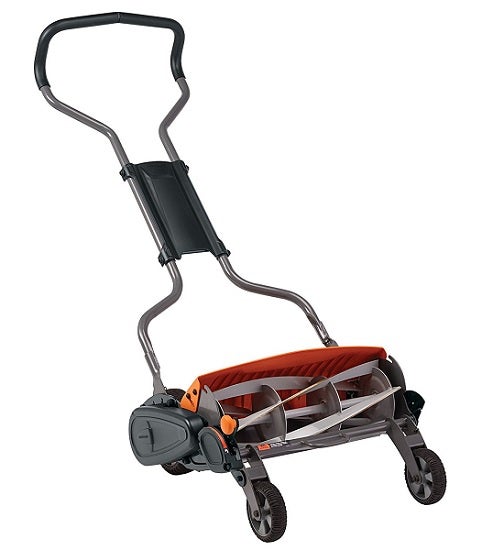 Fiskars StaySharp Max Reel Mower at a Glance
:
---
Best For: All grass types, incl St. Augustine, Zoysia, Bahia and Bermuda
Size & Weight: 24" x 23.5" x 14.2", 51.7lbs
Cutting Width & Height: 18″ width, 1-4″ height
Adjustment: One-touch single-hand adjustment
Extras: Inset wheels, reversible grass chute, StaySharp cutting system, optional grass catcher
The Fiskars StaySharp Max reel mower is our editor's choice for the best reel mower because of its versatility. It is suitable for all types of grass and can handle thick grass very well.
Manufactured by a Finnish company, this reel mower delivers twice the cutting power as normal push reel mowers.
The extra cutting power is achieved with a large-diameter cutting reel and thicker, heavier blades, allowing you to attack thick weeds and tough spots.
Despite an above-average weight of around 50 lbs, the StaySharp Max is surprisingly easy to push, thanks to an approach that minimizes friction with a chain-drive design for optimized reel speed and no-contact blades for improved inertia.
Maintenance on the Fiskars StaySharp Max is minimal, because the blades are precision-ground and paired with a stationary reel never making contact, which extends the sharpness of the blades over a long time.
The high-quality wheels are inset, meaning the blades extend across the full width of 18" of the reel mower. This allows for easy edging with no missed strips, even on patches next to sidewalks, foundations and fences.
Video: See the Fiskars Staysharp in action.
Fiskars StaySharp™ Max Reel Mower
Adjusting the rotary lawn mower is easy and can be done with one hand. You can vary the cutting height between 1-4 inches and shift the handle height.
In addition, it's possible to reverse the direction of the grass clippings and eject them forward if needed. An optional grass catcher is available separately.
The Fiskars StaySharp Max reel mower is an investment that will pay off. It delivers frustration-free reel mowing and versatile enough to cut all kinds of grass and adjust to tricky situations in your garden with ease.

---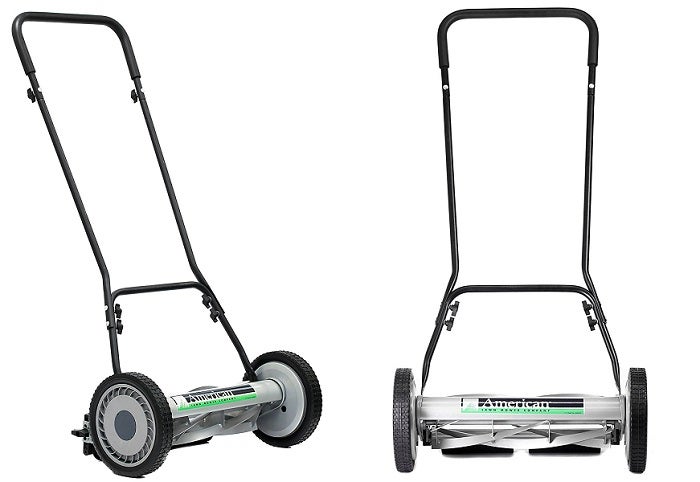 American Lawn Mower 1815-18 Reel Mower at a Glance
:
---
Best For: Regular cutting, shorter & weed-free lawn, thinner grass; suitable for shorter St. Augustine or Bermuda grass
Size & Weight: 25″ x 14″ x 11″, 29lbs
Cutting Width & Height: 14″, 16″, 18″ width, 0.5-2.75″ height
Adjustment: Adjustable 7-section roller, 3 wheel height positions, roller brackets with quick-adjust wing nut
Extras: 5 alloy steel blades, ball bearing reel, 10″ durable composite wheels, cushion grip, optional grass catcher
The American Lawn Mower 1815-18 push reel mower is a lightweight and affordable model that offers precise cutting at variable height.
The mower is available in the three different widths: 14", 16" and 18". The two wider options use 5 blades, whereas the narrow version uses a reel with 4 blades.
The heat-treated alloy steel blades are manufactured to stay sharp for a long time. A steel shrub bar serves to protect the undersides of your bushes.
Thanks to its low weight, the push mower is easy to maneuver around your garden. With compact dimensions, storing or transporting this mower is no problem.
The American Lawn Mower 1815-18 reel mower is easy to adjust with a 7-section roller and a quick-adjust wing nut for the roller brackets.
The durable 10" wheels can be set to three different height positions. This model can be set to a cutting height from 0.5" to 2.75" – the half-inch height is great if you prefer a short trim for your lawn, but the mower is not as versatile as our top selection.
The mower can cut tougher grass like St. Augustine or Bermuda grass without getting stuck, but only if the grass is not overgrown. You could find yourself struggling with taller grass and tough weeds, and you'll need to clear your lawn of any twigs before mowing.
This model also requires more frequent lubrication. The optional grass catcher for the American Lawn Mower reel models is available separately.
The American Lawn Mower 1815-18 is one the best manual push mowers for a bargain price. It works best with shorter grass and regular trimming.

---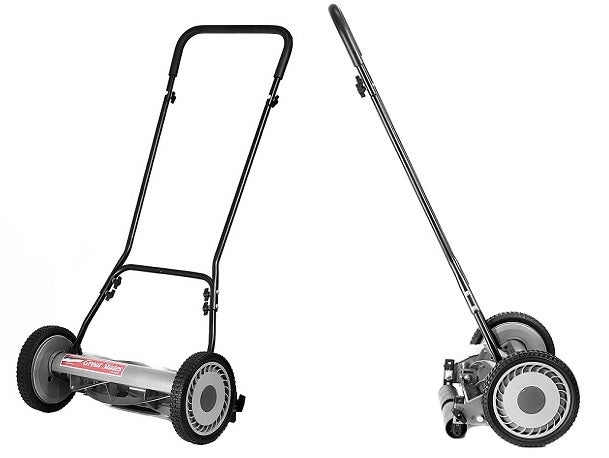 Great States Push Reel Lawn Mower at a Glance
:
---
Best For: Regular cutting, small to medium lawns, beginners
Size & Weight: 25″ x 14″ x 10.5″, 27lbs
Cutting Width & Height: 14″, 16″, 18″ width, 0.5-2.75″ height
Adjustment: 3 deck positions, tool-free adjustment
Extras: 10″ ball bearing composite wheels with radial tread tires, 5 blade ball bearing reel, unbreakable steel side plate, 2″ shrub bar, optional grass catcher
The Great States 815-18 is one of the best reel lawn mowers in it's price range and is available in three sizes of 14", 16" and 18" width. It's very lightweight and easy to push around your garden.
This motorless lawn mower uses a set of five blades on a 4-spider ball bearing reel. It can spin freely and the mower is very easy to push.
Even beginners can achieve a quality cut with this reel model.
In addition, the loop style handle is padded for comfort and being only 10" deep, you can maneuver it around easily.
The manual push mower is quick and easy to adjust with no tools necessary. You can set the cutting height from 0.5" to 2.75". This makes the Great States 815-18 reel mower ideal for regular mowing of small to medium-sized lawns.
The assembly with wing nuts has a minor drawback: you need to tighten them often. In addition, the mower has trouble with thick weeds and longer grass.
You should definitely avoid twigs and sticks as they will jam the mower.
The wheels are set outside of the cutting reel, so fences, walls and hedges can be problematic and require edging or trimming after mowing.
All in all, one of the best push reel mower that is durable, reliable and costs less than a $100!

---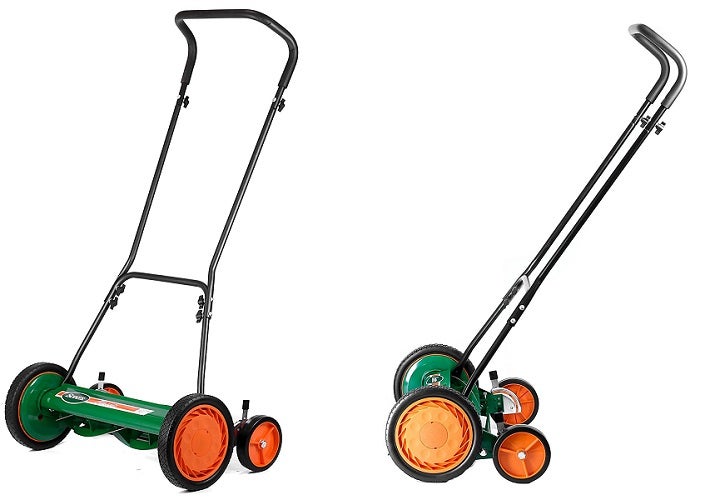 Scotts 2000-20 Classic Push Reel Lawn Mower at a Glance
:
---
Best For: Medium to large lawns, wider lanes, normal to thick grass
Size & Weight: 28″ x 18″ x 11″, 34lbs
Cutting Width & Height: 20″ width, 1-3″ height
Adjustment: Quick-snap adjuster, 9 grass heights, tools-free
Extras: 5 heat-treated steel blades, 10″ dual tracking wheel with radial tires, cushion grip, optional grass catcher
The Scotts 2000-20 is a classic reel lawn mower with a simple yet reliable build. You get a cutting width of 20" and is lower in price and weight than our editors choice.
It performs best on medium-sized or larger lawns of normal to thick grass where wider lanes allow you to cut faster.
The Scotts 2000-20 features high-quality and rugged dual tracking wheels for increased maneuverability, so despite the width of 20", you can still mow spots on your lawn which are more difficult to access.
However, the wheels are set outside of the reel, so edging is harder and spots close to fences, walls and hedges will require extra trimming.
The reel mower employs a ball bearing assembly with 5 heat-treated steel blades inclined at different angles. This way, friction is reduced and you can achieve a quality cut with great consistency even for different types of grass.
You have a total of 9 settings for grass heights between 1" and 3". No tools are necessary to adjust the mower.
The only limitations for the Scotts 2000-20 are tall grass and thick weeds. With normal to thick grass and regular mowing, this model delivers good performance and the best reel mower under $100.

---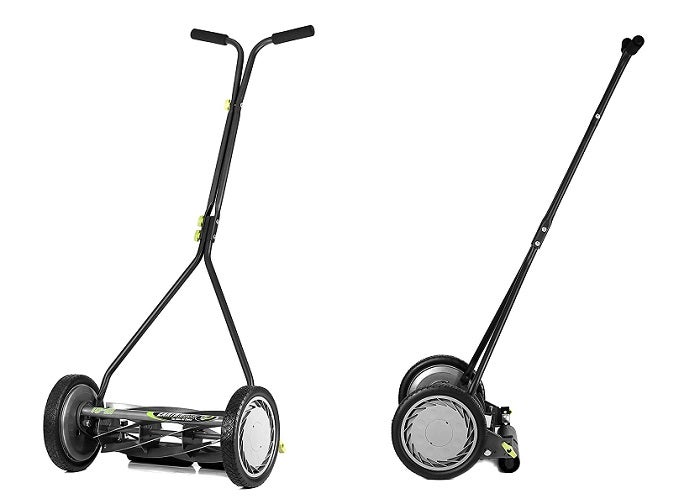 Earthwise Push Reel Mower at a Glance
:
---
Best For: Bent grass: Bermuda, Zoysia, Centipede, St. Augustine, Seashore paspalum. For taller, wetter, more upright grass, a 4 or 5 blade model is recommended
Size & Weight: 27 x 23″ x 47″, 26lbs
Cutting Width & Height: 14″, 16″, 18″, 20″ width, 0.5-2.5″ height
Adjustment: Adjustable 7-section roller, no tools required
Extras: 7 blade ball bearing reel, unbreakable side plate, tempered alloy steel reel & bed knife, T-style handle
The Earthwise 1715-16EW reel mower is a highly versatile model where you can choose between a cutting width of 14", 16", 18" and 20".
We're reviewing the 16" model specifically because it has a unique approach: it's the only push mower in our selection with a 7 blade reel.
The 16" Earthwise 1715-16EW has been specifically designed to cut bent grass and low-growing creeping grasses. The 7 blade reel is the best motorless push mower that is ideal for St. Augustine, Zoysia, Buffalo grass and Kentucky bluegrass.
It also works very efficiently on Bermuda, Centipede, and Seashore Paspalum grass. If you have a lawn of taller more upright grass such as Bluegrass or Rye grass, choose one of the more narrow or wider versions of this mower as they use a 4 or 5 blade reel.
The reel mower uses heat-treated alloy steel blades and an unbreakable steel side plate with a 1" welded torsion bar assembly. You can adjust the cutting height from 0.5" to 2.5". Thanks to the adjustable 7-section roller, no tools are required.
The 10" composite wheel with radial tread easily roll and turn in thick grass, and the mower employs a small T-style handle with cushion grips to provide comfort and lessen hand fatigue.
Video: See how easy it is to use the Earthwise reel mower.
This also allows for narrower turns on your lawn, but beginners might find it more strenuous to push the mower – yet the low weight of only 26 lbs compensates for this aspect.
The Earthwise 1715-16EW is a unique reel mower with a 7-blade approach specifically for lower, thicker grass. It features quality components and comes at a great price.

---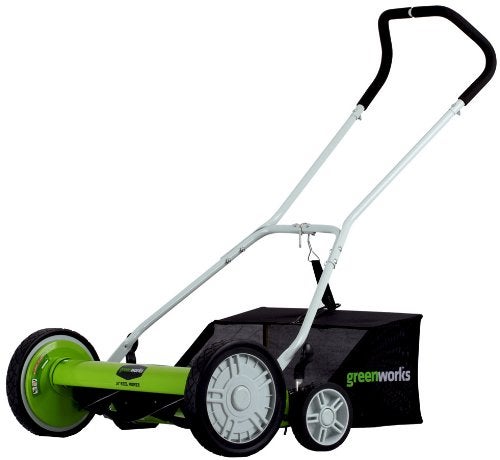 Greenworks 18-Inch Reel Lawn Mower at a Glance
:
---
Best For: Regular cutting, small to medium lawns, for perfectionists who want exactly the right height grass
Size & Weight: 25″ x 43.5″ x 33.75″, 30lbs
Cutting Width & Height: 18″ width, 1.75″ – 2.75″ height
Adjustment: 9 deck positions, tool-free adjustment
Extras: Versatile height adjustment, 10″ front and 4″ rear wheels for easy maneuvering, and detachable grass bag
If you're committed to reducing your carbon footprint, the Greenworks 18″ Reel Lawn Mower is an excellent choice.
Greenworks are committed to environmentally friendly manufacturing.
When you receive this product, you'll discover that it is packaged in recycled cardboard and comes with a recycled paper booklet.
This manual lawn mower is also a great choice for fussy gardeners. With an impressive 9 cutting heights, you can cut your grass exactly how you want it.
These machines are sturdy, too. They are so well made that Greenworks provide an enviable 4-year warranty, which is twice the cover offered on most reel lawnmowers.
The detachable grass bag means that you can collect your grass clippings as you go or leave it off for mulching.
The 10″ front and 4″ rear wheels enable provide excellent maneuverability.
The Greenworks 18″ Reel Lawn Mower is the best reel lawn mower for gardeners who want to reduce their carbon footprint.

---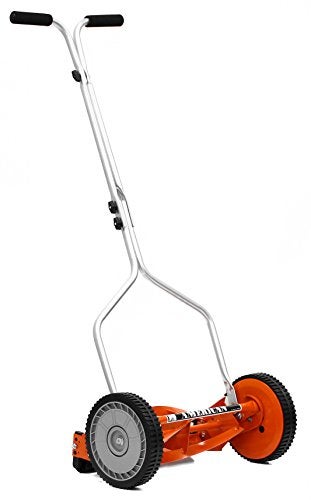 American Lawn Mower 1204-14 Reel Lawn Mower at a Glance
:
---
Best For: Regular cutting, small lawns, beginners
Size & Weight: 20″ x 24″ x 42.5″, 20 lbs
Cutting Width & Height: 14″ width, 0.5″ – 1.75″ height
Adjustment: Tool-free adjustment
Extras: Durable 8.5" polymer wheels" and 4 heat-treated alloy steel blades
The American Lawn Mower 1204-14 Reel Lawn Mower is ideal for smaller yards, children, and elderly gardeners. It is the lightest reel lawnmower in this review and extremely manueverable.
If you want to teach your kids responsibility, this reel lawn mower is a great teaching aid. With its light weight and ergonomic cushioned handles, your children won't struggle to push it around your lawn.
With heat-treated alloy steel blades and durable 8.5" polymer wheels, this reel mower is well-constructed and will serve you well for many years.
With its 4 sharp blades, this manual lawn mower cuts grass up to 4″ tall. Furthermore, the deck height is adjustable so that you can cut your lawn at heights between 0.5″ and 1.75″.
If you have any problems with this lawnmower, you can approach American Lawn Mower Customer Support for assistance or to ask questions. They are happy to speak with you on 1-800-633-1501.
American Lawn Mower has manufactured eco-friendly mechanical lawnmowers since 1895. With 125 years of experience, you know you're buying a quality product.
This reel lawn mower is also the most affordable in this review. You're buying a top-quality product at a low price. You're getting great value for your money.
Gardeners who struggle to push heavier manual lawn mowers will love the American Lawn Mower 1204-14 Reel Lawn Mower. It is the best reel lawn mower for teaching your children about gardening.

---
Rotary Lawn Mower Comparison Table
How to Choose the Best Reel Lawn Mower
In the following guide, we've compiled the most important factors you'll need to consider when deciding on the reel mower model that's right for you.
When selecting a reel mower, you need to keep in mind that they're best for smaller lawns and not all models can cut grass at the same settings.
We'll list the advantages and shortcomings of push mowers and then explain in details what you need to focus on to make your pick.
Advantages of a Reel Mower
Reel mowers are much cheaper than power mowers and require very little maintenance. They are environmentally friendly since they have no emissions and are also less dangerous.
Push mowers require less space for transport or storage and operate with little noise. They are also much better for the health of your lawn, since they don't tear the grass like a rotary mower.
A reel mower delivers a clean and precise cut, whereas a power mower sucks up the leaves and then chops them off, tearing the grass and disturbing its natural growth, which can cause the lawn to dry out and brown.
Since a reel mower is much less damaging, it is also able to achieve a lower cut. Rotary power mowers cannot produce a quality cut lower than 1.5 inches, while reel mowers can cut as low as 0.5 inches.

Shortcomings of Manual Reel Mowers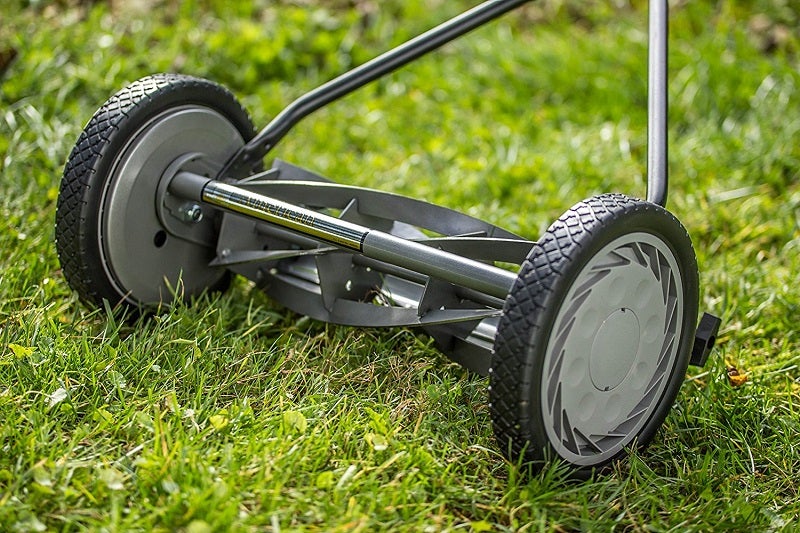 Before you get a reel mower, you need to be aware of a few things. Push mowers are best for smaller lawns of a quarter acre or less.
With more than 10,000 square feet of lawn to mow, you're likely to find reel mowing exhausting, especially in spring-time when even a weekly trim might not be enough.
To give you an idea: an experienced user of a reel mower will take about 20 minutes to mow 1,000 square feet of lawn. Reel mowing works best with a regular cutting regimen to avoid trouble with overgrown grass.
In addition, a particular bumpy or sloped lawn can result in an uneven trim and patches where you have to mow from different angles or break out the lawn shears.

Weight
At first glance, it might seem that a lighter reel mower is always better as it will be easier to push around, making for a more enjoyable experience.
However, if the mower has a little more heft to it, it will stay its course and not shift as much on bumpy or uneven ground, giving you a more even cut. Yet the longer you have to wheel it around, the more the weight will make itself known.
For a big lawn, a medium weight might be the best bet; go for something a little heavier if you have uneven patches, and pick a lightweight model for smooth, even lawns.

Cutting Width & Height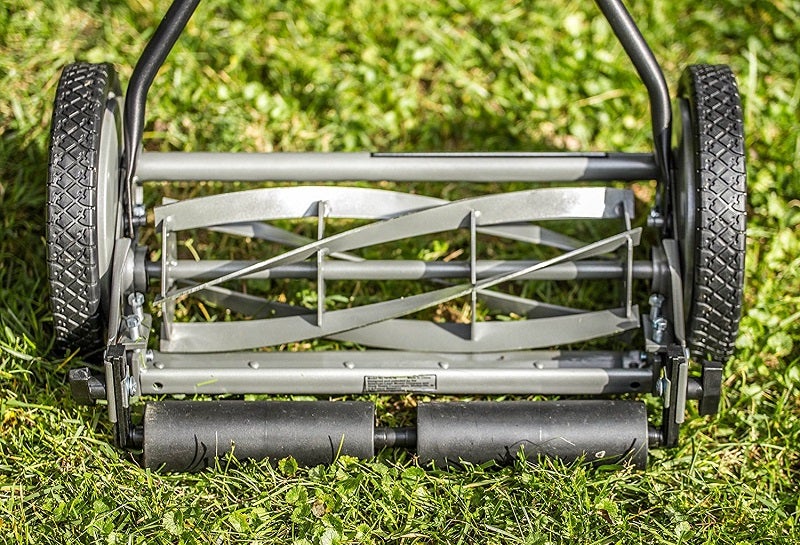 A wider mower can cut more grass at the same time and you can be done faster since you're moving across the lawn in wider lanes.
The downside is that more width brings more weight with it, and a wider model is more difficult to wield on a small lawn or one with nooks and crannies.
Different models also allow for varying cutting height. Some can start as low as half an inch, and adjustable reel mowers commonly feature settings between 1 and 4 inches.
Many people prefer a grass height of 3 inches, but whatever your preference, make sure the push mower you're getting supports it.

Usability
A user-friendly reel mower is of course ideal, but it mainly comes down to how easy it is to adjust the model: does it require tools to adjust the cutting height or change the grass spray direction?
Is it straightforward to attach a grass catcher? Pay attention to this detail if you'll need to switch settings a lot.

Lawn Type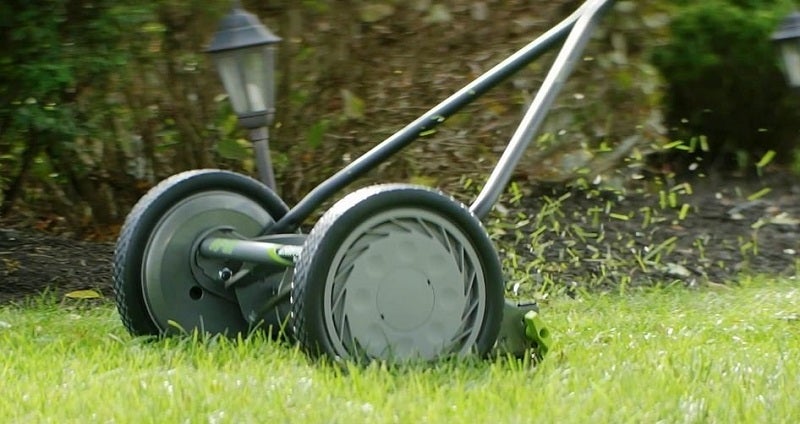 Not every push mower is equally suitable for all types of grass, and what you have planted in your yard can influence your buying decision. Thicker leaves of grass require heavy-duty blades, lighter and thinner grass can be cut with lighter mowers.
We've specified for each model which application they are best for.

How to Cut Grass With a Reel Mower
Reel mowers have been around for over a 100 years and were the first type of lawn mower. Gas powered mowers came along well after them and do offer some advantages with really thick grass but for most lawns a reel mower is sufficient.
The first thing you will need to do is set the cutting height for the mower. The height you use will be determined by the type of grass you have for a lawn. This setting can be between ½" and 4", depending on the mower.
This chart will help you set the height of your reel mower to match your grass type:
| | |
| --- | --- |
| Grass Type | Mowing Height |
| Bahia grass | 2" – 3" |
| Bentgrass | ¼" – ¾" |
| Bermuda | ½" – 1½" |
| Buffalograss | 2" – 3" |
| Centipede | 1½" – 2½" |
| Fine fescue | 1½" – 2½" |
| Kentucky Bluegrass | 1½" – 2½" |
| Ryegrass | 1½" – 2½" |
| St. Augustine | 2" – 4" |
| Tall fescue | 2" – 3" |
| Zoysia | ½" – 1½" |
Once you have the height set you will start on one side of your lawn and just push the mower at a comfortable pace and let the mower do it's job of cutting the grass.
As you get to the end of the row, simply turn around and push the mower in the opposite direction overlapping by several inches at least to be sure all the grass gets cut.
A reel mower will leave clippings behind unless you use a bag on the back of the mower to catch the grass. Normally it is best to leave the clippings behind as it will serve as a natural fertilizer for the grass.
It will also help the grass retain moisture and reduce the amount of water you need to use on the lawn.
How Do You Sharpen a Reel Lawn Mower?
Reel mowers need less sharpening than traditional gas engine power mowers due to the "scissor" action of the blades. This action keeps the blades sharper for a much longer period of time, however they will need to be sharpened as well.
This is especially truw if you have run over dirt, rocks and sticks. These objects will dull and chip the blade over time. As it gets duller the mower will be harder to push. If you notice the mower is not cutting as well or harder to push it's time to sharpen the blades.
Luckily this is not difficult.
You can purchase a sharpening kit for about $20 that has a backstop with several abrasive strips like sandpaper. All you do is attach the backstop to the bottom of the mower and attach the abrasive strip.
Once attached you push the mower on a hard surface (not your lawn) and the blades will rub against the strips and this action will sharpen the blades. While the sharpening kit is attached the mower will be harder to push.
After a few minutes your blade will be sharp and ready to go.
The other method is more difficult and involves using a sharpener attached to a drill. You apply some compound to the blades and run the sharpening stone along the blades to sharpen and remove dings and dents.
While more difficult it is more effective at removing dings and dents in the blades than the abrasive strip method. IF your blade is not damaged, using the abrasive strips is the preferred method.

Extras
These factors should not primarily make it or break it for an individual model but are nonetheless worth considering. As for blade durability, some mowers come with an automatic sharpening mechanism, reducing maintenance.
Others are made for sloped lawns and cutting at an angle, and some mowers allow you to adjust the direction of the grass spray or are compatible with a grass catcher.

FAQs About Reel Mowers
Q: How do reel mowers work?
A: Manual reel mowers, also known as push mowers or cylinder mowers, were the first lawn mowers and their basic principle is still the same.
You push them across the lawn and the movement of the wheels spins a cylinder of grass-cutting blades. Modern models are much lighter than old full-metal mowers, and reel mowers are definitely lighter than power mowers.
It is not harder to push a reel mower than a power mower because the lighter weight offsets the difference. Walk at a regular and enjoyable pace to get best results.
Q: How often do I need to mow with a reel mower?
A: Push mowers work best when you mow regularly and don't remove more than one third of the grass height. As an example, should you want to maintain a blade height of 2 inches, mow the lawn when the grass is about 3 inches high. This is best for the grass and makes for easier mowing.
Q: Are there limitations for a reel mower?
A: You should not use a reel mower on wet grass as it becomes harder to mow effectively. Wet grass requires very sharp blades. If the mower sinks into the soil as you walk, conditions are too wet.
Cutting overgrown grass is difficult with a push mower as the long blades can get stuck and require more strength. You need a scythe to work on an overgrown garden if your don't want to power-mow it.
Some push mowers don't work well with thatched St. Augustine or Bermuda grass. Reel mowers are great for regular mowing of smaller lawns (around 6,000 square feet).
Q: Do I need a grass catcher for a reel mower?
A: Not necessarily – a grass catcher is a matter of choice. It consists of a basket which is mounted behind the cylinder to collect the majority of clippings.
It makes tidying up your lawn afterwards easier and can help prevent blades of grass getting stuck in the mower. If you mow regularly, it is recommended to leave the clippings on the lawn every other time for optimal lawn health.
Q: Is a reel mower hard to push?
A: A well maintained reel mower is no harder to push than any other mower. It all comes down to the type of grass and how often you mow it.
If you have a thicker gras such as St Augustine you should mow it every week during the growing season. Thinner grass like Bermuda grass is easier to push a mower through and you can probably get away with every two weeks.
Q: Why are reel mowers better?
A: Assuming the blades on your reel mower are sharp, the scissor cutting action of a reel mower is healthier for your lawn because it doesn't tear the grass when cutting. The cleaner cut makes the grass more impervious to insects, fungus and disease.
Q: What is a reel mower?
A: A reel mower uses sharp blades that spin and use a "scissoring" action to cut grass. Most reel mowers use between 5-7 spinning blades.
Q: How do you sharpen a reel mower?
A: Most manufactures of reel mowers have a kit that you attach to the mower. It usually a sandpaper strip that as you push the mower it sharpens the blades.
This video shows you how to do it:
How to Sharpen a Push Reel Mower: Scotts Classic
Q: What kind of maintenance does a reel mower require?
A: Keep your lawn free of sticks and stones to avoid damage to the mower, and clean blades by brushing them off with a gloved hand or brush. A silicone spray such as WD-40 works well to lubricate moving parts before use.
You should also adjust the blades every 12 to 18 months according to the manufacturer's instructions, which involves around 5 minutes of resetting the reel blades to optimal distance. With this maintenance, your push mower will keep working precisely.

Final Thoughts
The right reel mower allows you to cut your grass in an environmentally-friendly way and preserve the health of your lawn.
With low maintenance, little noise and modern technology for efficient mowing, a push mower can be less stressful than a rotary power mower and gives you or your teenage kid a minor workout when mowing an appropriately-sized lawn.
Consider the cutting width and height, the type of grass and the size of your garden for selecting the right model with the help of our guide. Treat your push mower well and it will serve you efficiently for years to come.
---
I hope this guide was helpful for finding a good reel lawn mower to fit your needs. If you want to comment or recommend a mower I didn't include, please use my contact form to get in touch.
How We Researched
To come up with the top reel lawn mowers, we researched a variety of sources for reviews such as Home Depot, Lowes, Target and AcmeTools along with our own personal experience.
We also consulted online magazines for product research and reviews to get as much unbiased information as we could. To help weed out fake reviews we used Fakespot.com to make sure we only looked at genuine reviews.
With so much quality gear available, we had to narrow it down based on what we felt were the best options were for the price. The staff authors have a wide and varied background in yard maintenance and home repairs.
The authors have decades of experience and are eager to share their knowledge with readers.
To help narrow down the selection we used personal experiences along with recommendations from landscapers, bloggers and contractors.
After extensive research, we came up with our list to help you choose the right one for you.
Sources
Notice:
OutsidePursuits.com is a participant in the Amazon Services LLC Associates Program, an affiliate advertising program. OutsidePursuits.com earns fees from products sold through qualifying purchases by linking to Amazon.com. Amazon offers a commission on products sold through their affiliate links.