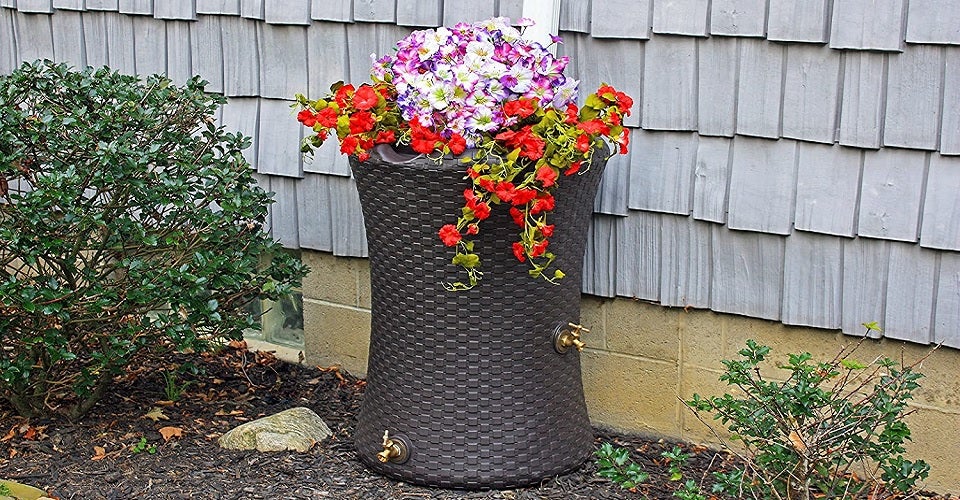 Our Editors independently research, test, and rate what we feel are the best products. We use affiliate links and may receive a small commission on purchases.
Does saving money on your water bill or having clean water to hydrate your garden and flowers interest you? It is easy to do, but many people aren't aware of it!
They're rain barrels, and they collect the rain to help you water your garden and keep the water free of pesticides, BPA and other harmful chemicals.
We've spent quite some time researching countless models to bring you the top rain barrels on the market today. If you're serious about getting one, let's get started!
Best Rain Barrels
| | Mirainbarrel Rain Barrel DIY Kit | Goplus Portable Rain Barrel Water | Good Ideas N50-DBR Impressions |
| --- | --- | --- | --- |
| | | | |
| | | | |
| Capacity: | 58 gallons | 60 gallons | 50 gallons |
| Diverter Included: | Yes | Yes | Yes |
| Planter Top: | No | No | Yes |
| Made From: | Food-Grade Reused Plastic | PVC Frame, PVC Mesh Cloth | Wicker, Plastic |
| Rating: | 4.4 / 5.0 | 3.9 / 5.0 | 3.8 / 5.0 |
| | | | |
For more of my home & garden recommendations, have a look through these popular Outside Pursuits guide links: Home Wind Turbines, Greenhouse Kits, Outdoor Storage Sheds.

Quick Answer: The Best Rated Rain Barrels
Our reviews to the top rated rain barrels with our comparison table and buyers guide will help you choose the right rain barrels for you.
---
Best Rain Barrels Reviews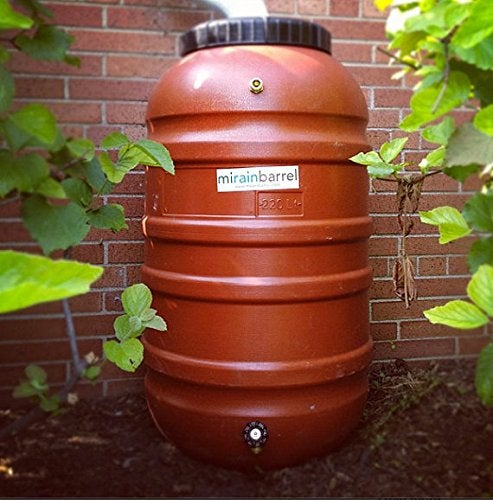 Mirainbarrel Rain Barrel DIY Kit at a Glance
:
---
Capacity: 58 gallons
Diverter/Downspout Adapter: Yes
Planter Top: No
Made From: Food-Grade Reused Plastic
To start things off, we have the Mirainbarrel Rain Barrel DIY Kit. This model is made to be incredibly durable and is sure to last you throughout countless rainy seasons.
The drum is made up of recycled food-grade plastic which is much more eco-friendly than many other options out there.
However, it doesn't look cheap at all, like plastic is kind of known for. It is very thick and you can tell the material is high-quality.
It also doesn't smell like many plastics, so you can count of it storing your water safely. The Terra Cotta colorway looks rustic and fits naturally in any outdoor environment so it won't stick out like a sore thumb.
The plastic mesh screen that comes included is perfect for catching leaves, sticks, bigger bugs, and so on so your water stays pure. The easy on-and-off twist top lid is also quite convenient so you're not struggling with it.
You'll also find a brass overflow valve comes included, though it's not installed for customized placement.
You can attach this to your garden hose to move water away from your home, connect it to another barrel, or simply connect a soaker hose to run right through a close by flower bed.
The spigot comes sealed with waterproof 100% silicone caulk as well so you never have to worry about leaks.
Essentially, you'll get everything you need in this kit, aside from tools, so have some around when it arrives!

---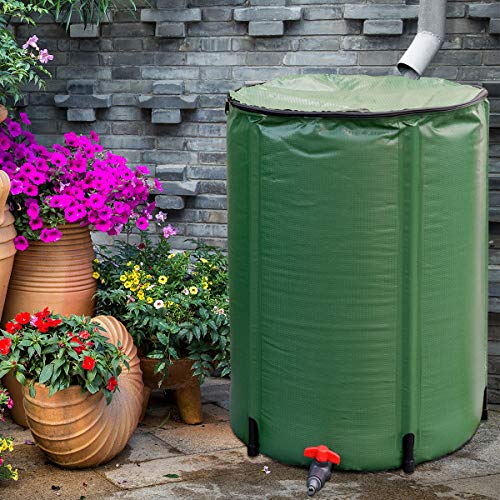 Goplus Portable Rain Barrel Water Collector Collapsible Tank at a Glance
:
---
Capacity: 60 gallons
Diverter/Downspout Adapter: Yes
Planter Top: No
Made From: PVC Frame, PVC Mesh Cloth
If you're looking for one of the best rain barrels but are on a budget, then we suggest checking out the Goplus Portable Rain Barrel Water Collector Collapsible Tank.
This barrel can provide up to a whopping 60 gallons of clear rainwater when it's at its full capacity.
Just to put that into perspective your average roof can produce hundreds of gallons, so you can connect some more barrels for some real yields.
What's really great about this rain catch system, is that when it's not in use, you can simply fold it right up. This makes it incredibly easy to transport and store during the non-rainy seasons.
Not only that, but thanks to the green color, it looks natural in outdoor environments.
Much like the previous product, it comes with a mesh top to keep out bugs, animals, and debris though you can easily remove it for quick cleaning and maintenance.
To use it, all you have to do is place it under a downspout and let the water run through the mesh. If it is full and you try putting in more, the excess will flow out from the top drain pipe.
The frame is very durable and made out of PVC. The exterior is also comprised of an anti-corrosion PVC mesh cloth to ensure it won't tear or break down under harsh weather conditions.
We were pleasantly surprised that it didn't even crack under the hot sun of summer nor the frigid temperatures in winter!

---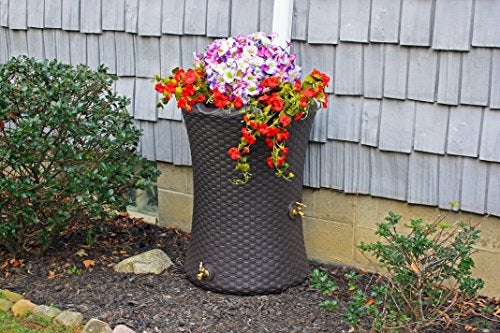 Good Ideas IMP-N50-DBR Impressions Nantucket Rain Saver Rain Barrel at a Glance
:
---
Capacity: 50 gallons
Diverter/Downspout Adapter: Yes
Planter Top: Yes
Made From: Wicker, Plastic
Are you searching for the best decorative rain barrel? If so, then you have quite a few options to choose from, but we can tell you now that the Good Ideas Impressions Nantucket Rain Saver Rain Barrel is still your best bet.
Coming in either Dark Brown or Black, the wicker exterior looks classy and comes with a beautiful planter on top perfect for flourishing flowers!
The 50-gallon capacity rain barrel is a tiny bit smaller than the other 2 models we've covered so far, but it's still quite generous in this regard.
With a deep-welled top, planting flowers or even a little herb/veggie garden is easy to do and can get 2 tasks done at once!
The top also features the Good Ideas' signature integrated overflow channel which diverts all excess water to the front of the barrel to keep your foundation from flooding!
You'll find the large opening is perfect for 2×3 of 3×4 downspouts and is covered with a soft, very fine, plastic mesh screen to keep out insects and larger pieces of debris such as twigs and such.
Included with the water storage barrel are 2 offset spigot locations so you can easily use a 5-gallon bucket or hose at the same time without any complications.
If you'd prefer, you can even use the second as an overflow into another barrel!

---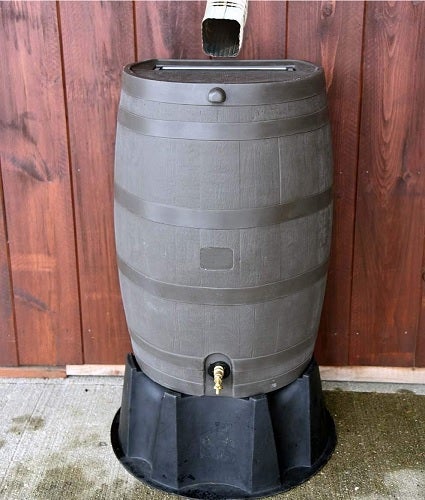 RTS Home Accents Rain Water Collection Barrel at a Glance
:
---
Capacity: 50 gallons
Diverter/Downspout Adapter: Yes
Planter Top: No
Made From: 

Food Grade Polyethylene
Despite there being so many incredible water storage barrels out there, undoubtedly the best rain water collection barrel on the market today is the RTS Home Accents.
Right away, you'll notice how visually stunning it is, also adding to the character of your home. However, with a 50-gallon capacity it's not light on functionality either.
These add a bit of a rustic, classic vibe to an outdoor area and can even be used as a plant stand by just closing the top of the barrel.
However, we have to clarify that it does not feature a dedicated planter. It's available in four colors to match your style and house color. There is an optional stand available as well.
In the actual rain collection area, you'll find a screened opening to help prevent bugs from coming out while filtering out larger pieces of debris from incoming water.
An overflow hose is placed at the top/back of the design which will allow you to designate the direction of where the overflow moves.
If you'd like, you can also replace it with a longer hose to move the excess water to a garden or other runoff area.

---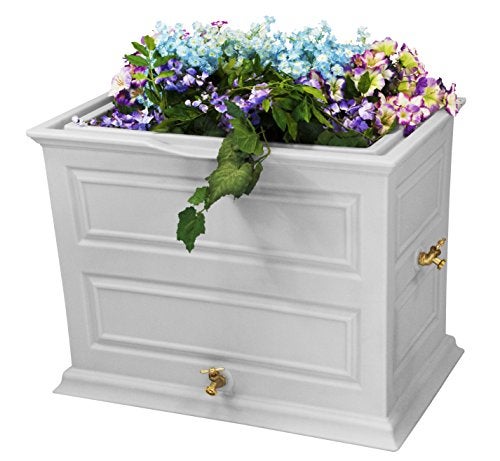 Good Ideas SV-ERS Savannah Elevated Garden Rain Saver Barrel at a Glance
:
---
Capacity: 50 gallons
Diverter/Downspout Adapter: Yes
Planter Top: Yes
Made From: Polyethylene Resin
There are many rain collection barrels with spigots on Amazon, but few can compare to the performance of the Good Ideas SV-ERS Savannah Elevated Garden Rain Saver Barrel.
The 50-gallon capacity can store quite a bit of rainwater at a time, and even comes with a planter top for you to keep a little herb/vegetable garden or plant some gorgeous flowers!
This will surely complement the unique Colonial style that really takes things back a few years to when times were simpler perhaps.
The barrel only comes in White, though it looks very classy and blends in well next to most homes. However, it's not only made to look good, but hold up well, too.
As it's going to be exposed to the elements this is crucial to the performance and its lifespan. Made with thick, durable polyethylene resin, it's essentially weatherproof and will look brand-new even after years of use.
The flat back is unique to most designs though serves to optimize space and lets you place the barrel close to walls, fences, or other flat spaces.
The planter area we were just speaking about also serves as a self-drain when water levels reach their limit.
Moreover, it comes with a channel built into the rim which diverts overflow to the front and moves it away from the barrel and your foundation to avoid flooding.
Finally, there are 2 different brass spigots that let you connect a hose to use all of the water, or easily fill up another bucket/barrel.

---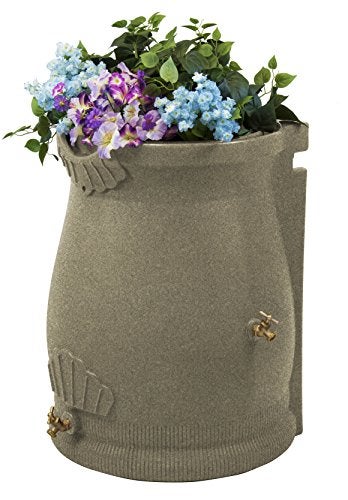 Good Ideas RWURN50-SAN Rain Wizard Rain Barrel at a Glance
:
---
Capacity: 50 gallons
Diverter/Downspout Adapter: Yes
Planter Top: Yes
Made From: Polyethylene Resin
Last but not least, we present you with the Good Ideas RWURN50 Rain Wizard Rain Barrel.
We realize that this is the third Good Ideas barrel we've featured on our guide, but they honestly impressed us and countless others with their high level of quality, beautiful looks, and efficiency.
This model represents all of those characteristics perfectly, so let's take a deeper look. First off, the realistic barrel design comes with darkened ribs, offering a kind of classic garden or even sailor look!
You get your choice of 3 different colors: Sandstone, Terra Cota, Dark and Light Granite. Each one blends in very well in a natural environment outdoors, though Sandstone is probably the most unique looking of the bunch.
Much like the previous 2 models we just covered, this one is also made from a UV-resistant polyethylene resin which is designed to hold up against harsh weather conditions.
The UV resistance means that it won't crack or weaken in the sun, and the colors won't fade either. You'll definitely have it for years to come, and as it's resistant to rust, mold, mildew, and rotting it will be in tip-top shape!
In addition to the rainsaver, you'll get spigots made from high-quality brass which also gives a classic look to the design.
The spigot offers the option to connect a garden hose for you to easily use it around your yard, garden, or whatever else! While a linking kit isn't included, if you purchase 2 or more you can easily connect multiple barrels.
Thanks to the included mesh screen, children will be safe to play around it and will also keep out insects and debris. Simply hook up the rain barrel to your downspout or hook up a soaker hose on the bottom spigot and you're all set!

---
Rain Barrel Comparison Table
How to Choose the Best Rain Barrel – Buying Guide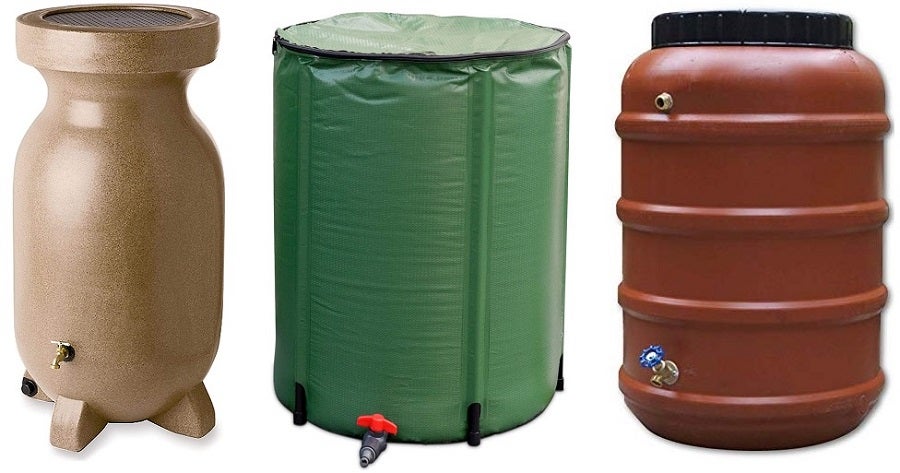 Now that you've made it through each of our rain barrel reviews, do you know which one you'd like to use for your home? If not, then there's no need to worry!
We realize it can be confusing trying to narrow it down to just one model, especially when there are so many excellent options out there! On top of that, it's easy for rain barrels to operate incorrectly and you want something that suits your personal tastes too.
That's why we've taken it upon ourselves to write up the user-friendly buying guide below. This guide will take you through each step of the process to ensure you're 100% certain which barrel is for you and your home, by the time you're done reading. Let's jump right in!
Storage Capacity
Storage is incredibly important, as that's kind of the whole reason you're getting a rain barrel anyway! However, the capacity varies quite a bit as you'd probably noticed throughout the reviews.
In this situation, you'll need to kind of estimate how much rain your area usually gets. You obviously don't have to be exact, but if you live in a region where there's a lot of rain, then you'll probably want to get a bigger capacity, such as 60-70 gallons.
If you live in an area that doesn't quite get as much, then less than 60 gallons will be preferable for you.
Safety
You want to make sure that your water is safe to be around, particularly with children and pets. Even if you don't have either, you don't want a squirrel or other living being to somehow make its way into the rainwater and not be able to get out.
This is why it's crucial that your water barrel comes with a tight seal and also a screen covering the water. In addition, it will help to filter out any debris like leaves and twigs, along with insects! This will make the water clean and ensure it flows efficiently through the spigot and a garden hose.
Materials
There are a ton of different materials used in present-day rain barrels. The most commonly used ones are ceramic, wood, metal, stone, plastic/polyethylene resin. Let's take a look at each one so you can determine which is right for your needs.
Ceramic Clay/Stone – These are perfect if you just need a barrel to catch small amounts of rainwater. They are some of the most visually appealing, offering a kind of expensive, natural look however they can be more difficult to install and are much heavier.
Wood – This is one of the most commonly-used materials with the models we've featured today. First off, wood gives a rustic feel and it looks great in just about any yard or environment. Water can't be contaminated as the wood has no BPA, however, it is more expensive than plastic. It does have a heavier catchment system, though!
Metal – Metal is wonderful for huge amounts of rain storage and is great for more permanent use, but isn't really attractive for residential purposes.
Plastic/Polyethylene – This is another one of the most popular materials, along with wood. Why? Because it's lightweight and cheap, of course! Polyethylene is typically UV-resistant so it won't fade or wear down easily, but you need to make sure that the one you select is BPA-free. Some of the models use recycled plastic which are more eco-friendly.
Appearance/Looks
That brings us to our next point, which is appearance. What kind of look do you want to go for? There are plenty of options, for more European-esque looks to farm-like, to absolute basic/monochrome containers that don't have much of a personality.
In addition, you'll want to take into consideration if you want a model with a planter on the top. If you're a gardener or enjoy fresh herbs and veggies then we highly recommend going for a planter option! These have extra space for you to place soil so you can plant them right on top while also keeping them well-watered!
Water Retrieval
Retrieving your water can be done in various ways: a spigot, electric, or manual pump. Most top models will come with a regular garden spigot typically made of brass for durability and looks. These can be connected easily to a garden hose for you to distribute it effectively and quickly.
If you have a larger barrel system, you can also use a pump but in most residential cases this isn't necessary and is just going to cost you more than you need to spend.
Installation & Maintenance
You want a model that's easy to install and that won't take you a lot of time. Not only that, but you don't want a rain barrel that's tough to maintain. Most of us just want to be able to set it up and let it do its job.
In most cases, you'll need to make sure the barrel is covered and clean, along with the gutters and downspouts.
Prevent it from getting blocked by regularly cleaning it and flushing out debris that may have collected at the bottom. Regularly inspect the system for leaks and overflows, too!
Price
How much are you willing to spend on a good rain barrel? It's a wise idea to come up with a number and set a budget for yourself before you start looking around as it's also quite easy to fall in love with a certain barrel and spend more than you'd originally intended on.
This can create buyer's remorse, which we don't want. We want you to be completely happy with it – whichever one you choose. When you go up in price, you may get a bit more storage but really the models on our guide are going to give you the best bang for your buck!
FAQs About Rain Barrels
Q: What are the benefits of a rain barrel?
A: The benefits are essentially endless! You'll be able to save money on your water bill by using rainwater for your gardening needs, watering your lawn, and so much more! You'll also be able to reduce runoff pollution and erosion. Runoff from rains pick up soil, oil, pesticides, fertilizers and other contaminants which can seriously be harmful to the planet and our health. It helps promote plant and soil health for this very reason, and also conserves water.
Q: What is the purpose of a rain barrel?
A: Rain barrels catch water from the roof and store it so you can use it at a later time on your lawn, gardens, indoor plants and much more. They reduce the amount of water that flows from your property, helping to conserve water.
Q: What happens when a rain barrel gets full?
A: The diverter will shut off and the rainwater will flow through the gutter as it should. If the overflow valve can't keep up then the excess will flow over the top of the barrel instead. There are usually dedicated channels to help move this water away from your foundation and the barrel itself.
Q: Is it safe to use rain barrel water to water vegetables?
A: Yes it is! Just make sure that the barrel doesn't have BPA as this can be transmitted into the water.
Q: What is a rain barrel diverter?
A: Water goes into the diverter and leaves any debris to go down the downspout. The water then travels through the tubing and into the rain barrel. Once it's full the water goes back up the tubing and out the downspout.
Q: How do you maintain a rain barrel?
A: Regularly inspect the barrel for cracks, leaks, debris on the bottom, or algae growth on the inside. It's a smart idea to lay the barrel on the side and spray rinse it out, scrubbing all throughout the inside with a long-handled brush. A mixture of vinegar and water is going to kill any bacteria and leave it sparkly clean.
Tips For Choosing a Rain Barrel
#1: Make sure it suits the environment that you live in.
For example, if you live in an area that really doesn't get a ton of rain then you'd be better off opting for a model that doesn't have a huge water capacity as you're probably not going to fill it up for a long time and will end up emptying out the barrel before it can fill up.
#2: Properly store it depending on the season.
Prepare your barrel for winter/cold seasons by turning it over if you're going to be storing it outside. If you're storing it inside just make sure that it's empty and clean.
#3: Protect the siding of your home always!
Do this by using a sheet of wood/plank placed between the siding and the downspout. Also watch out for sharp edges when working with the downspout.
Summary
Now that you've had the chance to read everything you could ever want to know about what makes good rain barrels, which one will you be using in the near future? If you still haven't made a decision, you can rest easy knowing that whichever one you select will be one of the best in the world.
However, what's most important is that you choose one that perfectly suits your environment and preferences. We hope that our guide was able to help you do just that. Thanks for tuning in and we'll see you again shortly.
How We Researched
To come up with the top rain barrels, we researched a variety of sources for reviews such as Home Depot, Lowes, Target and Wayfair  along with our own personal experience.
We also consulted online magazines for product research and reviews to get as much unbiased information as we could. To help weed out fake reviews we used Fakespot.com to make sure we only looked at genuine reviews.
With so much quality gear available, we had to narrow it down based on what we felt were the best options were for the price. The staff authors have a wide and varied background in yard design and home repairs.
The authors have decades of experience and are eager to share their knowledge with readers.
To help narrow down the selection we used personal experiences along with recommendations from landscapers, bloggers and contractors.
After extensive research, we came up with our list to help you choose the right one for you.
Sources
Notice:
OutsidePursuits.com is a participant in the Amazon Services LLC Associates Program, an affiliate advertising program. OutsidePursuits.com earns fees from products sold through qualifying purchases by linking to Amazon.com. Amazon offers a commission on products sold through their affiliate links.