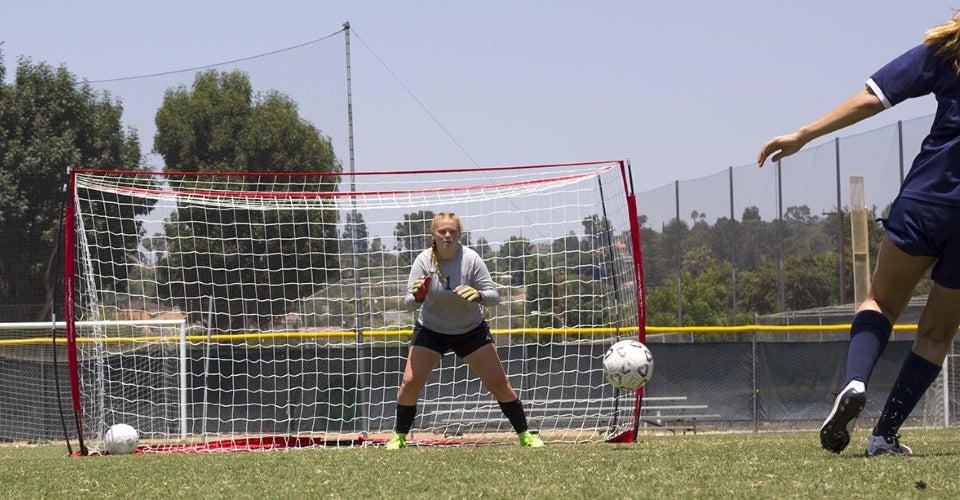 Our Editors independently research, test, and rate what we feel are the best products. We use affiliate links and may receive a small commission on purchases.
Anyone looking for the best portable soccer goal for field practice or backyard can find exactly what they need here.
We also encourage you to read our guide on Choosing a Portable Soccer Goal to help you determine the best portable or practice soccer goal for the money.
Best Portable Soccer Goal
Attention: The internal data of table "955" is corrupted!
Also see: Portable Soccer Goal Comparison Table
---
Quick Answer: The 5 Best-Rated Portable Soccer Goals
---
Portable Soccer Goal Reviews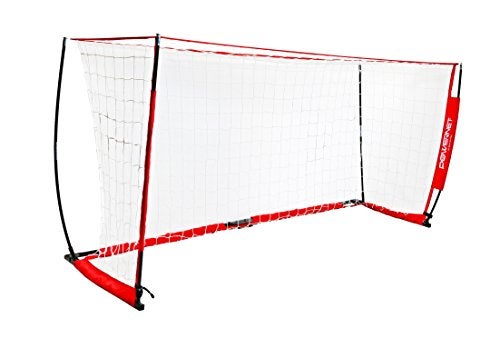 PowerNet Soccer Goal 12×6 Portable Bow Style Net At A Glance
:
---
12 feet x 6 feet
Metal base frame
Fiberglass vertical goal posts (4)
Bow-style net design
Lightweight construction
Fast set-up
Easy tear-down
Included heavy-duty carrying bag
Two ground stakes with bungee cord attachments
For a truly incredible backyard soccer goal, you'll definitely want to check out this 12' x 6' Bow Style Net from PowerNet! This isn't a full size soccer goal, but it is very large for a portable soccer goal net. It measures at 12 feet across and 6 feet high.
This gives you a lot of room to work with and can really help you to improve your performance. Even with the large size, this net is incredibly lightweight and easy to set up and transport. It only takes about 2 minutes to set the net up.
The base part of the frame is made of a lightweight metal that is strong and durable. The soccer goal post poles that come up from the base part of the frame are made from tough and flexible fiberglass material. All four of these posts feature a bow-style design.
This simply means that they curve out slightly from the goalnet. This helps to provide ideal levels of tension that keep the net spread well and in place.
The overall design keeps the entire set-up very lightweight while maintaining a very high level of durability that will keep this portable soccer goal looking and working great for years to come.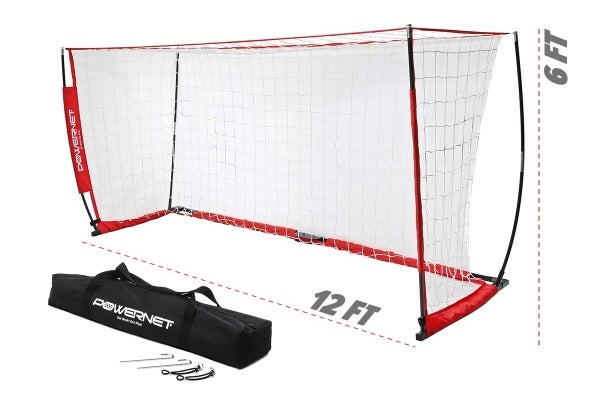 The net is also very durable and made of high-quality materials. When it comes to quality, this is easily the best overall portable soccer goal. Of course, you will pay the price for the increased quality and larger size.
This is the most expensive portable soccer goal on our list of recommendations. It is nearly 5 times the cost of the cheapest recommendation on our list.
Of course, if you are serious about practice or want to play real games with your portable soccer goal(s), then this is definitely one of the best choices you can get.
This soccer goal is great for indoor or outdoor use. When using it outdoors, you can even use the included ground stakes. The goal comes with bungee cord attachments that slip around the front poles to allow you to easily put the ground stakes into place.
This keeps the net right where you want it even with the hardest of shots. It also comes with a very nice carry bag. The bag is heavy-duty, zips easily shut, and even features convenient shoulder straps for even easier transportation.
We are sure that this is a purchase that you will not regret.

---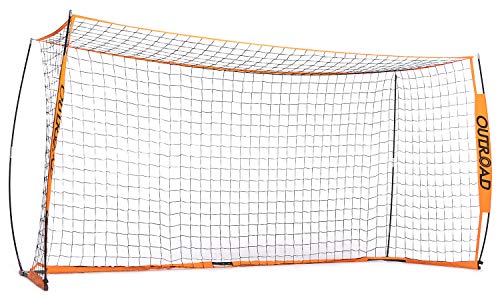 Outroad Portable 12×6 ft Practice & Competition Soccer Goal with Net At A Glance
:
---
12 feet x 6 feet
Metal base
Fiberglass vertical goal posts (4)
600D Oxford fabric net
5-ply netting
Orange net edging
4 ground stakes included
600D Oxford carrying bag
Lightweight design
Fast set-up
This awesome goal from Outroad is actually pretty similar to our first pick from PowerNet. It is that nice, large size of 12 feet long by 6 feet tall. So, it has a lot of space and versatility for practice or even for games!
It has a metal frame base with fiberglass goal posts that stick straight up from the base. Just like with the PowerNet pick, this gives the Outroad goal a really durable yet super lightweight design that is long-lasting, convenient, and perfect for easy portability.
It even includes a top-notch carry bag that is made of 600D Oxford fabric for incredible quality and durability.
The net is actually made of this same 600D Oxford material. It creates an all-weather, super durable soccer net that can withstand even extreme weather conditions over longer periods of time.
The net is made of 5-ply netting to further increase the quality and durability. The orange edges of the netting also make visibility great for this soccer goal to help further improve performance. The fiberglass posts on this goal net are flexible and made with a bow style design.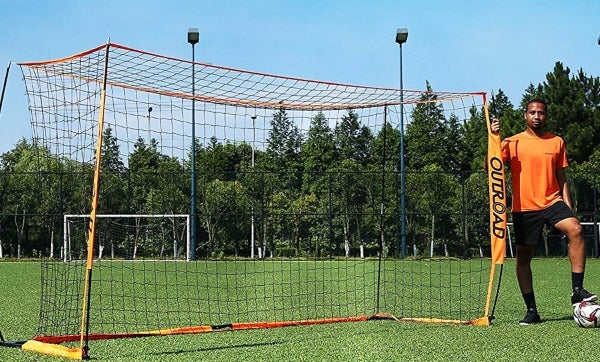 This slight curving in the fiberglass posts gives the net just the right level of tension to hold it nice and open while still providing some slack for the ball to be efficiently caught in the net.
The Outroad portable soccer goal includes ground stakes just like the PowerNet option we already reviewed. However, rather than only having stakes for the front two poles, this goal net has 4 ground stakes.
This allows you to secure all 4 corners of the net for superior stability. The price of this net falls just a little below that of the PowerNet goal.

---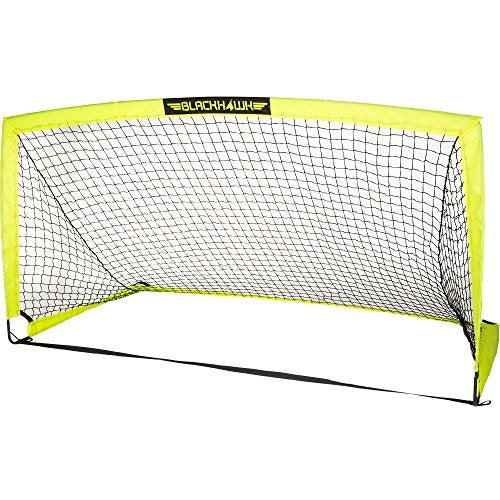 Franklin Sports Blackhawk Portable Soccer Goal At A Glance
:
---
12 feet x 6 feet
Steel base
Fiberglass vertical goal posts (2)
Weather-resistant materials
Pop-up style
Included carrying bag
Super easy set-up and tear-down
Here is one more 12' x 6' portable soccer goal! This goal is definitely different than our first two picks, though. These are actually pop up soccer goals. So, putting them up and taking them down couldn't be easier!
It literally just folds up into a fairly compact shape that is almost completely flat. Then, to put it back up, just unfold it and it will pop back open for you to place it where you want it.
This is definitely a great option for using indoors if you want a large indoor soccer goal, but it is perfect for outdoor use as well! It may not be quite as durable as our first couple of picks, but it is still very well-made and designed to be weather-resistant.
Anytime you are using it outdoors, you can add the included ground stakes to keep the net right where you want it without any problems. This is especially helpful in the case of high winds.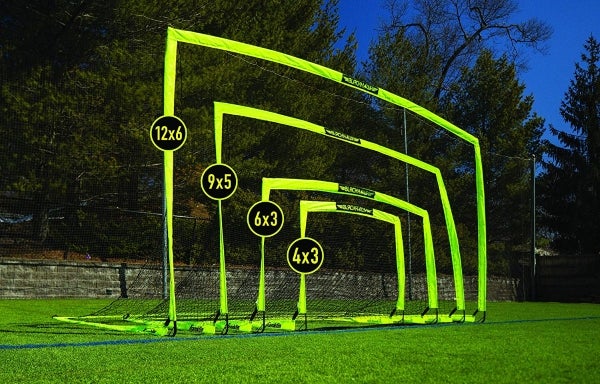 The base of the frame is made from steel for a sturdy design that manages to stay pretty lightweight as well. The goal posts are fiberglass just like our first two picks, but there is one major difference with this soccer goal when it comes to the goal posts.
There are only two vertical posts on this goal. So, the back of the net comes down in a slant to the back of the frame's base. This is instead of having a rectangular shape.
Since the opening on the front of the goal is still the same 12' x 6' size as our first two picks that are rectangular, this shouldn't make a huge difference when you're actually playing.
It mostly comes down to personal preference, though. This Franklin Sports goal also comes with a convenient carrying bag.
One of the really great things about this portable net compared to our first two options is the price. This net is considerably more affordable than the PowerNet 12' x 6' goal or the Outroad 12' x 6' goal.
The large size, high quality, and affordability help to make these some of the best pop up soccer goals you can get.

---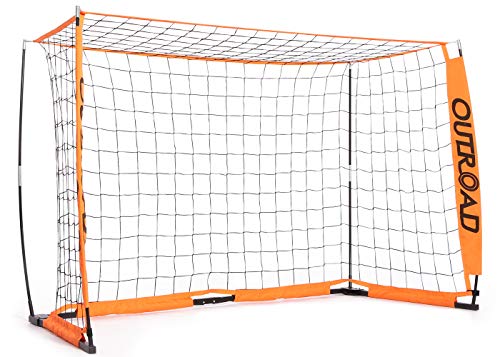 Outroad Portable 6×4 ft Practice Soccer Goal with Net At A Glance
:
---
6 feet x 4 feet
Metal base
Fiberglass vertical goal posts (4)
600D Oxford fabric net
5-ply netting
Orange net edging
4 ground stakes included
600D Oxford carrying bag
Lightweight design
Fast set-up
Here is another great Outroad portable soccer goal! This option is almost identical to our first Outroad pick with one very important difference – the size! This is the ideal soccer net if you're looking for a super high-quality option, but you prefer a small soccer goal.
Rather than being 12 feet x 6 feet, this Outroad portable soccer net is 6 feet x 4 feet. This is a good bit smaller, which, depending on what you want exactly from your soccer goal, can be a really good thing.
This is a great youth soccer goal, especially for practice and backyard use. It can be a good game option for smaller games too. One of the coolest things about the smaller size is that it encourages you to aim for a tighter goal.
Basically, if you can get good at scoring in this mini soccer goal, you'll have no issues when game day comes and you're aiming for a much larger target!
This has all of the same incredible features of our first Outroad recommendation, just in a smaller size. The all-weather design featuring 5-ply netting and 600D Oxford fabric provides incredible durability.
The metal base and fiberglass posts give the perfect level of net tension, provide additional durability, and keep the design very lightweight and convenient.
It is just as easy, if not easier, as the larger version to set up and take down. It also comes with the very helpful ground stakes for additional stability and a 600D Oxford fabric carrying bag for easy storage and increased portability.
Another great benefit of the smaller size is that the price is much lower on this than the larger Outroad version.


---

Sport Squad Portable Soccer Goal Net At A Glance
:
---
4 feet x 3 feet
Set of 2 goals
Pop-up style
Included carrying bag
Included ground stakes
Easily collapsible
Last up, we have an awesome little set of pop up goals. This is definitely what you want to get if you're looking for a soccer net for kids to just play around with in the backyard. This is an actual set. That means that you get 2 goals with your purchase rather than needing to purchase individually like our other picks.
What is really crazy is that even though you are getting 2 goals, this set is still cheaper than any of the single goals we've already reviewed above.
That is largely thanks to the much smaller size as these aren't even as large as the 6' x 4' Outroad goal. These kids soccer goal nets each measure at 4 feet across and 3 feet high. They won't be good for older kids or serious players that practice hard, but they are great for little kids to practice and play with.
Each of these soccer goals folds up easily into a nearly flat circle shape. They come with a convenient carrying case that they both fit easily into together.
The case is just over a foot across, so it won't take up much space at all and is super easy to take along anywhere you need or want them. They are also super easy to set up.
You simply unfold them, let them pop open, and then attach a built-in support from front goal posts to the base of the goal's frame. This keeps them upright and steady.
Then, if you're using the nets outdoors, you should take care to add the included ground stakes to keep them in place even when the ball hits the net.
You're undoubtedly getting the best soccer goals pricing with these. They're cute, well-made, super easy to use, and absolutely perfect for little kids and even older kids that enjoy soccer but don't plan to practice really hard with them.

---
Portable Soccer Goal Comparison Table
Attention: The internal data of table "956" is corrupted!
---
Choosing a Portable Soccer Goal
Soccer is an incredible sport and pastime. It is well-loved among all ages and skill levels. From tots kicking around their first ball to professional players, everyone can benefit from the best portable soccer goal for their specific needs.
Portable soccer goals are simply soccer goals that can be put away and/or moved from place to place with ease. They provide a great way to practice or even have games when you don't have access to a real field with regular soccer goal nets.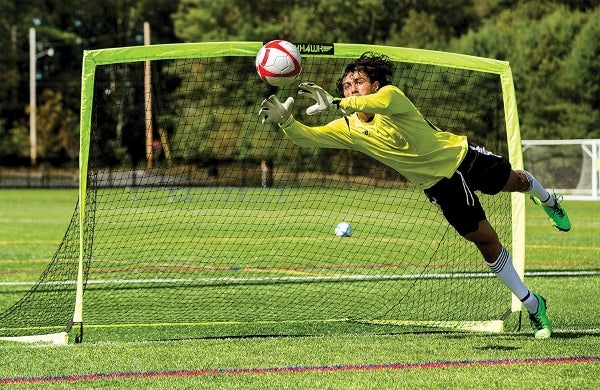 A portable soccer goal can be an invaluable purchase when it comes to improving your soccer skills and even just having some great fun with friends or on your own. It provides a wonderful opportunity for consistent practice and play wherever you may be.
It can be important to make sure you are getting the best home soccer goal for your specific needs. To help you better understand what you need to consider when shopping for a portable soccer goal, we have listed some important factors with simple explanations below.
While portable goals can be a great option for anyone interested in soccer, they do vary a good bit in terms of size, materials, and design. Below, we've picked the best portable soccer nets with careful reviews to help you understand the differences, benefits, and drawbacks of each.
Size
The most important factor to help you figure out which soccer goal is right for you is the size of it. This is a huge varying factor among different portable soccer goals. Most portable soccer goals won't be as big as a full-size standard goal, but some are quite large.
Other soccer goals are very small, though. What size is the right choice can be affected by the age of the player(s) that will be using it.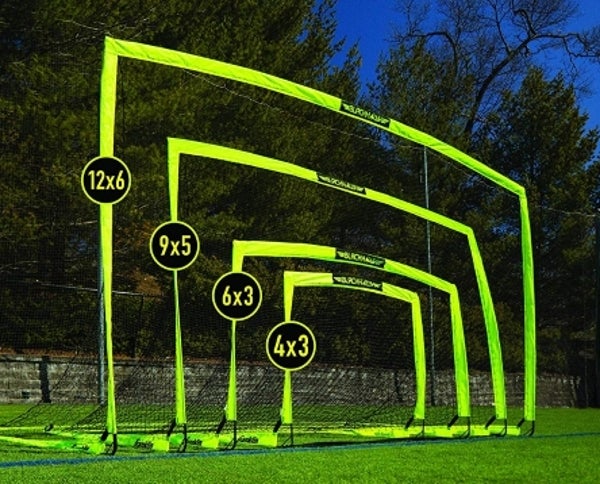 Smaller goals can be more suitable for younger players, while they may be less convenient or practical for older players. However, it is also a lot about preference.
A larger goal will provide a practice experience more similar to an actual game on the field with a real soccer goal. Of course, a smaller goal can be very beneficial for any player for one important reason.
A smaller goal provides a smaller target. It helps a player to hone their skills and get efficient at getting the ball right where they want it.
This makes it way easier to actually get the ball into the larger goals on the actual field. So, if you are constantly practicing with a small target, hitting the big target during the actual game will be much easier.
Style
The style of your soccer goal can be important too. This mostly refers to if the soccer goal is pop-up style or not. A pop-up style portable soccer goal is definitely the easiest to set up and take down. You simply unfold it and it pops open.
Sometimes, with a pop-up goal, you'll need to connect a support section to the base of the net after it has popped up, but this is quick and easy. It adds almost no time to your set up and it isn't even always necessary depending on the specific goal.
Portable soccer goals that don't feature the pop-up style design take a little longer and little more work to set up and take down. They are still easy and quick to set up, though. It shouldn't take more than 5 minutes to set up even the most difficult portable goal.
These goals are more box-shaped than the pop-up style. They replicate real goals better, but the shape doesn't necessarily make a huge difference in how well they work or how well you perform. It really just comes down to your personal preference for shape and set-up.
Durability
Finally, the durability of the soccer goal is very important. If you want to leave your soccer goal up in your backyard all of the time, you definitely want a very durable option that is weather-resistant.
Otherwise, your soccer goal won't last very long. The needed durability also has a lot to do with the age and strength of the players.
If you have older players that are consistently kicking hard shots into the goal, durability is much more important. If you are okay with putting away the soccer goal after each use and you have younger players, a less durable option can work great for you.
Remember that durability is also closely related to price. The more durable the option, the more likely it is that it will cost more. So, keep that in mind as well when you set your budget for your portable soccer goal.
Portable Soccer Goal FAQs
What is a portable soccer goal?
A portable soccer goal is just what it sounds like. It is a soccer goal that easily breaks down to be compact enough for easy transport. Then, it is easily put back up wherever you want to use it at.
Most portable soccer goals come with carrying bags to make storage and transport even easier.
What is a portable soccer goal good for?
Portable soccer goals can have multiple uses. The most popular use is as a good practice tool. By having a soccer goal that you can take anywhere with you and even set up in your own yard, you will have a lot more practice time.
Being able to consistently practice with a goal will help you improve your skills much faster. Portable goals can also be used for impromptu games with friends or teammates. Since they tend to be smaller than standard soccer goals, they are especially great for smaller games when you don't have full teams to play.
Buyer's Tips for Portable Soccer Goals
Finding the best soccer net for backyard use can be so helpful at honing your skills and improving yourself even outside of actual team practice.
Just make sure that you take the time to figure out just what portable goal will work best for you. Choosing the wrong one can lead to the goal wearing out too quickly or to you spending more than was really necessary.
Our guide above should be helpful, and we believe we chose a great variety of portable soccer goals that will fit the needs of almost anyone. Try to make sure that you buy your soccer goal from a good source as well.
We tend to prefer Amazon simply because they do have excellent customer service and often the best pricing. Feel free to shop around for the best deal, though.
Just make sure you choose a retailer with a good reputation like that of Amazon. With all the practice you'll be able to put in, you'll soon be kicking goals like a pro!
---
Thanks for reading The 5 Best Portable Soccer Goals for Backyards Reviewed. We hope this article has helped you to discover the best home soccer goal for practice for your style of play and skill level.
And if you're shopping for other gear take a look at these related review articles from Outside Pursuits:
SPORTS & HOBBIES ELECTRIC SCOOTERS | AGGRESSIVE INLINE SKATES | INLINE SPEED SKATES | OUTDOOR BASKETBALLS | OUTDOOR BASKETBALL SHOES | BASKETBALL HOOPS | WATERSPORTS SHOES | PICKLEBALL PADDLES | GOPRO ALTERNATIVES | DRONES FOR GOPRO | INDOOR SOCCER SHOES | COOLER ICE PACKS | 12 VOLT COOLERS | CAMPING AIR MATTRESSES | WATERPROOF BACKPACKS | WATERPROOF BOOTS
How We Researched
To come up with the top portable soccer goals, we researched a variety of sources for reviews such as Target, Dicks Sporting Goods and Best Buy along with our own personal experience.
We also consulted online magazines for product research and reviews to get as much unbiased information as we could. To help weed out fake reviews we used Fakespot.com to make sure we only looked at genuine reviews.
With so much quality gear available, we had to narrow it down based on what we felt were the best options for the price. The staff authors, have extensive experience with a variety of outdoor sports like paintball, roller skating, baseball and golf.
To help narrow down the selection they used their personal experience along with recommendations from instructors and retailers.
After extensive research, we came up with our list to help you choose the right one for you.
Sources
Notice:
OutsidePursuits.com is a participant in the Amazon Services LLC Associates Program, an affiliate advertising program. OutsidePursuits.com earns fees from products sold through qualifying purchases by linking to Amazon.com. Amazon offers a commission on products sold through their affiliate links.