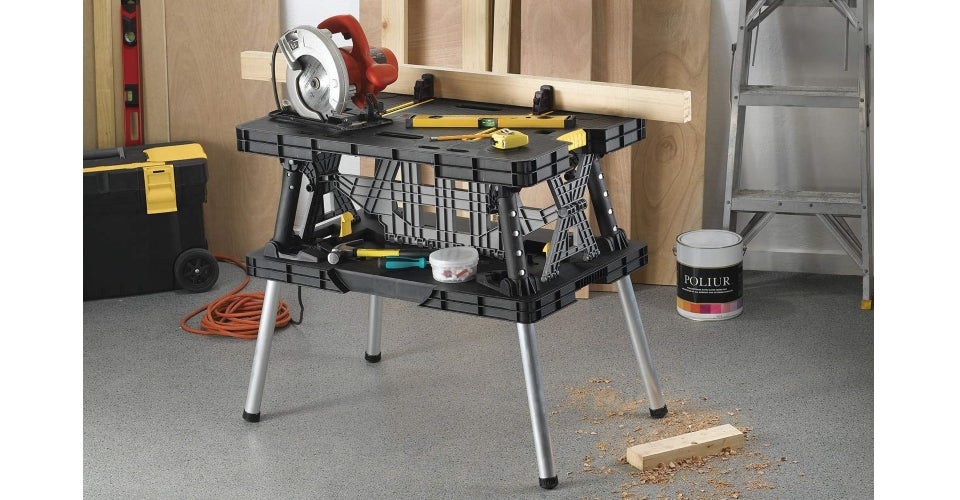 Our Editors independently research, test, and rate what we feel are the best products. We use affiliate links and may receive a small commission on purchases.
In this article you'll read about the 5 best portable workbenches along with a buyer's guide, How To Choose The Best Portable Folding Workbench. Also see frequently asked questions (FAQs) about portable work tables and foldable work benches. There are specific things to look for before buying, read on to find out more!
Best Portable & Folding Workbenches
Attention: The internal data of table "962" is corrupted!
Also see: Portable & Folding Workbenches – Price Comparison Table
---
Quick Answer: The 5 Best-Rated Portable & Folding Workbenches – [2019]
---
Portable & Folding Workbenches Reviews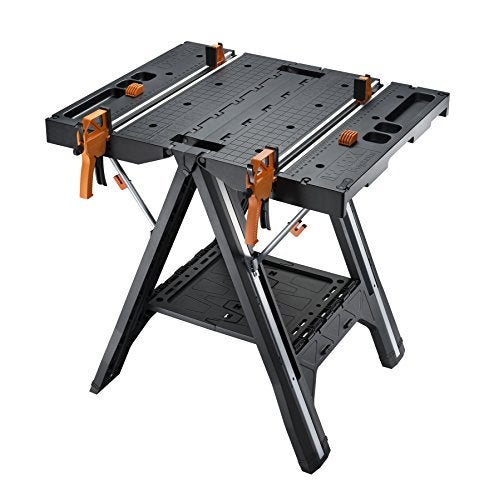 WORX Pegasus Multi-Function Work Table and Sawhorse At A Glance
:
---
Dual Clamping System
31" x 25" surface area
Built In Shelf
Doubles as a sawhorse
300 pound weight limit
The WORX Pegasus folding workbench is one of the most unique benches out there. It can go from being a worktable to a sawhorse in just seconds.
One great thing about the Pegasus line from WORX is that you can combine it with other Pegasus tables to make one large table.
Click To See MoreSee Less

This portable workbench has a link-locking system that allows it to hold a lot of weight without affecting the table. It also has adjustable bar clamps that allow you to work on just about any DIY project you can think of.

If you're work will items that are odd-shaped, this might be a table for you to consider as it has holding pegs that keep things of any shape in place.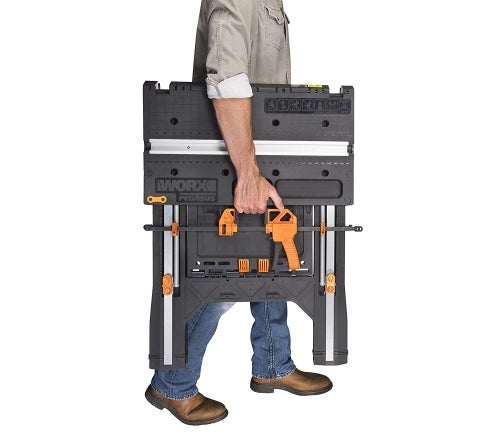 The sawhorse this table converts into can hold a maximum of 1,000 pounds. The design of the WORX Pegasus has a shelf on the bottom where you can keep your tools or additional storage while using it.

Whether you're looking for a folding workbench for your garage, or one for professional woodworking jobs, this is one to consider.
---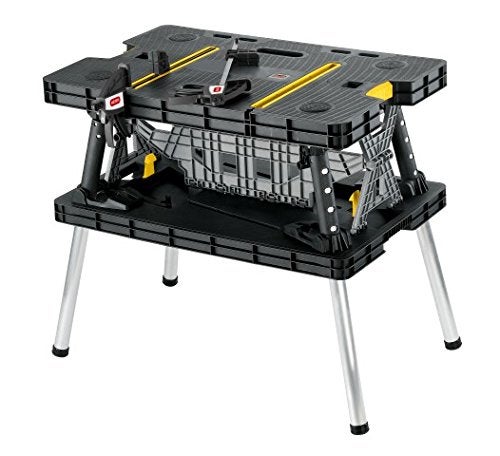 Keter Folding Compact Workbench Sawhorse Work Table At A Glance

:
---
Steel Legs
One Handed Clamp
46 " x 21.65 "
2 Clamps For Holding Projects Down
Weather Resistant
If you're looking for a sturdy surface to get just about any project done on, the Keter Folding Work Table may be one for you to consider. This is a great portable woodworking bench whether you're building a birdhouse with the kids or are making a new dining room table. You can rely on a sturdy surface since it has steel legs.
Click To See MoreSee Less

This Keter folding workbench also can support 1,000 pounds and is surprisingly compact once folded. Keter makes their workbenches weather resistant.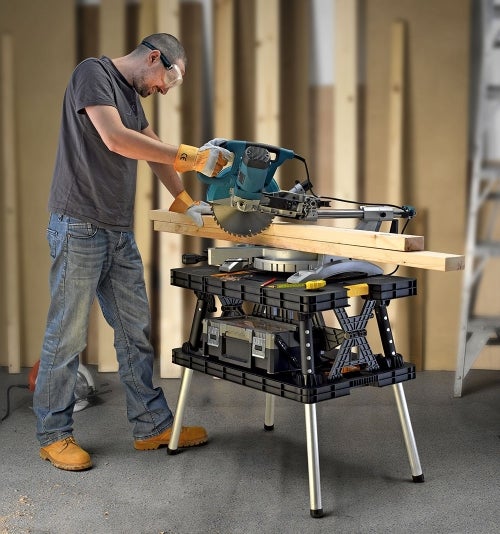 This means that it can withstand dents, extended sunlight, it won't crack and lastly, Keter portable workbenches don't rust.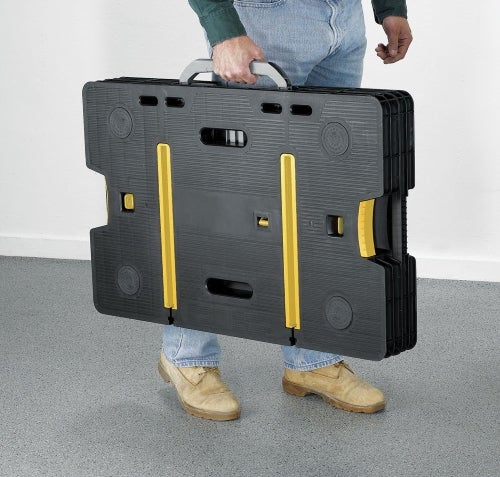 A unique feature the Keter workbenches have is the quick-opening feature. This allows you take it right out from where you stored it and set it up quickly and easily so you can focus on the projects you're working on.

---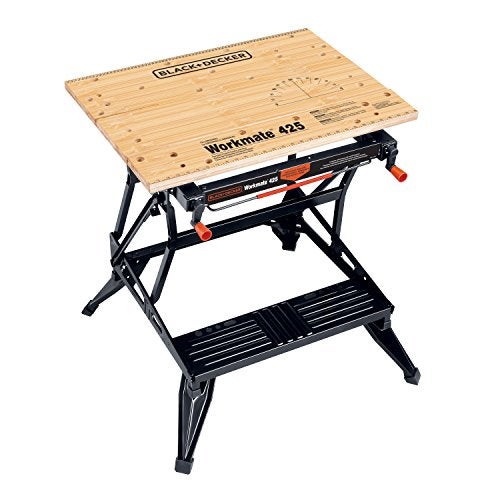 BLACK+DECKER WM425-A Portable Project Center and Vise At A Glance

:
---
4 types of clamping
Duel Height Adjustment
Can Be Stored on Wall
Shelf/Step
If you're looking at getting one of the best garage workbenches out on the market, take a look at the Black+Decker WM425-A foldable work table. Black and Decker is a well known name in the tool world. They're known for making incredibly durable products that do their job well and this Black and Decker workbench falls right in with their history.
Click To See MoreSee Less

The features on this table make it so that no matter your skill set, you'll be able to use it. There are multiple adjustable jaws that help to hold items in place, in addition to the several clamps.

There are multiple ways to adjust the clamps on this table thanks to the one-handed clamping system.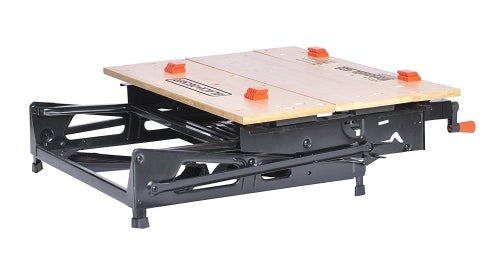 If you're working with odd-shaped objects, this workbench has plenty of swivel pegs that will keep them in place while you're working on them.

There is also a lower shelf that could be used for storage while also doubling as a step stool. This is one of Black and Decker's collapsible workbenches and it can hold up to 550 lbs. The frame is made out of steel which helps it to be sturdy while adding durability.
---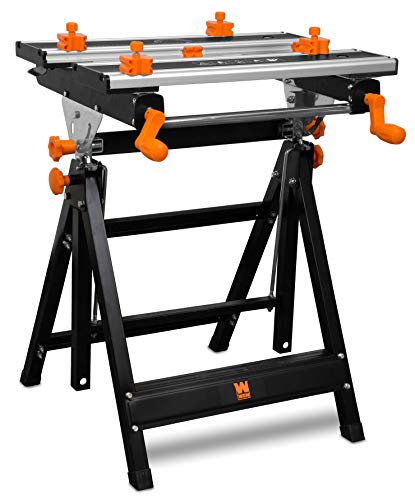 WEN WB2322 Steel Portable Work Bench and Vise At A Glance

:
---
Foot Pedal to Adjust Height
Hand Cranks
2 Year Warranty
12-19 inch table top space
If you're looking for a fold down workbench that is highly adjustable when it comes to height, this WEN WB2322 portable folding workbench might be up your ally! It has a height range of 29 to 41 inches so that no matter the task you're working on, you find find a comfortable height that works.
Click To See MoreSee Less

The coolest part? You adjust it by using a foot pedal. Out of the 6 main pieces it comes with, the top two pieces can easily come apart, adding an addition 7 inches of table top space.

Your project will stay in place with the 4 positive stops in additional to the vertical stops that you'll find every couple of inches.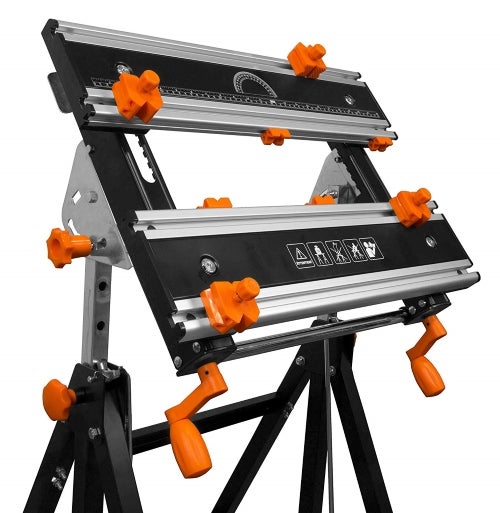 There are also rubber clamp grips that slide and can hold projects that are up to 8 inches wide. This is one of the best workbench tops with the additional protractor and ruler included.

The main body on the WEN WB2322 is made from steel and aluminum that allows it to fold easily.

---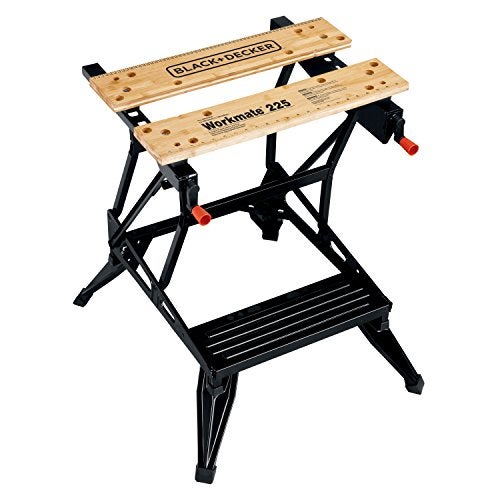 BLACK+DECKER WM225-A Portable Project Center and Vise At A Glance

:
---
Multiple Uses
Lightweight
Rubber Feet
Another Black and Decker workbench on the list is the WM225-A Portable Project Center and Vise. This is like the pocket knife of workmate benches. Not only is it a work table but it can be used as a sawhorse, a stand and a vise.
Click To See MoreSee Less

It can withstand 450 pounds on its surface and is made of steel so you know that it's sturdy. There are rubber feet on the bottom to prevent scratching on the floor and a level table top.

This workmate bench as a clutch and clamp system that is so simple, even a novice DIYer could easily work it.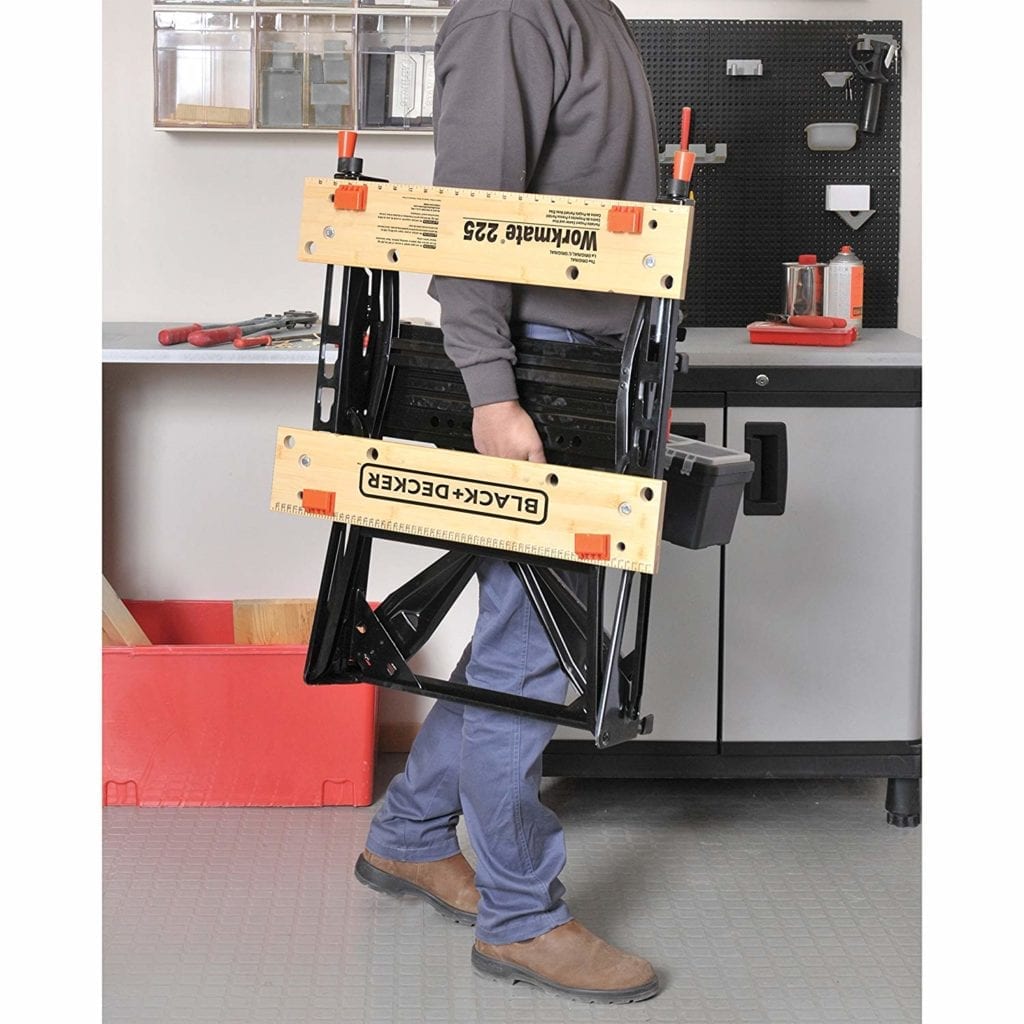 You'll get 4 swivel pegs and multiple jaws that adjust to keep your project in place. The bench is just over 30 inches tall, making it a great addition to any job or jobsite.

Weighing in at only 30 pounds, it's incredibly lightweight for a collapsible work table. It can easily fold up and fit in vehicles or simply be stored on your garage wall.

---
Portable & Folding Workbenches – Price Comparison Table
Attention: The internal data of table "963" is corrupted!
---
How To Choose The Best Portable Folding Workbench
A portable and folding workbench can make your life a lot easier. Whether you're looking for one to bring from jobsite to jobsite or if you're needing a new workbench for all of your hobbies and projects at home, you're in the right place.
Now that you know some of the best workbenches on the market, which one should you add to your workshop? What if none of the ones listed above are what you're looking for?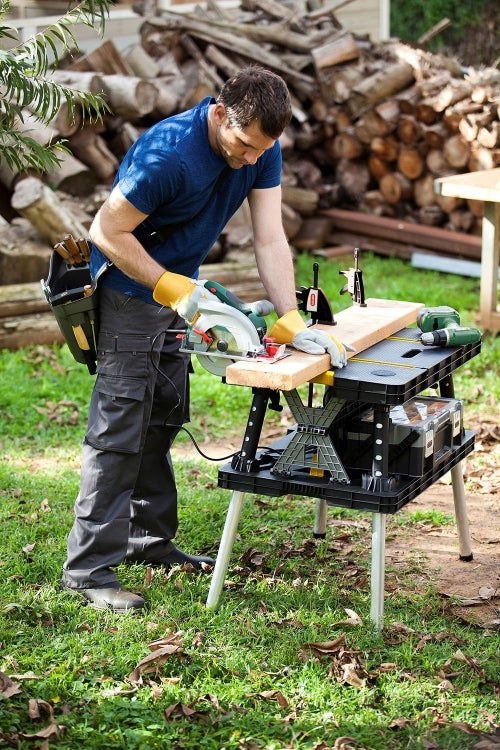 Well this buyers guide will teach you what are some crucial aspects to look for when window shopping for your next workbench.
Feel free to jot down some notes to take with you when you're shopping to make sure the bench you buy has all of these key points to your liking.
Weight
There are 2 different things to keep in mind when it comes to buying a new workbench and weight. You'll need to pay attention to the weight of the actual bench, especially if you're traveling with it for work a lot.
Is it going to be easy to carry? Will it be hard to get out of your vehicle? Is it too heavy to store in a high place? Ask yourself these questions when shopping around.
A bench that is lightweight will also be easier to fold and assemble back together. The other big factor when it comes to weight is how much weight can the bench hold?
What are the typical types of projects you work on? Think about what material they're made out of and how heavy the materials you use usually are.
As you've read above, there are quite a variety of different weight maximums on tables out there. Some only hold 200, while others hold 1,000 pounds.

Surface Size
Probably one of most important aspects of getting a workbench that works best for you is the table top size.
Just like the weight limit you just read about, the surface area size needed, highly depends on what you use it for and the materials you'll be workin with.
If you just use one to cut a few pieces of wood or make measurement markings, a small portable workbench would work just fine.
But if you're working with wood pieces or assembling and constructing large projects, you'll need a bigger work table.
Also consider a larger space if this is where you set your tools down. A lot of portable folding work tables are priced based on the surface size.
The larger table tops tend to be more expensive than the smaller ones.
Ease of Set Up
If you're reading this, chances are you're going to be folding up your workbench and traveling with it, where you'll have to possibly reassemble it. If you're on the clock, you're boss will like it if this doesn't eat up too much time.
It could get frustrating setting up a complicated work table several times a week which is why getting on that's easy to set up is on this list.
The assembly should be pretty straightforward and after putting it together once or twice, you should no longer need the instructions.
Others you can get that are assembled right out of the box and when they fold up, they're ready to use again as soon as you unfold it.
Again, price can play a factor here, look at your budget and make a list of which of these features are among the most important and go from there.

Stability and Strength
No one wants a workbench that isn't durable or wobbly. Have one that is stable will make your life much easier whether you use it at work or at home.
Having a stable work table also makes getting the project done safe.
You wouldn't want to be using a saw on a wobbly table. The other thing a stable table does is make it easier to get clean lines when drawing on or cutting materials.
When it comes to strength, the higher the quality of materials that went into making the work bench, the stronger it will be.
A lot of the stronger tables have legs that are made out of steel. If you will be using it outside, look to see which tables are weather resistant and can withstand things like dirt, sun damage, cracking or extreme weather conditions.

Clamps
One thing workbenches range the most on is how many clamps they have. You'll be using the clamps to hold down and keep in place whatever material you're working on whether that's wood, metal or glass.
Clamps are nearly always adjustable but it's a good idea to make sure they adjust enough so that your projects will fit within them securely.
While some tables come with several clamps, others come with none which will give you an additional cost when buying clamps.
If you work on a lot of odd-shaped things, make sure the clamps are able to be set up to hold down things that aren't in standard shapes.
Using clamps will keep your hands safe from injury and can even speed up your workflow.

Height
Another thing to think about when it comes to your next workbench is the height. This is based solely off how tall you are. If you're taller person, you'll need a taller workbench, pretty simple huh?
If you buy a bench that isn't the right size for you or whoever will be using it, it's pretty useless. If this part concerns you at all, consider looking around in store and seeing what feels the most comfortable for you.
If you're buying it for work, make sure it'll be comfortable for hours of daily use.

Price
We can't talk about important things without mentioning pricing. If you're wanting the best portable work table on the market, you have to be comfortable spending a pretty penny. Different prices often get you quite a different product.
This can range from the material it's made out of, the weight or how small or large the table top is. If it's lightweight, it will like be more for convenience.
Make a budget if needed and see what's out there that checks all your boxes and falls into your budget. If it doesn't you can save or go for the one that checked off the most things you deem necessary for your projects.

Versatility
You may have noticed some of the specific work benches mentioned above have additional uses. Some are vises, storage, step stools and saw horses.
These additional features may be needed to get your work done or they might just be unnecessary add-ons.
These things can affect your price so if you don't need them, find a table without them and save some money.  Lastly, these features can also add in some weight to the bench.
Just make sure it fits in the weight alloted for the table with your items on top and you'll be just fine!

Frequently Asked Questions (FAQ)
Q: Do I have to get a table with rubber feet?
A: Not at all! Rubber feet can add stability and save the floor you're setting the table on from getting scratched. If you're using the bench outdoors, in a barn or in a garage there aren't a necessity.
Q: Are plastic work benches bad quality?
A: Not at all! The WORX Pegasus we reviewed on the top of the list is actually made of sturdy plastic.
Plastic makes the bench more lightweight which is great but also makes it more susceptible to damages like scratches and dents. Overall, they perform the job just as well as other tables, but may not be as durable.
Q: Are workbenches kid friendly?
A: Depending on which one you get, yes. You wouldn't want your kid around one that has a sawhorse feature, but one that's a plain table, yes as long as you keep an eye on them.
Buyers Tips
Finding the perfect workbench can be quite the task. Hopefully with this list and buyers guide, you're able to better find one that works best for you.
Keep in mind the important factors such as the weight that the table is, the weight it can carry and of course the surface area.
Start a budget, as tables can be expensive and figure out if you'll need any special bells and whistles.
There are plenty of different types to choose from when you're on the search for the best folding workbench, whether it's different materials, sizes or extra features there will be a variety to choose from that has something that will work for you.
Ask yourself how often you'll be folding and unfolding it and how much assembly is required, if any at all. With all of this is mind, you are set up for a successful purchase the next time you buy a portable and folding workbench!
---
Thanks for reading The 5 Best Portable and Folding Workbenches. We hope this article has helped you to discover the best foldable and portable work bench for your project needs and preferences.
And if you're shopping for other gear take a look at these related review articles from Outside Pursuits:
HOME & GARDEN  LED GROW LIGHTS | HYDROPONICS SYSTEMS | GROW TENTS | HYDROPONIC NUTRIENTS | HYGROMETERS | SOIL PH METERS | HERB GARDEN KITS | LED LANDSCAPE LIGHTS | LED SOLAR LIGHTS | FOOD DEHYDRATORS | COOLER ICE PACKS | BUG ZAPPERS | WHEELBARROWS | PRUNING SHEARS
HOME & AUTO  SHOP VACS | PORTABLE JUMP STARTERS | BATTERY CHARGERS | JUMPER CABLES | LED SHOP LIGHTS | INFRARED HEATERS | GARAGE HEATERS | JUMP STARTERS | LED LANDSCAPE LIGHTS | LED SOLAR LIGHTS | LITHIUM-ION JUMP STARTERS | COOLER ICE PACKS | BUG ZAPPERS | PORTABLE AIR COMPRESSORS | CORDLESS IMPACT WRENCHES | PORTABLE TIRE INFLATORS | PORTABLE GARAGES | CAR DIAGNOSTIC CODE READERS
Notice:
OutsidePursuits.com is a participant in the Amazon Services LLC Associates Program, an affiliate advertising program. OutsidePursuits.com earns fees from products sold through qualifying purchases by linking to Amazon.com. Amazon offers a commission on products sold through their affiliate links.