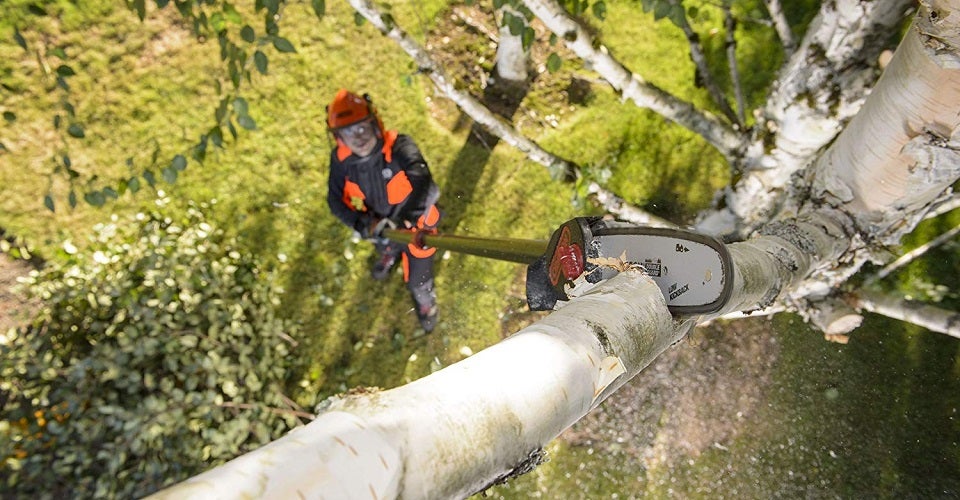 Our Editors independently research, test, and rate what we feel are the best products. We use affiliate links and may receive a small commission on purchases.
In order to keep your trees looking healthy and attractive, they require regular pruning.
You can hire a professional, or you can save some cash while having the satisfaction of doing it yourself. The best way of going about it? One of the best pole saws, of course!
No need to climb a ladder, thanks to the chainsaw being attached to an extension pole that lets you have complete control over your cuts. Let's get started!
Best Pole Saws
| | Greenworks PRO Cordless Polesaw | Sun Joe SWJ800E Electric Pole Saw | Oregon Cordless PS250-E6 Pole Saw |
| --- | --- | --- | --- |
| | | | |
| | | | |
| Type: | Cordless | Electric | Cordless |
| Power: | 80V, 2Ah | 4.5-Amp | 40V, 2.4Ah |
| Blade: | 10" | 8" | 10" |
| Pole: | Up to 8 Feet | Up to 7 Feet | Up to 8 Feet |
| | | | |
For more of my yard maintenance recommendations, have a look through these popular Outside Pursuits guide links: Cordless Lawn Mowers, Hedge Trimmers, Cordless Leaf Blowers.
Quick Answer: The 7 Best Rated Cordless & Electric Pole Saws
Pole Saw Reviews
Our reviews of the top rated pole saws (electric & cordless), with our buyers guide and comparison table will help you choose the right one. First we'll cover the cordless models.
---
Best Cordless Pole Saws
---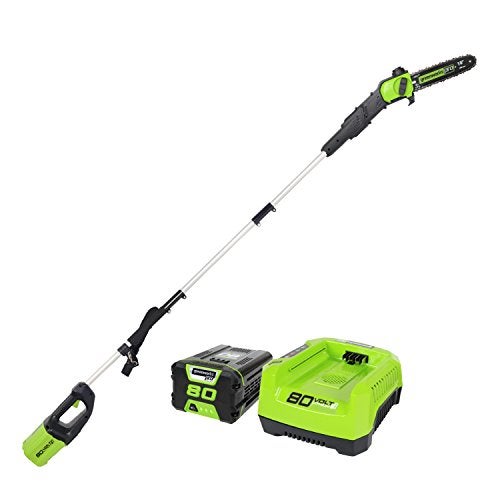 Greenworks PRO Cordless Pole Saw at a Glance
:
---
Type: Cordless
Power: 80V, 2Ah
Blade Length: 10"
Pole Length: 8 Feet
Weight: 12.8 Pounds
Let's start off on the right foot with the best pole saw on the market today: the Greenworks PRO 80V 10" Brushless Cordless Polesaw.
What makes this model so special? It has the perfect combination of convenience, power, and durability while looking good.
While it's not necessarily the most affordable pole saw, it's not expensive by any means, either. As it is a cordless model, obviously you're not going to be held back (literally) by staying plugged into the wall.
Instead, this design comes with a powerful 80V battery that allows you to work quickly and efficiently. With just one charge, you should be able to complete all the maintenance your trees need.
Lithium-ion technology will give you as much power as a gas model, while the on-board battery life indicator lets you know how much time you have left before another charge is needed.
Combine that with a brushless motor, and you'll get all the torque you need to slice and dice with ease!
The 8-foot pole means that you can stay safely planted with both feet on the ground while you prune your shrubs. Ensuring the 10" bar and chain work properly, you'll also appreciate the automatic oiler which applies oil to ensure it's long-lasting.
To make sure you always have enough, the translucent oil tank shows you when you need to refill.

---

BLACK + DECKER LPP120 Cordless Pole Saw at a Glance
:
---
Type: Cordless
Power: 20V
Blade Length: 8"
Pole Length: 5 or 10 Feet
Weight: 6.3 Pounds
Easily one of the best cordless pole saws available today, the BLACK + DECKER LPP120 20-Volt Cordless Pole Saw is a bit more budget-friendly than comparable products.
BLACK + DECKER is known for their high-quality manufacturing and durable designs, which this model exemplifies. While the 20-volt MAX Lithium-ion battery isn't as powerful as the last saw, it still provides you with plenty of cutting power..
With the ability of making up to 100 cuts through 1.5-inch pine branches with every charge, you can shave time off of your yard's maintenance to focus on other tasks.
The cordless design lets you take it just about anywhere, and you can feel confident knowing that the NiCad batteries have you covered with their 5x better charge retention.
If you have very tall trees or need to reach overhead without stretching, then you'll find the pole extremely helpful. You can use it at either 6.5 feet or 10 feet which means it can cut up to 14 feet from the ground!
Weighing just over 6 pounds, you shouldn't have any trouble controlling it, either. The 8-inch cutting bar cuts like butter through thick branches up to 6 inches around, too!
Finally, when you're done, simply disassemble the saw to pack it down into a more compact size to easily transport it or stow it away.

---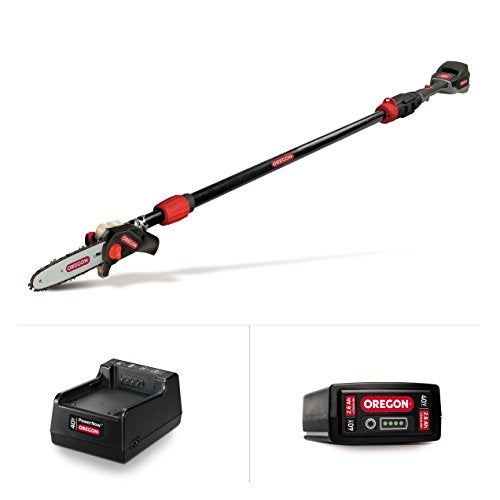 Oregon Cordless PS250-E6 Polesaw Kit at a Glance
:
---
Type: Cordless
Power: 40V, 2.4 Ah
Blade Length: 10"
Pole Length: 8 Feet
Weight: 10.8 Pounds
One of the most efficient, quick pole saws that we've had the pleasure of using, is the Oregon Cordless PS250-E6.
Capable of making up to 325 cuts on 2-3" branches, it's extremely fast and designed to cut down the time you're out there working. To aid in this, premium cell technology is built-in to ensure the level of power is always consistent and reliable.
With the ability to easily extend the length from 7 to 10 feet, the possibilities are wide open for you to easily remove limbs and trim your shrubs.
The motor is conveniently located in the middle of the design, which is perfectly placed to give you better control, balance, and a reduced elevated weight to make cutting easier for you.
The planetary gear reduction system helps ensure power is properly transmitted throughout the device, while a compact cutting head and cast aluminum branch removal hook provide smooth and quick cuts.
Despite being so powerful, this is one of the easiest cordless pole saws out there to maneuver due to its light weight, perfectly-balanced parts, and low vibration.
They've even tossed in a handy shoulder strap to keep you comfortable, with less fatigue. The instant start function will save you time, with its ability to start working the moment you decide to.

---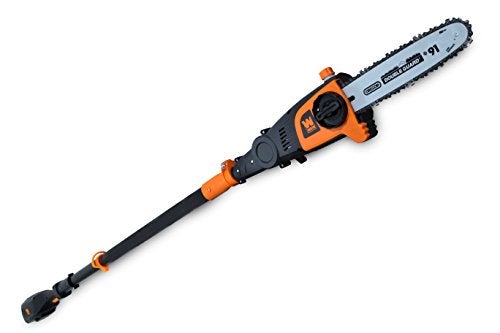 WEN 40421 Cordless Pole Saw at a Glance
:
---
Type: Cordless
Power: 40V, 2Ah
Blade Length: 10"
Pole Length: 1 to 10 Feet
Weight:

8.8

Pounds
Another one of the best battery powered pole saws out there is the WEN 40421 40V Max due to its super-fast speed and ease of maneuvering.
The model weighs just less than 8 pounds, which is half the weight that many other models on the market today!
The brushless, emission-free motor is not only healthy for the environment, but is incredibly efficient. Less moving parts means that maintenance is reduced to a minimum while extending the lifespan of your saw.
The head is able to rotate up to 30 degrees each way, which means that there's no twig or branch you can't get to.
To help reach, the telescoping pole is able to increase from 7.1 feet to 10 feet, which is similar to the BLACK + DECKER model we just covered above.
Being able to reach branches means nothing if you're not able to properly slice it. With tool-free chain tensioning, the chain's adjustments happen seamlessly to give you a crisp cut every time.
As it's completely cordless, it does come with a 40V fade-free 2Ah lithium-ion battery which will provide you with consistent strength and quiet operation.
Don't worry about carrying it, however, as it does come with a shoulder strap to reduce fatigue.
Safety is always our top priority, so needless to say the built-in safety switch was more than welcome. This is to eliminate any accidents from happening and focus completely on your yard.

---
Best Electric Pole Saws
---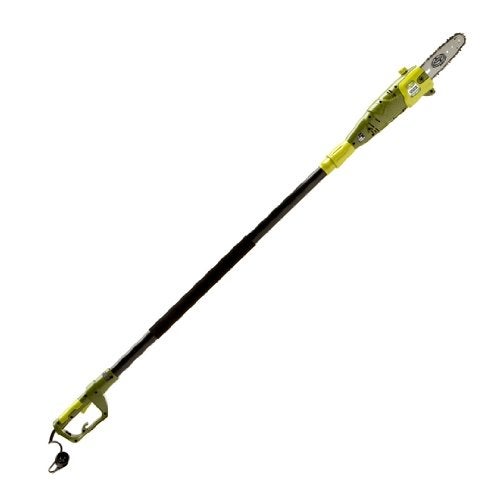 Sun Joe SWJ800E Telescoping Electric Pole Chain Saw at a Glance
:
---
Type: Electric
Power: 4.5-Amp
Blade Length: 8"
Pole Length: 7 Feet
Weight:

7.7

Pounds
Moving away from the cordless models, let's take a look at the best electric pole saw: the Sun Joe SWJ800E 8-Inch Telescoping Electric Pole Chain Saw.
It's actually surprising how low the price tag is on this model, considering how lightweight and easy to control it is. At just 7 pounds, it's without-a-doubt one of the most light designs, while still supplying a great amount of power.
With the pole able to extend to a length of 8.7 feet, it could be better, but you'll be able to reach 15 feet overhead which is more than enough for many users.
Providing an RPM of up to 6000, it's very quick and efficient, while still providing powerful 6.5-amp motor delivery able to cut branches up to almost 8-inches thick!
The 8-inch cutting bar and chain help with this quickness, and have automatic lubrication to ensure it stays in perfect shape.
Chain tension can be adjusted with little effort; simply turn a screw to change the tension! While it's not perfect, you do get the reliability that's hard to find in gas-powered models.
If you do, on the off chance happen to have any issues, the CSA-approved product does have you covered for a full 2 years!

---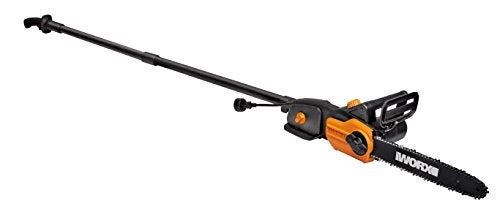 WORX WG309 2-in-1 Electric Pole Saw at a Glance
:
---
Type: Electric
Power: 8-Amp
Blade Length: 10"
Pole Length: 8 Feet
Weight: 10 Pounds
WORX is one of our favorite brands for yardwork equipment, due to their high levels of quality at an affordable price.
Their WG309 8 Amp Electric Pole Saw is a perfect example of their excellent craftsmanship, and won't empty out your wallet to provide you with the performance you deserve.
At first glance, you can probably get a good idea of how powerful this pole saw is. The innovative tool comes with an 8-foot extension pole to give you up to 10 feet of overhead reach.
A lot of products on our guide offer quite a bit more, but if you don't need it then this is still an excellent choice.
Simply remove the extension pole and you'll find that you can convert the pole saw into a tough chainsaw to tackle all kinds of home improvement jobs!
It's easy to see why this design ranks as one of the most versatile we've had the chance to use.
While it does pack quite the punch, it's still very lightweight to reduce the level of fatigue and increase the amount of control you have over the tool.
Coming with an automatic oil pump and auto-tensioning chain system, maintenance is practically unnecessary.
The build itself is long-lasting, but when you combine this kind of revolutionary technology, you can feel confident you'll have it for many years to come.

---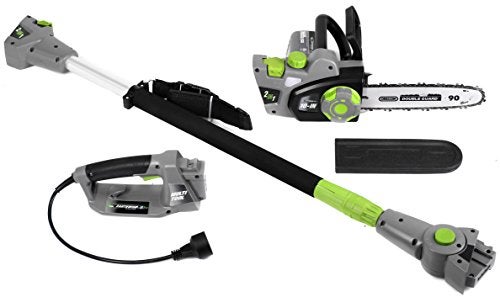 Earthwise CVPS43010 Convertible 2-in-1 at a Glance
:
---
Type: Electric
Power: 7-Amp
Blade Length: 10"
Pole Length: 8 Feet
Weight:

9.25

Pounds
Similar to the last product, the Earthwise CVPS43010 7-Amp Convertible model is incredibly versatile, with the ability to convert from a pole saw to a chainsaw in under a minute.
If you're looking for a budget product that you can use to not only trim your trees but also use to accomplish an array of household tasks, then this is it.
Just like the previous one, the overhead reach is only up to 10 feet, but again it may not be necessary for you to have more than that.
Focusing heavily on safety, this model is perfect if you're nervous about using such powerful tools for the first time.
With an adjustable pivot head, you'll receive 5 settings that let you cut anywhere from -20 to 60 degrees! Cuts are relatively crisp and clean, but I noticed it was just slightly slower at doing so than the WORX model.
However, we appreciated all kinds of extra features that made using the device a breeze. An automatic oiling system and side chain tensioning knob makes it simple to maintain the saw, and an oil level window lets you see when you need to fill up.
Coming with a 7-amp motor, it has quite a bit of strength behind it, with a 10-inch bar and chain made to handle all kinds of stubborn branches.

---
Pole Saw Comparison Table
How to Choose the Best Pole Saw (Electric & Cordless) – Buying Guide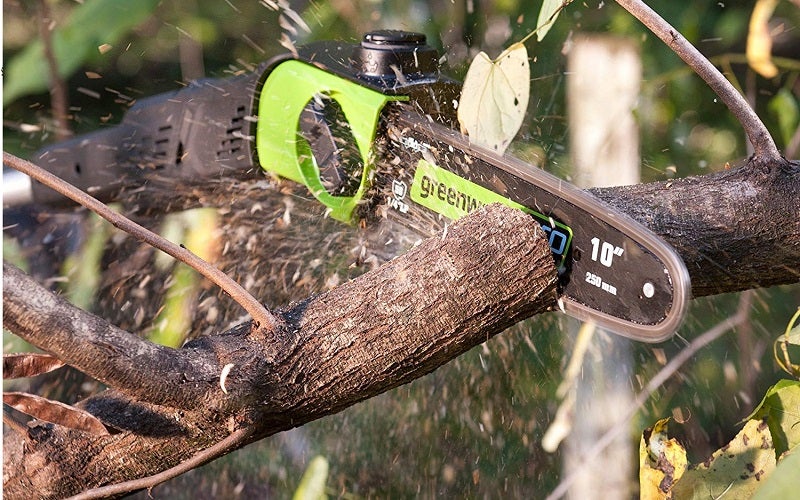 Selecting a pole saw for your yard isn't exactly the easiest thing to do. You need to think about how much experience you have, the kind of branches you'll be using it on, power, and so much more.
That's why we've decided to go ahead and write up a comprehensive buying guide for you! This guide will cover every aspect of the buying and selection process, so that by the end of it you'll have no doubt which one is the perfect product for you and your home!
Type
First, let's take a look at the two main types of pole saws that we have featured here: cordless and electric.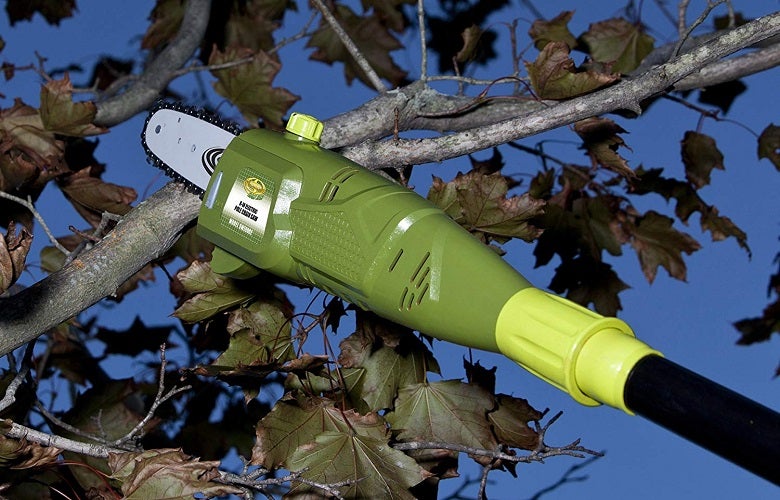 Cordless
Cordless pole saws get their energy from a rechargeable Lithium-ion battery. The power that comes with this battery will depend on the model and type of battery included, but no matter which one you get, expect anywhere from 30 minutes to an hour of runtime.
Lithium-ion batteries are considered to be the standard due to their consistent power and reliability. Due to the fact that they come cordless, you have complete control over where you take it, without being restrained. Maintenance is very low, and they're very easy to transport.
Electric
These models are also excellent choices, but aren't quite as portable as the cordless designs as they must be plugged in with a cord. You'll usually get a bit less overhead reach with these, as the bars are anywhere from 8 to 10 feet in length.
To use them, you must be within 100 feet of a source of power, but you can expect low maintenance and even more reliability than cordless counterparts. As you never need to spend money on replacement batteries, these can be excellent budget-friendly options.
Pole Length / Working Height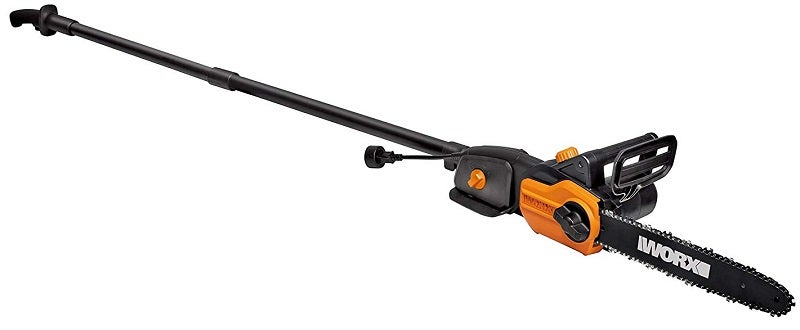 This not only places into consideration the length of the pole, but the length of the pole and your arm length. For arm length, manufacturers will usually guess 2-3 feet. That means if the extension pole is 8 feet long, you'll get around a 10-foot working height or overhead reach.
If you don't need more than that, we recommend hanging around this length. Once you go longer than that, it becomes a bit more difficult to control which can end up being a safety hazard.
Cutting Blade Length
This length determines the maximum thickness of the branches you're able to cut with your pole saw. You'll find that these come anywhere from 6 to 12 inches, with 8-inch models being the most popular.
A good way of determining the size you need is by getting a cutting bar that's at least 2 inches longer than the diameter of the branch you're cutting.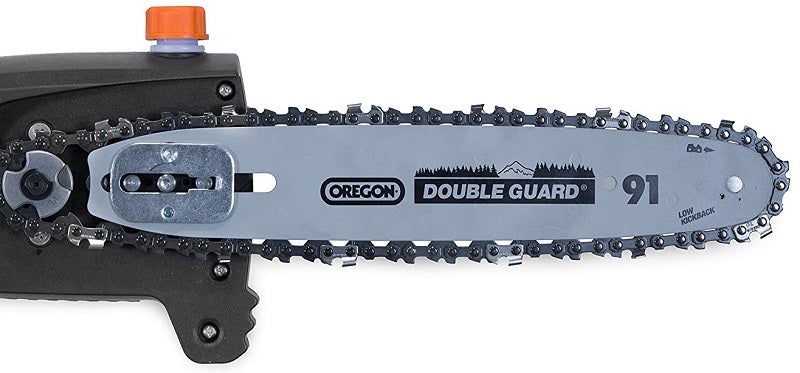 Weight
Most of the pole saws on our list are extremely lightweight, which not only reduces fatigue and lets you be more efficient, but makes the saw easier to maneuver.
The heaviest models we've seen weigh around 20 pounds, but anything from 8 to 14 is going to make the job much simpler for you. We throw in bonus points for those models which include handy shoulder straps to give you more control and less stress.
Versatility
Why not get a pole saw that can take on more tasks around your house? There are a few models on our guide which can do exactly that.
They give you the ability to remove the extension pole, converting it in just seconds to a handheld chain saw! That means that you are essentially receiving 2 products for the price of one, without sacrificing extra storage space that you probably need!
Price
How much are you willing to spend on one of the best pole saws on the market currently? It's a good idea to have a solid budget in mind before you start hunting for one. It's easy to get carried away, but not to worry – there are plenty of affordable products featured on our guide.
A higher price doesn't always equal a better experience, anyway. Focus on the features you do need, and do away with the ones that aren't really necessary or wanted.
FAQs About Pole Saws
Q: How exactly does a pole saw work?
A: A pole saw is essentially a saw attached to the end of an extension pole. You can use it for keeping your trees trimmed, as well as taller shrubs without needing to get on a ladder. This makes it safer, while allowing for more control over the process.
Q: How do I know if the chain is dull?
A: A sharp chain is going to be able to cut large-size chunks, while a dull one creates sawdust. This is why regular maintenance is so important.
Q: How often should the saw be lubricated?
A: This may not even be necessary for you to do if you just make sure to fill the oil reservoir each time you use it. There are many products that feature auto-lubricating saws.
Q: How do you know how much to tighten the tension of the chain?
A: You should try doing a snap test, by grasping the chain on the bottom of the bar, pulling down, and letting go. When you do this, the chain should immediately go back to its original position, contacting the underside of the bar rail.
Tips For Using a Pole Saw
#1: Do not try to fell branches overhead unless you know how to properly reduce weight before making the final cut. This means using preliminary and jump cut with your pole tools, otherwise this can be incredibly dangerous.
#2: Never work around power lines. This is also extremely dangerous. Not only that, but don't approach a branch with any part that's hanging over a power line.
#3: Make a plan. Don't just start hacking away at branches, as not only is this probably not going to look good, but it can be dangerous. Try to make cuts around horizontal surfaces of the branch if you can manage it.
#4: Make sure you're wearing all correct personal protective equipment before using your pole saw. This includes: a helmet, safety goggles, ear muffs, face mask/respirator, non-slip anti-vibration work gloves, steel-capped gripped boots, as well as pants that are thick and reach below your ankles.
Final Thoughts
Now that you're essentially an expert on the best pole saws, which one will you be using in your yard? No matter which one you pick, you can at least rest assured knowing that they're all some of the best products money can buy.
What's most important is that the product works best for your needs and way of working. We hope that this article has helped you do just that. Thanks for tuning in with us, and we'll see you again shortly! Happy pruning!
How We Researched
To come up with the top pole saws, we researched a variety of sources for reviews such as Home Depot, Lowes, Target and AcmeTools along with our own personal experience.
We also consulted online magazines for product research and reviews to get as much unbiased information as we could. To help weed out fake reviews we used Fakespot.com to make sure we only looked at genuine reviews.
With so much quality gear available, we had to narrow it down based on what we felt were the best options were for the price. The staff authors have a wide and varied background in yard maintenance and home repairs.
The authors have decades of experience and are eager to share their knowledge with readers.
To help narrow down the selection we used personal experiences along with recommendations from landscapers, bloggers and contractors.
After extensive research, we came up with our list to help you choose the right one for you.
Sources
Notice:
OutsidePursuits.com is a participant in the Amazon Services LLC Associates Program, an affiliate advertising program. OutsidePursuits.com earns fees from products sold through qualifying purchases by linking to Amazon.com. Amazon offers a commission on products sold through their affiliate links.