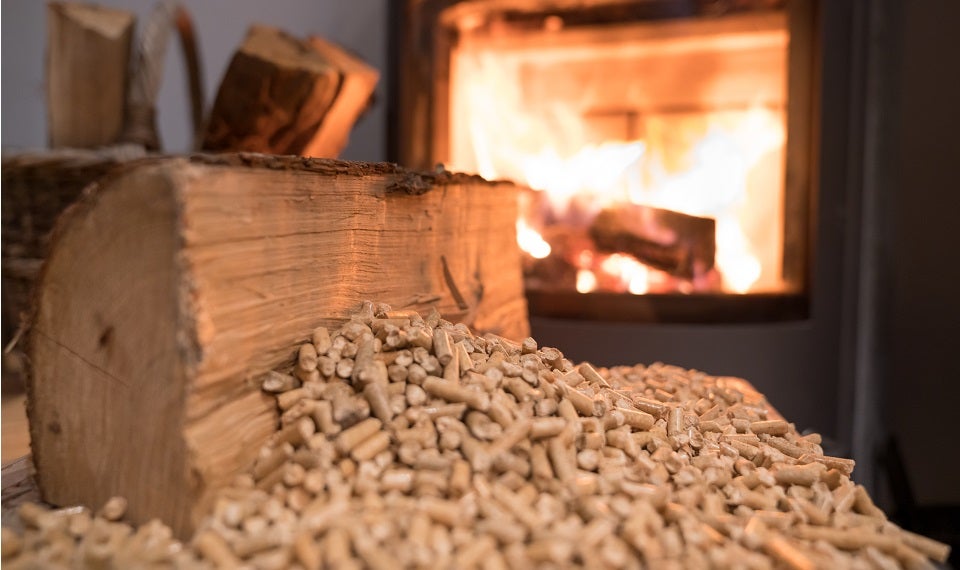 Our Editors independently research, test, and rate what we feel are the best products. We use affiliate links and may receive a small commission on purchases.
Heating your home is becoming more and more expensive every year. Pellet stoves provide a low-cost solution to this problem that is environmentally friendly.
Pellet stoves resemble traditional wood stoves, but they operate in a very different way. They burn pellets made from 100% sustainable sources. Recycled wood and sawdust are typical components of pellets.
Pellet stoves are not only the most efficient solid-fuel-burning heating appliances but they also produce the lowest emissions. This is not a marketing trick. It is a scientifically proven fact promoted by the U.S. Department of Energy!
Best Pellet Stoves
For more of my sustainable living recommendations, have a look through these popular Outside Pursuits guide links: Solar Panels, Wind Turbines, and Solar Ovens.
Quick Answer: The 5 Best Rated Pellet Stoves For 2021
Our reviews of the top-rated pellet stoves with our comparison table and buyers guide will help you choose the right stove for you.
---
Pellet Stove Product Reviews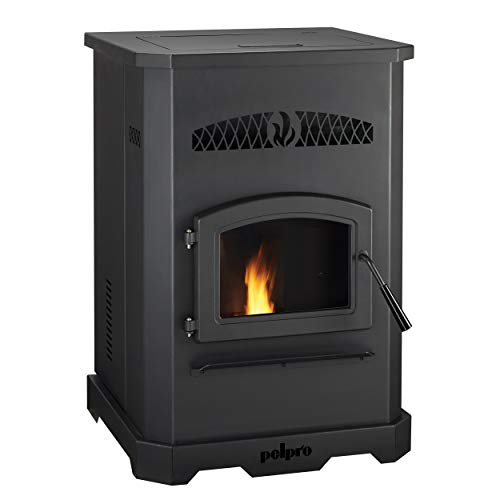 PelPro Pellet Stove PP130-B at a Glance:
---
Room Heating Size: 2,500 square feet
BTU's: 40,600
Burn Time: 96 hours
Hopper Size: 130 lbs
The PelPro Pellet Stove PP130-B is the clear winner when compared with similar pellet stoves currently on the market.
Not only does this stove boast superior features to all the other models, but it is also comparable in price. That's incredible value for money!
Its efficient design enables this pellet stove to heat rooms of up to 2,500 square feet in size. And its huge hopper leaves all other hoppers in the dust with an amazing 130 lbs capacity providing continuous heat for up to 96 hours without a refill.
This pellet stove also features easy-to-use controls. It offers an automatic ignition system and an intuitive dial thermostat.
The PelPro Pellet Stove PP130-B is EPA Certified. It is so safe that it is approved for use in a mobile home with the included fresh air intake.
It boasts the Best in Class fuel economy at 87.5%. With this pellet stove, you know you're heating your home in the most energy-efficient way possible.
If the above features are not enough to convince you that this is the best pellet stove on the market, check out the astounding 5-year coverage on the Firebox. There is also a 1-year cover on the electrical components.
The only real reason you might not want to choose the PelPro Pellet Stove PP130-B for your home is if you live in a small home where it would be too large and produce too much heat.
Measuring 22.8″ x 24.5″ x 36.5″ and weighing 243 lbs, it is not the most compact or the lightest pellet stove you can buy.
However, for the majority of homeowners, the PelPro Pellet Stove PP130-B is the best pellet stove you can buy today.

---
Castle Pellet Stoves Serenity 12327 at a Glance:
---
Room Heating Size: 1,500 square feet
BTU's: 31,960
Burn Time: 12 – 24 hours
Hopper Size: 40 lbs
The Castle Pellet Stoves Serenity is a good option for homeowners who enjoy an easy life. It is designed with no hidden chambers, corrugations, or tubes for an easy cleaning experience.
Its Smart Controller enables you to set weekly schedules for keeping your home warm exactly when you want. Or, if you prefer, you can opt to use the thermostat to control the stove.
You can even operate this pellet stove manually setting it to run on one of its 5 preset burn levels.
Despite all these features, the Castle Pellet Stoves Serenity is astonishingly affordable when compared to comparable models. It offers fantastic value for money in both the initial outlay and ongoing efficiency.
You'll be happy to discover that the flames visible through the translucent viewing window produce far more heat than a standard electric heater and for a lower cost. Its 31,960 BTU rating provides enough warmth to heat a home up to 1,500 square feet in size.
This pellet stove is stylish and compact. At 186 lbs, it is far lighter than comparable models. And it measures only 23.75″ x 34″ x 18.25″. Not only is it EPA Certified, but its innovative design has been approved for use in RVs.
If you're searching for a stylish, efficient, easy-to-use, and affordable pellet stove for a smaller home, you will find it in the Castle Pellet Stoves Serenity.

---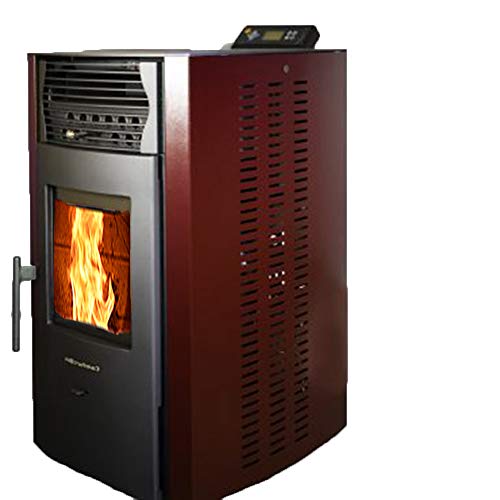 Comfortbilt HP50 Pellet Stove at a Glance:
---
Room Heating Size: 2,200 square feet
BTU's: 42,000
Burn Time: 18.8 hours
Hopper Size: 47 lbs
Homeowners who want to heat a larger area will appreciate the efficiency of the Comfortbilt HP50 Pellet Stove.
The powerful blower combined with a programmable auto-ignition will rapidly heat your room whenever you want.
This stylish European design delivers an enviable 86% burn efficiency. What's more, it's EPA Certified, ensuring your safety.
The user-friendly programmable thermostat is a popular feature enabling you to keep full control of this pellet stove. There are also 5 power settings, so you can keep your home just as warm as you want it and no more.
Like all pellet stoves, the Comfortbilt HP50 Pellet Stove occasionally requires cleaning. However, the built-in ash pan is a popular feature that makes this task much easier than you might expect.
You can sleep soundly knowing that your pellet stove is covered by a 1-year parts warranty. Technical assistance is also available should you need it.
However, this is not a dinky pellet stove. With dimensions of 21″ x 37″ x 27″, it is more suitable for larger rooms. Its generous 47 lbs hopper enables you to run it continuously for up to 18.8 hours without adding any more pellets.

---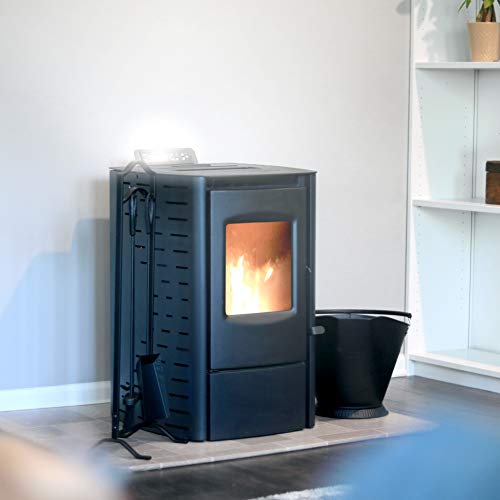 Cleveland Iron Works PS20W-CIW Pellet Stove at a Glance:
---
Room Heating Size: 800 square feet
BTU's: 25,000
Burn Time: 6.8 – 16.5 hours
Hopper Size: 20 lbs
The Cleveland Iron Works PS20W-CIW Pellet Stove is the most affordable pellet stove we have reviewed. It offers astounding value for money!
If you like to be in control of the situation, you'll love this pellet stove. It comes with a handy remote control but can also be controlled by your smartphone using Smart Home Technology.
Imagine you're on your way home on a cold winter's night. You click a button on your phone, and your stove begins heating your room so that you receive a warm welcome.
This stove is ideal for smaller homes. It has a surprisingly small footprint, just 20″ x 18″, so it can squeeze into tight spaces.
The 20 lbs hopper holds enough pellets to economically and rapidly warm a room up to 800 square feet in size for up to 16.5 hours.
As you would expect from an ironworks, the Cleveland Iron Works PS20W-CIW Pellet Stove boasts a solid steel and cast iron casing.
This pellet stove is EPA certified, so you can rest assured that it's safe to use and will provide you with many years of hassle-free operation.
The Cleveland Iron Works PS20W-CIW Pellet Stove is an excellent investment for heating smaller homes economically and efficiently. It is a great way to reduce your carbon footprint.

---
Langger Serenity Wood Pellet Stove at a Glance:
---
Room Heating Size: 431-646 square feet
BTU's: 15,000
Burn Time: 8.3 – 16.6 hours
Hopper Size: 22 lbs
The Langger Serenity Wood Pellet Stove is ideal for smaller rooms in warmer climes. It is capable of holding off the chill on cold winter's evenings without overheating your room.
The four-level smart heating control enables you to generate just the right amount of heat to warm a smaller area. When it gets colder, you can ramp up the heat. But when it's not so hot, you won't needlessly waste fuel.
This pellet stove is fully automatic. It boasts an auto-ignition system and simple-to-use electronic controls. With a compact body that measures just 17″ x 29.5″ x 19″, it will fit into smaller fireplace settings.
The casing is made from cast-iron and steel with an attractive black finish. The top-loading hopper holds up to 22 lbs of pellets that can heat your room continuously for up to 16.6 hours.
The ergonomically designed exhaust pipe makes cleaning a doddle. If you want to take a positive step toward sustainable living, this pellet stove is a good choice.
---
Pellet Stoves Comparison Table
---
How to Choose the Best Pellet Stove – Buying Guide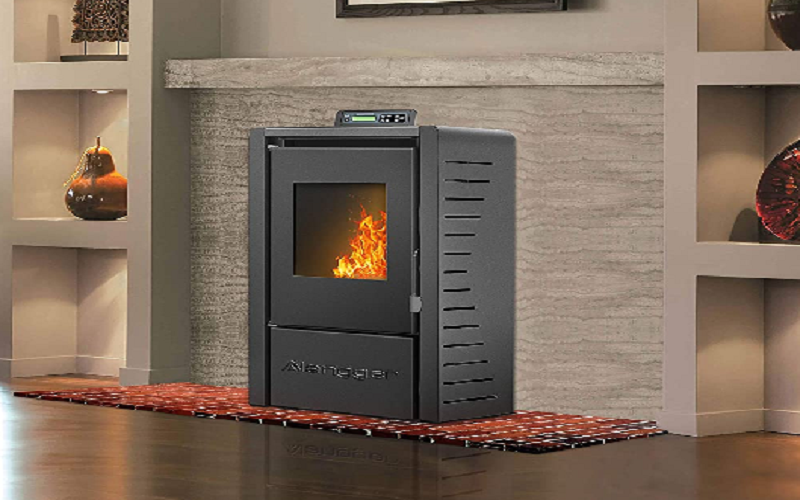 Now that you've read all about the 5 top-rated pellet stoves, you may have a good idea which one is best for you. However, if you're still deliberating over your options, the following buying guide is designed to provide all the information you require to make an informed choice.
What is a Pellet Stove?
Pellet stoves resemble traditional stoves and can be fitted into a fireplace in the same way. However, they store compressed wood pellets in a container called a hopper. These pellets are fed into the stove by an automatic feed system.
Many pellet stoves feature controls that enable them to adjust the rate at which the pellets burn. A fast burn produces more heat but consumes the pellets quicker. A slow burn produces less heat but the pellet supply lasts longer.
Thermostat
Some pellet stoves are regulated by a built-in thermostat that enables them to maintain a preset room temperature. This is a huge advantage over traditional wood stoves and ensures maximum fuel efficiency. Other pellet stoves feature a series of fixed burn rates.
Hopper
The hopper is a container where the pellets are stored prior to burning. This container can vary in capacity from as small as 20 lbs to as large as 130 lbs. The larger the hopper, the longer the potential burn time of the stove. The amount of time a pellet stove can operate on one hopper full of pellets is known as its burn time.
Heating Capacity
The heat that a stove can generate within one hour (Heating Capacity) is expressed using an interesting measure called the British Thermal Unit (BTU). When comparing stoves or heaters of any kind, the BTU is a useful statistic.
The higher a stove's BTU, the larger the room or home it can heat effectively. An easier measure to understand is a stove's Room Heating Size, which aids you in choosing an appropriate pellet stove for a specific room or building.
Power supply
Pellet stoves contain a fan or blower that helps to distribute the heat efficiently around your home. This is powered by an electric motor, so your pellet stove must be installed near a 110V outlet.
Advanced models also use thermostats and other electronic controls, such as electronic ignition systems. Some pellet stoves utilize a rechargeable battery backup in case of electricity supply problems.
How to Choose the Right Pellet Stove for your Home
Now that you know a little about how pellet stoves work, you need to consider what features are important to you when you choose the ideal model for your home.
Heat Requirement
You must consider the size of the room, or property, where you plan to install your pellet stove. The larger the room, the higher the BTU (or maximum room size) you must choose.
You may be tempted to buy the pellet stove with the highest BTU. However, stop and think for a moment. If the stove's BTU is too high, it may make the room uncomfortably warm.
A pellet stove with a higher than required BTU is also inefficient. You'll be burning more pellets than you need to heat your home. The ideal pellet stove for you is one that offers a heat capacity matching the size of your room.
Physical Size
If you are installing your pellet stove into an existing fireplace, its physical dimensions are important. You must ensure that the stove will actually fit into the available space.
The location of your stove affects how well it will heat your room or home. If it is badly positioned, much of the heat may be lost. Ideally, it should be fitted where you most need the heat.
Safety
Any device that burns inflammable objects to produce heat is potentially dangerous. If fitted badly, or poorly designed, a stove could potentially emit toxic fumes.
Ensure that you choose a product certified by the EPA (Environmental Protection Agency). To be extra safe, choose a pellet stove manufactured by a reputable company with years of experience.
Watch out for pellet stoves that offer a warranty and a good level of customer support. Some homeowners install a carbon monoxide detector in the proximity of their stove.
Budget
You must only choose a stove that is within your budget. Sadly, the better-made pellet stoves can be expensive. However, make wise choices.
A pellet stove is a long term investment. If you choose a cheap pellet stove that burns the pellets inefficiently, you may end up worse off financially in the long run.
Choose the most efficient pellet stove that you can afford. Reputable manufacturers will provide their efficiency rating in their product specifications.
For example, the PelPro Pellet Stove boasts a high fuel efficiency of 87.5%. That means that this pellet stove will produce more heat from the pellets than others, making a 40 lbs bag of pellets last longer and saving you money.
Go Green
Finally, don't forget the environmental benefits in your calculations. The more efficient the model you choose, the better it is for the environment.
Pellet stoves produce sustainable energy and produce relatively low emissions. Sometimes it's worth spending a little more when you know you're reducing your carbon footprint.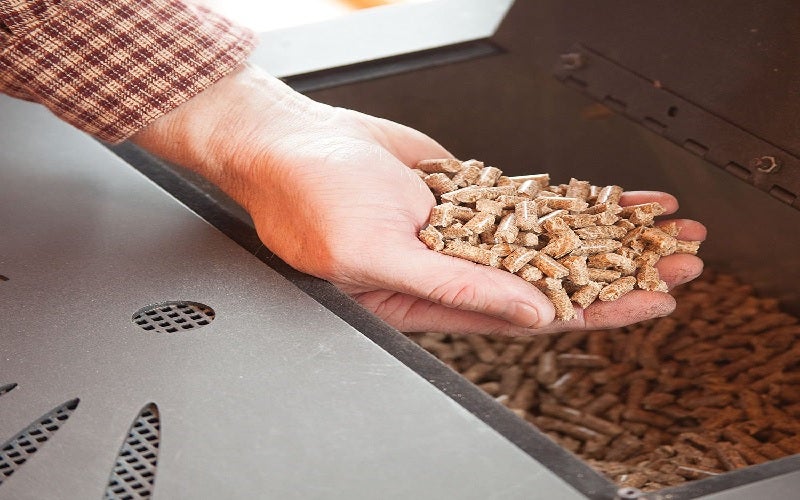 FAQs About Pellet Stoves
Q: Are pellet stoves better than wood-burning stoves?
A: Pellet stoves are more efficient than wood-burning stoves. They burn less fuel to produce the required amount of heat.
They are more environmentally friendly because they produce fewer emissions and burn recycled wood.
They are also designed to continue working for a relatively long period of time without interference. While you must continually feed wood into a wood-burning stove, you can set the controls on your pellet stove and leave it to do the work.
On the negative side, you can only burn pellets in a pellet stove.
This means that you cannot dispose of flammable items, such as sensitive mail, inside your stove. You also cannot make use of any wood you can gather or chop from your yard.
Q:
How long will a 40 lb bag of wood
pellets
burn?
A: This depends upon the efficiency of the pellet stove and the heat setting that is selected. Many pellet stoves can be set to provide a specific heat output. The more heat produced, the faster the pellets will burn.
The super-efficient PelPro Pellet Stove PP130-B consumes 40 lbs of pellets in 29.5 hours on average. In comparison, the Castle Pellet Stoves Serenity burns 40 lbs of pellets in 12 hours on its highest heat setting or in 24 hours on its lowest heat setting.
Q: Are pellet stoves cost-efficient?
A: Yes, for 2 reasons. Because they burn inexpensive pellets produced using recycled wood, and because they burn the pellets in an efficient manner.
For example, the PelPro Pellet Stove PP130-B features a fuel economy of 87.5%. It is certified as best in its class by the EPA.
Q: Is it safe to run a pellet stove all night?
A: Yes. Pellet stoves are designed to fend for themselves, with thermostatic controls and timers. You can leave the PelPro Pellet Stove PP130-B running continuously for up to 4 days without touching it.
Q: Can you use a pellet stove without electricity?
A: No. Their electronic components and fan motors are powered by electricity. Some models are fitted with a rechargeable, backup battery, but these still require a power outlet to charge.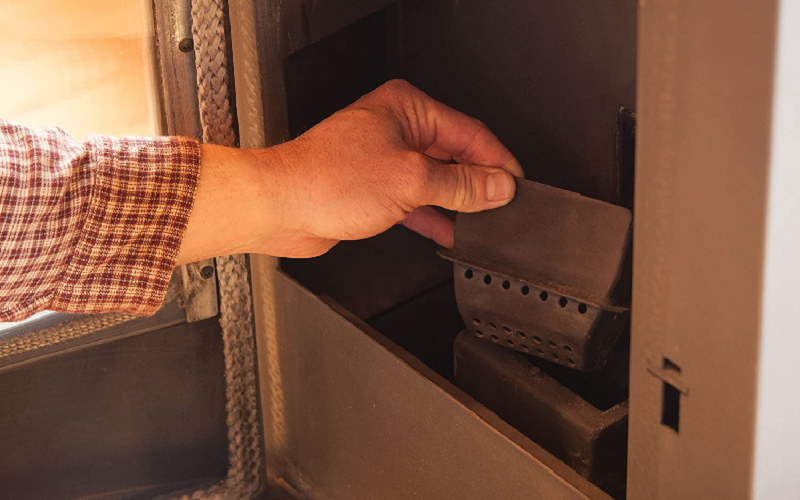 Tips For Choosing Pellet Stoves
#1: Choose the right size of pellet stove for your room
Don't be tempted to buy the largest possible pellet stove just because it produces more heat.
If a pellet stove with a large heat capacity is fitted into a small room, it may make that room uncomfortably hot. This will also result in energy inefficiency as more fuel will be burned than is necessary to heat the space.
#2: Think about the capacity of your hopper
If you live in a warmer area and will only use your pellet stove infrequently, the hopper size is unimportant. However, if you live in the far north or in the mountains, you will appreciate the benefits of a larger hopper.
A large hopper combined with an efficient pellet stove will enable you to sit back and enjoy continuous heat over several days without needing to tend the stove. A small hopper in a cold area will require regular top-ups and keep you on your toes.
#3: Consider the level of maintenance required
All pellet stoves require regular cleaning and maintenance for continued safe and efficient operation. However, different models require different amounts of cleaning and maintenance. Some bottom-fed models require the ash cleaning out weekly.
Check products for easy clean options. For example, the PelPro Pellet Stove PP130-B features a self-emptying fire pot that increases the time between cleanings, and the interior of the Castle Pellet Stoves Serenity was designed with a special focus on easy cleaning.
If you have never needed to clean a pellet stove, watch this informative instructional video about how to clean a pellet stove that is not equipped with labor-saving features.
DIY - How to clean your Pellet Stove
Summary
Whether you're looking to heat your vacation cabin, your family home, or even a mobile home, there is an ideal pellet stove for you.
The fuel efficiency and low emissions of a pellet stove make it a wise choice for any individual concerned about the environment. The right pellet stove will also save you money over the long term.
Don't rush in and buy the wrong stove. Choose wisely and benefit from the most efficient form of heating for modern homes.
I hope that this guide helped you to choose the right pellet stove for your home. If you have any experience with pellet stoves, or you have any questions, don't hesitate to leave a comment below.
How We Researched
To come up with the top pellet stoves, we researched a variety of sources for reviews such as Home Depot, Lowes, Target and Wayfair along with our own personal experience.
We also consulted online magazines for product research and reviews to get as much unbiased information as we could. To help weed out fake reviews we used Fakespot.com to make sure we only looked at genuine reviews.
With so much quality gear available, we had to narrow it down based on what we felt were the best options were for the price. The staff authors have a wide and varied background in yard design gardening and home repairs.
The authors have decades of experience and are eager to share their knowledge with readers.
To help narrow down the selection we used personal experiences along with recommendations from gardening enthusiasts, bloggers and contractors.
After extensive research, we came up with our list to help you choose the right one for you.
Sources
---
Notice:
OutsidePursuits.com is a participant in the Amazon Services LLC Associates Program, an affiliate advertising program. OutsidePursuits.com earns fees from products sold through qualifying purchases by linking to Amazon.com. Amazon offers a commission on products sold through their affiliate links.