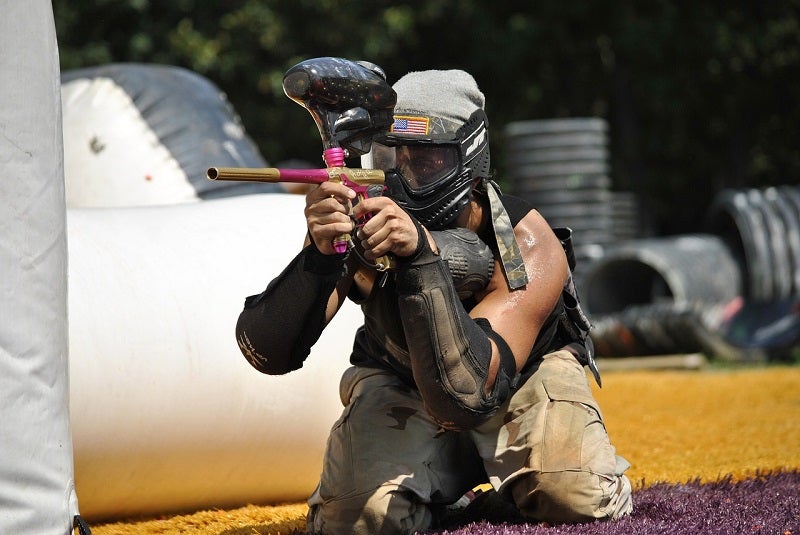 If your tired of renting equipment every weekend and decided to get your own, you probably know a quality paintball gun can be an expensive investment.
That's where I am going to help you out.
In this review, I'm going to tell you about five paintball guns. We'll cover their key features and discuss a few pros and cons.
Then we'll talk about what kind of qualities you should look for in a paintball gun (or, as they're referred to in industry jargon: markers).
For more of my top gear recommendations, have a look through these popular Outside Pursuits guide links: Paintball Masks, How to Play Paintball, Tips to Improve Your Game.
Quick Answer: The 7 Best Paintball Guns For 2018

Here is a feature overview of my top 3 overall picks. Our guide and comparison table of the top rated paintball guns will help you choose the right one for you.
Best Paintball Guns
| | Empire Axe Paintball Marker | Proto Rize MaXXed Paintball Gun Package | Tippmann TPX Paintball Pistol Starter Pack |
| --- | --- | --- | --- |
| | | | |
| | | | |
| Weight: | 3.2 lbs | 3.1 lbs | 13 ounces |
| Features: | Proprietary Slipstream Solenoid Allows For Fast Firing | The durable Rail solenoid provides consistent air flow with a 40 milliseconds dwell | Under-barrel picatinny rail and external velocity adjuster |
| Best For: | Outdoor use for long range and fast firing | Outdoor use for long range and fast firing | Indoor use for short range or as a backup |
| | | | |
Paintball Gun Reviews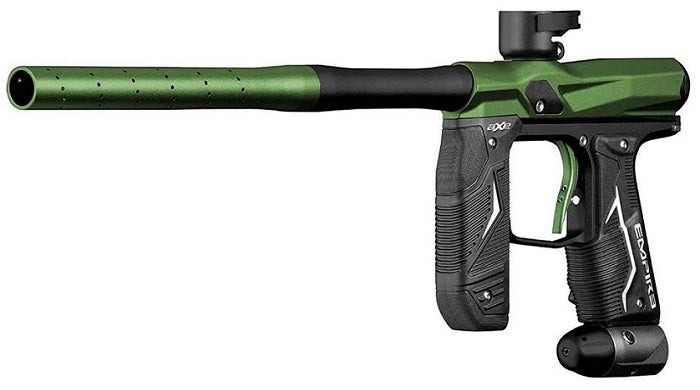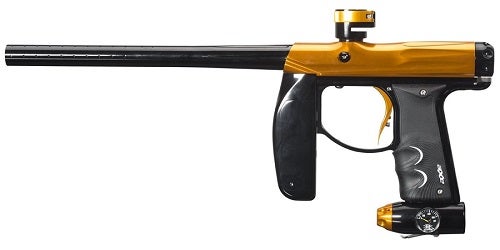 The Empire Axe is an electro-pneumatic paintball gun with multiple firing modes: semi, PSP ramping, NXL, and millennium ramping. A well-rounded gun, it's highly accurate and very well regulated in terms of pressure per shot.
It has anti-chop technology—it won't break paint balls inside the gun—which means you can shoot more fragile paintballs at your opponents.
This gun is light and easy to hold—good news during those long games where endurance becomes a factor. Paintballers love its reliability; this gun won't malfunction during the middle of a match.
Video: Overview of the Empire Axe Paintball Gun.
Similarly, they can work without issue for quite a long time, especially if properly cared for.
Do yourself a favor: make this gun last by cleaning it after every use.
Pros
Super reliable, accurate
Anti-chop technology
Cons
Expensive—probably too much for someone who isn't at least somewhat experienced
Of course, such quality doesn't exactly come cheap. This is, by a sizeable margin, the most expensive gun in this review. However, considering that some high-end paintball guns can cost thousands of dollars, the Empire Axe is the best paintball gun for the money.
---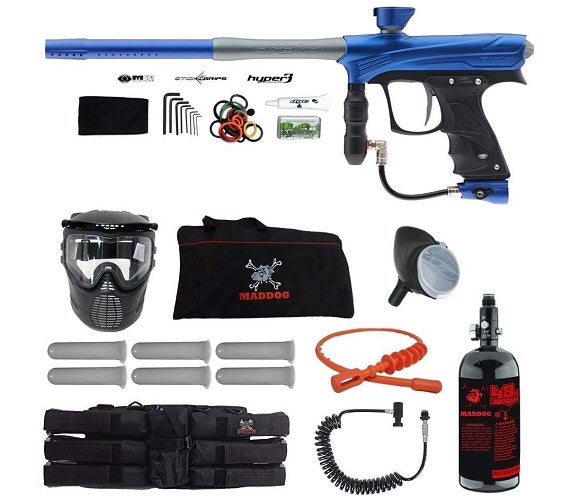 The makers of this gun are best known for making high-end paintball equipment that caters to advanced players. You might think it's surprising, then, that you can find this gun for relatively cheap, but that seems to be the whole idea.
The Rize is described as a "tournament quality marker at entry level price." Indeed, it outperforms most guns in its price range. But not only are you getting the gun but a complete package of the gun, mask, CO2 and ammo loader, everything could need to get out there today!
Like the Axe, the Rize is an electro-pneumatic shooter. It comes with the Hype Three regulator, as do all Dye guns. It can shoot up to 18 balls per second with decent accuracy.
One drawback to this gun, however, is that it tends to use up more CO2 than other models, meaning you might have to play with a bigger tank than you normally would want to.
Pros
Cool design
Complete package for less than $450
Well regulated shots
Lightweight
Cons
One of the things everyone seems to appreciate about this marker is its form (it almost looks like alien technology). The Rail has an 11-inch barrel and comes in an array of colors.
It just looks cool and weighs in at only two pounds. I would say Proto Rize MaXXed is the best paintball gun under $500.
---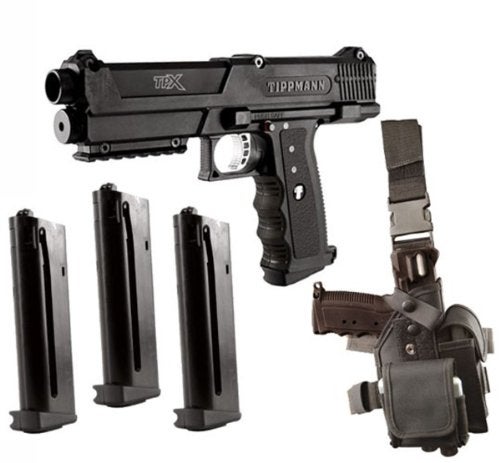 Imagine:
You're firing at enemies as you run through the trees. They're gaining on you. Suddenly, you hear the fateful sound of your gun running out of ammo.
Thinking you're done for, your adversaries calmly approach.
What do you do?
Well, if you're well prepared, you pull out your Tippmann and mention something cool about not counting chickens before they're hatched: right before you pull the trigger.
Unlike the other guns in this review, the Tippmann TPX Pistol is fed by magazines containing seven balls each. Unfortunately, that's not a lot of balls per magazine, which is why this gun isn't really used as a primary weapon during game play.
Video: Feature overview of the TiPX paintball pistol.
There are, however, larger magazines available. This starter pack comes with three spring-loaded magazines.
The pistol shoots by using compressed CO2, which is attached in a 12-gram tank to the marker underneath the barrel.
Again, this isn't meant to be a primary weapon; a 12-gram tank won't last very long (typically two to three rounds), so you might have to carry spares.
A piece of good news: the cartridges are easily removed for changing convenience.
Pros
Small, lightweight
Easy to carry second gun
Accurate, despite being a pistol
Cons
Small magazine capacity
Short range
Overall, the Tippman TPX Pistol is accurate, light, and convenient in a pinch. I'd definitely recommend grabbing one—if you can deal with the pricetag, that is. They're not exactly cheap but it may be the best paintball pistol.
---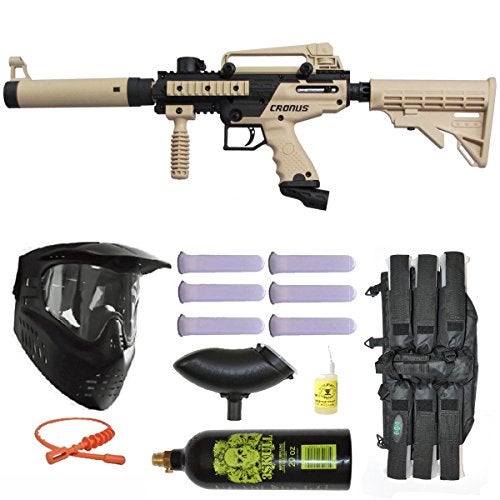 These guns can be found at Wal-Mart, but don't think that means they aren't high quality. The Cronus is a good gun for beginners, or possibly intermediate players who are feeling a little frugal at the moment.
The Cronus is modeled after the Tippmann 98, one of the most commonly used markers in the game. It's basic, easy to disassemble and maintain, and doesn't break easily—they can last up to a decade!
Another cool thing about this gun is that despite its low price, it is highly customizable.
Video: Overview of the Tippman Cronus Paintball Marker.
Some people report that this gun jams from time to time. If that happens, it usually means you aren't cleaning it often enough, so do some maintenance after your next game!
Pros
Great price
Accurate
Durable
Customizable
Cons
Another thing to watch out for is that this starter kit comes with a CO2 cartridge, whereas many playing fields will only use compressed air.
You may want to look into buying an air tank if you're going to be playing a lot with this gun. The Cronus is probably best paintball gun for beginners being it comes with everything you need to get started.
---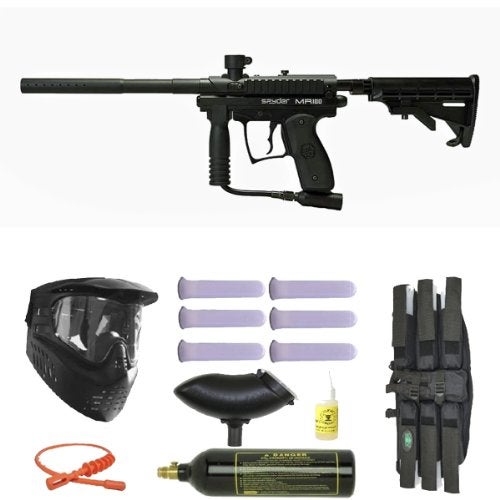 This set is a pretty great bang for one's buck. It comes with a marker, mask, hopper, 20 ounce CO2 tank, harness, tubes, oil and a squeegee—just about everything you might need for a day of paintball.
The gun itself is pretty similar to the Cronus, reviewed immediately beforehand. It's a beginner's model that's largely been received positively by users.
It's recommended for woodsball due to its low cost and easy maintenance. Also similar to the Cronus, this gun is fairly easily customized for a basic paintball gun.
Video: Overview of the Spyder MR100 Paintball Gun.
One negative thing people point out about this gun is its inaccuracy. Again, this isn't a top of the line gun; it's really best for inexperienced players. More advanced ballers would likely get frustrated with it.
The Mega Kit itself is actually a great deal, it provides some significant savings compared with the cost of purchasing everything separately. If you're just starting out (or know someone who is), you might want to look into something like this.
Pros
Inexpensive
Durable
Comes with plenty of accessories and necessities
High value for its cost
Cons
Get what you pay for: nothing especially great about this gear besides its price.
It's a great way to quickly get your hands on everything you need to play paintball and is the best paintball gun under $150.
---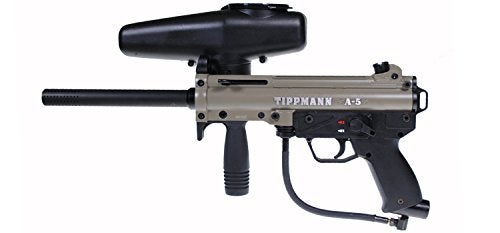 Looking for some high volume fire power? Well the Tippman A5 has it! Shoot 15 balls per second with this beast. The A5 has five firing modes from semi automatic to auto with the 15 rounds per second.
Weighing under 5 pounds it's perfect for carrying around all day overpowering your opponents and with the included hopper you have plenty of ammo on hand.
The A5 is not the most accurate marker on the market but it's pretty respectable with its 8.5" barrel. Tippman offset the hopper allowing you to see your target in your sights and has an easy to use, intuitive safety so you don't accidentally fire off rounds.
Pros
High rate of fire
Easy to field strip
Good quality for the money
Inexpensive
Cons
Not the most accurate marker out there
Its been designed for ease of cleaning and can be field stripped in less than a minute with a bit of practice. While the A5 is probably not for really experienced paintaballers it's the perfect marker for the beginner/intermediate player who wants the best paintball gun under $200!
---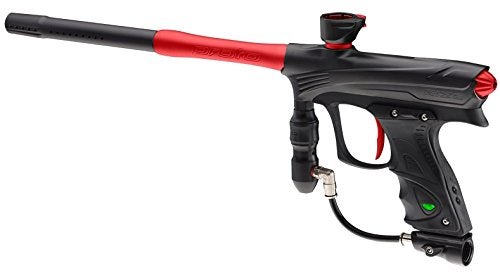 The Dye Rize Maxxed is for more experienced paintballers who don't mind spending a little more for a quality marker.
Is there anything worse than your gun jamming in the heat of battle? Well Dye has created a self cleaning mechanism that is among the best out there to keep you firing reliably.
If you are looking for accuracy, the Proto Rize has you covered with a 14" barrel for unmatched accuracy and with aluminum construction is lightweight for all day use.
Dye has made the grips on the marker with a "sticky" grip for good grip even in hot summer conditions when your sweating.
Pros
Resists jamming better than most any marker
High quality for the money
Good accuracy with the 14″ barrel
Lightweight aluminum
Cons
Unlike some of the other markers on our list, it comes with just the basics so you will need to buy a hopper and other accessories. For about $350, it's hard to go wrong with this marker!
---
Paintball Gun Comparison Table
| Paintball Gun | | Weight | Includes | Best For | Rating |
| --- | --- | --- | --- | --- | --- |
| Empire Axe Paintball Marker | | 3.2 pounds | Gun Only | Intermediate/Advanced | 4.5 / 5.0 |
| Proto Rize MaXXed HPA Paintball Gun Package | | 3.1 pounds | Gun, Mask, 200 Round Loader, 20 Oz. HPA Tank & Case | Beginner/Intermediate | 5.0 / 5.0 |
| Tippmann TPX Paintball Pistol Starter Pack | | 1 pound | Holster, 3 magazines & maintenance kit | Beginner | 4.2 / 5.0 |
| Tippmann Cronus Paintball Marker Gun | | 4.0 pounds | Gun, Mask, 200 Round Loader, 20oz CO2 tank | Beginner | 4.1 / 5.0 |
| Sypder MR100 Pro Paintballer Mega Set | | 4.2 pounds | Gun, Mask, 200 Round Loader, 20 Oz. CO2 tank | Beginner | 4.0 / 5.0 |
| Tippmann A5 Paintball Gun | | 4.1 pounds | Gun, 200 Round Loader | Beginner | 4.4 / 5.0 |
| Dye Proto Rize MaXXed | | 3.0 pounds | Gun Only | Intermediate | 4.3 / 5.0 |
How to Choose the Best Paintball Gun For You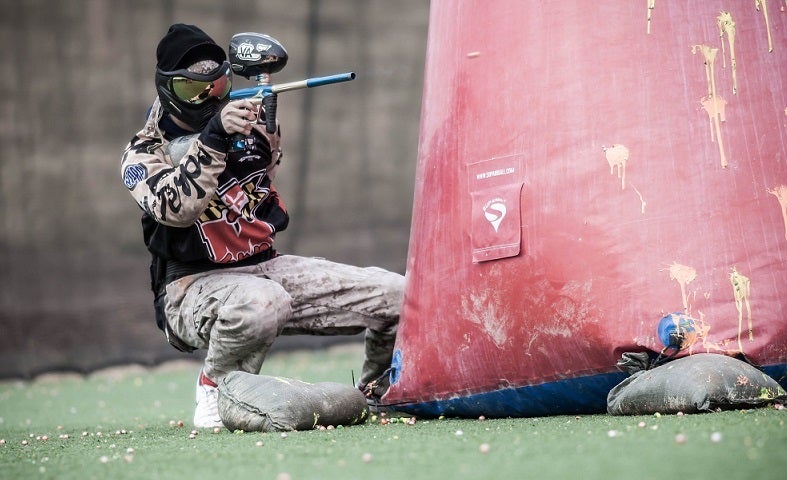 Types of Paintball Guns
Pump
When paintball first started the only type of gun was a "pump" or manual. They require you to work bolt for each shot and as a result have a low rate of fire BUT they are also accurate and reliable.
They are not that popular anymore because of the low rate of fire but still can be found among paintballers who appreciate their advantages.
They are especially popular among snipers. Here is a quick overview of the trigger mechanisms with a more in depth description below.
Mechanical
These are the most popular paintball guns on the playing field for several reasons. They are semi-automatic, so that they fire with every trigger pull. They are also pretty inexpensive and easy to maintain and clean.
They use compressed gas to fire, either air or CO2. The gas is stored in a bottle that is usually attached to the gun and the gas fires the paintball downrange.
They are called mechanical because when you pull the trigger it releases a hammer that is under pressure which hits a valve to open it and releasing the gas pushing out the paintball.
Electric
Technology has progressed with paintball guns and now they have become electric. These paintball guns are more expensive as compared to mechanical but do offer some major advantages.
Instead of mechanical hammer opening a valve we have a solenoid that is opened electrically. Most of these guns use a standard 9-volt battery for compatibility.
They have a high rate of fire and some of the newest ones have the military style "3 round burst" and a fully auto option. They have very few moving parts and are easy to clean and little to break. If you are a serious paintballer this is probably the best option for you.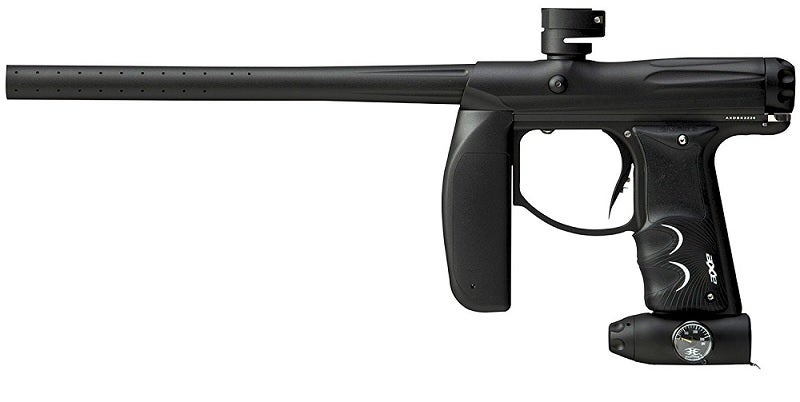 Barrels
An important consideration for your marker is what type of barrel you have. Many guns have replaceable barrels so if you want to upgrade you can.
Stainless Steel – It offers the advantages of being stronger than other barrel materials and does not corrode or rust. Its disadvantage is it is heavier than aluminum and ceramic.
Aluminum – The most common type of barrel because it is light in weight and inexpensive. Its main downside is they bend easier than some of the other materials used.
Ceramic – A very lightweight material and is consider "self cleaning" meaning if a paintball breaks in the barrel you wont have to "squeegee" it out and clean it. A major advantage on the playing field!
Titanium – One of the most durable materials you can find but also one of the most expensive. It is very lightweight and tough! They don't corrode or rust and easy to clean.
Carbon Fiber – Becoming more popular but still expensive. Carbon fiber offers lightweight and ease of cleaning. Some paintballers consider it to be the best material for a barrel. If you are a serious player, it may be your best option.

Considerations for a Paintball Marker
How often you play – This is probably your overall most important question for a marker. If your just playing with your buddies in the park or backyard, pretty much any marker will do.
However, if you plan on being a competitive player, then you need to invest in some better equipment. Higher end guns cost up into the hundres of dollars but if you plan on taking it seriously, it will be worth it
Warranty – If your buying a cheap gun that is effectively "disposable" if it breaks, the warranty is proably not that important to you. Most guns come with a one year warranty.
If however you are spending hundreds of dollars for a marker, make sure the manufacturer stands behind the gun with a good warranty.
Weight – It goes without saying weight can be a major issue, especially if you are playing all day. Heavier markers weigh around 5 pounds or so, while modern lightweight markers can weigh less than 2 pounds.
Needless to say, if you are a serious player go with a lighter marker!
Style and Comfort – While you may care how you look out on the battlefield how the marker fits in your hands should be priority. A marker you feel comfortable with and you can shoot accurately is certainly an important consideration.

Paintball Propellant
Modern paintball guns use a few different types of propellants. All of them use compressed gases to push the paintball down the barrel. They each have advantages and there is no "best" gas.
CO2 – is by far the most common propellant on the playing field. Mainly because it is the least expensive. You can fill up your tank for around $5 and the tanks are cheap.
The disadvantage with CO2 is its COLD. Its actually a liquid in the tank and when fired it can freeze up your gun. It functions in the same manner as an A/C unit. It can damage your gun and if you have a high end gun it can get expensive to fix.
Nitrogen/HPA – HPA or High Pressure Air is plain old air compressed down and used to fill your tank. These tanks operate under high pressure, 3000psi and requires special equipment to fill the tank.
Nitrogen is another common option and is considered the best option but also the most expensive and its advantage is it wont freeze up your marker.
A pretty big advantage when your in the heat of battle! If you are a serious paintballer, this is your best option.

Mechanical or Electro-Pneumatic Trigger
Paintball guns have two different kinds of triggers.
Mechanical
Shoots paintballs by spring-loading them into the chamber and then releasing air from a CO2 cartridge or compressed air.
Since they're cheaper and more durable, these guns are recommended for people who are new to paintball or don't want to spend a lot of money on a gun.
If you play woodsball—that is, paintball in the woods—you might also want to look into one of these; mechanical guns don't need to be kept as clean as electro-pneumatics.
Some downsides to mechanical guns are that they aren't as fast, accurate, or consistent as electronic guns. Additionally, they need higher pressure to fire.
Electro-Pneumatic
On the other hand, are more like computers than rifles. Pulling the trigger sends an electronic signal to a circuit board that tells the gun to fire a paintball. Depending on the settings, they can fire automatically or semi-automatically.
Not only can they fire very quickly, electro-pneumatic guns have regulators that ensure consistent pressure when firing. This usually means they are far more efficient in terms of shots per tank.
They're also quieter and lighter than mechanical guns, which is pretty great if you're playing long games and stealth is a factor.
One of the disadvantages of electro-pneumatic guns is cost; they tend to be a lot more expensive. Hence I'd only recommend them for someone who either plays often or is planning on doing so.
Another drawback: they're pretty complicated. Servicing them basically requires taking them to a professional, which might be costly as well.
The last thing you have to watch for is that the batteries are charged. Showing up to a match with dead batteries would be exceedingly lame…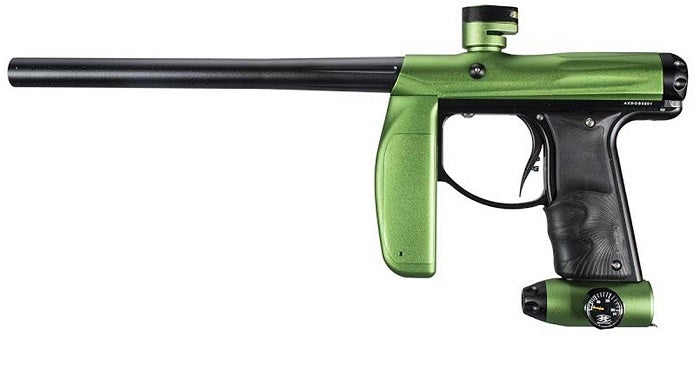 Efficiency
Not all guns are equally efficient. Some have regulators to make sure they use less air per shot. This ultimately saves time and makes you a more formidable force.

Durability
Some paintball guns are fickle creatures (especially the electro-pneumatics). You definitely want to be sure you're buying a durable gun if you're going to be playing on rough terrain with it—especially as a beginner.
In the same vein, it's your responsibility to make sure you keep your gun clean and oiled. Usually it's recommended that you clean and service it after every game. Sometimes paint can explode within the gun and clog it up.
All right. Now that we've learned a little bit about paintball guns and paintball strategy, it's time to talk about some products so you can see if any of them sound like the right idea.
We're going to discuss five different models. Some are individual guns and others are starter kits designed to give you a taste of everything you need on the field.

Paintball Basic Strategy
In some ways, paintball is like any other sport; it's a game of both mental skill and athletic ability. In the heat of battle you have to be able to maneuver, reload, aim and fire while tracking your opponents and, in some cases, avoiding detection.
Paintball is also heavy on strategy; sort of like chess, that is, if rooks could shoot 18 balls per second.
In games of organized paintball, the most basic strategies revolve around maintaining control of the perimeter and corners of the field, referred to colloquially as "the wires."
By "gaining, anchoring, and controlling" the wire, players can gain strategic defensive positioning and ensure they aren't taken unawares by opponents.
Since players are able to freely move throughout the game, paintball strategies for beginners tend to be looser, rather than strict "zone" plays typical of basketball or football.

Tips To Improve Your Gameplay
Mind your surroundings. Staying aware of changes to the environment will let you know where to run for cover when you're under attack. Similarly, make sure you keep moving throughout the game.
Staying still allows your opponents to gain position on you and prevents you from learning about the terrain. When moving, remember to do so with stealth; there's no reason to telegraph to the whole field that you're on the move! In the same vein, flanking—the act of getting behind your opponents without their knowledge—is a great strategy.
Another good tip is to keep your opponents occupied whenever you can. Shooting at your opponents (even without the explicit intention of hitting them) is a good way to keep their heads down and keep them from gaining advantageous positions or sneaking up on you.Doing this can also help your teammates break forward unexpectedly while you keep the other team occupied. They can then return the favor, allowing you to advance your position as well. This technique is known as "leapfrogging."
One final general piece of advice is to remain with your team as much as possible. Going off on your own might sound heroic, but in reality it can cost you big time. Groups can watch each other's backs, and are therefore harder to sneak up on and eliminate. Don't underestimate the utility of friendly cover in the field.
Insofar as there are strategies and athletics at play, paintball is similar to other sports. However, unlike some sports, paintball is played with technologically advanced equipment.
That aspect brings a whole new dimension to the game. While the physical and mental skills necessary to play top-level paintball will take time and practice to develop, having the right equipment can make a big difference.

Best Brands For Paintball Guns

Choosing the "best" paintball brands is almost impossible because it depends on how you define best. Is it reliability, accuracy, rate of fire etc. After trying out many guns I think these brands are certainly among the best:
Tippmann – Probably the best known brand in paintball. They have a huge lineup of paintball guns for a reasonable price.
Dye – They make some of the best quality paintball markers available. They have a full lineup of paintball guns, masks, clothing and accessories
Empire – Similar to Dye, they make some quality paintball markers for all range of skill levels. They also offer all the accessories you could need.
Spyder – A relative newcomer founded in 1992 and compared to other manufactures they are more focused on the beginner paintballer with a lineup of kits that have everything you need to get started.
---
I hope this guide was helpful for finding the best paintball gun to fit your needs. If you want to comment or recommend a paintball gun I didn't include, please use my contact form to get in touch.
Have fun and good luck!
Notice: Outside Pursuits is a participant in the Amazon Services LLC Associates Program, an affiliate advertising program to provide a means for sites to earn advertising fees sold through by advertising and linking to Amazon.com. Amazon offers a small commission on products sold through their affiliate links. Each of your purchases via our Amazon affiliate links supports our efforts to bring you the best possible product reviews at no additional cost to you. We appreciate your support here at OutsidePursuits.com