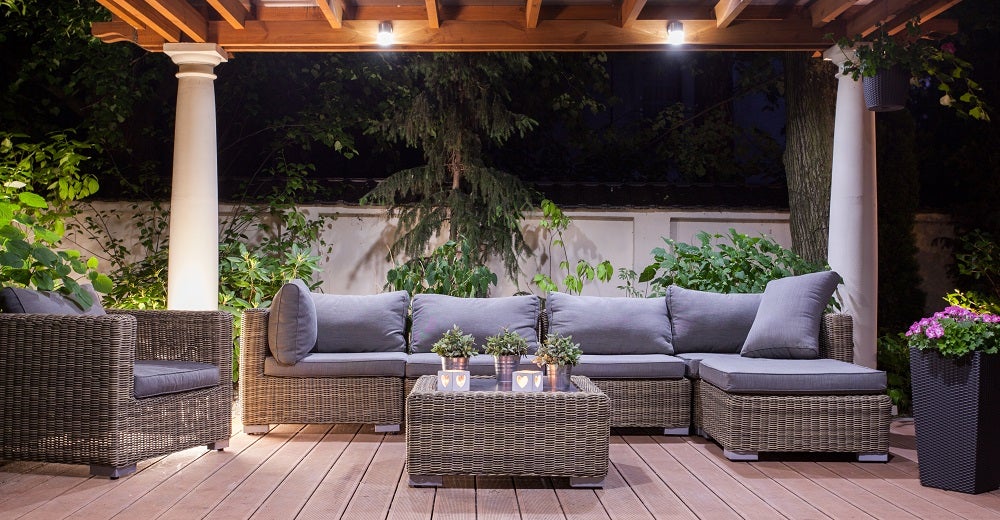 Our Editors independently research, test, and rate what we feel are the best products. We use affiliate links and may receive a small commission on purchases.
When weather starts heating up, it's time to break out the ice-cool drinks and outdoor furniture! If you find you need some extra seating this season, or simply want to create a whole new patio entertainment area then you're in the right place.
We've taken on the rigorous task of trying out countless outdoor sofas to bring you the cream of the crop. Not only that, but we've taken our own experiences and other consumers' into consideration to create a thorough list of the top outdoor sofas and help you select the right one.
Best Outdoor Sofas
For more of my home and garden recommendations, have a look through these popular Outside Pursuits guide links: Outdoor Rocking Chairs, Adirondack Chairs, Outdoor Daybeds.

Quick Answer: The 7 Best Rated Outdoor Sofas For 2021
Our reviews of the top rated outdoor sofas with our comparison table and buyers guide will help you choose the right one for you.
---
Outdoor Sofa Reviews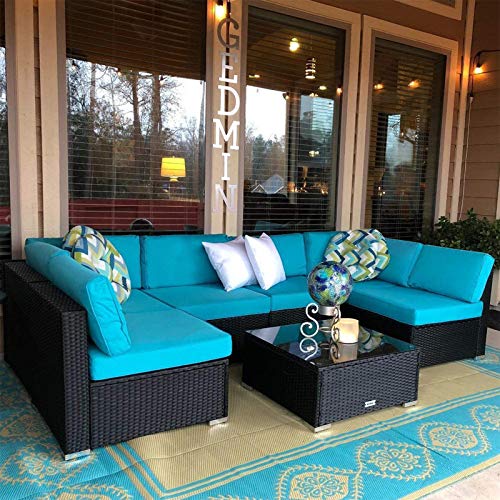 Peachtree Press Outdoor Patio Sofa Set at a Glance
:
---
Seating: 6
Coffee Table: Yes
Material: Rattan /

steel frame

Other: 3 colors available, easy assembly
Starting us off is the model often considered to be the best outdoor sofa: the Peachtree Press 7-Piece Outdoor Sectional Furniture Set. Coming not only with the sofa sectional, but a set of pillows and a tea table, you have everything you need for worry-free summer lounging. You also get 3 eye-catching colors to choose from: Turquoise, Dark Blue, and Red.
Made of high-quality PE rattan wicker, the furniture set is designed to be used often while withstanding the elements. The frame is made of steel, providing a strong foundation that is built to support around 6 people while remaining lightweight.
For outdoor use, having breathable cushions is a must. These balance breathability and cushiness well, and will stay comfortable for hours upon hours.
If you're into modern or trendy décor, then you'll love this set. It works well just as well indoors as it does outdoors, due to its simplistic elegance. However, if you are keeping it outside, remember the fade-resistant cushions will stay looking in perfect condition. To clean them, simply zip off the cover and toss it in the wash.
Assembly isn't too difficult, though you can expect to spend around 1 – 1.5 hours putting it all together. The good news is that all necessary hardware comes in the box, so you don't have to deal with purchasing anything separately.

---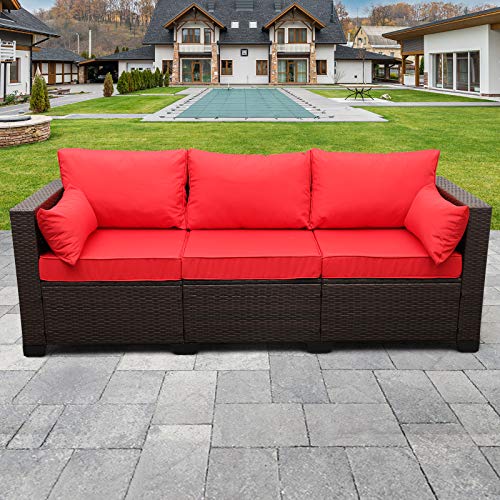 Rattaner 3-Seat Patio Wicker Sofa at a Glance
:
---
Seating: 3
Coffee Table: No
Material: Rattan wicker / steel frame
Other: Comes with furniture cover
Following that beauty, we bring you the best outdoor couch for those on a budget. Being on a budget doesn't mean you have to choose something cheaply-made. The Rattaner 3-Seat Patio Wicker Sofa is a prime example of that!
Coming in Blue or Red, both are classy and complement the café-colored rattan very well. The PE wicker and anti-rust steel frame work together to create an incredibly durable sofa that's sure to last throughout countless warm seasons!
The great thing is you can leave it outdoors without the threat of the metal rusting or losing its structural integrity. With a bonus furniture cover included, it will last even longer still!
The 3-seat sofa consists of extra-luxurious back and seat cushions, thanks to the PP cotton fill. The high back doesn't leave your back and neck feeling tired, even while sitting in it for hours at a time.
Covers are made with breathable 250G polyester fabric, which is some of the most durable out there while still feeing nice against the skin. Not only that, but it's fade-resistant and water-resistant, making it excellent for outdoor and poolside use.
When or if you do need to clean them, simply unzip, remove, and toss them in the wash. Installation is super simple, and comes with all necessary hardware and user-friendly instructions in the box.

---
Amolife Patio PE Rattan Outdoor Sectional at a Glance
:
---
Seating: 6
Coffee Table: Yes
Material: Rattan / Steel
Other:

12-month warranty
If you're on the hunt for the best outdoor sofa set, it may be overwhelming trying to narrow your options down. However, the Amolife 7 Piece Patio PE. Outdoor Sectional takes the cake in this regard. If you want the full package while keeping costs low, then you have to take a look!
While we certainly loved the Tan cushions against the dark rattan, you can also change things up and opt for the Teal alternative. No matter which you choose, you can be assured that they look equally festive as they do classy. The modern design features buttoned finishes and smooth details.
Rattan covers a solid steel frame which will not only support a whole group of people, but will easily withstand varying weather conditions for many years to come. The toughened glass that comes on the included table surface is lightweight yet is easy to wash with a bit of water.
Speaking of the table, you do get one along with your sofa sectional. This is perfect for keeping drinks, snacks, and meals handy and secure. The sofa consists of 6 separate sections, which makes it excellent in terms of versatility and changing the shape and configuration of it around.
The cushions are comprised of high-quality, thickened sponge which are nice chunks of comfort. Covering them, is cotton that won't fade and can be removed for easy cleaning. With a 12-month warranty, you can be confident that you're receiving the best of the best.
---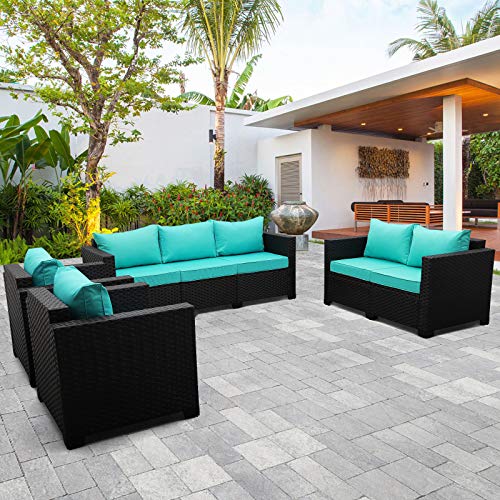 Rattaner Outdoor Wicker Furniture Set 4-Piece at a Glance
:
---
Seating: 7
Coffee Table: No
Material: Rattan / steel frame
Other:

Anti-UV and water repellent fabric
Another incredibly versatile option is the Rattaner Outdoor Wicker Furniture 4-Piece Sofa Set. It draws quite a few similarities in appearance and build to the previous model, yet comes with different sofa configurations. If you don't need a patio table, this is also a nice choice.
So, what do you get with this set?
Two armrest chairs for individual lounging, a loveseat sofa, and a 3-seater sofa. Each one matches in color and style, but can be combined for fun entertainment options.
Made of all-weather PE wicker covering steel, it starts strong from the frame, up. The steel will not rust or begin to break down, even after years of regular use. The seat cushions are covered with a very durable 250G polyester. This class of polyester is one of the longest-lasting around.
For example, it's anti-UV (won't fade in the sun), is water-repellent, and also protects against stains. The zippered covers can be removed, washed, and put back on easily.
While that's all great, the filling of the cushions is just as important. With this best garden sofa set, you have high-resilience sponge while the back cushions are filled with PP cotton. Both are plush, and still maintain their "fluff" after hours of use.

---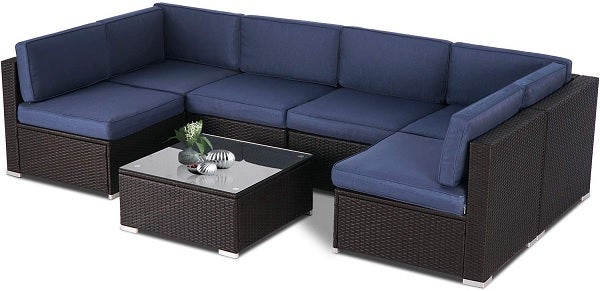 Suncrown Outdoor Patio Furniture Sofa Set at a Glance
:
---
Seating: 6
Coffee Table: Yes
Material: Wicker / P

owder coated steel frame

Other:

UV resistant rattan
The best weatherproof outdoor furniture should look stunning, feel great, last a long time, and be versatile. You get all that and more with the SUNCROWN Outdoor Patio Furniture 7-Piece Sofa Set. You get a ton of color options as well, with 8 different shades like Light Blue, Grey, Denim Blue, Red, and more.
Just like most others on our guide, this one also features a natural wicker exterior which covers the strong steel frames underneath (powder-coated for extra toughness). The wicker looks great with each one of the different cushion color options, so you don't have to worry about that.
Simply focus on the style of your/your family's liking and your home's mood. You also get a nicely-sized table that will accommodate the food and drinks of 6 people, easily. With a tempered glass top, it creates an even surface that is just the right height for most people.
We found that it was easy to clean and didn't get full of fingerprints and grime easily. The rattan is also made to last, as it's UV-resistant so it will maintain its original color for as long as you have it. Cushions are made with a soft-yet-durable polyester that also keeps its new looks for years.
As the covers are all zipped, it makes for easy maintenance and cleanliness, while the cushion filling is a thick foam.
This was definitely one of the easiest assembly jobs, and took no more than 90 minutes to completely set up. Thanks to the included 6 seat clips, the seats stay securely in place as well.

---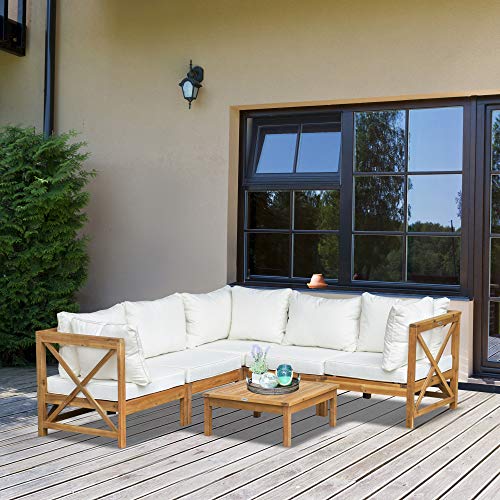 Outsunny Wooden Patio Sofa Sectional Set at a Glance
:
---
Seating: 6
Coffee Table: Yes
Material: Acacia Wood
Other: Zippered cushion covers
Nearing the last on our list, we bring you the Outsunny 6-Piece Wooden Patio Sofa Sectional Set. We've deemed it the best patio sofa, not only because it's comfortable and versatile, but because it's simply stunning in appearance!
Unlike the vast majority of patio sets, this one is made of acacia wood instead of a steel-and-rattan frame. Wood does require a bit more maintenance, but to be honest it's not much more.
For the rustic style that you get in return, it's more than worth it! This set comes with 3 corner sofas, 2 armless sofas, and a coffee table. You can set it up any way you like it due to the modular design, making it great for large families and entertainment purposes.
The weather-resistant wood is still great for year-round use. The included cushions are covered with a strong polyester fabric, and in this case, come in white which looks classy and clean. If they do end up getting dirty, simply remove the cover and wash them.
The sponge cushion filling remains comfy even for longer sessions, yet isn't so overfilled that it's awkward to sit on.
The table is made solely of wood and doesn't come with a glass cover like most others do. This lends to the authentically rustic style, is easy to clean, and to move around.

---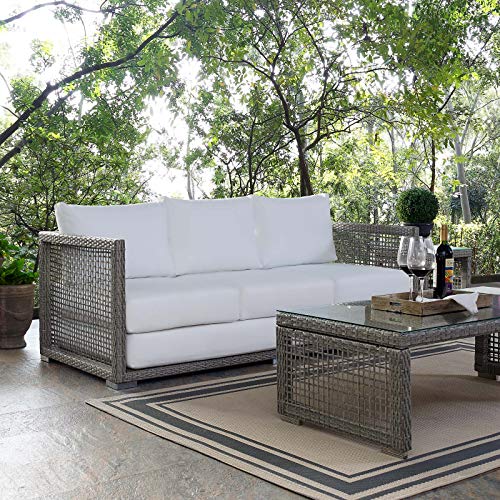 Modway EEI-2923 Aura Outdoor Patio Sofa at a Glance
:
---
Seating: 3
Coffee Table: No
Material: Wicker /

aluminum frame

Other:

All-weather plush 6″ thick cushions
The last of our options is the Modway EEI-2923 Aura Outdoor Patio Sofa. The simplistic model is straightforward yet quite possibly the most comfortable outdoor couch we've had the pleasure of trying. With a light gray frame, you get the choice of choosing white, gray, or navy cushions that all look refined.
Modway has quickly made a name for themselves in the outdoor furniture world, and this model makes it clear to see why. Its contemporary style mixed with quality materials is something everyone wants!
With a powder-coated aluminum frame, the sofa manages to be both lightweight and strong. Covering it, is a water-resistant, UV-resistant synthetic rattan which makes it great for both indoor and outdoor use. Non-marking foot caps won't damage the ground or flooring underneath, so feel free to use it wherever you want.
The all-weather, machine-washable fabric covers are rich in color, UV-resistant, and water-resistant as well. If you're on the hunt for a nice poolside sofa, count this one as one of the best choices, too. We found the cushions to be perfectly resilient and soft, with the back cushions offering just enough padding.
While it doesn't come with one, you also have the option of adding on a patio table which is made specifically to work with this sofa model.

---
Outdoor Couch Comparison Table
How to Choose the Best Outdoor Sofa – Buying Guide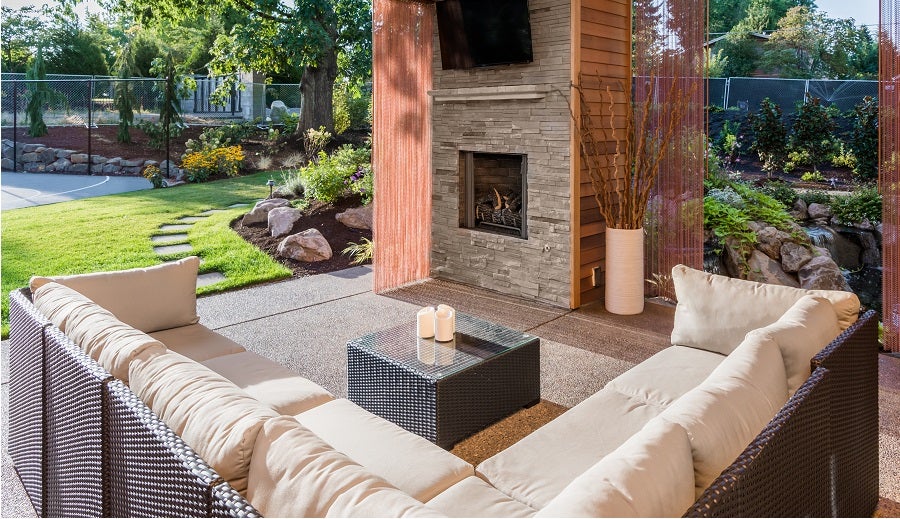 You're probably thinking how all of these are awesome choices, but how can you possibly narrow it down to just one?! Well, we're here to help! We've taken our own first-hand experience along with that of countless other consumers to bring you unbiased, thorough reviews and a buying guide below.
This buying guide will take you through each step of the selection process so that by the time you've read it all, you'll know exactly which sofa is right for your outdoor space.
Size
First off, your outdoor sofas have to work with the space you have, right? Even if it's the coolest sofa you've ever seen, if it doesn't fit your space then it's not going to be very functional!
Don't just "eyeball" it either – get outside with your tape measure and actually measure the entire space you plan on using! That way, you can take a look at each model and see if it's going to work or be a bit of a stretch.
The great thing with every option on our guide is that they all have the ability to be modified a bit. The modular ones can be split up or put together in countless different configurations. If you have a patio table with the set you're looking at, make sure to account for that piece of furniture as well.
Seating
How many people do you need to find seating for? Is it just you and a partner? Do you have kids? Do you often entertain at your home? You'll need to answer these questions to come up with a realistic estimate of how large your seating should be.
The majority of our models seat 6, which is usually enough for people who often have family and friends over. There are some that are smaller, and only seat around 3. However, if you have storage space elsewhere, you may choose to stow extra sections away temporarily and just take out what you need when more people come over.
Frame Materials
As you probably already noticed by now, the materials on our outdoor sofas don't change a whole lot, typically. However, there is a bit of variation that you'll want to pay attention to. Let's take a look at the most popular options so you can have more of a feel for what will work for you. The frame will either be made of a type of metal or wood (almost always).
Steel – Steel is by far the most popular, due to its relative affordability, robust durability, and resistance to rusting. Steel is usually going to be the heaviest option, which can be a positive or negative depending on what you're looking for. If you want patio sofas that are very portable and easy to move around, then you may want to opt for a more lightweight aluminum or wood. However, if your area gets heavy winds for example, then you'll probably love how heavy steel is as it's not very likely to get blown around.
Wood – Wood definitely has a very authentic, rustic look and feel to it that people tend to love. However, it does require just a bit more maintenance than metal does. As long as it's treated properly/weather-proofed then you should be able to use it year-round, no problem. However, wood is often more expensive than metal.
Aluminum – Aluminum is lightweight and tough, and requires little-to-no maintenance. It's relatively inexpensive, too.
Cushion Materials
Cushions are almost always comprised of a thick foam filling, and occasionally will have back cushions filled with a type of breathable cotton. While the materials don't vary too much, you will find that the thickness or "fill" is. You probably already know by now how thick you like your cushions to be.
Some people enjoy very thin, minimal ones but those who find themselves lounging around for longer periods of time may want something more dense.
The cushion covers are usually made of polyester, due to the fact that polyester tends to be soft against the skin, UV-resistant, water-resistant, and holds up well against the elements. You always want your cushion covers to be easy to remove for quick and seamless washing.
Whether you choose a darker or lighter color is up to you. Darker colors are more likely to fade a bit after consistent use, while lighter ones tend to keep their color better.
Table or No Table?
That's all up to you! You may have noticed that we have models that come with tables and those that don't (or give you the option to purchase one separately). We definitely suggest getting a table with your outdoor sofa set, just because the chances are that we're going to have a snack or drink on our sofa quite often. Putting a drink on the ground and getting a bug in it is not fun, trust us!
Price
How much do you want to spend on your new outdoor sofa? The great news is that no matter what your budget is, you are sure to find at least a model or two on our guide that fits into it. Paying more doesn't always equal higher quality, which is why we made sure to include the models that consistently had great feedback from all walks of life.
FAQs About Outdoor Couch
Q: What should I look for in outdoor patio furniture?
A: You want outdoor patio furniture that's durable and resistant to the elements. Powder coating on the frame is a must so it does not rust. The cushions should be UV resistant and removable so they can be machine washed.
Q: What is the best color for patio sofas?
A: Many people recommend getting a darker shade like Navy Blue or Dark Brown as they're less likely to show dirt. However, it's also easier to keep your cushions clean if they're lighter and you'll always be able to tell when they need washed – unlike darker ones. That's why we feel it's all down to personal preference.
Q: How long does outdoor wicker furniture last?
A: If you take care of it properly, you can count on having it around for anywhere from 10 to 15 years! With so many treatments and synthetic materials around now, are furniture is lasting quite a long time!
Q: What is the most durable outdoor fabric?
A: Polypropylene or marine fabrics are oftentimes considered to be the most durable. However, they often don't feel that great against the skin so the best for outdoor patio furniture is definitely a high-quality polyester.
Tips For Choosing Outdoor Couches
#1: Make sure to choose a sofa that is easy to maintain.
If you're planning on leaving your sofa outdoors year-round, you're probably not going to want to have to have to keep dusting and cleaning it every week or so. On top of that, the covers should be easy to remove and toss in the washing machine.
#2: Try to choose a sofa set that will match your already-existing decor or environment.
For example, if you already have a contemporary vibe going on, you probably don't want something that looks more old-school or rustic. Also make sure that the colors of your new sofa set are going to go well with what you already have.
#3: Try to provide storage space.
While the furniture on our guide is obviously made to hold up to all kinds of weather, it's going to greatly extend the lifespan of your sofa sets if you put them inside during the colder months. Not only that, but if you live in a climate that doesn't really get cold, then try to get yourself some storage for your cushions like a storage bench!
Summary
Now that you know just about everything you could ever want to know about the best outdoor sofas, have you decided which one is right for what you're looking for? If you follow our buying guide, there should be no doubt.
No matter what though, you can rest assured knowing that each of these models are consistent favorites and are made to the highest quality standards! We hope that our guide has helped you picking the right patio sofa for your household. Thanks for tuning in, and we'll see you again soon!
How We Researched
To come up with the top garden sofas, we researched a variety of sources for reviews such as Home Depot, Lowes, Target and Wayfair along with our own personal experience.
We also consulted online magazines for product research and reviews to get as much unbiased information as we could. To help weed out fake reviews we used Fakespot.com to make sure we only looked at genuine reviews.
With so much quality gear available, we had to narrow it down based on what we felt were the best options were for the price. The staff authors have a wide and varied background in yard design and home repairs.
The authors have decades of experience and are eager to share their knowledge with readers.
To help narrow down the selection we used personal experiences along with recommendations from landscapers, bloggers and contractors.
After extensive research, we came up with our list to help you choose the right one for you.
Sources
Notice:
OutsidePursuits.com is a participant in the Amazon Services LLC Associates Program, an affiliate advertising program. OutsidePursuits.com earns fees from products sold through qualifying purchases by linking to Amazon.com. Amazon offers a commission on products sold through their affiliate links.