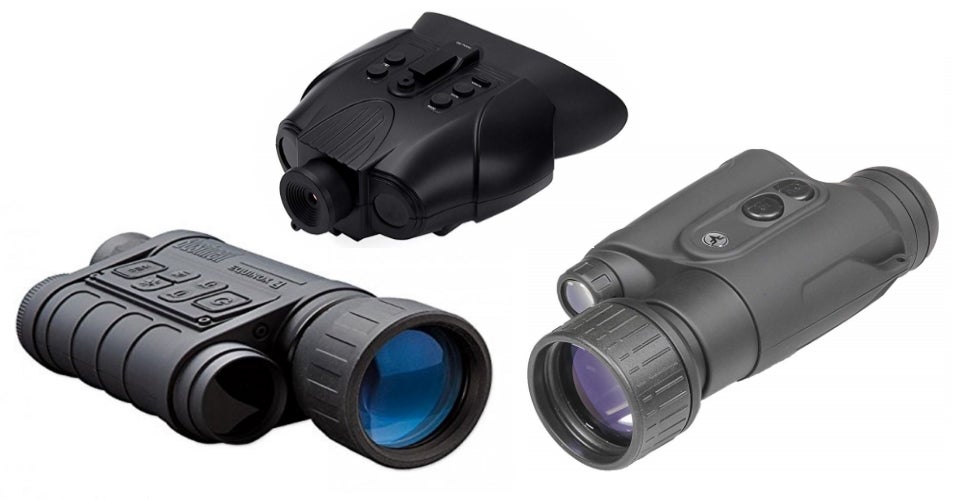 Our Editors independently research, test, and rate what we feel are the best products. We use affiliate links and may receive a small commission on purchases.
If you are shopping for the best night vision goggles, you've come to the right place. Night vision devices like goggles, binoculars, and monoculars all fall into the same basic category with the main purpose of allowing you to see in the dark.
These are all perfect for keeping you ready for any kind of nighttime adventure! They are most commonly used for things like hunting, surveying, surveillance, and even photography.
The exact specs and capabilities of each product can vary quite a bit, though. That is where our guide on How to Choose the Best Night Vision Device comes in handy.
Best Night Vision Goggles & Binoculars
Also see: Night Vision Goggles & Binoculars Comparison Table
---
Quick Answer: The 5 Best Night Vision Goggles & Binoculars
---
Night Vision Goggles & Binoculars Reviews
X-Vision Deluxe – Rechargeable Hands Free Night Vision Goggles At A Glance
:
---
Night vision binoculars
3x optical lens
2x digital zoom
Max night time distance: 1050 feet
Rechargeable lithium-ion battery
8 hours of day use; 5 hours of night use
Can capture photos and videos
Neck strap included
Head mount included
First up, these incredible infrared goggles from X-Vision are hard to beat in terms of features and capabilities. These Deluxe Hands Free Night Vision Goggles are designed for maximum convenience and are very user-friendly.
Of course, anyone looking for some cheap night vision goggles will need to consider other options. These are close to the highest price option of all of our recommendations.
Although, when you look at the actual features and capabilities, the value of these is quite high. With a maximum night time viewing distance of 1050 feet, you aren't likely to find anything that will allow you to see further for anywhere near this price.
It also features 3x optical lens and 2x digital zoom to amp up the value even more. One of our favorite features is that this set of night vision binoculars includes a built-in rechargeable lithium-ion battery.
After a single charge, you can use the goggles for 8 hours of daytime use or 5 hours of nighttime use. Other options that require you to change out the batteries may need the batteries changed out after just one night full of using the binoculars.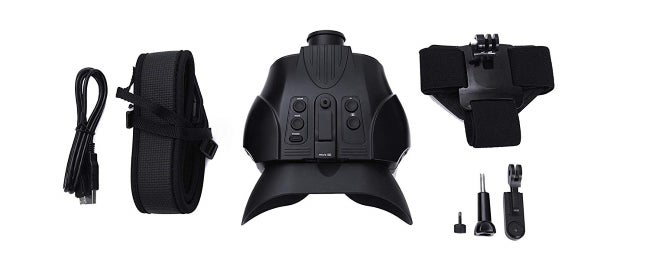 So, there is little doubt that this is your best option if you will be using the goggles with any kind of regularity. Like most of our picks, these goggles do include a neck strap.
However, unlike most of our choices, these actually also include a special head mount. This is really helpful because it allows you to use them hands-free which is a huge part of what really makes these the best night goggles you can purchase. Keep in mind that X-Vision also makes 3 other models of infrared binoculars.
So, if you would like to choose this top-rated brand but you would rather not spend quite as much and/or you don't need the impressive specs of this model, you can certainly choose one of their other models.
Even their most basic option has a maximum night time viewing distance of an impressive 900 feet and it comes in at less than half the price of this Deluxe XANB50 model!
---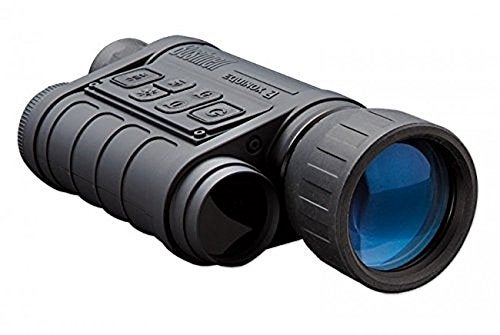 Bushnell Equinox Z Digital Night Vision Monocular At A Glance
:
---
Night vision monocular
30mm or 60mm objective lens
3x digital zoom
Max night time distance: 500 feet for 30mm; 1000 feet for 60mm
Requires 4 AA batteries sold separately
Video-out capabilities
60mm option can capture photos and videos
Water-proof casing
Tripod mountable
Now if you are looking for the best night vision monocular, the Bushnell Equinox Z might just be the perfect option for you.
This rugged little night vision monocular features a special water-resistant casing that is perfect for keeping your monocular safe even in rougher conditions. The objective lens is made of multicoated glass to give you top-quality optical clarity.
The Equinox Z can be easily mounted to a tripod if you prefer for staying steadier. Unlike the X-Vision Deluxe, this option does require you to replace the batteries rather than charging the device.
This monocular takes 4AA batteries that also must be purchased separately from the monocular itself. There are two models of the Equinox Z available that are actually each quite different from each other in terms of exact specs.
You will choose between the Equinox Z with a 30mm objective lens and the Equinox Z with a 60mm objective lens.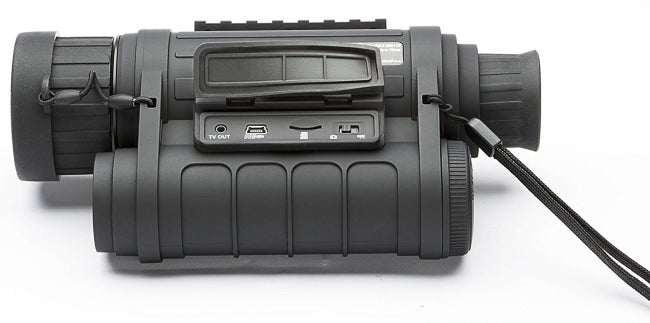 These different lenses make a huge difference, so it is important to consider which option you will need or want. The 30mm lens option features 3 times magnification, weighs 15 ounces, and has a maximum night time viewing distance of 500 feet.
Alternatively, the 60mm lens option features 6 times magnification, weighs 27 ounces, and has a maximum night time viewing distance of 1000 feet.
So, you can see what a big difference that can make. Obviously, this also means you can expect a big difference in pricing.
The 60mm option is actually our most expensive choice of all of our recommendations coming in at just above the cost of the X-Vision Deluxe. The 30mm option, however, is more than $50 cheaper than the 60mm model.
Both models have video-out capabilities, but only the 60mm model can actually take photos and record video with sound. Overall, both are excellent choices and it just comes down to which will fit your personal needs best.
---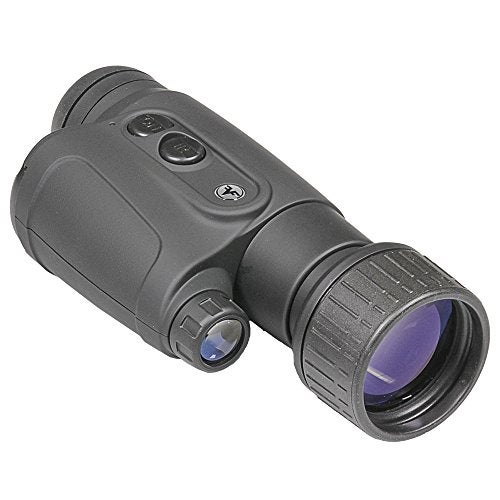 Firefield Nightfall 5×50 Night Vision Monocular At A Glance
:
---
Night vision monocular
5x magnification
50mm objective lens
Weather-resistant design
Max night time distance: 580 feet
Requires 2 AA batteries sold separately
Carrying case included
Lens cleaning cloth included
Wrist strap included
Here is another excellent night vision monocular from Firefield. This is the Nightfall 2 5×50 Night Vision Monocular. It has a 50mm objective lens, so it falls between the two options from Bushnell in that regard.
With 5x magnification, it is definitely a worthwhile option that deserves consideration amongst our other monocular options. The maximum night time viewing distance for the Nightfall 2 5×50 is 580 feet.
It features a fully weather-resistant casing, so you don't need to worry about it even when out in rougher conditions. Like the Bushnell monoculars, this option takes replaceable batteries rather than being rechargeable.
It requires 2 AA batteries. The special pulse illuminator of this monocular provides battery-saving technology to help those batteries last as long as possible.
The Nightfall 2 5×50 is also very user-friendly with only 2 simple buttons. The power button and a button to toggle the infrared light beam on and off. This night vision monocular can be used both at night and during the day.
It comes with a special lens cap that features a pinhole that allows for use in the daytime without causing any damage or other issues due to the sensitivity of the lens.
This happens to be the most affordable choice of our recommendations as well, so it is excellent for anyone on a budget! The included wrist strap, carrying case, and lens cleaning cloth add even more added value to your purchase.
---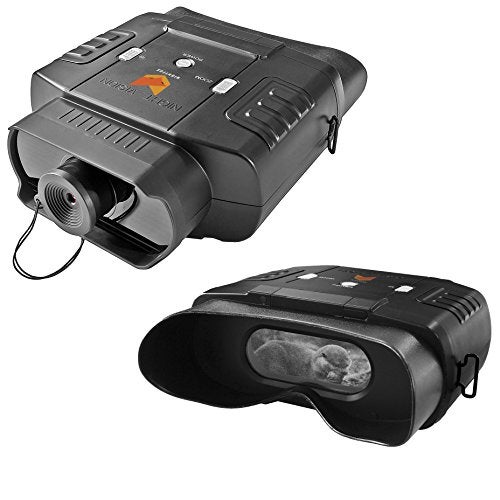 Nightfox 100V Widescreen Digital Night Vision Infrared Binocular At A Glance
:
---
Night vision binoculars
3x fixed magnification
2x digital zoom
Max night time distance: 330 feet
Requires 8 AA batteries sold separately
Up to 6 hours of infrared use with fresh batteries
Compatible with tripod
User-friendly controls
Our next pick is from Nightfox. These super comfortable night vision binoculars feature a special digital widescreen inside a comfortable eyepiece designed for both eyes.
This comfortable design is even adequate for use with glasses. A combination of 3x fixed magnification and 2x digital zoom give this set of binoculars a total magnification of up to 6x.
While it doesn't have a range quite as impressive as some of our previous picks, this set of Nightfox Widescreen Binoculars does have a very useful maximum night time viewing distance of 330 feet.
This is great for many late-night activities and is certainly all that some users will need.
Instant operation and simple user-friendly controls make it very easy to use these night vision binoculars. They do require 8 AA batteries that you must purchase separately.
With 8 fresh AA batteries, the binoculars are capable of working with the night vision on for up to 6 continuous hours.
There is also a hook up on the bottom of the binoculars for a tripod. This makes long-term use easier and more comfortable while also keeping your view very steady.
The price of these is just a little higher than that of the Nightfall 2 5×50 from Firefield. So, these are another good option for cheap night vision goggles that are still great quality.
---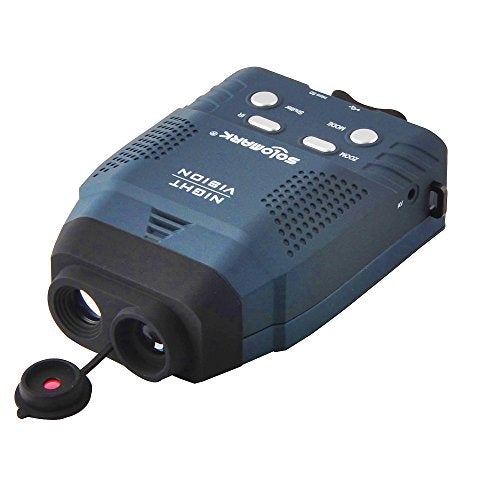 Solomark Night Vision Monocular At A Glance
:
---
Night vision monocular
3x zoom
Max night time distance: 328 feet
Requires 4 AA batteries sold separately
Can capture photos and videos
Neck strap included
Soft carrying case included
AV and USB cables included
4G SD card included
Solomark is the maker of this final night vision monocular. This particular monocular is a good bit bulkier than the other night vision monoculars that we included in our recommendations above.
It is one of the most affordable options on our list, though and it also has the capability to record video and take photos.
The special LCD screen is aligned perfectly with the eyepiece opening and allows you to view the imagery clearly.
These feature a 3x zoom and have a maximum night time viewing distance of 328 feet, which is almost identical to that of the Nightfox binoculars. This monocular also has a slot for an SD card to store the photos and videos you record.
Not only that, but your purchase actually includes a 4G SD card. It also comes along with a USB cable and AV cable for easy viewing and transferring of the files you create with the monocular.
A soft carrying case and detachable neck strap are also included for your convenience.
All of these extra accessories add even more added value to your purchase. This is another choice that requires batteries. You need 4 AA batteries to operate this monocular, which are not included in your purchase.
---
Night Vision Goggles & Binoculars Comparison Table
---
How to Choose the Best Night Vision Device
Night vision devices are great to have for various occasions. Hunting, surveillance, scouting, camping, hiking, and any other outdoor activities you may participate in without the light of the sun to guide you can all be great reasons to purchase some night vision goggles or a monocular or whatever option suits you best.
Figuring out what exactly suits you best is the hard part. There are a lot of details and specifications that you must consider to make sure you get the best night vision device for you. We've broken it all down and explained each factor to consider below to make it as easy as possible for you to find the perfect night vision device for you!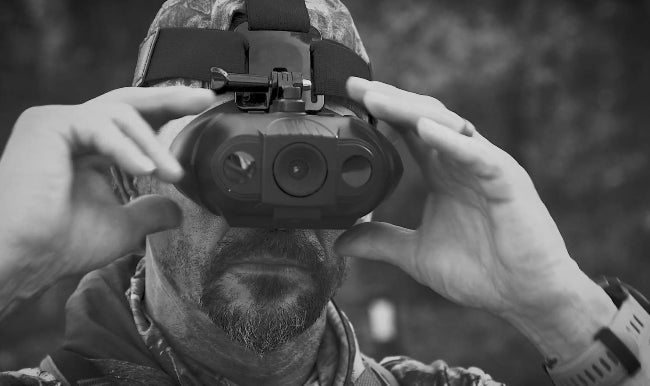 We have carefully laid out the different features of night vision binoculars and other devices to help you weed through all of the options and find the perfect product for your specific needs and desires.
Don't forget that we have also got our top 5 picks for the best night vision devices above with a detailed review for each!
Keep in mind that these are not military night vision goggles, but they all are excellent quality options that can bring a ton of value and benefits to the user!
Monocular vs Binoculars/Goggles
The first choice you probably want to make is which type of night vision device will work best for you. You'll be choosing between a monocular and binoculars. A monocular is simply a night vision device that you only use one eye to look through.
These are generally more affordable and feature lightweight designs. It is also good because, with a monocular, it is easier to switch between looking through it and using your regular vision without having to refocus the monocular each time.
Binoculars are night vision devices that you look through with both eyes. They tend to be larger in size and often cost more.
They provide you with a wider range of vision and can be more comfortable for some users. They also tend to be more likely to have nicer features included like video recording, for example.
Now, you might be wondering about night vision goggles as well. Night vision goggles are actually just night vision binoculars that are strapped into place on your head for easy hands-free use.
Some night vision binoculars come with head gear that allows you to use them as goggles. Sometimes, even if the binoculars don't include the necessary gear, they will still be compatible with head gear that you purchase separately.
Zoom/Magnification
The zoom or magnification of your binoculars or monocular is very important as well. This isn't about how far the device can see but is instead about how many times larger it will display the image for you. Basically, it focuses is on one spot and enlarges it.
So, the more you zoom in, the smaller your field of vision is, but the larger the image is. This can let you focus on one area specifically and see more details.
Sometimes there is a manual fixed zoom feature as well as a digital zoom. Most manual fixed zooms can go up to at least 3 times magnification. Sometimes, this is all a set of binoculars is capable of.
If there is also a digital zoom, you multiply that number by the fixed zoom to find your total amount of magnification. So, a fixed zoom of 3x multiplied by a digital zoom of 2x would provide you with a total magnification of up to 6x.
Maximum Night Time Viewing Distance
This is another vitally important feature of your night vision binoculars. The maximum night time viewing distance is pretty self-explanatory. This refers to the farthest distance that you will be able to view using the infrared light on your binoculars.
It mostly refers to the distance of the infrared light itself since what you view with the binoculars or monocular is the area illuminated in infrared light.
The exact distance can vary a lot anywhere from under 300 feet to over 1000 feet. So, it is important to consider how far you will need to see in the dark before making your choice.
Power Source
You certainly want to consider the power source of different night vision binocular choices. You will have options that take batteries that need to be replaced such as AA batteries and you will also have options that have built-in lithium-ion batteries that you can charge.
With rechargeable options, you have the benefit of not needing to replace the batteries and therefore you will save money in the long run.
However, replaceable batteries can also be good because you can keep an extra set of batteries with you and that allows you to continue the use of your binoculars even if they die while you are in the great outdoors.
If the rechargeable options die while out and about, you have to return to somewhere with an electrical outlet to replace.
Durability
With any product, durability is important. In the case of night vision devices like binoculars and monoculars, you want to consider the casing of them.
Some options just have basic casings that protect from simple things like general wear and tear or scratching and bumping.
Other options are made with thicker casings and some are even weather-resistant. Weather-resistant options are excellent since this is a device designed for outdoor use.
When your binoculars can withstand the weather, it gives you a lot more versatility in terms of when and how you can use them.
Tripod Compatibility
Many of the night vision devices out there are compatible with tripods, but not necessarily all of them. So, if this is a feature that you would like to take advantage of, you'll definitely want to check if the options you are looking at are indeed tripod compatible or not.
Using a tripod with your night vision binoculars or monocular can be really helpful for making sure you stay focus on the same specific area, for helping you keep your view a steady as possible, and for when you want to use them for longer periods of time – especially in the case that you are recording video.
Photography and Videography Capabilities
The capability to take photos and record video is a really nice benefit for night vision binoculars to have. It isn't really something everyone would need, though.
This is, more often than not, a feature you find on more expensive night vision devices, but some might still be relatively affordable with this capability.
It allows you to set up your binoculars to record and then you don't have to pay as close attention and cans till view the video later. It also lets you share what you see with others and lets you refer back to it if ever needed.
AV Cord Input
Some night vision binoculars also have an input for an AV cord. This has its own benefits since it lets you view what you would see through the binoculars on another screen such as a computer monitor or TV screen.
This even lets multiple people view at the same time. A lot of times, options that include the AV cord input even come with the AV cord itself for convenience.
USB Cord Input
Another input your binoculars may have is for a USB cord. This isn't something you find on all night vision binoculars, but it can be helpful to have and is usually just found on options that have videography and photography capabilities.
That's because the USB cord allows you to easily transfer images and videos you have taken from your binoculars to a computer or other storage device. Sometimes, binoculars include a USB cord with your purchase.
SD Card Slot
Another cool feature that can be used either instead of or alongside the USB cord input is an SD card slot. This is another great way to transfer information in the form of photos and videos to other devices.
The cool thing about an SD card is that it provides a way to store the information if you can't or don't want to transfer it right away.
If your binoculars include an SD card slot, they may or may not also include an actual SD card. Options that do include one obviously provide greater convenience and value.
Carrying Case
Sometimes a set of night vision binoculars or a night vision monocular may come with a carrying case. Having a carrying case for your night vision device is definitely really helpful. It gives you a dedicated spot for it and allows you to much more safely and conveniently store and transport it.
Carrying Straps
A carrying case is great but carrying straps can also be very useful. There are different ways that night vision goggles can be carried, so there are different types of straps. A lot of options include a neck strap.
That simply means a strap that attaches to each side of your binoculars and lets you wear them around your neck. This is a really convenient place to keep them for quick use when needed.
Some options may also have a wrist strap which works the same way as the neck strap but is smaller and simply goes around your wrist instead to make it easier to hold onto.
Lens Cleaning Cloth
A lens cleaning cloth is definitely something that you will want to have on hand for your night vision binoculars or monocular. It is important to keep your lenses clean to get the best use out of your night vision device.
More often than not, your purchase will not include one of these cleaning cloths. Typically, it is something that you just need to purchase separately.
When you do come across an option that includes this simple item, it can definitely add some convenience and value to your overall purchase.
Night Vision Binoculars FAQs
How do night vision goggles work?
Night vision goggles use a special infrared light to work. When they are turned on, they send a beam of the infrared light out in front of them. This bathes the area ahead of the goggles in the infrared light and the goggles are specially designed to pick up the light.
That's why when you look through the goggles, you can see where the light reflects at and that creates images of what is in front of you. You can't see this special type of light without the goggles, however.
This is actually one of the benefits of this technology, though. They don't cause disturbance to any other people or animals around you.
Do night vision goggles work in total darkness?
Yes! Some goggles or binoculars out there are made for low-light, but the options that we are talking about are actual night vision goggles that use a special infrared light to see without the use of any other light. So, they work in low light as well as complete darkness.
Buyer's Tips for Night Vision Goggles
Night vision devices of different kinds have different uses and benefit users in various ways. You probably already know that you want a pair and how you will use them, and we hope that our guide has been helpful for you on your search for the best option for you.
Product Reviews
One of the many sources we used when choosing our product recommendations is other night vision binoculars reviews. If you are still unsure which option is right for you, looking over night vision reviews is an excellent way to get some solid unbiased information.
You can learn about genuine user experiences from reading a night vision goggles review.
Distance Requirements
When you are making your decision, remember to consider the distance you need to view and if you need special features like video recording capabilities.
Other than that, keep in mind that where you choose to purchase from is important too. One of our all-time favorite retailers for things like this is undoubtedly Amazon.
They have nearly unbeatable customer service on top of an incredible selection and great pricing. Even if you decide to go elsewhere, just make sure you choose a reputable retailer and look for a good deal as well. Soon, you will be seeing clearly all times of the night and day!
How We Researched
To come up with the top night vision binoculars and goggles, we researched a variety of sources for reviews such as Target, Dicks Sporting Goods and Best Buy along with our own personal experience.
We also consulted online magazines for product research and reviews to get as much unbiased information as we could. To help weed out fake reviews we used Fakespot.com to make sure we only looked at genuine reviews.
With so much quality gear available, we had to narrow it down based on what we felt were the best options for the price. The staff authors, have extensive experience with a variety of outdoor sports like paintball, roller skating, baseball and golf.
To help narrow down the selection they used their personal experience along with recommendations from instructors and retailers.
After extensive research, we came up with our list to help you choose the right one for you.
Sources
Notice:
OutsidePursuits.com is a participant in the Amazon Services LLC Associates Program, an affiliate advertising program. OutsidePursuits.com earns fees from products sold through qualifying purchases by linking to Amazon.com. Amazon offers a commission on products sold through their affiliate links.