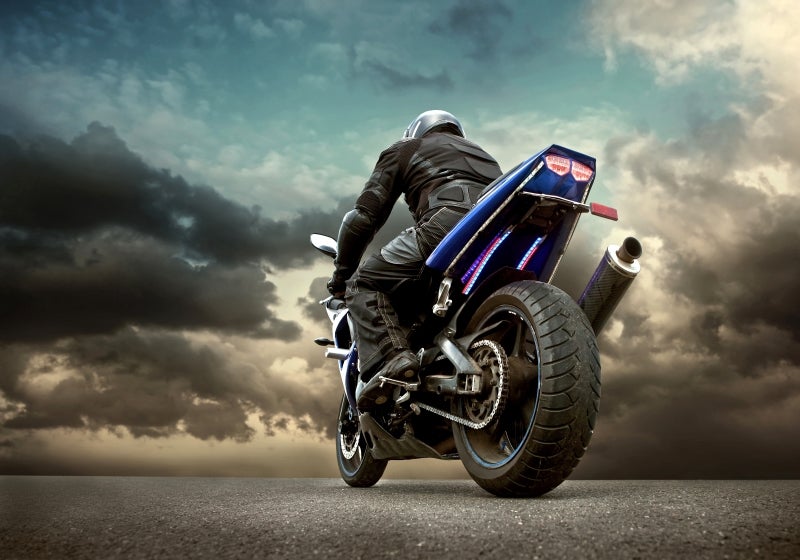 Our Editors independently research, test, and rate what we feel are the best products. We use affiliate links and may receive a small commission on purchases.
In this article Outside Pursuits reviews the best motorcycle locks on the market and discusses what to look for when it comes to motorcycle locks.
Also see our buyer's guide section, How To Choose The Best Motorcycle Lock.
Best Motorcycle Locks
| | MysBiker Disc Brake Lock | BigPantha Handlebar Lock | Kryptonite Keeper 5s Yellow Disc Lock |
| --- | --- | --- | --- |
| | | | |
| | | | |
| Lock Type | Disc-brake lock with shock/vibration alarm | Throttle/Brake Handlebar Lock | Disc-brake lock |
| Weight (lbs) | 1.3 lbs | 1.0 lbs | 1.2 lbs |
| Special Features | Carbide-reinforced locking pin & 110 decibel alarm | Grip Lock is tough, durable, and tamper-resistant | Dual-reinforced, high-security, disc-style cylinder |
| Customer Ratings | 4.5 / 5.0 Stars | 4.3 / 5.0 Stars | 4.0 / 5.0 Stars |
| | | | |
Also see: Motorcycle Locks Comparison Table
---
Quick Answer: The 5 Top-Rated Motorcycle Locks
---
Motorcycle Locks Reviews
Features of the MysBiker Disc Brake Lock:
Reminder cable
110dB alarm shock or vibration activated
Waterproof electronics
This handy alarmed disc brake lock takes first place on our list of the best motorcycle locks for your money. At first glance it may not seem impressive, but it's packing all the features you need to keep that two wheeler safe, in one small and helpful package.
I love that this lock is designed for security down to the smallest detail. Even the screws to replace the batteries for the alarm are impossible to get to when the lock is attached to the bike. That means thieves can't bypass the electronic alarm by removing the batteries!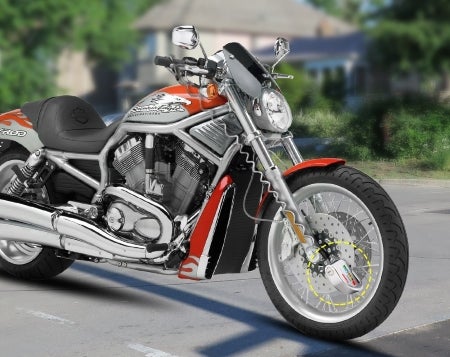 The lock is powered by 6 small watch batteries and comes with an extra 6 when you get it. There are three copies of the lock key which is perfect because nothing would be worse than losing your key and then having to figure out how to get the lock off yourself!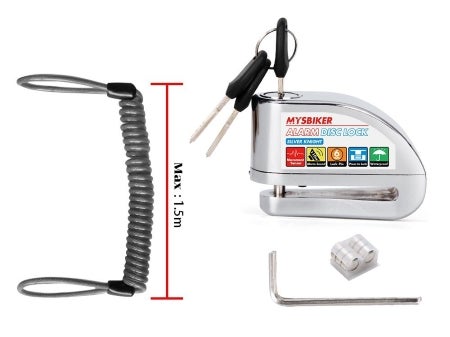 This disc brake lock should fit almost any model motorcycle with disc vent holes. It's worth noting that a few customers complain about motorcycle disc lock alarms starting to just sound false alarms without any contact with the bike. This is sometimes due to street noise or wind.
Overall we consider this the best motorcycle disc brake lock for motorbike security that features a loud alarm to deter tampering.

---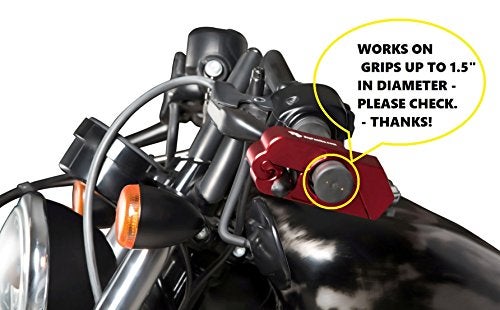 Features of the BigPantha Handlebar Lock :
Fits handlebars up to 1.5" diameter
Universal fit for clutch or brake
Lightweight, low profile look
This handlebar lock comes in a slick red color and adds a very low profile security lock to any motorcycle. Of course, it's an added bonus if you happen to have a red motorcycle because it'll look like a custom fitted piece!
Because this lock goes over the handlebar and clamps to the brake or clutch lever, you'll have to make sure your motorcycle is within specifications.
Luckily almost every motorcycle has grips of 1.5" or less with the exception of some heated foam touring grips on larger bikes like my BMW. The lock comes with rubber shims to protect the clutch or brake lever and adjust for smaller sizes.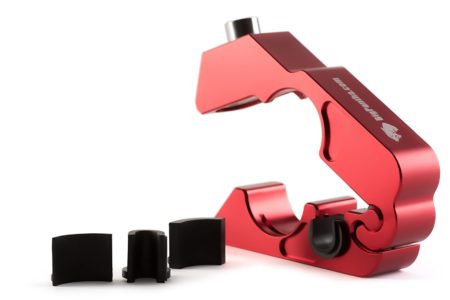 One thing I love about this lock is that it's impossible to forget. There's no way to drive off with it attached. Since it fits on the handlebar you'll certainly remember it's there before you attempt to take off. No worrying about accidentally taking off with a lock attached and hurting the bike or yourself.
Best for bikes where other lock mechanisms won't work or a single lock is desired.

---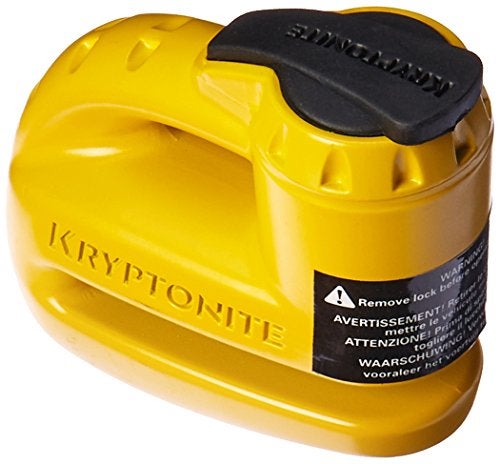 Features of the Kryptonite Keeper 5s Yellow Disc Lock:
5mm lock pin fits most disc brakes
Reminder cable included
Includes two copies of the key
Kryptonite Locks carries a darn good name in the world of locks. They make industrial standard security equipment and their reviews are totally flawless. This hardened steel disc lock might not have an alarm, but it won't let you down either!
I love that this lock is refined and ergonomic. Its small form factor makes it easy to stash in the tank bag and put on the rotor when needed. Since motorcycle don't have a ton of storage room to begin with, smaller is better.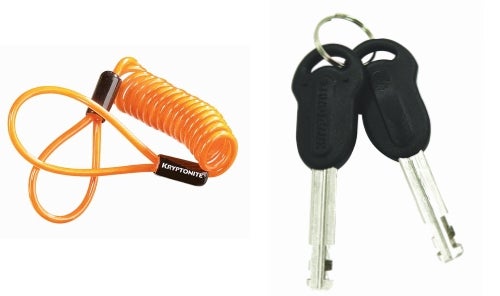 It is a bright yellow which might stand out and seem ugly, but it's helpful to remind yourself its there. Fortunately there's also an included orange reminder cable. This cable goes up and loops over your clutch or brake so you won't take off and leave the lock in place.
I like it when a product does its job in the simplest way possible. That's what you get with the Kryptonite motorcycle disc lock. Simple and effective, just the way we like it.
We consider the Kryptonite disc lock the best motorcycle disc lock for no-nonsense motorbike security, without worrying about an annoying electronic alarm malfunction.

---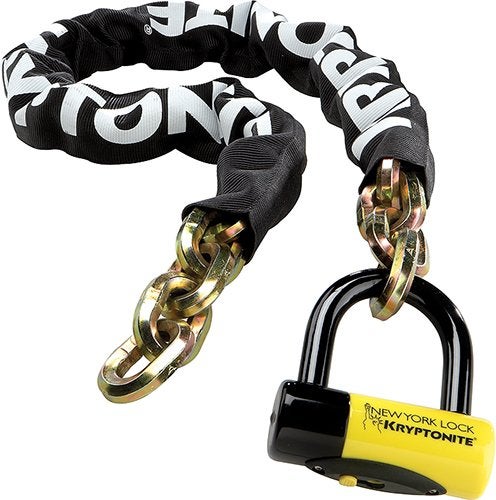 Features of the Kryptonite New York Fahgettaboudit:
Extra large 14mm hardened steel chain is nearly cut-proof
Reinforced steel lock has anti-drill protection
Lock has a double deadbolt design for redundancy
Don't let the name of this lock throw you for a loop. This Kryptonite chain lock is a no-nonsense motorcycle chain lock that will take nothing short of an angle grinder to get through.
If you want a bike chain lock for extra security, or if other locks just won't fit your motorcycle then look no further. The Kryptonite New York model is the best motorcycle chain lock.
Is it still possible to get through this chain? Sure, with the right tools and enough time a determined thief could get through it. However, they're much more likely to go steal your neighbor's bike that doesn't have a lock on it.
An added benefit of this chain style lock is that you could use it to lock down more than one object. If you alternate between using your motorcycle, bicycle, or other transport it would be pretty easy to adapt for use on other things.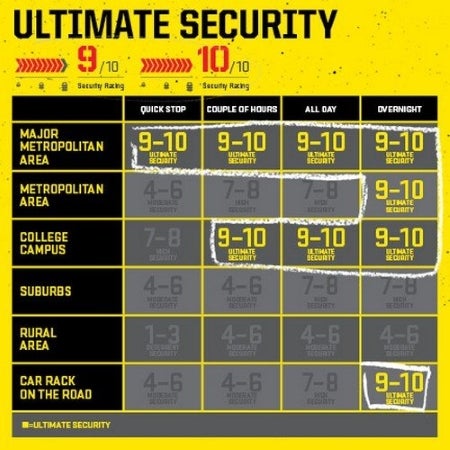 I do like that it has a full sized cover for the chain to avoid scratching the paint. This chain is available in two lengths either 39" or 60".
You'll want the longer chain if you plan to use it to lock the motorcycle to an object. The shorter chain will work fine for locking the bike to itself to prevent wheel rolling.
One big drawback is the bulk and weight. Motorcycles don't have much storage so keeping this thing on hand is going to be a pain.
This motorcycle lock is best for holding the bike down to a solid object like a street sign so it can't be picked up.

---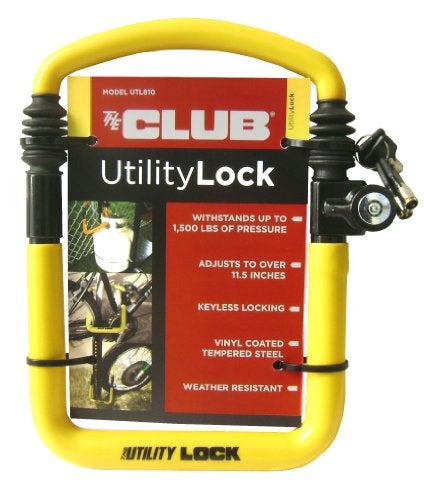 Features of The Club UTL810 Utility Lock:
Highly adjustable lengths in two sizes
Heavy duty steel handles up to 1,500 pounds of pressure
Vinyl coating protects from scratching
If you've got a motorcycle that just won't work with any of the other locks on this list, or you need an alternative then here's your best motorcycle lock. This highly rated, beefy steel lock can work on practically anything. It's tough, durable, and nearly indestructible. That said, it's also quite large.
This lock is essentially an adjustable steel rectangle. The small size is 6.25" wide and adjusts from 8.5" to 11.5". The large size adjust from 13.25" to 20.25" and has the same width of 6.25". Just measure your motorcycle to find out if it will fit.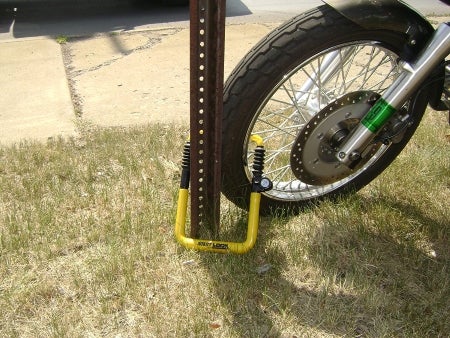 The beauty of this lock is that it will fit on nearly any motorcycle. Lock it around the spokes of the wheel to prevent the wheel from rolling. Lock it around the forks, or from the wheel to the frame. Pretty much anywhere you can think of you can probably find some way to make this lock fit.
Because it's bulky and heavy it makes a less suitable choice for transport than the rotor locks. However, if you store your motorcycle outside at night around the house, you might want to toss a big solid lock like this on as a backup.
Best for situations where you need extra beefy security or other locks just won't fit.

---
Motorcycle Locks Comparison Table
---
How to Choose the Best Motorcycle Lock
If you're like me then you worry about your motorcycle being stolen constantly. Even when I was riding cheap motorcycles and old beat up dirt bikes, I was always worried about leaving it behind at public places.
Of course when I started riding newer, more expensive motorcycles I had to consider adding some motorbike security. Motorcycle locks are an additional security implement that helps keep that big two wheeler from walking away to the chop shop.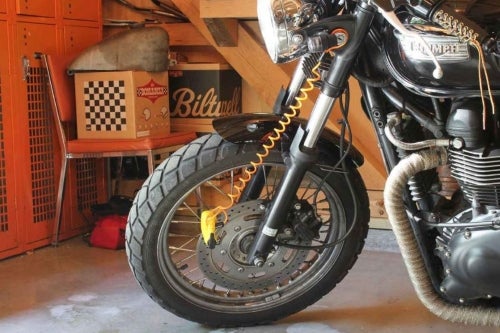 What You Can't Prevent With a Lock
Even the best motorcycle locks won't prevent thieves from taking your bike in the worst case. Never park in a secluded or dark area where thieves can work on stealing your bike unnoticed.
Even the best motorcycle security won't hold up for long if thieves can work on stealing your bike without anyone seeing them.
The biggest threat to motorcycle security is having thieves just pick up your motorcycle and carry it off. 3-4 strong people with a trailer can literally just pick up many lighter motorcycles and drive off with it. Wheel locks and grip locks won't prevent this.
Of course, you can chain the bike to a street lamp or solid surface anchor, but chains can be clipped or cut.
The point is – don't leave your bike locked up somewhere that thieves could get away with doing things like this unnoticed.
Motorcycle Grip Locks
These are also known as throttle locks, clutch locks, brake locks, or handlebar locks. They essentially lock onto your handlebar and clamp down on the clutch or brake lever. Not only do they immobilize the brake or clutch, they can immobilize the throttle if installed on the right bar.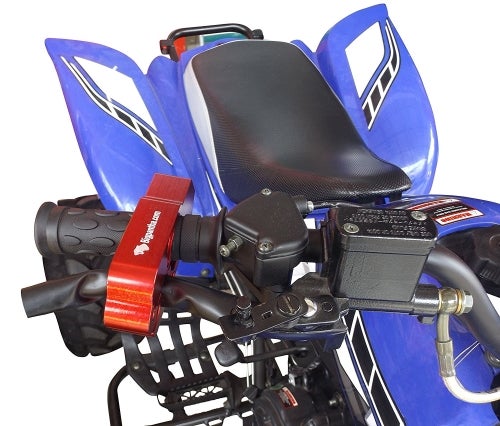 These locks are small, quick to use, and will work on nearly any motorcycle. Of course the restricting qualifications are that your grip size and handlebar measurements must be within a certain range. Most are adjustable though so a single throttle lock will likely fit 95% of all stock bikes.
One aesthetic advantage is that they don't look obvious on most bikes. Nothing clutters up a nice looking motorcycle more than a big ugly wheel lock. Grip locks are usually quite small and don't add a negative look to the bike. We all know that's important!

Motorcycle Wheel Locks and Brake Rotor Disc Locks
There are many options and types when you're choosing the best motorcycle lock for your specific needs and type of bike. Some are universal fit, others will only fit specific motorcycle models.
With over 20 years of riding and motorcycle mechanic experience, I'm going to help you decide which is the best motorcycle lock for you.
These bike locks can be quite small and unobtrusive. They're an awesome way to secure the bike without a lot of hassle and they can go on in a snap!
Essentially they just slip over the rotor on your front disc brake. There's a small steel bar that goes through one of the holes in your disc rotor and then locks in place to itself. They're ingeniously simple and some people even just use a regular old padlock to achieve the same purpose.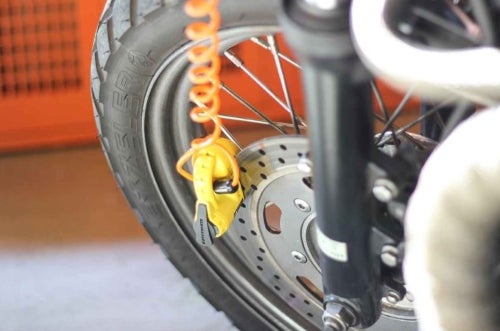 There's one major drawback. Your motorcycle must have disc brakes with milled rotors. There has to be some kind of hole in the rotor of your front brakes for the lock to attach to.
The only motorcycles that don't have milled disc rotors would be very old bikes with stock rotors. This could be solved by replacing the rotors with a modern set.
Before buying, make sure that the lock diameter is smaller than the holes in your rotor or it won't be able to close. You'll also need to make sure the throat depth of the lock you choose is sufficient to reach a rotor hole.
Motorcycle Chain Locks and Bar Locks for Motorcycles
These are pretty standard affair in the world of bicycle and scooter security. Motorcycle security chains are simply steel chains, usually with a rubber or fabric cover, and a lock. Bar locks are big, beefy bars of steel in various sizes that lock around a scooter or motorcycle.
They're rarely made for specific models because they can be adapted to fit just about anything the needs to be secured. Use a bar lock to lock through alloy motorcycle rims. Use a chain lock to lock your frame to a light post.
They're by far the largest and ugliest options for motorcycle security. However, chain locks are the only option that will prevent thieves from literally picking up your motorcycle and putting it on a trailer. Beware as chains can still be cut or broken with the proper tools by a motivated thief.
For maximum security combine a chain lock and a grip or rotor lock.
Motorcycle Retainers and Reminder Cables
Nothing makes you feel like an idiot quite so much as pushing off and cranking the throttle just to get stopped dead in your tracks and fall over sideways.
Yes, this happens. It happens when people forget to take off their rotor locks or utility locks before trying to ride away. It sucks.
One feature that was made to help prevent this issue is the reminder cable. This lightweight steel cable goes up over your handlebar and back down to the lock, reminding you that it's there. It's a simple concept that you'll thank yourself for some time down the road when you go to take off in a rush.
Motorcycle Lock Alarms
Some rotor locks and grip locks come with alarms built in. If the lock is removed without the key then the alarm goes off. Thieves can still bypass the lock, but it's significantly more difficult.
Not to mention they'll run off quickly if they're picking the lock and it starts to scream at them!
Some alarms come in power levels of 110 dB or more. Not only will these attract anyone's attention, they're genuinely so loud that it will cause pain to the ears for the person tampering with the lock. No one will want to stick around at that point.
Disc alarms are a great security measure!
Conclusion
Motorbike locks can come in tons of different varieties. For the majority of motorcycles a simple rotor lock will work just fine. If you need a backup, or some motorcycle security that's a bit stronger then you may want to add a chain or bar lock.
If a rotor lock just won't work make sure you try a grip lock like the one on our list! No matter what kind of motorcycle you have, there's a lock on our list that will definitely work for you.
Make sure to go look at your motorcycle or take some measurements before you order. You'll be quite annoyed if the lock arrives and doesn't fit because you forgot to make sure your motorcycle is compatible!
---
Thanks for reading The 5 Best Motorcycle Locks. We hope that this article gave you all the information you need to select the brand and type of motorcycle locking device that is right for you.
If you're a motorcycling enthusiast here's our some more of our product review articles:
MOTORCYCLE GEAR BLUETOOTH HELMETS | FULL-FACE HELMETS | MODULAR HELMETS | PHONE MOUNTS | GLOVES | GPS | MOTORCYCLE COVERS | MOTORCYCLE TENTS | WHEEL LOCKS | BACKPACKS | JACKETS | BOOTS | MOTORCYCLE JEANS | RAIN GEAR | WINTER GLOVES | MOTORCYCLE BATTERIES | HARLEY BATTERIES | ATV BATTERIES | CHAIN LUBE | ENGINE OIL
How We Researched
To come up with the top motorcycle locks, we researched a variety of sources for reviews such as Motorcycle News, REI, EVO along with our own personal experience.
We also consulted online magazines for product research and reviews to get as much unbiased information as we could. To help weed out fake reviews we used Fakespot.com to make sure we only looked at genuine reviews.
With so much quality gear available, we had to narrow it down based on what we felt were the best options were for the price. The staff authors have a wide and varied background in motorcycle touring and offroading as well as motorcycle mechanics. They are eager to share their knowledge with readers.
To help narrow down the selection we used personal experiences along with recommendations from fellow motorcycle-enthusiasts and industry experts.
After extensive research, we came up with our list to help you choose the right one for you.
Sources
Notice:
OutsidePursuits.com is a participant in the Amazon Services LLC Associates Program, an affiliate advertising program. OutsidePursuits.com earns fees from products sold through qualifying purchases by linking to Amazon.com. Amazon offers a commission on products sold through their affiliate links.