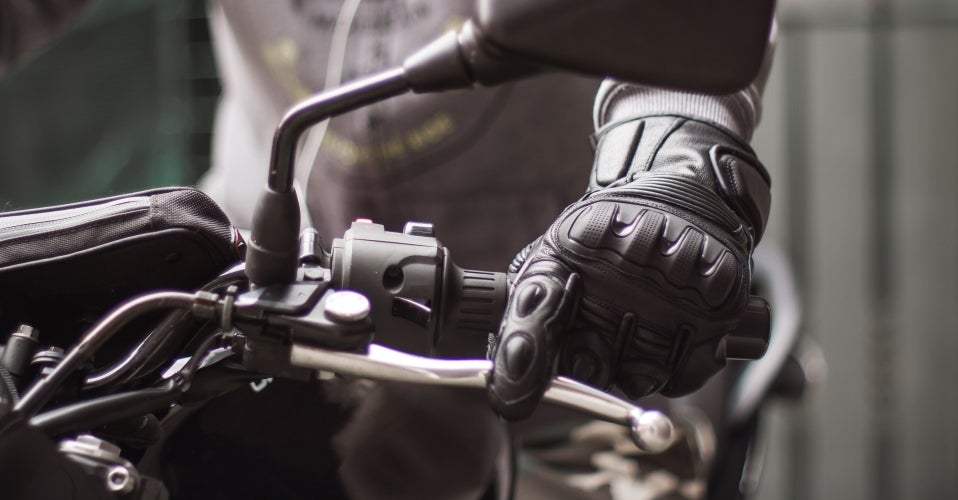 Our Editors independently research, test, and rate what we feel are the best products. We use affiliate links and may receive a small commission on purchases.
Best Motorcycle Gloves
Also see: Motorcycle Gloves Comparison Table
See our reviews of the top-rated best motorcycle gloves in 5 categories and buyer's guide, How To Choose The Best Motorcycle Gloves.
---
Quick Answer: The 5 Best-Rated Motorcycle Gloves
---
Motorcycle Gloves Reviews
Best Summer Motorcycle Gloves
Venture's "King Motorcycle Biker Gloves" At A Glance:
---
Touchscreen friendly
Premium air mesh & supreme breathability
Reinforced palm
Moisture wicking fabric
Reinforced knuckles
Lightweight
Leather-covered buckle guard
Venture's "King Motorcycle Biker" are our pick for the best motorcycle gloves for summer available on the market. These are designed specifically for summer riding and include features that help you focus more on your ride than your gear.
The "King Motorcycle Biker Gloves" are touchscreen friendly which is a must for many riders today. Many riders have a mount for their phones to help with GPS guidance, message alerts, etc.
Touchscreen gloves enable you to quickly access your phone or make small (and safe) adjustments to your phone without the need to pull over and take your riding gloves off.
One of the other main features that make these the best riding gloves is their breathability. Nobody wants their hands to sweat in the summer heat while they're riding, and these gloves ensure that doesn't happen.
With premium air mesh that facilitates supreme breathability and moisture wicking fabric, you can be sure your hands will stay dry, comfortable and ready to ride.
Coming in at .8 ounces, these gloves are very light. But despite their light weight, we love these riding gloves because they are designed with safety in mind.
Their double-reinforced palm ensures vibration control and abrasion resistance and the fingers come pre-curved to help combat riding fatigue.
The knuckles are reinforced with high-quality plastic and there is a leather-covered buckle guard to help ensure durability and impact resistance.
Venture's "King Motorcycle Biker Gloves" combine a summer-riding mentality with premium safety features. For these reasons, this is our top pick for best summer motorcycle gloves.

---
Best Winter Motorcycle Gloves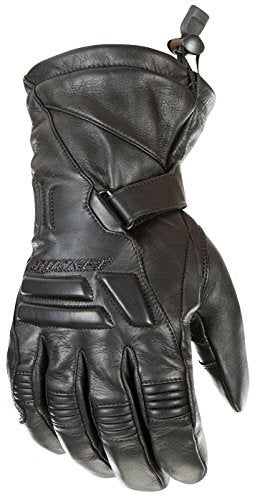 Joe Rocket's "Wind Chill" Gloves At A Glance
:
---
Cowhide outer shell
Waterproof Dry Tech midliner
100G Thinsulate heat insulation
Pre-curved ride-friendly design
Articulated full-flex expansion panels on fingers
Secure hook & loop wrist closure w/ draw cord & top of cuff
Vibration dissapating gel palm
Finding the best winter motorcycle gloves is always a challenge. You want riding gloves that will keep your hands warm and block the harsh winter winds, but you also want a glove that doesn't differ drastically from your summer gloves.
The best motorcycle gloves for cold weather should emphasize warmth and grip, as it is crucial that you maintain proper circulation when riding in the winter. However you don't want gloves that will be too constricting, as cold weather signficantly decreases material mobility & increases rigidity.
Joe Rocket's "Wind Chill" is a solid and rugged glove that most closely resembles some of the older and best leather biker gloves.
It takes all the best features of classic gloves like cowhide leather and padded knuckles and utilizes technology to add in modern features like a pre-curved design and vibration dissapaing gel palm while still staying true to the "old school" soul the glove has.
Joe Rocket's "Wind Chill" Gloves offer excellent warmth; they're packed with 100G Thinsulate moisture-resistant heat insulation to ensure your fingers stay warm and that you maintain proper circulation for the whole ride. 100G refers to 100 grams, and Thinsulate grades their insulation on grams per square meter.
100G is the perfect amount of insulation for winter motorcycle gloves because you want insulation to ensure warmth, but you don't want bulky gloves that take away from the overall feel and grip of your hands.
These gloves also include a cowhide outer leather shell, a waterproof Dry Tech midliner and a draw cord at the top of the cuff. Cowhide does a great job blocking wind and providing an initial water-resistant barrier.
If any water permeates the cowhide, your waterproof Dry Tech midliner will ensure your hands stay dry. The draw cord at the top of the cuff ensures no water, snow or other elements get into your gloves through your cuffs.
Finally, we chose these as the best winter motorcycle gloves because they keep in mind and combat rider fatigue. The gloves come in a pre-curved, rider-friendly design to ensure you don't overexert your hand muscles throughout the ride.
They also come with a vibration dissapating gel palm so that you don't get that "numb" feeling that many riders know well. Along with these great features, Joe Rocket's Wind Chill gloves have articulated full-flex expansion panels on fingers to ensure rider comfort, making these the best motorcycle gloves for winter.

---
Best Women's Motorcycle Gloves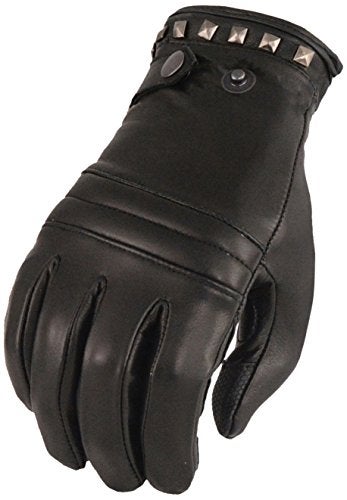 Milwaukee Leather's "Ladies Premium Leather Riding Gloves"At A Glance
:
---
Cowhide outer shell
Adjustable wrist strap
Gel Palm
Stretch Knuckles
Milwaukee Leather's "Ladies Premium Leather Riding Gloves" is our pick for best womens motorcycle gloves. The shape and size of women's hands differ slightly from those of men's, and women are therefore more likely to get the wrong size if they simply order gloves designed for men.
These are some of the best ladies motorcycle gloves as they come with a durable cowhide outer shell to protect your hands from wind and some of the lighter elements.
They also comes with an adjustable wrist strap to ensure a snug fit, stretch knuckles to provide a comfortable ride and a gel palm to help absorb some of the vibrations that are not ideal for riders.
Many motorycle riders prefer gloves that are more minimalistic as opposed to loaded down with features and gadgets that you won't use.
If you're a woman looking for a more minimalistic glove that offers a good mix of quality and functionality, these gloves are a great choice for you.
Milwaukee Leather is a trusted brand in the leather world, and you can trust them for their reliability and durability.
We like the simplicity these gloves offer while simultaneously providing riders with incrediblely comfortable features such as the adjustable wrist strap and gel palm. For these reasons, this is our pick for best womens motorcycle gloves.

---
Best Waterproof Motorcycle Gloves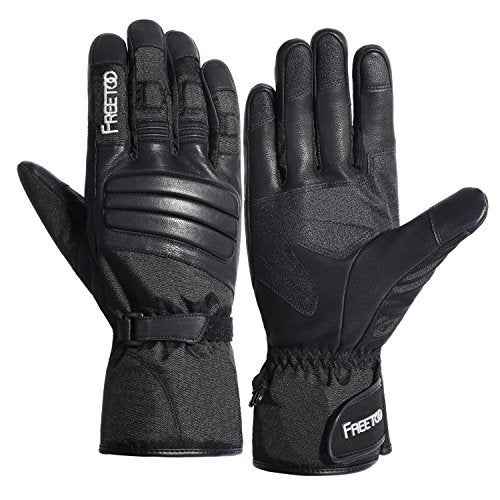 Freetoo "Mens Winter Gloves" At A Glance:
---
Goat leather exterior
Extended cuff with velcro strap
Waterproof & windproof
Touchscreen friendly
Handback & knuckle padding
Freetoo's "Men's Winter Gloves" are the best waterproof motorcycle gloves because of their durability, reliablity and functionality. A durable goat leather exterior with Thinsulate insulation ensures your hands are protected from the elements and stay warm even in
cold weather
.
We think these are some of the best motorcycle gloves out there because these gloves provide users with windproof and waterproof protection.
A water-resistant shell that is situated between the insulation and the waterproof shell offers the ideal balance of moisture-wicking properties while still keeping your hands dry and warm.
While many novice underestime the importance of warm and dry hands, experienced riders know comfortable and dexterous hands are critical to riding a motorcycle safely.
These gloves also have an extended cuff that users can roll under their sleeves to ensure no water, wind or other elements find their way into your gloves. The cuffs also have velcro straps, so you can be sure you'll have a snug and custom fit while you're riding.
Freetoo's riding gloves also have handback and palm padding to ensure your hands stay safe and free from the minor hand injuries that often accompany motorcycles. The palm padding acts to provide you with a more stable hold on your grips and to absorb some of the jarring and rugged impact that riders regularly experience from riding.
Finally, these gloves are touchscreen friendly which means you don't need to take off your gloves in order to answer a call or get directions on your smartphone.
This can be crucial when you're on the road and ensures you don't needlessly put yourself in danger when you're handling your smartphone. Remember, it's always important to put your safety first when dealing with riding and your smartphone.
As an added bonus, you can use these gloves for much more than riding motorcycles. After scanning the reviews you'll see people use these gloves for skiing, outdoor work like stacking firewood, shoveling their driveways and so much more.
So not only are these the best waterproof motorcycle gloves, they're also some of the best and most versatile waterproof gloves on the market.
Freetoo's "Men's Winter Gloves" incorporates everything into their waterproof motorcycle gloves that we look for in a glove; comfort, outerwear protection, warmth, functionality and safety. For this, we believe these are the best motorcycle gloves in the "waterproof" category.

---
Best Heated Motorcycle Gloves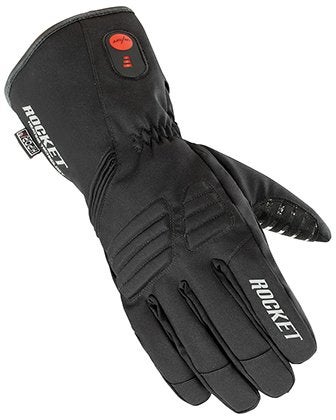 J
oe Rocket's "Mens Rocker Burner Textile Heated Gloves" At A Glance
:
---
3 stage heat setting with up to 4 hours battery life
Touchscreen friendly
Stainless core heating system
Waterproof, windproof, breathable
Heavy duty nylon shell
Synthetic suede palm w/ silicone print
FullFlex wrist
Adjustable cuff closure
Reflective logos
Includes 2 rechargable lithium-ion batteries
Includes 1 multiple charge port system so that both batteries can charge simultaneously
We have a lot to say about Joe Rocket's "Mens Rocker Burner Textile Heated Gloves", and they are needless to say the best heated motorcycle gloves on the market today. These gloves contain a stainless core heating system with 3 levels of heat that can last up to 4 hours.
This means you have the ability to turn the heat up if it gets colder and turn it down if the temperature starts to heat up a bit.
Although the battery life is 4 hours, Joe Rocket includes 2 rechargable lithium-ion batteries with these gloves at no extra cost. This means as long as you bring both batteries with you, you'll get up to 8 hours of battery life after charging each only once.
And with the multiple charge ports system that is included with these gloves at no extra cost, you'll be able to charge both batteries at the same time, adding to the overall convenience these heated motorcycle gloves offer.
We believe some of the best motorcycle gloves are waterproof and windproof, while still offering users breathabilty so their hands stay dry and comfortable. These are some of the best motorcycle riding gloves offer exactly that.
With a heavy duty nylon shell that repels water and blocks wind and a HiPora® liner that further adds to the gloves insulation and heat retention properties, you can be sure your hands are comfortable, dry and warm for the entirety of your ride.
These gloves also include a synthetic suede palm with silicone print. The synthetic suede palm combined with silicone print significantly increase your grip and feel of your handlebar grips without adding bulk or significant weight to your gloves.
It is very important that riders can feel the small changes in road grip and topography, and these gloves ensure you'll be able to feel everything while maintaining control of your bike.
Finally, Joe Rocket's "Mens Rocker Burner Textile Heated Gloves" include a FullFlex™ wrist system and adjustable cuff closure. The FullFlex™ wrist system is designed to significantly minimize wrist strain and to combat rider's fatigue.
The adjustable cuff closure enables you to customize the fit of your gloves around your wrist and lock out any elements such as wind, water and the like. And for increased visibility at night, each glove sports two reflective patches to catch the eyes of any unaware drivers.
Joe Rocket's "Mens Rocker Burner Textile Heated Gloves" incorporates comfort, safety, functionality, protection from the elements, a reliable heating element and very long battery life to compliment the heating element. For all of these reasons, these are our pick for best heated motorcycle gloves.

---
Motorcycle Gloves Comparison Table
---
How to Choose the Best Motorcycle Gloves
Outer Shell Material
Breathability
Wrist Closure
Touchscreen Capabilities
Water-Resistant/Waterproof
Vibration Resistance
Heating
Size and Fit
Cost
If you invest the time into choosing the best motorcycle gloves that fit your needs, you will enjoy your riding experience significantly more than if you don't invest that time. So here are some tips on how to choose a glove.
So, we have gone over our picks for the best motorcycle gloves out there. We even went a little bit into which pair of gloves is best for different specific purposes (i.e. Best Summer Motorcycle Gloves), but you still might be left trying to figure out exactly what you specifically need – and don't need – in a pair of motorcycle gloves.
While the purpose of motorcycle gloves is universally to increase comfort and safety during riding, the specific features that do that best will vary for different riders. Each rider is different and rides under a different set of conditions that, again, affect each rider differently.
For these reasons, it is important to dig into the different features you can expect with different pairs of riding gloves. This allows you to understand exactly what you need, personally.
From there, you will know what you should be looking for in order to find your ideal pair of motorcycle gloves! Check out these specifications below to see just what we are talking about.
Outer Shell Material
The material that your gloves are made of is obviously going to be pretty important. All layers of your gloves are important, but you will probably want to put the focus on the outer shell material. Due to durability, strength, and performance, leather is definitely going to be the go-to choice for motorcycle gloves.
You will need to put more thought into it than just that, though. Cowhide leather is the most popular material used, but you can also choose from some options made using goat leather. Keep in mind things like leather reinforcements throughout the gloves too as this can drastically affect your durability.
Breathability
How well your gloves breathe can be vital to your comfort level and can even influence safety. Gloves that don't breathe well can leave your hands sweaty and uncomfortable which can lead to reduced riding skills.
High-quality mesh throughout the design of the glove provides the best breathability, but it isn't something you want for winter riding when temps will be low, and conditions could even include snow or freezing rain.
Options featuring mesh are excellent for summer when temps will be hot, but you will want a different pair of riding gloves for the winter.
Wrist Closure
Most motorcycle gloves will feature some sort of wrist closure. This helps to keep the glove safely in place, adds to your overall comfort, and helps keep the elements out of your gloves and away from your hands. Wrist closures vary from glove to glove even though almost all motorcycle gloves have some form of them.
Velcro straps are a popular option that is easy to adjust, but some options may use a drawcord instead. Drawcords will provide a strong snug fit. Although, Velcro options can be very effective and less bulky. Some options may even include both – especially in the case of heavy-duty winter motorcycle gloves.
Touchscreen Capabilities
Keeping up with the modern world, many motorcycle gloves now have touchscreen capabilities as well. Regular gloves will require you to remove them before you can use the touchscreen on your phone or other devices, but these gloves with special touchscreen capabilities let you use your phone without removal.
While you should always exercise caution and avoid using phones or other devices while operating a motor vehicle, this can still have some really great benefits.
When stopped for short periods of time, it is easy to navigate your phone without needing to actually remove your gloves. This is important for quick GPS adjustments, phone calls, or even when you're just taking a quick break and want to check out your social media.
Water-Resistant/Waterproof
The majority of motorcycle gloves will be at least water-resistant. This is important for helping to keep your hands dry and safe from the elements. Some are waterproof rather than just water-resistant, though, and you'll need to decide if that is important for you or not.
Waterproof options are best for more extreme conditions and especially strong winter conditions. If you will be dealing with a lot of snow or rain, waterproof is probably the best choice.
Vibration Resistance
Another really beneficial feature of some motorcycle gloves is vibration resistance. As all motorcycle riders know, the handles of your motorcycle vibrate. These vibrations are transferred to your hands and can cause a lot of discomfort over time.
They can actually even cause numbness that can become a safety hazard for your riding. Certain motorcycle gloves feature a special gel padding in the palm that helps to absorb these vibrations.
This reduces the amount of vibrations you feel and therefore helps improve comfort and safety. If your motorcycle vibrates a lot, you will want to strongly consider this feature for your motorcycle gloves.
If you have a motorcycle where the vibrations aren't as extreme or don't bother you, you may not need to worry about this particular feature.
Heating
While not a common feature among motorcycle gloves, there are some options that actually heat your hands. This adds bulk and cost to the gloves, so it should be considered carefully. If you will be riding in very low temperatures, it can definitely provide worthwhile benefit by keeping your hands warm and your riding safe.
Size and Fit
You will obviously need to choose gloves that fit you well. Each pair of gloves comes in a different range of sizes. If your hands are pretty average-sized, any pair should work well for you.
If you have particularly large or small hands, look for options with a wider range of sizes. Women can also choose to shop for gloves specifically made for their hands to ensure a better fit.
Details like pre-curved fingers also help improve the fit and comfort of your motorcycle gloves.
Cost
Finally, as with any purchase, the cost is vital to consider. Motorcycle gloves can vary a great deal in price. The options on our list of recommendations range from under $30 to nearly $150.
So, you need to put a lot of thought into what you expect from your gloves and what you are willing to pay for that.
More expensive gloves may not be inherently better than more affordable options. Sometimes a bigger price tag may be more about a specific feature than actual quality.
FAQs – Motorcycle Gloves
Question: "What are the best motorcycle gloves"?
Answer: It's important to remember that there is not a "one-size-fits-all" approach to buying motorcycle gloves. There are gloves specifically designed for winter, for rain, gloves with heating elements and gloves that are designed differently for different genders.
Before buying gloves, determine what time of year you'll be using these gloves and what kind of climate you're most likely to be riding in. This will help you determine the best motorcycle gloves for you.
Question: "Do I need motorcycle gloves"?
Answer: This is an interesting question and the answer will change based on who is riding the motorcycle. However, the vast majority of riders should wear motorcycle gloves. Motorcycle gloves provide hand protection in the event of a crash, protection against the elements and improve riders' grip and overall comfort level.
For the vast majority of motorcycle riders, the answer to "Do I need motorcycle gloves?" is "Absolutley; you should find the very best motorcycle gloves you can find".
Question: "Are fingerless motorcycle gloves better than classic motorcycle gloves"?
Answer: There is no definitive answer to this, and a lot will depend on rider preference and needs. The best fingerless motorcycle gloves provide a more "natural" feel when gripping the handlebar grips, however many classic motorcycle gloves are designed with a pre-curved shape so as to help combat hand fatigue while riding.
Fingerless gloves are also not nearly as effective in combatting the elements as classic motorcycle gloves, so it's important to evaluate where you'll be riding and what the weather conditions will be before purchasing your gloves.
Buyer's Tips for Motorcycle Gloves
As before making any purchases, its important to do your research before purchasing motorcycle gloves. There are many brands that make well-respected and trusted products, while there are also many new brands on the market that offer more technologically advanced gloves.
The best thing you can do before purchasing motorcycle gloves is to look at the user reviews online and figure out which gloves will be right for you.
Remember that you'll be wearing riding gloves every time you hop on your bike, so it's ok to invest in this product. Cheap gloves that fall apart quickly and made from low-quality materials not only means you'll be buying another pair of gloves in the near future, but it also poses a risk to your riding.
If your motorcycle gloves fall apart while you're on the freeway, you're going to be in a very dangerous spot. For this reason, make the investment and get the very best motorcycle gloves that you can.
Finally, don't be afraid to go into a local store and try on different pairs of riding gloves to figure out which gloves fit best on your hand.
Everyone's hands are shaped differently, and while some gloves will work great for your hands, others will fell awkward, slide around while riding and not offer the custom, snug fit that is imperative while riding.
---
Thanks for reading The 5 Best Motorcycle Gloves. We hope that this article gave you all the information you needed to select the brand and type of motorcycle gloves that are right for you.
If you're a motorcycling enthusiast here's our some more of our product review articles:
MOTORCYCLE GEAR BLUETOOTH HELMETS | FULL-FACE HELMETS | MODULAR HELMETS | PHONE MOUNTS | GLOVES | GPS | MOTORCYCLE COVERS | MOTORCYCLE TENTS | WHEEL LOCKS | BACKPACKS | JACKETS | BOOTS | MOTORCYCLE JEANS | RAIN GEAR | WINTER GLOVES | MOTORCYCLE BATTERIES | HARLEY BATTERIES | ATV BATTERIES | CHAIN LUBE | ENGINE OIL
How We Researched
To come up with the top motorcycle gloves, we researched a variety of sources for reviews such as Motorcycle News, REI, EVO along with our own personal experience.
We also consulted online magazines for product research and reviews to get as much unbiased information as we could. To help weed out fake reviews we used Fakespot.com to make sure we only looked at genuine reviews.
With so much quality gear available, we had to narrow it down based on what we felt were the best options were for the price. The staff authors have a wide and varied background in motorcycle touring and offroading as well as motorcycle mechanics. They are eager to share their knowledge with readers.
To help narrow down the selection we used personal experiences along with recommendations from fellow motorcycle-enthusiasts and industry experts.
After extensive research, we came up with our list to help you choose the right one for you.
Sources
Notice:
OutsidePursuits.com is a participant in the Amazon Services LLC Associates Program, an affiliate advertising program. OutsidePursuits.com earns fees from products sold through qualifying purchases by linking to Amazon.com. Amazon offers a commission on products sold through their affiliate links.