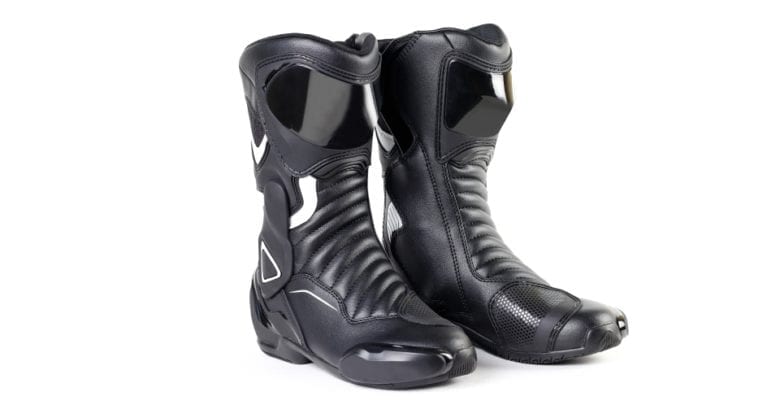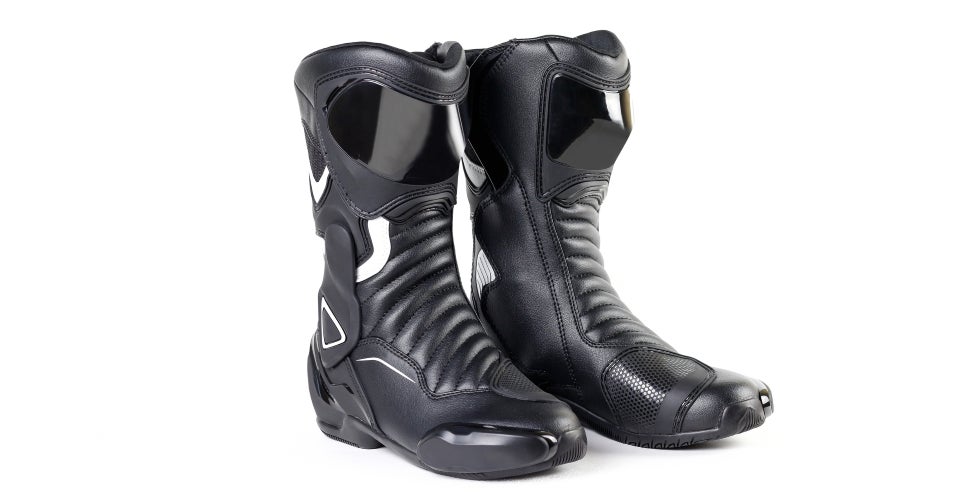 Best Motorcycle Boots
| | Best Touring Motorcycle Boots | Best Adventure Motorcycle Boots | Best Waterproof Motorcycle Boots |
| --- | --- | --- | --- |
| | Alpinestars Mens Belize Drystar Boot | Gaerne G-Adventure Adult Off-Road Motorcycle Boots | Sidi Aria Gore-Tex Waterproof/Breathable Touring Motorcycle Boots |
| | | | |
| | | | |
| Material | Multi-material upper containing PU-coated leather, microfiber and suede | Full-grain leather upper / synthetic sole and midsole | Micro-injection mesh and rubber upper / mesh-lined with Gore-Tex |
| Weight / Height | 5 lbs / 8 inches | 3 lbs / 11 inches | 2.5 lbs / 7 inches |
| Tread Design | Shallow tire tread for comfortable walking | Heavy chisel saw-tooth for traction on dirt, mud and rocks | Shallow serpentine tracks for walking and water traction |
| Customer Ratings | 5.0 / 5.0 | 4.3 / 5.0 | New Product |
| | | | |
---
Quick Answer: The 6 Best-Rated Motorcycle Boots
Best Touring Motorcycle Boots
Best Adventure Motorcycle Boots
Best Waterproof Motorcycle Boots
---
Best Touring Motorcycle Boots Reviews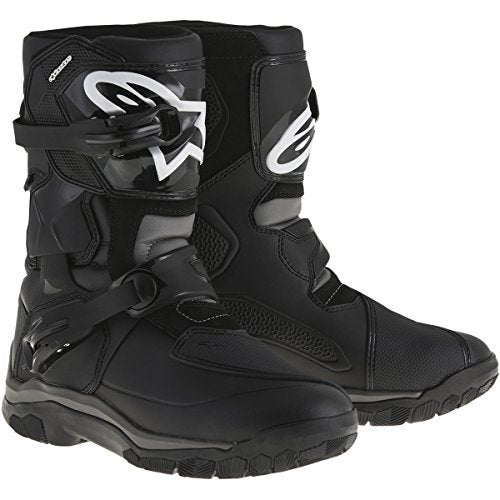 Sizes Available: Men's US 7-13
Boot Weight: 5 lbs.
Upper: Multi-material upper chassis incorporating PU-coated leather, microfiber and suede leather
Lining: Breathable textile interior lining throughout boot; integrated breathable DRYSTAR® membrane for all-weather performance
Midsole: Molded PU foam to make the boot bottom lighter without compromise performance
Insole: Internal high modulus polyamide insole with integrated steel shank reinforcement for structure and support in the arch area
Footbed: Removable anatomic EVA foam and Lycra® foot-bed
Outsole: Highly flexible sole thread made of Alpinestars' exclusive vulcanized rubber compound
Closure System: Buckles made from durable TPU and glass fiber reinforced nylon; buckles are replaceable and include micro-ratchet memory system and quick-release/lock
Standards: CE certified
If you enjoy long tours and are looking for a pair of men's riding boots equal parts comfort and protection, Alpinestars Belize DryStar Motorcycle Boot is perfect for you. Not only is the outside of the boot protected by high-quality coated material like leather, microfiber and suede, but the inside padding is extremely comfortable. Integrated soft foam surrounds the ankle and collar for comfort, fit, and additional shock absorption.
These boots are quick and easy to take on and off, thanks to a wide-entry aperture opening. The buckle closure system allows for easy adjustment around the calf area, so you can find your perfect fit, allowing for ultimate ankle movement while riding and standing on pegs.
These boots tend to make a good walking boot on flat ground. In our opinion, it's the ideal combination of a highly-protective, and extremely comfortable, biker boot.
---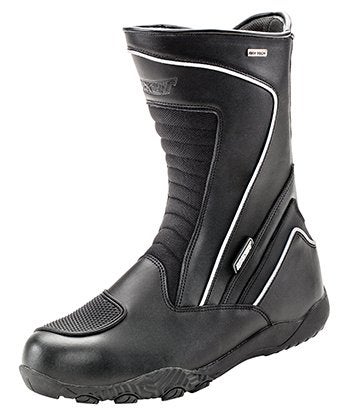 Sizes Available: Men's US 7-13
Boot Weight: 4.2 lbs.
Upper: Split-grain leather construction; padded upper cuff
Lining: DryTech waterproof membrane
Midsole: Internally reinforced ankle, toe and heel
Insole: Synthetic
Footbed: N/A
Outsole: Non-slip aggressive sole
Closure System: Large entry full length zipper with zipper cover
Standards: N/A
If you are looking for a pair of urban motorcycle boots but don't care for buckles, the Joe Rocket Meteor FX Boots are an excellent zipper boot. It's ideal for dry
or
wet conditions, thanks to a waterproof lining and rubber gear shift protector.
The boot also has 360˚ reflective striping, so you can ride day or night knowing you are totally visible.
These boots are quick to break in and are guaranteed to keep your feet warm and dry. The more you walk in these, the more comfortable they get. If you like cushy footbeds, you might want to get an additional insole for these boots.
---
Best Adventure Motorcycle Boots Reviews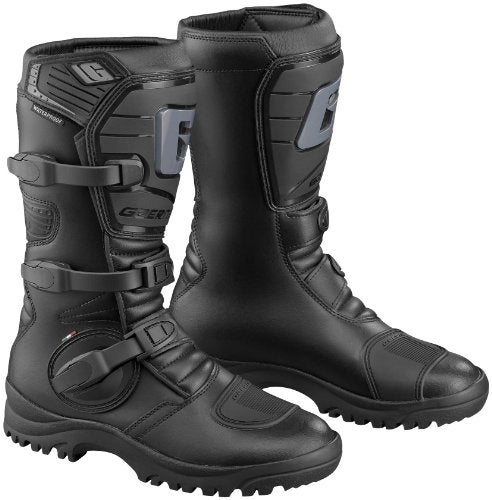 Sizes Available: US Men's 9-12
Boot Weight: 3 lbs.
Upper: Full-grain leather upper
Lining: Padded interior
Midsole: Synthetic
Insole: Synthetic
Outsole: Lug sole
Footbed: Removable footbed
Closure System: 3 buckle closure system
Standards: N/A
These incredibly lightweight adventure riding boots perform well on riding trails and on hiking excursions. They offer comfortable protection with interior padding and a leather gaiter, without adding bulk that would make hiking difficult or uncomfortable.
These boots are versatile, breathable, waterproof, and fit true to size. You might feel a bit of a pressure point on your outside ankle bone for the first few wears, but once the boots are broken in, they will fit like a comfortable glove.
---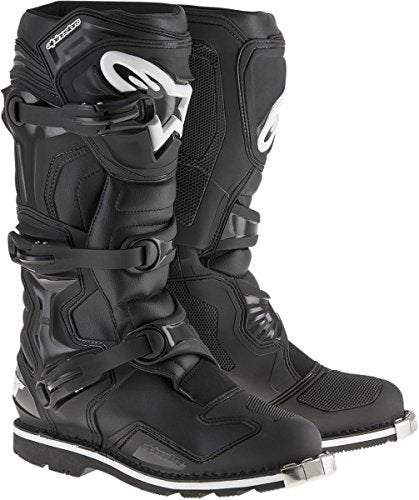 Sizes Available: Men's US 7-13
Boot Weight: 6.9 pounds
Upper: Multi-material upper constructed from lightweight, abrasion resistant and durable microfiber with anatomically profiled copolymer protection
Lining: Full technical textile lining for comfort and moisture wicking
Midsole: Soft foam surrounding the ankles and collar offer comfort and shock absorbing performance
Insole: Innovative one-piece TPU injected insole, reinforced by a metal shank inside and co-injected toe reinforcement
Footbed: Replaceable EVA footbed with textile lining on top
Outsole: Alpinestars exclusive high grip outsole and replaceable stamped steel sole guard
Closure System: 3 polymer buckles, a ratchet with memory and a quick release/locking system with self-aligning design for easy, precise closure.
Standards: CE certified
This is a great boot for every adventure rider. It is designed with ergonomics in mind, and adjusts to almost every foot shape and size. The instep was redesigned with Achilles accordion flex zones, and ergonomic TPU triple buckle straps wrap from the front to the medial protector and lateral side without compromising flexibility.
An extended PU synthetic gaiter seals out water, dirt, and debris, so you can focus on riding. If you happen to bail, don't worry – these boots have contoured TPU calf protector plates, TPU higher medial protectors, and TPU outer lateral ankle and heel protectors, so you have lots of protective support and resistance to impacts.
---
Best Waterproof Motorcycle Boots Reviews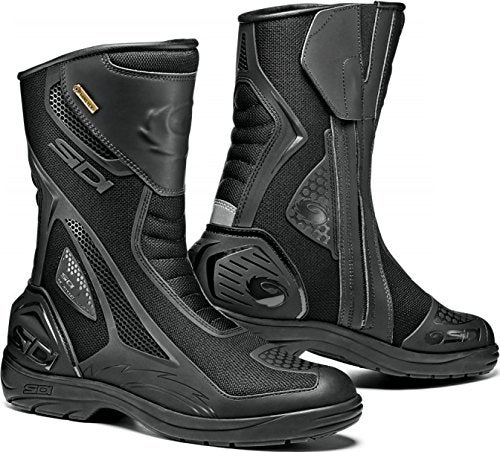 Sizes Available: Men's EU 38-47
Boot Weight: Manufacture does not specify
Upper: Micro injection and mesh
Lining: Lined with Gore-Tex waterproof material
Midsole: Inner and external ankle support
Insole: Nylon
Footbed: Microfiber inserts, removable arch support pads
Outsole: Non-slip rubber sole
Closure System: VELCRO® brand and zipper closure system with an elastic panel adjacent to the entry zipper that allows a bind free zip and fantastic fit
Standards: N/A
If you enjoy cruising in wet conditions, you need a pair of Sidi motorcycle boots. These are by far the best waterproof motorcycle boots we've come across. With a sturdy no-slip sole, Gore-Tex waterproof membrane, full-length gaiter, fully encapsulated heel cup, and reflective panel, you can ride in the wettest conditions without worry.
Thanks to the Gore-Tex membrane, zero water gets in, but moisture and sweat gets out. Your feet will remain dry, comfortable, and at the perfect temperature.
---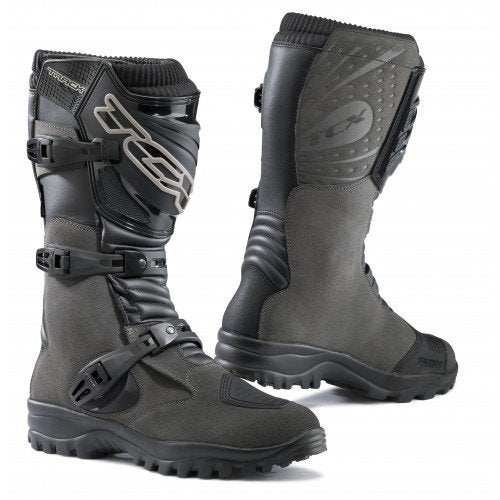 Sizes Available: Men's US 8.5 – 12/Men's Euro 42 – 46
Boot Weight: 6 lbs.
Upper: Suede, leather and microfiber
Lining: Waterproof lining
Midsole: Polyurethane shin plate, shift pad and malleolus inserts
Insole: Manufacture does not specify
Outsole: Specific tread for superior grip on any terrain
Footbed: Manufacture does not specify
Closure System: Three polyurethane adjustable buckles
Standards: CE certified
The TCX Track Evo Waterproof Boot is super comfortable and less bulky than many motocross boots. These motorcycle boots are ideal for light off-roading, endure, ATV, and adventure riding in dry or wet conditions. These boots have an aggressive tread pattern, allowing excellent grip on your pegs or on the ground.
---
How to Choose the Best Motorcycle Boots For You
If you are an avid motorcycle rider you know the second most important thing after your bike is your boots. A pair of the best motorcycle boots can make a daylong ride more comfortable, safer and more enjoyable altogether.
In this article, we review the top-rated motorcycle riding boots on the market, and also provide this Buyer's Guide to help you make the most informed purchase decision.
The boots we review and compare in this article are generally meant to be worn on sports bikes and adventure bikes (aka dual sport bikes). Harley boots are another class of biker boot altogether, which we cover in another motorcycle boots review article.
Also see our article on Winter Season Motorcycle Riding.
Motorcycle Boot Terminology
Don't be overwhelmed with all the components that make up a motorcycle riding boot. Once the structure of a motorcycle boot is broken down, it's actually quite simple to understand.

Upper
The material of the upper part of the motorcycle boot.

Insole
The bottom interior part of a motorcycle boot. Insoles are a part of the boot and cannot be removed, unlike footbeds, which can be taken out.

Footbed
The bottom interior part of the boot that the foot rests directly on top of. Footbeds can be removed. Ideally, you want a footbed that is comfortable, flexible, and offers breathability and resistance to foot bacteria.

Midsole
The layer of material between the inner soles and outsoles. The midsole provides support, helps with shock absorption, and protects the foot.

Lining
The interior sides of a motorcycle boot are composed of lining and padding. Some lining and padding are for comfortability, others offer functionality like water resistance or insulation.

Outsoles
The bottom portion of the boot that makes contact with the ground. The outsole is attached to the upper. Motorcycle boots tend to have durable outsoles, made of tough rubber or other material that offer friction to avoid slipping.
Shank
The supportive structure of a motorcycle boot, between the insole and outsole. The shank is a critical part to any motorcycle boot, as it diminishes the load incurred by the wearer's feet. Shanks can be made of steel, fibreglass, Kevlar, and a range of other materials.
Gaiters
Gaiters protect your feet and legs from harsh environments and weather. They can range in height and materials, depending on what they are intended to do.
Height
The height of the boot from bottom of heel to top of the back.
Weight
The total weight of the pair of boots.
EEA / CE – Certified
EEA
Motorcycle boots that come with this certification mark are up to the health, safety, and environment protection standards for products sold within the European Economic Area. Products that are designed or manufactured in the EEA but are sold outside of it can bare this marking.
CE
The CE certification mark is recognizable worldwide and seen as a high mark for consumer standards.
Motorcycle Boot Purchasing Considerations
Weather
Weather/climate/environment you ride in is a major consideration to selection. If you tend to ride in wet conditions, you definitely want to find a boot that is waterproof and will keep your feet dry. If you ride in cold temperatures, you'll want to find a boot made with insulation padding.
Protection
If you tend to fall or strike objects and risk injuring yourself often look for extra support and reinforcements.
Dual Purpose
Some adventure riders will hike in their riding boots; others keep them strictly on the bike. Consider your activity and select a boot that works with your full range of activities.
Common Materials Used to Manufacture Motorcycle Riding Boots
EVA Foam and Lycra
EVA Foam
EVA – which stands for Ethylene-vinyl acetate – a soft, yet durable polymer of ethylene and vinyl acetate. EVA is used in a wide range of products, from flooring to crafts, sports equipment, and set design. Flip-flops are often made from EVA, because it is soft and flexible, without having sponge-like quality.
Lycra
Lycra – is a synthetic type of synthetic fabric that is very elastic. It is also called Spandex or Elastane. The brand name "Spandex" is commonly known to be an anagram of the word "expands"
EVA foam and Lycra is commonly used to manufacturer footbeds and insoles in sport bike boots.

Polyester
A common synthetic fiber material that is stretchy, crease-free, tear-proof, abrasion-resistant, and absorbs little moisture, making it a helpful component in any biking boot, as it helps transport moisture away from the body. One downside of polyester is its tendency to pill. Polyester is very light, retains its shape, and is resistant to both sweat and UV rays.

Polyamide
Like polyester, polyamide is a synthetic fiber that is tear-proof, abrasion-resistant, and absorbs little moisture. Polyamide is also stretchy and crease-free, but can be prone to pilling. Out of all raw textile materials, polyamide is the most resilient and durable, even when wet.

TPU (Thermoplastic Polyurethane)
TPU is a polyurethane plastic with elastic, transparent, highly resistant qualities. It is resistant to oil, grease, and abrasion. It is also three times more temperature resistant than standard EVA foam material.

PU (Polyurethane)
Polyurethane is an injection-molded synthetic material containing millions of tiny air bubbles. PU is used to manufacture motorcycle boots because it is lighter than rubber or PVC, lasts up to three times longer than boots made from rubber or PVC, and is flexible, soft to the touch, and comfortable. PU has many advantageous properties for biker boots including:
Waterproof

Stain-Resistant

Abrasion-Resistant

Anti-Bacterial

Flame Retardant

Anti-fungal Properties
PU-Coated Leather
Leather that has been treated with polyurethane is resistant to water, abrasion and other external elements. PU coating helps leather to dry quicker and remain soft and durable.

Full-Grain Leather
Full-grain leather is made from hide just below the animal hair, which is the tightest hide on an animal. As a result, full-grain leather is the strongest, most durable, and moisture-resistant type of leather.

Split-Grain Leather
Split grain leather is made from the bottom layer of animal hide. It has excellent properties for motorcycle boots, like a high level of water resistance, flexibility, abrasion resistance, and puncture resistance.

Gore-Tex
Gore-Tex is one of the best waterproof materials for motorcycle boots. Gore-Tex membrane is composed of pores that are 20,000 times smaller than water droplets, but 700 times larger than a water molecule. This means external water will never penetrate inside your boot, but perspiration can easily escape.

Lug Sole
A thick rubber sole that has deep indentations in a pattern designed to provide a strong grip. Lug soles are common in sporting and work shoes.
---
Thanks for reading Top 6 Best Motorcycle Boots Reviewed.  We hope that this article gave you all the information you needed to select the brand and type of motorcycle boots that are right for you.
If you're a motorcycling enthusiast here's our some more of our product review articles:
MOTORCYCLE GEAR  BLUETOOTH HELMETS | FULL-FACE HELMETS | MODULAR HELMETS | PHONE MOUNTS | GLOVES | GPS | MOTORCYCLE COVERS | MOTORCYCLE TENTS | WHEEL LOCKS | BACKPACKS | JACKETS | BOOTS | MOTORCYCLE JEANS | RAIN GEAR |  WINTER GLOVES | MOTORCYCLE BATTERIES | HARLEY BATTERIES | ATV BATTERIES | CHAIN LUBE | ENGINE OIL
For an all-around motorcycle touring boot we selected the Alpinestars Mens's Belize Drystar Motorcycle Touring Boots as our Editor's Choice.
OutsidePursuits.com is a participant in the Amazon Services LLC Associates Program, an affiliate advertising program. OutsidePursuits.com earns fees from products sold through qualifying purchases by linking to Amazon.com. Amazon offers a commission on products sold through their affiliate links.