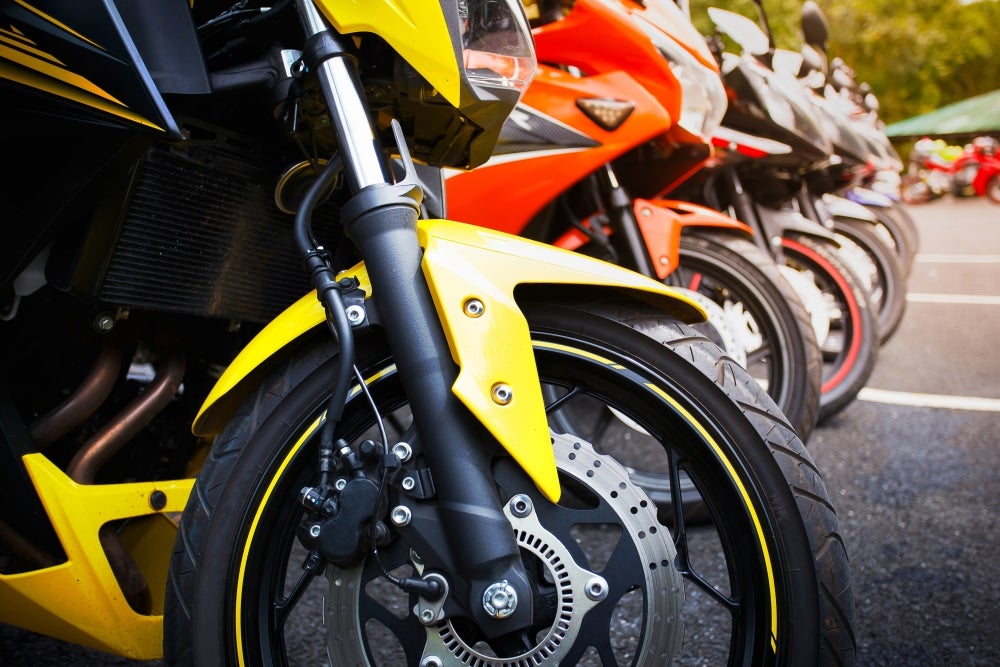 Our Editors independently research, test, and rate what we feel are the best products. We use affiliate links and may receive a small commission on purchases.
Here we review the best motorcycle batteries in the industry. First we'll rate and rank the top 5 brands based on ratings and reviews data. Then we'll help you to know how you should go about narrowing the field in the buyer's guide section entitled How To Choose The Best Motorcycle Battery.
Best Motorcycle Battery
Also see: Motorcycle Batteries Comparison Table and YouTube Video Review
---
Quick Answer: The 5 Best-Rated Motorcycle Batteries
---
Motorcycle Battery Reviews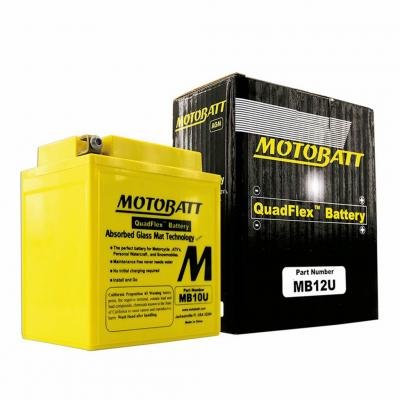 MotoBatt is known for their commitment to top quality. With that comes higher prices compared to many other non-OEM brands of battery for motorcycle. They focus mostly on gel and AGM batteries which are maintenance free, and ready to power your ride. With their line of batteries, you'll find a model that will replace just about any motorcycle battery you can find.
Motobatt Battery Features and Benefits
The MotoBatt QuadFlex AGM batteries have several competitive features built on a solid battery platform that's available in just about any size. Among their line of batteries in are both exposed terminal and screw terminal batteries. One thing I really like is that many of their batteries are rocking a proprietary 4-terminal design. That makes it easier to hook up tons of accessory cables.
These distinctive yellow batteries are available from a few CCA up to 250+ CCA which is tons of power for a motorcycle battery! Perfect for those huge displacement touring engines and choppers.
Battery Installation - Motobatt
Because these batteries are all AGM they make perfect choices for maintenance free use. They're also top candidates for modified bikes and custom builds because they can be installed at any angle to fit into odd spaces.
If you're looking for a single brand that's likely to have a reliable battery to fit just about any bike in your garage, start right here with MotoBatt.

---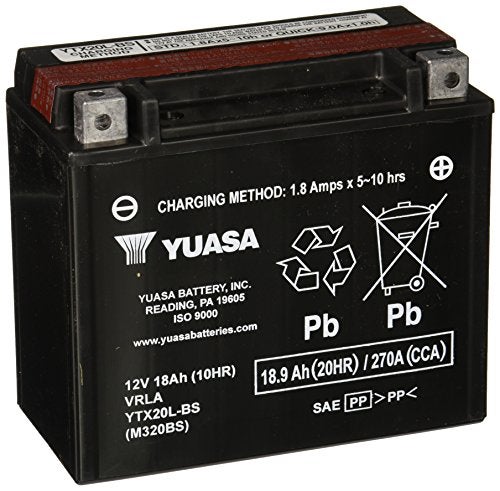 YUASA has been an OEM brand on several Japanese bikes over the years. For that reason, a Yuasa motorcycle battery makes a natural choice as a replacement on many sport bikes and Japanese bikes.
Yuasa Battery Basics 1 - Battery Construction
For Honda, Suzuki, Kawasaki, and Yamaha riders a YUASA battery might be the perfect OEM replacement with a direct fit. Unlike some OEM brands, YUASA has a reputation for quality batteries that really get the job done.
The YUASA Maintenance Free Motorcycle Battery is a sealed battery that comes with an acid bottle separate. Once you add the acid into the battery and seal it, you won't ever have to mess with it again.
GS Yuasa - battery basics: 2. how batteries work
If that sounds like an annoying extra step, keep in mind that batteries immediately begin to lose longevity once acid is added. By putting the acid in yourself, your battery is guaranteed to be brand new when you install it, not having sat around in a warehouse for years.
Yuasa Battery Basics 3 - Selecting The Correct Battery
The Yuasa motorcycle battery comes equipped with anti-sulfation technology. This helps reduce the gradual buildup of sulfur in the battery which eventually leads to the slow death of the battery over time. While it can't be stopped, YUASA claims theirs will last 3 times longer than batteries without the technology.
If you're willing to take a single extra step to ensure that your battery is as fresh as sushi when it goes into your bike, the YUASA Maintenance Free Motorcycle Battery series might be a top pick for your bike.

---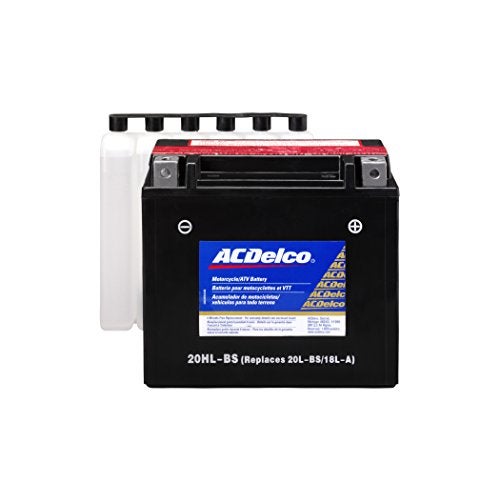 ACDelco is a major battery manufacturer that has been around for years. They make everything from car and truck batteries to motorcycle and moped batteries. With that kind of experience, it goes without saying that you can rely on these batteries to get your bike started and running right. Users seem to love this line of maintenance free sealed motorcycle batteries from ACDelco.
ATV, Powersports & Motorcycle Battery Overview | ACDelco
Like the YUASA batteries above, this sealed battery comes from the factory with a bottle of acid. These are pre-measured and ready to be filled into the battery when you install it. All you have to do is remove the safety cap, pour in all of the acid, and seal the battery.
There's a simple sealing cap that you just press into place and it's all done! Again, one major advantage of adding the acid yourself is ensuring the freshness of the battery.
These are AGM type batteries which offer some of the best quality and value for the price when it comes to motorcycle applications. Gel batteries are usually much more expensive and don't offer much for their value. That's why an ACDelco AGM sealed battery makes an awesome choice for a replacement battery.

Click here for the: ACDelco PowerSports Batteries – Sizing Guide
These batteries have an exposed top and front terminal in a box style. These are nice because you can put your cables either horizontal or vertical. You can even change it up between the positive and negative terminals to get the best fit for your bike.
This line of 12v motorcycle battery is made in tons of sizes, so just use the ACDelco sizing guide or the Amazon motorcycle make/model checker to narrow it down to the ones that fit into your bike.

---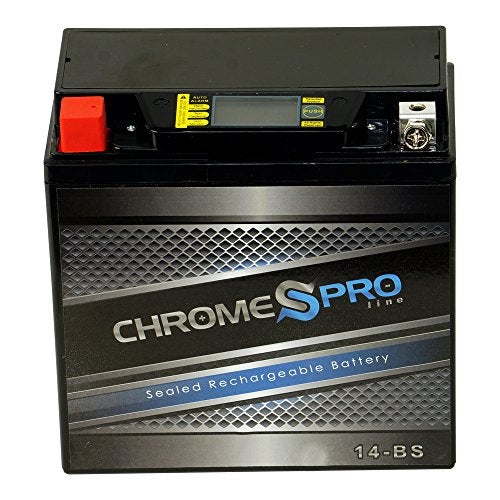 Chrome Battery is a manufacturer that somehow magically produces quality sealed batteries at unbelievable prices. I have personally owned and used one of their batteries with mixed results but, at the price level, it's hard to really argue with the features they bring to the table. Honestly, I would buy another one any time. Why?
Their batteries are sealed gel batteries. While gel and AGM are close contestants for 12v motorcycle batteries, gel can have some small advantages in hot summer heat, high vibration operations, or when installed in odd orientations.
I also absolutely love the low voltage alarm and digital voltage meter on the battery itself. Why aren't other manufacturers doing this?
Overall, I like the vertical and horizontal optional exposed post terminals. They're easy to work with and give you plenty of options.
While my personal experience with this battery was uncertain, they do come with a 60 day money back guarantee. There's also a 18 month warranty on them. So, if you give one a try you've got very little to worry about. Quite honestly, at the price you'll find on these batteries, it's almost stupid not to give them a try.
Chrome Battery as a manufacturer is doing some things right. Their prices are great and the additional features are really quite innovative. I'd like to see other manufacturers catch up!

---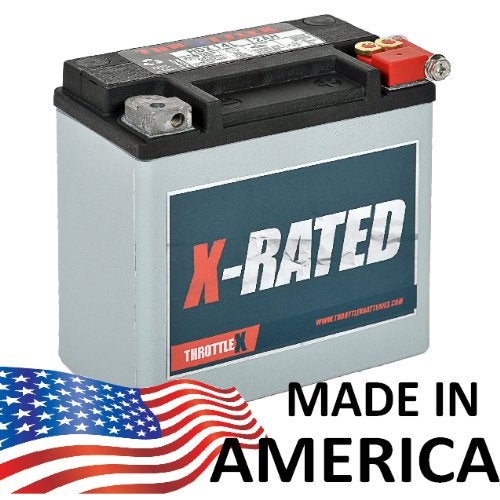 ThrottleX is a manufacturer that is still working to gain recognition in the mainstream. It's not because their products are poor, in fact they're great batteries! They're just a newer company and they definitely deserve consideration when you're looking to replace your next motorcycle battery.
Motorcycle Battery Types: Conventional Lead-Acid, AGM & Premium
Offered in just about every size imaginable, these sealed AGM batteries from ThrottleX strike a great balance of affordability versus performance. They're made with absorbed glass mat technology and offer lead calcium chemistry inside which helps resist sulfation over the long term. Like the YUASA batteries earlier, this technology can help to extend the overall life of your batteries.
These batteries offer an exposed lead post terminal with horizontal and vertical orientations. There's no need to add acid initially, or ever. They're sealed from the factory and ready to go. Of course, that has both advantages and drawbacks depending on your views as I mentioned earlier.
Motorcycle Battery Maintenance: the 411
I do love that they offer a 30 day money back guarantee and a 12 month free replacement warranty. Like the Chrome Battery brand this makes it a no brainer to try out one of their batteries if it fits your bike.
Luckily they're making batteries in just about every size, CCA, and amp hour rating imaginable. Just use the compatibility checker to make sure the battery you're ordering will bolt right up on your bike without any issue when you order.

---
Motorcycle Battery Comparison Table
---
How to Choose the Best Motorcycle Battery
It's inevitable that you'll be replacing your motorcycle battery at some point in your bike's lifetime. Depending on weather conditions and usage this can happen as often as each year, or as infrequently as every 3-5 years. But even the best motorcycle battery will need to be replaced at some point.
There's nothing more frustrating, or more common, than a dead motorbike battery. Many riders never even check their batteries until one day that engine chugs over hard and fails to start. Tons of factors can kill a battery – cold weather, years of use, or improper maintenance. But when it's time to replace your battery, you'll need to understand what really makes a battery tick.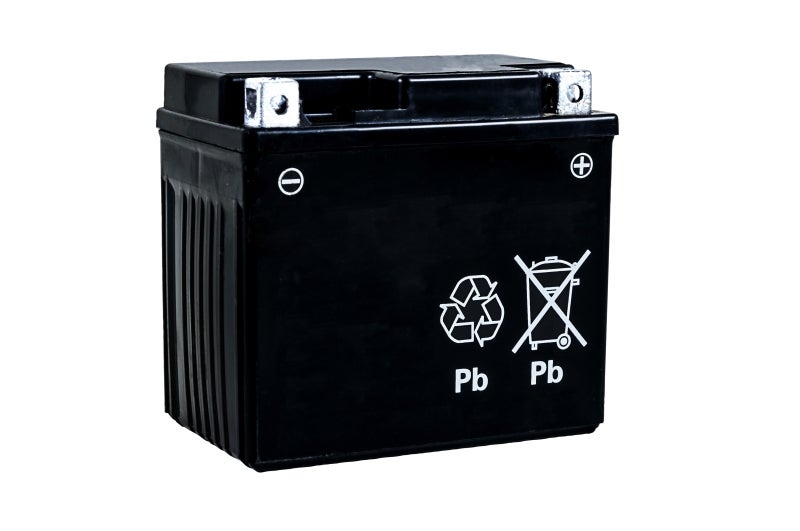 If you're confused about voltage, cold cranking amps, or other technical terms then you've come to the right place. I'm going to explain to you all of these terms while I help you learn how to choose the best motorcycle battery for you.
We'll consider the differences that really set motorcycle batteries apart and you'll be able to make an informed buying decision that leaves you with the battery you need for your motorcycle.
We made every attempt to steer away from any cheap motorcycle batteries in the marketplace based on reviews and ratings. It appears that that some of the cheap motorcycle batteries being sold are reconditioned and/or warranty returns.
Let's go over the differences in motorcycle batteries and battery types so you're ready to make the best choice when you buy.
Motorcycle Battery Brands
Question: What Are The Top Motorcycle Battery Brands? 
As in many industries there are major manufacturers that sell their products through their own distribution channels in addition to selling "OEM" products to private label brands, retailers and value-added distributors (VADs).
For the purposed of this review we selected original equipment manufacturers (OEM) makers like ACDelco or those brands that added significant innovation and value in the course of taking their motorbike batteries to market, like MotoBatt and Chrome Battery.
Once the top 5 brands had been established based on sales and product line breadth, we conducted market reviews analysis and ratings validations, in addition to our own in-house product review sessions. Here are the 5 brands to which we narrowed the field:

Physical Dimensions
This is the single most important factor in picking out the best motorcycle battery for your bike. Motorcycle battery replacements have to fit into the aperture that your previous battery came from. Most popular motorcycle models will have exact match replacements available both OEM and aftermarket.
To be sure, measure the length, width, and height of the battery you're replacing. Then compare it to any potential matches before purchasing.
Sometimes the battery you really want is a bit too small. That's fine – it will still work. A small motorcycle battery will generally save on weight. A lightweight motorcycle battery may be an advantage so long as battery performance is not sacrificed. If a smaller dimension battery is prescribed just make sure to fill the voids around it with foam, or a rag, or something soft that will keep the battery from jiggling or vibrating around during use.
Terminal Post Types
Replacing batteries means you may be faced with the decision to change to different battery terminal posts. The two main types are exposed lead posts, or inset screw-type terminals.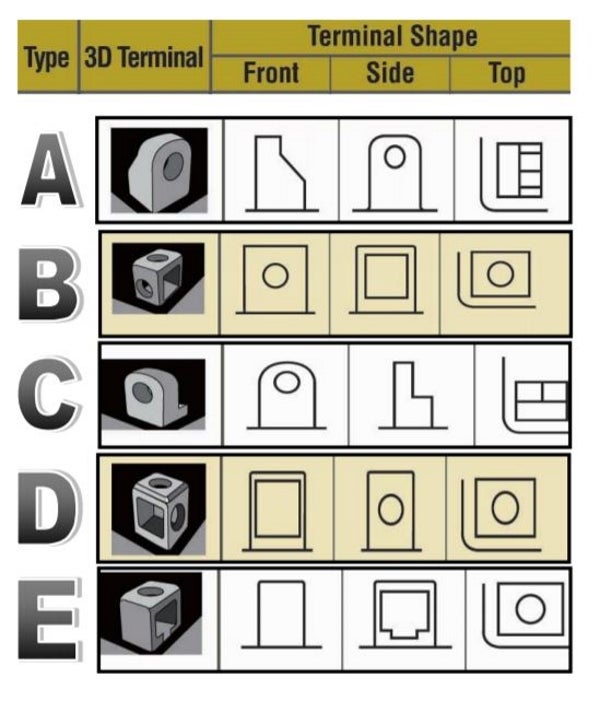 Both are fine though the screw post terminals are a bit more convenient in my opinion. However, exposed lead terminals are usually vertically oriented while screw posts are usually horizontally oriented. Changing between the two could make it difficult to rearrange battery wires in a tight battery compartment.
Generally, either type of motorcycle battery will function interchangeably. However, be prepared to rearrange or bend wires when switching between the two.
Motorcycle Battery Types
Question: What Are The Types of Motorcycle Batteries? 
When choosing a 12v motorcycle battery you'll be faced with three main choices. There are traditional lead acid batteries, sealed batteries, and gel batteries. Today, more than ever, traditional lead acid is on the way out while sealed and gel batteries are beginning to almost fully replace the market.
Another option exists in a lithium motorcycle battery as well as a lithium ion motorcycle battery. These have had a slow start due to limited make/model availability and some reliability issues. Over time lithium motorcycle batteries will likely grow in mainstream usage, but we chose to stick with the types and brands that are most reliable, widely accepted and most available in this review article.
Lead acid batteries
Must always be kept vertically oriented and need to be checked on occasion to be topped off with acid. These batteries require moderate maintenance and can leak nasty acid that is highly corrosive and destructive to motorcycle components.
Sealed batteries
Similar to lead acid, but they don't require topping off. These batteries should also be kept vertical. However, their chance of leaking is much lower and they won't require any maintenance for their lifespan.
AGM and Gel Batteries
Both are modern sealed batteries. They come sealed from the factory and will never need maintenance. Both of these batteries can be operated in any orientation except upside down. An AGM motorcycle battery is usually a bit superior to a gel motorcycle battery, as far as standard applications are concerned.
Cold Cranking Amps
Known and marked as "CCA" on batteries, cold cranking amps refers to the amount of power your battery can get when starting your motorcycle literally in the cold. CCA as a raw number is a pretty good indicator of the sheer power of the battery and its ability to discharge huge loads of power all at once.
All things equal between two batteries, one with a higher CCA has my vote. CCA can be affected by battery type, construction type, and internal components.
If you're not sure how many CCA you need to look for in a new battery, simply refer to your manufacturer's OEM specifications. These can be found in the service manual or, usually, with a short online search.
Keep in mind that if you plan to start your motorcycle in severely cold weather (at freezing or below) on a regular basis, you'll want to go for the highest possible CCA battery. Since most of us don't ride in temps anywhere near freezing, sheer CCA horsepower serves mostly as a baseline comparison of the cranking output between two batteries.
Amp Hours
This technical term is pretty simple. It really directly refers to how many amps of output the battery can produce and for how long. A battery with 12 amp hours can produce 1 amp at 12 volts for 12 hours. A battery with 6 amp hours can produce 1 amp at 12 volts for 6 hours.
So how many amp hours do you need? That depends on how many amps of power your bike pulls off the battery and how well your alternator charges the battery. For stock motorcycles, simply go with the manufacturer's recommendation. If you have tons of accessories installed, ask your dealer when they install any electrical components to recommend the appropriate amp hour battery.
There is a way to measure and determine exactly how much amperage your system is drawing from the battery, but that's beyond the scope of this article.
Other Features
Some batteries now have integrated features such as:

Voltage Alarms

Voltage Display

Battery Hours

Discharge Indicators
There are tons of innovations happening with battery technology. That means you may find tons of other features on batteries that may matter to you.
For instance, having a voltage display on the battery itself can tell you tons of information about the electrical system of your motorcycle at the push of a button. A savvy DIY mechanic can stand to learn a lot at the push of a button.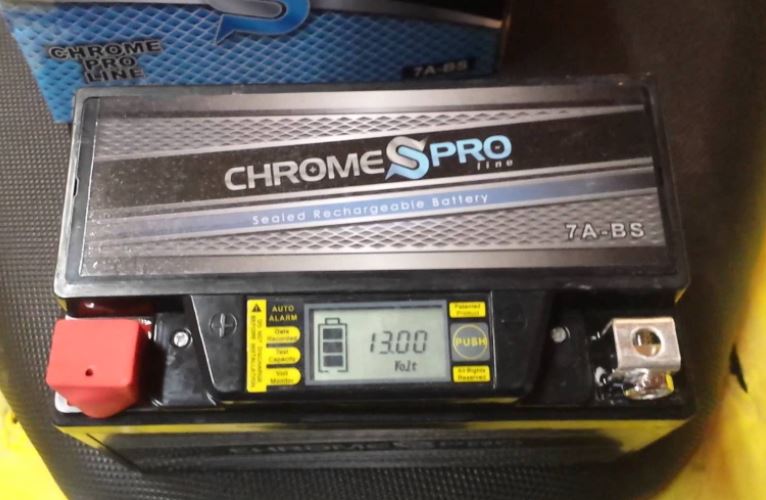 Look for the additional features, but be sure to prioritize the other factors on our list when buying a battery. These other features are simply icing on the cake.
Conclusion
Because there are so many motorcycle models and brands on the market, we can't recommend an exact match for your bike. Luckily you can rely on any of the brands we've listed to get the job done for you. Most of them will have a battery that can easily replace your stock battery. It's simple to use the Amazon compatibility checker where you can input the make and model of your bike and know whether or not the battery you're looking at will fit your bike.
Before you order a new battery, read through the "how to choose" section one more time. Make sure that you're choosing a battery that will work for your bike and think about any changing needs you might have in the future. Extra accessories or a change in the way you ride your bike might call for a new or upgraded battery in some cases.
Now that you understand more about your battery, how it works, and what to look for you're ready to pick out a new one. Start with the brands on our list and you're sure to find a great replacement for your motorcycle battery.
---
Thanks for reading The 5 Best Motorcycle Batteries.  We hope that this article gave you all the information you needed to select the brand and type of motorcycle battery that is right for you.
If you're a motorcycling enthusiast here's our some more of our product review articles:
MOTORCYCLE GEAR  BLUETOOTH HELMETS | FULL-FACE HELMETS | MODULAR HELMETS | PHONE MOUNTS | GLOVES | GPS | MOTORCYCLE COVERS | MOTORCYCLE TENTS | WHEEL LOCKS | BACKPACKS | JACKETS | BOOTS | MOTORCYCLE JEANS | RAIN GEAR |  WINTER GLOVES | MOTORCYCLE BATTERIES | HARLEY BATTERIES | ATV BATTERIES | CHAIN LUBE | ENGINE OIL  

Motorcycle Batteries – YouTube Video Review
Best Motorcycle Batteries - [2019]
How We Researched
To come up with the top motorcycle batteries, we researched a variety of sources for reviews such as CompetitiveCyclist, JensenUSA, REI, EVO along with our own personal experience.
We also consulted online magazines for product research and reviews to get as much unbiased information as we could. To help weed out fake reviews we used Fakespot.com to make sure we only looked at genuine reviews.
With so much quality gear available, we had to narrow it down based on what we felt were the best options were for the price. The staff authors have a wide and varied background in motorcycle touring and offroading as well as motorcycle mechanics. They are eager to share their knowledge with readers.
To help narrow down the selection we used personal experiences along with recommendations from fellow motorcycle-enthusiasts and industry experts.
After extensive research, we came up with our list to help you choose the right one for you.
Sources
Notice:
OutsidePursuits.com is a participant in the Amazon Services LLC Associates Program, an affiliate advertising program. OutsidePursuits.com earns fees from products sold through qualifying purchases by linking to Amazon.com. Amazon offers a commission on products sold through their affiliate links.