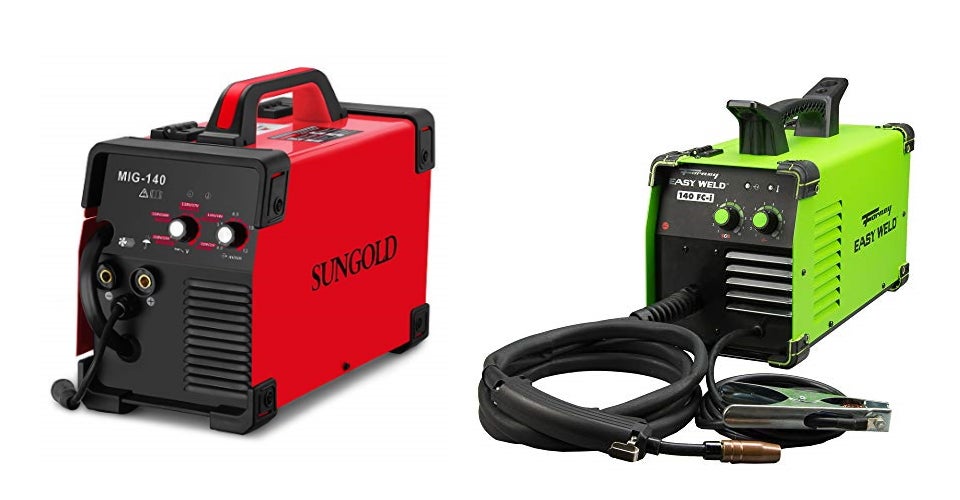 Our Editors independently research, test, and rate what we feel are the best products. We use affiliate links and may receive a small commission on purchases.
MIG, or metal inert gas, welding is one of the most widely-used methods of welding today. It is an extremely versatile and effective means of welding all kinds of metals and alloys. MIG welding is arguably one of, if not the, easiest forms of welding to learn.
In this guide, we will explain our top five picks for the best MIG welders currently on the market. There are also useful tips and things to keep in mind while shopping for your ideal welder. Additionally, some of the most commonly-asked questions about MIG welding will be answered. Also see: Choosing Your New Mig Welder.
Best MIG Welders
Also see: MIG Welders Comparison Table
---
Quick Answer: The 5 Best-Rated MIG Welders – [2021]
---
MIG Welders Reviews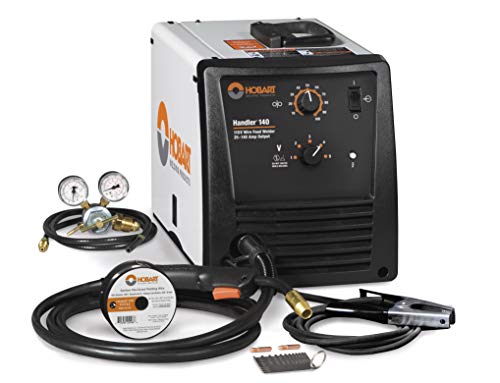 Hobart 500559 Handler 140 MIG Welder 115V At A Glance
:
---
Gauge Thickness: 24 gauge up to ¼ inch
Amperage Output: 25 to 140 amps
Weight: 65 pounds
Duty Cycle: 20 percent at 90 amps
Warranty: 5-year limited warranty
Hobart is a well-known name in the welding industry. They make fantastic welding units at reasonable prices. Their Handler 140 MIG welder is arguably the best MIG welder under 1,000 dollars. It may also be the best MIG welder for beginners.
This welder is great for any kind of metal welding, including steel. It operates on a 115-volt current, and a 20 amp circuit is recommended. This welder features a five-position voltage control selector.
This allows you the ability to fine-tune your arc, meaning you will always have a smooth arc to work with.
This welder can handle a variety of applications and tasks. From household chores and projects to auto body work, you're guaranteed to get a clean, steady weld out of this unit. It can handle a variety of metals and thicknesses, too!
Compared to other MIG welders of the same or comparable quality, this welder is relatively lightweight and easy to transport. It also has a fairly compact size, which makes it easy to load into a work truck or store when it isn't in use.
This welder is a great choice for any hobbyist, DIYer, or professional. In addition to the impressive and useful features of this model, it comes with an amazing warranty.
The Handler 140 MIG Welder is fully protected by an industrial-quality warranty through Hobart.
As long as you don't misuse or abuse this welder, the warranty will cover any manufacturer defects or functional problems for up to five years. If the unit does malfunction, you get free repairs and replacement services!
---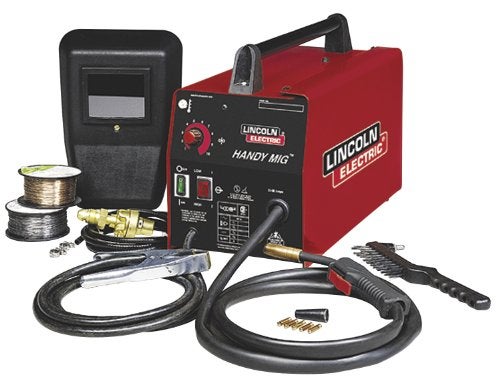 Lincoln Electric K2185-1 Handy MIG Welder At A Glance
:
---
Gauge Thickness: 24 gauge to ⅛ inch
Amperage Output: 35 to 88 amps
Weight: 46 pounds
Duty Cycle: 20 percent at 70 amps
Warranty: One-year limited warranty
The next MIG welder on our list is from Lincoln Electric. Lincoln Electric is known for its quality welding equipment, from protective gear to actual welding units. So it's no wonder that one of their quality products wound up on our list!
The K2185-1 MIG welder is capable of both traditional MIG welding as well as gasless, flux-cored welding. It was designed primarily for home repair projects. As such, it is incredibly user-friendly.
Its versatility in design makes it one of the best gasless MIG welders out there. It also happens to be the best MIG welder under 500 dollars.
You'll get a lot of use and value out of this unit. In addition, its impressively small size and low weight make it extremely portable.
One of the unique features of this unit is the cold contactor safety feature. This keeps the wire cold until the point that you pull the trigger to heat it. This is a convenient feature to be sure, but it's also a great safety feature that should not be overlooked.
Lincoln Electric has made this welding unit with quality that's available at an affordable price. Even so, they back up their equipment with a one-year parts and labor warranty that starts from the date of purchase.
Their warranty promises to repair or replace any necessary parts related to the manufacture of this unit. It also covers any no-fault failures of the product.
The unit comes with six contact tips, three pounds of wire spool, and a chipping brush. It's definitely a great value!
---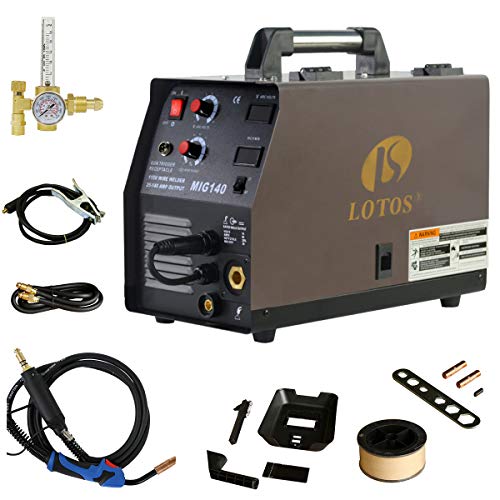 LOTOS 140 Amp MIG Wire Welder At A Glance
:
---
Gauge Thickness: 24 gauge to 3/16 inch
Amperage Output: 140 amps
Weight: 9 pounds
Duty Cycle: 30 percent at 80 amps
Warranty: One-year limited warranty
Lotos Technology is a fairly popular company that has been known to make quality welders and cutters at an attractively low price. This unit is no different, and the balance of affordability and quality earned it a spot on our list.
This is one of the best budget MIG welders available. It offers performance that equals that of a commercial-grade MIG welder. It's great for handling small workshop or at-home jobs as well as larger, commercial or professional jobs.
This unit features two digital displays that are incredibly easy to read. You can use these displays to change the speed of the wire feeder or to adjust the voltage for stronger welds.
You will be able to weld everything from alloy combinations to thick steel with this MIG welder.
It is a durable, reliable unit with a high-quality aluminum wire feeder. It also utilizes transformer technology that allows this welder to be easily connected to an existing 110-volt wall outlet.
This allows the unit to be set up quickly and easily, usually within ten minutes.
The 2T/4T switch on this unit is also a convenient and unique feature! You no longer have to hold the trigger for long-time welding jobs.
This reduces fatigue, meaning you can weld for a longer time with all the comfort in the world!
---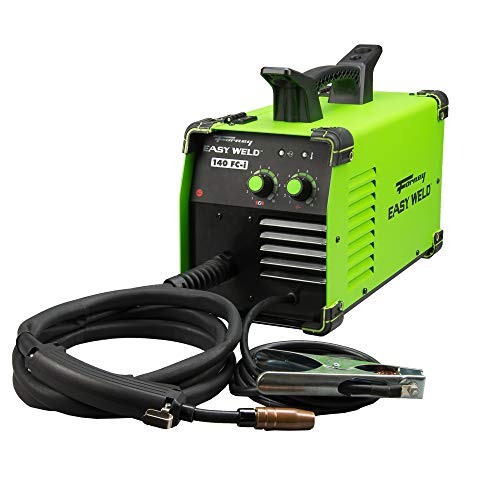 Forney Easy Weld 261, 140 FC-i MIG Welder At A Glance
:
---
Gauge Thickness: 24 gauge to ¼ inch
Amperage Output:140 amps
Weight: 19 pounds
Duty Cycle: 30 percent at 90 amps
Warranty: One-year warranty
Forney's Easy Weld 140 FC-i is a fantastic little MIG welding unit that can handle several applications and tasks around your home or workshop. This is the best small MIG welder available today.
This welder will cost you only a little over 200 dollars to own, and it's absolutely worth every penny. Great for DIY projects, maintenance work, repairs or hobby-driven projects and fabrications, the Easy Weld can do it all.
It is the most portable MIG welder on our list here today. Weighing only 19 pounds, you can carry and transport this welder practically anywhere. Its small size and weight doesn't mean it isn't durable, though.
This welder sports a fully-metallic casing, so it will be able to resist all kinds of wear and tear.
One of the more unique features of this welder is that it uses an inverter, rather than a transformer. Most other flux-core welders utilize a transformer internal design.
The difference is that the inverter allows for greater power output compared to the input power supply for the unit.
It has a variety of dials that allow you to decide the output, wire feed speed, and more. You won't be restricted to two or four output settings or speed settings.
This means you can work at a comfortable, effective, efficient pace for any kind of job.
Forney offers a one-year limited warranty, so you can purchase this fantastic little welder with peace of mind!
---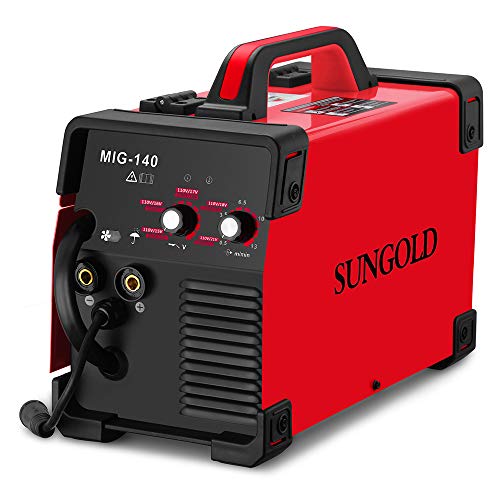 SUNGOLDPOWER MIG Welder 140A At A Glance
:
---
Gauge Thickness: .023-.039 inch
Amperage Output: 140 amps
Weight: 30 pounds
Duty Cycle: 60 percent at 140 amps
Warranty: One-year warranty
Last, but certainly not least, on our list is the Gasless MIG Welder from SUNGOLDPOWER. It features an advanced module IGBT with a dual-voltage mechanism. This maximizes the welding performance and of the MIG welding unit and its arc.
This unit prevents overloading and overheating by the use of an impressive anti-sticking system. This system, along with the inverter-based power system, makes this unit one of the best small welders available.
It is also one of the best budget MIG welders, costing under 300 dollars.
SUNGOLDPOWER's welder is ideal for outdoor repairs, maintenance projects, rusted metal, heavy-duty equipment, and a variety of repairs. This welder is suitable for and can handle both 2-pound and 10-pound wire spool.
With adjustable dials for both wire feed speed and welding current, you can make easy, accurate adjustments for any kind of project or working metal. Additionally, this unit is fantastic for both traditional MIG welding as well as gasless welding.
This MIG welder is well worth the money you'll spend on it, and you're sure to get years of quality use out of it.
---
MIG Welders Comparison Table
---
Choosing Your New MIG Welder
There are several factors to consider when you begin your search for a quality MIG welder. The best MIG welder will meet or exceed all of these considerations for your personal needs. Keep the following in mind when shopping for your next MIG welder.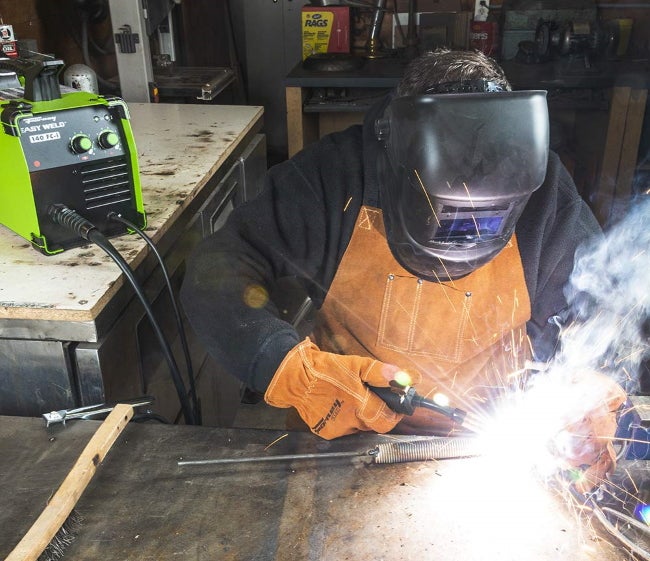 Price
Price is one of the biggest factors that most people consider when looking to buy any product, not just MIG welding equipment. Pricing can be affected by several factors. These factors vary and can include brand, portability, power output, and material quality.
Decent MIG welders will typically run from the range of $200 to $2,000. The price is dependent on how powerful a machine you think you'll need and what features you are looking for in particular.
There are, of course, some quality machines outside of that range as well. Be sure to look around and check reviews.
Choose the MIG welder that fits your budget. At the same time, don't forego quality and necessary features just to save a little extra money.
This is going to be an important investment in your personal or professional life, so weigh your options appropriately.
Features
Many MIG welding units will have features or benefits that will make them unique from other brands or models of the welding units. That said, there are still some features that should exist on every model for basic functionality when it comes to MIG welding. These include:

Input and output voltage

Amperage range

Size, weight, and maneuverability

Adjustment dials or controls

Safety features like circuit protection
The above-mentioned features are the bare minimum in regards to things that you need to look at when choosing your welder. Make sure that the features match what you need in a welder. Check in these areas first, and then you can look for other features like digital displays, accessories, and things of that nature.
Performance
There are a number of things to consider when thinking about the performance of your MIG welder.
The input power is one of the things you should consider. The voltage and amperage are important to consider for this reason.
For example, if you have a welder that operates at 115 volts, you're going to need at least a 20 amp breaker, though a 30 amp breaker would be ideal in most instances. This combination will allow you to weld up to 140 amps.
Another important consideration is the duty cycle of your welding unit. Measurements are typically made in ten-minute increments at particular amperages. The duty cycle will tell you how many minutes out of a ten-minute span you can use the welder.
If your welder has a duty cycle of 30 percent at 90 amps, for example, you can use your welder for three out of ten minutes at a 90 amp output.
The remaining seven minutes are to allow the welder to properly cool down and regulate its temperature. The higher the duty cycle, the more work you can do; but never ignore the duty cycle rating.
Some units are also multifunctional and can handle traditional MIG welding as well as flux-cored or "gasless" welding methods.
This will be explained later in the article, but it is an important factor to consider depending on your welding techniques and the type of project you will be working on.
Ease of Use
The easier you can use your gas or gasless MIG welder, the more you will enjoy using it. Your quality of work will also benefit from a welder that you can easily operate and use.
Digital displays, overload protection, and ergonomic, lightweight designs are all factors in determining the ease with which you'll be able to operate your welding unit.
Warranty
MIG welders can range widely in price, costing from a couple hundred dollars and going up into the thousands, depending on your budget. It is not an investment that you should make lightly or without cause.
As a result, you want to be sure that this kind of purchase is insured by either a guarantee or warranty.
Most reputable manufacturers will have an automatic warranty in place for their MIG welding units. Depending on how frequently you plan to use your welder and for what kind of jobs, you may want a warranty that extends for a longer duration. Typically, anything over six months is a good start.
Most manufacturer warranties will cover defective products, manufacturing errors or faults, and working parts within the unit.
Many manufacturers will either offer free repairs to a damaged or defective unit or replace it entirely, depending on the severity of the defect.
What is a Gasless MIG Welder?
If MIG welding is the abbreviation for Metal Inert Gas welding, then how could it be possible to have a gasless welder? The short answer is simply that you can't. It just is not possible. So how are there MIG welders labeled "gasless"?
Gasless MIG welders are not at all actually gasless. Instead, these types of welders use a self-shielding MIG wire. Essentially, it is a tube of metal with a flux core.
The welding arc melts the wire and, at the same time, it burns the flux within the wire. The burning flux creates a gas shield around the weld.
The positives of this method are that you do not need a separate canister of gas to use while welding. It also is easier to use this method in particularly windy environments where you will be welding.
However, this method is liable to produce a lot of smoke, so keep that in mind. This method is best reserved for open-air spaces or areas with excellent ventilation.
You can purchase a welder that can be primarily used with gas or self-shielding wire. There are also MIG welders that can handle both forms, gas and "gasless," but you should be aware that not all welders can handle both methods.
This is because gas MIG welders operate with a positive torch, and the gasless welders use a negative. Welders that can accommodate both methods have to have a way to switch between polarities for safe, proper use.
Frequently Asked Questions
Q: What is MIG welding used for?
A: MIG welding is usually the easiest welding style for new and aspiring welders to learn, and so it has a variety of uses it can be applied to.
MIG welding allows for high welding speeds with ample practice and understanding, but understanding what you should use MIG welding for primarily is key.
MIG welding allows for a great amount of control on thinner metals. You will get cleaner welds with little or no slag to have to clean up, which allows you to work quickly and efficiently without worrying about the consequences.
MIG welding is a high-productivity, low-cost welding process. It can be done in nearly any position when combined with the proper selection of equipment and safety parameters.
The best metals to work with when MIG welding are steel, stainless steel, and aluminum alloys. That being said, many metals that you will work with are combinations of other metals, and MIG welding works great for any kind of commercially-available metal or alloy.
Just keep in mind that electrode type, polarity, and other factors may change depending on the project.
MIG welding is ideal for mechanized welding applications and projects. Fume rates for traditional MIG welding are very low, but "gasless" or flux-core welding typically produces a decent amount of smoke and fumes.
MIG welding is also great for multi-pass welding so long as you have the appropriate filler metal to do so.
Q: Is MIG welding easier to learn than Stick or TIG welding?
A: According to many welders, both professionals and hobbyists, MIG welding is by far the easiest form of welding to learn. Conveniently, it's also the most commonly used welding method.
MIG welding is a process in which a continuous, solid wire electrode is fed through the welding gun and into the welding pool. This joins the two base materials together. At the same time, a shielding gas is sent through the gun. This gas protects the weld pool from contamination.
MIG welding is easy for almost anyone to learn with enough basic knowledge and practice. It's the preferred method of many professionals, artists, vehicles, and motorsports enthusiasts, and more. This method is extremely flexible in its applications.
MIG welding also tends to be faster than stick or TIG welding and requires less skill. This makes it the ideal method for most hobbyists and DIYers who may not have formal training in welding techniques.
No matter how simple MIG welding may seem, it's best to keep in mind that you do need to be safe while welding. Regardless of your chosen method, always wear proper personal protective equipment, and make sure that your equipment is right for the job at hand.
Q: How do you choose the right polarity or electrode?
A: A large part of proper MIG welding relies on the proper electrode selection. Primarily for MIG welding, you will be using a consumable electrode. This electrode is the wire that is fed through your welding torch and into the weld itself.
The MIG wire or electrode needs to be properly matched with the type of metal that is being welded. Most welder manuals will specify which electrodes to use in different situations. However, most of your wires will fall into the following ranges of thickness:

Larger, industrial projects may require a thicker wire, but the above should be considered first for most of your welding projects and needs.
For polarity settings, typically there's a very simple rule to keep in mind. Gasless MIG welding uses a negative polarity, while traditional MIG welding uses a positive polarity.
With a negative polarity, the negative terminal will be attached to your welding torch and electrode, while the positive is hooked up to your ground. The opposite would be true in the cases of needing a positive polarity.
Q: What type of gas should you use for MIG welding?
A: Gases for MIG welding are primarily either Argon or Helium. That's because these gases are inert. Inert gases do not react like oxygen or carbon dioxide, so they will not cause metal to rust or deteriorate over time.
These inert gases are used to shield the weld from air that would otherwise cause welding defects, such as increased porosity.
If and when carbon dioxide or oxygen are added to the weld, MIG welding ceases to be MIG welding at all. The process is then called Gas Metal Arc Welding, or GMAW.
The type of gas that you choose to use for welding also determines a number of factors involving your weld. These include how deep the weld penetrates the metal, the arc characteristics, and the mechanical properties of the weld itself.
If you aren't sure what type of gas to use on a particular weld, ask. Ask a welding supply store, or your welding mentor or teacher. You can also do specific searches on the Internet to acquire this information. Some welders actually have an electrode and gas recommendation guide somewhere on the welder.
Another option is, of course, to go by the recommendation of the welding wire's manufacturer. Under normal circumstances, the manufacturer will provide a few choices for gases to weld with for a particular wire type and gauge.
However, there are some different characteristics of each gas that are consistent. Here are some basics to always keep in mind:

Argon Gas
This type of inert gas has a wide but shallow penetration. The arc is incredibly smooth and almost fluid-like.
Helium Gas
This gas produces an extremely hot weld. It has a mild penetration with great productivity. The arc is generally fluid and smooth.
Carbon Dioxide Gas
The arc from this type of gas is stiff and harsh. It works well in out-of-position welding. This gas produces a narrow, deep penetration.
You can also mix your gases!
Adding carbon dioxide to either argon or helium will deepen the penetration of the weld and stiffen the arc. Mixing oxygen with helium or argon in small amounts will have the same effect.
If you add helium to any mix of gasses, it will make the arc burn hotter.
Your shielding gas choice will also affect the weld transfer type, so keep that in mind.
How We Researched
To come up with the top MIG welders, we researched a variety of sources for reviews such as Home Depot, Lowes, Target and AcmeTools along with our own personal experience.
We also consulted online magazines for product research and reviews to get as much unbiased information as we could. To help weed out fake reviews we used Fakespot.com to make sure we only looked at genuine reviews.
With so much quality gear available, we had to narrow it down based on what we felt were the best options were for the price. The staff authors have a wide and varied background in yard maintenance and home repairs.
The authors have decades of experience and are eager to share their knowledge with readers.
To help narrow down the selection we used personal experiences along with recommendations from landscapers, bloggers and contractors.
After extensive research, we came up with our list to help you choose the right one for you.
Sources
Notice:
OutsidePursuits.com is a participant in the Amazon Services LLC Associates Program, an affiliate advertising program. OutsidePursuits.com earns fees from products sold through qualifying purchases by linking to Amazon.com. Amazon offers a commission on products sold through their affiliate links.