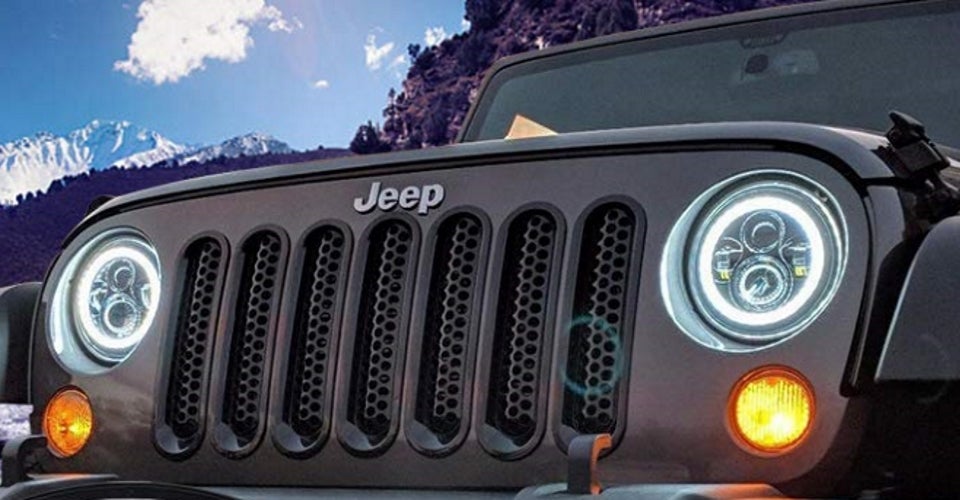 Our Editors independently research, test, and rate what we feel are the best products. We use affiliate links and may receive a small commission on purchases.
To help you choose the best LED headlights for your Jeep Wrangler, read our guide on How to Choose Headlights for Your Jeep Wrangler and check out our top 5 picks for the best Jeep Wrangler LED headlights below! The best selling LED Jeep Wrangler headlights can be found at Amazon Bestsellers.
Best Jeep Wrangler LED Headlights
---
Quick Answer: The 5 Best-Rated Jeep Wrangler LED Headlights
---
Jeep Wrangler LED Headlights Reviews
LX-LIGHT 7" Black LED Headlights & 4" Cree LED Fog Lights At A Glance:
---
High beam of 4500LM
Low beam of 3200LM
Black aluminum casing
DOT compliant
Included fog lights (1600LM)
H4 to H13 adaptors included
IP67 waterproof
These sleek and powerful 7" Black LED Headlights from LX-LIGHT are an incredible deal that is hard to beat. The entire set is mid-priced compared to other options that we've reviewed but what really increases the value is that the set includes 2 4" LED fog lights to go with your new Jeep headlights.
This allows you to get the headlights and fog lights together for better convenience and guaranteeing they all match properly.
The headlights produce a powerful high beam of 4500 lumens and a low beam of 3200 lumens. The fog lights produce 1600 lumens each. Whether you need Jeep LED headlights for the Wrangler TJ or if you're shopping for Jeep Wrangler JK headlights, these are a perfect option.
In fact, these will fit every Jeep Wrangler that has the famous round headlights. The only Wrangler they won't fit is the YJ with the rectangular headlights.
You should also keep in mind that if you are using these as Jeep Wrangler JK LED headlights that there are a few certain models that may require a special mounting bracket for the fog lights specifically. If you do need the extra mounting bracket, you can also purchase it from LX-LIGHT.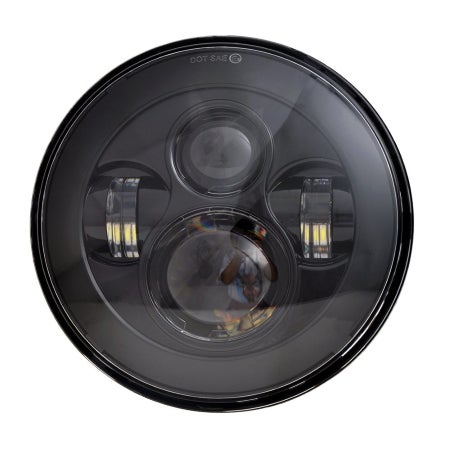 Both the headlights as well as the fog lights are very easy to install simply by plugging them in! The company also makes sure to include H4 to H13 adaptors to ensure you can install them in any compatible Wrangler.
One of the most notable things about these headlights is that they are DOT compliant. This means that they meet the rigorous set of standards put forth by The United States Department of Transportation for safety.
Sleek, black aluminum housing provides ample protection and durability as well as a stylish appearance perfect for your Jeep Wrangler headlights.
These Jeep Wrangler LED headlights are IP67 waterproof as well to help guarantee long-lasting performance. Special ventilation breathers on the backs of the headlights allow you to easily clear out any moisture to keep the headlights looking sharp and new.
With the high-performance CREE LED lamps, you'll get over 50,000 hours of use out of these Jeep Wrangler lights.
One more helpful feature to love with these LX-LIGHT Jeep Wrangler LED headlights is that they have a built-in EMC function. This prevents flickering without the need for an extra decoder! There is just no doubt that these are some of the best Jeep LED headlights out there.

---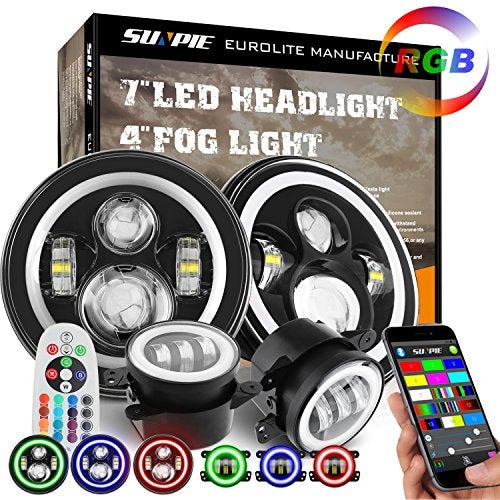 SUNPIE 7″ RGB Halo LED Headlights + 4″ Fog Lights At A Glance:
---
High beam of 4500LM
Low beam of 3200LM
DOT compliant
Aluminum casing
IP67 waterproof
RBG color changing options
Bluetooth compatible
Fog lights included
H4 to H13 adaptors included
From SUNPIE comes another incredible set of LED lights for Jeep Wrangler owners to use for upgrading and customizing their Wrangler. These are Jeep Wrangler LED halo headlights.
Jeep halos headlights have become very popular for their style and efficient distribution of light. Just like the LX-LIGHT Jeep LED lights, these Jeep Wrangler halo headlights also come with a set of fog lights.
This greatly increases overall value of the set, but it is still important to note that this is also by far the most expensive set of all our recommendations for the best headlights for Jeep Wrangler models.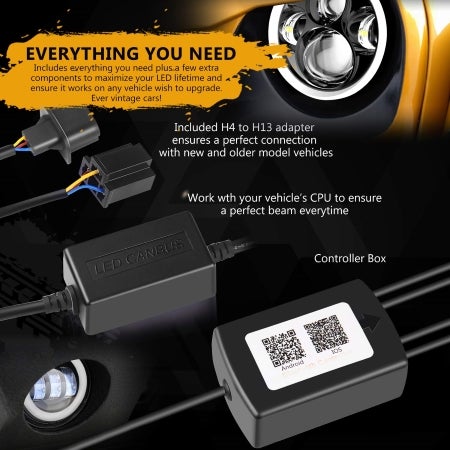 It does have a lot of cool features – in addition to the included fog lights – that help to give it a great value even with the higher price.
One of the neat things about these Jeep LED halo headlights is that they can change colors. They can change red, green, blue, and just about every color in-between. You can control this from a convenient remote or you can even actually hook it up to your phone via Bluetooth and control the lights that way.
These are also DOT compliant with the option of using the more typical 6000K natural daylight color light. This helps ensure safety when on the road with other drivers. The brightness of these headlights is the same as the LX-LIGHT with a high beam of 4500 lumens and low beam of 3200 lumens.
Also like the LX-LIGHT headlights, these work perfect for any model of the Jeep Wrangler that has the round headlights. That makes these great Jeep JK halo headlights or Jeep TJ halo headlights.
Certain models may require a mounting bracket for the fog lights that can also be purchased from SUNPIE. Aluminum casing protects your headlights with an IP67 waterproof rating.
You can expect to get more than 50,000 hours of use out of these durable LED headlights. Installation is easy too thanks to a simple plug-in design.
The connectors for the headlights are H4 but in case you don't have H4, SUNPIE does include H4 to H13 adaptors for each headlight.

---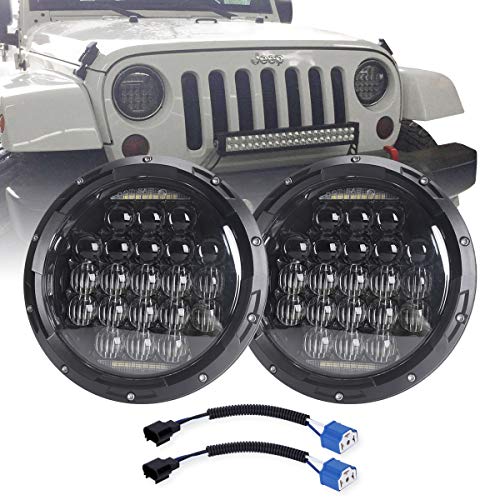 COWONE 7" Round LED Projector Headlight with DRL At A Glance:
---
High beam of 6000LM
Low beam of 4000LM
DOT compliant
Daytime running lights
H4 to H13 adaptors included
IP67 waterproof
5D protector lens
Philip LED lamps
If you're in the market for the brightest LED headlights for your Jeep Wrangler, look no further. These impressive COWONE round LED projector headlights are the brightest of all options that we've reviewed.
The high beam of these headlights is a whopping 6000 lumens and the low beam is 4000 lumens. This option does not come with fog lights like our previous 2 recommendations.
However, it is by far the most affordable option at less than half the cost of the SUNPIE headlights. This allows even those with a more frugal budget to deck out their Wrangler with some of the best Jeep headlights available. These headlights are very stylish with a strong and tough look.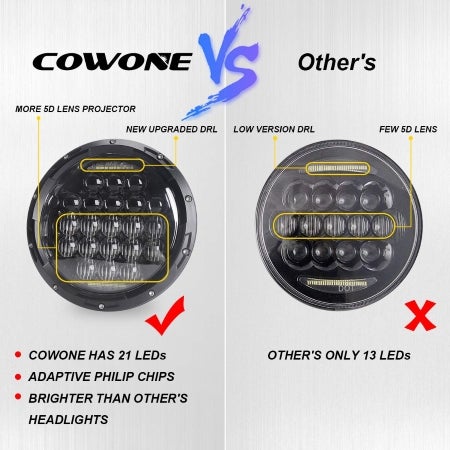 That's thanks to the unique 5D round and D-shaped protector lens. It is also shockproof and waterproof (IP67) for a high level of durability that, alongside the high-performance Philip LED lamp, provides over 50,000 hours of powerful light.
This is another super easy-to-install option that you basically just have to plug in. It does include the H4 to H13 adaptors for each headlight in case you need them for your specific model.
These headlights also include daytime running lights or DTRs. This is a simple and effective way to increase the visibility of your vehicle for other drivers.
You'll also find a small ventilation hole on the back of the headlights. This allows for easy cooling that helps increase the lifespan of your LED headlights.
Overall, these are some seriously tough and bright headlights perfect for even the most adventurous Jeep Wrangler owners. When you take into account the affordable pricing, they're difficult to beat.

---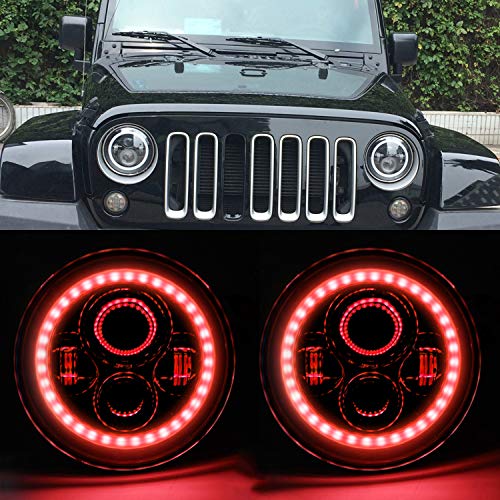 HOZAN 7″ Daymaker Projector LED Headlight with Red DRL Angel Eyes At A Glance
:
---
High beam of 4800LM
Low beam of 2500LM
DOT compliant
H4 to H13 adaptors included
Extension wiring included for DRLs
Die-cast aluminum alloy housing
Waterproof and dustproof
Multiple color options
Here is another great set of halo LED headlights for your Jeep Wrangler. These, just like the other options, can be used as Jeep JK LED headlights or TJ LED headlights.
The die-cast aluminum alloy housing keeps the LEDs well-protected and greatly increases durability and life-span for your headlights. These are waterproof, dustproof, and anti-explosion to increase longevity and safety.
DOT compliancy can also help increase your peace of mind since you know these meet high standards of quality and safety. This option is also a bit similar to the SUNPIE halo headlights because it does have colorful options in addition to the 6000K natural daylight colored lights.
These particular HOZAN LED headlights feature red lighting. When you purchase them, though, you'll have several different options including blue and multi-colored lights.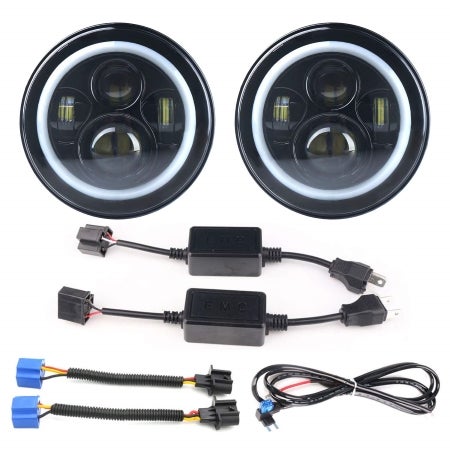 Most of the options with this set of headlights do not include fog lights with your purchase. However, there is one option where you can choose RGB headlights that do come with matching RGB fog lights for your Wrangler.
These aren't as bright as the COWONE LED headlights, but they are much brighter than factory headlights with high beams of 4800 lumens and low beams of 2500 lumens.
The halo design does a fantastic job at lighting the road ahead without disturbing other drivers. These LED lights also include the H4 to H13 adaptors to ensure they fit all compatible models.
They also include 2 H4 decoders that provide anti-flicker technology that keeps your lights bright and steady. One more special inclusion with this set of LED headlights is an extension wire.
This guarantees you have no problems with installation by making sure your wires can reach the DRL wires as well as the typical ACC wiring where you'll plug the main light cords into.

---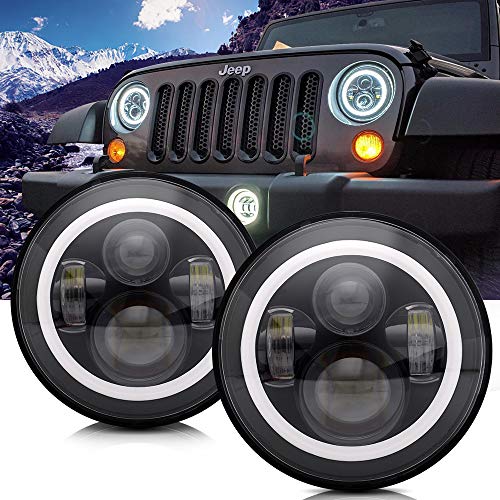 TURBOSII 7" Round Black LED Headlight with DRL Amber Turn Signal At A Glance:
---
High beams of 4800LM
Low beams of 3200LM
DOT compliant
Built-in fan
H4 to H13 adaptors included
H4 decoders included
IP67 waterproof
Die-cast aluminum casing
Amber turn signals
Another very affordable option of high-quality LED headlights for your Jeep Wrangler are these from TURBOSII. These share many basic similarities with our previous recommendations.
The package includes both headlights as well as 2 H4 to H13 adaptors. Like the HOZAN LED headlights, these do also include H4 decoders. This prevents flickering that some models may have trouble with.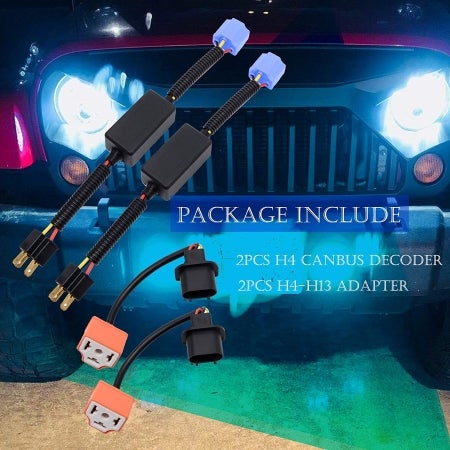 The brightness of the high beams also matches that of the HOZAN headlights at 4800 lumens. The low beams of these TURBOSII headlights are a little brighter than the HOZAN lights, though, at 3200 lumens.
A special built-in fan creates an internal cooling system that can greatly increase the lifetime of your LED lights. These will also last you 50,000+ hours of use.
The die-cast black aluminum casing is extremely stylish as well as very strong and durable. A waterproof rating of IP67 helps keep these looking great and working well for years to come. TURBOSII headlights are also DOT compliant like our other picks with 6000K natural daylight color LEDs.
These TURBOSII headlights fit all models of the Jeep Wrangler with round headlights. One thing that is a little more unique about these TURBOSII LED headlights is that they feature amber-colored turn signals. All in all, these are a great, high-quality LED headlight option that is stylish, simple, and affordable.

---
Jeep Wrangler LED Headlights Comparison Table
---
How to Choose Headlights for Your Jeep Wrangler
Jeep Wranglers are one of the most highly-customizable vehicles out there and Jeep Wrangler owners are always looking for ways to improve their rides.
So, it makes complete sense to be on the search for the best Jeep Wrangler LED headlights. LED headlights produce more light and cleaner light, all while being more energy-efficient, more durable, and even looking attractive.
The factory headlights on Jeep Wranglers just don't seem to be able to keep up with everything that the Jeep Wrangler is really meant for. When it comes to late-night off-road adventures and even navigating darker back roads, you really want some great LED headlights to the light the way.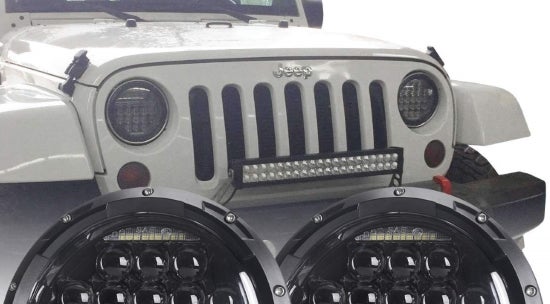 Jeep Wrangler headlight replacement can be a great start when it comes to customizing your Wrangler. They're super easy to install and they make a big difference in both looks and performance.
Obviously, you'll first need to make sure that the headlights you look at will fit your Jeep.
Fortunately, almost all Jeep Wranglers have round 7" headlights – so that part isn't too difficult. Once you have the size/shape figured out, consider the following things when choosing your Jeep Wrangler headlights.
Brightness
One of the major varying factors among different Jeep Wrangler LED headlights is how bright they are. You'll find that, in general, LED headlights are much brighter than the halogen headlights that come on Jeep Wranglers. However, some LED headlights are considerably brighter than other LED headlights.
Some people do prefer to just go as bright as possible, but it is something that comes down to personal preference. Compare the number of lumens that different LED headlights produce to help you decide which brightness level is preferable for your needs.
Fog Lights
One of the key things that can help you choose a set of headlights for your Jeep Wrangler is if you want to replace the fog lights along with the headlights.
Some people prefer to do both together while others don't want to bother with the fog lights and prefer to just replace the headlights.
So, depending on how you would like to go about this, whether or not a set includes fog lights can help you make your decision.
Extras
Different LED headlights have different "extra" features. These details can help you narrow down your final choices and find the perfect headlights for your Jeep Wrangler. Here are some of the extra features you may find with different headlights:

Ventilation hole(s)
Multiple color options
DRLs (daytime running lights)
Included adaptors
Included decoders
Built-in fans
FAQs For LED Headlights
Question: Why are LED headlights better?
Answer: LED headlights are by far preferable over factory halogen headlights. They produce much brighter and purer light. They are able to illuminate a larger, more distant area with the same amount of energy as other headlights.
They produce more light and less heat. LED headlights are also more durable and will almost undoubtedly last much longer than other options. Since headlights are so easy to replace, it makes a lot of sense to go ahead and switch to more efficient and durable LED headlights.
Question: Will LED headlights work for my Jeep Wrangler?
Answer: Yes, there are LED headlight options for every Jeep Wrangler. In our recommendations above, we have reviewed options that will fit most Jeep Wranglers – this includes the best Jeep JK headlights and TJ headlights. The only Jeep Wranglers that the above choices won't work for is Jeep Wrangler YJs because they have rectangular headlights. There are other options available for the rectangular headlight Jeep Wranglers.
Buyer's Tips for Jeep Wrangler LED Headlights
Choosing LED headlights for your Jeep Wrangler is relatively straightforward. Most options are easy to install, durable, and efficient.
Beyond looking for the high-quality you want for all of your Jeep Wrangler parts and accessories, you'll need to consider preferences like brightness, colors, and extra features.
Possibly one of the most important things when choosing your headlights is to make sure you buy from a reputable source that guarantees fast shipping and great customer service such as Amazon.
We are confident that whether you're shopping for the best Jeep JK headlights or the best TJ headlights, we have a recommendation perfect for you and your Jeep Wrangler.
Remember if you're still having trouble making your decision that user reviews serve as a wealth of helpful and unbiased information. Whatever choice you make, you're sure to soon be enjoying brighter, more efficient lighting in your Wrangler with some great LED headlights!
---
Thanks for reading The 5 Best LED Light Bars Reviewed. We hope our review article will help you pick the right product for your needs from among our top picks for best off road and safety LED light bars. Wherever you're headed stay safe out on the road and enjoy your travels.
And if you're shopping for other gear take a look at these related review articles from Outside Pursuits:
4×4 TRUCK & JEEP LED LIGHT BARS | STEERING STABILIZERS | LED OFF-ROAD LIGHTS | ROOFTOP CARGO BAGS | HITCH CARGO CARRIER | ROOFTOP CARGO BOX | JEEP SEAT COVERS | JEEP LED HEADLIGHTS | WINCHES | TRUCK BED COVERS | BED LINERS | TRUCK TOOLBOXES
HOME & AUTO SHOP VACS | PORTABLE JUMP STARTERS | BATTERY CHARGERS | JUMPER CABLES | LED SHOP LIGHTS | INFRARED HEATERS | GARAGE HEATERS | JUMP STARTERS | LED LANDSCAPE LIGHTS | LED SOLAR LIGHTS | LITHIUM-ION JUMP STARTERS | COOLER ICE PACKS | BUG ZAPPERS | PORTABLE AIR COMPRESSORS | CORDLESS IMPACT WRENCHES | PORTABLE TIRE INFLATORS | PORTABLE GARAGES | CAR DIAGNOSTIC CODE READERS
Amazon Bestsellers For Jeep Wrangler LED Headlights
[amazon bestseller="jeep wrangler led headlights" tracking_id="vs-outsidepursuits-20″]
How We Researched
To come up with the top , we researched a variety of sources for reviews such as 4×4 Magazine and Outside Online Magazine along with our own personal experience.
We also consulted online magazines for product research and reviews to get as much unbiased information as we could. To help weed out fake reviews we used Fakespot.com to make sure we only looked at genuine reviews.
With so much quality gear available, we had to narrow it down based on what we felt were the best options were for the price. The staff authors have a wide and varied background in offroading, motorcycling, and auto mechanics. They are eager to share their knowledge with readers.
To help narrow down the selection we used personal experiences along with recommendations from fellow auto-enthusiasts and industry experts.
After extensive research, we came up with our list to help you choose the right one for you.
Sources
Notice:
OutsidePursuits.com is a participant in the Amazon Services LLC Associates Program, an affiliate advertising program. OutsidePursuits.com earns fees from products sold through qualifying purchases by linking to Amazon.com. Amazon offers a commission on products sold through their affiliate links.