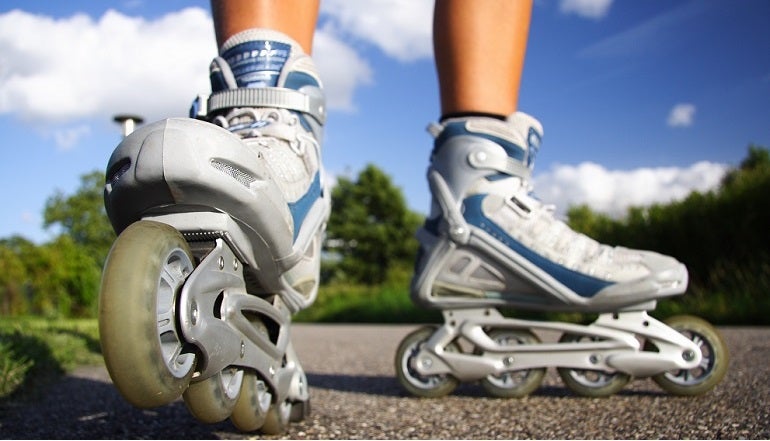 Our Editors independently research, test, and rate what we feel are the best products. We use affiliate links and may receive a small commission on purchases.
Roller skates or rollerblades are a great form of exercise, transportation and a fun activity to do solo or with friends. If you're interested in buying a pair of inline skates, you've come to the right place! In this review, we'll teach you about inline roller skates – or often referred to as roller blades or skates – and then review some of the best ones for men, women and children. Remember to always use the proper protective equipment and make sure to buy the right skates for the kind of roller skating you want to do!
Best Inline Skates
| | Rollerblade Women's Macroblade 100 3WD | K2 Skate Men's Trio 100 Inline Skates | XinoSports Adjustable Inline Skates for Kids |
| --- | --- | --- | --- |
| | | | |
| Wheels: | 100mm, 85A | 100mm, 90A | 70 mm 82A |
| Bearings: | SG9 | ILQ-7 | ABEC-7 |
| Frame: | Aluminum | Composite Frame | Aluminum |
| Features: | Boa Speed lacing | Boa Speed lacing | Illuminated front wheels |
| | | | |
For more of my outdoor recreation recommendations, have a look through these popular Outside Pursuits guide links: Roller Skates, Longboards, Beginner & Kids Skateboards.

Quick Answer: The Best Rated Inline Skates
Our reviews of the top rated inline skates for men, women and kids along with our buyer's guide will help you choose the right pair for you.
---
Inline Skate Reviews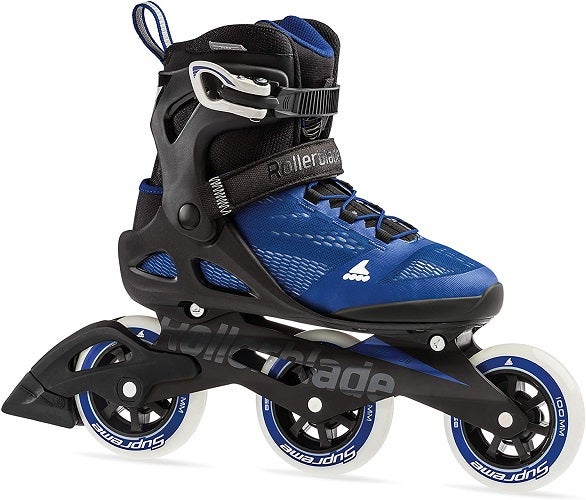 Rollerblade's Macroblade line is great for those who are looking for more than a simple cruise skate. These skates are really meant for performance, rather that just recreation. The aluminum frames are light and excel at energy transference, helping improve endurance. Larger wheels (100mm diameter) with a high degree of hardness (85A) and quick SG9 bearings further the speed and endurance advantages conferred by the lightweight frame. The skates are closed with a traditional lacing mechanism, similar to a boot.
These skates are best for riders with some experience under their belt who are interested in skating as a method of exercise. However, if you're new to roller skating but fairly confident in your athletic ability, they might be fine for you. They have medium ventilation that makes longer rides a bit cooler and comfortable. Lastly, this skate has an upgraded form-fit liner that promises to be very comfortable. If you're looking for the best rollerblades for women, I think the Macroblades are it!
Pros
Medium price
High performance
Fast skates
Cons
There have been some sizing issues (this isn't uncommon with roller skates).

---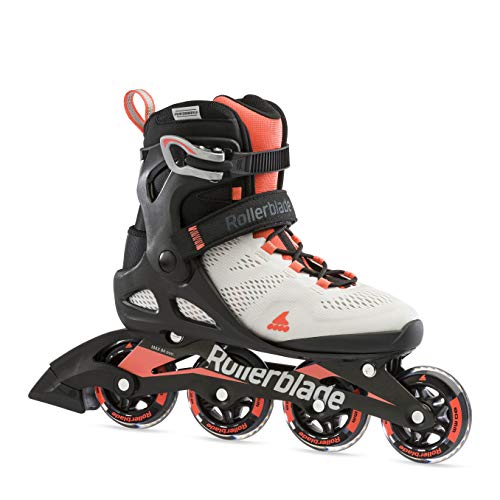 This pair of women's rollerblades is easily the most advanced on our list. The Macroblade ABTs have hard wheels that are faster and more suitable to advanced riders and racers. Those intent on using roller skates for training purposes will definitely like these skates, but inexperienced skaters might find them more than a little intimidating.
Aside from the size of the wheels which can be upgraded to 84mm, the other noticeable difference are the bearings. While many skates come with ABEC 3 or 5 – which are by no means slow – these come complete with SG5 bearings. Combine those with hard 80mm wheels and you've got yourself a recipe for some serious speed. Luckily Rollerbade equipped these skates with a mesh uppers for good ventilation and a high cuff for hard skating.
Pros
For those looking for speed, you've found it. These skates will get you from A to B quickly
Smooth ride, courtesy of the hard wheels
Not very expensive, given the high quality
Cons

---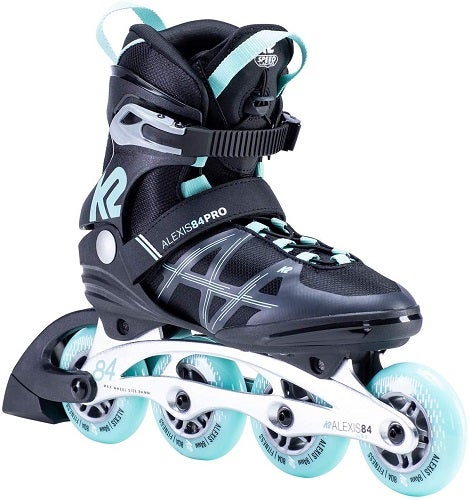 The K2 Kinetic Pro Inlines are a great value option for roller blades and the best for someone who has little experience with skating. The plastic boot and Tec Composite frame are designed to absorb shocks and vibrations from the road. The frames are built directly into the boot to help further eliminate shocks produced by the pavement. The wheels are on the softer side at 80A. At this size (80mm) and durometer, these wheels aren't terribly fast. Add to that the Abec 5 bearings that come with this skate and you've got a solid mid-speed roller skate.
They're great for fitness and recreational skating, made more comfortable by the relative softness of the wheels and the flexibility of the shell. Comfort is the focus of this skate, and a priority for K2. These skates are a more moderate speed than the K2 Kinetic series, and a good mid range speed. Ventilation is included with this product, making it suitable for medium distances without sacrificing too much stiffness. While these skates are a good choice for a beginner/intermediate, they probably wouldn't be the top choice for anyone with serious skating experience.
Pros
Solid skate for a intermediate to beginner roller skater
Affordable price
Boa speed laces
Comfortable liners, K2 softboot
Cons

---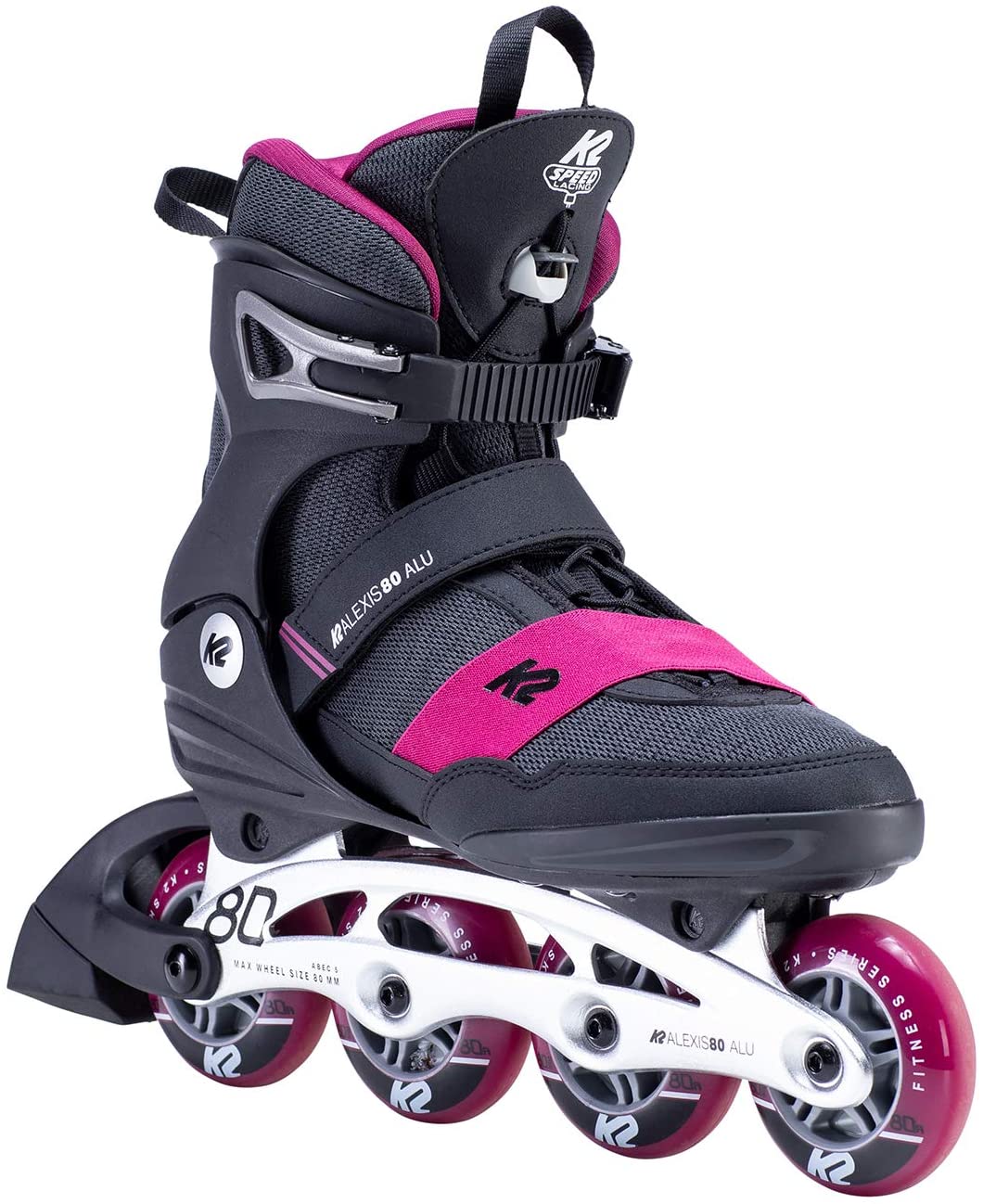 These roller blades are similar to the women's K2 Alexis we discussed above. While designed for beginner skaters, they're suitable for intermediates and mainly suited for recreational skating. They're speedy without being too much for a relatively inexperienced roller skater to handle. These are probably the best roller blades for streets with 80mm wheels designed to go over sidewalk cracks and bumps. The wheels on this model have a hardness rating of 80A, which gives you good grip without wearing out too fast on concrete. The bearings are ABEC 5 and the skates are fitted with K2's well-known softboot liners.
The frames are aluminum, along with composite materials providing plenty of ankle support. They have high cuffs and come with a traditional lacing and strap closure system that ensures rider stability. A good choice for the skater looking for a bargain pair of inline skates, these are our pick for the best intermediate inline skates.
Pros
Great beginner to intermediate skate!
Perfect for urban environments
Cons

---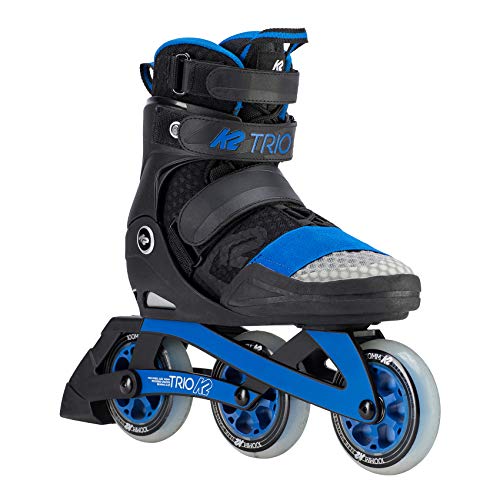 These skates are ideal for a medium skilled rider looking for a fitness-inspired roller skating regime. They're good for long distance riding and are also very fast. Ventilation is high on this model, making it better suited to long rides. The Vortech Ventilation system in these skates pushes out old air while sucking in new, cool air –perfect for a training skater. In my opinion, the K2 Trio's are the best men's rollerblades for the outdoors.
The high speed of this model is due in part to its highly rigid structure that helps you get the most power out of each push. The 100mm, 90A wheels and ILQ 7 Pro bearings also deserve some credit. Despite being built for speed, these skates are highly supportive, with a high cuff height and speed lacing closure system. As always, K2 has made sure these skates are extremely comfortable.
Pros
Comfortable, fast, and supportive – built for cross training
Easy on-and-off lacing system
Cons
These skates aren't cheap! They retail for about $200, but you definitely get what you pay for
Some people dislike the closure system

---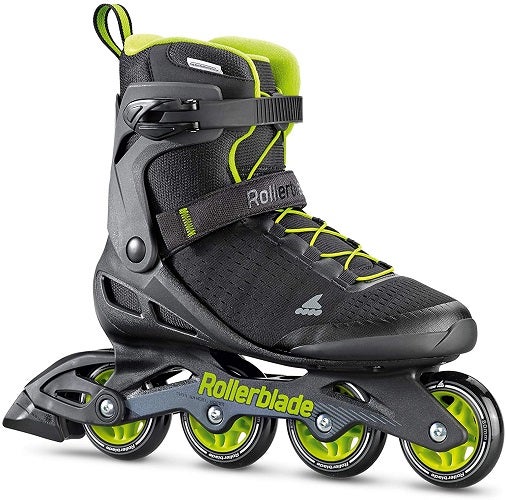 Our second men's rollerblade is a basic and affordable model. Zetrablade skates are made by Rollerblade, which is a brand of skates, not a general term (kind of like Xerox is to copy machines). Zetrablade Elites are meant for beginners to intermediates. They come with very middle-of-the-road wheels (80mm diameter and 82A durometer), high cuffs made of plastic and SG 5 bearings that are smooth, but not necessarily fast. The Monocoque composite frames are made of plastic that has a bit of torque, which somewhat reduces the efficiency of energy transfer during skating.
These skates are good for people who want to learn the basics of roller skating, but I wouldn't recommend them to anyone with advanced inline experience. These rollerblades are mainly meant for people who don't want to specialize in terms of skating styles – at least not for the moment. They're perfect for recreation, but you won't be landing any tricks or winning any races in them.
Pros
Super affordable–these can be found for under $150
Cover all the basics without focusing too much on any given aspect
Good entry level inline skate
Cons
Wheels cannot be upgraded to larger size

---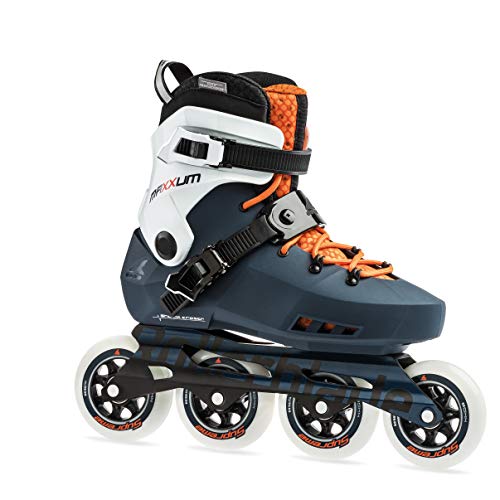 Unlike the Zetrablade above, these Maxxum Inlines are made for a more advanced skater. They're good skates for a combination of speed and distance skating. These come with wheels of 90mm diameter, which may makes these skates a little too fast for most beginners, but they're a safe bet for intermediate/advanced skaters. Excellent for urban skating, the large wheels make them perfect for skating on sidewalks and roads that are rough and have cracks. The wheels go over rough terrains much smoother than a smaller wheel.
Their composite frames provide a lot of support, while still being lightweight. If you're not an experienced roller skater, it's probably not worth it to pay for the extra features and performance of a skate like this. But if you have some experience, you might have a lot more fun with these inlines.
Pros
Quick and stable
Comfortable ride
Lightweight model
Cons

---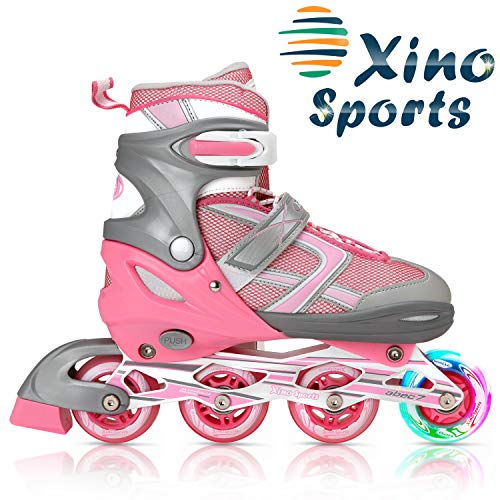 The first thing you'll notice about these skates is that the front wheels light up. The idea here is that illuminating front wheels make it safer for a child to skate at night (not that it makes night skating totally safe!). If you dig deeper into the specs of these XinoSports skates, however, you'll discover a surprisingly impressive quality of gear. For starters, they come with ABEC 7 bearings, which is pretty impressive, given that they're meant for children. The frames are also composed of aluminum, rather than plastic composite. More standard children's features include the adjustability and 70mm wheels. These would be my top pick for the best for kids.
Pros
Blinking light on wheel functions as a safety feature
Lightweight skates
Very quick bearings
Cons
These bearings might be a bit intimidating for a child

---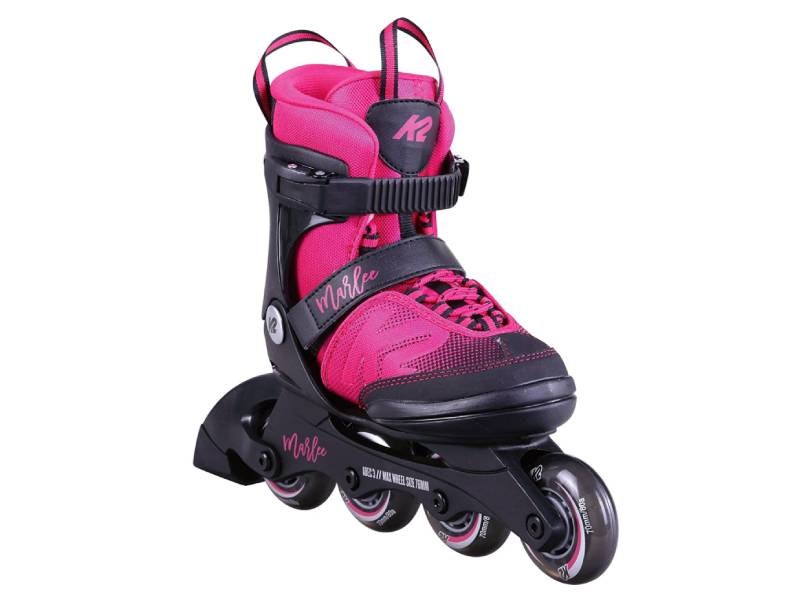 The K2 Marlee skates are meant for young girls learning how to roller skate. As we know, our priorities with kids are usually a little different than for adults learning to skate. Rather than a focus on speed or power, children's skates are usually praised for their safety and ease of use. In that case, you really can't go wrong with the K2 Marlees. They're stiff and supportive in terms of cuff design, and they use K2's signature softboot technology. This allows your child to skate for hours on end without becoming uncomfortable.
The wheels on these skates are 70mm in diameter, and relatively soft at 80A. Since they're made for children, the closure system on these roller skates is a combination of laces and Velcro. ABEC 3 bearings will keep a child moving at a decent pace, without risking them picking up too much speed. Relative to other children's skates, the Marlees are made from high quality materials. They're also adjustable, which is great since children's feet are still growing. You'll be glad for the adjustability feature when you don't have to spring for a new pair of skates every year!
Pros
Quality material
Nice beginner skates
Size-adjustable
Cons
Fabric of the skates can wear out with frequent use

---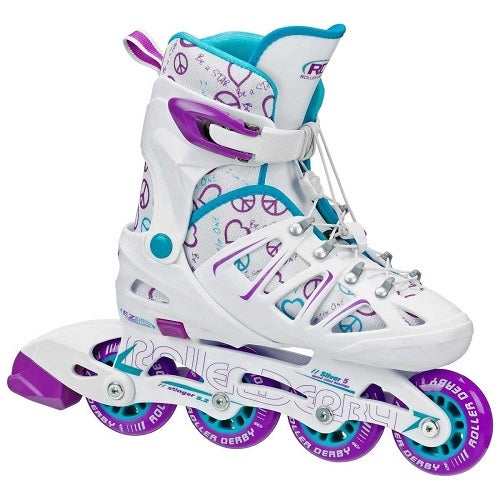 Finally, these adjustable children's (really girls') skates are the most affordable of any in this review. Unlike other adjustable models, the Stingers only have two settings: small, which fits sizes 12-2, and medium, which fits sizes 2 to 5. The Stingers have all the top features of a child's skate: high cuffs, plastic composition, adjustability and relatively small, soft wheels.
One somewhat surprising feature of these skates, however, is that they come with ABEC 5 bearings. While not especially fast, these may be a little challenging for a smaller child. One of the major detractions from this skate is that the liner doesn't expand with the skate, meaning that when the skate is on its smallest setting, the liner can bunch up and cause some discomfort to the roller skater. Other than that, most feedback is strongly positive, and these are hands-down the best affordable inline skates on the market.
Pros
Quick, reliable skate for a small child
Very inexpensive
Cons

---
Inline Skates Comparison Table
How to Choose the Best Inline Skates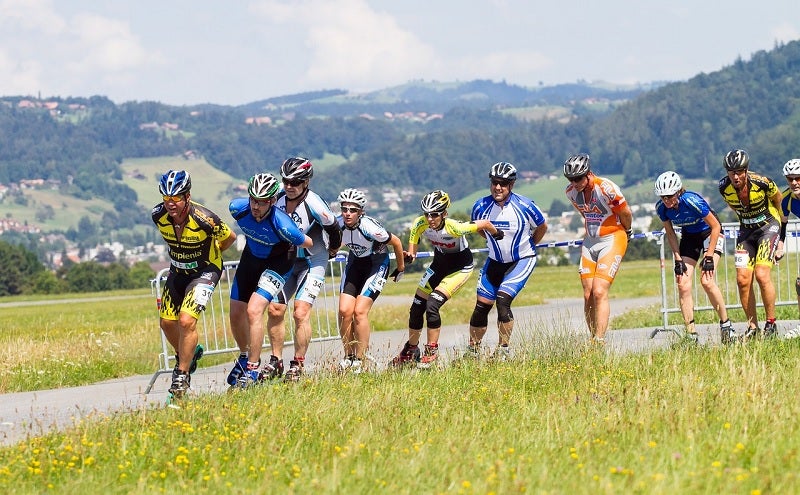 Wheels
Today, most wheels are made from polyurethane. This is a huge departure from the past, when they were often made from plastic. These new wheels are much more durable and offer a smoother ride. Like skates in general, wheels are designed for specific types of use. There are wheels built purely for speed, wheels built for rapid acceleration, wheels built for stabilization and everything in between. How a wheel performs depends mainly on three key variables: its size, hardness, and shape.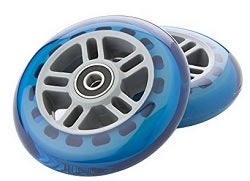 A wheel's size is largely responsible for determining the speed of the skates. The largest skating wheels are 100mm in diameter, while the smallest are around 57mm. Larger wheels are faster, and are therefore more commonly found on racing skates. On the other hand, smaller wheels offer greater latitude in accelerating and decelerating.

Wheel Hardness
Also called durometer, this determines how forgiving the wheels will be on rough surfaces. It also plays a role in predicting the accelerative ability of a given wheel. The durometer is indicated by a number from 0 to 100, followed by the letter "A." In general, softer wheels are for indoor use, like roller rinks and indoor hockey arenas. If you're going to be skating outside, you want to go with something harder (around 82A).
Softer wheels have a tendency to wear down faster than harder wheels, especially if taken onto rough surfaces. They also offer smoother rides.
Shape
Shape is the final characteristic of a wheel that you really want to watch out for. While all wheels are round, roller blade wheels have different profiles that are more suitable to certain activities. A lot of this has to do with the amount of surface area that's exposed to the ground in different wheel designs. Toying with the amount of surface area changes how much friction and stability a given wheel can provide.
Here are some general descriptions of different wheel types:
Recreational Wheels: These tend to be larger than other types of non-racing wheels. They're typically in the 70mm to 90mm range. Naturally, the larger the wheel, the faster the speed, so recreational skaters using a wheel on the larger end of this spectrum should be comfortable going fast. For general skating purposes (assuming you're going to be riding indoors and outdoors), a durometer of 78A is ideal. This isn't too hard or too soft, and will provide a nice balance of grip and speed.
Recreational Wheels: Wheel profiles should be wide, but not square-lipped (have a perfectly square profile) like aggressive wheels. This way, there is still a large amount of wheel touching the ground but room to turn quickly if needed.
Hockey Wheels: These are elongated and narrow, but not to the extent of racing wheels. They're shaped to offer as much contact with the ground as possible, regardless of the angle of the skate. Therefore, they promote a high level of mobility for the skater. Hockey wheels are typically sized around 72mm to 80mm and have a durometer rating of 72A.
Speed Skating Wheels: These are large in diameter and small in width. They're the most pointed of any wheel type, and built with the intent that they will almost always contact the ground at an angle. Their design also helps limit the amount of wheel touching the ground at any given time, thereby decreasing resistance and further increasing speed. Racing wheels tend to be on the harder side of the spectrum–close to 100A.
Aggressive Wheels: Aggressive wheels are those that are used for doing tricks and skating aggressively – the kind of roller blading that would make an old man chase you off his property. These wheels have "square" profiles, which means that their sides come perpendicular to the ground. This is done to increase stability at the expense of turning ability and speed. These wheels tend to be hard – usually above 88A – because they're used to skate in such a harsh manner on a variety of surfaces, while softer wheels would break up under such conditions.

Bearings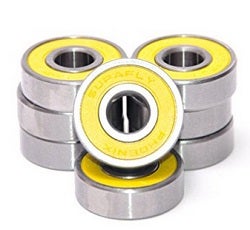 Bearings are most responsible for the speed of your wheels' rotation. They rest inside the wheel wells and actually spin around the axes, taking the wheels with them. Every wheel requires two bearings: one on each side. That means that you'll need to buy 16 in total if you're stocking up for the first time.
Buying bearings is actually a pretty straightforward task; the only thing you really have to think about is how much speed you want. Most bearings rely on the ABEC system: a scale from 1 to 9 that denotes the speed of rotation of the bearings in question. Just remember, the ABEC rating of your bearings is far from the only thing that determines how fast you'll skate, so don't expect it to make all the difference in the world.

Brakes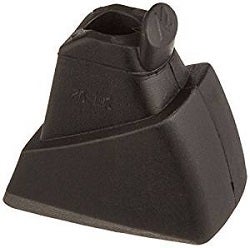 There are two types of brakes found on rollerblades: traditional and advanced braking (ABT).
Traditional brakes are little more than a rubber stopper attached behind the roller skate. Advanced braking is similar, but uses an "arm" to facilitate braking. These kinds of brakes are primarily found on beginner skates, as they're designed to help novice skaters gain confidence with braking.

Frames
The frames simply go around the wheels and hold them in place. The frame can be thought of as the intermediary between the force generated by your body and the ground. As your legs and arms move, the force is transmitted through your frames to the ground, where it makes your wheels rotate. Therefore, the stiffer your frames are, the less energy will be expended in the transfer of energy. Other important characteristics are durability and weight. All three of them are largely determined by the material with which your frames are composed.
There are three materials commonly used for frames: aluminum, plastic, and carbon.
Plastic Frames: These are mostly for beginners. They're cheap to make and have the lowest durability and stiffness of any material used to make frames. When under pressure, they can twist, which causes the rider to lose some of the energy they generated, and makes them the least efficient choice. Additionally, they are the heaviest material on our list.
Aluminum Frames: On the other hand, aluminum frames provide much more stiffness. They're more efficient and stronger, while also being lighter than plastic frames. Because aluminum is a cheap material, they often aren't much more expensive than plastic frames. They are, however, mostly found on intermediate roller skates that are usually more expensive.
Carbon Frames: These are really the best out there are. They're super efficient, lightweight and strong. Unfortunately, they are usually more expensive as a result.
Cuffs
In the same vein, cuffs are another section of the skate that comes under high pressure from power generation. As a result, having a high quality cuff is essential to both speed generation and support. Cuffs come in high, low, and "no-cuff" variations. High cuffs go up about as high as typical long socks – around the mid-calf area.
These are the most common type and are usually found on beginner or intermediate skates because they offer the most support. There is, naturally, an inverse relationship between the amount of support and flexibility offered by a pair of cuffs. For that reason, racing skates tend to favor shorter cuffs that allow skaters to take sharper turns. Cuffs will also vary based on the gender of the roller skater. Men's cuffs tend to extend slightly higher up the calf than women's do.
Cuffs are made of either plastic or carbon. Carbon cuffs are usually only found on the most expensive and advanced skates. This shouldn't be taken as a detraction from plastic cuffs – they're fine in general, and are frankly far cheaper than carbon.

Liners
Liners are sort of the unsung heroes of the inline skate experience. They're not fun to talk about, but they can make or break the act of riding a pair of skates. If your liners don't fit well, you won't have a great skating experience. There's no real way to describe which liners will feel best to each individual rider. The best thing you can do is go to a store and try them on for yourself! Here's a quick description of the main types of liners you'll encounter:
Foam Liners: These are the most common form of liners. They're made of a foam material that conforms to the foot and weight of the rider. They have no special features, but will generally be suitable for beginners.
Memory Fit Liners: These liners use memory foam to get a better fit around the contours of the rider's foot. When they're not in use, these liners reset a little bit. Over time, however, they'll gradually form to fit your feet. These are nicer than traditional foam liners, and thus more expensive.
Heat Molding Liners: For those who are truly serious about inline skating, there are heat-molding liners that can be permanently shaped to fit a rider's feet.
Roller Skates vs. Inline Skates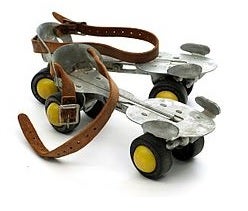 Before we wrap up, let's cover the difference between roller skates and inline skates. Roller skates have been around in one form or another from the mid 1800's, believe it or not. Originally made to strap on the bottom of your shoes, they have progressed quite a bit to lightweight polyurethane wheels meant for speed and comfort.
Roller skates have a "quad" wheel configuration with two wheels in the front of the skate and two in the rear. While inline skates – as the name suggests – have 4-5 wheels in an "inline" configuration, allowing the skater to go much faster and simulate the ice skating experience.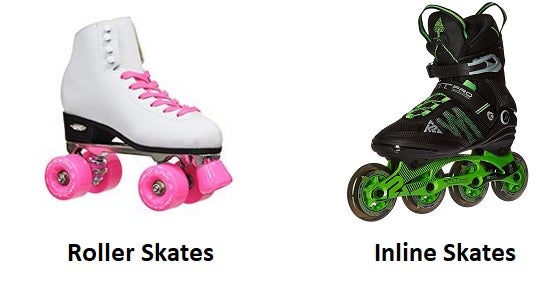 Rollerblades burst on the scene in the early 80's, and the name brand of inline skates like "Kleenex" is to tissues. They became immensely popular and you could see people "roller blading" everywhere, and it quickly became a fad. It has since faded in popularity, however they're still quite popular as a means of exercise and just having fun! If you're interested in roller skates, see my recommended skates here.

Best Inline Skates Brands

There are really only a few manufactures of inline skates anymore. When inline skates became popular back in the 90's, there were quite a few on the market, and now we're down to just a few main brands.
Rollerblade – The innovator that started it all back in the 90's when you could see inline skaters everywhere. In fact they became a "verb" as people used the term "rollerblading" instead of inline skating. They still make some of the best skates out there.
K2 – Probably better known for their ski equipment, they recently released a lineup of skates that compete with Rollerblades in quality and features.
Roller Derby – This brand started out making standard roller skates, the ones that have 2 wheels in the front and 2 in the back. Well, they took their manufacturing and created a solid lineup of skates that are second to none.

Conclusion
That does it for this review! Hopefully you learned a thing or two about inline roller skates, and found our list of product recommendations helpful for finding the best inline skates for your needs. If you want to comment or recommend a pair of skates I didn't include, please use our contact form to get in touch!
FAQs
What is the best brand of inline skates?
Rollerblade and K2 are among the most popular and best quality brands for inline skates.
What's the difference between inline skates and rollerblades?
Many people use these terms interchangeably, as they are essentially the same product. As mentioned above, Rollerblade is a specific brand of inline skates, and the term is used similarly to the way Kleenex is in substitute for tissue.
What are the best inline skates for beginners?
Our picks for the best beginner inline skates are the Zetrablade Elites for men, the K2 Kinetic Pro Inlines for women, and the XinoSports Adjustable Inline Skates for kids.
How do you stop on rollerblades and inline skates?
It's important to note that not all skates have brakes. This might be something that concerns you if you're not as experienced. When they're available, brakes typically come attached to the back of the right roller skate. To engage the brake, all you have to do is tilt your right foot back hard enough to drag the brake on the ground and slow yourself down.
Certain types of skates don't come with brakes: racers, aggressive skates and hockey skates among them. This is because the brake might get in the way of the experienced rider. One method of stopping without brakes is to drag your dominant foot in a perpendicular motion behind your lead foot.
Is inline skating better than running?
Regarding your joint health, inline skating is a safer and better option than running as it doesn't have as much impact on your joints.
Recent Updates
March 24, 2022: Verified availability of all products. Included FAQs to address common consumer queries.
How We Researched
To come up with the top rollerblades we researched a variety of sources for reviews such as Target, Dicks Sporting Goods and Best Buy along with our own personal experience. We also consulted online magazines for product research and reviews to get as much unbiased information as we could. To help weed out fake reviews, we used Fakespot.com to make sure we only looked at genuine reviews.
With so much quality gear available, we had to narrow it down based on what we felt were the best options for the price. The staff authors, have extensive experience with a variety of outdoor sports like paintball, roller skating, baseball and golf. To help narrow down the selection they used their personal experience along with recommendations from instructors and retailers. After extensive research, we came up with our list to help you choose the right one for you.
Notice:
OutsidePursuits.com is a participant in the Amazon Services LLC Associates Program, an affiliate advertising program. OutsidePursuits.com earns fees from products sold through qualifying purchases by linking to Amazon.com. Amazon offers a commission on products sold through their affiliate links.