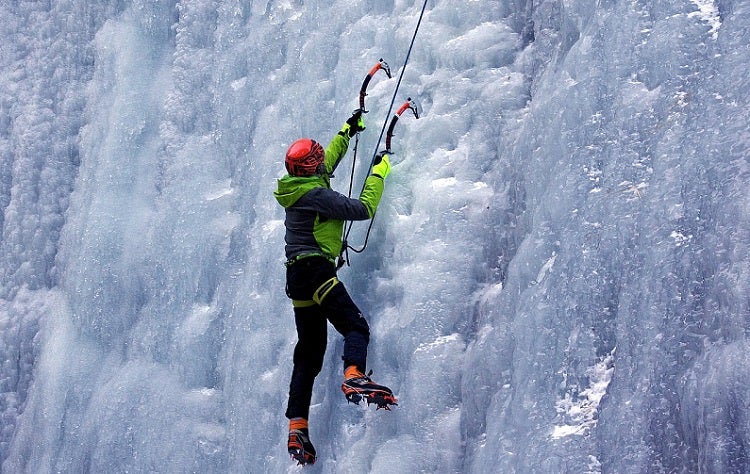 Our Editors independently research, test, and rate what we feel are the best products. We use affiliate links and may receive a small commission on purchases.
An ice axe is a versatile piece of outdoor equipment with a wide range of uses in mountaineering, climbing and hiking. Used like a walking stick, it can help you steady yourself during an ascent or descent or to test an icy surface.
It can be an aid in various forms of ice climbing, cut steps into snow or ice or be used to build an anchor of for self-arrest in a downhill slide.
Because of the various uses and many features, selecting the best ice axe for your purpose can be daunting. We've reviewed numerous models and present you with our top rated ice axes.
Best Ice Axes
| | Petzl Summit Ice Axe | Black Diamond Raven Ice Axe | Camp USA Corsa Ice Axe |
| --- | --- | --- | --- |
| | | | |
| | | | |
| Sizes Available: | 52, 59, 66 cm | 55, 60, 65, 70, 75, 80, 90 cm | 50, 60, 70 cm |
| Features: | Straight shaft with forged aluminum pick and adze | Durable straight shaft with one-piece stainless steel head with large hole | Straight shaft with forged aluminum pick and adze |
| Best For: | Ski mountaineering and glacier travel | Hiking & trekking and mountaineering | Ski mountaineering and glacier travel |
| | | | |
For more of my climbing gear recommendations, have a look through these popular Outside Pursuits guide links: Harnesses, Shoes, Rope, Helmets.
Quick Answer: The 5 Best Rated Ice Axes For 2021
We'll explain key differences and list the strong points of each gear piece so you can pick the top rated ice axe suited for your needs.
---
Ice Axe Reviews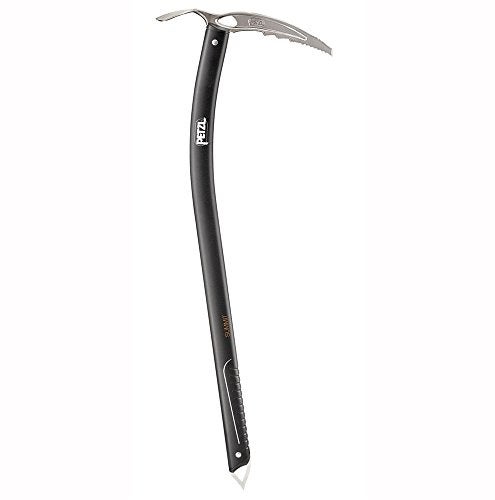 Petzl Summit Ice Axe at a Glance
:
---
Sizes: 52, 59, 66 cm
Weight: 14 oz
Head: Hot-forged steel head
Design: Curved upper shaft
Best For: Hiking, trekking, mountaineering, cane, descent & traction mode
The Petzl Summit ice axe is our Editors Choice for the best ice axe. It's a classic ice axe with a modern design that makes it great all-around gear for classic mountaineering and alpine climbing.
It is lightweight, comfortable to carry and use and performs well during self-arrests and in steep terrain. You can even improvise an anchor with the Petzl Summit since it has a suitable hole for a leash or carabiner.
The slight bend in the aeronautics aluminum shaft provides you with extra clearance for hard snow and overhead ice, yet you don't have to alter your swinging technique.
Steep ice up to 70 degrees is no problem for the Petzl Summit, and even if you find yourself on a vertical stretch, this ice axe won't fail you.
The head is a single piece of hot-forged steel with enough weight for good swings.
The tapered pick starts at 3mm, features moderately aggressive teeth and thickens in the middle, thus giving you good anchoring qualities in soft and hard snow and ice.
The adze is shaped to provide a handle and allow for easy carving of steps.
The Petzl Summit is a versatile ice axe that can be used in piolet-canne, piolet-rampe and piolet-traction mode (cane, descent, traction). Overall I consider the Summit the best ice axe.
The Petzl Summit 2 ice axe adds a little weight and a coated, rubberized shaft for extra grip. It performs slightly better in especially steep routes.

---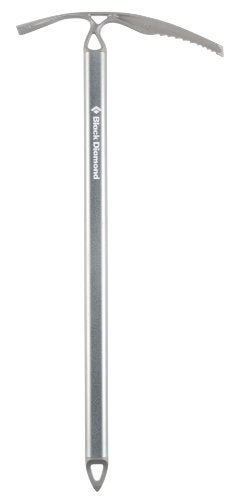 Black Diamond Raven Ice Axe at a Glance
:
---
Sizes: 55, 60, 65, 70, 75, 80, 90 cm
Weight: 15.5 oz
Head: Stainless steel
Design: Straight shaft
Best For: Hiking, trekking, mountaineering, glacier trave, cane, descent & anchor mode
The Black Diamond Raven ice axe is a classic mountaineering piolet-style tool made from durable materials. You can rely on its secure self-arrests where the curved head and teethed pick perform well.
The axe is comfortable to hold at the head and the adze design allows for easy cutting of steps or through snow.
It is also a great aid in digging an anchor or creating a platform, and the many available lengths make it easy to fit the tool to your needs.
The aluminum shaft with steel spike allows for good cane use while keeping the weight moderate. However, the axe has a high clearance, which you'll definitely note in steeper terrain as your arms tire out faster.
It is not suited for ice climbing, but is comfortable to use in moderately steep terrain, general mountaineering as well as hiking and trekking.
Best modes are piolet-canne, piolet-ancre and piolet-rampe (cane, anchor, descent).
If you want a lightweight option of the same ice axe, the Black Diamond Raven Pro is for you. It's our top pick for the best budget ice axe.

---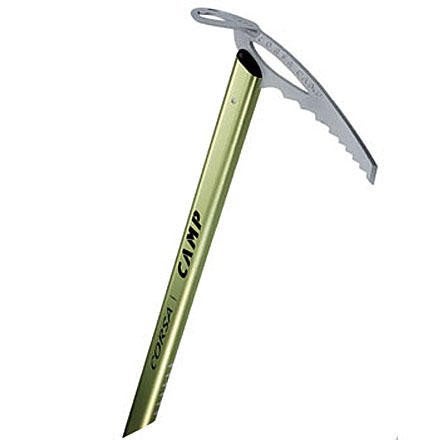 Camp USA Cora Ice Axe at a Glance
:
---
Sizes: 50, 60, 70 cm
Weight: 7.2 oz
Head: Forged aluminum pick and adze
Design: Straight shaft
Best For: Mountaineering, glacier travel, high altitude climbing & adventure racing
With the Camp USA Corsa, you'll own the world's lightest ice axe thanks to an aluminum alloy shaft.
Despite the light material, the forged head is durable and the pick features a wear indicator to show you precisely if it's still safe or too dull.
Intended use is for ski mountaineering, adventure racing and glacier travel as well as self-arrest in high altitude climbing. At 205 grams (7.2 oz), this piece of gear is unbelievable light.
The downside is the hollow shaft, which fills with snow or ice in cane mode. A nylon spike plug on the 60 and 70 cm lengths prevents this, though. An optional sliding leash is available.
Given its low weight, the Corsa ice axe does not perform well for chopping steps, pounding ice or climbing in steep terrain.
However, if you want the lightest option for self-arrest in moderately steep terrain combined with snow anchor options and securing a traverse, the Camp USA Corsa is the best lightweight ice axe.
The Petzl Glacier Literide is a compact and lightweight ice axe for ski mountaineering and glacier travel. Other options for a lightweight ice axe are the more versatile Black Diamond Raven Pro (see above) or the more technical Camp USA Corsa Nanotech model (see below).

---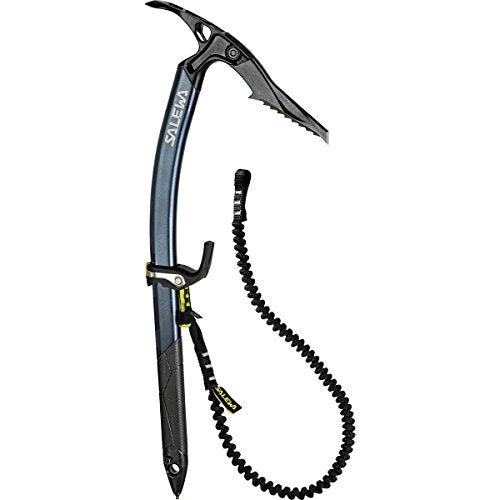 Salewa North-X Ice Axe at a Glance
:
---
Size: 53 cm
Weight: 19 oz
Head: Hot-forged steel head
Design: Curved aluminum shaft
Best For: Classic, technical mountaineering, ice climbing & glacier crossings
The Salewa North-X is the best technical ice axe features an innovative design that won the 2016 ISPO award.
A moving hand rest with integrated leash, an ergonomically curved shaft and a versatile adze and hot-forged steel pick mean business: you can conquer demanding ascents with this versatile ice axe.
This piece of gear is able to fulfill multiple functions that go beyond simple self-arrest: you can use it like an ice tool or dry tool, self-belay securely, cut steps, and dig anchors or improvise anchors.
It performs well even in steep or vertical terrain, in ice climbing, technical mixed alpine routes and glacier crossings. The hand rest adjusts easily and automatically slides upwards.
It then locks when loaded to let you conserve energy. The integrated webbing anchor is an extra safety feature so you don't have to clip into the shaft.
The 20 degree curvature guarantees a good, balanced swing with great clearance and precise placement thanks to the teeth on the pick.
The grip is synthetically coated to insulate from the cold. The bottom steel tip can be replaced if need be.
The Camp USA Corsa Nanotech ice axe is not a technical tool per se, but features stainless steel that is corrosion proof and both lighter and stronger than carbon steel and titanium.
It performs excellently in steep snow with adequate self-arrest.

---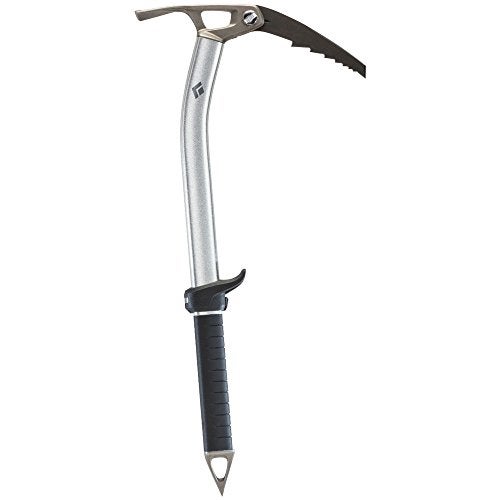 Black Diamond Venom Ice Axe at a Glance
:
---
Sizes: 50, 57, 64 cm

Weight: 18, 19, 20 oz
Head: Stainless steel head
Design: Curved aluminum shaft
Best For: Hiking, trekking, mountaineering, ice & mixed alpine climbing
Where does an ice axe end and an ice tool begin?
The Black Diamond venom model definitely raises that question, but the manufacturer delivers the best hybrid ice axe with technical precision and classic alpine piolet functions that makes no compromises.
Secure self-arrests are no problem, and the tool handles well thanks to an asymmetrically angled shaft and carefully weighted head.
Here you can choose: The ice axe model features an adze and interchangeable classic pick, but the Black Diamond Venom is also available with a technical pick and with a hammer instead of an adze.
This can be used for driving in pitons or ice screws and makes it even more of an ice climbing tool.
The strong points of this piece of gear are that you can combine both versions for excellent performance in complex, steep terrain and even frozen waterfalls.
The only downside is that basic mountaineering and lighter activities won't pose enough challenge for this tool and a lighter option might be a better pick if you're not performance oriented.
Yet the balance and head weight make for easy swinging with the Black Diamond Venom. In cane mode, the adze variant is slightly more comfortable to use.
The thin shaft and spike at the end pierce snow and frozen surfaces easily. Anchor building is easy and both models feature a leash as a simple and effective tether.
The Petzl Sum'Tec is a best mountaineering ice axe that is a bit pricey, but comes with a slider for a leash, a pick that is good for ice climbing, and an adze great for chopping.
The Grivel Air Tech Evolution ice axe is cheaper and lighter, comes with a leash, and is durable and sturdy for solid anchors on alpine ascents, yet performs well on steep climbs.

---
How to Choose the Best Ice Axe – Buyers Guide

How do you decide which axe is best for you?
An ice axe roughly resembles a hammer, with a metal shaft, ending in a sharp point, the spike. It allows you to keep your balance by using the gear similar to a trekking pole. The head consists of the pick and adze.
It can feature a hole for attaching a leash or carabiner. You use the pick for hooking into snow or ice and for self-arrest, when you need to stop a slide. The adze is the flatter end of the head opposite the pick and is used for cutting steps and sometimes to drive a piton or ice screw.
While ice axes follow a simple principle and have been in use for over a century, today's models feature a complex design where each component is geared towards its own purpose.
Also note that an ice tool is a specialized, technical ice axe primarily intended for ice climbing. These tools often feature a curved handle and modified adze (or hammer) and pick (or none at all). We focus on general ice axes below, but also present you with a technical and hybrid option.
To narrow down your choices, consider the main activity for which you require an ice axe and think of the most typical terrain you'll find yourself in.
Versatility, weight and price might further sway your decision. After our selection of the best five ice axes, we'll explain the most important features you need to consider.
Mountaineering, hiking and trekking, ski mountaineering, glacier traverse, alpine, ice and mixed climbing are all activities that benefit from the aid of an ice axe.
The type of outdoor activity, the terrain and the conditions should therefore guide you when making your selection. Self-arrest is the most common concern, but beyond that, consider if you'll be crossing frozen rivers, climb waterfalls or chop ice to build an anchor or make room for a tent.
Now, let's cover the most important features of an ice axe.

Length
An ice axe used as a cane is not meant as a third point of contact on flat ground, so don't get a model that is too long. Even a model that is too short is more useful than one that is too long, apart from the weight factor.
Generally, climbing models are shorter and mountaineering models are longer. The longer she shaft is, the more unwieldy the tool becomes with greater clearing. Your height should guide you in choosing the correct length:
| YOUR HEIGHT | AXE LENGTH |
| --- | --- |
| Under 5'6″ | 50 cm |
| 5'6″ to 5'8″ | 50-55 cm |
| 5'9″ to 6'0″ | 50-60 cm |
| 6'1″ to 6'4″ | 55-65 cm |
| Over 6'4″ | 60-70 cm |
Weight
As with most gear you have to carry around, weight is an issue. Yet the most lightweight axes do not perform well in mountaineering and climbing as they simply lack the necessary heft when you swing.
Lighter models are great for hiking and traveling, while the climbing and technical ones require a certain weight in the head. Keep in mind that for climbing, you usually use two tools simultaneously. Features like a leash or a handrest allow you to rest your limbs.

Shaft Form
A straight shaft is slightly easier to use in cane mode. The performance for self-arrest varies. A curved shaft overs the advantage of easier swinging and placement while keeping your hands out of snow and ice at the same time.
Most models with a curved shaft are sufficiently technical that the form actually improves self-arrest and you'll definitely benefit from the improved swinging clearance. It also gives you an aid in steeper terrain and when pulling yourself up on the axe.

Material
For mountaineering and climbing ice axes, only a steel head will provide the necessary weight and strength. Shaft material can range between steel, titanium, aluminum or carbon fibers. Steel is the heaviest and most durable, great for heavy duty in rough conditions.
Titanium is lighter, yet softer. It won't break, yet can bend under heavy use. Aluminum is lighter and will stand the least for any mistreatment. Carbon fibers are strong, light, and costly.

Adze
The adze has a wide range of uses, from digging a snow anchor or a snow cave to chopping steps and platforms or even clearing a space for a tent or digging a bollard.
If you won't do any of these, you can place less importance on the adze. Axes used primarily for climbing often feature a hammer instead, and technical tools often come with only a pick on one side of the head.

Pick
There are three basic pick variations, which can be distinguished by their curvature. A classic, positive curve is typical for most ice axes. The slight downward turn is there to assist any self-arrest and aid you in steep terrain.
A neutral curve is a pick that sticks straight out with no droop. It performs best in self-arrest, but is poorest for aiding an ascent. Most manufacturers no longer make neutral picks.
A reverse curve is more technical and more suited for climbing. It allows for easier pick removal so you can save strength. It's possible to self-arrest with this pick, though it's more bumpy.
The more varied the terrain will be, the more versatile and durable your pick should be. Touching rock and dry tooling will definitely blunt your pick. Consider a modular ice axe with interchangeable picks if you want to switch them out or run the danger of wearing your pick out quickly.

Spike
The spike is useful for driving the axe through a firm surface in cane mode. It's less important on soft snow. The more glacier routes you'll see, the more attention you should pay to the spike at the bottom of the shaft.
If you move through softer snow, you can place less importance on the spike. Short axes and tools which are not intended to be used in cane mode often don't have this feature.

Comfort
The factor of comfort derives from how well the axe performs in the situation you'll be using it most. If you need cane mode, pay attention to how comfortably you can hold the head.
For swinging and climbing, consider the correct shaft length, weight of the head and possible curvature of the shaft.

Outside Pursuits Overview
If you are more adventurous and will explore varied alpine and mountain terrains and situations, ensure that your ice axe is sufficiently hefty and technical to prepare you for a range of unforeseen scenarios and encounters.
For easy snow and ice hikes or moderate to easy climbs, consider a lightweight or budget option. Our top pick is a good start that will serve you well in many cases.
For climbing with two models, keep in mind that they don't need to be identical and you can mix and match to cover different needs.
Video: Choosing an ice axe.
How We Researched
To come up with the top ice axes we researched a variety of sources for reviews such as REI, Dicks Sporting Goods and Backcountry along with our own personal experience.
We also consulted online magazines for product research and reviews to get as much unbiased information as we could. To help weed out fake reviews we used Fakespot.com to make sure we only looked at genuine reviews.
With so much quality gear available, we had to narrow it down based on what we felt were the best options for the price. The author, Jakob Straub has extensive experience with rock climbing and bouldering. To help narrow down the selection they used their personal experience along with recommendations from instructors and retailers.
After extensive research, we came up with our list to help you choose the right one for you.
Sources
---
I hope this guide was helpful for finding the best ice axe to fit your needs. If you want to comment or recommend an axe I didn't include, please use my contact form to get in touch.
Stay safe and warm out there and enjoy your snowy and icy outdoor activities!
Notice:
OutsidePursuits.com is a participant in the Amazon Services LLC Associates Program, an affiliate advertising program. OutsidePursuits.com earns fees from products sold through qualifying purchases by linking to Amazon.com. Amazon offers a commission on products sold through their affiliate links.