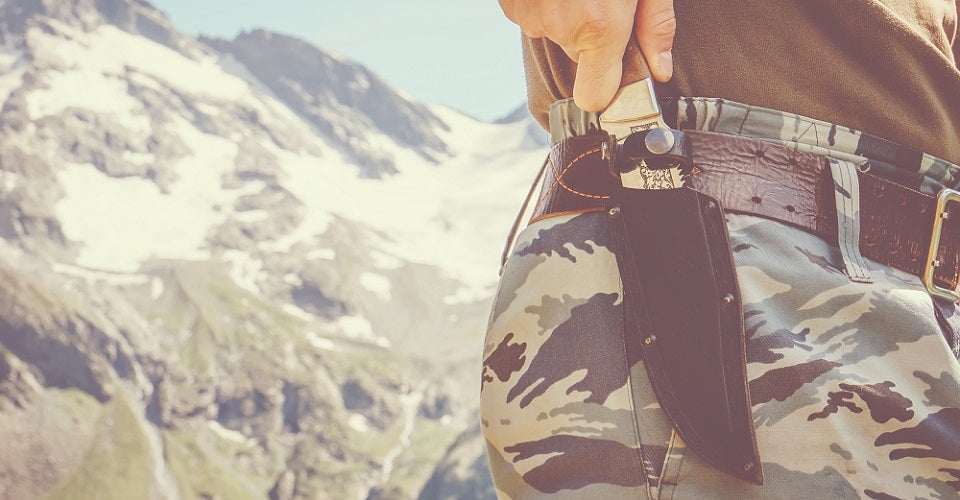 Our Editors independently research, test, and rate what we feel are the best products. We use affiliate links and may receive a small commission on purchases.
Having owned and operated a blacksmithing business, I know how much misinformation surrounds the making of a great knife.
What's obvious to anyone, however, is that the best hunting knives have to serve a pretty clear purpose – skinning and gutting game. I'll help you figure out what to look for and what to avoid entirely.
To make sure you can spend more time hunting and less time shopping I'll also recommend a few of the top hunting knives you can buy today!
Let's jump right into so you can learn how to pick out a knife that suits your needs.
Best Hunting & Skinning Knives
| | Gerber Moment Field Dress Kit | Buck Knives 119 Fixed Blade | HELLE Mandra Fixed Blade Knife |
| --- | --- | --- | --- |
| | | | |
| | | | |
| Tang: | Full | Partial | Full |
| Blade Length: | 3.6" | 6" | 2.72" |
| Blade Shape: | Drop Point | Clip Point | Drop Point |
| Sheath: | Synthetic | Leather | Leather |
| | | | |
For more of my hunting recommendations, have a look through these popular Outside Pursuits guide links: Survival Knives, Recurve Bows, Compound Bows.
Quick Answer: The 7 Best Rated Hunting Knives For 2021
Our reviews of the top rated hunting knives, with our buyers guide and comparison table will help you choose a knife.
---
Hunting Knife Reviews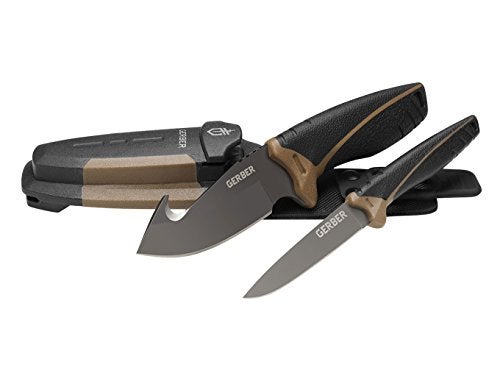 Gerber Moment Field Dress Kit III at a Glance
:
---
Tang – Full
Blade Length – 3.6"
Blade Shape – Drop Point
Includes – Bone Saw
Gerber has long been one of my favorite knife makers. They seem to always produce just the right product at the right price – not too expensive, but not so "cheap" that I have ever worried about a knife breaking.
The Moment Field Dress Kit fits that bill!
So there's more to this knife than it might seem. It's a full field dressing kit which includes the 3.6" main knife with a gut hook, a smaller camp knife which looks great for fine work, and a bone saw.
For the price I think you'd have a really hard time finding a better deal that delivers all these goods!
Each of the tools is full tang and both knives have positive front quillons that help add grip and prevent slips. On top of that, the synthetic handle slabs are highly textured to make sure you don't slip up!
In case you're wondering, the main knife is a beefy drop point skinner while the smaller camp knife has a smaller profile with a much shallower drop point.
This is the best field dressing kit on our list that includes a good hunting knife.

---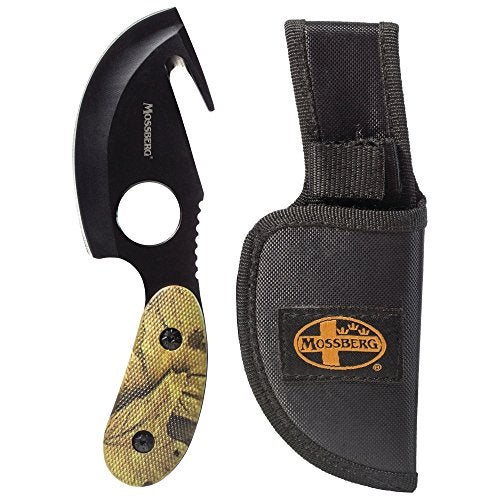 Meyerco MSG6241-BRK Guthook Skinner at a Glance
:
---
Tang – Full
Blade Length – 3.5"
Blade Shape – Skinner
Includes – Gut Hook
You probably know Mossberg for their legendary shotguns, but you might not know they've got their name on this tiny little skinner.
It's small, sharp, and trims the fat with nothing you won't need to get the job done. This knife can only really be described as a trailing point or skinner design.
In the hand are two synthetic camo handle slabs attached to the full tang single-piece knife.
A large circle is removed from the body of the knife which can be used as a finger hole or a thumb index for fine work.
I personally love this shape for hunting work because I like to choke up on my knife and hold it partially by the spine and partially by the handle when skinning with long sweeping strokes.
Thanks to the heavily curved design, this knife is perfect for that motion!
Unfortunately, because of the specific shape, this knife isn't going to be good for things other than skinning and things like splitting bone are a no-no.
It's the best deer skinning knife on our list that is small and insanely affordable!

---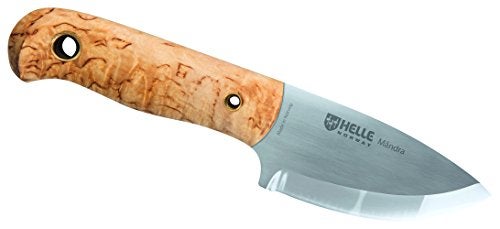 HELLE Mandra Fixed Blade Knife at a Glance
:
---
Tang – Full
Blade Length – 2.72"
Blade Shape – Drop Point
Includes – Neck Sheath
Helle is a company I had a chance to get to know a few years ago when they put out the Les Stroud Temagami knife.
Since then I've watched them make tons of great knives and I love the quality of these handmade high-quality knives!
It's worth noting that this blade is the second Helle knife designed by Les Stroud – Survivorman. This short, heavily recurved blade is best suited for skinning and gutting work though it won't back down from some heavy work!
I personally really like that it's made to be carried in a genuine leather neck sheath. It's light and small enough to be out of the way until you need it.
After all, most of us go out hunting dozens of times before we actually need to put the knife to work.
This is the first knife on our list that is handmade. It's also crafted with a three-layer laminated steel. All that means is that the blade edge itself is made from slightly "better" steel that will keep this knife sharp longer than some others.
Overall the best skinning knife on our list that also has the look of a traditional looking knife and can be worn around the neck

---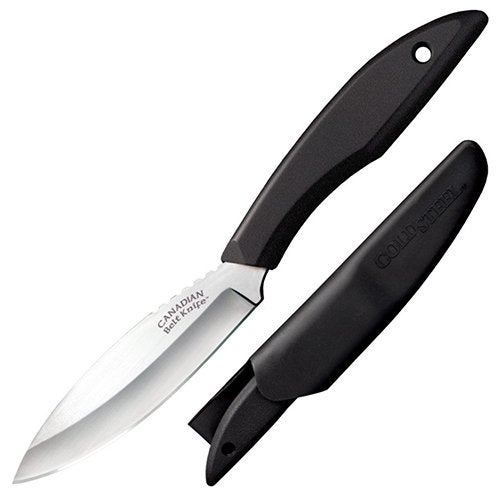 Cold Steel Canadian Belt Knife 20CBL at a Glance
:
---
Tang – Partial
Blade Length – 4"
Blade Shape – Spear Point
Includes – Synthetic Sheath
There's no doubt about it – this knife is a bit of a departure from contemporary norms when it comes to design and style.
However, the Canadian Belt Knife is a classic design that has its roots in practicality. It's easy to see why the long sweeping shape is great for parting skin from flesh.
Thanks to the thin handle it's also easy to switch grips in order to cut at different angles.
Of course, the downside to a smaller almost rounded handle is that the blade may twist under heavy load.
Cold Steel has a reputation for rugged blades. While there's nothing astounding about the 4116 stainless steel, it's a great affordable and reliable blade steel for this knife that should go anywhere you go!
Where this blade will lag a bit is in chopping in hacking, but that's only really a problem in the case of cutting into bone. As always I recommend a bone saw for that!
If you want versatility in cutting tasks, this is the best fixed blade hunting knife on our list!

---
Spyderco SC122GPBBN Tenacious Brown G10 at a Glance
:
---
Tang – Folding
Blade Length – 3 ⅜"
Blade Shape – Simple Drop
Includes – Pocket Clip
Spyderco is a brand well-loved by the masses because they seem to hit the sweet-spot of fancy materials, moderate price, and great tactical styling.
I've yet to see a bad Spyderco knife, meanwhile all their products scream "tacti-cool".
Honestly, as much as they talk it up, I'm not the biggest fan of G10 as a handle material usually. It's insanely durable, but it's usually slippery.
That's mostly solved with the great texture they added to these handle scales, however, so good on them!
I love the blackened knife blade with a nice simple profile. There's just enough gentle rise along the length of the blade to make it ergonomic for those sweeping skinning strokes.
One of the other benefits of many Spyderco knives such as this one is the 4-way reversible pocket clip.
Since it's a folder, most of us have a preference about which pocket we carry it in. You can adjust the clip so the knife is properly oriented for a fast draw in any pocket.
If you are looking for the best folding hunting knife that's also a great carry knife, the Spyderco is for you!
---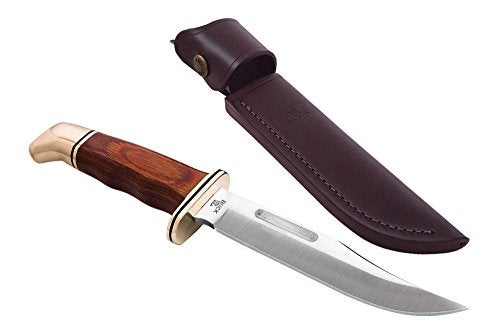 Buck Knives 119 Special Fixed Blade Knife at a Glance
:
---
Tang – Partial
Blade Length – 6"
Blade Shape – Clip Point
Includes – Leather Sheath
Okay so it might not be "cutting edge" (forgive me), the Buck 119 Special is such a classic I couldn't leave it off the list. In fact, every hunter I know over the age of 40 has at least one of these in their gear bag.
Everything about this knife is loud and prominent. In front of the handle, the bolster sticks down to protect the fingers.
At the pommel is a large polished (steel or brass) cap. Just looking at the clipped 6" blade makes a statement.
In the field, however, a properly sharpened Buck knife is a steadfast companion. I've used them plenty of times and I can say they're great for heavy work. Delicate skinning or light duty operation is where these knives struggle.
Because of the size and weight of both the handle and blade, fine work is a challenge. However, chopping and hacking your way through bone or brush are both easy tasks with this brute.
I'm not sure this is the best hunting knife in the world but you would be hard pressed to find one better for heavier tasks that just won't shy away from brutish work.

---

Gerber StrongArm Fixed Blade Survival Tactical Knife at a Glance
:
---
Tang – Full
Blade Length – 4.8"
Blade Shape – Drop Point
Includes – Nylon / Kydex Sheath
In keeping with larger blades and beefier tasks, let's take a look at the Gerber StrongArm. This fixed blade brute looks like it's ready to cut a hole through a concrete block wall and keep on chugging!
But is it the best hunting knife?
While the knife is available in fine edge or serrated edge, I'd highly recommend sticking with fine edge. At the back of the pommel the knife shows its utility with a glass breaking point.
Obviously this heavy duty knife is meant to do work in all situations.
I do really like the symmetry of the handle but the overall knife design is hinting at a dagger styling. It shys away from that by instead profiling a subtle drop point with a nice long flat belly. This is actually a great design for bushcraft and survival as well as brute force tasks.
Fortunately for hunters, there just enough of a sweep to the front of the blade that it makes a fine skinning knife though it's not going to be as good at that specific task as some.
This might be the best deer hunting knife that is also great for all-around woodcraft and survivalist use.

---
Hunting Knife Comparison Table
How to Choose the Best Hunting Knife for You
Hunting Task
Blade Shapes
Blade Bevels and Grinds
Grind Types
Knife Length
Knife Blade Material
Handle Construction & Materials
FAQs About Hunting Knives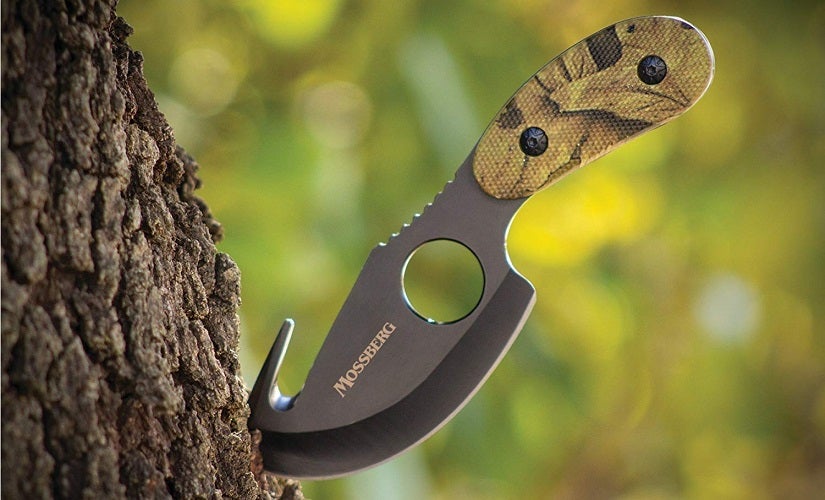 There are dozens, if not hundreds, of knife shapes out there. Each one is useful for specific purposes. Some are used for only one task while others may be suited to a more generalist role. Let's first look at some common tasks and blade shapes.
Hunting Task
Skinning
You'll probably want to look at a shorter heavily curved blade. These allow for great control of the blade and the curve promotes the careful rotating action used in skinning.
Gutting
A blade with a gut hook is really handy. These are sharpened hooks on the tip (spine side) of the knife. Otherwise, a spey point blade is a great choice.
Survival
You'll want a more generalist knife. Usually something with a reasonably thick spine, simple bevel, and moderate length.
Blade Shapes
Tanto
This refers to a specific type of Japanese weapon which gave rise to the shape of this knife. The tip of a tanto blade is very short and abrupt – almost a right angle. This makes the blade tip extremely strong and durable, unlikely to snap, thanks to the geometry of the blade.
Sheepsfoot
Is a blade shape flat along its length. Near the tip, the spine of the knife falls abruptly in an arc to meet the flat bottom edge of the blade. They're fantastic for splitting work in a survival setting!
Trailing Point
A blade shape most recognizable as a fillet knife. The blade tip sweeps widely backward along its length. Some trailing point designs can be good for skinning game as well thanks to their ability to perform very long even cutting strokes.
Spey Point
This blade features a tip that is flat and un-sharpened with a very minimal blade profile. Along its length, these blades tend to be flat on the belly and spine. These blades are great for skinning and gutting work!
Drop Point
This blade type is probably the most common. These blades feature a spine that falls slightly toward the belly as it reaches the tip. They generally also feature a relatively large belly and blade. Drop points are popular hunting knives thanks to their generalist profile.
Clip Point
Clip point blades have a scooped shape near the tip where the spine dives to meet the belly of the blade. This makes for a fine tip that is good for tiny work but prone to breaking if used improperly.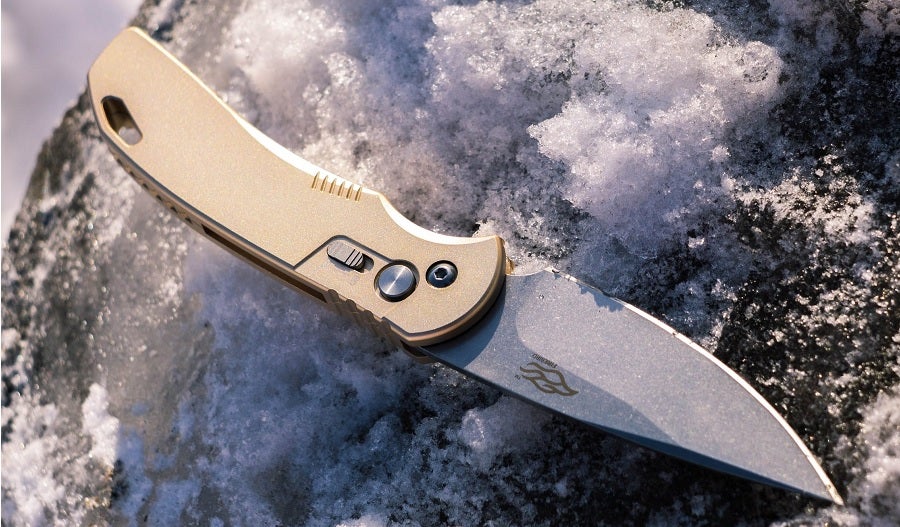 Blade Bevels and Grinds
It seems that bevels and grinds have slight variations on names and terms that arise every time you talk to someone different. Take it all with a grain of salt but remember the important points we're about to outline here.
Here are a couple broad terms to keep in mind.
Bevels are the taper from the full thickness of the blade down to the thin, sharp edge.
Bevel angle refers to the steepness of the fade from full thickness to blade edge.
Grind usually refers to the shape of the sharpened blade when viewed in cross section.
Grind Types
The minute geometry of the shape of the blade edge itself is surprisingly important to the final function of a knife. Each type of blade grind has pros and cons. We'll cover a few of them here:
Hollow Grind
Is a concave grind that leaves an extremely thin, extremely sharp, and very fragile edge on a blade. These can be most commonly seen on straight razors where the blade is subject to delicate work that requires extreme sharpness.
Flat Grind
Is a straight, even taper from full thickness to final blade edge. Viewed in cross section it looks like a triangle. A true flat grind tapers all the way to the spine while variations on flat grinds may be more obtuse.
A short, steep flat grind creates a blade with great strength and durability while a shallow flat grind tapering all the way to the spine may create a sharp, yet fragile thin blade.
Convex Grind
Convex is the opposite of a hollow grind. The blade profile, when viewed in cross section, falls over in a slow arc somewhat like the shape of a bullet. These blades are extremely durable because they leave a maximum amount of material to support the blade. Ideal for rough work.
There are tons of alternative grind types out there but these are the most common and the most applicable to hunting knives. Choosing the right grind type can be the difference between a chipped blade edge and a fine cutting tool that works for years.
For skinning use, a flat grind or hollow grind is acceptable. Hollow grinds or extremely thin flat grinds, however, may be prone to chipping if used against bone.
For general hunting uses such as chopping bone, splitting sticks, and slicing meat you need a careful balance of sharpness and durability. A well-sharpened convex grind or V-grind will probably create the best balance of these characteristics.
Pro Tip: The grind type on your knife dramatically affects its job-specific function. That said, grind profiles can be changed purposely or unintentionally – be careful not to undo the grind on your blade when sharpening at home!
Knife Length
First let me say that you should check your country, state, or local laws regarding knife length before buying.
That said, in practical terms, knife length for hunting is pretty easy to figure out. Because you need to be able to carry it easily, you'll want something reasonably short – probably not a 14" Rambo knife. If you're just using it for skinning and gutting, you can probably get away with something as short as 3" or so!
However, if you also like to use your hunting knife to whittle, split sticks to start fires, or build survival shelters then you'll probably want some length and weight to it. Going up to 6" or so should cover most of your bases without getting too long.
Quite frankly, knife length is both personal choice and practical choice. Don't make the amateur mistake of thinking that "long is better".
Knife Blade Material
As a knife maker myself I intimately know knife blade steel types. Not all of them, though. In fact, there are so many different steel alloys out there I'm sure I'll never get a chance to work with everyone of them.
I'll probably draw flack for this, but let me say that blade material might be the least important factor in knife choice for a hunting knife.
Whether you go with a basic stainless steel or an advanced steel such as an oil-hardening or air-hardening steel the end results will be the same. Any of these knives will be able to effectively skin any type of game for years and years of faithful use.
Knife blade material is an extremely broad and deep topic. Fully covering blade steels and heat treating is a topic for a full size book and it exceeds the scope of this article.
I would recommend sticking with a stainless steel or a high chromium alloy that will resist rust. Even well-made, well-finished steels of some alloys are highly prone to corrosion when exposed to hunting tasks like bodily fluids and water.
Assuming that the knife you're purchasing has an appropriate hardness for the tasks at hand and that it has been properly constructed and heat treated, an affordable knife should skin game just as well as a top-dollar knife.
Handle Construction and Materials
I'm not about to cover every type of handle material out there. I'm sure someone has covered it, but what's more important are a couple concepts:
Look for some type of shape (sometimes called a quillon) on the bolster (cross-guard) that helps prevent accidental slips where your hand could slide onto the blade
Look for textured handles that help shed water and sweat to promote good grip.
Consider a metal butt cap (pommel) if you use the end of the knife for hammering or pounding.
Avoid polished handle materials as they're extremely slippery!
While it may not be an exact part of the handle, it's worth noting here that you should pay attention to the tang of the knife. This is the part where the blade continues into the handle. Full tang knives are my personal favorite because you know they must be very strong and durable.
Other types of tangs can often be as strong (or almost as strong) as a full tang but often knife makers fail to construct them properly which leads to structural failures. From the majority of manufacturers out there, I am most likely to trust a full tang knife over other tang styles.
FAQs About Hunting Knives
Q: Are serrations good for sawing bone?
A: Nope.
Serrations are primarily designed to protect little pockets of the blade behind the serrated protrusions. In this way those areas of the blade stay sharp longer than others.
Serrations are very minimally more effective at sawing than a fine edge blade. Saw teeth feature rake angles and tooth patterns that present a cutting edge perpendicular to the piece being sawn which allows the removal of shavings. Seriously – there's a tool for sawing called a saw and they work great.
Serrations are amazing for cutting through a seatbelt after you grind the edge of the blade against a rock. They get in the way of fine tasks and do little for "sawing" however.
For those reasons and because serrations are almost impossible to re-sharpen for the average user, I recommend against them.
Q: Can I use my knife for prying stuff?
A: Most definitely not.
Knives are tools designed to cut. Prying applies immense isolated stress to knife blades and tips which can cause treated steels to chip or break. Don't be surprised if you break the tip right off of a knife because you stuck it in somewhere and started prying around.
If you think you'll be using your knife for rough and unusual tasks (sometimes we have little choice) then opt for the beefiest, burliest, blade you can find with a short stubby point and a very stout convex grind.
Contrary to popular belief, knives that are used for purposes other than cutting sensible materials are very likely to break. Even very expensive fancy heat treated knives really aren't meant to be abused.
Q: What is my favorite hunting knife?
A: Personally? I like a more generalist knife like the Gerber Moment for hunting. I try to keep the skinning and gutting tasks to the knife. Whenever possible I'll use something more sturdy and beefy like the Gerber StrongArm for bushcraft like hacking branches or splitting sticks.
What it really boils down to for me is choosing a knife that has the right design for the tasks I want to perform. When I recognize a situation where my knife isn't meant to be efficient, I choose a better tool for the task.
Q: What is heat treating?
A: In order to create a great knife, modern steel need to be heat treated properly. Unlike steels "back in the day" modern steels are made in factories where the exact chemical composition is precisely controlled.
These modern precision alloys are then shaped into knives, hardened, and then tempered. Hardening a blade causes a chemical change within the invisible crystal structure of the steel (okay technically it's visible but you'd have to snap your knife in half to see). Most steels, once hardened, are actually so hard they can break like a dry twig!
In order to make a hardened steel usable, it must be tempered. Tempering removes some hardness by relieving internal stresses in the steel itself.
Together hardening and tempering are known as heat treating.
Every modern steel has a chemically known heat treating process that can be easily looked up in technical manuals available to anyone such as this abridged reference at Hudson Steel.
Q: How do I sharpen a hunting knife?
A: There probably isn't a single "best" way to sharpen a knife. However, one of the easiest ways to get it consistently correct is to use a sharpening jig set to the angle of your blade.
Every knife has a final edge angle which must be matched when sharpening. Using a jig makes it easy to do it right every time. Once you get it figured out, write down the angle and make sure to sharpen at that angle every time in the future!
Video: How to Sharpen a Knife.
How to Use a Sharpening Stone | Knives
Outside Pursuits Overview
Remember that each knife is a tool designed for a specific task. Finding the right one for you means hunting knife work like skinning and field dressing will be easy! Just remember to think about how you are most likely to use your knife and find a blade that matches up.
In the end, no one can choose a good hunting knife for you. Make sure to revisit our buyer's guide to learn everything you need to know so that you make an informed buying decision!
How We Researched
To come up with the top hunting knives we researched a variety of sources for reviews such as Cabelas, Dicks Sporting Goods and Bass Pro Shops along with our own personal experience.
We also consulted online magazines for product research and reviews to get as much unbiased information as we could. To help weed out fake reviews we used Fakespot.com to make sure we only looked at genuine reviews.
With so much quality gear available, we had to narrow it down based on what we felt were the best options for the price. The author Casey Fiedler, has been a deer hunter for decades and is hunting guide in his native state of Michigan.
To help narrow down the selection our authors used their personal experience along with recommendations from fellow hunters and guides.
After extensive research, we came up with our list to help you choose the right one for you.
Sources
---
Notice:
OutsidePursuits.com is a participant in the Amazon Services LLC Associates Program, an affiliate advertising program. OutsidePursuits.com earns fees from products sold through qualifying purchases by linking to Amazon.com. Amazon offers a commission on products sold through their affiliate links.