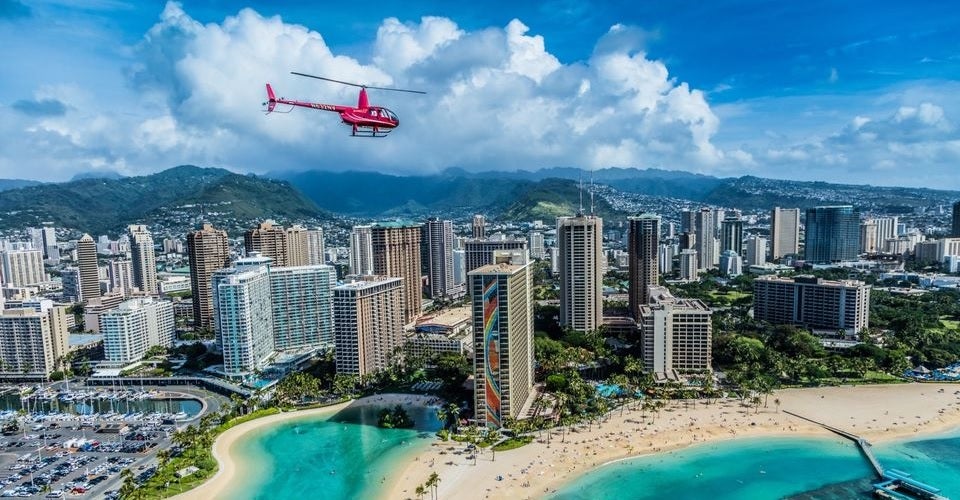 Of all the things I have done on my Hawaii trips, by far the most memorable and exciting was a helicopter tour. If you have never been in one before, I will tell you that its NOTHING like being in a plane. You will really feel like you are flying.
The helicopters will usually fly pretty low giving you an ideal view of the sights. You will get views that no other tourist will get and will see things that are not possible see any other way than by helicopter.
Many parts of the island are protected and restricted from access on the ground and an aerial view is the only way to see them.
See the ultimate guide to Things to do in Oahu, and the ultimate guide to Things to do in Maui.

Quick Answer: The 3 Best Helicopter Tours in Oahu
So lets take a look at the tours, then we'll talk about how to choose the best tour for you. Here is a feature overview of the tours with full reviews and a guide to helicopter tours below.
Best Oahu Helicopter Tours
| | Helicopter Tour of Oahu Valleys & Waterfall | 45-Minute Oahu Helicopter Tour: Hidden Oahu | Open-Door Helicopter Tour Over Oahu |
| --- | --- | --- | --- |
| | | | |
| | | | |
| Helicopter: | Hughs 500D | Hughs 500D | Hughs 500D |
| Seating: | 4 | 4 | 4 |
| Highlights: | 40-minute tour of Oahu's best waterfalls & valleys | 45 minute tour of Oahu's best scenery | Unforgettable 45 minute tour with the helicopter doors off of Oahu's best scenery |
| Hotel Pickup: | Yes | Yes | Yes |
| | | | |
Oahu Helicopter Tour Reviews
Tour Highlights at-a-Glance:
Departure/Return: Turtle Bay Resort Helipad
Departure Time: AM or PM
Estimated Duration: 1 hour
Max # on Tour: 4
Disability Accessible: Must Bring Own Caregiver
Family Friendly: Yes
When you depart the Turtle Bay Resort in this 4-passenger, open-door helicopter, you'll be headed for Oahu's North Shore. With no windows or doors in your way, you'll be able to take in the beautiful sights of some of Oahu's most beautiful valleys and waterfalls.
As you're flying over the beautiful landscape, you'll be listening to your pilot through two-way headsets, learning more about the mountain ranges, valleys, bays, and waterfalls found in this area.
Depending on the season, you may be able to watch the surfing going on at Sunset Beach and Banzai Pipeline. You'll also be able to view Kahana Bay and Waimea Bay.
As you head toward Kaneohe Bay, you may find a familiar view. Coconut Island, one of the five small islands located in Kaneohe Bay, has been an on-location filming site for many TV shows and movies. The most recognizable show filmed here was Gilligan's Island.
If you'd like to upgrade your helicopter tour of Oahu, your helicopter pilot will land for a quick stop near Kualoa Ranch. Here, you can spend approximately 15 minutes taking photos of the beautiful coast below, one of the most breathtaking views on the island.
Make sure you have plenty of film or memory to take pictures here, especially after taking photos from the helicopter of the coral beds and fish ponds below.
For more information or check tour availability:
Bringing your camera will not be optional with this unforgettable 45 minute helicopter tour. After a brief introduction and safety briefing you will take off from the helipad just outside of Waikiki.
From here the pilot will give you a birds eye view of Waikiki beach then head north over Magic Island.
From there you will hover over the white sand of Waimanalo Beach then to Kaeohe Bay where the water is crystal clear and you can see the coral reefs.
From there you will then head over Chinamans's Hat then the famous water fall where the first Jurrasic Park movie was filmed.
This is the highlight of the tour in my opinion, the water fall is beautiful and the view from overhead is spectacular.
You then see one of the highest water falls in Hawaii, Sacred Falls. Very few people get to see this because it's not easy to get to, there is no road to it. So you will get to see something few people do.
From there you will fly over one of the world's largest pineapple plantations then head over to historic Pearl Harbor. You get a great view of the USS Arizona Memorial, this is your last stop before heading back to the airfield.
The entire flight is narrated by the knowledgeable pilot and if you are interested, a DVD of your flight is available for purchase.
For more information or check tour availability: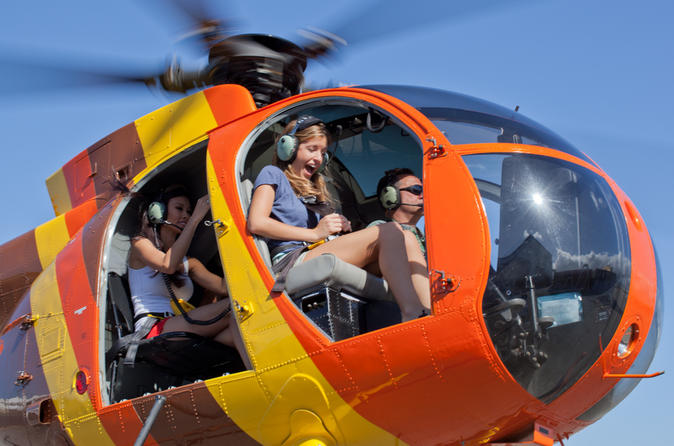 My number one recommendation is: if you do this tour, save it for your last day. I made the mistake of doing this helicopter tour on my first day on the island. BIG MISTAKE!
The "problem" is, it's so good the rest of your time on the island feels like a letdown because there will be nothing more exciting than the helicopter tour! So save the doors off helicopter tour for your last day.
If you ever watched the show "Magnum PI" then you will recognize the helicopter.
The tour starts just outside of Honolulu  where you will fly over the famous Waikiki Beach, then head over the beautiful Hanauma Bay where you should go snorkeling in the crystal clear waters.
From overhead you won't be able to see any fish but you will be able to see the colorful coral reef below.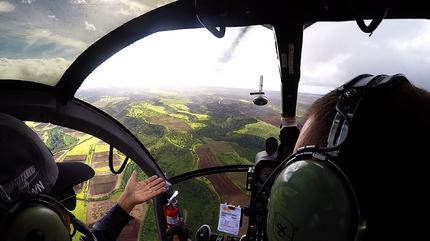 From here you will head to white sands of Waimanalo Beach then a birds eye view of the coral reefs of Kaeohe Bay.
From here you will then hover over the water fall made famous in the movie Jurassic Park in the Ka'a'awa Valley.
From here you will fly over the Halona Blowhole and Makapuu Point and see the lighthouse, then on to the Dole pineapple plantation and see the world's largest maze.
Then you will wrap up your tour by flying over historic Pearl Harbor and of course the USS Arizona memorial.
By the end of the tour you will most likely have taken at least a hundred photos. This helicopter tour is sure to be the highlight of your trip to Oahu.
For more information or check tour availability:
Don't miss snorkeling in Oahu! See my reviews of Oahu snorkel tours and Maui snorkel tours.
How To Choose The Best Oahu Helicopter Tour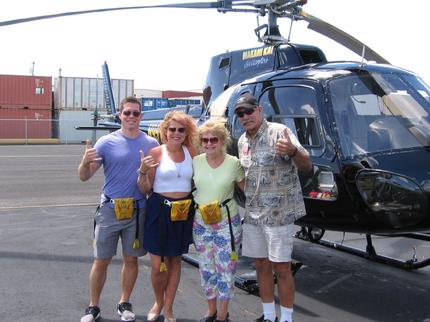 If you have never been on a helicopter tour it will most likely one of the most exciting things you will ever do, especially if you do a "doors off" helicopter tour (I highly recommend it). In Hawaii many of the best sites can only be seen by airplane or helicopter because there is no way to get to some of the destinations because either it's too hard to get to or the land is private and/or protected.
Before choosing a tour, do some research on the tours, they are not all the same.

Choosing a Safe Tour Operator
The safety record of the helicopter tour operators in Hawaii is excellent, the last accident was over 6 years ago. The first thing you should look at is make sure the operator has been certified as FAA Part 135 Air Carrier. This designation means the operator is being held to a higher standard than general aviation operators.
That's not to say there is anything wrong with them but why not go with the safest and best? You can also look up accidents here. Its not the easiest report to figure out but just make sure to look at the "DBA" names, so make sure you know the tour operator's DBA business name to see if it shows up in the accident report.
You can also just flat out ask them "how many hours of flying does the pilot have" and "has he/she had any accidents". They have to tell you!

Tips for Maximum Enjoyment of Your Tour
If you get seasick/airsick make sure to take your medicine with enough time for it to take effect. Riding in a helicopter is not like flying in a big jet. You are going to see and feel a lot of motion.
Don't wear bright/neon colored clothing, It can reflect of the glass and interfere with viewing and pictures.
Bring a good camera that has settings for high speed photography. Using your iPhone may work ok for hovering but much of your time is in motion and your pictures probably will not come out very good.
If your flying in a helicopter with the doors on, keep the camera as close to the window as possible to minimize reflections.
Don't hesitate to ask the pilot any questions you have. Better safe than sorry.
If you are prone to motion sickness it may be best to avoid drinking too much the night before and eating a big meal before your flight.
Make sure you don't spend all your time taking photos, enjoy the view!
Take the Type of Helicopter into Consideration
The type of helicopters used vary by tour operator. You may to this into consideration. The A-Star and Eco-Star type used by many tour operators seat up to six people. The problem with this is, two people are going to get stuck in the middle with a less than stellar view.
The Hughs 500D, this is a smaller helicopter that seats 4 people so there is no middle seat with a bad view. While these helicopters are smaller and you are more likely to experience motion sickness, I think you are better off because no one will feel cheated having to sit in the middle seat. Unfortunately there is no discount for this seat either.
The Hughs 500D are also the helicopters that that the "doors off" tour. This is in my opinion the way to go. It's not any more "dangerous", you are securely strapped in, so there is no danger of falling out.
If your party is more than 4 then I would say go with the A-Star and the Eco-Star helicopter because they can seat up to 6 people. If you care where you sit, ask ahead of time if you can sit in the front with this type of helicopter, you will have a better view. The Eco-Star helicopter tends to be a bit larger and quieter.
Not only is a more exciting tour with the doors off as you get to feel the wind in your face, but your photo and video taking will be so much better! There is no glare or reflection to contend with and you just have a more exciting time.

Ask About Seating Arrangements

Normally couples are kept together, but keep in mind that the tour operator is going to seat you where it is best for safe operation of the helicopter.
It's not like a jumbo jet where you can sit anywhere. A helicopter is small and the weight distribution does matter. Ask when you are book the tour if you can specify where you sit. But keep in mind they have final say who sites where, balancing the aircraft is the final consideration in seating arrangements.
Insider tip: Keep in mind that most tours circle the islands clockwise, this means that the person on the RIGHT side of the helicopter will have the best view. Also the rear seat also offers the best and most unobstructed views.

Time of Day
If you have availability, the best time of day to take your tour is late morning or early afternoon. Reason being, there are limited shadows and with the sun directly overhead the colors will be more brilliant. It also is warmer and if you do a doors off tour you will appreciate this.

Listen to the Pilot
This is especially important if you have never been in a helicopter before or you are feeling anxious. The pilot will give you a safety briefing before takeoff, pay attention. If you have any questions, this is the time to ask. Don't be shy, they have heard it all!
As you are flying, you will have headphones on, most tours the pilot will be offering his commentary on the sites you are flying over and can give you some insiders perspective.

Timing the Tour on Your Trip
People have different opinions on this. Most people say you should take the tour early in the trip to "orient" yourself with the island.  Personally I think this is a waste, you really are not going to have any better perspective of the island than you can gain from a map.
In my opinion, you should go out with a bang, take the tour your last day or second to last day to have something to really remember your trip by.
Just try and relax on the ride and enjoy it!
---
I hope this guide was helpful for finding the best Oahu helicopter tour to fit your needs. If you want to comment or recommend a tour I didn't include, please use my contact form to get in touch.
Have fun and enjoy your stay!
OutsidePursuits.com is a participant in the Amazon Services LLC Associates Program, an affiliate advertising program. OutsidePursuits.com earns fees from products sold through qualifying purchases by linking to Amazon.com. Amazon offers a commission on products sold through their affiliate links.