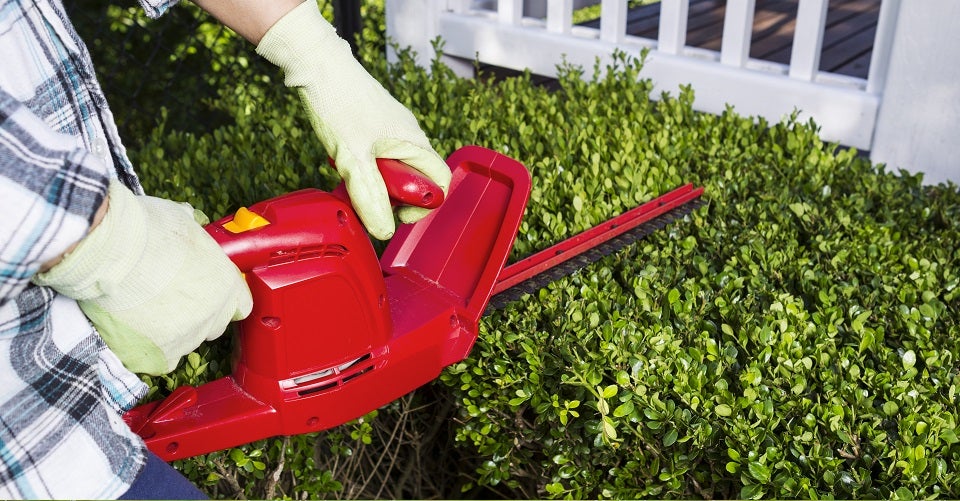 Our Editors independently research, test, and rate what we feel are the best products. We use affiliate links and may receive a small commission on purchases.
If you want to have nice-looking hedges, you need to keep them well-maintained all throughout the year.
The easiest way to do this is by using the best hedge trimmer available, but realize that not every machine is made to the same level of quality.
We've come up with a solid list of cordless & electric hedge trimmers for you to choose from. Now everyone in your neighborhood will be turning their heads!
Best Hedge Trimmers
| | Makita XHU02M1 Cordless Hedge Trimmer | Makita UH6570 Electric Hedge Trimmer | Greenworks Cordless Hedge Trimmer |
| --- | --- | --- | --- |
| | | | |
| | | | |
| Type: | Cordless | Electric | Cordless |
| Power: | 18V, 4.0Ah | 6A | 40V, 3Ah |
| Blade Length: | 22" | 25" | 24" |
| Weight: | 4.3 lbs | 8.4 lbs | 8.2 lbs |
| | | | |
For more of my top gear recommendations, have a look through these popular Outside Pursuits guide links: Cordless Lawn Mowers, Reel Mowers, Cordless Leaf Blowers.
Quick Answer: The 10 Best Rated Hedge Trimmers For 2021
---
Hedge Trimmer Reviews
Our reviews of the top rated hedge trimmers (electric & cordless), with our buyers guide and comparison table will help you choose the right one.
Now let's take a look at the hedge trimmers in more detail and we'll guide you in selecting one that's right for you. First we'll look at the the cordless models.
---
Best Cordless Hedge Trimmers
---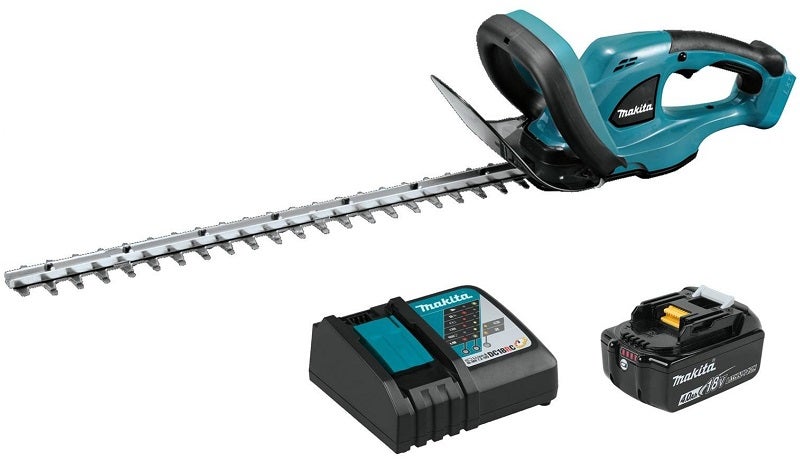 Makita XHU02M1 Cordless 22" Hedge Trimmer Kit at a Glance
:
---
Type: Cordless
Power: 18V, 4.0Ah
Blade Length: 22 inches
Cutting Diameter: n/a
Weight: 4.3 Pounds
Have you ever used a corded hedge trimmer? While they definitely have their place, if you have a huge lawn, then be prepared to deal with extension cord galore.
The easier option here would be to opt for the Makita XHU02M1 18V LXT Lithium-Ion Cordless 22" Hedge Trimmer Kit. The cordless design means you can take it anywhere without restriction.
Using an 18V battery, the battery will last as long as you do, with a 40-minute charge time.
After a while of working, particularly on hot days, batteries of lesser-quality products are at risk of burning out. What's great about this model is that it features overload, over-discharge, and overheat protection.
These functions ensure that it will always works at its most efficient levels, stopping if there's any risk of the battery becoming damaged.
With zero emissions and low noise (at only 87 dB(A)), the machine is incredibly low-maintenance. As hedges require regular trimming, this makes it an easy product regarding upkeep if you have an abundance of plants.
Makita-built motor provides an impressive 1,350 SPM and an efficient 22-inch blade which means that you'll have to spend less time outside.
The 16-ounce best hedge trimmer is super lightweight, which is ideal if you have taller plants that require reaching overhead to tackle. We would only recommend this one for thinner branches, however.
---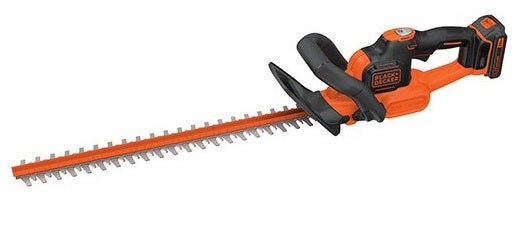 Black + Decker LHT321FF POWERCOMMAND Hedge Trimmer at a Glance
:
---
Type: Cordless
Power: 20V
Blade Length: 22 inches
Cutting Diameter: ¾ inches
Weight: 7.9 Pounds
If you need something a bit more powerful than the former product, check out the Black + Decker LHT321FF 20V Max Lithium Powercommand Powercut Hedge Trimmer.
It's not the most heavy-duty model out there, but with a cutting diameter of ¾ inches and the PowerCut technology you can power through good-sized branches with ease.
Continuing with the uncorded model theme, this 20V MAX lithium ion-powered battery allows for a good amount of power and extended run-time to make sure you get the job done in one go.
However, we should mention that this model is quite a bit heavier than the last one, at over 7 pounds.
If you don't have the upper body strength to manage that amount of weight for an extended period of time, or if you have a lot of overhead shrubs, it may be best to look at a different product on the guide.
However, it's not really all that difficult to operate, in general. The ergonomic grips reduce the chances of cramping, and the low vibration helps with that and the level of control you have.
Ultimately, if you're looking for a good amount of speed and power, this will help you out.
---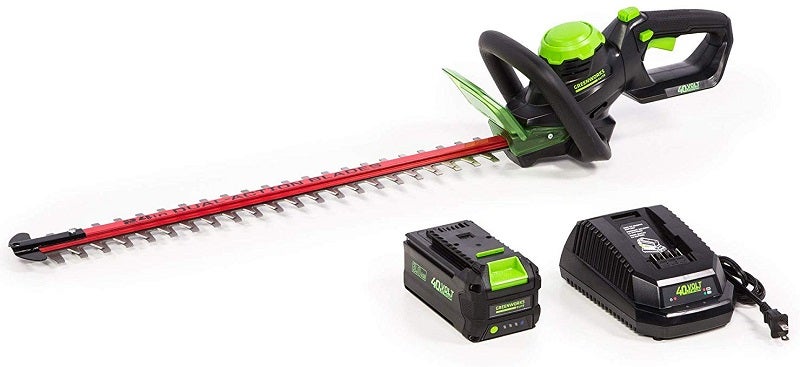 Greenworks Cordless Hedge Trimmer at a Glance
:
---
Type: Cordless
Power: 40V, 3Ah
Blade Length: 24 inches
Cutting Diameter: ¾ inches
Weight: 8.2 Pounds
Perhaps you're going to need even more power behind your hedge trimmer to take on thicker branches or what have you. If that's the case, you're going to need a rough and tough product.
This whopping 40V hedge trimmer is perfect if you have a yard smaller or up to ½ an acre. That's quite a bit of space to take on, but the Greenworks 24-Inch 40V Cordless Hedge Trimmer does it easily.
What's really cool about this best cordless hedge trimmer, is that it comes with a universal battery system capable of powering over 50 products.
As it comes with two batteries, it's easily one of the most versatile trimmers on the market currently. You can use one battery while charging the other, meaning you'll never have to worry about running out of juice.
In addition, the battery features a USB port which makes it easy to charge your smartphone and any other electronic device you need kept handy.
The 24-inch blade combined with a ¾" cutting diameter makes for a powerful performance that slices through branches like butter. Despite this, it works surprisingly quietly and with no emissions.
Finally, at just under 6 pounds, most will have no issue managing this great piece of yard equipment.
---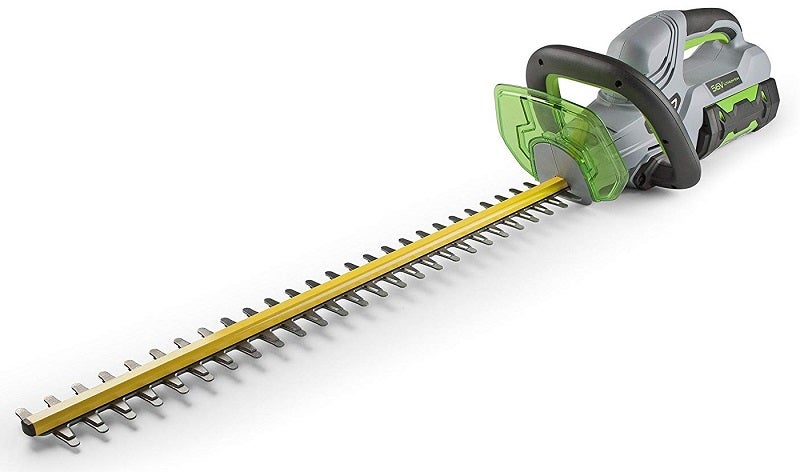 EGO Power+ HT2411 Cordless Hedge Trimmer at a Glance
:
---
Type: Cordless
Power: 56V, 2.5Ah
Blade Length: 24 inches
Cutting Diameter: ¾ inches
Weight: 4 Pounds
Are you someone who can handle heavier trimmers and need even more power to shape up your yard or garden?
Then take a good look at the EGO Power+ HT2411 56V 2.5Ah Cordless Hedge Trimmer. Once again, we bring you an incredibly efficient design made to give you the freedom to take the machine where you need to without being restrained.
The 56V industry-leading lithium-ion battery has an excellent runtime, at an hour.
That's over a 20-minute advantage in comparison to many other products out there! To get a full 60 minutes, simply charge it for 40 and you're ready to go.
Step away from the fumes and noisiness that many gas-powered tools involve. The 24-inch hardened steel cutting blade can handle branches up to ¾" thick, list most others we've covered already.
Operating at 3000 strokes per minute, you may not even need that complete hour to get your yard looking pristine. However, if you do need to stop immediately, the electronic brake with trigger release allows for quick action.
While there's quite a bit of strength packed into this trimmer, keep in mind that it is just under 12 pounds.
If your arms are going to be outstretched while shaping up shrubs, even in-shape people may start feeling fatigued before they're finished.
---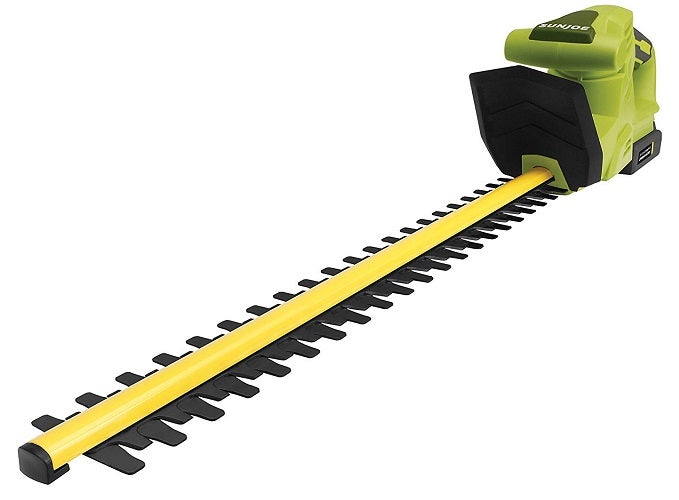 Sun Joe 20VIONLTE-HT20 Cordless Hedge Trimmer at a Glance
:
---
Type: Cordless
Power: 20V, 2Ah
Blade Length: 20.4 inches
Cutting Diameter: 3/4 inches
Weight:

5.7

Pounds
Our last cordless model for you today is the Sun Joe 20VIONLTE-HT20 Cordless Hedge Trimmer, which is quite the contrast against the last product.
It's not made to be the toughest, but it gets most jobs done with no problem. The 20V, 2Ah model is relatively average in the power it produces but is made to be precise and convenient.
The 5.3-pound machine is less than half the weight of a few models we've featured here, making it perfect if you don't quite have the upper body strength to safely and comfortably manage heavier ones.
We'd recommend this trimmer if you just need to maintain your shrubs.
Furthermore, the fact that it's completely cordless means that you have more freedom and versatility. Dual-action blades work quickly to cut through branches up to 0.62 inches thick, but with 40% less vibration for your comfort and added control.
While the lithium-ion battery only offers up to 40 minutes of runtime, it's ideal for those who don't need the more heavy-duty, long-lasting trimmers.
We really enjoyed the abundance of safety features, such as the dual-handed safety switch to avoid accidental starts, and a safety guard to keep your hands and fingers intact!
Overall, it's not too weak but not too strong, either. This lightweight machine is perfect for light but efficient trimming that won't weigh you down!
---
Best Electric Hedge Trimmers
---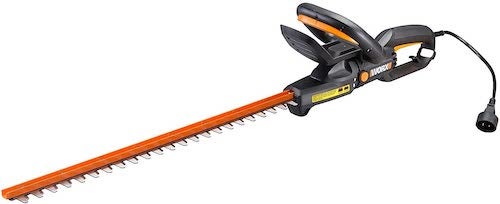 WORX Hedge Trimmer and Pruner at a Glance
:
---
Type: Electric
Power: 4.5A
Blade Length: 24 inches
Cutting Diameter: ¾ inches
Weight: 8.5 Pounds
As we move on to electric models, the first product on our list is the WORX Rotating Head Electric Hedge Trimmer.
The difference between this trimmer and the many cordless models is that it operates on AC power rather than a lithium-ion battery.
While corded models often bring maneuverability problems, this hedge trimmer has a slim body and lightweight design for maximum agility.
This trimmer has a motor positioned directly behind the handle, allowing for lightweight agility when moving around.
While it is very lightweight, it's quite powerful with a 4.5-amp motor that can easily slice and dice through ¾" branches.
Dual-action blades also let you slice in multiple directions which can greatly improve workflow.
Once you're finished for the day, all you need to do is clean the blades, unplug the cord, and wrap it up.
While this is an excellent product overall, the machine is prone to heating very quickly. Keep an eye out for this when using this model!
---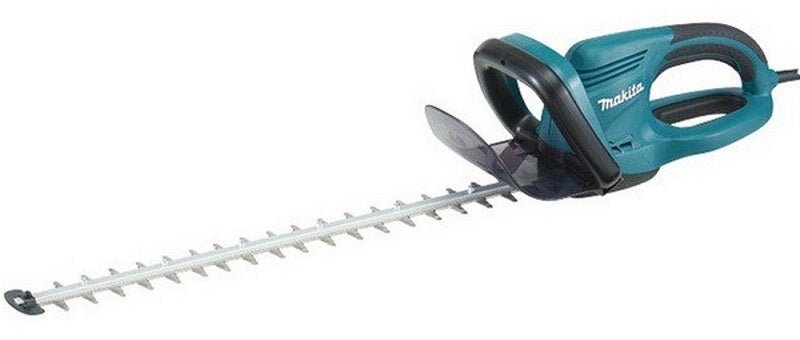 Makita UH6570 25" Electric Hedge Trimmer at a Glance
:
---
Type: Electric
Power: 6A
Blade Length: 5 inches
Cutting Diameter: 1/2 inches
Weight: 8.4 Pounds
Here we are with yet again another Makita trimmer, but this time with the UH6570 Electric Hedge Trimmer.
As one of the undoubtedly easiest models we've had the pleasure of using, expect a particularly long blade length of 25.5 inches to help you reach high places.
To aid in user-friendliness, they've created an ergonomic grip design that allows for a natural feel which won't cause cramps or discomfort.
This makes the model easy to handle which is not only convenient, but safer. Similar to the WORX we just reviewed, the best electric trimmer also features well-balanced construction rather than a top-heavy feel.
Just because it's easy to use doesn't mean it doesn't pack a bit of a punch. The 4.6 AMP motor provides 1,600 SPM for relatively fast trimming but with quiet operation.
The cutting diameter could've been a bit more generous from our point of view, but it's by no means "subpar".
Finally, you'll also experience a range of safety features like the see-through hand guard which keeps your hands and fingers safe while giving you a clear view of what you're trimming.
They've also included a two-hand operation switch which only turns on the motor when grips are held with two hands.
---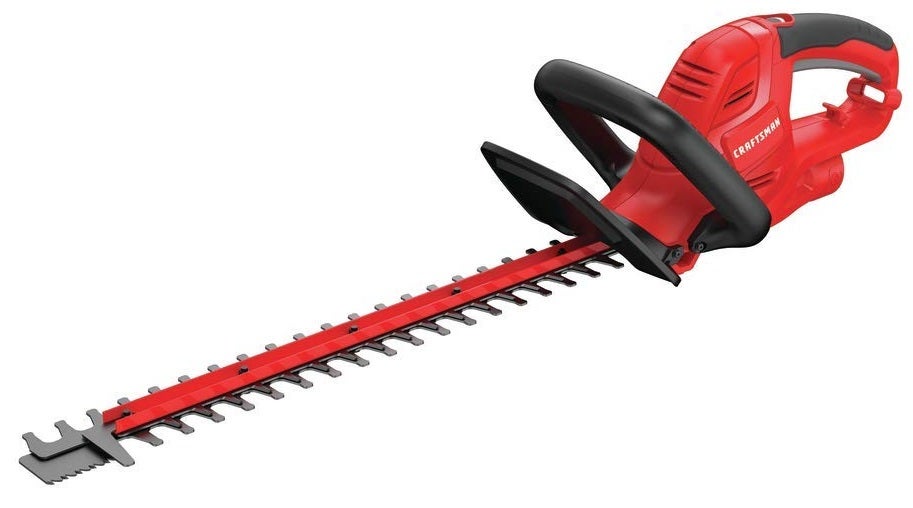 CRAFTSMAN Electric Hedge Trimmer at a Glance
:
---
Type: Electric
Power: 4A
Blade Length: 22 inches
Cutting Diameter: 1.5 inches
Weight: 3 Pounds
While CRAFTSMAN is easily one of the biggest, most well-known names in the game, we were still surprised by their 22-Inch Electric Hedge Trimmer.
It was oddly difficult to find another machine that could cut through the thick 1.5-inch materials that this one could, while still weighing a mere 3 pounds.
Moreover, you get all that ease of use and power packed into one, at a relatively affordable cost.
The 22-inch dual-action blade is notably shorter than others, but as you can slice in different directions, it's a bit more efficient.
The low-vibration model features a 4 AMP motor that aids in cutting bigger tasks in conjunction with their power saw feature.
Grip is the biggest part of operation here, and the ergonomic grips integrated into the design ensures yours is tight yet comfy. Finally, expect to receive a CRAFTSMAN 3-year limited warranty and a 90-day money back guarantee.
This will cover your machine and give you the peace of mind you may need to bring this tough model all the way to your yard.
---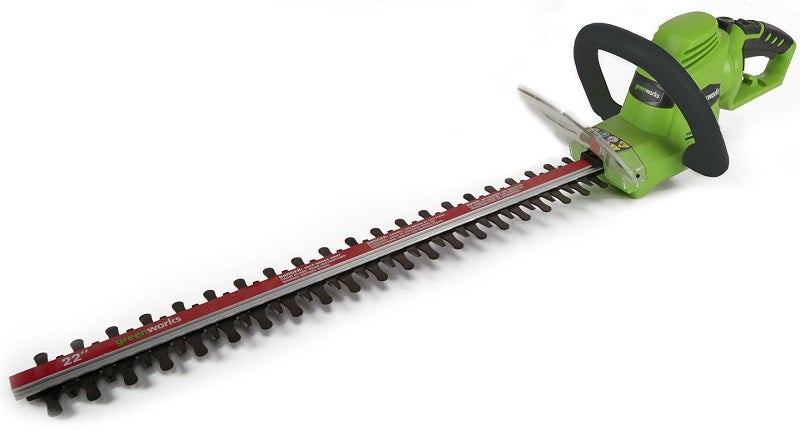 Greenworks Corded Hedge Trimmer HT04B00 at a Glance
:
---
Type: Electric
Power: 4A
Blade Length: 22 inches
Cutting Diameter: 5/8 inches
Weight: 5.8 Pounds
If you're looking for a machine very similar to the CRAFTSMAN but are on a tighter budget, then look no further than the Greenworks 22-Inch 4 AMP Corded Hedge Trimmer HT04B00.
It may not be able to manage branches quite as thick as the former design, but it's still easy to handle and allows for an intuitive workflow.
The motor is powerful, and combined with the 22-inch dual-action steel blade you'll be able to cut in all directions.
For us, this made it smoother with natural, streamlined motions that don't twist the body into unnatural positions. Combine that, with a rotating rear handle, and you can even try to pull off those crazy hedge designs seen in Rollercoaster Tycoon.
The 5/8" cutting capacity is a bit average, but perfect if you want very precise control over hedges. While it's not the best in this regard, you can tell vibration is reduced a good amount to aid in these efforts.
Not only does this model look cool, but it feels nice to use. The cushioned over mold grip handle makes it comfortable and luxurious to use, even for extended periods of time.
You'll find a front hand guard, which makes sure your hands are safe, and a 3-sided wrap-around handle to allow for full protection.
---

BLACK + DECKER BEHT200 Hedge Trimmer at a Glance
:
---
Type: Electric
Power: 5A
Blade Length: 18 inches
Cutting Diameter: 3/4 inches
Weight: 4 Pounds
Are you on a tight budget but still on the hunt for one of the best hedge trimmers? We can't recommend the BLACK + DECKER BEHT200 Hedge Trimmer enough if this is your case.
It's almost shocking how inexpensive this model is, considering the type of quality you receive. However, you will have to sacrifice a bit of power in exchange.
The 18-inch dual-action hardened steel blade is notably shorter than the others on our guide, but if you don't have tall plants that you need to reach, it's not necessary anyway.
It cuts through branches up to ¾" which means it's just as strong as models 3x its price!
We found the machine easy to maneuver thanks to the reduced vibration and compact design. The handle is easy to wrap your hands around, reducing fatigue, while its light weight facilitates movement.
You'll find a second full wrap-around handle which also allows for greater precision and control.
As it is an electric model, we enjoyed the cord retention feature which not only makes it safer to use but prevents accidental unplugging as well.
---
Hedge Trimmer Comparison Table
How to Choose the Best Hedge Trimmer (Cordless & Electric)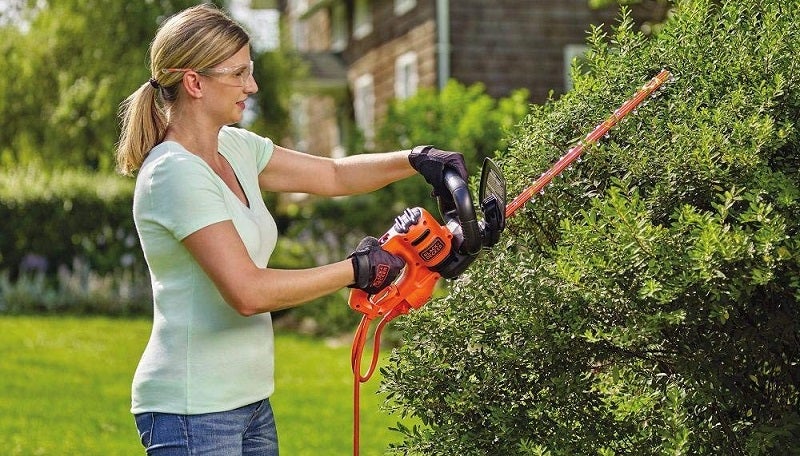 It's not all that easy choosing the best hedge trimmer, especially if you've never used one before. There are so many variables to consider, which is why we've decided to write up this user-friendly buying guide for you.
It's here to guide you along the path to success, ensuring you select the perfect product for you and your hedges.
Trimmer Power Source
As you obviously saw above, there are two main types of hedge trimmers: cordless and electric.
Cordless
Our first five products are all cordless models, which as you've probably figured out, do not have a cord. Rather, they run on DC (direct current) power which is provided by a lithium-ion battery.
These batteries will vary in voltage/power, so consider how much you'll realistically need. What's great about these models, is that you have complete freedom to where you're going which is perfect for large yards.
Electric
The last five products on our guide are all electric, which run on AC (alternating current) power and have a cord. While you may not want one if you have a particularly big space, they're generally more reliable and can go for a longer period of time without stopping.
These trimmers are all easier to start and maintain than gas models, while also being lighter and less difficult to maneuver.

Cutting Ability
While they may not look as heavy-duty as other power tools, hedge trimmers do pack a powerful punch. However, the amount of power that comes with a model will vary. As your trimmer goes up in power, expect the price to rise as well. So, if it's not necessary for the job you need done you're better off sticking with a lower-powered one.
The upside to more voltage is that they will get the work done faster, and are generally more efficient so you don't have to spend as much time trimming away.
To evaluate how much voltage you'll require, think about the types of hedges you have, the size, and how much you feel confident in dealing with. If you don't have a lot of upper body strength and this is your first hedge trimmer, we'd recommend going lower in voltage and moving up if you need.
Weight
To kind of tie into the last point, weight is also a factor in how comfortable and confident you'll be with the machine. Think about the size of the area you'll be trimming, and if you'll realistically be able to manage the machine the entire time you're using it.
More heavy-duty models are going to be more powerful but usually heavier. It's not a rule, but there's usually a direct correlation between the two.
Ease of Use
The last two points bring us to this one, which is that ease of use is essential in how much you're going to like your new trimmer. If it's not easy to use, you're not going to want to use it – it's as simple as that. Ease of use comes down to many factors.
One, is whether or not it's a corded model. Those that have cords are going to be a bit more restrictive as you're essentially on a leash. If you only have a couple shrubs, this may not be an issue, but if you have a ½ acre it will.
Cordless models are the ultimate in convenience, as you can take them anywhere, they're lightweight and typically very compact. Bonus points if the motor is located behind the handle to give a more natural feel and ease of maneuverability.
There are a few smaller features that some models feature that make a big difference in the long run. One, is a lock. A lock makes it so you aren't having to hold the trigger the entire time.
A wraparound handle is also nice and comfortable, and a rotating blade means you can switch up the angle you're holding the trimmer for better precision.
Cutting Blade Length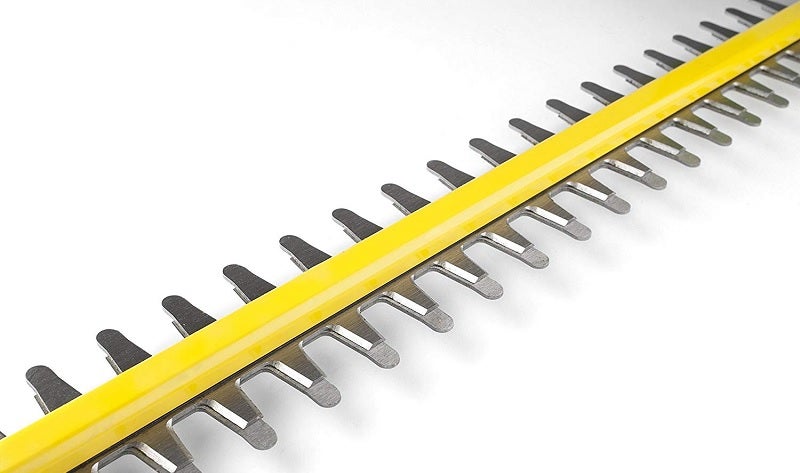 You may have noticed that the blade lengths on the above models vary quite a bit. The smallest one we have is 18", and the longest is 25.5". That's almost an 8" difference, which in turn makes a big difference in operation.
The longer blades can make it easier to create an even trim if you have the strength to wield it. If you're operating in a smaller space, longer blades can not only be unnecessary but even unsafe and detrimental to the cause.
18" blades are more than sufficient for most, but if you have larger/taller hedges then you may want to move up to at minimum, 20".
Cutting Blade Type
There are two general types of blades: double and single-sided.
Single-Sided: These are ideal for beginners or for those who don't 100% feel secure yet. These are generally safer and easier to move around, as the sharp side of the blade can always be facing away from you.
Double-Sided: If you're an experienced gardener and are just looking for raw efficiency, then this should be your go-to. The double-sided blades give you essentially twice the speed, cutting both sides at once. It's also easier to change up your body's position which reduces fatigue and can allow for better precision.
Maintenance
No matter which product you select, no matter how expensive, maintenance is a necessary part of having a hedge trimmer. As with any high-powered machine, proper maintenance is incredibly important in terms of both functionality and safety.
However, the amount of maintenance required will vary depending on the model. Make sure the blades are properly cleaned after each use, and that they're sharp. If not, make sure you replace them with ones that are.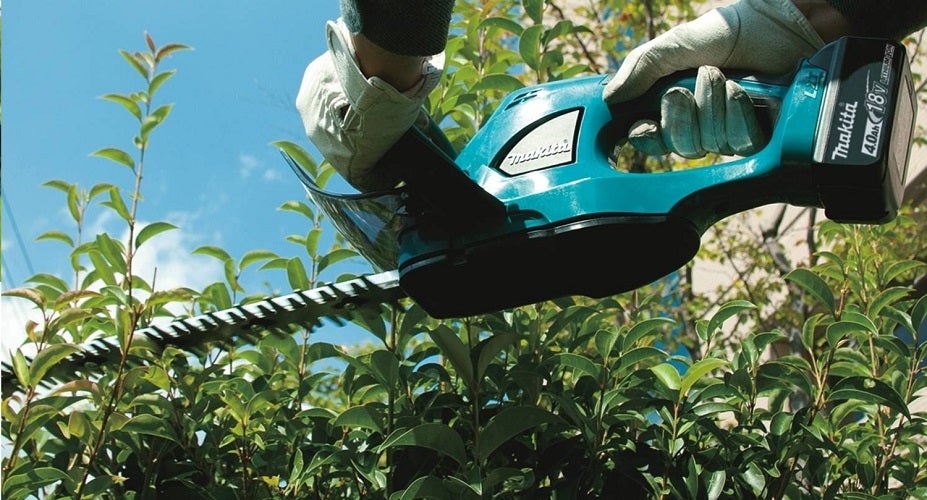 Safety
Safety is the most important factor here. You're essentially running around with a high-powered blade, after all! If you're a newbie, then we can't recommend enough that you should opt for a more lightweight, compact model that you can confidently move around.
We enjoy trimmers which automatically shut the machines off when you let go of the trigger. You can put a lock on for added convenience, but this is an extra level of safety.
It's always a good idea to look into models that also have a front-handle shield to make sure your hand and fingers stay far away from the blades.
Price
Hedge trimmers vary a surprisingly large amount in cost. You can find a solid option for less than $40, and others for hundreds. What is the difference that you'll be receiving when you buy a more expensive option? Convenience and efficiency.
Cordless models will generally cost a bit more due to the added convenience of not having to be plugged into a wall. A higher-voltage battery will also add on to the price, as well as a longer blade and/or faster charging time.
FAQs About Hedge Trimmers
Q: What should I do if my hedge trimmer isn't cutting evenly?
A: If you're not getting results, there's a good chance that the blades are either dull or loose. There's also the chance that the hedge is just too big for the trimmer to cut it properly, which is why it's essential you pick a blade that's long enough for the shrubs you have.
Q: How long will my cordless hedge trimmer's battery charge last for?
A: This will depend on the model you choose. Typically, you'll find they last anywhere from 40 to 60 minutes on a full charge.
Q: Can I use an electric trimmer on a wet hedge?
A: Absolutely! The hedge trimmer operates the same way on a wet and dry hedge, slicing through without issue. There is no danger of electric shock unless you have a damaged cord. With a cordless trimmer, a shock would be almost impossible.
How to Use an Electric Hedge Trimmer
How to use an Electric Hedge Trimmer
Tips For Using Your Trimmer
#1: To make your hedges look perfect, try to cut the up-and-down sides first.
Move the trimmer up and down as evenly as you can. Once you've finished, slowly work your way forward along the hedge.
#2: Try to start trimming your shrubs in winter or spring, getting all the "big work" out of the way.
This will allow for easy maintenance throughout the rest of the year if needed. However, some hedges only require a few cuts a year.
#3: Remember to practice proper safety habits when using your new hedge trimmer.
When you start it, keep it on the ground, holding it down with your non-dominant hand. Use your dominant hand to start the trimmer, making sure no one comes within 40 feet of you while you're using it. Always read your safety manual before you get started.
#4: Never work on a ladder, stool, or chair.
You must always have a solid, reliable base to be standing on, keeping your feet at least shoulder-width apart to create proper stability.
Final Thoughts
Now that you know just about everything you could ever want to about these machines, which one will you be using in your garden this year?
We know that they are all great products, but what's most important is that you know which of these best hedge trimmers is the perfect product for you and your shrubs. We hope that this article has helped you decide just that. Thanks for tuning in, and we'll see you again shortly!
How We Researched
To come up with the top electric and cordless hedge trimmers, we researched a variety of sources for reviews such as Home Depot, Lowes, Target and AcmeTools along with our own personal experience.
We also consulted online magazines for product research and reviews to get as much unbiased information as we could. To help weed out fake reviews we used Fakespot.com to make sure we only looked at genuine reviews.
With so much quality gear available, we had to narrow it down based on what we felt were the best options were for the price. The staff authors have a wide and varied background in yard maintenance and home repairs.
The authors have decades of experience and are eager to share their knowledge with readers.
To help narrow down the selection we used personal experiences along with recommendations from landscapers, bloggers and contractors.
After extensive research, we came up with our list to help you choose the right one for you.
Sources
Notice:
OutsidePursuits.com is a participant in the Amazon Services LLC Associates Program, an affiliate advertising program. OutsidePursuits.com earns fees from products sold through qualifying purchases by linking to Amazon.com. Amazon offers a commission on products sold through their affiliate links.