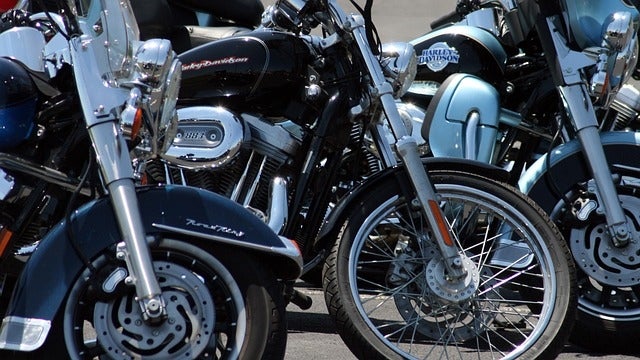 Our Editors independently research, test, and rate what we feel are the best products. We use affiliate links and may receive a small commission on purchases.
In this article we recommend the best battery for Harley Davidson, and the battery brands that were found to best fulfill the power requirements of Harley and other big American V-Twins.  Also see our buyer's guide, How To Choose The Best Harley Davidson Battery For You.
Best Battery for Harley Davidson
| | PowerStar HD Blue Box Battery | Mighty Max Battery for Harley Davidson | PowerSource Lightning Start Motorcycle Battery |
| --- | --- | --- | --- |
| | | | |
| | | | |
| Mount type: | Top or front mount terminals | Optional front or top mount terminal | Optional front or top mount terminal |
| Battery: | Sealed AGM battery | AGM battery | Factory sealed AGM type battery |
| Warranty: | 3 years | 1 year | Not specified |
| | | | |
---
Quick Answer: The Top-Rated Harley Davidson Batteries
---
Best Battery for Harley Davidson Reviews
Mount type: Top or front mount terminals
Battery: Sealed AGM battery
Warranty: 3 years
If you're looking for a direct replacement that's made exactly for your Harley Davidson, this might be your first stop. The Blue Box HD battery is a sealed AGM battery replacement for your Harley Davidson that's ready to bolt right up.
I have to admit, I love a 3 year warranty on a battery. There's nothing more infuriating than mounting up a battery and having it die halfway through riding season. With the PowerStar warranty you're covered against a faulty battery for up to 3 years.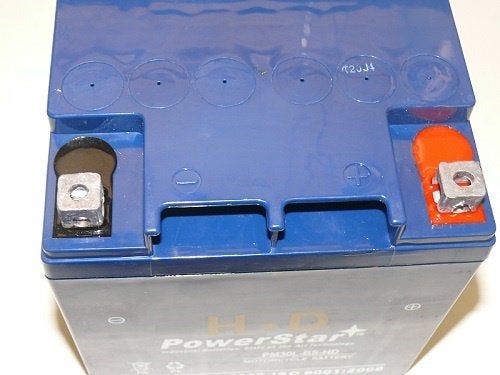 Like we mentioned earlier, the sealed AGM battery is an ideal choice. They're some the best high discharge rate batteries available and that makes them well suited to lage HD engines that take a ton of power to crank over.
If you're wondering whether or not they'll fit your model, PowerStar makes several different sizes each intended to fit Harley bikes. You can use the Amazon garage filter to make sure of the fitment before buying.

---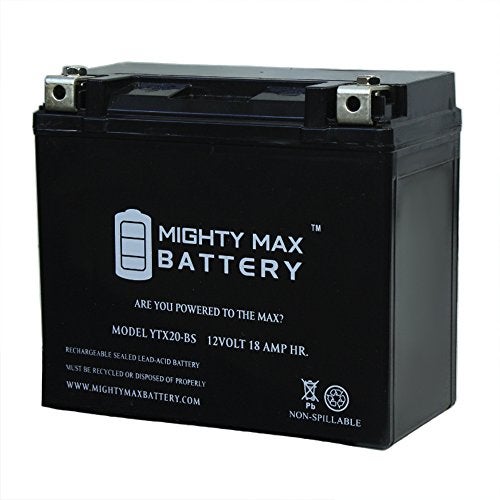 Mount type: Optional front or top mount terminal
Battery: AGM battery
Warranty: 1 year
Another AGM battery sealed from the factory and ready to mount right up on your bike. Mighty Max makes a huge range of batteries for Harley Davidson battery replacement so there's a pretty good chance you'll find the one you're looking for at an exact match.
While the warranty isn't as long as the PowerStar batteries, one year is still enough time to be sure the battery is going to perform well for you. If there are any issues, at least you have time to clear them up before the end of the riding season.
Mighty Max Battery www.MightyMaxBattery.com
Mighty Max keeps their prices quite reasonable and serves up a no-nonsense AGM battery. Remember that AGM batteries can be mounted in any position and are especially good at the high discharge starting loads of a large engine like a Harley.
These Mighty Max Harley Davidson batteries run the gamut of sizes. Be sure to follow the link and use the filter to select your year and model of Harley to find the battery that fits your bike. Chances are it will be a perfect size match for an easy swap with your old battery.
Some Might Max batteries for specific Harley Davidson models are available in a gel type battery. Gel batteries may be advantageous in space constrained applications as they generally run smaller. They are also usually more durable and resilient to hotter climates. The gel batteries are housed in blue cases as opposed to the black case of Mighty Max AGM batteries.

---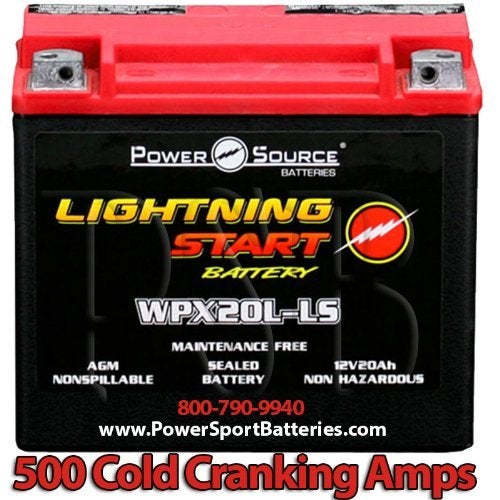 Mount type: Optional front or top mount terminal
Battery: Factory sealed AGM type battery
Warranty: Not specified
PowerSource lightning batteries are designed specifically to be able to dump out the charge you need to start that big bike in any weather. I really like that so many makers are producing high CCA AGM batteries that can kick over a Harley without breaking a sweat. PowerSource stays true to that line.
These AGM batteries have a unique black and red color that I think stands out a bit. The battery terminals feature a top or front mount option that makes it easy to replace the wires in the exact orientation you found them.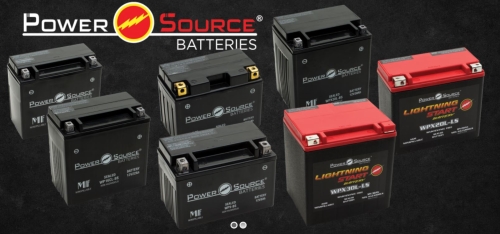 PowerSource makes the batteries specifically to be a direct OEM match. That means you should be able to find one with the exact size, CCA, and Ah rating of your existing battery. If you're like me this is ideal because there's something to be said about sticking with a sure thing.
You may pay a bit more for a PowerSource battery compared to other models on our list, but I think their wider selection of direct fit batteries might make the price worth it.

---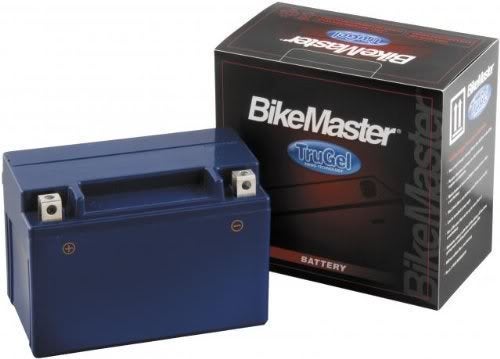 Mount type: Top or front mount terminals
Battery: Gel style
Warranty: Not specified
BikeMaster makes these gel style batteries that are ready to mount up and replace your Harley battery right now. They're a little more pricey than other batteries on our list, but they might be worth it in some cases.
Gel batteries are exceptionally stable and durable. Like AGM they can be mounted in any orientation. However, these batteries in specific are relatively small for the power they can generate.
BikeMaster Battery Overview | #BuildYourDream
For that reason I think these make a serious contender for a replacement battery on a custom bike. If you're going to be making a Harley chopper or a mod that requires a small, hidden battery you might look here.
Thanks to the gel style battery they can be mounted in any orientation so you can hide them up under the tail, tucked sideways in the fame, etc. Get it out of sight!
Overall I think these gel batteries are best suited to hot climates and custom jobs where they make an excellent choice for Harley work.

---
Mount type: Top or front mount terminal
Battery: AGM type battery
Warranty: Not specified
Caltric probably has to compete with PowerSource on our list for the most comprehensive lineup of compatible Harley Davidson replacement batteries. They seem to have a battery that can directly replace just about any OEM battery. It's insane!
This battery is available in so many sizes, you'd be crazy to sort through them all. That's why we recommend the Amazon compatibility checker.
Use our link and enter your make and model to be sure you find the Caltric battery that fits your model and year:

These batteries are a sensible AGM style sealed design that comes from the factory charged. I'd still give it a quick charge overnight before you toss it in the motorcycle, though. Just to be sure it won't leave you stranded on your first ride.
There are two lead based top or front mounted terminals ready to replace your old battery. Like the other batteries on our list, I love dual terminal options because you can use the orientation that works easiest for you and avoid a ton of headache.
These direct replacement batteries from Caltric are ideal for swapping out with your current battery.

---
Battery for Harley Davidson Comparison Table
---
How to Choose the Best Harley Davidson Battery for You
Physical Size and Dimensions
By far the most important factor when replacing a Harley battery is the actual size of the thing. Think about it, the battery you removed fits inside a small battery compartment. You can't get a new one that's too big or it won't fit. You can't get one that's too small or it will rattle and jiggle around in its cage.
Most of the time Harley Davidson battery replacement can be accomplished using exact size matches. By using a filter, such as the ones we suggest later, you can make sure the battery you're buying will fit your make and model.
In the rare cases that you can't find the battery you want in an exact size fit, it is possible to go down a size. So long as the battery still performs well enough to handle your Harley, you can go down a size in physical dimension.
Just be sure to pad the voids around the battery with a rag so the battery can't jiggle and vibrate. Vibration and shaking will shorten the life of the battery (I know from experience).
Battery Capacity (Ah)
Battery capacity is measured in something called amp hours (Ah). You'll see this rating in your Harley service manual and on any battery you buy to replace it. If you can't figure out the listed Ah rating of the battery you're buying, don't buy it.
Check the service manual for your motorcycle or do a quick search to find out what amp hour rating your Harley model needs to function properly. This number can change if you have battery hungry accessories installed, so be sure to account for that.
If you just can't figure it out, check the battery that's in your Harley. If it has been working fine, then simply replace with an equivalent rated battery.
When all else fails, take your hog into the dealer and ask them to test your motorcycle to determine the Ah rating you need in a replacement battery. It is possible to measure the battery draw loads to determine an appropriate rating, but it's not easy.
Harley Davidson Battery Types
There are several different types of batteries being made today. Each one has its pros and cons. Some batteries have even been largely phased out due to the introduction of superior technology.
Let's start with the most traditional battery type and work our way to more modern types.
Lead acid batteries
They must always be kept vertically oriented and need to be checked on occasion to be topped off with acid. These batteries require moderate maintenance and can leak nasty acid that is highly corrosive and destructive to Harley components.
Sealed batteries
These are similar to lead acid, but they don't require topping off. These batteries should also be kept vertical. However, their chance of leaking is much lower and they won't require any maintenance during their lifespan. Usually you will have to fill them after they arrive in the mail. This ensure their freshness.
AGM Batteries
AGM batteries are modern sealed batteries. They come sealed from the factory and will never need maintenance. AGM batteries can be operated in any orientation except upside down. AGM batteries probably make the best choice for a Harley Davidson motorcycle battery due to their superior fast discharge rates which help with cranking over large displacement engines.
Gel Batteries
Gel batteries are well-suited to odd conditions. They make great battery choices for slow, long discharge of power. They also can be mounted and oriented in any direction. They're usually much more expensive and aren't as well suited to fast discharge operation.

Best Harley Davidson Battery Brands

Battery Terminal Types
There are several types of battery terminals to choose from when buying a battery. Traditionally lead post horizontal terminals were about the only ones available for motorcycles. Today there are a few other options.
While lead remains the most electrically superior material choice, there are other options. Steel battery terminals are becoming popular and function nearly as well as lead. They offer a few advantages as well.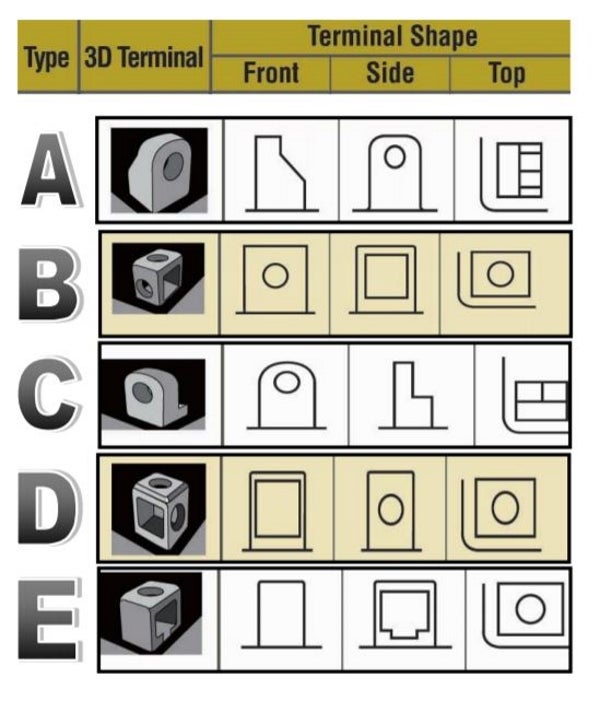 Steel is a bit more robust than lead and is less prone to snapping off. Though, to be fair, you'd have to abuse your battery quite a bit to snap off a terminal. It is possible, though.
Steel terminals are also often used with vertical or horizontal orientation. These square posts are hollow inside and allow wires to be bolted to them either on the front or top. Some lead terminals are also produced this way.
The last terminal type you may encounter when selecting the best Harley battery is a screw terminal. These are internally threaded screw posts that allow you to screw directly into the battery itself. They're convenient and handy. Personally, I prefer this style terminal.
When changing from one type of terminal to another, make sure to consider how the wires will run to the new battery. You'll need enough space to run the wires to a different orientation and still be able to access the screws to tighten them.
Cold Cranking Amps (CCA)
Cold cranking amps are a measure of how much raw juice your battery can pump out under poor conditions. Batteries perform worse in the cold, so CCA is a "worst case" measurement of amperage output.
Technically, cold cranking amps literally measures how many amps a standard 12 volt battery can pump out at 0 degrees fahrenheit over 30 seconds.
Most of us don't ride our Harleys at any temperature even near freezing, let alone 0 degrees. So usually the battery will perform well above its CCA rating. This CCA number, however, is a good measure of whether or not a battery will work for your Harley.
Look in your service manual or ask your dealer to find out the recommended CCA rating for your model of bike. This gives you a baseline to work from. Any battery with less than recommended CCA is a no-go. Any battery with more is a cherry on top.
Conclusion
Our list features many similar batteries from different manufacturers. Hopefully you've got options here that range price, quality, and value. My goal was to help you understand what to look for and then suggest a few types to start with.
To make it all easier we've included links to these batteries where you can use the filters to select your year and model. From there you can use our guide and suggestions to pick out the one that belongs in your beautiful Harley Davidson.
It's never a bad idea to swap out batteries because nothing is worse than being left stranded on your first ride of the year.
---
Thanks for reading The 5 Best Batteries For Harley Davidson Motorcycles Reviewed.  We hope that this article gave you all the information you needed to select the brand and type of motorcycle battery that is right for you.
If you're a motorcycling enthusiast here's our some more of our product review articles:
MOTORCYCLE GEAR  BLUETOOTH HELMETS | FULL-FACE HELMETS | MODULAR HELMETS | PHONE MOUNTS | GLOVES | GPS | MOTORCYCLE COVERS | MOTORCYCLE TENTS | WHEEL LOCKS | BACKPACKS | JACKETS | BOOTS | MOTORCYCLE JEANS | RAIN GEAR |  WINTER GLOVES | MOTORCYCLE BATTERIES | HARLEY BATTERIES | ATV BATTERIES | CHAIN LUBE | ENGINE OIL
How We Researched
To come up with the top batteries for Harley Davidson Motorcycles, we researched a variety of sources for reviews such as Motorcycle News, REI, EVO along with our own personal experience.
We also consulted online magazines for product research and reviews to get as much unbiased information as we could. To help weed out fake reviews we used Fakespot.com to make sure we only looked at genuine reviews.
With so much quality gear available, we had to narrow it down based on what we felt were the best options were for the price. The staff authors have a wide and varied background in motorcycle touring and offroading as well as motorcycle mechanics. They are eager to share their knowledge with readers.
To help narrow down the selection we used personal experiences along with recommendations from fellow motorcycle-enthusiasts and industry experts.
After extensive research, we came up with our list to help you choose the right one for you.
Sources
Notice:
OutsidePursuits.com is a participant in the Amazon Services LLC Associates Program, an affiliate advertising program. OutsidePursuits.com earns fees from products sold through qualifying purchases by linking to Amazon.com. Amazon offers a commission on products sold through their affiliate links.