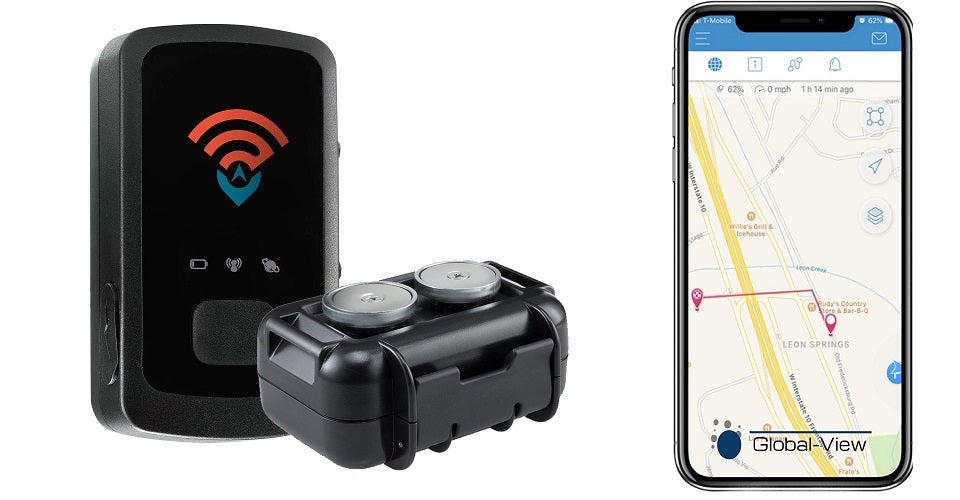 Our Editors independently research, test, and rate what we feel are the best products. We use affiliate links and may receive a small commission on purchases.
GPS car trackers are not just for law enforcement or spies anymore.
Whether you want to know where your spouse, teenager or fleet vehicles are, a GPS tracking device makes the process simple and cheap.
The best GPS car trackers will log, speed, routes and time on the road. We have done all the research so you don't have to. Let's get started!
Best GPS Car Trackers
| | AMERICALOC 300 GPS Tracker | Optimus 2.0 GPS Tracker Bundle | Spy Tec GL300 Personal & Vehicle GPS Tracker |
| --- | --- | --- | --- |
| | | | |
| | | | |
| Cost: | $25/month | $19.95/month | $25/month |
| Updates: | 10, 30, 60 Seconds | 10 or 30 Seconds | 5 Seconds |
| Locations: | US, Canada, Europe | US Only | US Only |
| Battery Life: | 2-4 Weeks | 1 Week | 2 Weeks |
| | | | |
Quick Answer: The 7 Best Rated GPS Car Trackers For 2020
Our reviews of the top rated GPS car tracking devices with a comparison table and our buyers guide below will help you choose a tracker for you.
---
GPS Car Tracker Reviews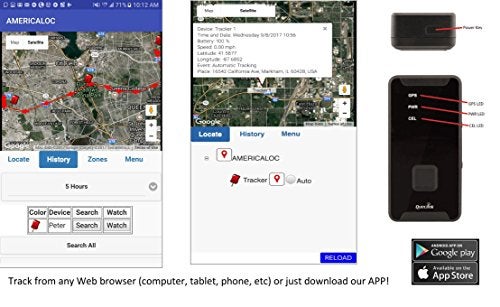 AMERICALOC 300 Personal/Vehicle Tracker at a Glance
:
---
Service Cost: $25/month
Location Updates: 10, 30, or 60 seconds
Operation: US, Canada, Europe, and more
Battery Life: 2-4 Weeks
One of the smallest GPS trackers out there, as well as featuring one of the longest battery lives, it's no wonder the AMERICALOC GL300W Mini Portable Tracker is one of the top sellers out there.
While it works great on cars and trucks, it's also small enough to easily attach it to assets, place it in a backpack/purse, or even carry it in a pocket. At just 2.24 ounces, you may just forget you have it, so make sure to place it on the vehicle before you forget it!
Service isn't bad, at just $25 per month, but if you decide you'd like additional time, rates can go even lower than that. We liked that it really was a flat 25, with no hidden fees or activation costs. Once you receive it, it's ready to go.
You can choose to use your Android or iPhone app, any PC/Mac, or tablet to track your vehicle anywhere in the US, Canada, Europe, and beyond.
With real-time tracking you don't have to wait for results, and an entire year of tracking history is good to have in your back pocket for insurance purposes, legalities, and so on.
Battery life varies, but if you aren't keeping the battery awake 24/7, you can expect at least up to a week or so without it completely draining.
We recommend relying on the internal motion detector which turns on as soon as the unit in question starts moving for maximum battery life!
---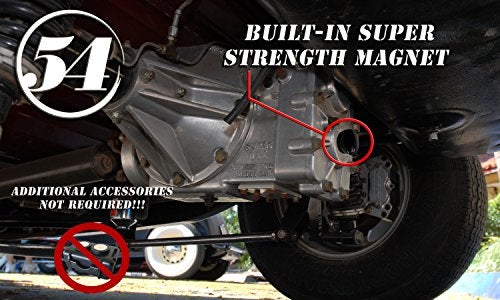 LandAirSea 54 Real Time GPS Tracker at a Glance
:
---
Service Cost: $24.95/month
Location Updates: 10, 30, or 60 seconds
Operation: Domestic Use Only
Battery Life:

1-2 Weeks
Whether you want to monitor your vehicle,  boat or truck in real-time with the best vehicle tracking device, the LandAirSea 54 tracking device is a good choice. Measuring 2.2"x2.2"x.08" it's super small and lightweight so if you want to toss it in your child's backpack, they may not even notice it.
As it's 100% waterproof and features a built-in super-strength magnet, you don't have to worry about it getting damaged on a car or falling off, either.
As most of us are familiar with Google Maps, we appreciated that the tracking/mapping with this device is also done through the software program.
With your purchase, you will also receive an AT&T SIM card with unlimited data and tracking server access, but keep in mind there are different tracking times available.
The $24.95 monthly cost only covers 60-second updates, however, you can opt to pay more for up to 3-second updates.
In addition to tracking, you'll also be able to receive text/email alerts, geofencing, driver behavior, location reporting, and historical playback.
Remember, that this is for domestic use only. While the SilverCloud App was great to use on a smartphone to see where your vehicle is, it's a little overwhelming trying to view reports on it. For that purpose, we recommend heading to a desktop computer so you can see details more easily.
Activation takes no more than a minute, and operation is very simple and straightforward. The controls and functionality are easy enough that you shouldn't have a problem getting everything set up the way you need to.
The only thing you need to make sure of, is that it's properly charged beforehand. It comes with a wall charger, similar to what you probably have for your smartphone.
Just know that even at running just 6 hours a day, it didn't last us more than 3 days.
---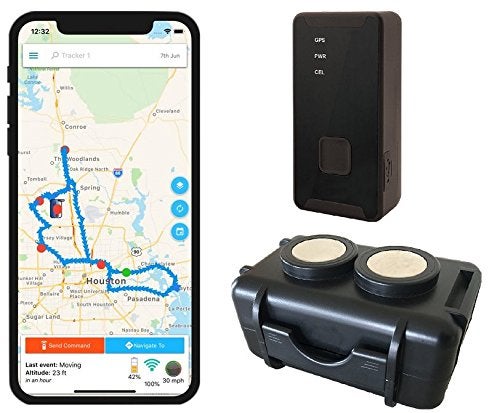 GPS Tracker Optimus 2.0 Bundle at a Glance
:
---
Service Cost: $19.95/month
Location Updates: 10 or 30 seconds
Operation: Domestic Use Only
Battery Life: Around 1 week
Much like the other two we've covered so far, the Optimus 2.0 Bundle is very versatile and incredibly portable. But what sets it apart from the rest? More high-tech operation!
The unit is controlled through the included app which is free for both Apple and Android. Much like the LandAirSea 54, it's very easy to use, even if you're not a tech-savvy person.
The $19.95 per month cost includes 30-second location tracking, however, you can opt to upgrade to 10 if you'd like. It's not the quickest around, but it's more than sufficient for whatever you may need.
In addition, you'll be able to look at geofencing, detailed driving reports, speed monitoring, alerts if the battery is low, an SOS button, etc.
While it's a slightly heavier than some others (at just over 3 ounces) it's still one of the best vehicle trackers available. The body is extremely durable, including a waterproof body to keep it safe when using on hikes or on a vehicle.
The battery life isn't bad at all, lasting us a week, more or less. You can also choose to get the extended battery pack if you'd like but it's probably not necessary.
---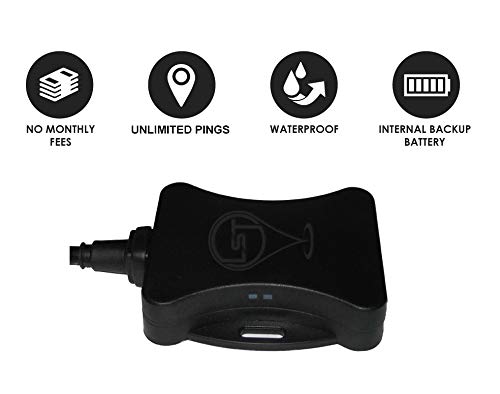 Lonestar Tracking GPS Tracker for Vehicles at a Glance
:
---
Service Cost: Free for 2 Yesrs
Location Updates: 10, 30, or 60 seconds
Operation: US, Canada, Mexico
Battery Life: 2-4 Weeks
If you're looking for an incredibly budget-friendly option, check out the Lonestar Tracking GPS Tracker for vehicles, motorcycles, ATVs, boats, and more.
Paying less than $200 for 2 years, you get unlimited tracking, pings, and so on. That means you don't have to worry about ever being out of service. They also don't include any contract nor activation fees, which is nice.
Coming with 2 wires, you can install it under the dashboard easily to track usage and allow for real-time vehicle recovery.
As it has built-in antennas and a tamper alert, you will get notified if anyone tries to bother with the device. If it's for whatever reason removed from you vehicle, an internal back-up battery will enable additional recovery time.
Using the same satellite tech as law enforcement and the military, you know your property is in good hands with one of the best car tracking devices you can buy.
With built-in geofencing you can easily set boundaries for your kids who are just starting out with a driver's license. The water-resistant case makes it very durable, and can also withstand quite the impact.
---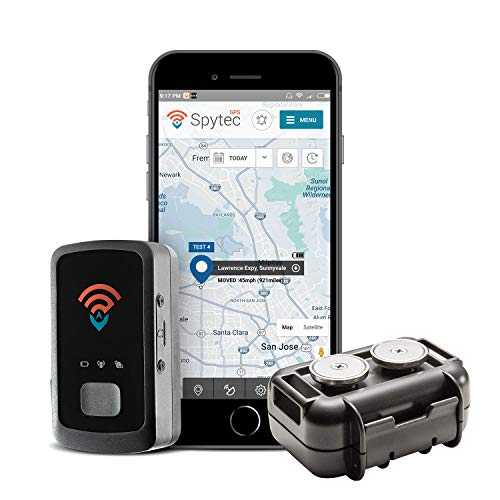 Spy Tec STI GL300 Personal & Vehicle GPS Tracker at a Glance
:
---
Service Cost: $25/month
Location Updates: 5 seconds
Operation: Domestic Use Only
Battery Life: Around 2 weeks
The Spy Tec STI GL300 is often regarded as the best car GPS tracker on the market today, which is really saying something considering there are countless models out there.
The unique split design is one of the most outstanding features of the GL300, which works to track your car, but also can work as a personal tracker so whether you'd like to track your children, your luggage, or your vehicle, it's capable of it all.
As most of us are familiar with mobile apps, you'll probably find the SpyTec one easy to navigate. The control center features bright, easily-identifiable colors to present you with results that are easy to comprehend.
As it provides you with specific addresses, you'll be able to track your vehicle/person down to their exact location.
As it incorporates use of Google Maps, the system couldn't be more intuitive. You'll see maps of the surrounding area, and given a text or email if your vehicle goes outside the parameters you've set.
The unit itself is very small and incredibly lightweight, at just 2 ounces. However, we did have a minor complaint, which is that it isn't waterproof.
You can, of course, choose to purchase additional waterproof casing or magnetic casing.
---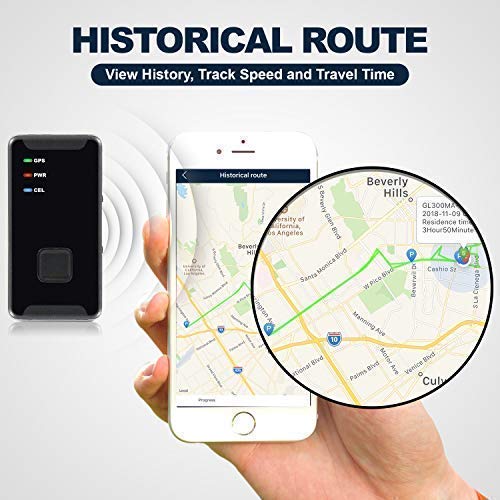 PrimeTracking Personal GPS Tracker at a Glance
:
---
Service Cost: $20 – $25/month
Location Updates: 30 seconds
Operation: Domestic Use Only
Battery Life: Around 1 week
Another one of our favorite budget products was the PrimeTracking Personal GPS Tracker. Use it on your car, kids, bikes, luggage, etc.
The unit was designed to be portable and sleek, so you can easily tuck it in to a discreet place or corner. The cost of subscription varies, from $20 a month if you pre-pay 6 months in advance, or $25 a month if you don't.
That's quite an average cost among GPS devices, but the unit itself is one of the most affordable we've seen.
Thanks to the 4G LTE network it operates with, it's quick and reliable. You can get 30-second updates on location and direction from your tablet, smartphone (in conjunction with their app) or from you desktop computer.
No matter if you're using it to track an elderly family member, one of your children, or vehicle fleets that you own, the SOS button is a great help.
The button, along with geofencing capabilities will give you the peace of mind that only the best vehicle gps tracker can accomplish.
---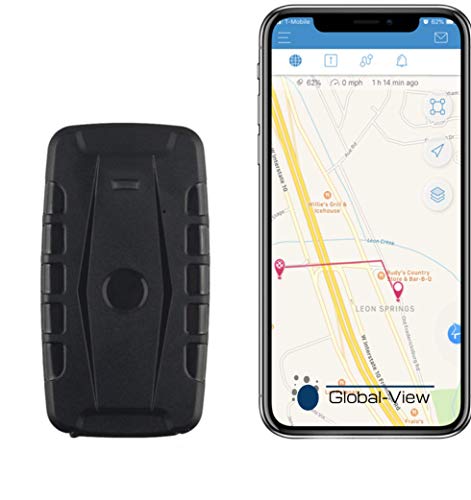 Global-View GPS Vehicle Tracking Device at a Glance
:
---
Service Cost: $19.99/month
Location Updates: 10 seconds
Operation: Over 140 countries
Battery Life: Around 6-8 weeks
The Hidden Magnetic GPS Vehicle Tracking Device is quite possibly the most versatile model we've had the pleasure of using. Capable of tracking in over 140 countries, we haven't seen any other come close.
In addition, the battery is by far the longest-lasting we've come across, capable of reaching up to 6 to 8 weeks without another charge! That makes the range of applications with this unit much wider than we ever though possible.
While the unit itself is on the high end of the price spectrum, the service cost is quite affordable.
No contracts are involved, and with this cost you get their GPS tracking app at no additional cost, cloud hosted web app, a data plan, and up to 6 months of data history.
As it also has geofencing capabilities, you'll receive an email alert whenever/if ever your vehicle leaves the "fence" you've created.
You'll also be alerted whenever a certain speed is reached/surpassed, when the device starts to move, amount of trips taken, and much more.
A really cool and useful addition that we saw lacking in most others, was the ability to re-play an entire trip!
---
GPS Car Tracker Comparison Table
| GPS Tracker | | Service | Updates | Locations | Battery Life | Rating |
| --- | --- | --- | --- | --- | --- | --- |
| AMERICALOC 300 Real Time Tracker | | $25/month | 10, 30, 60 secs | US, Canada, Europe | 2-4 Weeks | 4.8 / 5.0 |
| LandAirSea 54 Real Time GPS Tracker | | $24.95/month | 10, 30, 60 secs | US Only | 1-2 Weeks | 4.5 / 5.0 |
| GPS Tracker Optimus 2.0 | | $19.95/month | 10 or 30 secs | US Only | 1 Week | 4.2 / 5.0 |
| Lonestar Tracking GPS Tracke | | Free for 2 years | 10, 30, 60 secs | US, Canada, Mexico | 2-4 Weeks | 4.9 / 5.0 |
| Spy Tec GL300 GPS Tracker | | $25/month | 5 secs | US Only | 2 Weeks | 4.8 / 5.0 |
| PrimeTracking GPS Tracker | | $20 - $25/month | 30 secs | US Only | 1 Week | 4.8 / 5.0 |
| Global-View GPS Vehicle Tracking | | $19.99/month | 10 secs | Worldwide | 6-8 Weeks | 4.0 / 5.0 |
How to Choose the Best GPS Car Tracker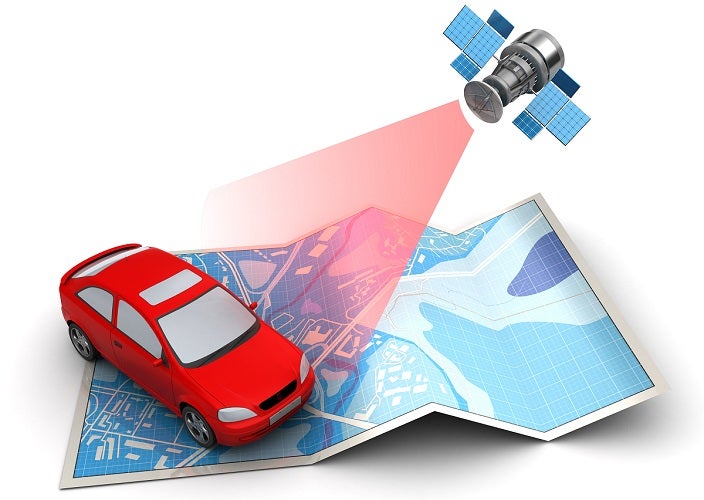 Now that you've had the opportunity to read our in-depth reviews about each of the best car GPS trackers, have you decided on the one that's right for you?
If you're still on-the-fence about your decision, there's no need to worry. That's why we've gone ahead and created the user-friendly buying guide below!
Keep on reading to ensure you're selecting the perfect product for you and your tracking needs.
Battery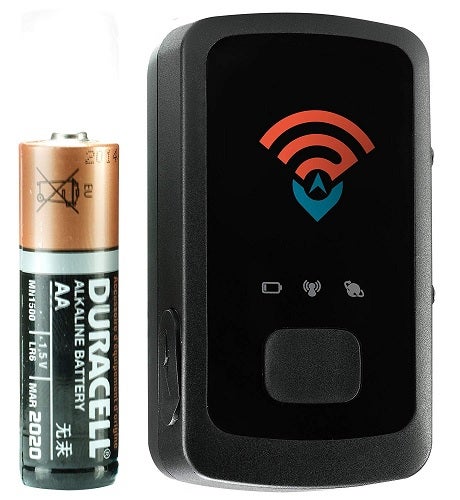 Due to the place-and-walk-away nature of GPS vehicle trackers, battery life is a huge factor. The best will vary from a mere few days, all the way up to 2 months.
With this being said, it's important to know ahead of time, what you'll be using your tracker for. If you just need to track a child, then it's easy to take off the unit and charge it each night.
However, if you're using it for fleets of cars, it may be difficult to keep track of which ones need charging, which makes a longer battery life much more convenient.
The necessity of taking frequent recharges can make a GPS tracker more of a hassle to use, rather than a benefit. There are also some which can be charged by the car's electrical system too, which takes all of this off the board!
Mapping Capabilities
There are two methods of tracking your vehicle, either Google maps or proprietary software you need to install. Software from the manufacturer may be a bit more robust with extra features but for most of us the ease of use of Google maps that most of us have used is more than sufficient. All of the GPS trackers on our list have smartphone capabilities to allow tracking anywhere you have a data signal.
Ease of Setup
As you could see from the products above, some are surprisingly complicated to set up while others take just seconds!
While it may seem like a small modification to a car, it's still difficult if you're not well-versed in these kinds of things. In fact, many of us may choose to avoid a model altogether if it requires really messing with a car's electrical system.
A good GPS tracker should be compact and easy to place on a vehicle. We really loved those that had solid magnets on them which means you just tack it onto the car and go.
If it's waterproof, that's even better. A waterproof, heavy-duty case means you can expect it to last through just about anything!
Capabilities
Again, what do you want to use the tracker for? If you have a child who just got their driver's license and you want to be able to clearly monitor the areas in which they frequent, you can set up geofencinggeofencing on most products.
This will set off an alert if they drive outside your indicated area, by either email or through the app on your phone.
Also, consider if the product works with your device. Will you just be using it on your smartphone? Make sure it works with yours, whether you have an Android or an Apple product.
If you want to use it on a desktop, also make sure it works with your PC or Mac. Most will be compatible with all of the above, but it's always better to be safe than find out you bought it for nothing.
Most trackers will have the above features, but there are a couple that go above-and-beyond. For example, some let you re-play an entire trip.
Say you didn't get the chance to watch "live", and want to know where your employee just went. You can re-play their trip and watch every single stop they made while on the clock.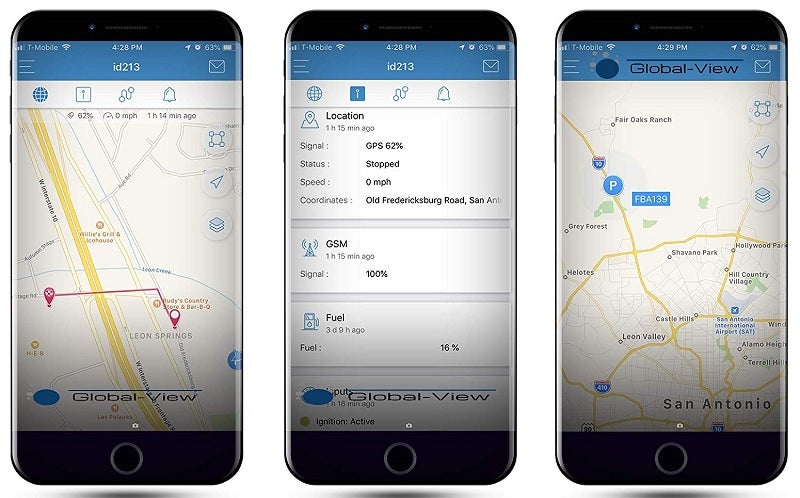 Price
How much are you willing to spend on your new tracker? Don't only take into consideration the price of the unit, but also the monthly costs (if applicable).
A subscription to a GPS service will typically cost you around what a cellphone provider would charge. However, they vary quite a bit, and if you purchase months/years in advance, then they'll often give you a cheaper deal.
Also look into whether or not a contract is involved. Most of us like to feel free and not be under the constraints of a contract, even if it's something we think we'll use every day.
Also find out whether they charge an activation fee or any other additional service fees you're not aware of.
FAQs About Best GPS Car Trackers
Q: Can I track multiple devices with one account?
A: In most cases, yes. All you have to do is log in to your existing account, and you'll see all of your devices on one map. It's pretty convenient and easy to use!
Q: Can I have the app running in the background at all times on my smartphone?
A: Absolutely! On iOS, you'll want to go to Settings – (the app associated with your GPS device) – and make sure to enable Background App Refresh and Use Cellular Data.
Q: What kinds of improvements can I expect to see with my business by using a GPS tracker?
A: If you manage a vehicle fleet, you'll be able to easily identify little inefficiencies and adjust routes and workloads accordingly. You'll also be able to allow for more freedom, as you'll have a kind of safety net if disputes arise if a client claims one of your employees never showed up, showed up late, etc.
Q: Can a tracker work without internet?
A: GPS doesn't require internet connectivity, but to be able to access the navigation apps associated with the unit, you'll need an active connection.
Q: How accurate is a tracker?
A: Most devices are going to be accurate within three meters, which is extremely on-point.
Tips For Using Your GPS Tracker
#1: If using it to track fleets, don't make it a secret – No matter if they work for you or not, don't try and hide the fact that you'll be using GPS tracking on your fleet. The purpose is to improve your business and protect your employees. You don't want them feeling like you're spying on them or trying to do the opposite.
#2: Try to place the tracker where it can't be easily seen or reached – This will help avoid it from being damaged or taken off by a driver and/or passengers.
#3: You must install it on a flat surface – Especially if it requires use of magnets. It's not going to hold on properly to the vehicle if it's placed on separate levels.
#4: Also make sure that you choose an area not highly subjected to vibrations – The reason why, is because most will have built-in motion sensors or accelerometers which make them very sensitive to movement.
Final Thoughts
Now that you know pretty much everything you could ever need to about the best car GPS trackers, have you made a decision on which one you'll be using on your vehicle?
While all of them are excellent products, make sure that it's just right for what you're looking for. We hope that our guide has helped to accomplish that for you. Thanks for tuning in, and we'll see you again shortly!
How We Researched
To come up with the top GPS car trackers, we researched a variety of sources for reviews such as Camping World, Lazy Days, Real Truck and Walmart along with our own personal experience.
We also consulted online magazines for product research and reviews to get as much unbiased information as we could. To help weed out fake reviews we used Fakespot.com to make sure we only looked at genuine reviews.
With so much quality gear available, we had to narrow it down based on what we felt were the best options for the price. The staff authors have a wide and varied background in RV camping, automotive repairs and backpacking.
The authors have decades of experience and are eager to share their knowledge with readers.
To help narrow down the selection we used personal experiences along with recommendations from mechanics and retailers.
After extensive research, we came up with our list to help you choose the right one for you.
Sources
---
Notice:
OutsidePursuits.com is a participant in the Amazon Services LLC Associates Program, an affiliate advertising program. OutsidePursuits.com earns fees from products sold through qualifying purchases by linking to Amazon.com. Amazon offers a commission on products sold through their affiliate links.