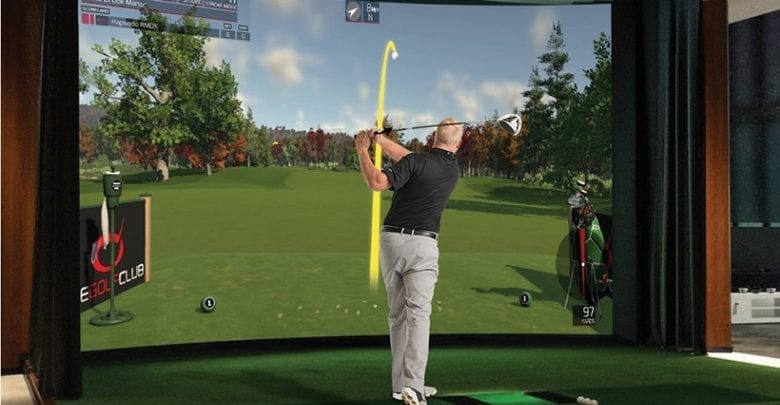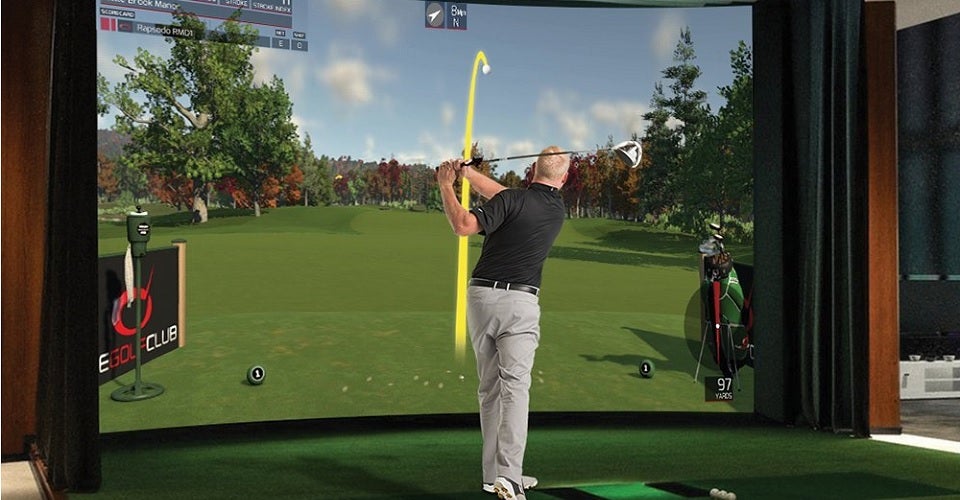 Gone are the days where the only way to practice off the driving range was in the office, putting into a glass.
If you've watched The Golf Channel recently, you've most likely seen a Tour Pro practicing in the comfort of their own home, using a golf simulator.
The best golf simulators are not just for the pros however, they're also perfect for the casual athlete. No matter how the weather is, you can work on your swing with a realistic simulator.
Best Home Golf Simulators
| | Rapsodo R-Motion Combo | OptiShot 2 Golf in a Box | Rukket 3pc Golf Bundle |
| --- | --- | --- | --- |
| | | | |
| | | | |
| Compatability: | PC or Smartphone | PC or Mac | N/A |
| # of Courses: | 15 | 15 | N/A |
| # of Players: | Up to 4 | Up to 4 | N/A |
| Net Included: | No | Yes | Yes |
| | | | |
Quick Answer: The 5 Best Rated Golf Simulators For 2019
Here is a feature comparison of my top rated golf simulators with a comparison table and our buyers guide below will help you choose a simulator for you.
Golf Simulator Reviews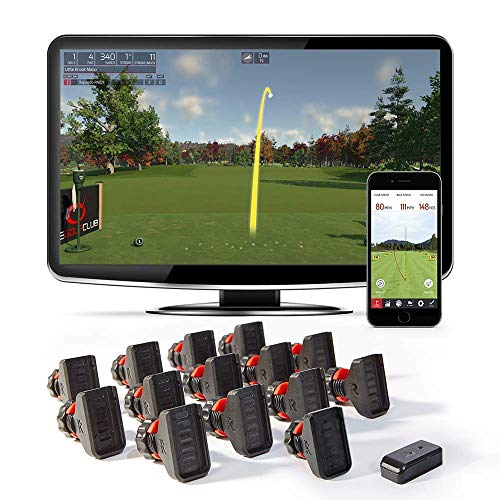 The Rapsodo R-Motion, Golf Club Simulator, and Swing Analyzer Combo Package gives you just about everything you need to have a good time, and to improve your game at what comes out to a great bargain price.
Initial set up does take a good while, but sessions after this are a breeze. You'll have to create an R-Motion account, as well as download their software and The Golf Club game which takes a notable amount of time.
Expand To See MoreSee Less

You can use it on your PC, or even on your smartphone, but we felt it was most immersive on a projection screen!

Once that's done, attach the sensor clips to your club, and you're set. The game is really fun, and comes with a lot of customization options.

We also enjoyed the fact that you can play with up to 4 people at a time, which makes for a great alternative to poker night during the rainy seasons. The graphics were impressive, and they move as you would in real life.

With 14 clips, you'll receive immediate data analysis of your club speed, ball speed, smash factor, swing path, distance, and launch angle. Hooks, slices, pushes, fades, etc. are all evaluated, giving you a realistic flight trajectory, too.

The software will even give you the data you need to allow you to improve your skills, so you can show up when temperatures warm up, filled with confidence. If you want the best home golf simulator, the Rapsodo is a good choice!

Note: You will need to purchase a practice net separately.

Rapsodo R-Motion: Golf Club Simulator & Swing Analyzer at a Glance

:
---
Application Compatibility: PC or smartphone
# of Courses: 15
# of Players: Up to 4 at a time
Net Included: No
Simulator Software Included: Yes
---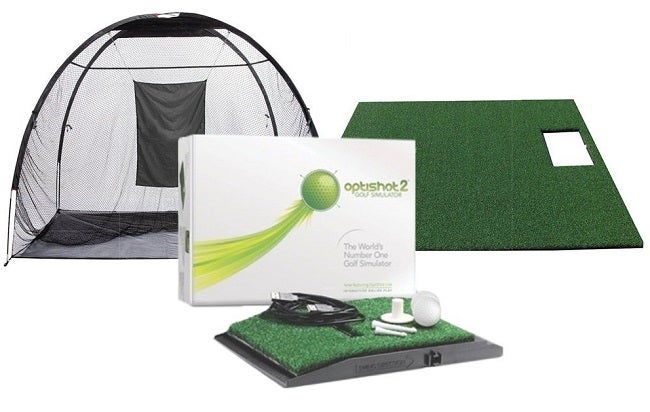 As the world's #1 golf simulator for Mac or PC, the OptiShot 2 Golf in a Box is an amazing "budget" product if you're looking for something high-tech. In comparison to similar simulators, this one is listed at just a fraction of the price.
Included in this package is their swing pad, golf mat, net, 10-foot USB cable, adjustable rubber tees, and foam practice balls. You can also use regular balls with it, but if you don't want to take a chance of golf ball going awry we highly suggest the foam balls.
Expand To See MoreSee Less

Much like the Rapsodo, you get to choose from 15 different courses, including Torrey Black, Palm Desert, Twisted Twig, among other world-class country clubs.

Oh, of course you get the option of heading out to a virtual driving range, too. The 3D imagery is very realistic, and with the ability to play up to 4 players at a time, it's a great way to get together with friends or family.

Games are very customizable, with 6 different game modes, weather conditions, and camera views.

With 16 48MHz infrared sensors, you can rely that the club swing data is extremely accurate. Feedback is immediate, so you can take that info and improve as you go.

The only real downside we found was that the simulators don't seem as accurate with putting but if you want the best indoor golf simulator you will not go wrong with the OptiShot 2!

OptiShot 2 Golf in a Box at a Glance

:
---
Application Compatibility: PC or Mac
# of Courses: 15
# of Players: Up to 4 at a time
Net Included: Yes
Simulator Software Included: Yes
---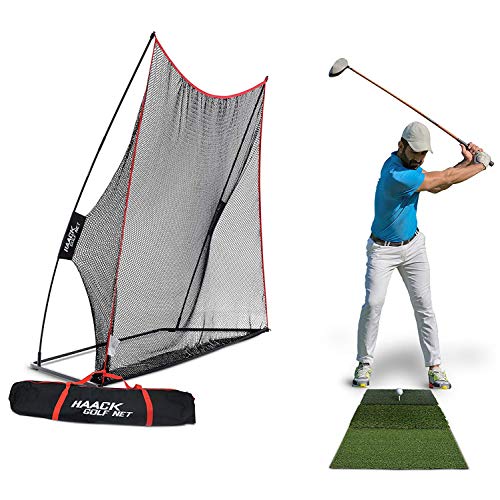 If a true golf simulator isn't for you, there are plenty more options out there to take your game inside and have some fun.
With the Rukket 3pc Golf Bundle, you can practice in your backyard, garage, or inside your house wherever you have a bit of room to place the included swing mat and golf net.
The included 10 x 7 Haack Golf net is very lightweight and easy to move and assemble, yet is durable enough to last you for many seasons to come.
Expand To See MoreSee Less

We appreciated the extra-thick rubber and that there was no bounce-back. The tri-turf grass mat does a good job at mimicking "real" grass, giving you three different surfaces to practice on so you'll be prepared for almost any situation.

The "Tee Turf" surface is made to practice with a tee, the "Fairway" replicates the feel of grass from a golf course, and the "Clean Lie" is just for focusing on technique.

Rubber feet keep the mat where you want it, for added accuracy and ease of use. Aside from those two, you also get a convenient carry bag to take it over to a friend's house or wherever you feel. No need to damage the grass on the lawn anymore!

Rukket 3pc Golf Bundle at a Glance

:
---
Application Compatibility: N/A
# of Courses: N/A
# of Players: Unlimited
Net Included: Yes
Simulator Software Included: No
---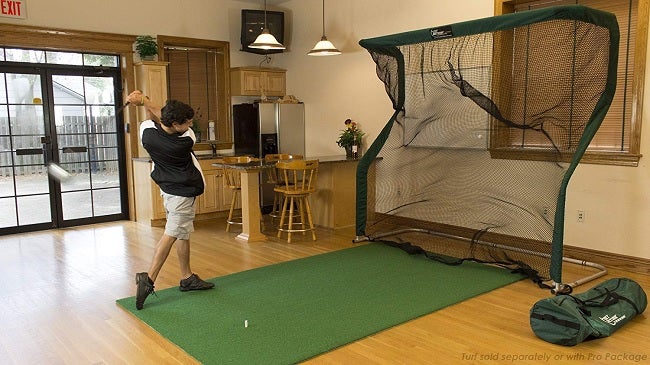 Featuring innovative Ball-Return technology, The Net Return Pro Series Multi-Sport Golf Net allows you to focus your time practicing rather than running after and collecting the balls.
They roll back to right where you hit it from which makes this quite a convenient product and ideal for many other sports, such as soccer, softball, football, and more. You can also use it with a golf simulator, if you decide to get one later on!
Expand To See MoreSee Less

The solid 1.5" aluminum frame and dense polyester netting make it nice and durable to use both in or outdoors. Due to the push-button assembly, it will take just minutes putting together or taking down.

At 7'6" high, 8' wide, and 3'6" deep, it's quite a large net, allowing for added variability and less risk of any accidents.

The included carry case/duffel bag gives you enough space to neatly fit everything inside, which makes packing it up and going seamless.

While it's easy to use and undoubtedly will help improve your swings, we felt that it was a bit pricey, where we could purchase a high-quality simulator with everything we needed for just a bit more.

However, if you're just looking for a net, this one can't be beat.

The Net Return Pro Series Multi-Sport Golf Net at a Glance

:
---
Application Compatibility: N/A
# of Courses: N/A
# of Players: Up to 4 at a time
Net Included: Yes
Simulator Software Included: No
---
Here we are with another golf net, but the Klenn Ltd. 5pc Golf Bundle will give you a more well-rounded experience than other nets, at a much lower price.
If you want to boost your skills while saving money, you'd be hard-pressed to find a better deal than this. The 10' x 7' hitting net provides a large and protected working area so if you use it outdoors, you'll be mostly protected from the sun's rays.
Expand To See MoreSee Less

It works well in close range, just as well as at further distances for accuracy training. The fiberglass pole set up is super easy to put together, and ultra-lightweight for easy transportation or moving around the yard/inside the house.

They all fold up easily to fit into a compact carrying bag to simply sling over your shoulder and head out.

In addition to the bottom liner, it comes with a dual-surface training mat where you can use the flat surface to focus on technique, where the turf side lets you work with the included tee.

If you don't have your own golf balls, they've even thoughtfully included 6 new ones!

Klenn Ltd. 5pc Golf Bundle at a Glance

:
---
Application Compatibility: N/A
# of Courses: N/A
# of Players: Unlimited
Net Included: Yes
Simulator Software Included: No
---
Virtual Golf Simulator Comparison Table
How to Choose the Best Home Golf Simulator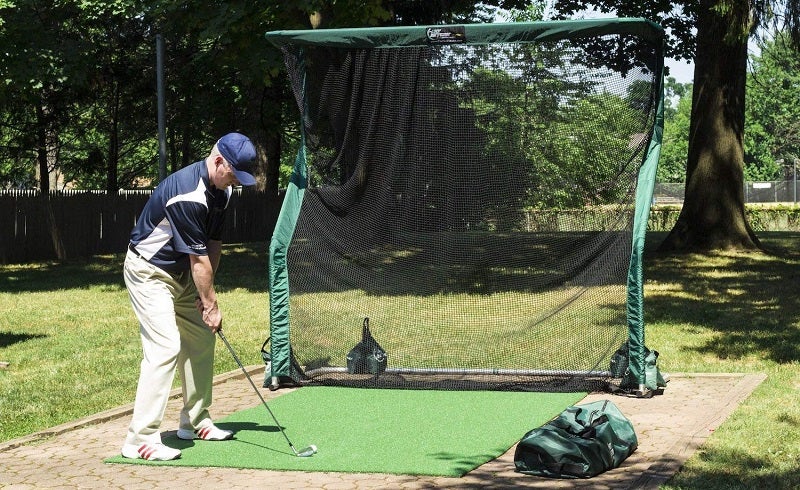 If you want to be better at golfing, you need to practice. If you live in an area that's not sunny and/or warm 24/7, then you'll need a indoor golf simulator that you can use when the weather is less than ideal.
We've included some of the best aids and simulators on the market today, but what's important is selecting the right one for you.
Types of Golf Simulators
As you can see, there are different types of training aids on our list. We've decided to only talk about the main three, as they're the most effective: nets, swing trainers, and simulators (which typically include nets).
Nets
They may seem simple enough, but a golf practice net is one of the best investments you can make in your skills. A durable one will let you shoot into it seemingly endlessly, until your technique is perfected.
This is also a wonderful tool to have if you're trying out some new clubs or showing others how to play. There are some which stay in the net and you have to go over and collect the balls yourself, while others will bounce the ball back to you.
You must decide which one you prefer. Arguably, the bounce-back models will save you more time, allowing you to focus more on your skills rather than playing fetch.
Swing Trainers
Swing trainers are one of the most precise and efficient tools at training and improving your swing. Think of them almost like a pro golfer watching your every move, analyzing the smallest movements of your body, and giving you feedback – except they're even more precise!
Plus, these are way less expensive than lessons from a pro! You'll place sensors on your clubs, swing, and it will immediately give you feedback on what you can improve on.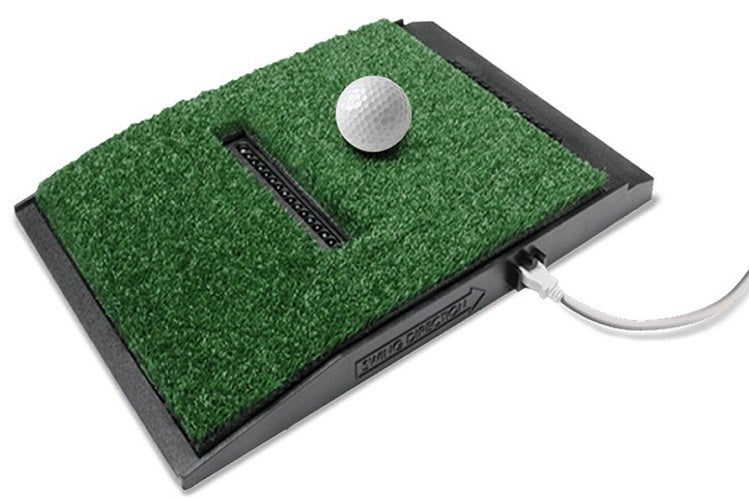 Simulators
Good simulators often feature a combination of the above products, but also give you an immersive, lifelike experience that can be much more fun – especially in groups. Most allow up to 4 players at a time, and feature around 15 different courses to choose from so you won't end up missing the real thing when you're stuck indoors.
Virtual golf simulators usually work with a PC/Mac, but some (such as the Rapsodo) even give you the option to check it out on your smartphone! Throw in a good-sized TV or a projector screen, and it's almost like you're actually there.
The downside to simulators is that they do cost a good chunk of money, and if you're not very tech-inclined, they may be complicated and time-consuming to set up. If you can swing it though, these are quite possibly our favorites.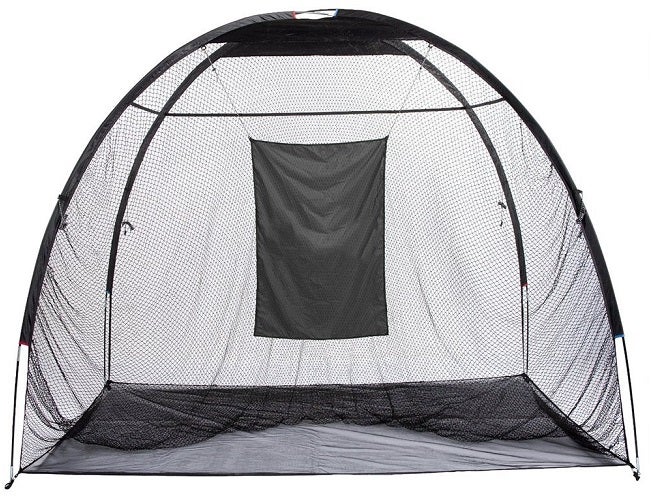 Durability
Just about all of the products on our guide have proven to be quite durable. Most nets are made with rubber/PVC which holds up nicely. You want something that can take a beating and be able to resist against golf balls drilling into them at high speeds.
If you plan on using them outdoors, as well, we recommend looking into the Net Return Pro Series, as it holds up against just about any kind of weather conditions.
While the Klenn Ltd performs well in both indoor and outdoor environments, it's a bit more flimsy in comparison to the Net Return. However, it's much more affordable, so you'll want to think about your priorities.
Price
Tying in to our last point, cost is usually somewhat of a factor for most people. How much are you willing to spend? Know that if you're looking for a good simulator, you can easily get up in the thousand-dollar range.
On the other side of the coin, if you're looking to save money, there are plenty of helpful options available, such as the aforementioned Klenn. Remember, you can get the net and mat first, and later on purchase a separate simulator to make the purchase a bit more doable.
FAQs About Golf Simulators
Q: What kind of improvement can I expect to see with these devices?
A: Keep in mind that it will vary, depending on the product you decide on. A simulator with performance feedback is obviously going to give you the most rapid improvement as it analyzes every little detail and gives you immediate feedback on how to correct your swing. In general, though, you're going to see your skills better with any of these training tools.
Q: Can I get any of these as a beginner or someone at an advanced level?
A: Absolutely! However, if you're advanced, you'll probably get bored easier. In that case, we definitely recommend opting for a simulator, where you can change up the weather, the gaming modes, and the courses to keep yourself from plateauing.
Q: Can I use all of my clubs with my new trainer or do I need to purchase special clubs?
A: You sure can. Set it up for your driver, irons, putter, and wedges. There's no need to buy additional ones.
Q: Does it work with both right and left-handed golfers?
A: Yes, don't worry about that. Any golfer can use any of the models listed here.
Tips For Using a Golf Simulator
#1: When using a simulator, play your shot as you normally would.
For some reason, many players end up performing oddly in an indoor setting. You must play as you would out on the course, so the software can accurately give you feedback. It may take a bit of time to get used to, but just relax and have fun.
#2: Don't take it too seriously or get discouraged.
If your simulator tells you your swing was "bad", remember, that they're also not perfect and there's always room for improvement. Depth perception can also be hard to adjust to, so give yourself some credit.
#3: Definitely give yourself at minimum, ten feet of space.
Otherwise you're probably going to hit something you're not intending on hitting, and that's not good for anybody.
#4: Always wear your golf shoes when using it!
This goes for nets and simulators. You may feel relaxed and casual being at home, but to get the best real life experience you should wear the same shoes you wear at the golf course.
Final Thoughts
Remember, that with consistency and dedication, you'll find great results from any of the above products. It's crucial that you're getting the best home golf simulator for you, and not just go off the highest-priced aid. We hope that our article has helped you achieve this. Thanks for tuning in, and we'll see you again shortly!
The Rapsodo R-Motion is our Editor's Choice for the best golf simulator with its realistic play and features.
OutsidePursuits.com is a participant in the Amazon Services LLC Associates Program, an affiliate advertising program. OutsidePursuits.com earns fees from products sold through qualifying purchases by linking to Amazon.com. Amazon offers a commission on products sold through their affiliate links.