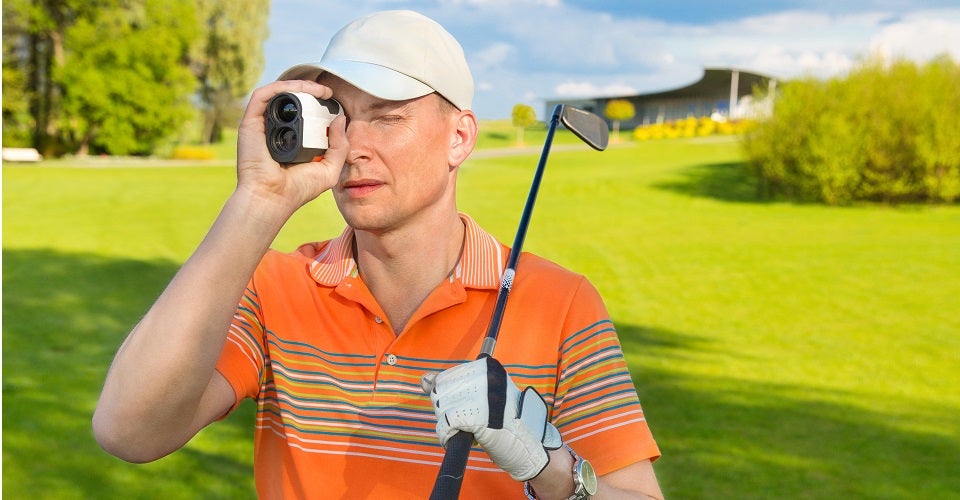 Our Editors independently research, test, and rate what we feel are the best products. We use affiliate links and may receive a small commission on purchases.
Even if you are not looking to be the next Phil Mickelson or Tiger Woods, working on reducing your score is the goal.
One way to do that is knowing the exact distance to the pin so you know what club to use. Of course, there are a few markers on the course but using the best golf laser rangefinder will give you the exact distance.
To help make your decision easy we have done the research so you don't have to. Let's get started on improving your game!
Best Golf Rangefinders
| | Nikon Coolshot Pro Golf Rangefinder | BUSHNELL GOLF Tour V5 Shift | Bozily Laser Golf Rangefinder |
| --- | --- | --- | --- |
| | | | |
| | | | |
| Optics: | 6x | 6x | 6x |
| Max Distance: | 1,200 yds | 1,300 yds | 900 yds |
| Weight: | 4.5 oz | 8 oz | 5 oz |
| GPS: | No | No | No |
| | | | |
For more of my golf gear recommendations, have a look through these popular Outside Pursuits guide links: Home Golf Simulators, Golf Sunglasses, Golf Bags.
Quick Answer: The 7 Best Rated Golf Rangefinders For 2021
Our reviews of the top rated golf rangefinders with a comparison table and our buyers guide will help you choose the right one for you.
---
Golf Rangefinder Reviews
Nikon Coolshot Pro Golf Rangefinder at a Glance
:
---
Magnification: 6x
Max Range:

1200 yards

Weight: 4.5 ounces
Batteries: CR2 Battery
At just 9cm x 7cm, this is easily one of the most compact and best golf laser rangefinders out there – even in comparison with the original Coolshot!
The Coolshot only weighs 4.5 ounces, too, so you can easily keep it in a jacket or pants pocket without any issue. The most unique feature is the addition of stabilization technology.
This is a huge upgrade making it significantly easier to determine distance to the pin!
Featuring 6x magnification, it's a bit better in this regard than our previous product, accurate up to approximately 1200 yards which is more than most people need, anyway.
The rangefinder is incredibly easy to use, even if you're completely new to using one. Simply point it at your target and push the back button which turns the unit on.
Once the target is lined up in the crosshairs, it will start calculating. You can also easily change from yards to meters – whichever you prefer to use.
The brand's First Target Priority System is similar to the Pinseeker-mode, selecting the flag from the background and other objects.
Picking up flags or any other targets up to 200 yards was pretty easy, but there were occasions where it took a bit more time to do so.
The battery is also a CR-2, which provides a large amount of runtime, with no recharging or downloading needed! What's even better, is that the Coolshot is incredibly affordable given the ease of use and flexibility it offers.

---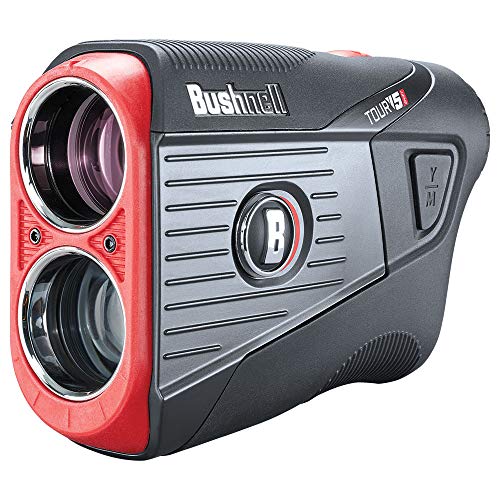 BUSHNELL GOLF Tour V5 Shift at a Glance
:
---
Magnification: 6x
Max Range:

1300 yards

Weight: 8 ounces
Batteries: Two CR2 Batteries
Bushnell is quite possibly the most well-respected brand in the golf rangefinder world, consistently churning out incredibly versatile and high-quality products.
The 6x magnification of the V5 Shift Rangefinder is enough to easily find your target locks on quickly and lets you know with a "jolt" of the red ring.
What set the Shift apart is the advanced slope technology it uses giving you better compensated distances. Don't want to "cheat"? A push button turns it off and makes it legal for tournament play.
The best golf rangefinder is compact and lightweight, making it easy to conveniently stow it away in a pocket while you're playing. Bushnell added "BITE technology" which is a fancy way of saying it has a magnetic mount that allows to stick it on your carts frame for quick access.
The LCD display is very clear and easy to read, especially in comparison with many others out there. The laser functionality was very user-friendly as well, featuring a single button which fires the laser.
An adjustable eyepiece lets you adjust to your liking, moving very smoothly as you change it.
The PinSeeker-Only mode is there to only add to the ease of use, ideal for when your target has other objects right behind it, such as trees.
What this mode does is conveniently block out those background targets, and locks on the closest of the objects in the aiming circle.

---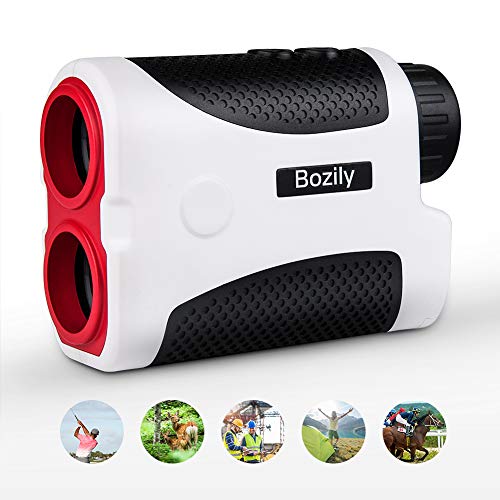 Bozily Laser Golf Rangefinder at a Glance
:
---
Magnification: 6x
Max Range:

900 yards

Weight: 6.6 ounces
Batteries: CR2-3V
Bozily isn't the most well-known brand out there, but that doesn't mean it doesn't have a lot to offer.
In fact, their Golf Rangefinder ranked as the best golf rangefinder under 200 dollars for us and many others. This budget-friendly device is surprisingly well-built, coming packed with an array of useful features.
With 4 scan modes, slope switch, flagpole lock, and 6x magnification you'll never have to worry about being able to zero in on your target with ease and accuracy.
Not only that, but the LCD display is crisp, clear, and easy to use for just about anyone. With a maximum range of 900 yards, you can choose to measure in either meters and yards with precision of +/- 1 yard.
Slope adjustment is one of our favorite features, ensuring you have correct measurements that are calculated with incline and decline in mind.
However, if you're using it in a tournament, you can also turn this setting off so it doesn't break any rules.
As we all know that golfing doesn't always happen on perfectly sunny days, having a device that can withstand different weather conditions is essential.
The compact rangefinder features fog-and-waterproof housing so you can use it every season.
The only real downside for us was the battery life. While it comes with two batteries, it's still quite a bit shorter in runtime than others on our guide.

---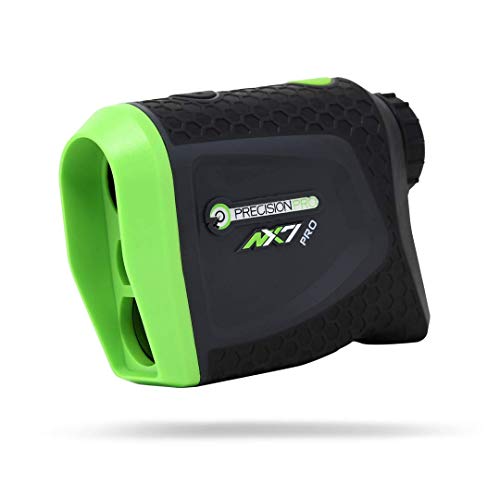 Precision Pro Golf NX7 Pro Slope Golf Rangefinder at a Glance
:
---
Magnification: 6x
Max Range:

800 yards

Weight: 9 ounces
Batteries: CR2-3V with Lifetime Replacement
While a bit more expensive than the Bozily model, the Precision Pro Golf NX7 Pro Slope Golf Rangefinder still ranks as one of the best value golf rangefinders currently available today.
The black-and-green design not only looks cool but comes covered with a rubber grip so you can use it even on drizzly days with confidence. The water-resistant design is able to withstand moisture with no need to worry.
Much like the previous product, the Pro Slope technology you'll find here means that you'll receive an accurate calculation no matter how sloped or flat the surface is.
With 6x magnification and precision technology, you won't have to worry about ever being "off" again. The 800-yard range capacity is also more than most of us need, displaying 1/10-yard measurements.
The level of accuracy is extremely accurate, quickly making it a must-have for any serious golfer.
While it may seem like something small, the Pulse Vibration Technology that this model comes with really changes the game. When you successfully measure the distance, it gives you a little vibration reassuring that it's correct.
If that weren't enough for you, you'll also get their Precision Care Package, which gives you free lifetime battery replacement and a 2-year warranty!
Every time your battery starts getting low, simply contact the manufacturer, and in a couple of days you'll receive your new one!

---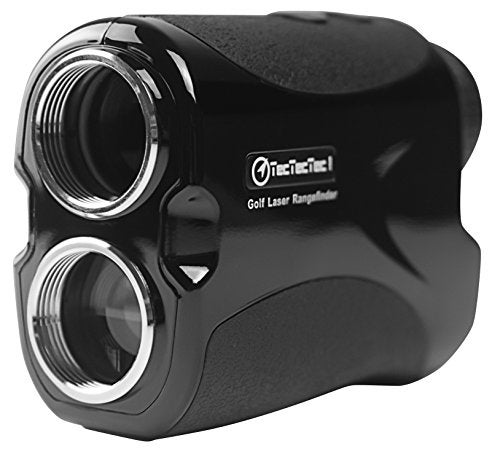 TecTecTec VPRO500 Golf Rangefinder at a Glance
:
---
Magnification: 6x
Max Range:

540 yards

Weight: 6.6 ounces
Batteries: CR2
The TecTecTec VPRO500 Golf Rangefinder is another to-the-point model which measures distances to a "tee", allowing you to develop your skills rapidly.
The golf laser rangefinder features a diopter adjustment function which allows you to always have a perfectly clear sight, no matter your vision.
The actual display is also simple to read, displaying the distance and battery meter clearly so you always know where you are.
Featuring 3 different scanning modes, you'll be able to accurately measure in any situation. The Pinsensor function lets you measure targets properly, even if there's something in front of or behind them which is perfect for wooded locations.
With accuracy of +/- 1 yard, you don't have to wonder anymore.
Weighing just 6.5 ounces and featuring a compact body, the rangefinder is small and light enough for you to stow away in a clothes pocket without it being a bother.
In addition, it's water-and-dust resistant so you can use it in all kinds of weather conditions and for other sports without concern of it getting damaged.
The CR2 battery that the package comes with is long-lasting, also coming with a carry pouch, strap, microfiber cleaning cloth, quick start guide, and a 2-year warranty to keep it covered!

---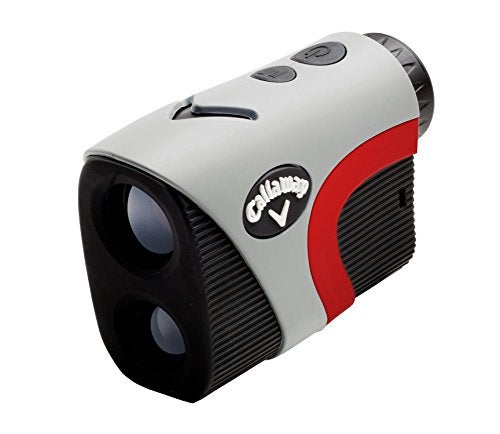 Callaway 300 Pro Golf Laser Rangefinder at a Glance
:
---
Magnification: 6x
Max Range: 1000

yards

Weight: 7 ounces
Batteries: CR2 3V
Another leader in the golf world, Callaway, has come out with one of the best distance finders we've used.
The Callaway 300 Pro Golf Laser Rangefinder is one of the most precise, with pin-seeking accuracy in a high-quality package.
With Pin Acquisition Technology, you have the ability to lock onto a pin from 300 yards away, even if there are overlapping obstacles.
To confirm you've correctly confirmed the distance, you'll get a "Birdie" confirmation, giving you a "chirping" noise. With up to 6x magnification, achieving clear vision should be no issue, with a range of 5 to an impressive 1000 yards!
The crystal-clear LCD display will show you yards/meters to your target, along with Zero-in-Aiming technology and slope information.
The slope measurement technology is designed to take incline and decline into consideration, automatically calculating the slope-adjusted distance. You can also switch this function off for use in a tournament.
As the golf distance finder is both water-and-fog-resistant, you can use it in those early drizzly mornings without concern it will get ruined.
All of this, and it's still listed at an extremely affordable price; what more could you want?

---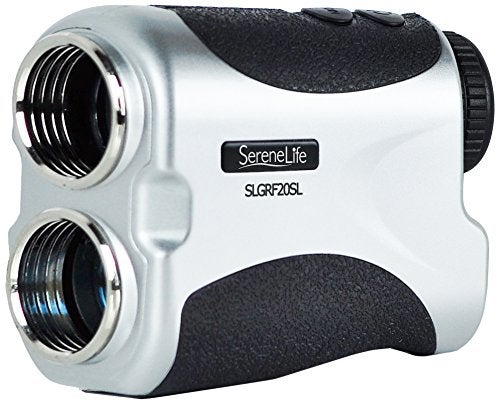 SereneLife Pro Golf Laser Rangefinder at a Glance
:
---
Magnification: 6x
Max Range:

540 yards

Weight: 7 ounces
Batteries: CR2-3V
Are you on the hunt for the best golf rangefinder for the money? If so, then check out the SereneLife Pro Golf Laser Rangefinder.
The modern design comes packed with all features you need to improve your golf game immediately. With PinSeeker and Slope Technologies, you'll ensure that you get extremely accurate readings, all the way up to 546 yards.
The silver body is visually attractive, coming with black grips on each side so you always have a solid grasp on the device, even if it's rainy outside.
Speaking of which, it also comes with water resistance so you can confidently use it in various weather conditions and focus on the game.
One-button operation makes it so easy a child could operate it, and also means that you'll get quick results so you don't have to take time out of the game to calculate.
Simply aim it towards your target and press, and it will display the distance to you clearly.
The body of the rangefinder is also very lightweight and portable, so you'll be easy to take it along golfing, hunting, or surveying without it weighing you down.
The build is made to be tough, so even if you knock it around, it will stay reliable. If you'd like, you can also keep it in its durable, zippered carrying case for added convenience and protection.

---
Golf Range Finder Comparison Table
How to Choose the Best Golf Rangefinder – Buying Guide

Now that you've had the opportunity to read through all the various rangefinders that top our list, have you decided which is the best one for you? If not, there's no need to worry! We know how difficult it can be, considering they're all great options.
If you've never used one before, that may only add to the complication of selecting a rangefinder. That's why we've gone ahead and come up with the comprehensive buying guide, below. This guide will ensure you select the perfect product for you and your golf game!
Coverage
First, it's important the type of distance we're talking about. Most rangefinders on our guide are quite substantial and will cover more than most players will ever need. However, it's still important to take a look to ensure it can measure the distance between you and your target. Otherwise, it's not going to be of much use to you!
Accuracy
Aside from being able to measure the distance that you need, it doesn't help if it's not accurate. Golf rangefinders do vary when it comes to accuracy, but if you can find one that's accurate +/- 1 yard, that's more than substantial.
Be wary of manufacturers that claim that their product is accurate within +/- half of a yard. That's not to say they don't exist, but it's honestly very rare for this to be the case.
Also take into consideration the slope. This feature is essential if you want to have an accurate reading, which will translate into improved skills. Measuring the changes of elevation between you and your target, this feature can greatly aid you.
Just keep in mind that if you're playing in tournaments, you should have the option to turn the slope off, or else it could get you banned.
Clarity/Magnification
Not all of us have the same eyesight quality. Some of us are nearsighted, some farsighted, and some of us are somewhere in-between. No matter what you're dealing with, you should be able to adjust the rangefinder to be able to see your target with ease.
Magnification is there to help with this, zooming in on the pole that you're looking to hit. Almost all of the rangefinders in our guide features 6x magnification, which is really all most people will require. Both of these characteristics are there to aid you in accuracy and hitting your target quicker.
Weight and Size
While you may not think much of it, if you're new to using golf rangefinder you don't want something that you have to lug around. You need something that will allow you to focus on what you're there for: golf. As with any sport, equipment should be lightweight and easily portable so you can freely move without feeling weighed down.
Being able to place it in your pants or jacket pocket when you're not using it means you can have it handy at a moment's notice. Ideally, search for one under 10 ounces, but there are also some that weigh half of that!
Battery Life
You're not going to get much use out of the device if the battery is dead! One of the defining characteristics of low-quality golf rangefinders is short battery life.
You'll at least want yours to last a full 18-hole game. There are a couple of models out there that even come with a lifetime guarantee or lifetime battery replacements, so you'll always be able to use your rangefinder!
Durability
As you're using the device in the elements outdoors, you need something that's going to hold up well and have a case. Ideally, the body will be fog-and-water-resistant, so you'll be able to use it during early mornings where it may be drizzling. Even if you're not going to use it in the rain, you want one that can resist being tossed around a bit.
Ease of Use
A golf rangefinder shouldn't be difficult to read or operate, but you wouldn't know it judging by all of the over-complicated models saturating the market.
First off, it should be simple and straightforward to read. You want the LED screen to by crystal-clear, with distinct statistics and instructions. There are many models that also offer one-button operation, which couldn't get much easier than that!
FAQs About Golf Rangefinders
Q: What exactly are the benefits of using a golf rangefinder?
A: While there are golf GPS units out there, dedicated golf rangefinders are much more accurate, and allow you more flexibility. You're able to easily find the distance between you and your target, by simply pointing the rangefinder at it. As you scan through the lens, you can see if there are wooded areas or anything that may be obstructing the target.
Overall, you'll receive:
Improved accuracy
No subscription or extra costs necessary
Flexibility of finding the distance to your target
No needing to deal with pre-loaded golf courses and downloading them
Q: Are rangefinders legal in golf?
A: According to the USGA Rule 14-3, it is actually illegal for one to use a rangefinder. However, there are exceptions to that rule. They have stated that they can be used by using a "Local Rule" exception. That means that local clubs and courses can choose to ignore the USGA Rule 14-3 for tournaments, which allows players to use these devices, and can be shared with other players.
Q: How does a golf rangefinder work?
A: Have you ever used a pair of binoculars? It's somewhat like that. You look through the "scope", focusing on your target on the green. Then, you simply press a button once you've locked onto it, and a built-in laser will then calculate the distance to your target.
There are some models, of course, that offer even more features, such as taking into account sloping to give an even more accurate readout.
Q: Is the "slope" feature really necessary?
A: If you're using it during practice, then you'll probably find this feature extremely useful. You'll be able to determine the uphill/downhill trajectory which will give you the most accurate reading. However, as previously mentioned, you can't use this during tournament play unless otherwise indicated. Using it during practice can help give you a better idea of how slope affects your shot.
Tips For Using a Golf Rangefinder
#1: Try various techniques to up your game.
The laser rangefinder comes packed with various techniques in just one device. Try checking out the ranging button, the reticle in the display, adjusting the correct view and so on.
#2: Try making big targets.
Targets will typically vary anywhere from 50 to 100 yards, but this will of course depend on your confidence and ability. You can try starting out with closer targets and taking on larger ones if you're just starting out.
#3: Practice using your rangefinder.
Just like with your golf game, you know that practice makes perfect. Using a rangefinder may vary in ease of use, but you'll still need to practice to keep your hand steady and getting the reticle right where you need it to be to start getting consistent readings every time.
#4: If you're feeling lost, check out YouTube.
There are countless tutorials and "how-to" videos on the site that can help you determine the best way to use your new device. There are also many videos posted by the manufacturers, themselves, which are often the best ones to watch as you'll get customized tips directed towards the model you've purchased.
Summary
Now that you're basically an expert in the golf rangefinder world, which model have you decided on? While they're all excellent options, they do vary quite a bit in their uses and capabilities. The most important thing now, is to determine which one is the perfect product for you and your game.
We hope that this article has helped you achieve just that, and that you're successful in improving your skills. Thanks for staying tuned with us, and we'll see you again soon!
How We Researched
To come up with the top golf rangefinders we researched a variety of sources for reviews such as Target, Dicks Sporting Goods and Big 5 Sporting Goods along with our own personal experience.
We also consulted online magazines for product research and reviews to get as much unbiased information as we could. To help weed out fake reviews we used Fakespot.com to make sure we only looked at genuine reviews.
With so much quality gear available, we had to narrow it down based on what we felt were the best options for the price. The staff authors have extensive experience with a variety of outdoor sports like paintball, roller skating, baseball and golf.
To help narrow down the selection they used their personal experience along with recommendations from instructors and retailers.
After extensive research, we came up with our list to help you choose the right one for you.
Sources
---
Notice:
OutsidePursuits.com is a participant in the Amazon Services LLC Associates Program, an affiliate advertising program. OutsidePursuits.com earns fees from products sold through qualifying purchases by linking to Amazon.com. Amazon offers a commission on products sold through their affiliate links.