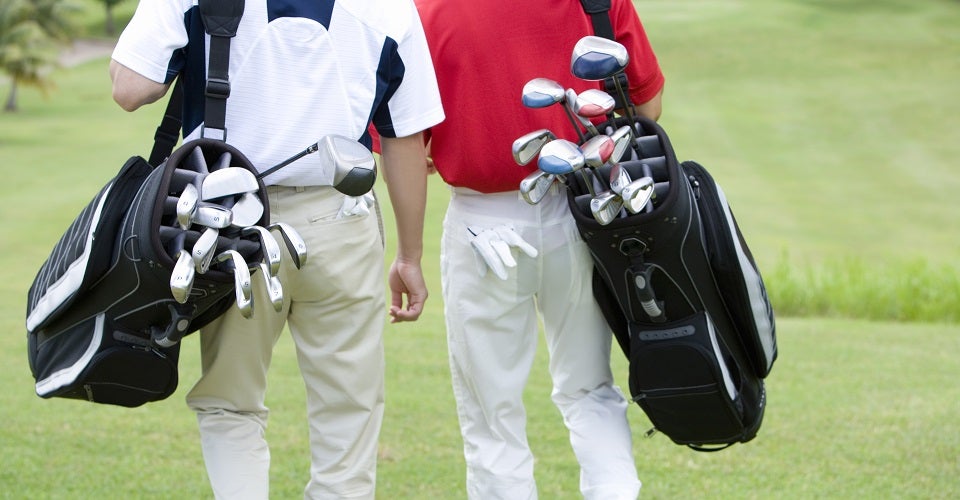 Our Editors independently research, test, and rate what we feel are the best products. We use affiliate links and may receive a small commission on purchases.
There is nothing like a good round of golf, but it does require quite a bit of equipment. To make it less of a hassle and more focus on the sport at hand, you need one of the best golf bags.
They will organize and protect your clubs and other gear. So whether you carry your clubs on the course or use a golf cart the right bag will make for a better day on the course.
Some even come with handy extras like built-in cooler pockets to keep your drinks cold! We've done the research on the golf bags so you don't have to! Let's get started.
Best Golf Bags
| | Sun Mountain C-130 Cart Golf Bag | Callaway Golf Chev Stand Bag | Founders Club Premium Cart Bag |
| --- | --- | --- | --- |
| | | | |
| | | | |
| Dividers: | 14 | 5 | 14 |
| Backpack Strap: | No | Yes | No |
| Kickstand: | No | Yes | No |
| Cooler : | Yes | No | Yes |
| | | | |
For more of my golf gear recommendations, have a look through these popular Outside Pursuits guide links: Home Golf Simulators, Golf Rangefinders, Senior Golf Clubs.

Quick Answer: The 7 Best Rated Golf Bags For 2021
Our reviews of the top rated golf bags with a comparison table and our buyers guide will help you choose a bag for you.
---
Golf Bag Reviews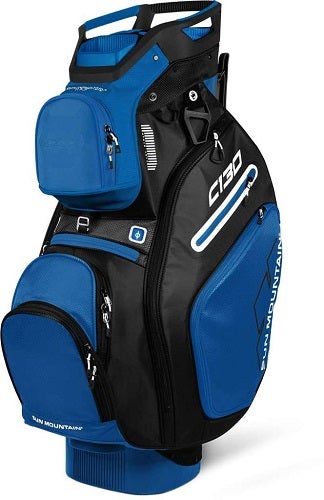 Sun Mountain 2019 C-130 Cart Bag at a Glance
:
---
Club Dividers: 14-Way
Backpack Shoulder Strap: No
Kickstand: No
Cooler Pocket: Yes
Weight: 9 pounds
Sun Mountain is one of our favorite companies, due to their consistent high quality and innovation.
Their C-130 model is exemplary of this, easily standing out from the rest of the market and making it the best golf stand bag for us and countless other consumers.
First off, you get to choose from 12 different colors, including Navy/White/Red, Cactus/Black/Inferno, Black/Woodland/Camo, and Cobalt/Black, among others.
This way you'll be able to easily identify which bag is yours while showing off a bit of your personality.
The 14-way full-length divider makes it easy to separate your clubs while ensuring they're not getting scratched. With a whopping 10 pockets in total, you won't need to bring any other bags with you, as this one can hold it all.
A cooler pocket keeps your cold beverages fresh, while 2 full-length clothing pockets let you hold a jacket or other apparel just in case of bad weather conditions.
They've also included 3 velour-lined pockets to protect valuables, including one being water-resistant. Count on an umbrella holder, towel ring, and rainhood as well. As each pocket faces forward, you'll be able to easily access every one while attached to the cart.
With 3 integrated top handles, moving the bag around is easy while the Smart Strap System utilizes 2 Velcro straps on the back of the bag to seamlessly connect to the cart.
If you need to carry it around yourself, the single padded shoulder strap makes it quite comfortable to do so.
If that weren't enough, they've also included a 1-year manufacturer's warranty, so you can feel confident in your selection.

---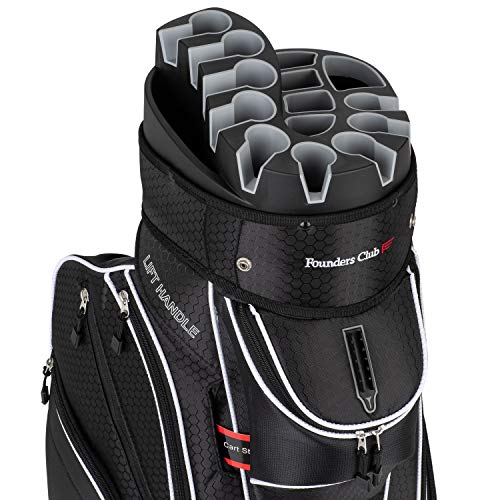 Founders Club Premium Cart Bag at a Glance
:
---
Club Dividers: 14-Way
Backpack Shoulder Strap: No
Kickstand: No
Cooler Pocket: Yes
Weight: 9.5 pounds
The Founder's Club is another renowned brand in the golf industry, with their designs looking sophisticated and being ultra-durable.
Their Premium Cart Bag with 14 Way Organizer Divider Top is our favorite ranks as the best golf cart bag for exactly this reason, among others.
Much like the previous product, this model also features a 14 way divider system, complete with rubber slots to keep your clubs protected and scratch-free.
With a dozen pockets (10 zipper and 2 mesh), you can keep anything you need in your bag without overpacking it. This design also comes with an insulated cooler pocket, so you can keep your drinks or other items cold.
The valuables pocket is also lined to prevent any scratching.
To keep them handy, the bag features a glove holder and string nylon loop holder where you can store brushes and other accessories. For rainy days, you'll appreciate the umbrella slot and the drawstring rain hood, too!
For times when you don't have your cart, or for when you need to take it to and from your car, there's a thick, wide carry strap to help you out. If you don't like carrying it over your shoulder, a single front handle and double handle side makes it easier.
While it is a bit heavier at 9.5 pounds, the fact that it comes with a 1-year warranty plus all other features makes it an easy choice!

---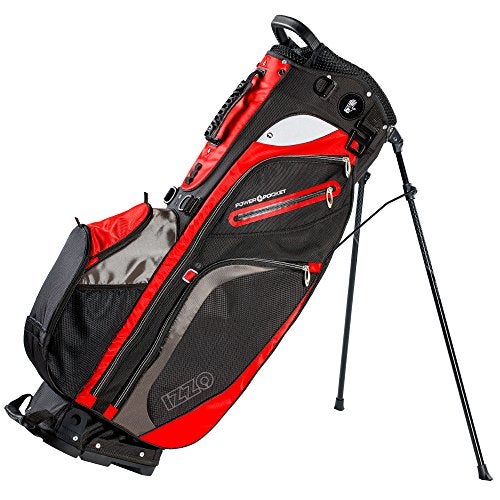 Izzo Versa Stand Golf Bag at a Glance
:
---
Club Dividers: 11-Way
Backpack Shoulder Strap: No
Kickstand: Yes
Cooler Pocket: Yes
Weight: 9.4 pounds
The Izzo Versa Stand Golf Bag is one of the best carry golf bags, offering quite a bit of flexibility to your game experience.
Coming in four bright color options like Lime Green and Bright Blue, you'll be able to spot your bag from a mile away. They even offer free personalization so no one can do away with your bag!
Coming with 11 club dividers, this one doesn't have quite as many as the previous two. However, they still offer excellent protection and organization, making them easy to grab at a moment's notice.
The wide compartment makes it simple to store everything you need, with a power pocket and a velour-lined, water-resistant valuables pocket.
The power pocket comes with a 10,000 mAh Lithium-Ion power pack which keeps your smartphone, music speaker, or any other devices charged while you're out on the course.
A metal towel loop with a built-in bottle holder lets you stay hydrated and dry without having to dig through the whole bag.
You'll also find a Velcro glove holder that lets you simply press your gloves onto the bag when they're not needed.
The insulated cooler pocket is more than welcome on scorching days, providing you with a cold, refreshing beverage at any time.

---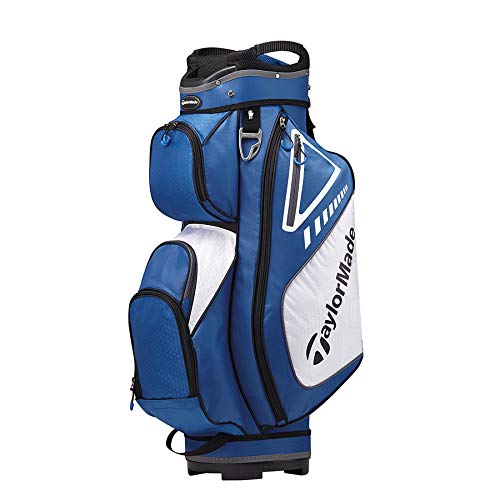 TaylorMade Golf Select Cart Bag at a Glance
:
---
Club Dividers: 11-Way
Backpack Shoulder Strap: No
Kickstand: Yes
Cooler Pocket: No
Weight: 5.1 pounds
Golfing should be that: just focusing on the sport. You don't want to have to lug around a heavy bag because you'll easily wear yourself out before you even get started!
As one of the lightest golf bags available today, the TaylorMade Golf 2019 Select Cart Bag ensures your energy goes towards your performance on the course!
Combining both organization and toughness, you'll find a 14-way padded top with full-length dividers to keep them from touching and possibly getting damaged.
The integrated putter well only makes things easier to keep track of.
The bag comes integrated with an array of 7 different pockets to make storing your items easy. You'll find a large apparel pocket where you can keep a change of clothes for when you're done, or an extra jacket in case temperatures drop.
A velour-lined valuables pocket keeps your smaller items protected, and you'll also get a couple others for balls and other equipment. Unfortunately, this model doesn't come with a cooler pocket which we would've liked to have seen.
However, all pockets are front-facing which makes them incredibly easy to access at all times.
The single padded shoulder strap is tough and comfortable, making maneuverability easier and multiple grab handles on the top cuff and spine only add to this.

---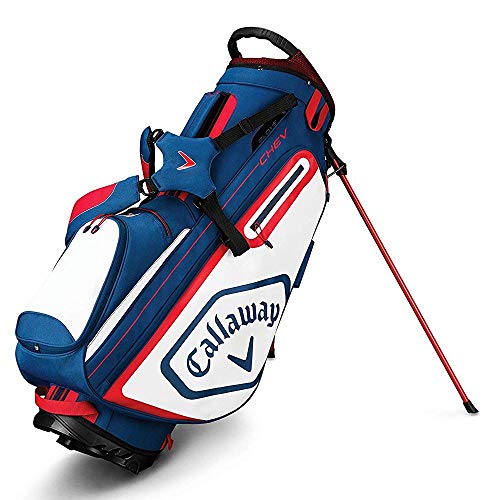 Callaway Golf Chev Stand Bag at a Glance
:
---
Club Dividers: 5-Way
Backpack Shoulder Strap: Yes
Kickstand: Yes
Cooler Pocket: No
Weight: 4.4 pounds
If you're looking for something simple yet effective, the Callaway Golf 2019 Chev Stand Bag may be just the right one for you.
At first glance, you can tell that the brand is all about quality, with their pristine construction and gorgeous design. Coming in colorways such as Navy/White/Red, Black/Blue/White and others, you'll get a classy yet sporty look all in one.
This mid-range bag may be quite affordable, but it's also one of the best lightweight bags out there. In addition, it comes with a very helpful kickstand with non-sink feet on solid legs that are quick to slide out.
The pockets aren't as plentiful as the other models feature, but they still hold up to 12 clubs. You get 4 pockets, plus a spacious putter well with full-length dividers, which does offer a bit more protection.
An insulated water bottle pocket is great for keeping a single cold drink in there. Unfortunately, it's not as spacious as some others, but it's still more than sufficient for most.
We really appreciated the velour-lined valuables pocket which is also water-resistant in case you'd like to stow away one of your electronic devices.
The fact that the bag weighs a mere 5 pounds makes it incredibly lightweight and convenient, along with well-positioned handles and an ergonomically designed hard top handle/padded front handle.

---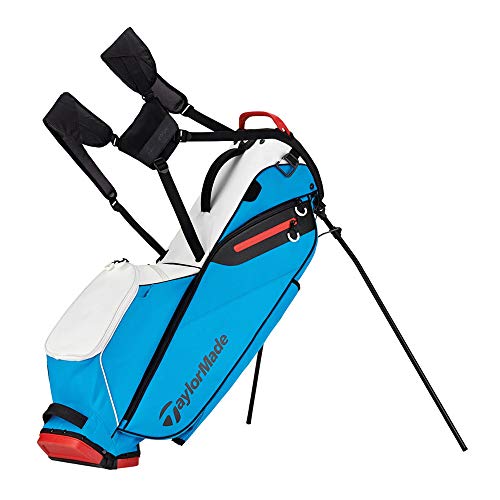 TaylorMade Flextech Lite Stand Bag at a Glance
:
---
Club Dividers: 4-Way
Backpack Shoulder Strap: Yes
Kickstand: Yes
Cooler Pocket: No
Weight:

4.3

pounds
The TaylorMade Flextech Lite is the best waterproof golf bag we've had the chance to use, making it perfect for those spring or fall days where you can't quite predict the weather.
Featuring seemingly endless room for your equipment and other essentials, this visually-pleasing design is one to take a serious look at.
Made with crush-resistant materials and tarpaulin reinforcements, it's made to last for many seasons to come. The collapsible base means that the clubs will neither stick nor crowd at the bottom of the bag.
The 4-way design once again is a bit stingy on the individual spaces for clubs, but the full-length dividers do protect them well.
With 8 other pockets, your equipment will always be properly organized. A water-resistant pocket with micro-suede lining protects your valuables, while a full-length garment pocket lets you always have a change of clothes handy.
You'll also find an insulated water bottle pocket so you're always hydrated, a tee pocket, and a pen sleeve.
The top carry handle makes it easy to maneuver the bag around, while the dual-density comfort strap makes it simple to transport it from A to B.
They've even added in an EVA ergonomically molded hip pad to make it more stable and comfy! The fact that it doesn't even weigh 5 pounds helps quite a bit, too!

---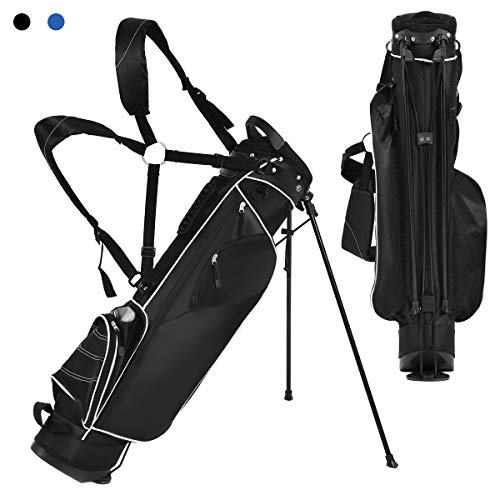 Tangkula Carry Golf Shoulder Bag at a Glance
:
---
Club Dividers: 3-Way
Backpack Shoulder Strap: Yes
Kickstand: Yes
Cooler Pocket: No
Weight: 3.5 pounds
Last but definitely not least, we have the Tangkula Stand Bag, which is another one of the best lightweight golf bags.
If you're on a tight budget but still want quality, then this is the model for you. The polyester composition makes it durable enough to hold up against the normal wear-and-tear that it will undoubtedly encounter.
Not only that, but if you're looking for the most lightweight bag currently on the market today, the Tangkula Stand Bag has you covered, weighing just 3.5 pounds!
Despite being so light, it offers a surprising amount of space to hold any gear you need.
4 zipper pockets let you hold additional belongings, such as accessories, or whatever you'd like. The 3-way design could have been a bit better for us, as we would've liked to have seen more individual pockets for clubs, but it's not "bad" by any means.
The backpack-style shoulder strap is extremely comfortable, coming with a convenient handle on the side for you to easily transport your bag any way you'd like.
To add to the ease of use, It even comes with black aluminum foot pipe support, leaving your bag steady when you need your hands to be free.

---
Golf Bag Comparison Table
How to Choose the Best Golf Bag – Buying Guide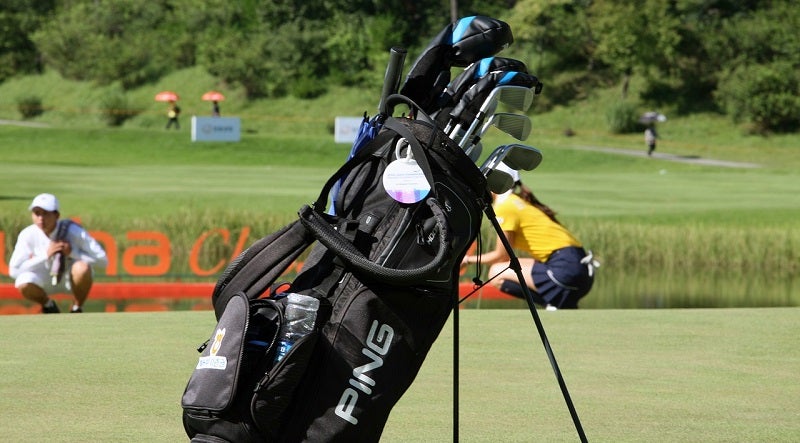 Now that you've had the opportunity to read all about the array of golf bags out there, which one will you be using during your rounds? If you're still undecided, that's okay.
There are a lot of great options to choose from, so we know it can be difficult. That's why we've decided to take it upon ourselves to write up a detailed, informative buying guide to ensure you're 100% certain in the bag you select!
Weight
First off, you'll want to consider how weight you realistically want to and can carry around. This goes double if you're going to be carrying the bag for long distances. You don't want to be already feeling tired or strained before you get to the 1st tee, right?
However, if you're planning on just using the bag for riding, then it's not going to be quite as important. Each of the bags on our guide are lightweight, ranging from just over 4 pounds to almost 10 pounds which isn't bad at all.
Pockets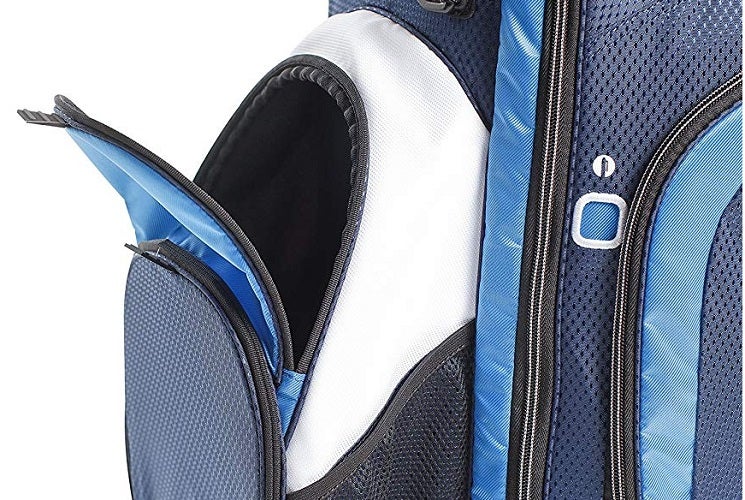 As you can see from the bags above, pockets are incorporated into each one of these bags. However, you need to think about the kind of items you'll be taking along with you, and how much space you're realistically going to need for them.
Balls, tees, and clubs are normal but do you want an extra set of clothing, sunglasses or some cold drinks? Maybe you want to bring along a speaker to listen to music or a GPS. Then, you'll need a protective pocket that's also waterproof.
Keep in mind that more isn't always better. If you don't absolutely need a full-length garment pocket, then opt for something more simple and lightweight.
Lastly, if you plan on taking beverages with you on the course, an insulated beverage pocket like the Founders Club or Izzo Versa will help keep your drinks cold and hidden.
Divider System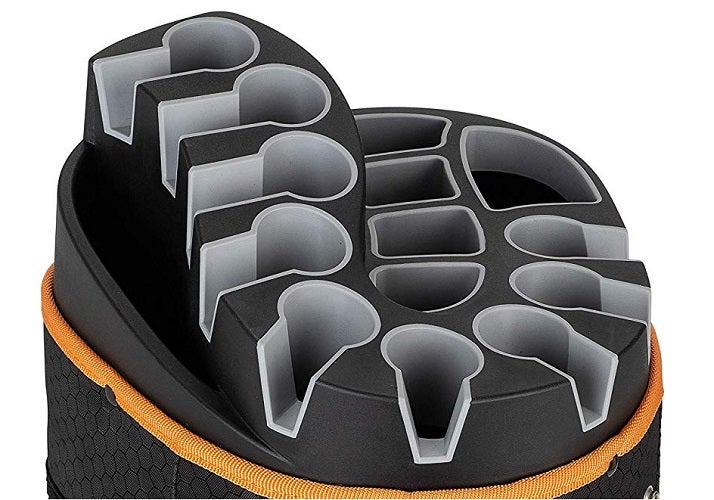 This is one of the most important features in selecting the right golf cart bag for you. You want your clubs to have enough space that they're protected and won't be clanking around, potentially getting scratched.
The number of dividers is going to vary per model, and the more that one has, the better. For example, if you select one that has 14 dividers, this is going to make it much easier to grab the right club and be more organized, overall.
Full-length, tight individual liners are generally going to give you the least amount of issues, or at least much less than saggy liners.
Putter Well
A putter well kind of adds on to the divider system, letting you easily grab your putter right away without wondering which is which. These are typically stored in a separate compartment, ensuring it's completely protected.
Rain Hood
This is an often overlooked detail in those who are just purchasing their first golf cart bag. However, if you live somewhere where it rains at all, then it's necessary to have one. While we feel that all bags should include them, unfortunately, this isn't the case.
This will protect your bag and clubs from getting all wet and damaged, which can cost you a pretty penny. If the model you want doesn't come with one, know that you can also purchase one separately.
Handles
Handles play a huge part in how easy and convenient the bag is to use. Generally, you're always going to want at least a padded shoulder strap that's thick enough that it's not digging into your skin or placing too much stress on one point in the body.
Side and top handles make the bag easier to maneuver around, especially when it's already attached to the cart.
Straps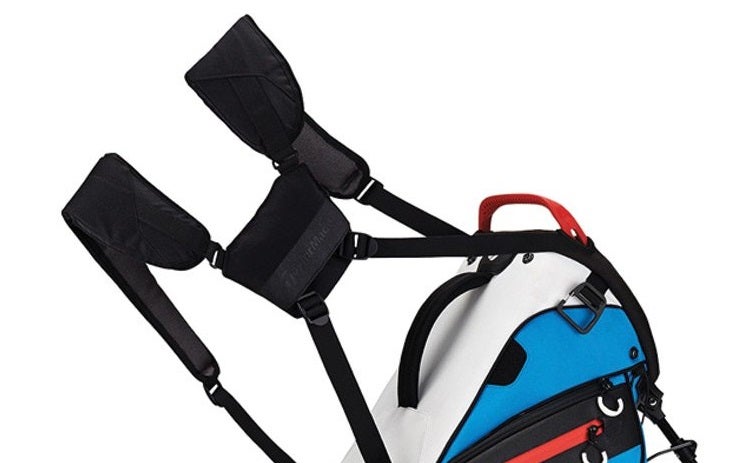 All golf bags come with a basic shoulder strap but if you plan on carrying your golf bag on the course to play 18 you something more than a simple shoulder strap.
Several of the golf bags on our list like the Callaway Golf Chev Stand Bag have a backpack style shoulder carry strap that goes over both shoulders to distribute the weight and make it easier to carry. If you plan on carrying your bag frequently, you should look for this style of strap.
Durability
If you're playing golf, chances are your bag is going to get tossed around quite a bit. From hanging out in the garage, to the back of your vehicle, to the golf cart, there's quite the beating that goes on.
You want the fabric to not only be very durable, but you want the stitching to be so high-quality that it doesn't come apart even after years of use.
Kickstand
A kickstand isn't always necessary, especially if you have a golf cart right there to keep your bag strapped to. However, it is a helpful piece of equipment for many golfers, leaving their hands free while providing easy access to the bag whenever they need to grab something or put something away.
FAQs For Golf Bags
Q: Do I really need 14 slots for my clubs?
A: You don't need to; in fact, you could probably get away with just a few. The additional slots just help with organization and protect a bit better, as your clubs won't risk clanking around and getting damaged.
Q: Does the weight of the bag really matter that much?
A: While most of the products on our list are very lightweight, consider how long you'll actually be carrying your bag around. If you are using a push cart, weight is not an issue. Obviously if you're going to be walking miles with it, you need something light. You don't want to feel fatigued or uncomfortable before you even get out there!
Q: Am I able to personalize my bag?
A: This will depend on the model you select, but most of the ones we have featured above do actually give you the option to add your name or logo the to front of it!
Q: What should I do if my bag gets wet?
A: Make sure not to keep your clubs in a wet bag. Aside from that, make sure you empty it out completely, and let it dry naturally.
Q: How much does your average golf cart bag with clubs weigh?
A: You'll find that they weigh in around 35 pounds for steel shafted irons, and about 25 for graphite shafted ones.
Tips For Using Your Golf Bag
#1: After each use, make sure you clean your bag.
This doesn't have to be a tedious or time-consuming process. Simply grab a damp towel and clean off any dust or dirtiness on the interior and exterior. Also ensure that it's completely dry before you use it, and make sure it's in a clean, safe storage space.
#2: Always bring along water or another refreshing beverage.
Even if it doesn't seem hot at first, things can get really heated on the course, especially if there aren't many trees or other sources of shade around. Your bag should feature an insulated cooler pocket, or at least a water bottle pocket so you always have something cold to drink.
#3: Try to always avoid laying your bag on its side, on the ground.
This is what straps are for. You can strap it to the golf cart or keep it propped up on a kickstand so they're accessible and also off of the dirty ground.
Final Thoughts
Now that you know just about everything you could ever need to about the best golf cart bags, which one have you decided is best for your game?
It's important to know that while each one of the aforementioned products are of excellent quality, what matters most is that it works perfectly for you! We hope that this article has helped you achieve just that. Thanks for tuning in, and we'll see you again soon!
How We Researched
To come up with the top golf bags we researched a variety of sources for reviews such as Target, Dicks Sporting Goods and Big 5 Sporting Goods along with our own personal experience.
We also consulted online magazines for product research and reviews to get as much unbiased information as we could. To help weed out fake reviews we used Fakespot.com to make sure we only looked at genuine reviews.
With so much quality gear available, we had to narrow it down based on what we felt were the best options for the price. The staff authors have extensive experience with a variety of outdoor sports like paintball, roller skating, baseball and golf.
To help narrow down the selection they used their personal experience along with recommendations from instructors and retailers.
After extensive research, we came up with our list to help you choose the right one for you.
Sources
---
Notice:
OutsidePursuits.com is a participant in the Amazon Services LLC Associates Program, an affiliate advertising program. OutsidePursuits.com earns fees from products sold through qualifying purchases by linking to Amazon.com. Amazon offers a commission on products sold through their affiliate links.