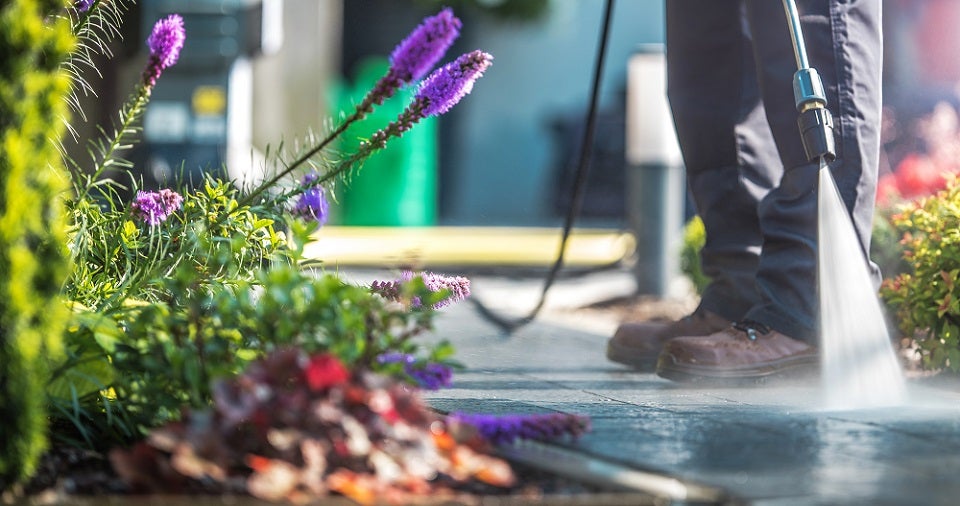 Our Editors independently research, test, and rate what we feel are the best products. We use affiliate links and may receive a small commission on purchases.
Whether it's removing dirt, grease and paint from surfaces on your house or cleaning your deck, car or boat, a home pressure washer will cut your cleaning time by a crazy amount and is a lot easier than scrubbing by hand!
The best electric pressure washers are efficient and practical cleaning machines.
Far stronger than normal garden hoses and much quieter, cleaner and easier to use than gas pressure washers, they're a great addition to your home.
Best Electric Pressure Washers
| | Sun Joe SPX3500 | Greenworks GPW1500 | Stanley Electric Power Washer |
| --- | --- | --- | --- |
| | | | |
| | | | |
| Max Pressure: | 2300 PSI | 1500 PSI | 2050 PSI |
| Gallons Per Minute: | 1.5 GPM | 1.2 GPM | 1.4 GPM |
| Nozzles: | 5 | 2 | 1 |
| Detergent Tank: | Yes | Yes | Yes |
| Hose: | 20' | 20' | 25' |
| | | | |
For more of my home & garden recommendations, have a look through these popular Outside Pursuits guide links: Electric Snow Blowers, Cordless Lawn Mowers, Cordless Leaf Blowers.
Quick Answer: The 7 Best Rated Electric Pressure Washers
Electric Pressure Washer Reviews
Our reviews of the top rated electric pressure washers with a comparison table and buyers guide to help you choose the right one for your needs.
---
Best Electric Pressure Washer For Cars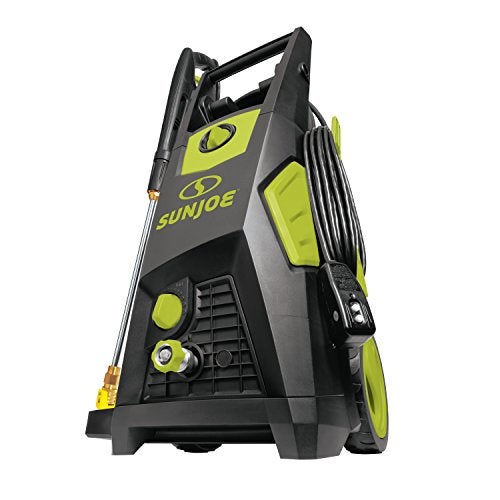 Sun Joe SPX3500 Electric Pressure Washer at a Glance
:
---
2300 PSI
1.48 GPM
20 Foot hose, 35 foot cord
Detergent tank
5 pressure settings
Sun Joe have made a real name for themselves building smart outdoor tools that, in their words, help you "clean smarter, not harder". The SPX3500 is no different.
You can really notice the quality of the brushless induction motor and is our Editors Choice.
It has been designed to be more durable and more powerful, but also quieter and cooler, than standard motors. This technology manages to get maximum power out of minimum water usage, with an impressive PSI to GPM ratio.
The onboard detergent bottle holds over 40 fluid ounces. I really liked the little dial on the side of the unit, which allows you to adapt the amount of detergent you use for each job.
This way if you're just blasting dirt off paving slabs, you can cut the use of detergent, and ramp it back up again for cleaning windows or your car.
SPX3500 - Sun Joe 2300-PSI 1.48 GPM Brushless Induction Pressure Washer - Lifestyle Demo
The Total Stop System technology is economical, cutting the pump when you aren't using it, saving energy and increasing the life of your machine.
There are different tips that click onto the end of your nozzle to adjust the angle of your spray.
The 0-degree tip shoots a straight jet out, but you can clip on the 15-degree, 25-degree or 40-degree tips to cover wider areas, or use the soap tip.

---
Best Budget Pressure Washer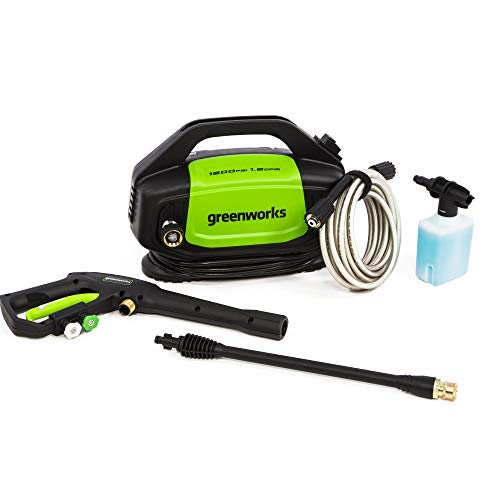 Greenworks Pressure Washer GPW1500 at a Glance
:
---
1500 PSI
1.2 GPM
20 Foot hose, 35 foot cord
Detergent tank
3 pressure settings
The Greenworks is a small, but powerful water pressure cleaner that is more than capable of taking on regular home power washer jobs.
There are two extra nozzles, one 25 degrees and the other 40 degrees, which can adjust your spray. This is less than the Sun Joe SPX3500, and there isn't a specialized soap tip, but they cover most of the same jobs.
It also features an on-board detergent bottle for cleaning up stains.
Combining this with the low-pressure hose function is great for cleaning and rinsing delicate surfaces.
It is well designed, giving you a lot of power for a comparatively small washer and to maintain stability, you can use it upright or on its side. However, this does come at a cost.
It has no wheels, and although it is light and easy to carry, it is not as convenient as washers with wheels. Another sacrifice is that there is no dedicated place to wrap up and store your cables, so it can be a bit messy.
All things considered, the Greenworks 1500 is advertised as a compact electric power cleaner, and provides impressive cleaning power. At under half the price of the rest of the items in this list, the Greenworks 1500 is the best home pressure washer under $100 you can find.

---
Best Home Power Washer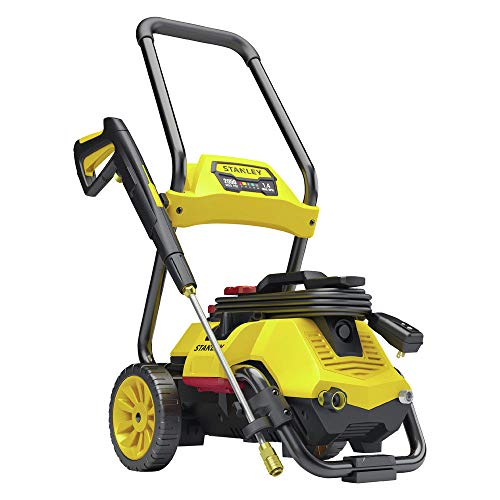 Stanley SLP2050 2-in-1 Electric Pressure Washer at a Glance
:
---
2050 PSI
1.4 GPM
25 Foot hose, 35 foot cord
Detergent tank
5 Pressure settings
Stanley's reputation proceeds it, and just by seeing the name, you know you'll be dealing with a quality product.
The build quality is evident all over, even down to the 22 millimeter leakproof adapters. However, it is perhaps too good in the hose. It is a very stiff hose which makes it inflexible and tricky to wind around the holder.
Another slight problem that seems very easy to fix is that the spray wand holder runs quite low and many users complain of the tip dragging along the ground when moving about.
I really liked the detachable mobile cart. It is easy to move your cleaner around, and sits better than four-wheel models when in use, as it has balances on two wheels and a padded bar.
The Stanley SLP2050 has both on-board accessory storage and an on-board detergent tank. You can engage the detergent with the soap nozzle, which is also the low-pressure setting.
This does mean that you cannot blast soap at a high pressure which is a small annoyance, but covering a surface in soap before engaging a higher pressure tip does not result in too much extra work.
What you get here is excellent all-round quality. It is powerful, practical and reasonably priced — a pleasure to use.

---
Best Value Electric Pressure Washer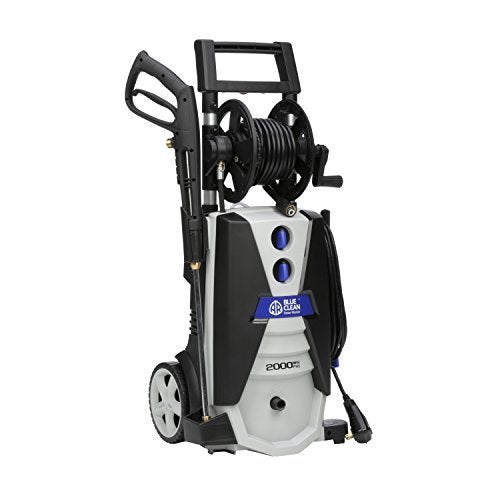 AR Blue Clean AR390SS Electric Pressure Washer at a Glance
:
---
2000 PSI
1.4 GPM
30 Foot hose, 35 foot cord
Detergent tank
4 Pressure settings
The first thing that stood out to me about the AR Blue Clean is the integrated retractable hose reel which keeps things nice and tidy. You don't even have to unravel the entire thing to use the spray gun.
I should add that AR haven't put the greatest amount of work into the reel, resulting in something which is rather cheap feeling and that can be a bit awkward to use, but its a nice touch nonetheless.
Like other items on this list, it has different nozzles for different settings.
This time it is a standard jet, a 25 degree, a rotary/turbo and a low-pressure nozzle with soap.
On the standard setting, we found that it actually pumps out more gallons per minute than actually stated, which is a nice surprise. I would put it at just short of 2 GPM.
Overall, it is very easy to assemble and get started — just put in a few screws, attach the gun and you're off.
There are a few drawbacks, such as the balance of having a tall power cleaner and the not-quite-as-good-as-you'd-like hose reel, but after weighing everything up.
The AR Blue Clean AR390SS is a powerful electric pressure cleaner that more than does the job.

---
Best Electric Pressure Washer Under $200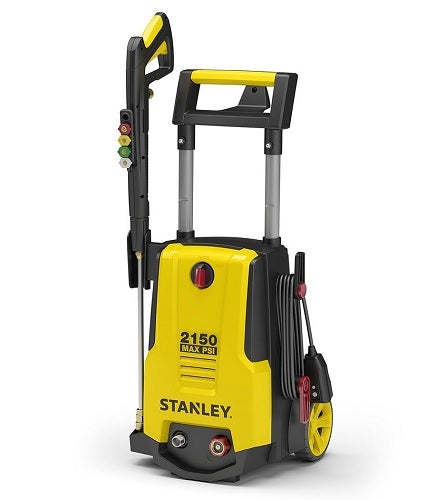 Stanley SHP2150 Electric Pressure Washer at a Glance
:
---
2150 PSI
1.4 GPM
Detergent tank
25 Foot hose, 35 foot cord
5 Pressure settings
Just like the Stanley SLP2050, the SHP2150 is a solidly built cleaner that is going to last a long time.
The quality is clear down to the brass connectors, which overcome the classic pressure washer problem of poor or faulty connectors.
The most obvious difference between this and the previously mentioned Stanley model is that it has fixed-on wheels.
The design is nice and stable, with a low center of gravity, unlike taller models like the AR Blue Clean.
The detergent bottle is stored on the end of the spray gun, which personally, I'm not a big fan of, but it works well. The SHP2150 has a feature that other models on this list lack — a high-pressure foamer.
This adds detergent to the full power of the washer to really attack tough stains and users who need it really love it.
I really think both Stanley models represent excellent value for money. Their build quality is outstanding for the price you pay, this model coming in at under $220, backed by a two-year warranty.
All in all, the Stanley SHP2150 is an easy-to-use, high-performing pressure washer.

---
Best Pressure Washer For Home Use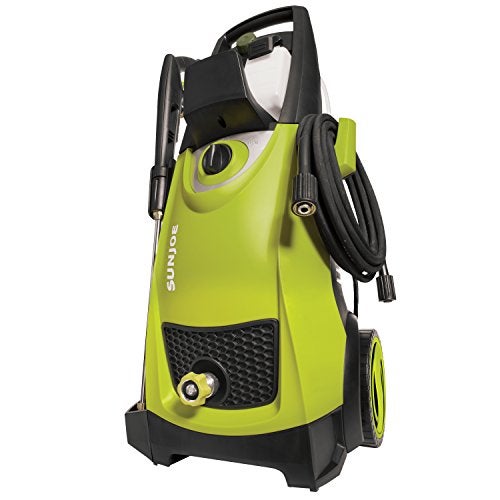 Sun Joe SPX3000 Electric Power Washer at a Glance
:
---
2030 PSI
1.76 GPM
20 Foot hose, 35 foot cord
Detergent tank
5 Pressure settings
The final product on this list is the Sun Joe SPX3000, another great pressure washer that is basically ready out of the box, and a very detailed instruction manual for any adaptations you need to make.
A few years ago, this model was plagued by a faulty plastic connecter which often broke very early on. Luckily, Sun Joe have rectified this, making it an all-round very reliable and durable machine.
It has the same amount of extra tips as the Sun Joe SPX3500, giving you total flexibility from intense pressure to a gentle rinse.
Uniquely on this list, the SPX3000 comes with two on-board detergent bottles, so you can put window cleaner in one and car washing soap in the other without having to wash out a bottle between uses.
They are very easy to access too — on top of the machine next to the handle.
Sun Joe really know what they're doing with pressure washers. With exceptional performance and now durability backed by a two-year warranty, the Sun Joe SPX3000 is a fantastic choice for all small to medium jobs.

---
Most Powerful Electric Pressure Washer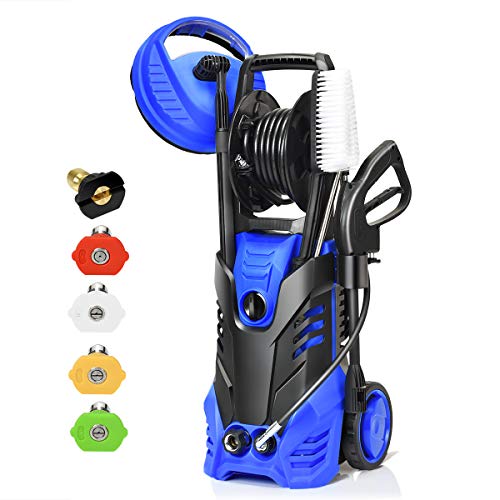 Goplus Electric High Pressure Washer at a Glance
:
---
3000 PSI
2.0 GPM
26 Foot hose, 16 foot cord
2 Pressure settings
Detergent tank
The Goplus 3000 is the most powerful pressure washer on this list but it comes at a bargain price, about $150!
The extra pressure per square inch is noticeable on tough stains, and the turbo nozzle speeds it up even more.
Like the Sun Joe SPX3500, it has a brushless induction motor and features a similar hose reel to the AR Blue Clean AR390SS.
The reel is much easier to use than that of the AR model, and the motor has the same feel of quality as it does in the Sun Joe.
It comes with 5 pressure tips and even has a patio cleaner attachment that is perfect for decks.
With the extra power of the GoPlus you have more versatility and cleaning power to get rid of stubborn dirt and stains that other pressure washers cannot remove.
The power is fantastic and I'm sure you'll also find that it simply gets jobs done much faster than other models and is one the best electric power washers available!

---
Electric Pressure Washer Comparison Table
How to Choose the Best Electric Pressure Washer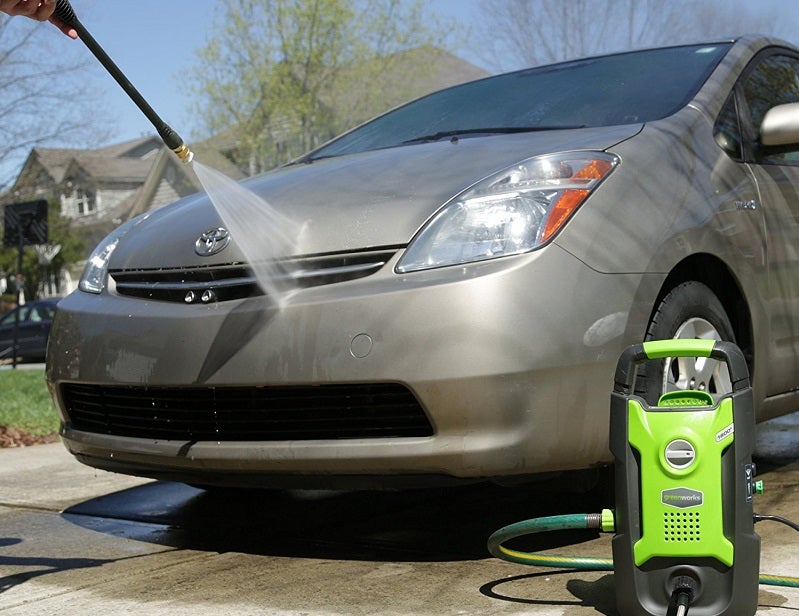 When choosing an electric pressure washer, you'll instantly notice that there are quite a few models available, so how do you choose the one that works best for you?
Below, you'll find our buyer's guide to an electric power washer, looking at the main features and explaining what jobs they are useful for.

Considerations for Electric Pressure Washers
Pressure (PSI)
Measured in pounds per square inch (PSI), pressure is the most important factor in choosing a power washer.
However, bigger is not always better. Getting rid of chewing gum and graffiti require a maximum amount of pressure, but just cleaning your car or clearing the drainage only requires around 700 PSI. Exceeding this can even damage paintwork.
Cleaning decking or brickwork on the side of your house isn't a particularly difficult job either, and only requires around 1500 PSI. Even this can damage some soft woods.
One of the most common jobs for pressure washers is to clean dirty concreted driveways. This needs over 1500 PSI to make a difference.
Luckily, electric power washers come with adjustable pressure, so even if you go for the PowRyte Elite with 2400 pounds per square inch of pressure, you can dial it back a little for jobs that require less punch.
The end result is very similar, regardless of the model you choose. However, a machine with a higher pounds per square inch pressure and more gallons per minute will do your work much, much faster.
The listed PSI is the pressure a washer uses with a straight jet. There are three easy ways of reducing this pressure:
Adjusting the adjustable nozzle on models that feature it, such as the PowRyte Elit
Attaching a nozzle which expands the angle. The bigger the angle, the less pressure you use.
Standing further away from what you are trying to clean.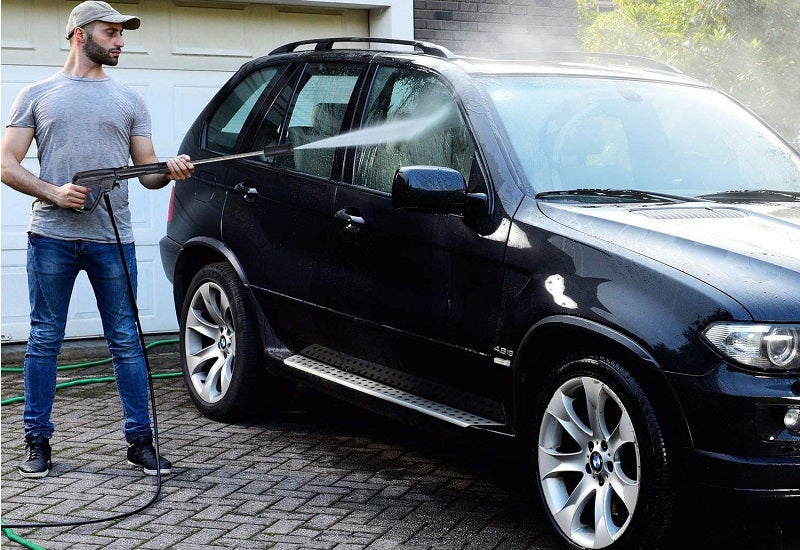 Gallons Per Minute (GPM)
Pretty self explanatory, gallons per minute is the capacity that your cleaner can use in one minute.
It is not quite as important as the pressure per square inch as one of the main benefits of an electric pressure cleaner is its economical use of water compared to a normal garden hose.

Nozzle Attachments
Extra features and nozzle ends should be taken into consideration depending on the job at hand.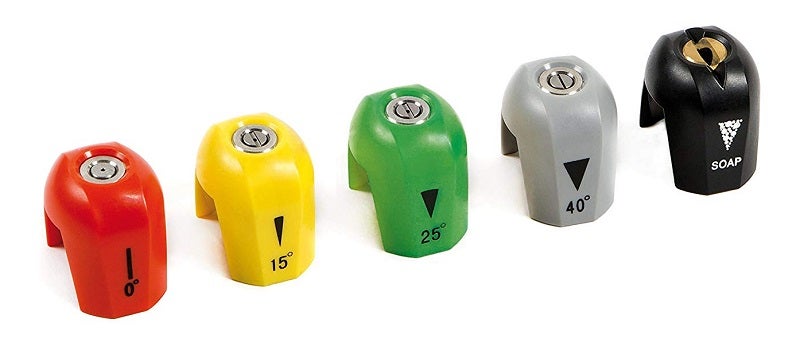 Jet Lance
The jet lance, a flat jet spray, is the default setting and the best tool for most common jobs. A variable jet lance means you can use the same tool for different jobs, adjusting the pressure depending on your needs.
All of the models listed here, as well as most products on the market, come with an adjustable jet, but no extra features.
Here is a brief overview of attachments that you can buy separately for more specialized jobs.
Turbo Nozzle
Turbo nozzles are available as an additional extra for most models, if they aren't already included in the standard package.
They concentrate the spray, providing a significant extra boost to your pressure. As an example, the Sun Joe SPX-TSN-34S turbo nozzle claims to decrease cleaning time by 40%.
Brush
A brush attachment is kind to your car paintwork and spreads detergent very well.
Surface Cleaner
A surface-cleaning attachment is usually round in shape and slows the cleaning process down, making it less damaging to surfaces such as patios. They are also tidier than jets, as they don't simply spray dirt from one place to another.
With less concentrated pressure, surface cleaners also protect the grout between paving slabs, which is essential for keeping your slabs together and waterproofing.
Often, people with a lack of experience see grout as a challenge, a build up of dirt that needs the highest possible pressure jet to clean out. This is not the case, so for the health of your paving, stick to the tools that are designed for the job.
The Greenworks universal surface cleaner attachment is a great example of a surface cleaner.

Ease of Use
There are a few factors that determine how easy an electric pressure washer is to use.
Long cables and hoses are generally considered a good thing so you can get to hard-to-reach areas. They stop you stretching or standing at awkward angles and are kinder to your back. Of course, if you already have a heavy duty extension cable suitable for outdoor use, you already have a wealth of length to play with.
More advanced models also have a storage attachment on the machine itself, so you can adjust the length of both and keep the floor clear of loose cables.
Wheels are a good advantage, especially on the bigger, heavier models, allowing you to move around with ease. As a general rule, the larger the wheels, the better, and tires with air in them are better than solid plastic wheels.
Quality Connections
Like with most complex machines, electric pressure washers have many complicated parts, so it is important to take care with every part to make sure you don't make a small error that has big consequences.
One of the most common faults with electric pressure washers is in the connections. In an ideal world, these would be made exclusively with brass and never break, but, you know…
It may seem simple, but here's a little tip on attaching screws without breaking the threads:
Line the threads up together, and instead of tightening, turn counter clockwise until you feel the threads link up with each other. Only then begin to gently tighten clockwise. If you feel any resistance, turn counter clockwise and start again.
Just spending a few minutes carefully connecting different parts together can really save you from a mistake that some electric pressure washer owners know only too well.

Electric Vs. Gas Presure Washers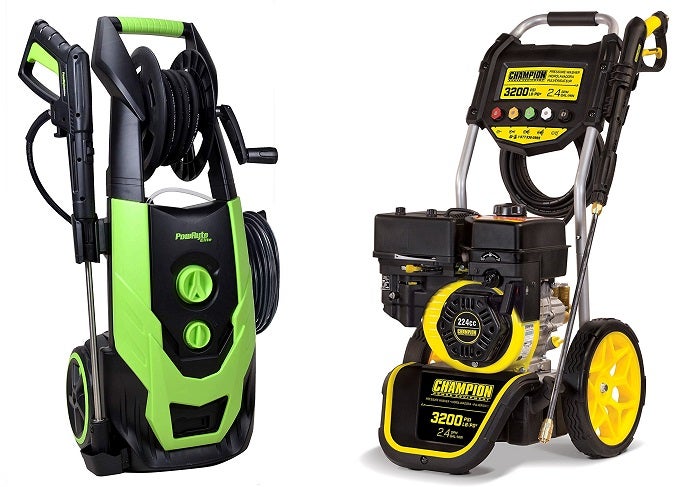 This article only covers electric pressure washers, but it is good to know what other products are out there.
Gas pressure washers win in one department — they can blast out more pressure and have a higher water flow rate than their electric cousins.
Electric washers win in virtually every other category. They are much smaller, lighter and easier to maneuver than their gas counterparts. Electric power cleaners are ready to go as soon as you plug them in, whereas gas cleaners are often plagued by starting issues, maintenance, fumes and buying gas.
In summary, electric pressure washers are far more convenient than gas pressure washers and provide more than enough pressure for almost any job on your house.
Water Supply
A quick note, hard or well water may not be compatible with certain pressure washers. It's important to read the fine print on each product to know if the water your house has supplied will work within the machine. If you do have hard water, you may be able to use a pressure washer as long as you have a water softener.
Price
Pressure washers come in a variety of different price points. You can easily find more cost-efficient options that are less than $100. On the other hand, there are pressure washers that can cost you between 400 and $500.
With that being said, when it comes to cost it's crucial to look at what features you're getting for the price. Just because a pressure washer cost more money doesn't necessarily mean it will perform better. It could be more expensive due to the store it's being sold at, the brand that makes it, along with a slew of other things.
This is why you need to compare each feature on each model you're considering buying. This will help you put your hard-earned money to good use and you'll find a pressure washer that works for you without breaking the bank.
Safety Features
Did you know over 6,000 people go to the emergency room each year with pressure washer related injuries? You may not think that the water is coming out at that extreme of pressure, but if that was the case they would be a lot less emergency room visits.
Pressure washers can easily tear through your skin and give you a bacterial infection. This is why it can be important to use an adjustable pressure washer so you can easily change the force of the water depending on what you're using the pressure washer for. You can clean an area with a wider angle setting in a little bit more time add a lower pressure for safety.
In addition, it may be important to know that all pressure washers are usually pretty loud. This is why you may want to wear earplugs or another form of hearing protection while you're using a pressure washer. Lastly, make sure the pressure washer when not in use is stored somewhere that a child cannot reach or get into. This is not only for your safety but also for your loved ones.

FAQs For Electric Pressure Washers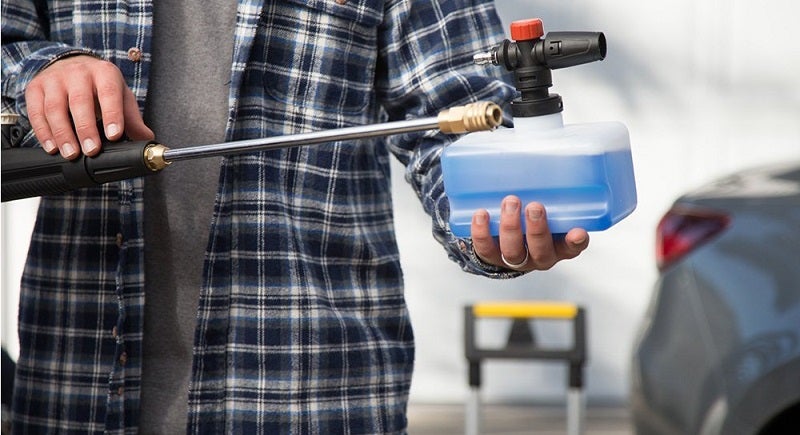 Q: What kind of detergent can I use?
A: Most brands recommend using their own detergents, but there are hundreds of non-brand detergents that work just as well.
My only advice would be to go for a pressure washer-safe detergent, and to not use gel-based detergents as the extra thickness can clog the system.
Q: Do electric power washers always work at their stated PSI?
A: The stated PSI is the standard pressure that an electric power washer uses.
It can be modified either with extra nozzles, which all of the items here are supplied with, or by simply moving away from the surface you are cleaning.
Q: How loud are electric pressure washers?
A: Similar to most electric motors, there is a noticeable hum, but you can still have a regular conversation over the top of it.
Q: Should I buy or rent a pressure washer?
A: A good electric pressure washer can be bought for under $100. So if you use one even once a month it will pay to buy one vs renting one. Once you have one you will find a variety of uses for one that you may not have thought of.
Q: What is the best electric pressure washer for home use?
A: The Sun Joe SPX3500 is the top performer on our list. It has plenty of pressure washing power to clean most anything around your house or even your car. It comes at a very reasonable price for the performance it has.
Q: Are electric pressure washers any good?
A: Absolutely! They may not have quite the power of a gas powered model but they have enough PSI to do most any task around your home that a gas pressure washer will do.
Q: Are electric power washers as good as gas?
A: They do not have the same pressure as a gas pressure washer and they do have the advantage of portability because you don't need an electric outlet. Electric models however are much quieter and can be used in enclosed space because they have no toxix fumes to worry about.
Q: Can I change the hose?
A: If you need to change the hose, I would highly recommend buying one from the same manufacturer. Attachments can often be different between brands, and regular hoses often cannot handle the pressure involved in pressure cleaning.
Final Thoughts
If you're a first-time buyer, a good electric pressure washer really is something you will wonder how you ever lived without. Not only will they cut down the time of almost all outdoor cleaning jobs, they save you a lot of physical effort!
I hope you've found my reviews and buyer's guide helpful for choosing the best electric pressure washer for your needs.
How We Researched
To come up with the top electric pressure washers, we researched a variety of sources for reviews such as Home Depot, Lowes, Target and AcmeTools along with our own personal experience.
We also consulted online magazines for product research and reviews to get as much unbiased information as we could. To help weed out fake reviews we used Fakespot.com to make sure we only looked at genuine reviews.
With so much quality gear available, we had to narrow it down based on what we felt were the best options were for the price. The staff authors have a wide and varied background in yard maintenance and home repairs.
The authors have decades of experience and are eager to share their knowledge with readers.
To help narrow down the selection we used personal experiences along with recommendations from landscapers, bloggers and contractors.
After extensive research, we came up with our list to help you choose the right one for you.
Sources
Notice:
OutsidePursuits.com is a participant in the Amazon Services LLC Associates Program, an affiliate advertising program. OutsidePursuits.com earns fees from products sold through qualifying purchases by linking to Amazon.com. Amazon offers a commission on products sold through their affiliate links.