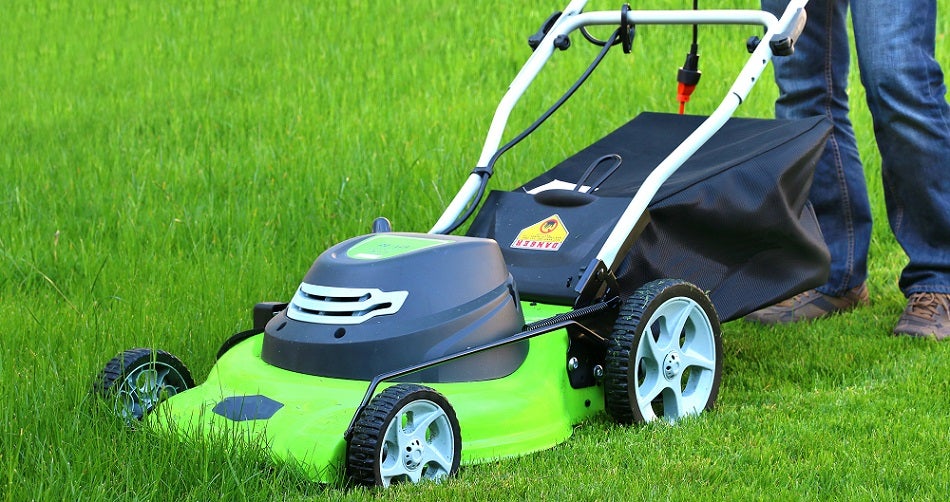 Our Editors independently research, test, and rate what we feel are the best products. We use affiliate links and may receive a small commission on purchases.
Electric lawnmowers are a superior alternative to traditional gas-powered mowers in many ways.
Not only are they much quieter and cheaper than their gas-guzzling counterparts, they are simpler to use and maintain while also being far better for the environment.
There are a variety of capable corded electric mowers on the market and this guide will help you to select the right one for your lawn.
Best Electric Lawn Mowers
For more of my lawn equipment recommendations, have a look through these popular Outside Pursuits guide links: Cordless Lawn Mowers, Reel Mowers, Cordless Leaf Blowers.
Quick Answer: The 7 Best Rated Electric Lawn Mowers
Our reviews of the top-rated electric lawn mowers, with our buyer's guide and comparison table will help you choose the right one for you.
---
Electric Lawn Mower Reviews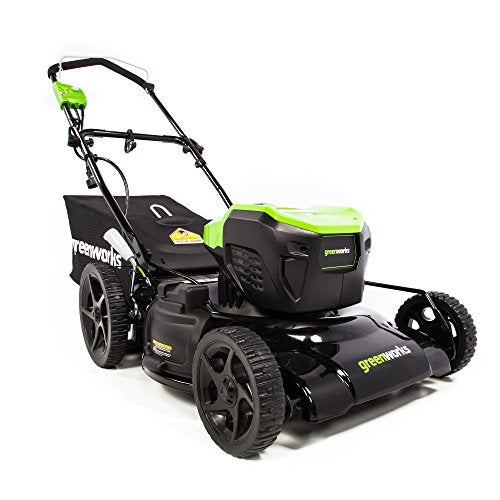 Greenworks Corded Lawn Mower at a Glance
:
---
Cutting Width: 21″
Start: Push button
Power: 13 amp motor
Cutting Heights: 1.5″ to 3.75″
The Greenworks is our Editors Choice for the best corded electric lawn mower being powered by a strong 13 amp motor.
You'll find that there are three settings available such as mulching, side discharge, and rear bag.
There's also a 7-position single lever height adjustment so you can get your lawn at the perfect height for your type of lawn.
The simple push button start system also means that the days of pulling on a cord to start the mower are over. Its a manual push mower, meaning it is not self propelled and meant for smaller lawns.
Ease of use and simplicity is at the core of this electric lawn mower. It has folding handles adding an extra level of convenience which help with storage in small areas.
The large 21-inch cutting width also makes mowing quick and convenient. Simply plug and go to enjoy a great mowing experience with less noise but the with the same great results.

---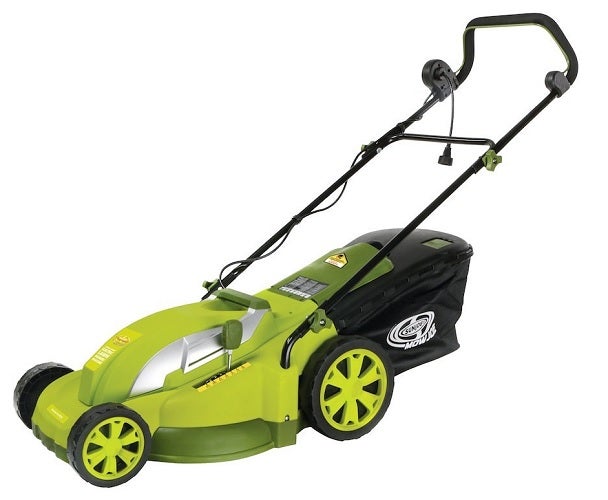 Sun Joe MJ403E Mow Joe Electric Lawn Mower at a Glance
:
---
Cutting Width: 17″
Function: Convertible mulching/mowing
Warranty: ETL approved; full 2-year warranty
Power: 13 amp motor
Cutting Heights: 1″ to 3″
This electric lawn mower/mulcher makes cutting of your lawn an absolute breeze with almost no maintenance required.
Say goodbye to gas, oil, and regular tune-ups: simply plug in this 13-amp mower and get started cutting!
A large 17-inch path in a single pass makes mowing quicker while a large 12 gallon rear bag collects a large amount of cuttings.
It's easy to detach but if you prefer to mulch your lawn, you can simply remove the bag and allow the clippings to fertilize the lawn and help retain moisture.
Sun Joe makes a wide range of quality garden equipment and this electric mower is no exception.
Considered by some as the best electric mower, it's a quality mower and it comes with a two-year warranty out of the box.
This mower also comes with seven different adjustments so you can get the perfect lawn height. The Sun Joe mower weighs under 30 pounds making it easy to maneuver around in tight spaces and less tiring to push.

---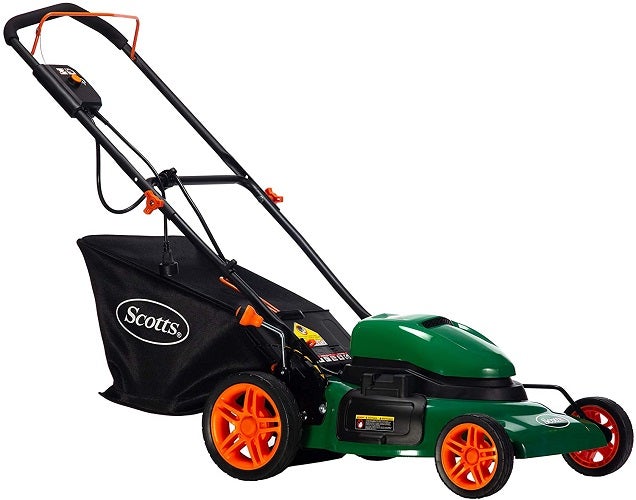 Scotts Corded Electric Lawn Mower at a Glance
:
---
Cutting Width: 20″
Start: Push button
Power: 12 amp motor
Cutting Heights: 1.5" to 4"
The Scotts is another 3-in-1 electric mower so you have the option of mulching, side discharge, and rear bag. Scotts is certainly well know for their lawn products so it's no surprise this is a contender for the best corded lawn mower.
Not only does the mower have a 20-inch cutting width for quick and efficient mowing, it also has a steel deck which makes it a durable and long-lasting mower.
Comfort comes as a central feature of this mower: the body is lightweight while the large wheels make for easy to push through thick lawns and good maneuverability.
The comfortable handle also feels natural and is cushioned. Safe operations is also taken into consideration with the safety bar that you squeeze when cutting.
To stop the mower just release the safety bar and the mower will stop instantaneously.
The Scotts mower is also quiet and offers a simple push button start. A single lever adjusts the cutting height instead of individually adjusting each wheel.
You can adjust the height anywhere from 1.5 to 4 inches and comes with a 16 gallon size bag for grass clippings.

---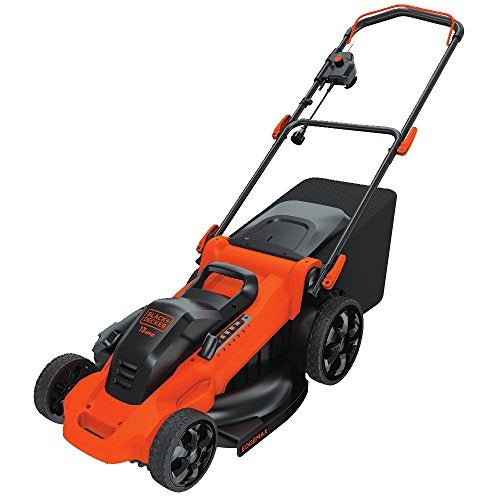 BLACK+DECKER MM2000 Corded Mower at a Glance
:
---
Cutting Width: 20″
Cutting: EdgeMax technology
Power: 13 amp motor
Cutting Heights: 1.5" to 4"
Collection Bag: 13-gallon nylon bag
BLACK+DECKER is a household name for good reason, given that they provide some of the best home tools.
The MM2000 is no exception and is regarded by many as the best electric lawn mower given its use of patented technology and features.
Equipped with the EdgeMax deck design, this mower is capable of getting into the tightest of areas to make the best use of its 20-inch wide cutting patch.
The 7-setting height single lever will adjust the mowing height from 1.5" to 4", one of the widest ranges on our list.
If you want to collect the lawn clippings, B&D includes a 13-gallon all nylon bag collects a lot of grass for disposal.
The 13 Amp motor provides the power to take on any job and the 3-in-1 features (mulching, bagging, and side discharge) help you to get the lawn results that will make you the envy of the neighborhood!

---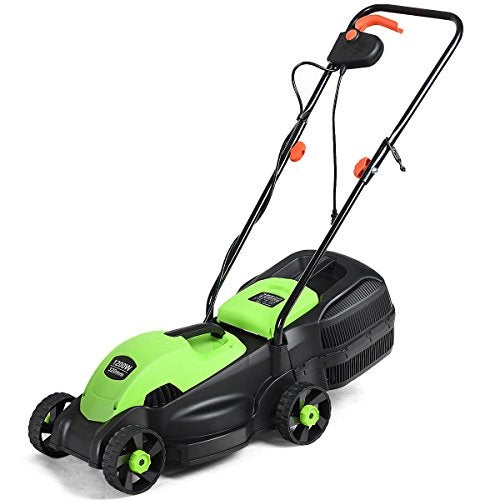 Goplus Lawn Mower at a Glance
:
---
Cutting Width: 14"

Power: 12 amp motor
Cutting Heights: 1.5" to 3.75″
Collection Bag: 8-gallon bag
With the smallest cutting width on our list and a smaller collection bag, this mower is designed for small lawns and light duty cutting.
The 14-inch cutting deck strikes a balance between maneuverability and cutting capacity making it easy to maneuver in and around tight areas in your lawn or garden area.
The ergonomic handle which features a natural and comfortable grip is made all the more convenient with a single 3-level adjustable height lever so that the mower can be used by everyone.
The 5.5" wheels are on the small side so it's not designed for thick lawns like St Augustine grass.
Weighing only 15 pounds, its by far the lightest mower on our list making it easy to push and lift for storing. There is even a convenient lifting handle for that purpose.
If your looking for a highly portable mower that's easy to store and push, the Goplus is your best option!

---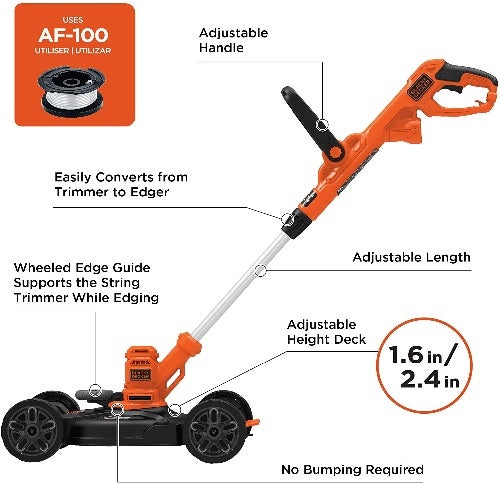 BLACK+DECKER BESTA512CM Lawn Mower at a Glance
:
---
Cutting Width: 12″
Convertable: Unique conversion from mower to edger to trimmer
Spool: Automatic Feed Spool
Lightweight: Only weighs 13 lbs
Power: 6.5 amp motor
Cutting Heights: 1.6″ to 2.4″
The BLACK + DECKER BESTA512CM Electric Lawn Mower is something a little different. It is super lightweight and converts from a mower to a trimmer to an edger. You're getting 3 machines in 1!
This cleverly designed lawnmower can be used to complete all your lawn maintenance tasks in a smaller yard. Its small size allows for easy transportation and storage.
Its lightweight design, adjustable handle, and adjustable height positions make it ideal for elderly people who enjoy gardening but only need to cut a small area of lawn.
The Automatic Feed Spool means that you won't have to interrupt your task to adjust the spool. A handy dial on this lawnmower enables you to adjust its cutting height from 1.6″ to 2.4″.
The 6.5 amp motor is not as powerful as other lawnmowers reviewed, and its cutting width is relatively small. This would not be a good choice for larger lawns. Its strength is in its versatility in smaller settings where storage space is paramount.
The BLACK + DECKER BESTA512CM is quiet, clean, and easy to maintain. If you only have a small yard, or your lawn area is tiny, this corded lawnmower represents superb value for money.

---
Lawn Master Electric Lawn Mower at a Glance
:
---
Cutting Width: 15″
Ergonomic: Adjustable handle height for easier use
Power: 11 amp motor
Cutting Heights: 1" to 3"
Collection Bag: 7-gallon nylon bag
The LawnMaster MEB1014 Electric Lawn Mower is ideal for people who like a tidy lawn. Its grass collection rate is 98%, meaning you won't leave much mess behind.
The 7-gallon grass bag enables you to cut a large area before you must empty it. Despite its plastic casing, this electric lawn mower is durable.
The plastic makes it relatively lightweight (28 lbs), so it will cause you less fatigue when you are cutting larger areas. The handle folds over to facilitate storage.
You'll be pleasantly surprised by the power of the 3,300 RPM, 10 amp motor. It will cut through tall grass and over uneven surfaces better than you might expect.
LawnMaster pride themselves on their level of customer service. In the unlikely event that you encounter a problem with your MEB1014 lawnmower, they pledge to respond within one working day.
If you have a small to a medium-sized yard, the LawnMaster MEB1014 Electric Lawn Mower is ideal for you. It is powerful enough to cope with the occasional challenging patch of long grass and rough ground but still lightweight enough for easy handling.

---
Electric Lawn Mower Comparison Table
---
How to Choose the Best Electric Lawn Mower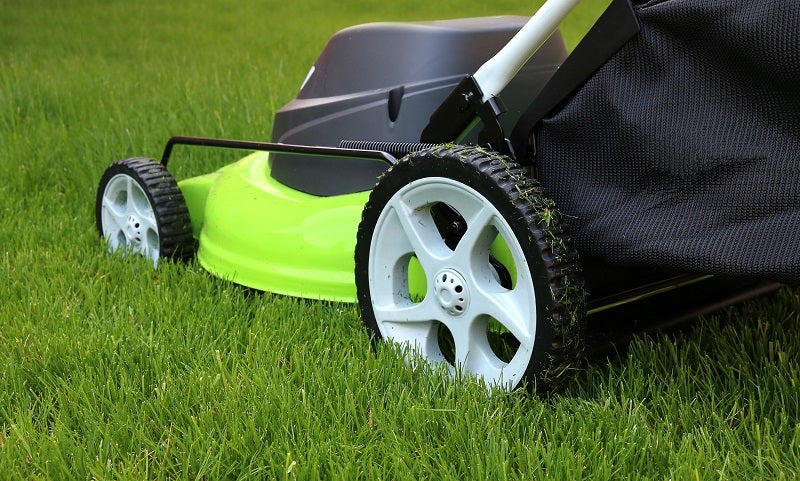 Now that we've looked at some of the top rated electric lawn mowers, let's dig deeper into the features you should be looking for to get the best lawn mowing experience possible.

Cutting Width
Electric push mowers vary greatly in terms of the cutting width that they offer. Naturally this has an impact on the time that it will take you to mow your lawn: the larger the width, the quicker the job.
But this doesn't tell the whole story. The design of the deck will determine how maneuverable the mower is and how capable it is of getting into tight places. If you have a small lawn with a lot of tight places and sharp corners, a smaller mower with narrow cutting width may be a better option for you.

Extension Cord Length
While not directly a feature of the lawn mower you choose. Being we talking about electric mowers you will need an extension cord.
There are some considerations you need to keep in mind. The longer the length you need, the lower the "gauge" or the thickness of the cord. A lower gauge, means a thicker cord, its a bit counter intuitive. Also the higher the amperage of the mower you use the thicker the cord you will need as well.
Going with too thin a cord and cause problems so you need to match up the length and thickness of the extension cord with your needs. This guide from Home Depot can help you choose, the mower should also have a guide included.
Just be sure you choose an extension cord that is designed for outdoor use!

Power/Amp Rating
The higher the power level or amperage, the more capable your electric mower will be of cutting thick grass and it's mulching capabilities. Depending upon the type of your lawn the importance of power will vary greatly. Thicker grass will require more power.
Small lawns and thinner grass like Bahia do not need high power so a low amperage mowers are also effective. You should bear in mind that the power level will determine which type of extension cord you will need to use.

Collection/Clippings Bag
The size of the collection bag is also very important. If you have a large area to mow then you'll find that small bags are inefficient due to the fact they need to be emptied frequently.
Larger capacity bags can keep you mowing for longer which will speed up the lawn cutting. Depending upon grass type you are using the mower for, the bag may not be as important: if you're mulching then the bag will be removed anyway.

Variety of Functions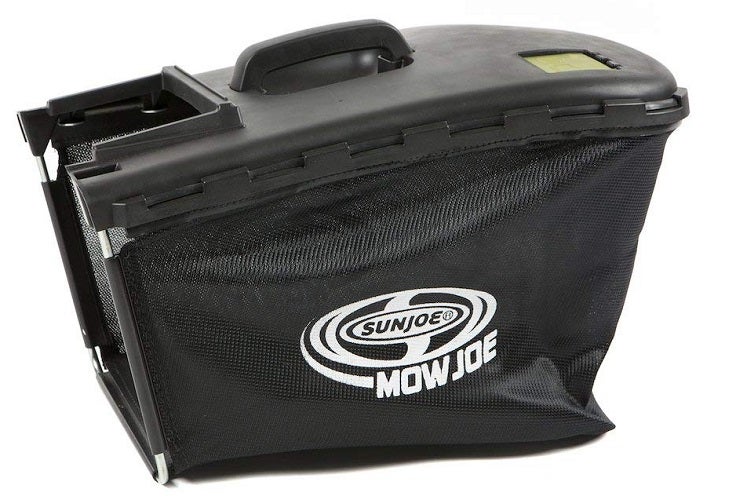 Clippings: Some mowers offer more possibilities than others. Many electric mowers off 3-in-1 functionality which makes them capable of mulching, side discharge, and rear bag. Others, however, may be more restricted and this is very important depending on how you would like to use the mower.
Safety Bar: Having a safety bar may be a consideration if you will have younger children using the mower. When you have a safety bar it mus be lulled in for the mower to operate. Once it's released the mower will stop immediately.
Height Adjustment: Most modern mowers feature a single lever to adjust the cutting height vs having to adjust each wheel individually.
Foldablity: Depending on if you are transporting your mower or storing in a compact area, how small the mower folds up into may be a consideration.

Deck Construction
The material of the deck is an important determining factor in terms of the durability of your mower. Heavy-duty steel decks are standard and will ensure your mower will last a long time but are heavier and harder to push.
Some mowers use a tough, lighter synthetic materials that will easier to push thanks to the lighter weight. So if your looking for a light weight easy to push mower, synthetic may be the way to go but are usually more expensive.

Handle Height Adjustment
Mowing can be a very physically-demanding task so comfort and ergonomics is important consideration. Many mowers offer height adjustment options so that the operator – regardless of their height – can have a comfortable experience. If you are of a height which is outside the average then you'll want to carefully consider the height options the mower makes available.

Blade Height Adjustment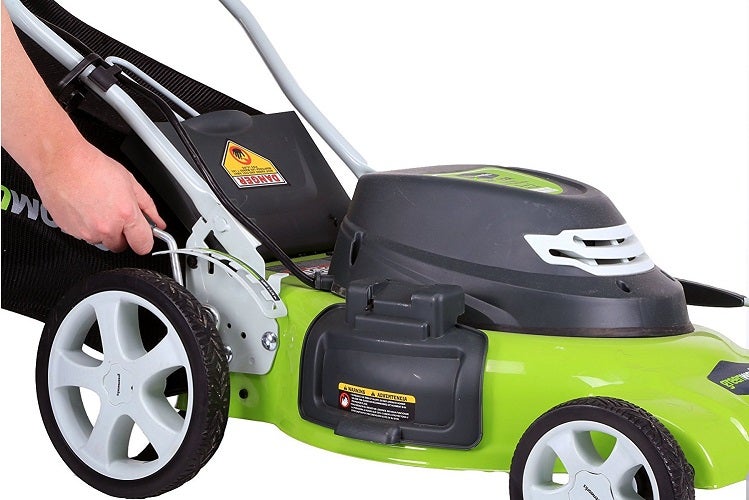 One of the secrets to a lawn which looks fantastic is a uniform length to the grass. This is achieved by a high-quality mower with a sharp blade. But also each type of grass has an ideal height it should be cut to main optimum health of your lawn.
This guide from Lowes will help you not only choose the type of grass but the optimal cutting height. Be sure the mower your are considering will cut your lawn to the optimal height!

Wheel Size
This size and design of the wheels on your electric powered lawn mower will determine how easy the mower is to maneuver. As a rule of thumb, the larger the wheels the easier the mower is to push.
If you have a large surface area to mow then the larger wheel radius can really have a big impact on the amount of effort and energy you need to expend to get a great result. This is even more important with thicker grass like St Augustine.
Misc Considerations
Overall Dimensions
Electric mowers are known for their convenience and ease of use. The majority simply need to be plugged in and can be powered up with the press of a button. This convenience is even more apparent if the mower is small and easy to store. If you have a small storage area to keep your mower, be sure the mower your interested in will fit.
Overall Weight
The weight of the mower is another important factor. Many mowers – such as the Black & Decker electric mower – offer light weight which make it easy to maneuver and push the mower for long periods of time. Heavy and clunky mowers are more difficult to maneuver in tight areas. If you have lawn that has lots of curves a light weight mower if probably for you.

FAQs For Electric Lawn Mowers
Q: What the benefits of cordless electric lawn mowers?
A: In addition to electric lawn mowers which have cords, there are cordless options. Some people prefer the cordless alternative given that there is no cord to care for which reduces the chance of malfunction. What's more, the limitations of the cord are removed and the lawn mower can be maneuvered without restriction. There's also the added benefit of not having to worry about the power source.
Q: Are electric lawn mowers inferior in terms of results?
A: Electric lawn mowers achieve fantastic results which are in no way inferior to those achieved by gas-powered mowers. Electric lawn mowers have powerful blades and front wheels which ensure an even level is achieved, while the collection bags help to deliver a clean cut.
The environmental factor is also hugely important, and a big reason that more and more people are turning to electric lawn mowers. The radius is an important factor to consider, though, and some people may find that tractor riding mowers are more appropriate if they have a large enough surface area.
Q: Are electric lawn mowers easy to clean?
A: Electric lawn mowers are cleaned in just the same way as other lawn mowers, but it's important to take special care not to affect the on-board electronics while cleaning. Regular cleaning and maintenance should be conducted, which involves sharpening the blades to make them effective and removing grass to avoid rust and general wear.
Q: Are electric lawn mowers less durable than other options?
A: If the owner of the electric mower takes good care of their tool, they will find that electric mowers are incredibly durable. The longevity will, of course, vary according to the materials which are used on the mower itself.
Electric mowers also have to have special gave given to the on-board electrical components and cord. Taking good care of these elements and avoiding cutting the cord are critical to having a healthy electric lawn mower which stands the test of time.
Q: Can electric lawn mowers tackle long grass?
A: Electric lawn mowers are absolutely capable of tackling long grass to a certain level, just as other mowers are. As mentioned previously, the power of the mower itself will play a large role in determining the level of grass it can cut. The higher the power, the more capable the mower. This is an important consideration to make if you will regularly be mowing long grass.
Q: What are the key limitations of electric lawn mowers?
A: In terms of weaknesses, electric lawn mowers need to be taken special care of when it comes to the cord. Maneuvering has some limitations and it's important that the operator avoids damaging the cord in any way. Some people also find that the restriction in terms of finding a power supply is frustrating and opt for cordless options to remedy this.
Q: Are electric lawn mowers better for the environment?
A: Electric lawn mowers are undoubtedly much better for the environment and they are becoming very popular for this reason. Gas powered mowers emit large amounts of CO2 and other pollutants into the air that are not an issue with electric mowers.

Tips For Using Your Electric Lawn Mower

Electric lawn mowers are very similar to the more traditional options but there are some special considerations that you should take into consideration when getting started. Here's a quick look at some of the key tips for getting the most from your electric powered lawn mower.
#1 Keep the electric mower away from water
It's always best practice to keep your tools away from water to keep them in the best condition, but this is particularly important when it comes to an electric lawn mower. The on-board components need to be kept dry and safe to function properly so you should take care to keep the mower away from water and not use it when it's raining.
#2 Remove obstacles before mowing
It is always good practice to carefully survey and clean the area which is going to be mowed. This is particularly important for electric mowers, which come in a variety of materials and some of which will be more susceptible to damage from small stones and other materials. Removing small debris will avoid damage to the electrical components and the mower as a whole.
#3 Buy the right extension cord
Your mower will require an extension cord and it's important that you do the necessary research to ensure you get the right one. The higher the amperage or longer the length of extension cord you need the thicker the cord needs to be or lower the gauge. This chart from home depot will help you choose the right cord. The mower should also have recommend ratings for the cord you need.
It's also important that the extension cord you choose is appropriate for outdoor use and is rugged enough. Finally, it's a good idea to make sure the cord is a bright color so it can be seen against the grass. This will help you to avoid accidentally running over the cord.
#4 Avoid using in the rain
It goes without saying that using the mower in wet conditions is a bad idea, and if it's used even in slightly wet conditions there is a clear risk for damage to the equipment and a risk of getting an electric shock or worse.
#5 Take care of the cord
One of the biggest hurdles that new owners of electric mowers have to overcome is the presence of the cord. This can take some getting used to mow your lawn in a pattern so that you don't retrace your steps an accidentally run over the cord.
#6 Read the manual
Your particular electric lawn mower may have a series of specific consideration that the operator has to make. This is why it's always important to read the manual carefully and take care to follow those instructions to the letter.
#7 Use the right equipment
People love electric mowers for the simplicity and convenience that they offer. They offer fast and effective cutting. It is important, though, that you still make the necessary considerations when it comes to safety equipment.
You should wear safety gloves and goggles when operating the mower, and even consider the use of boots to avoid possible injury. It is also important that children are not near the mower when it is in operation due to the possibility of rocks being ejected from the lawn mower.
Final Thoughts
A beautiful lawn is pleasing and says a lot about the care you put into the environment around you. Electric lawn mowers can help you achieve this while being environmentally friendly.
As you have seen, there are variety of features which you need to consider to ensure you get the best electric lawn mower that fits your specific needs.
How We Researched
To come up with the top cordless lawn mowers, we researched a variety of sources for reviews such as Home Depot, Lowes, Target and AcmeTools along with our own personal experience.
We also consulted online magazines for product research and reviews to get as much unbiased information as we could. To help weed out fake reviews we used Fakespot.com to make sure we only looked at genuine reviews.
With so much quality gear available, we had to narrow it down based on what we felt were the best options were for the price. The staff authors have a wide and varied background in yard maintenance and home repairs.
The authors have decades of experience and are eager to share their knowledge with readers.
To help narrow down the selection we used personal experiences along with recommendations from landscapers, bloggers and contractors.
After extensive research, we came up with our list to help you choose the right one for you.
Sources
Notice:
OutsidePursuits.com is a participant in the Amazon Services LLC Associates Program, an affiliate advertising program. OutsidePursuits.com earns fees from products sold through qualifying purchases by linking to Amazon.com. Amazon offers a commission on products sold through their affiliate links.