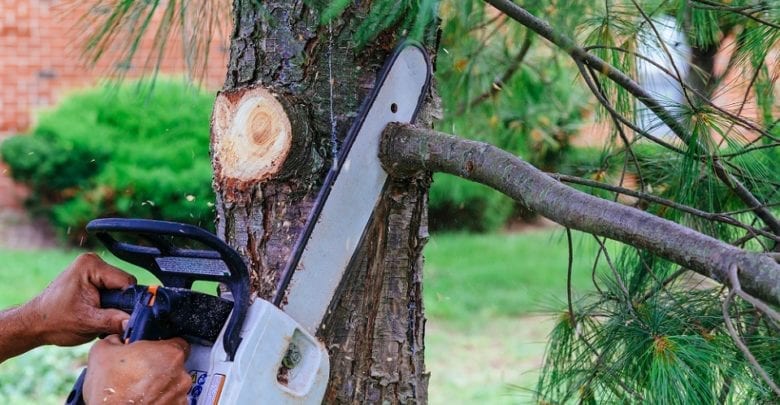 Chainsaws are an invaluable tool for clearing your land after a storm, cutting branches for firewood or tree trimming.
In keeping with the move away from gas to electric, we've put together a list of the 10 best electric chainsaws. I've split the corded chainsaws from the cordless battery operated chainsaws to make a comparison easier.
Cordless & electric chainsaws used to be under powered but no longer. They are now serious competitors to gas chainsaws.
So take a look at our product reviews and buyer's guide to find out what type of chainsaw best suits your needs.
Best Chainsaws
| | Makita UC3551A Electric Chain Saw | DEWALT DCCS620P1 Cordless Chainsaw Kit | Worx Electric Corded Chainsaw |
| --- | --- | --- | --- |
| | | | |
| | | | |
| Power: | Electric | Battery | Electric |
| Volts: | 120V | 20V | 120V |
| Amps: | 14.5A | 5Ah | 15A |
| Blade: | 14" | 12" | 16" |
| Weight: | 15 lbs | 8.8 lbs | 11 lbs |
| | | | |
For more of my top gear recommendations, have a look through these popular Outside Pursuits guide links: Electric Pressure Washers, Electric Lawn Mowers, Cordless Leaf Blowers.
Quick Answer: The 10 Best Electric & Cordless Chainsaws
Our reviews of the top rated chainsaws, both electric and cordless, with our buyers guide and comparison table will help you choose the right one.
---
Best Electric Chainsaws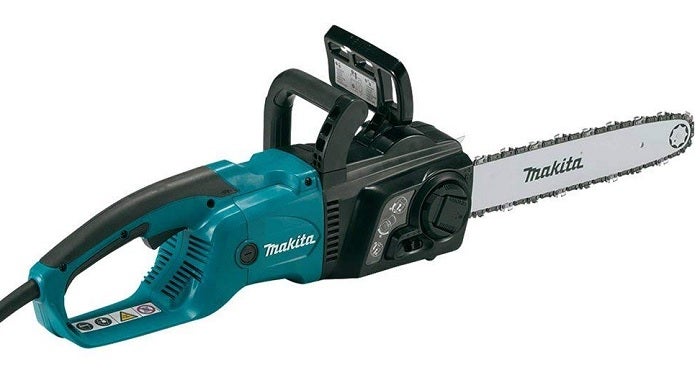 The Makita UC3551A comes with everything you need for lightweight backyard work and it is one of the best small chainsaws on the electric market.
It is not the most powerful tool on this list, but has enough speed to breeze through most basic tasks.
It is really simple to use. Just add a bit of oil, adjust the chain tension so it is almost snug and away you go. There are no complicated components and the entire set up is tool free.
Expand To See MoreSee Less

The Makita UC3551A has a couple of safety features that are especially good for people who don't use a chainsaw regularly.

The chain brake and anti kickback brake mean that if you slip, or the saw bounces off wood, the chain will stop moving before any damage is done.

With high performance, low maintenance and easy usability, this is perfect for those who need a chainsaw for infrequent light jobs.

Makita UC3551A Electric Chain Saw at a Glance

:
---
Amps: 14.5A
Blade length: 14"
Chain brake: Yes
Weight: 15 lbs
---

Like the Makita model, the Worx WG303.1 is a cinch to use. Take it out of the box, plug it in, pour in some lubricating oil and you're ready to saw.
The Worx WG303.1 has a patented in-built auto-tension chain system which Worx claim stays at the optimum tension for hundreds of uses.
This is a fantastic feature, especially for users who don't have too much experience with a chainsaw and can't confidently judge chain tension by sight.
Expand To See MoreSee Less

It has a low kickback bar for safety, as well as a built-in chain brake, so you can stop the chain immediately.

This lightweight, low-cost corded electric chainsaw is the best electric chainsaw for any kind of light work around the house.

If you're hesitant about buying a chainsaw because you have never used one before, this is also one of the most user-friendly models on the market.

Worx Electric Chainsaw at a Glance

:
---
Amps: 15A
Blade length: 16"
Chain brake: Yes
Weight: 11 lbs
---
The BLACK+DECKER CS is the best corded chainsaw on this list in terms of power, and can take on a more diverse range of tasks than the previous two models due to its longer blade.
You'll see that it has the same basic features, such as a tool-free chain tightening system, but goes one step further with the oiling process.
Expand To See MoreSee Less

The automatic oiling system takes away one more worry, and the clear window on the oil reservoir lets you know when you're running low.

With more power and more features for a very low price, the BLACK+DECKER CS offers excellent value for money.

This model's forte is its ability to take on bigger jobs than most of the other chainsaws on this list, with an 18" blade and a more powerful motor.

BLACK+DECKER Corded Electric Chainsaw at a Glance

:
---
Amps: 15A
Blade length: 16"
Chain brake: Yes
Weight: 12 lbs
---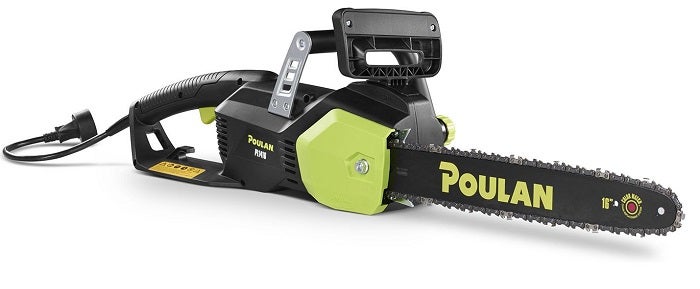 Undercutting the other corded models in price, the Poulan PL1416 chainsaw is a great choice if you're on a budget.
The low price does not reflect its performance, with most users reporting long durability and a surprising power output. It doesn't skimp on features either.
Expand To See MoreSee Less

The automatic oiler means you don't have to worry about lubrication until you run out of oil and the tool-free chain tensioner is easy to use when required.

In terms of safety, it comes with a chain brake, and its light weight gives you impressive control.

It takes a little more time to set up compared to other models, as you have to attach the chain, but this is a minor drawback on what is a fantastic chainsaw.

In brief, the Poulan PL1416 offers a quality-to-price ratio you aren't going to find anywhere else.

Poulan Electric Corded Chainsaw at a Glance

:
---
Amps: 14A
Blade length: 16"
Chain brake: Yes
Weight: 11 lbs
---
The Sun Joe Saw Joe is another 18" corded electric chainsaw that comes in at a feather light 9.7 pounds. It stands out for its handling, combining a lightweight, ergonomic design, making it comfortable and accurate to use.
It features the same safety features as most other products in this category, but the Saw Joe goes one further.
In addition to the hand guard and kickback brake function, you'll find a switch that disables the chainsaw to avoid accidentally starting it.
Expand To See MoreSee Less

The automatic brake takes care of stopping the chain as soon as you release the trigger.

The bar and chain are self lubricating in a similar way to most other corded models listed here, which leaves less room for mistakes.

However, one disadvantage I would like to point out is that the chain tension adjustment is not a tool-free system. Aside from being quite tricky to find, you have to use a screw, which I think is quite unnecessary.

All points considered, despite having a few pesky little drawbacks, the Sun Joe Saw Joe is a quality piece of kit that will eat up any small jobs you throw at it.

Sun Joe SWJ701E Electric Chain Saw at a Glance

:
---
Amps: 14A
Blade length: 18"
Chain brake: Yes
Weight: 9.7 lbs
---
Best Cordless Chainsaws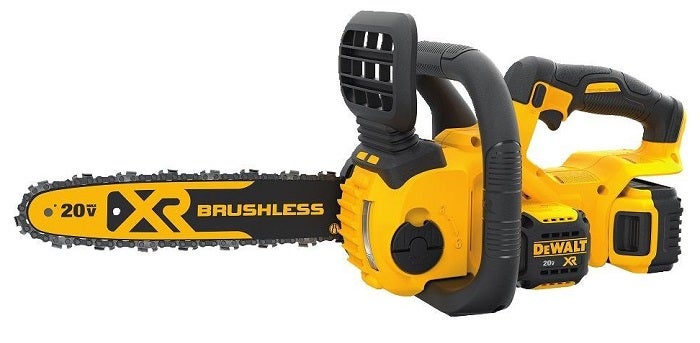 The DeWalt DCCS620P1 is our Editors Choice as the best cordless chainsaw. It's a lightweight and compact piece of machinery that eats through wood quickly with a chain speed of 25 feet per second.

At only 8.8 pounds and ergonomic grips, it is one of the easiest to carry chainsaws on our list.

Such is its handling, you can hold it with one hand when not in use in circumstances that require it, such as needing to hold back foliage or when up in a tree.

Expand To See MoreSee Less

The DCCS620P1 is part of the DeWalt 20V MAX range. Although the voltage is quite low on this machine compared to other cordless chainsaws, it is compact enough that it can produce five amp hours.

It features all of the practicalities you can find in the corded models, such as a tool-free chain tensioning mechanism and a bar tightening knob.

In summary, if you want a tenacious little machine to use in short, powerful spurts, the DeWalt DCCS620P1 is a great bet at a reasonable price.

DEWALT DCCS620P1 Cordless Chainsaw Kit at a Glance

:
---
Volts: 20V
Amps: 5Ah
Blade length: 12"
Chain brake: Yes
Weight: 8.8 lbs
---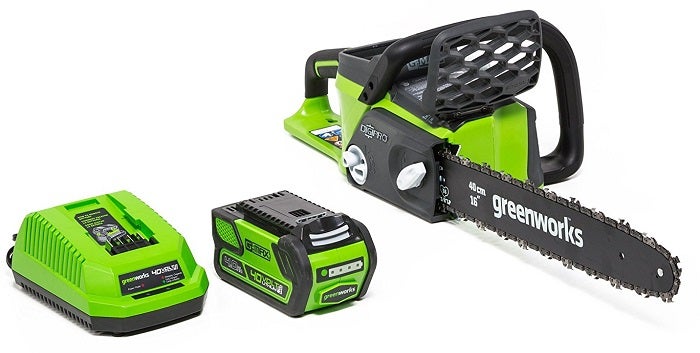 With double the volts of the DeWalt model, the Greenworks 20312 is a powerful machine that can cut most things you throw at it like butter.

The brushless motor gives you less vibration and more power, seriously improving performance. It is also even quieter than most electronic chainsaws.

In terms of safety, there is a chain brake and a low kickback chain that stops on accidental kick backs.

Expand To See MoreSee Less

The chain oils itself, and you can check the level of oil in the translucent lubrication reservoir, and chain tensioning is tool free.

This cordless battery chainsaw is a pleasure to use. It is easy, quiet and effective, and is equivalent to many gas models in terms of performance.

The Greenworks 20312 is best battery powered chainsaw that bridges the gap between electric and gas chainsaws, but with all the cordless convenience.

Greenworks Cordless Chainsaw at a Glance

:
---
Volts: 40V
Amps: 4Ah
Blade length: 16"
Chain brake: Yes
Weight: 10 lbs
---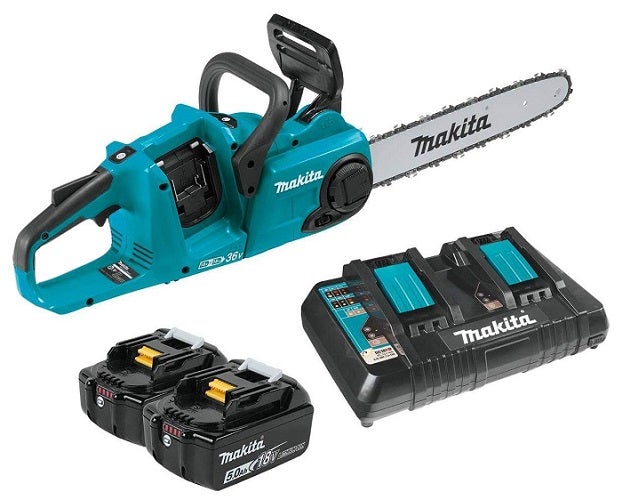 Makita have made a quality piece of kit that focuses on making a long-lasting, solid tool.

It extends battery life by shutting on when not in use. The two 18 volt batteries are themselves very fast charging and covered by a three year warranty.

Makita are confident about the durability of the XCU03PT and have a few in-built ideas that take care of the machine automatically.

Expand To See MoreSee Less

One of this is the XPT Extreme Protection Technology, which seals up all the important components of the machine so that dirt, dust, debris and water don't contaminate or do any damage.

At 10.4 pounds, it is lightweight enough to be held in one hand, freeing the other one up if you need to climb or move branches out of the way in dense forest.

The only thing that could be said against this chainsaw is its price. Even for a cordless tool, it is quite a price jump away from its competitors, like the cordless BLACK+DECKER.

Makita XCU03PT Cordless Chain Saw Kit at a Glance

:
---
Volts: 36V
Amps: 5Ah
Blade length: 14"
Chain brake: Yes
Weight:16 lbs
---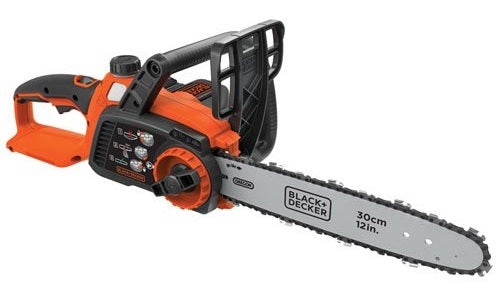 This 40 volt BLACK+DECKER is one of the best small chainsaws out there. It packs a serious punch, but has an impressive run time for a battery powered chainsaw.

All of this fits into a tool that weighs just 8.3 pounds, so handling and carrying is as easy as pie.

It features a combined tool-free bar and chain tension adjuster.

Expand To See MoreSee Less

Both are attached to each other, which I think is a really practical solution. Lubrication is done in the exact same way as the other BLACK+DECKER product on this list.

It is automatic, and you can see through the translucent window when you need to give it a top up.

The BLACK+DECKER LCS1240 probably has the best power to weight ratio of any of the products on this list. If you're looking for something small that will make mincemeat of most household tasks, look no further.

BLACK+DECKER LCS1240 Cordless Chainsaw at a Glance

:
---
Volts: 40V
Amps: 2Ah
Blade length: 12"
Chain brake: Yes
Weight: 10 lbs
---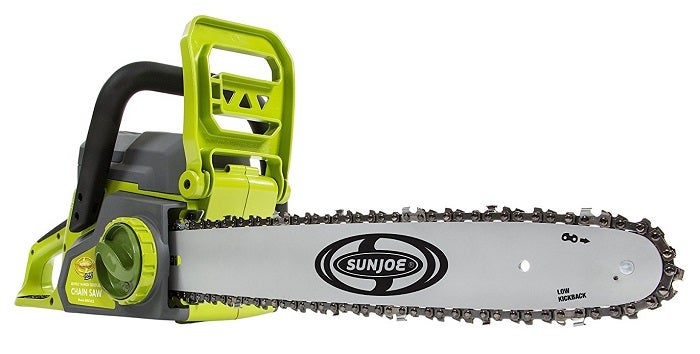 Sun Joe's cordless model has a beefy 40 V battery that pumps 4 amp hours into a 16" blade.

The technology in the battery means you have a run time of up to 40 minutes, which is very impressive for a cordless battery chainsaw.

The battery fuels a 600 watt brushless motor which works very well on all kinds of smaller jobs.

Expand To See MoreSee Less

The Sun Joe Ion features a similar automatic lubrication system to the BLACK+DECKER LCS1240.

This gives you enough lubrication to keep your chain in good shape, and you can see when you are running out in the oil reservoir window.

It ticks all of the safety boxes with a hand guard, kickback brake and safety switch, reducing the risk of an accident.

The Sun Joe Ion could stretch a lot of people's budgets, but I think it is a fair price to pay for one of the best battery operated chainsaws on the market.

Sun Joe ION16CS Cordless Chain Saw at a Glance

:
---
Volts: 40V
Amps: 4Ah
Blade length: 16"
Chain brake: Yes
Weight: 8 lbs
---
Electric & Cordless Battery Chainsaw Comparison
How to Choose the Best Electric & Cordless Battery Chainsaw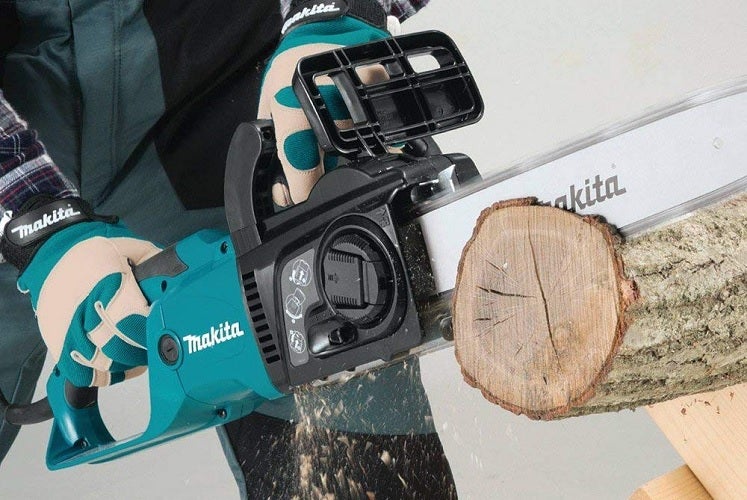 Choosing which is the best electric corded chainsaw or best cordless chainsaw for you can be tricky business, especially if you have little experience in the area. Check out our guide of the points to look out for when choosing your new chainsaw.

Electric vs Gas Chainsaws

Although this article is about electric chainsaws, I think it's only fair to give a quick comparison of electric chainsaws against their gas counterparts, so here goes.
Power
One of the most relevant difference between electric and gas chainsaws is the difference in power. Gas chainsaws still have the upper hand in this department. Wood that give electric chainsaws a bit of strain can be cut like butter with a traditional gas chainsaw.
Having said that, recent improvements in electrical tools mean that they are rapidly closing in on gas items.
Safety
One of the major safety advantages for electric chainsaws is that they only work when in use, as opposed to gas ones that constantly run.
Mobility
Gas chainsaws are normally heavier and bulkier than their electric counterparts.
Electric corded chainsaws have the obvious drawback of an electrical cable. A constant connection to the mains means you won't run out of battery or gas, but means getting out into the woods or climbing trees is going to require a lot of planning.
Fuel
Simply having to add gas makes chainsaws dirtier both on the surface of your tool and in the air. Furthermore, electricity is cheaper than gas in the long run, not to mention more convenient and better for the environment.
A further drawback for gas models is that gas and oil often mix, clogging up the machinery and severely affecting performance.
Noise
Electric models are much quieter than gas. They have a higher pitched whirring sound as opposed to the low-pitched rumble of a gas model.

Corded Electric vs Battery Powered Chainsaws

Power
The biggest difference between electric and battery powered chainsaws is power. Electric corded chainsaws still have the upper hand in this department. Wood that gives a battery chainsaw a strain can be cut easier and faster with electric
Having said that, recent improvements in battery technology have cordless chainsaws narrowing the gap
Safety
One of the major safety advantages for battery chainsaws is that operate at lower voltages and since there is no power cord to cut, it's not possible to electrocute yourself.
Mobility
Electric corded chainsaws have the obvious drawback of an electrical cable. A constant connection to and outlet means you need a electrical cord as long as where you need to cut or use a generator.
The obvious advantage of a battery chainsaw is you can take them anywhere! You just need to make sure you have enough batteries for the amount of cutting you will be doing.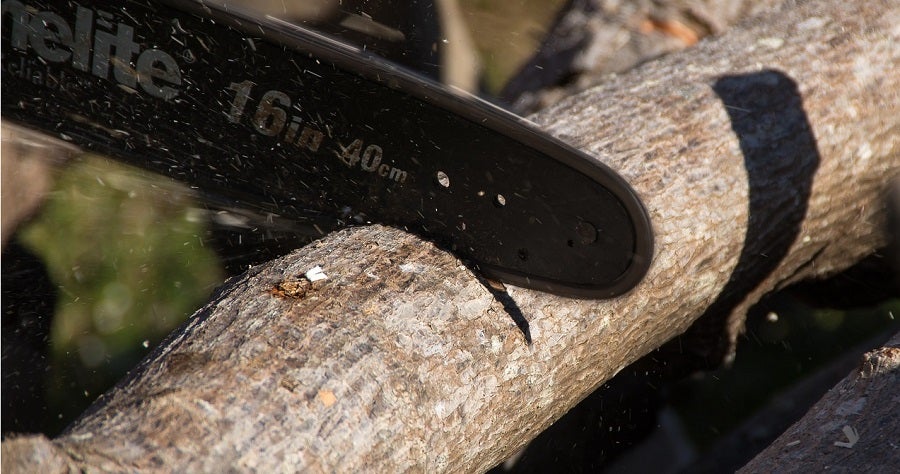 Power
For corded chainsaws, power is measured in the amps from the outlet, while battery powered chainsaws work in volts.
Of course, the higher the power, the more aggressive the chainsaw will be, but a high voltage cordless electric chainsaw can result in a shorter battery life.
On average, 120V AC can pump out more power than battery powered chainsaws, so corded chainsaws are on the whole more powerful than cordless ones.
If you need a chainsaw that is going to cut through wood around the 10 inch mark, go for a powered one. The extra mobility given by a cordless model will be no comfort if you can't cut.
It also goes without saying that corded electric models can run for an indefinite amount of time, while the best battery chainsaws have around one to two hours of cutting time.

Blade/Bar Length
A common question is: What size chainsaw should I buy? The blade length determines the width of wood you can saw through. A 12 inch blade is best for felling small trees, limbing and pruning.
Mid-sized 14 inch blades will cover the aforementioned tasks as well as light firewood cutting. 16 inch and 18 inch blades are best for felling medium trees, cutting medium firewood and trimming.
Of course, the longer the blade, the more things you can cut. However, as the blade gets longer, the price creeps up as well as weight.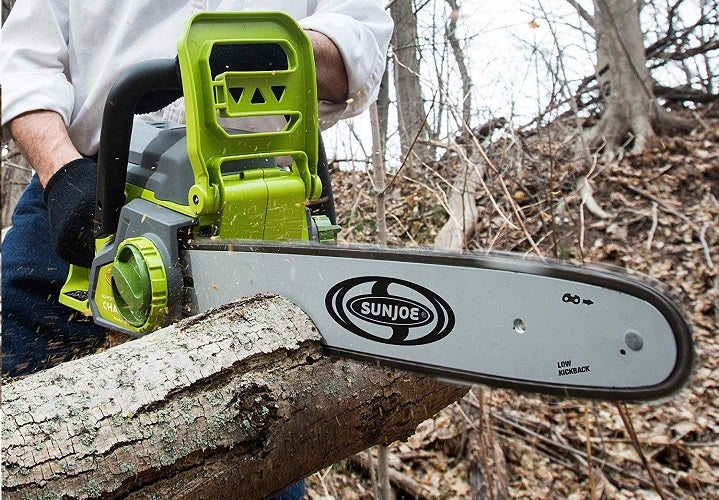 Mobility
Cordless chainsaws always win here. Chainsaws plugged into the mains will need an extension cable to reach a maximum distance of around 100 feet from a power source.
They don't just give you extra range though. Battery powered chainsaws are much easier to control for intricate cutting work and for sawing at a height.
Finally, corded electric chainsaws have the disadvantage of a live wire, which can be a tripping hazard as well as an electric hazard if cut mid use.

Cost
On average, a cordless chainsaw is going to come in at a higher price than a corded one. This is largely due to the battery technology involved.
What's more, after a few years, the batteries will eventually die and will have to be replaced, so if cost is a major object for you, and you can live with the restrictions a cord brings, go for the corded version.
To decide whether you think the extra cost is worth paying, you need to think about the situations you need your chainsaw for. As an example, if you know you are only going to take on garden work that is within 100 feet from an outlet, a corded chainsaw will absolutely fit the bill.
If your work includes getting out and about in the forest, it's a no-brainer — go for the cordless version.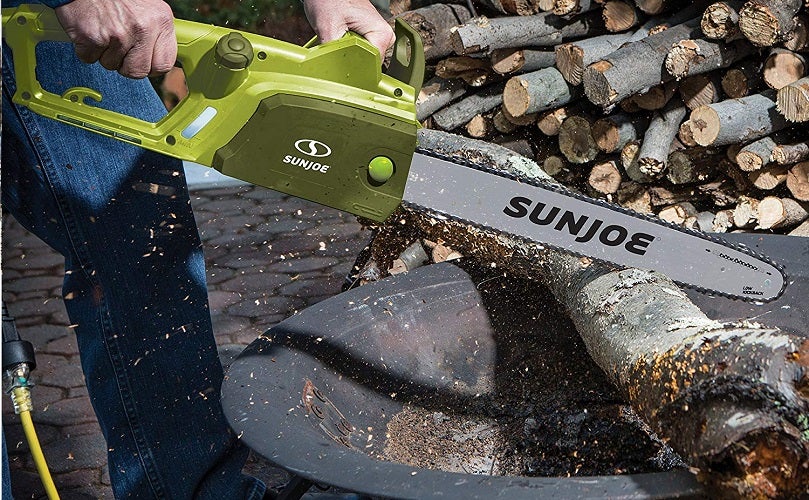 Safety Features
Safety first, all chainsaws come with a hand guard as standard, but you should also wear eye protection, gloves and chaps over your pants for added protection.
Included on most chainsaws are chain brakes, which stop the chain. Some, like the Sun Joe Saw Joe, also feature an engine shut off switch that kills the engine.
An anti kickback system stops the chain if it kicks back as a result of clipping the tip of the blade on a piece of wood.
If you have never used a chainsaw, watch this instructional video.
Extra Features
Tool-free chain tension is the way forward these days. It is far more practical than having to pop open a cap and turn a screw like on some gas models. Almost all of the items in this list feature tool-free chain tension adjusters, and some have blade tighteners too.
The majority of modern chainsaws also feature automatic lubrication. This is an excellent feature as a lack of lubrication can result in severe friction and damage to your tool.

FAQs Electric & Cordless Battery Chainsaws
Q: What tension should my chain be?
A: The chain should be tight enough to follow the guide, but not so tight that it cannot be slightly raised. If you can expose around three to five teeth at the mid point of the blade, your chain is tense enough.
Q: How do I avoid kickback?
A: Kickback is one of the most dangerous things that can happen when using a chainsaw. To avoid it, ensure that you don't use the end furthest away from you to cut.
Q: How long will an average battery cordless chainsaw last in one charge?
A: This of course depends on how much you use it within an allotted amount of time, but with regular use, the average rechargeable chainsaw lasts around one to two hours.
Q: When should I sharpen my chainsaw?
A: A good indicator of when your chainsaw needs to be sharpened is when you start applying pressure on jobs you normally wouldn't need pressure. A sharp chainsaw will pull itself through wood, you shouldn't have to push hard at all. One other indicator is the shavings are fine, like dust. Shavings should be coarse.
WikiHow have a guide on how to sharpen a chainsaw.
Final Thoughts
I hope you have found this guide of the best rated chainsaws useful.
Electric chainsaws, whether corded or cordless are a more practical alternative to traditional gas powered chainsaws, that can take on almost the same amount of tasks.
I would strongly recommend going the electric route if you need a chainsaw for infrequent use, as they are much easier to maintain. Even for frequent use, you won't be disappointed by the electric chainsaws in this list.
Be sure to check out all our other articles on tools at the Outside Pursuits home and garden section.
The Makita UC3551A is our Editor's Choice for the best chainsaw with its combination of ease of use, features and quality.
Notice:
OutsidePursuits.com is a participant in the Amazon Services LLC Associates Program, an affiliate advertising program. OutsidePursuits.com earns fees from products sold through qualifying purchases by linking to Amazon.com. Amazon offers a commission on products sold through their affiliate links.