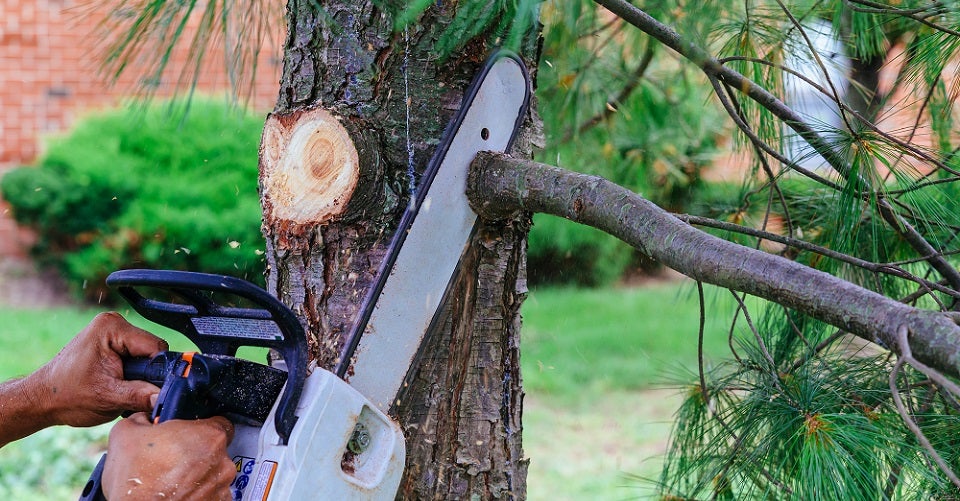 Our Editors independently research, test, and rate what we feel are the best products. We use affiliate links and may receive a small commission on purchases.
Electric chainsaws are an invaluable tool for clearing your yard after a storm, cutting branches for firewood or tree trimming.
In keeping with the move away from gas to electric, we've put together a list of the top electric chainsaws on Amazon.
Electric chainsaws used to be underpowered but no longer. They are now serious competitors to gas chainsaws. Let's get started!
Best Electric Chainsaws
| | Makita UC3551A Chain Saw | Husqvarna 967256101 Corded Electric Chainsaw | BLACK+DECKER CS Chainsaw |
| --- | --- | --- | --- |
| | | | |
| | | | |
| AMPS: | 14.5A | 14.5A | 12A |
| Blade: | 14" | 16" | 16" |
| Weight: | 15 lbs | 12 lbs | 12 lbs |
| Rating: | 4.3 / 5.0 | 4.9 / 5.0 | 4.2 / 5.0 |
| | | | |
For more of my yard maintenance recommendations, have a look through these popular Outside Pursuits guide links: Electric Pressure Washers, Electric Lawn Mowers, String Trimmers.
Quick Answer: The 7 Best Rated Corded Electric Chainsaws
Our reviews of the top-rated electric chainsaws, with our buyer's guide and comparison table will help you choose the right one.
---
Electric Chainsaw Reviews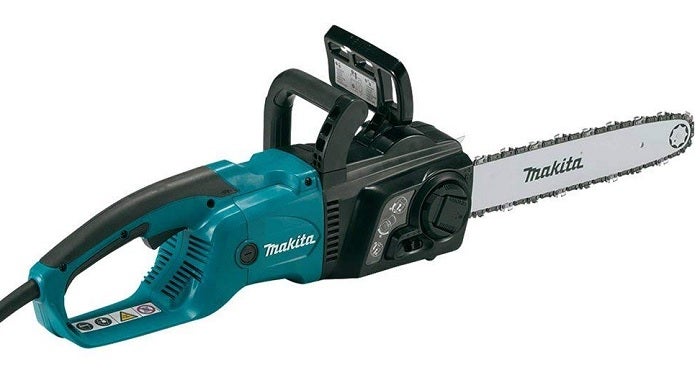 Makita UC3551A Electric Chain Saw at a Glance
:
---
Amps: 14.5A
Blade length: 14"
Chain brake: Yes
Weight: 15 lbs
The Makita UC3551A comes with everything you need for lightweight backyard work and it is one of the best small chainsaws on the electric market.
It is not the most powerful tool on this list, but has enough speed to breeze through most basic tasks.
It is really simple to use. Just add a bit of oil, adjust the chain tension so it is almost snug and away you go. There are no complicated components and the entire set up is tool free.
The Makita UC3551A has a couple of safety features that are especially good for people who don't use a chainsaw regularly.
The chain brake and anti kickback brake mean that if you slip, or the saw bounces off wood, the chain will stop moving before any damage is done.
With high performance, low maintenance and easy usability, this is perfect for those who need a chainsaw for infrequent light jobs.

---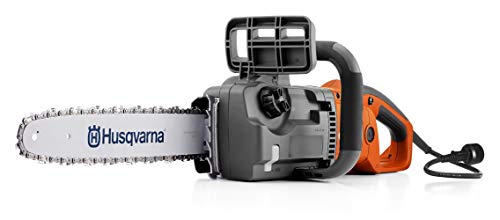 Husqvarna 967256101 Corded Electric Chainsaw at a Glance
:
---
Amps: 14.5A
Blade length: 16"
Chain brake: Yes
Weight: 12 lbs
Like the Makita model, the Husqvarna 967256101 is a cinch to use. Take it out of the box, plug it in, pour in some lubricating oil and you're ready to saw.
The Husqvarna has a patented in-built auto-tension chain system which Husqvarna claim stays at the optimum tension for hundreds of uses.
This is a fantastic feature, especially for users who don't have too much experience with a chainsaw and can't confidently judge chain tension by sight.
It has a low kickback bar for safety, as well as a built-in chain brake, so you can stop the chain immediately.
This lightweight, high quality chainsaw is the best electric chainsaw for any kind of light work around the house.
If you're hesitant about buying a chainsaw because you have never used one before, this is also one of the most user-friendly models on the market.

---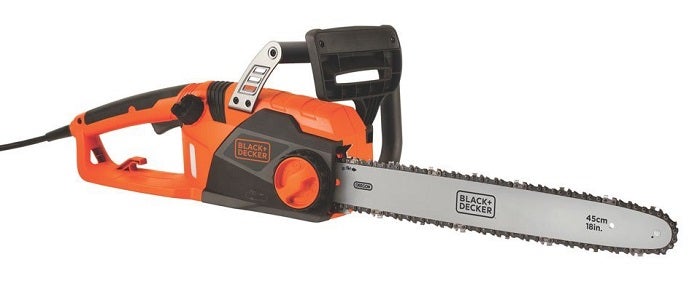 BLACK+DECKER Corded Electric Chainsaw at a Glance
:
---
Amps: 15A
Blade length: 18"
Chain brake: Yes
Weight: 12 lbs
The BLACK+DECKER CS is the best corded chainsaw on this list in terms of power, and can take on a more diverse range of tasks than the previous two models due to its longer blade.
You'll see that it has the same basic features, such as a tool-free chain tightening system, but goes one step further with the oiling process.
The automatic oiling system takes away one more worry, and the clear window on the oil reservoir lets you know when you're running low.
With more power and more features for a very low price, the BLACK+DECKER CS offers excellent value for money.
This model's forte is its ability to take on bigger jobs than most of the other chainsaws on this list, with an 18" blade and a more powerful motor.

---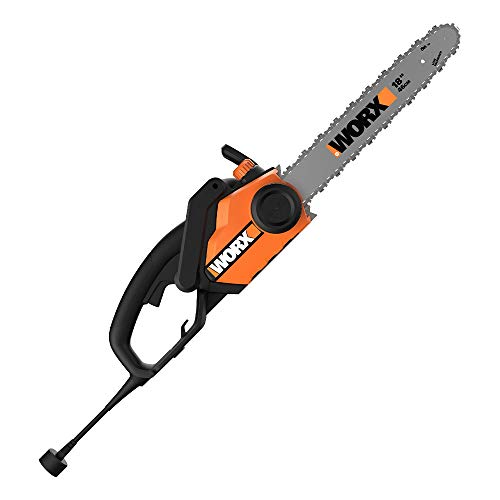 Worx WG304.2 Electric Chainsaw at a Glance
:
---
Amps: 15A
Blade length: 18"
Chain brake: Yes
Weight: 14 lbs
The Worx WG304.2 Corded Electric Chainsaw is an inexpensive corded chainsaw with an impressive 15 amp motor and 18″ chain.
Though it's not as powerful as some high end gas-powered chainsaws, it cuts through logs better than many comparable corded models and most battery models.
This chainsaw is also self-lubricating, with a 6.8 fluid ounces oil tank, for smoother and more efficient operation.
The chain spins at 39 feet per second and is fitted with a chain brake for safety. It shuts down the chain almost immediately when needed to prevent accidents.
The WG304.2 is designed to prevent kickback. The chain is also fitted with an auto-tension system to prevent over tightening. This prolongs the chainsaw's life.
The full-wrap handle is ergonomically designed and provides a great grip. Together with this corded chainsaw's low weight (14 lbs), this makes the WG304.2 easy to handle.
If you are looking for a relatively powerful and well-designed but inexpensive corded chainsaw, the Worx WG304.2 Corded Electric Chainsaw is a great choice.

---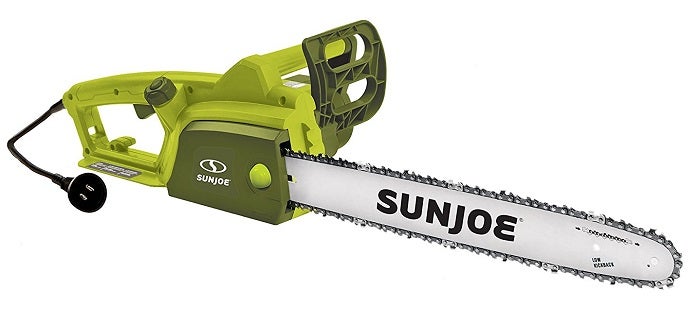 Sun Joe SWJ701E Electric Chain Saw at a Glance
:
---
Amps: 14A
Blade length: 18"
Chain brake: Yes
Weight:

9.7 lbs
The Sun Joe Saw Joe is another 18" corded electric chainsaw that comes in at a feather light 9.7 pounds. It stands out for its handling, combining a lightweight, ergonomic design, making it comfortable and accurate to use.
It features the same safety features as most other products in this category, but the Saw Joe goes one further.
In addition to the handguard and kickback brake function, you'll find a switch that disables the chainsaw to avoid accidentally starting it.
The automatic brake takes care of stopping the chain as soon as you release the trigger.
The bar and chain are self-lubricating in a similar way to most other corded models listed here, which leaves less room for mistakes.
However, one disadvantage I would like to point out is that the chain tension adjustment is not a tool-free system. Aside from being quite tricky to find, you have to use a screw, which I think is quite unnecessary.
All points considered, despite having a few pesky little drawbacks, the Sun Joe Saw Joe is a quality piece of kit that will eat up any small jobs you throw at it.

---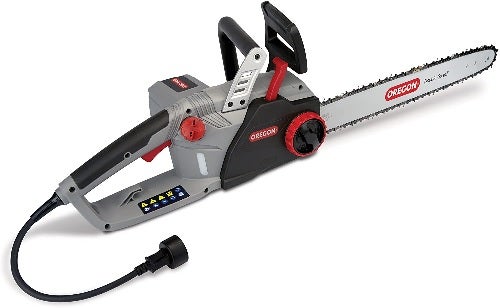 Oregon CS1500 Self-Sharpening Chainsaw at a Glance
:
---
Amps: 15A
Blade length: 18"
Chain brake: Yes
Weight:

12.6 lbs
The most attractive feature of the Oregon CS1500 Self-Sharpening Chainsaw is the proprietary PowerSharp® Integrated Sharpening System.
Whenever your blade appears to develop problems cutting effectively through logs, you pull a small lever and the chain is sharpened in just 3 seconds.
The Oregon CS1500 not only boasts a powerful 15 amp motor and an 18″ blade, but it is also inexpensive when compared with comparable products.
The combination of a powerful engine and a sharp chain enables this corded chainsaw to cut through hardwood logs with a diameter of up to 16″.
But don't worry about the Oregon CS1500 being too powerful. This chainsaw is also fitted with a chain brake for safety.
Although this is a powerful corded chainsaw, it starts instantly. During operation, the chain is automatically lubricated by the Lubri-Tec System. This ensures a smooth-running chain and prolongs the cutting time.
Gardeners who want a powerful corded chainsaw that is easy to use, relatively quiet and safe will be happy if they choose the Oregon CS1500 Self-Sharpening Chainsaw.

---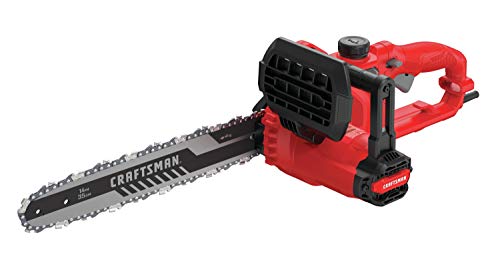 CRAFTSMAN CMECS614 Corded Chainsaw at a Glance:
---
Amps: 8A
Blade length: 14"
Chain brake: Yes
Weight:

7.1 lbs
The CRAFTSMAN CMECS614 Corded Chainsaw is the baby chainsaw in this review. However, that doesn't mean that it doesn't pack a punch.
The 8 amp motor is surprisingly powerful for its size and enables you to make tough cuts. But the biggest advantage of this corded chainsaw is its weight.
Weighing only 7.1 lbs, it is less than half the weight of many other chainsaws. This makes it easier to lift when pruning high branches from trees or when you have many trees to fell.
The auto-oiling system ensures your chain always runs smoothly. A built-in oil window enables you to keep an eye on the oil level and so you can replenish it when necessary.
The CRAFTSMAN CMECS614 Corded Chainsaw is the most affordable chainsaw in this review. It is half the price of comparable machines.
However, this corded chainsaw is not as powerful as the other products featured here. Its blade length is also shorter than average.
If you're mainly cutting down smaller trees, or you want to use this chainsaw for a small yard, the CRAFTSMAN CMECS614 Corded Chainsaw is a great value choice.
But if you're planning to cut down a large quantity of broader trees, you should choose one of the other corded chainsaws featured here.

---
Electric Chainsaw Comparison Table
How to Choose the Best Electric Chainsaw – Buyers Guide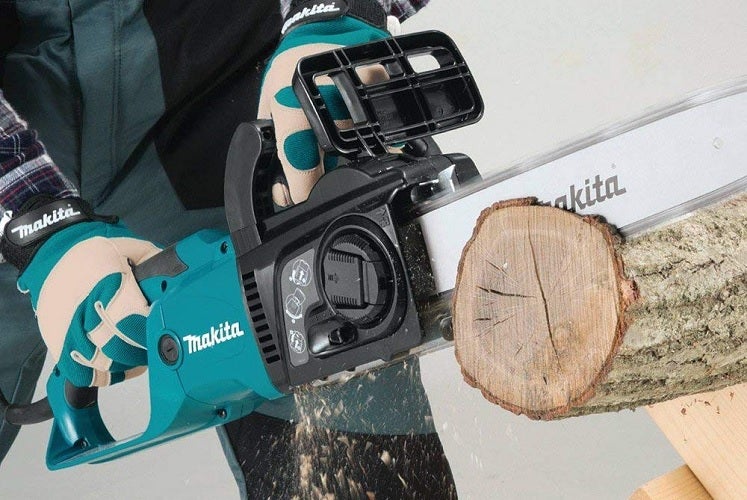 Choosing which is the best electric corded chainsaw for you can be tricky business, especially if you have little experience in the area. Check out our guide of the points to look out for when choosing your new chainsaw.

Electric vs Gas Chainsaws

Although this article is about electric chainsaws, I think it's only fair to give a quick comparison of electric chainsaws against their gas counterparts, so here goes.
Power
One of the most relevant difference between electric and gas chainsaws is the difference in power. Gas chainsaws still have the upper hand in this department. Wood that give electric chainsaws a bit of strain can be cut like butter with a traditional gas chainsaw.
Having said that, recent improvements in electrical tools mean that they are rapidly closing in on gas items.
Safety
One of the major safety advantages for electric chainsaws is that they only work when in use, as opposed to gas ones that constantly run.
Mobility
Gas chainsaws are normally heavier and bulkier than their electric counterparts.
Electric corded chainsaws have the obvious drawback of an electrical cable. A constant connection to the mains means you won't run out of battery or gas, but means getting out into the woods or climbing trees is going to require a lot of planning.
Fuel
Simply having to add gas makes chainsaws dirtier both on the surface of your tool and in the air. Furthermore, electricity is cheaper than gas in the long run, not to mention more convenient and better for the environment.
A further drawback for gas models is that gas and oil often mix, clogging up the machinery and severely affecting performance.
Noise
Electric models are much quieter than gas. They have a higher pitched whirring sound as opposed to the low-pitched rumble of a gas model.

Corded Electric vs Battery Powered Chainsaws

Power
The biggest difference between electric and battery powered saws is power. Electric corded chainsaws still have the upper hand in this department. Wood that gives a battery chainsaw a strain can be cut easier and faster with electric
Having said that, recent improvements in battery technology have cordless chainsaws narrowing the gap
Safety
One of the major safety advantages for battery chainsaws is that operate at lower voltages and since there is no power cord to cut, it's not possible to electrocute yourself.
Mobility
Electric corded chainsaws have the obvious drawback of an electrical cable. A constant connection to and outlet means you need a electrical cord as long as where you need to cut or use a generator.
The obvious advantage of a battery chainsaw is you can take them anywhere! You just need to make sure you have enough batteries for the amount of cutting you will be doing.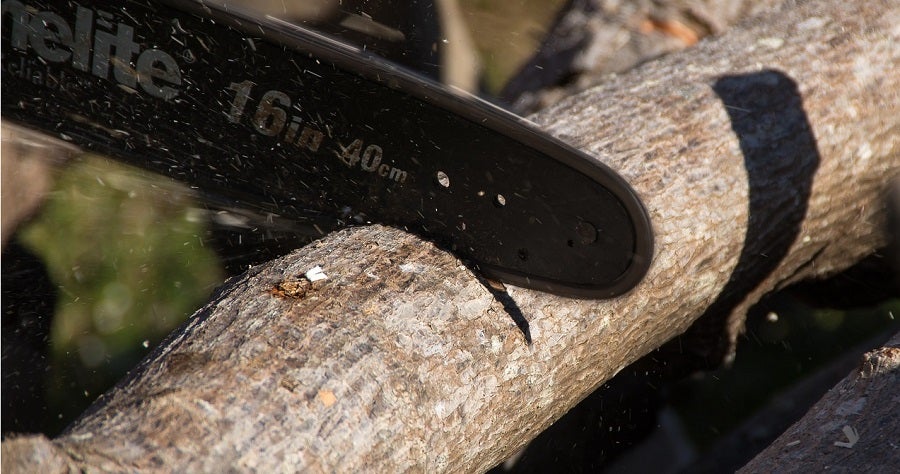 Power
For corded chainsaws, power is measured in the amps from the outlet, while battery powered chainsaws work in volts.
Of course, the higher the power, the more aggressive the chainsaw will be, but a high voltage cordless electric chainsaw can result in a shorter battery life.
On average, 120V AC can pump out more power than battery powered chainsaws, so corded chainsaws are on the whole more powerful than cordless ones.
If you need a chainsaw that is going to cut through wood around the 10 inch mark, go for a powered one. The extra mobility given by a cordless model will be no comfort if you can't cut.
It also goes without saying that corded electric models can run for an indefinite amount of time, while the battery chainsaws have around one to two hours of cutting time.

Blade/Bar Length
A common question is: What size chainsaw should I buy? The blade length determines the width of wood you can saw through. A 12 inch blade is best for felling small trees, limbing and pruning.
Mid-sized 14 inch blades will cover the aforementioned tasks as well as light firewood cutting. 16 inch and 18 inch blades are best for felling medium trees, cutting medium firewood and trimming.
Of course, the longer the blade, the more things you can cut. However, as the blade gets longer, the price creeps up as well as weight.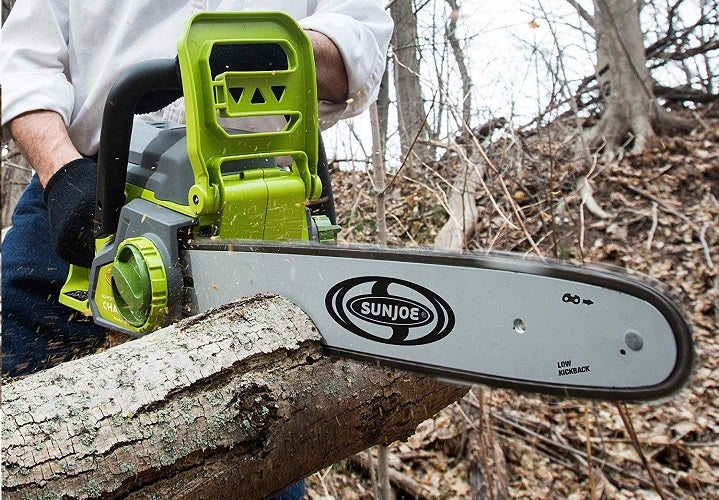 Mobility
Cordless chainsaws always win here. Chainsaws plugged into the mains will need an extension cable to reach a maximum distance of around 100 feet from a power source.
They don't just give you extra range though. Battery powered chainsaws are much easier to control for intricate cutting work and for sawing at a height.
Finally, corded electric chainsaws have the disadvantage of a live wire, which can be a tripping hazard as well as an electric hazard if cut mid use.

Cost
On average, a electric chainsaw is going to come in at a lower price than a gas or cordless one.
What's more, after a few years, the batteries for cordless models will eventually die and will have to be replaced, so if cost is a major object for you, and you can live with the restrictions a cord brings, go for the corded version.
To decide whether you think the extra cost is worth paying, you need to think about the situations you need your chainsaw for. As an example, if you know you are only going to take on garden work that is within 100 feet from an outlet, a corded chainsaw will absolutely fit the bill.
If your work includes getting out and about in the forest, it's a no-brainer — go for the cordless chainsaw.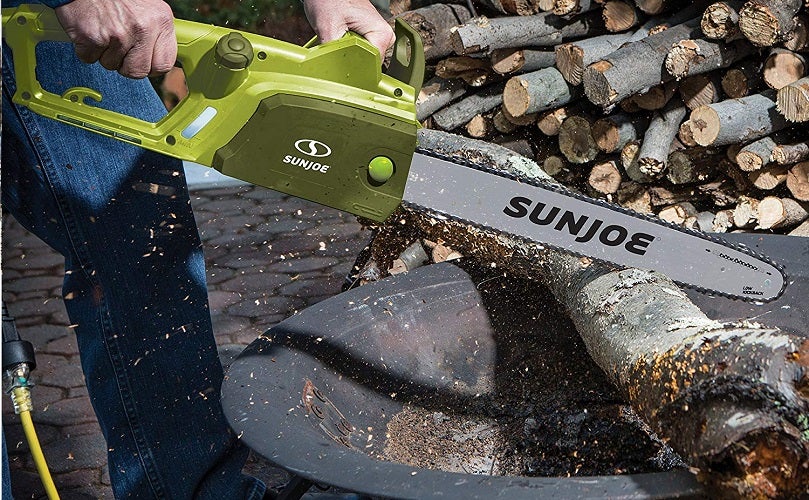 Safety Features
Safety first, all chainsaws come with a hand guard as standard, but you should also wear eye protection, gloves and chaps over your pants for added protection.
Included on most chainsaws are chain brakes, which stop the chain. Some, like the Sun Joe Saw Joe, also feature an engine shut off switch that kills the engine.
An anti kickback system stops the chain if it kicks back as a result of clipping the tip of the blade on a piece of wood.
If you have never used a chainsaw, watch this instructional video.
How to Use a Chainsaw | This Old House
Extra Features
Tool-free chain tension is the way forward these days. It is far more practical than having to pop open a cap and turn a screw like on some gas models. Almost all of the items in this list feature tool-free chain tension adjusters, and some have blade tighteners too.
The majority of modern chainsaws also feature automatic lubrication. This is an excellent feature as a lack of lubrication can result in severe friction and damage to your tool.

FAQs About Electric Chainsaws
Q: What tension should my chain be?
A: The chain should be tight enough to follow the guide, but not so tight that it cannot be slightly raised. If you can expose around three to five teeth at the mid point of the blade, your chain is tense enough.
Q: How do I avoid kickback?
A: Kickback is one of the most dangerous things that can happen when using a chainsaw. To avoid it, ensure that you don't use the end furthest away from you to cut.
Q: When should I sharpen my chainsaw?
A: A good indicator of when your chainsaw needs to be sharpened is when you start applying pressure on jobs you normally wouldn't need pressure. A sharp chainsaw will pull itself through wood, you shouldn't have to push hard at all. One other indicator is the shavings are fine, like dust. Shavings should be coarse.
WikiHow have a guide on how to sharpen a chainsaw.
Final Thoughts
I hope you have found this guide on some good electric chainsaws useful.
Electric chainsaws, are a more practical alternative to traditional gas powered chainsaws, that can take on almost the same amount of tasks.
I would strongly recommend going the electric route if you need a chainsaw for infrequent use, as they are much easier to maintain. Even for frequent use, you won't be disappointed by the electric chainsaws in this list.
Be sure to check out all our other articles on tools at the Outside Pursuits home and garden section.
How We Researched
To come up with the top electric chainsaws, we researched a variety of sources for reviews such as Home Depot, Lowes, Target and AcmeTools along with our own personal experience.
We also consulted online magazines for product research and reviews to get as much unbiased information as we could. To help weed out fake reviews we used Fakespot.com to make sure we only looked at genuine reviews.
With so much quality gear available, we had to narrow it down based on what we felt were the best options were for the price. The staff authors have a wide and varied background in yard maintenance and home repairs.
The authors have decades of experience and are eager to share their knowledge with readers.
To help narrow down the selection we used personal experiences along with recommendations from landscapers, bloggers and contractors.
After extensive research, we came up with our list to help you choose the right one for you.
Sources
Notice:
OutsidePursuits.com is a participant in the Amazon Services LLC Associates Program, an affiliate advertising program. OutsidePursuits.com earns fees from products sold through qualifying purchases by linking to Amazon.com. Amazon offers a commission on products sold through their affiliate links.