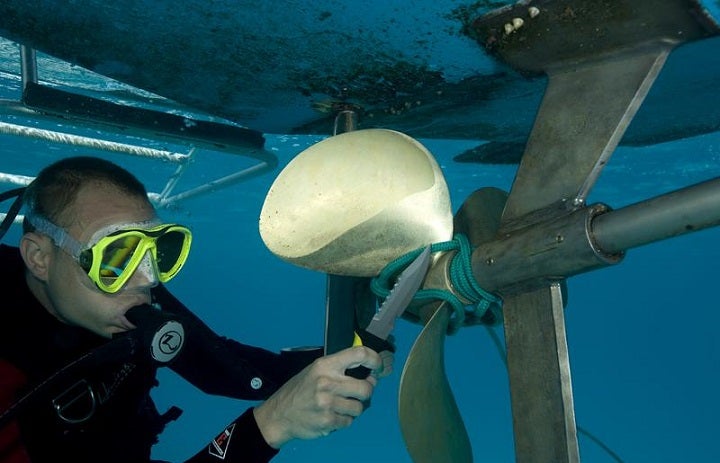 A dive knife is a tool that no diver should be without. Even if you only go a few times a year it is still a dive accessory you should have.
The recreational diver may never use their knife but its one of those things that its better to have and not need than than be in a situation that you REALLY need one and not have it!
When you need a knife, you really need it.
Getting caught in fishing line is probably the most likely use for a dive knife. If you are the type of diver who only goes a few times a year, a knife like the Cressi Lima is a great choice.
For more of my scuba diving gear recommendations, have a look through these popular Outside Pursuits guide links:
Masks | Fins | Wetsuits | Cameras
Computers | Lights | Knives | Spearguns
Quick Answer: The 5 Best Dive Knives For 2018

Here is a feature overview of my top 3 overall picks. Our guide and comparison table of the top rated dive knives will help you choose the right one for you.
Best Dive Knives
| | Promate Titanium Dive Knife | Cressi Skorpion Dive Knife | Cressi Lima Tactical Dive Knife |
| --- | --- | --- | --- |
| | | | |
| | | | |
| Blade Material: | Available in titanium only | Available in titanium, 304 and 420 stainless steel | Available in titanium, 304 stainless steel |
| Blade Tip: | Blunt or sharp | Blunt or sharp | Sharp only |
| Blade Design: | Has both a serrated and straight edge | Has both a serrated and straight edge | Has both a serrated and straight edge |
| Attachment: | In BC or strapped on arm or leg with included straps | In BC or strapped on arm or leg with included straps | BC or gauge hose |
| | | | |
Dive Knife Reviews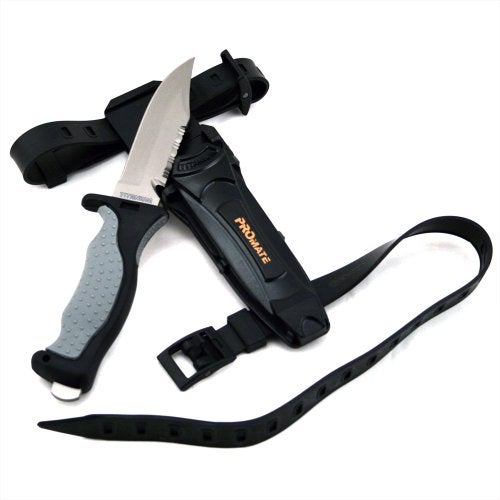 This is my overall top pick for a few reasons. The first being Promate is well known for making quality products and this knife is no exception. It features a 4 3/8 blade that is made from titanium.
As I discuss in my buying guide below I think titanium is the way to go. It is impervious to rust so you know this knife will last you a LONG time.
The Promate dive knife has a half serrated blade with a line cutter notch and a half straight edge blade. This is by far the most popular design for a knife and for good reason.
The ergonomically designed handle is made from a soft, easy to grip rubber molded handle that won't slip. Big enough for just about anybody to hold and use comfortably.
It comes in 2 blade configurations, a sharp tip that is ideal for stabbing a fish while spear fishing or a blunt tip when you need to use it as a tool for prying.

I really like the addition of the hammer nub on the handle.
The sheath comes with straps to attach it your arm/leg or if you want to keep it in your BC, the straps can be removed. The Promate Titanium is overall the best dive knife under $50 you can buy.
This is great knife overall and I have both the sharp and the blunt tip depending on what type of diving I am doing.
---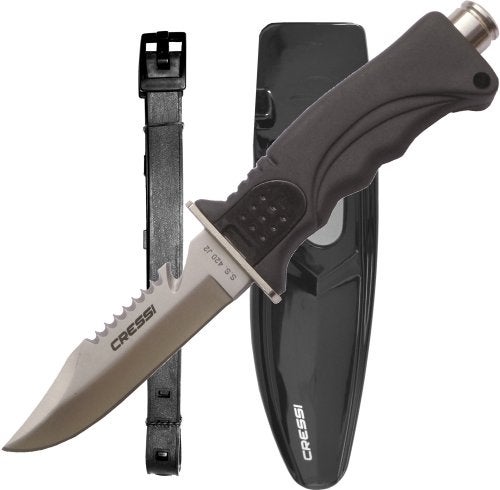 The Cressi name is synonymous with diving and has been making scuba gear since 1946. The Cressi Skorpion dive knife is medium size at 4 3/8 inches.
You have every option available you could need. All options come with a half serrated side and straight edge blade with a notch hook for cutting rope or fishing line.
You have the choice of 420 Japanese stainless steel which is world renowned for its use in high end blades where razor sharpness is required.
The steel is corrosion resistant of course but not as resistant as the 304 stainless steel that it is also offered in. If your needing a knife for spear fishing you will want the 420 stainless steel.
Video: Overview of the Cressi Skorpion Dive Knife.
There is a titanium blade option as well for when you just want the most corrosion resistant blade possible.
You will pay about $10 more the titanium blade, but it is well worth it. You also have your choice of a sharp or blunt tip.
The handle is a good size for most anyone to use comfortably and is well designed ergonomically. The sheath has an easy release mechanism and comes with included straps so you can keep in your BC or strapped to your leg or arm.
With the Cressi name on this knife you know you are buying quality and the Skorpion is probably the best dive knife for the money.
---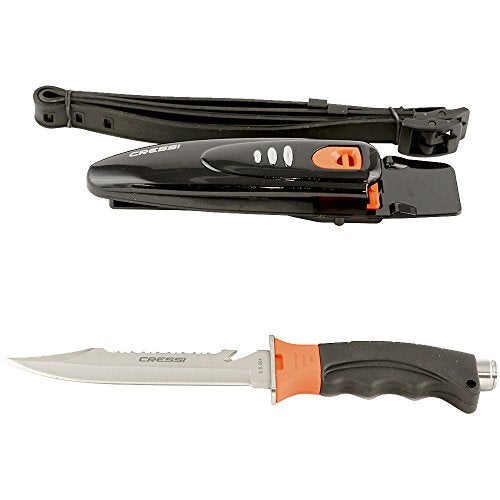 The Cressi Borg Long Blade as the name implies is a full size knife that was designed with the spear fisherman in mind.
Of course is that's not all its good for, but being a 5 ½ inch knife its perfect for dispatching a fish quickly. Hopefully you won't need to, but if an uninvited guest shows up you can use it for self-defense as well.
The blade like all modern dive knives is half serrated and half straight edge with a notch hook. It's made from Japanese 304 stainless steel for excellent corrosion resistance.
The full size handle fits comfortably in your hand and has a non-slip rubber handle that is very durable. The end of a handle has a butt cap perfect for use as a hammer.
You can buy it in either a sharp tip or a blunt tip depending on what your primary use will be.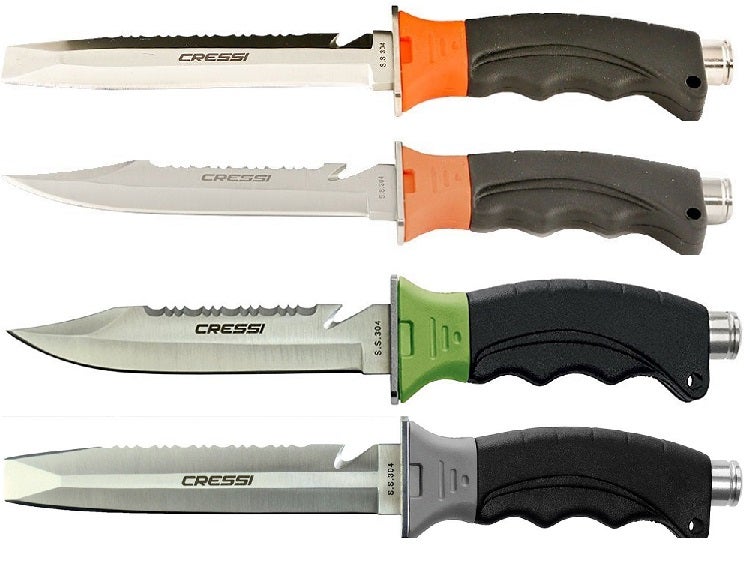 The included straps give you the flexibility to keep the knife in your BC or strap it to your arm or leg. It features a quick release locking mechanism for one handed operation.
Overall this is an excellent full size dive knife and might be the best dive knife for spearfishing .
---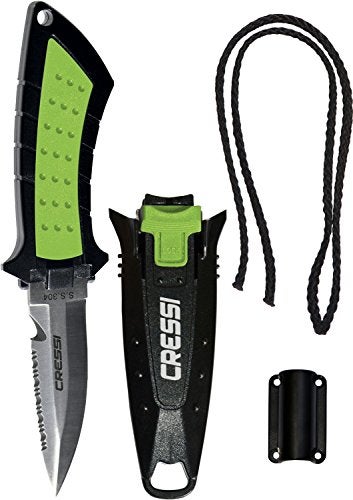 The Cressi Lima is the perfect knife for the casual diver who is just looking to have a knife with them in case of emergency. Its super compact with a 2.95 inch blade that comes with both a straight edge and a serrated edge with a notch hook.
The knife is designed to be either carried in your BC or attached to a gauge hose with the included string. The Cressi Lima is a perfect backup knife to be carried in addition to a primary knife.
The standard blade is a 304 stainless steel but is also offered in a titanium version as well for an extra $10 bucks. The handle is pretty small of course and I wish it had some rubber on it for easier gripping. But this is not a knife meant for a lot of use though.
The Lima is the perfect knife for the diver who only goes a few times a year or as a backup knife.
---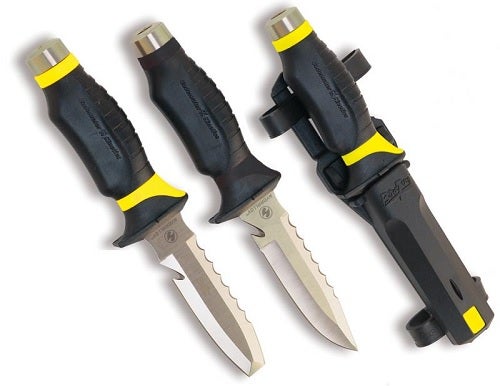 Underwater Kinectics is well known for their quality scuba diving equipment and the "Blue Tang" is a solid offering in diving knives. This knife is made from a VERY high grade of titanium that will not corrode or rust like cheaper titanium knives.
The knife has a full tang for strength and can be easily dissembled for cleaning. The Blue Tang is a full size knife with a 5 inch blade that has both a straight edge and a serrated edge plus a hooked line cutter.
These features are pretty much standard on all dive knives these days. You have your choice of a sharp tip, for spear fishermen or what I prefer, the blunt tip. Which is far more useful for the average diver.
It comes with a sheath with included straps so you can keep it anywhere on you plus it has a quick release button so you can access the knife quickly while keeping it secure so you don't lose it. I think this is the best titanium dive knife, highly recommended.
---
Dive Knife Comparison Table
How to Choose the Best Dive Knife For You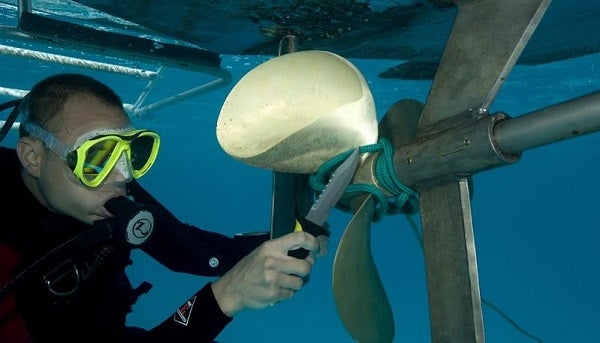 Choosing the best diving knife like most things is a series of trade offs and really comes down to what you will be using it for primarily and how often you dive. There is no prefect knife so if you need a knife for various functions then you really will need a get more than one knife.

Knife Blade Material
There are two main blade materials used to make a dive knife; stainless steel and titanium.
Titanium
A blade made of titanium is going to be VERY strong and almost completely corrosion resistant, meaning you just give it a quick rinse off and put it back in the sheath for storage. The downside is they are harder to sharpen and usually cannot be made as sharp as steel.
Stainless Steel
The biggest advantages to a stainless knife is that not only are they easier to sharpen, they hold an edge well especially the knives made from Japanese 420 stainless steel.
Blade made from this can be made razor sharp and ideal for a spearfisher knife. The 305 variety of steel is a bit of a tradeoff, it can be made almost as sharp as 420 BUT is more corrosion resistant.
Either way, they need to be cleaned and oiled after diving or they will rust.

Blade Size
Blade size is going to be a function of what you will mainly use it for. A blade of 4 – 5 inches is a good compromise in usability. It's a good choice for the recreational diver, its ideal for getting untangled from fishing line, or cutting rope.
For the spear fisherman then a 5 inch or larger is a better choice. So the casual diver or diver who needs a backup knife, a blade size of 3 inches or so is best. The Cressi Lima a perfect choice.

Blade Design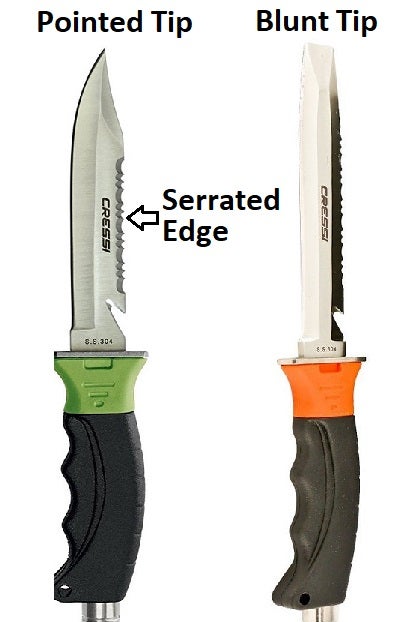 Almost all knives these days come with a blade that is serrated on one side and a straight edge on the other. This gives you the best of both worlds, the primary decision is the tip design. A blunt or squared off tip or a sharp tip.
The blunt being better for use as a tool like prying or digging and being the more versatile design by far. This design is best for the recreational diver.
The sharp tip being more ideal for the spear fisherman who wants to quickly kill a fish they speared or in the off chance that an unwanted predator comes around looking for a meal you can use it for self-defense.

Knife Attachment Method
A matter of personal choice, either strapping it on your leg or arm makes it easier to get to but runs the risk of getting caught on something underwater.
The other option is in a BCD pocket or attaching to the outside. The Cressi Lima can also be attached to a hose with string.

Type of Knife
There are two designs for diving knives:
Fixed Blade: By far the most common design. As the name suggests it's fixed and does not fold and kept in a sheath for safety. It has the advantage of one handed use and you don't have to try and open it when you REALLY need it.
Folding Blade: The obvious advantage with a folding knife it is smaller and easier to keep in a BCD pocket. This is not a common design because you need two hands to use it, plus the hinge can rust making it difficult to open when you need it.
---
I hope this guide was helpful for finding the best dive knife to fit your needs. If you want to comment or recommend a knife I didn't include, please use my contact form to get in touch.
Have fun and be careful!
Notice: Outside Pursuits is a participant in the Amazon Services LLC Associates Program, an affiliate advertising program to provide a means for sites to earn advertising fees sold through by advertising and linking to Amazon.com. Amazon offers a small commission on products sold through their affiliate links. Each of your purchases via our Amazon affiliate links supports our efforts to bring you the best possible product reviews at no additional cost to you. We appreciate your support here at OutsidePursuits.com