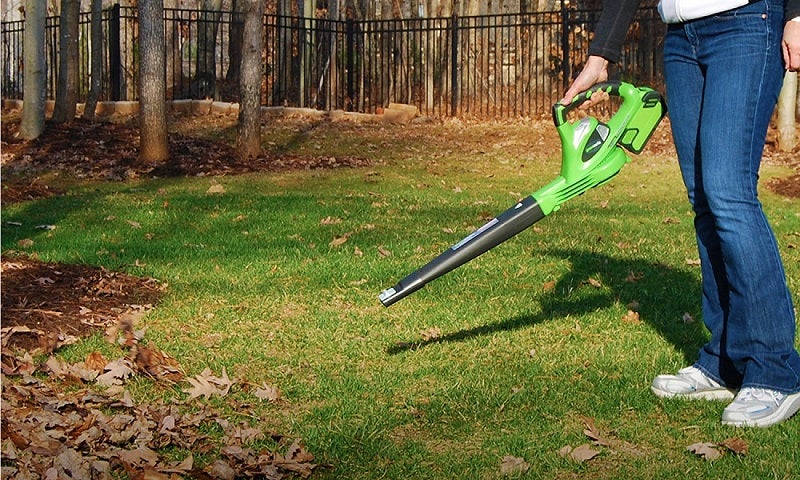 Our Editors independently research, test, and rate what we feel are the best products. We use affiliate links and may receive a small commission on purchases.
A cordless leaf blower helps you with your garden chores and makes cleaning your lawn or workshop easier and faster.
The best cordless leaf blowers are lighter and cheaper than gas-powered models, and they are emission-free and quieter.
There is very little maintenance with a cordless blower, and as the name implies, you can operate a battery-powered leaf blower anywhere on your property without the need for an electric outlet.
Best Cordless Leaf Blowers
For more of my yard maintenance recommendations, have a look through these popular Outside Pursuits guide links: Cordless Lawn Mowers, Cordless Weed Eaters, Storage Sheds.
Quick Answer: The 7 Best Rated Cordless Leaf Blowers
Our reviews of the top-rated battery-powered leaf blowers with our comparison table and buyers guide will help you choose the right one for you.
---
Cordless Leaf Blower Reviews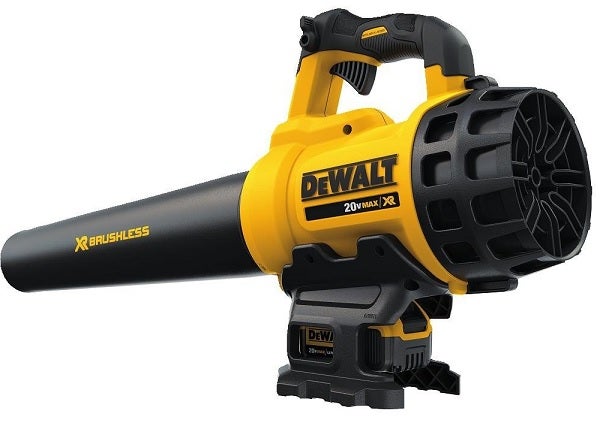 DEWALT DCBL720P1 XR Brushless Blower at a Glance
:
---
Best for: Larger lawns and yards, daily & heavy-duty use, various yard condition, workshops
Size & Weight: 15.2″ x 7.8″ x 23.4″, 7.1 lbs
Power: 100W, 90 mph, 400 cfm
Battery: 5Ah 20V Lithium-Ion, 20-40 mins runtime
Noise: 61 dB
Extras: Variable trigger, speed lock, brushless motor, ergonomic design, battery indicator, charger included
The Dewalt DCBL720P1 XR is our editor's choice for the best cordless leaf blower. It's on the larger and heavier side, but is well-balanced and easy to handle with a variable speed trigger.
Dewalt uses a 100W brushless motor for efficiency and durability in this leaf blower. The motor can adjust and draw more power if needed while featuring little friction and low battery consumption.
The construction of the blower is along one axis, meaning the air intake is located the rear for an optimized flow. The wide open tube features a large 3.5" diameter nozzle.
With 90 miles per minute and 400 cubic feet per minute, the air performance of the Dewalt DCBL720P1 XR is outstanding. Yet the noise level remains at a modest 61 dB.
The Dewalt rechargeable leaf blower features a 20V and 5Ah lithium-ion battery, which translates to 20 to 40 minutes of runtime.
The blower has a variable speed trigger: if you depress the trigger further, you get more power. A speed lock allows you to set and keep a certain level.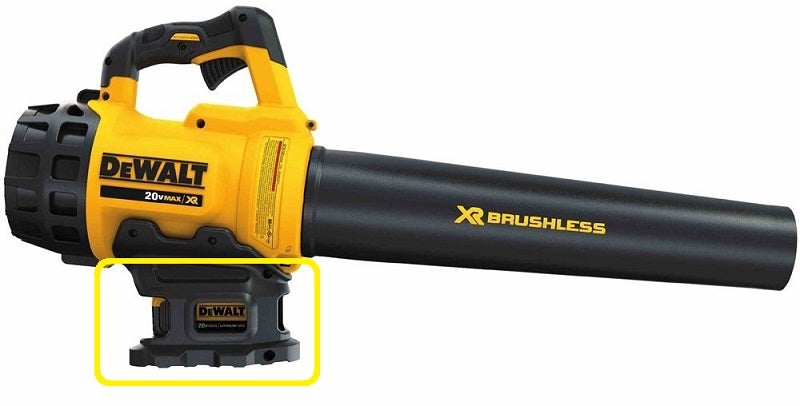 The clever design has the battery installed underneath the motor housing for a low center of gravity and a well-balanced unit. It also means you can easily set down the blower on the battery cage.
The Dewalt blower features an ergonomic handle designed to ease fatigue on your hand and arm, but it lacks rubber padding for the grip. The charger is included and a battery indicator informs you of the remaining capacity.
This battery-operated leaf blower is very useful for clearing leaves and needles from driveways and flat roofs as well as lawns and larger yards. It also works well for clearing dust and debris off your workshop floor.
For under $200, the Dewalt DCBL720P1 XR is the best lithium-ion cordless leaf blower on the market!

---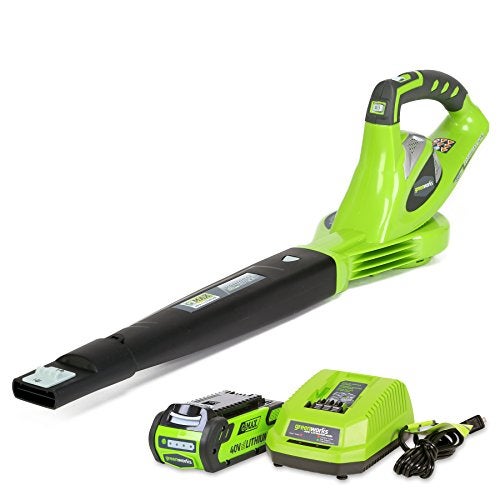 Greenworks Variable Speed Cordless Blower at a Glance
:
---
Best for: Ideal for light to medium duty clean-up tasks, decks and driveways, gutters, car drying
Size & Weight: 31″ x 7″ x 10″, 3.4 lbs
Power: 150 mph, 135 cfm
Battery: 2Ah or 4Ah 40V Lithium-Ion, 30-45 mins runtime, 1-2 hours charge time (for 2Ah / 4Ah battery)
Noise: "quiet"
Extras: Variable trigger, lightweight & ergonomic, sweeper tip nozzle, concentration tube
The Greenworks 24252 battery powered leaf blower also comes with a variable speed setting and gives you the choice for two different battery capacities.
It features a longer runtime but is less powerful than our editor's choice.
The motor of the Greenworks delivers 135 cubic feet per minute with a maximum of 150 miles per hour. With the variable speed trigger, you can choose the speed that works best for you.
The blower is constructed with lateral air intakes, which makes for a slightly less optimal airflow. However, the flattened sweeper nozzle features two settings for a normal or more concentrated airflow.
Greenworks uses a 40V lithium-ion battery for this battery-powered leaf blower, and you can pick a 2Ah or 4Ah capacity. Depending on how much power you use, you get a runtime of 20 to minutes with the smaller version or 30 to 45 minutes with the larger battery.
The Greenworks 24252 features an ergonomic, lightweight design where the battery is placed close to the center of gravity for good control and handling. A cushioned and molded grip handle makes operation comfortable.
The rechargeable leaf blower is ideal for light to medium-duty clean-up tasks. You can easily clear dust, sand and debris as well as leaves and grass off your driveway, deck or flat roof and out of gutters.
You can also use the blower to dry a vehicle after washing. On the lawn, conditions need to be dry as the blower can struggle with damp or wet leaves and especially blades of grass.
In conclusion, the Greenworks 24252 leaf blower is the best battery powered leaf blower at an affordable price!

---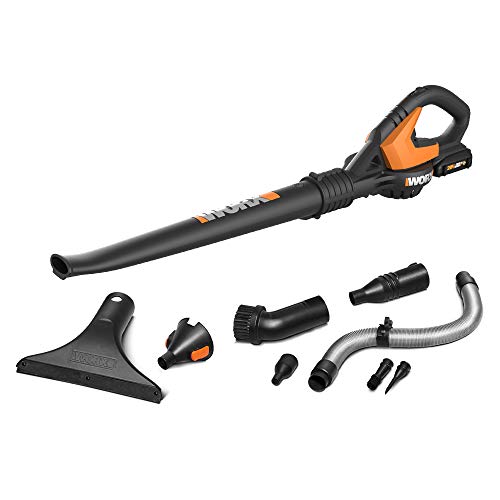 WORX AIR Multi-Purpose Blower at a Glance
:
---
Best for: Deck, driveway, sidewalk, patio, around the house
Size & Weight: 20″ x 7″ x 8″, 4 lbs
Power: 13800 rpm, 120 mph, 80 cfm
Battery: 2Ah 20V Lithium-Ion, ~20-40 mins runtime, 3 hours charge time
Noise: 61 dB
Extras: Ergonomic handle for easy carry
The Worx Air WG575 multi-purpose air blower is a lightweight model suitable for a wide range of lighter cleaning tasks. It comes with a full set of exchangeable attachments.
This is not a "heavy-duty" cordless leaf blower. At 61 dB, the Worx is relatively quiet, and features a speed of 120 mph and a volume of 80 cfm. It's perfect for sweeping your patio, garage, driveway or sidewalk.
However, it may not work as well on a lawn when conditions are damp.
A nice advantage is that when things are dry, you can blow leaves or clippings out of flower beds without displacing soil or gravel. It works well on pea stone walkways in our garden.
Included is a 2Ah 20V lithium-ion battery which lasts for around 20-40 minutes on a single charge. Charging time with the included charger is around 3 hours.
The Worx Air WG575 is a multi-purpose blower with attachments for a variety of tasks available, which includes a deflating attachment for letting the air out of rafts, pool toys and air mattresses.
Attachments you can get: a wide nozzle, dust brush, extension hose and clip, a short tube, detail brush, inflater nozzle, deflation cover, dust tube and accessory bag.
The Worx Air is the best cordless blower that is very compact and lightweight for highly affordable price.

---

BLACK+DECKER LSW221 Cordless Sweeper at a Glance
:
---
Best for: Clearing debris off hard surfaces like driveways, decks, garages
Size & Weight: 19.2″ x 6.7″ x 8.2″, 3.7 lbs
Power: 130 mph, 100 cfm
Battery: 5Ah 20V Lithium-Ion, 15-20 mins runtime
Noise: "low noise design"
Extras: Sweeping nozzle, 2-year limited warranty
The Black + Decker LSW221 is a budget priced cordless sweeper that is compact and lightweight.
The B&D advertises it as a sweeper instead of a leaf blower since its less powerful motor is more suited for dust and debris on hard surfaces rather than leaves and grass on the lawn.
However, in dry conditions, the Black + Decker handles smaller leaves and grass just fine, while also working well clearing off other debris.
It is powered by a motor delivering 100 cubic feet per minute at 130 miles per hour.
With only a 1.5Ah 20V lithium-ion battery, the LSW221 cordless sweeper only gives you 15 to 20 minutes of runtime before needing to charge.
Weighing less than 4 pounds with an ergonomic handle and a sweeping nozzle, the B&D LSW221 is the best cordless sweeper on our list.
Perfect for blow-drying a car or cleaning out flower beds are all tasks for which this unit is perfectly suited.

---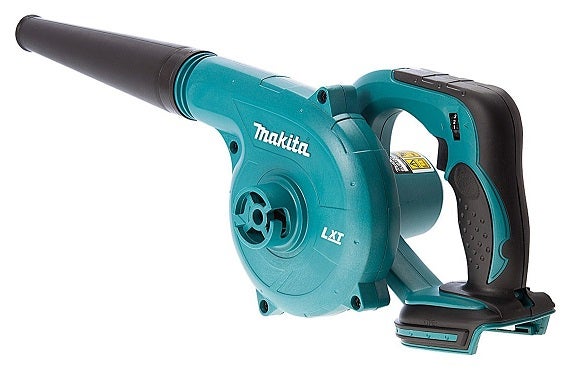 Makita DUB182Z LXT Cordless Blower at a Glance
:
---
Best for: Workshop, gutters, hard surfaces, small spaces, Makita tool owners
Size & Weight: 6.4″ x 12.7″ x 7.2″, 3.9 lbs
Power: 18,000 rpm, 179 mph, 91 cfm
Battery: 18V Lithium-Ion, ~15 mins runtime (not included!)
Noise: "low noise"
Extras: 3 speeds, rubber grip, long or short nozzle
The Makita DUB182Z LXT is the most powerful leaf blower on our list. At a bargain price, you get a surprising power, however the blower does not include a battery and charger.
This cordless blower is the only one on our list that does not come with a charger and battery.
If you already own other 18V Makita power tools, you can simply swap the battery – otherwise you have to spend extra for a Makita charger and battery pack.
With a 3Ah lithium-ion battery, you get around 15 minutes of runtime with this unit, when using the high speed setting.
The blower's motor also features a medium and slow speed for around 25 minutes or 75 minutes of runtime respectively.
Putting out 91 cubic feet per minute and 179 miles per hour, the Makita model moves more air than you'd think, given it's compact size and light weight.
This is not a heavy-duty leaf blower and the short runtime makes it clear that extended garden work is out of the question with this model.
It works well for blowing leaves out of flower beds, clearing debris, dust and smaller particles on hard surfaces, as well as performing various cleaning tasks around the house.

---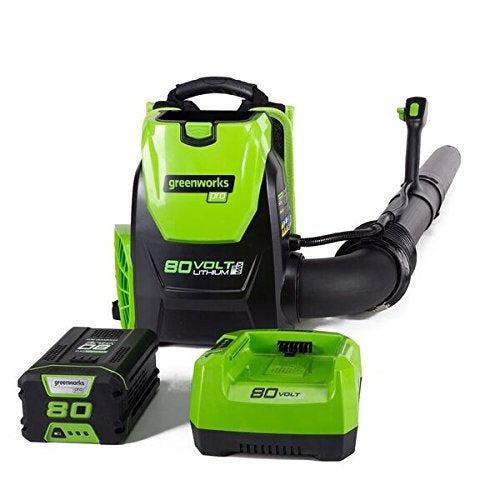 Greenworks 580CFM Cordless Backpack Leaf Blower at a Glance
:
---
Best for: Clearing debris off hard surfaces like driveways, decks, garages
Size & Weight: 22.4″ x 9.4″ x 18.1″, 14.6 lbs
Power:145 mph, 580 cfm
Battery: 2.5Ah 80V Lithium-Ion
Noise: "low noise design"
Extras: 4-year tool, 2-year battery limited warranty
The last 2 picks are larger cordless leafblowers designed for use in larger yards. The Greenworks 580CFM Cordless Backpack Leaf Blower weighs 14.6 lbs, making it twice as heavy as the earlier choices.
However, it offers a blowing power of 580 CFM/145 MPH. The higher the CFM the broader the area that can be cleared with one pass, making this cordless leaf blower ideal for larger yards of up to 1 acre in size.
Also, this cordless leaf blower is a backpack leaf blower. Because you carry this machine on your back, you won't notice the extra weight.
The high 145 MPH means that the air-jet is powerful enough to clear away most debris and even wet leaves.
While the battery only lasts up to 30 minutes, and much less when you operate this leaf blower in turbo mode, that should be enough time to clear a large yard of up to 1 acre in size because of the high CFM rating.
If you do need more time to complete the task, the efficient charger provided only takes 45 minutes to fully charge the powerful 80V, 2.5 Ah battery provided.
As mentioned, this leaf blower features a boost function. When you want to clear more stubborn patches of heavy debris, you can ramp up the power.
The variable speed trigger and over-mold grip are ergonomically designed to make using this cordless leaf blower easier.
You can also opt for cruise control to keep a steady stream of air blowing when you've found the optimum blowing force for the job.
The Smart Systems of this leaf blower utilizes a Digital Pro brushless motor to operate efficiently and quietly. It is as powerful as some of the smaller gas-powered leaf blowers.
However, the Greenworks 580CFM Cordless Backpack Leaf Blower has a huge advantage over gas leaf blowers because it is both lighter and quieter.
In some urban areas, there are laws governing the noise level of yard maintenance equipment. This leaf blower will not break any laws, but a gas-powered leaf blower probably will.
The reason that this leaf blower isn't the top pick in this review is its price. When you look at larger machines with more power, expect to see a higher price tag.
If you own a larger yard and are happy to pay more for the best cordless leaf blower, the Greenworks 580CFM Cordless Backpack Leaf Blower is a good choice.

---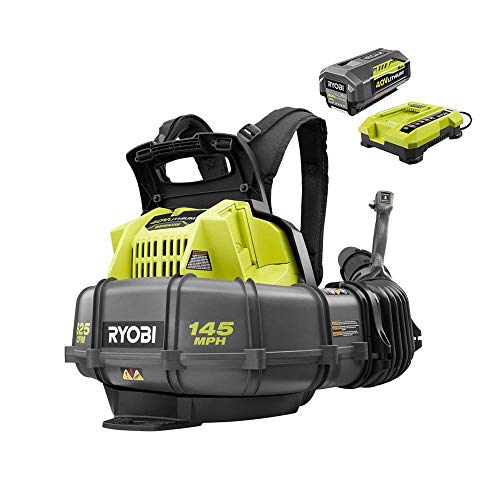 Ryobi RY40440 Cordless Backpack Leaf Blower at a Glance
:
---
Best for: Clearing debris off hard surfaces like driveways, decks, garages
Size & Weight: 19″ x 18.6″ x 18.4″, 27 lbs
Power: 145 mph, 625 cfm
Battery: 5Ah 40V Lithium-Ion
Noise: 59 dB
Extras: Vairable speed throttle and cruise control
The Ryobi RY40440 Cordless Backpack Leaf Blower offers even more blowing power than the previous choice, with an impressive 625 CFM/ 145 MPH. That makes it the most powerful cordless leaf blower in this review.
It is comparable with some smaller gas-powered leaf blowers but much quieter at an astounding 59 dB. In urban areas with noise level regulations, this cordless leaf blower will be ideal.
It is the heaviest cordless leaf blower in this review at 27 lbs, so people with smaller frames may be uncomfortable with this choice. However, it is designed as a backpack, which makes it easier to carry around the extra weight.
The shoulder straps are adjustable, and there are hip padding and back padding for additional comfort. But you still may feel fatigued after 20 minutes because of the weight of this machine.
The powerful 5 AH 40 V battery provides between 20 and 30 minutes of runtime. However, this leaf blower features 2 active battery ports.
If you purchase an extra battery, you can benefit from a much longer runtime between 40 and 60 minutes. But don't forget that this will also significantly increase the weight on your back.
This cordless leaf blower features a turbo mode on a 2-minute timer. After you hit the button, it will provide you with 2 minutes of extra power. It also comes with cruise control for working at a steady speed.
If you have a larger yard up to 2 acres in size, then the Ryobi RY40440 Cordless Backpack Leaf Blower with a second battery (purchased separately) will be your perfect choice.

---
Cordless Leaf Blower Comparison
How to Choose the Best Cordless Leaf Blower – Buyers Guide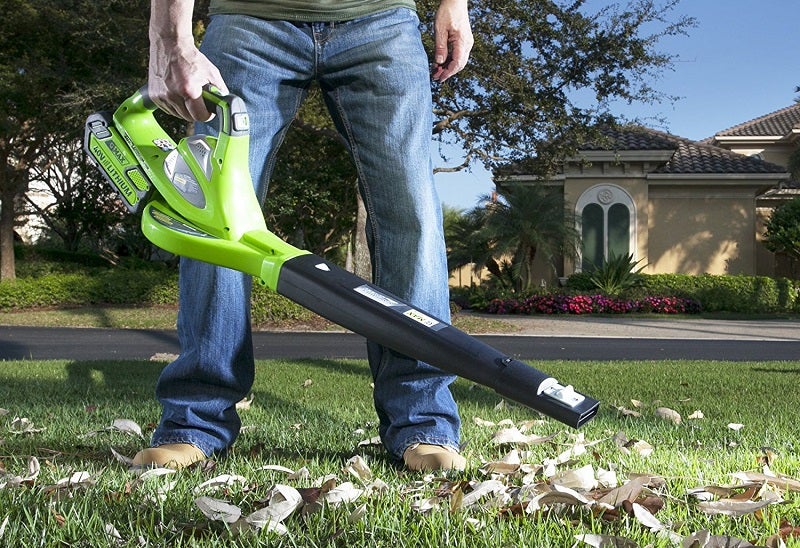 Battery-powered cordless leaf blowers offer excellent maneuverability and are perfect for cleaning lawns, gutters, decks, driveways and even roofs.
They're lower in noise than gas-powered models and free of emissions.
A major downside is the limited runtime, which depends on the battery's capacity. With more power, weight and size typically increase as well.
In our guide below, we highlight and explain the deciding factors for picking the best cordless leaf blower.
Deciding on the Right Model Battery Leaf Blower
Cordless leaf blowers are faster and more efficient than raking your lawn, but their power needs to match the size of your yard. You'll also want to look at the battery capacity and the individual runtime, as well as how quickly the battery will charge.
As all the battery-powered models we've reviewed are hand-held, also consider the size and weight: a too-heavy device will tire you if you operate it for longer.
Noise might be another factor to consider, and some models come with extras such as exchangeable nozzles. We'll go into all the details in our guide section after our top picks.

Advantages of Cordless / Battery Leaf Blowers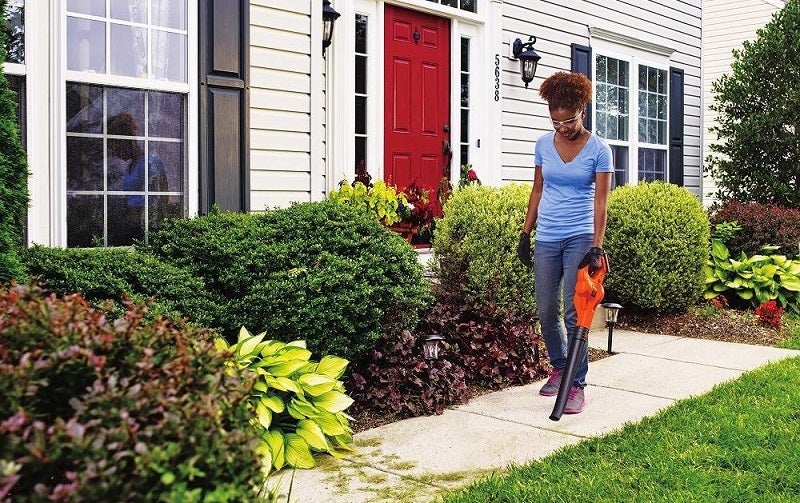 Compared to corded or gas powered leaf blowers, electric cordless models offer many advantages:
Mobility: With no power cord, you can use your leaf blower all over your garden or property without the worry of stringing cable.
Noise: Battery-powered blowers are less noisy than 4-stroke or 2-stroke engines used in gasoline blowers.
Emissions: Because they don't use fossil fuel, battery-powered leaf blowers are free of emissions and eco-friendly.
Ease of use: Starting an electric cordless leaf blower is as simple as pushing a button.
Low maintenance: The motor of a cordless leaf blower requires far less maintenance compared to the engine of a gasoline model. It comes down to the occasional cleaning and taking care of the battery.
Lightweight & compact: These cordless leaf blowers are easy to wield and store because they don't take up much room.
Leaf Blowing Power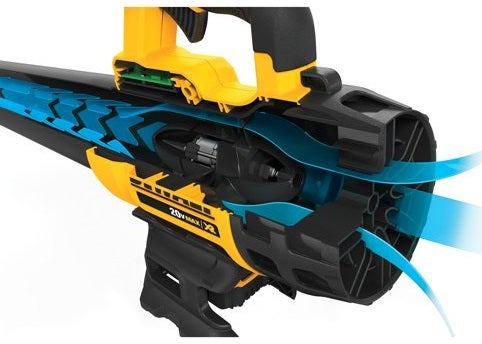 A leaf blower works by sucking in air on one end and blowing it out at the other side through a nozzle. Electric cordless leaf blowers feature a motor to spin a high-speed fan.
The motor's power is expressed in Watts, where a higher value signifies a more powerful motor. Yet two values are more important in determining how efficient a blower actually is: MPH and CMF.
Miles Per Hour: MPH refers to the speed at which the air exits the blower's nozzle. A higher rate is of course better, meaning the air-stream will have more force to push leaves and debris around.
Cubic Feet Per Minute: CFM refers to the blower's capability in moving air around as it pertains to volume. A lower CFM rating means you can move less mass at a time and the blower might struggle with damp or wet leaves stuck together.
For a powerful and effective cordless leaf blower, you want both MPH and CFM values to be high.
Lets cover the power ranges:
Less than 200 CFMs – A blower with this rating are low power and not suitable for clearing your lawn of leaves, especially damp ones. They are ok for a patio or other small area.
200 to 400 CFMs – Leaf blowers of this power range are good for small lawns and light leaf clearing duties.
More than 400 CFMs – 400 and over CFMs will give you plenty of lawn clearing capability. If you have a larger yard and/or heavier leaves, look for a blower in this power range like the Dewalt XR.

Portability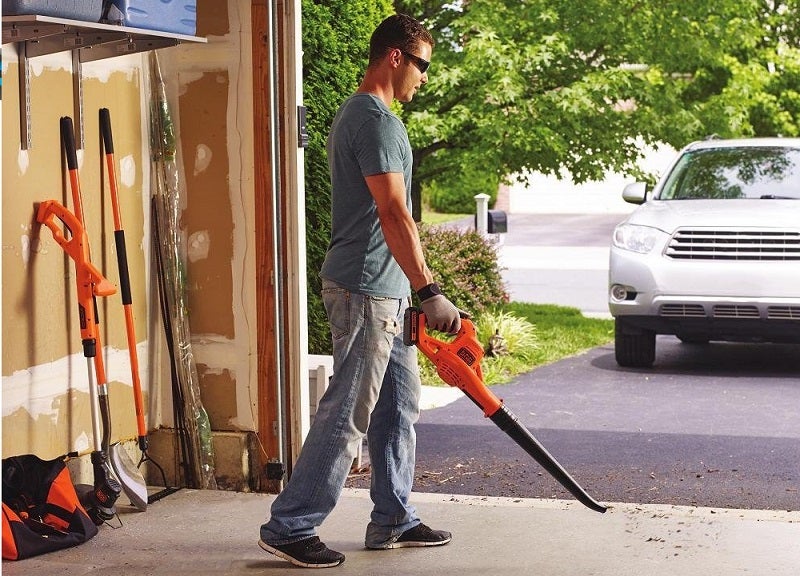 All the cordless leaf blowers we've reviewed are portable and han-dheld models. For most applications, you'll operate the blower single-handedly, which means you have to hold the full weight of the unit with one hand.
Compact dimensions and a low weight will make this more comfortable, especially when you operate the device for longer. A smaller leaf blower is also easier to store and transport.
However, portability commonly comes at a cost as more compact units are less powerful. A smaller motor and battery mean less air volume and reduced runtime.

Battery
The battery enables a cordless leaf blower to operate without an outlet. It determines how long you can operate the device, while also contributing to the overall weight. Ideally, you'll want a high capacity battery with fast recharging time and low weight.
If you want to operate the leaf blower for extended time, consider getting a backup battery. Capacity for batteries is measured in Ampere hours, or Ah for short. A higher value signifies a larger capacity.
Translating capacity into runtime depends on the individual motor and possible power setting.
Nickel-Cadmium or Ni-Cad batteries are cheaper and heavier with the disadvantage of a power and performance drop as the battery runs low at the end of its charge.
This is why manufacturers favor Lithium-Ion or li-ion batteries. They are much lighter, deliver a consistent power output and can be recharged much faster.
Electric current is measured in Voltage, or V for short. A battery with a higher voltage is able to run a more powerful motor.

Noise Level
Cordless leaf blowers are generally less noisy than gas-powered models, but noise is still an issue.
While it's a matter of courtesy to your neighbors not to operate your blower at odd hours, many cities have regulations in place regarding operating times and noise levels. Check with your municipality if in doubt.
The intensity of sound is measured in decibel, or dB for short. It's commonly measured at a distance of 10 feet. For comparison, the rate of normal conversation is around 60 dB, whereas a lawn mower would be around 90 dB.
Cordless leaf blowers commonly are more quiet than that. A 85 dB sound means you have to raise your voice to be heard over it, and can cause hearing loss if you're exposed to it for longer.

Extras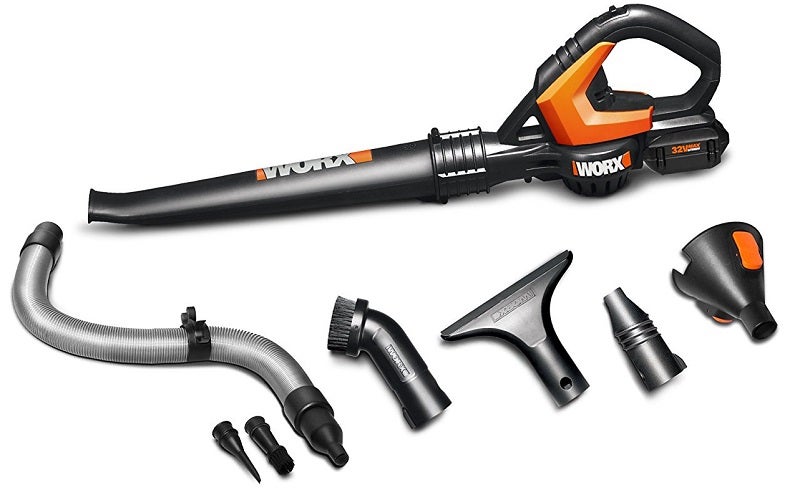 These are nice-to-have features on a cordless leaf blower, but should not be deciding factors when picking the best cordless leaf blower for your needs.
Some models come with a turbo button for quick burst of high-powered air. An ergonomic handle with rubber overmold allows you to keep a good grip on the nozzle with reduced vibration.
A power lockout gives you the option to block the power button so the leaf blower cannot be turned on accidentally or unintentionally, for example in transport.
Some models feature a range of exchangeable nozzles for a variety of garden tasks or other blower applications, such as in a workshop.
Weight
Since it is safe to assume that you won't get your leaf blowing job done in a short amount of time, it's important to find a lightweight leaf blower. Cordless leaf blowers vary quite a bit in weight and what is lightweight to one person, could be heavy for another. This is why it's important to go to your local store to see how the leaf blower feels in your hand.
Complete the same movements that you would if you were actually using it and see if there's any strain on your body or if your arm gets sore quickly.
Surprisingly, cordless leaf blower's way a bit more than a corded electric leaf blower. Sometimes, due to a lack of a fuel tank they can be later. In general cordless leaf blower's way between five and 10 pounds.
Ergonomics
Similar to weight, the ergonomics of a leaf blower are important as well. This all has to do with how comfortable it is to hold any use for an extended period of time. A lot of this has to do with the type of handle as well as how much the leaf blower ways.
Having a comfortable handle will allow you to not only have more control but will prevent fatigue on your hand, arms, shoulders, and back.
Make sure that you're able to comfortably carry and use the leaf blower. You also want to keep in mind how long you'll be using the machine at a time. Just because a handle is comfortable for the first 10 minutes of use doesn't mean it will be comfortable a half-hour into the job.
Cost
Cost plays a large part in just about anything we purchase. Leaf blowers and other similar machinery can be quite expensive. The majority of people are budget-minded which is why it's important to consider how much you'd like to spend on your next leaf blower.
You can find inexpensive leaf blowers that will cost you less than $50, while other models can cost you a few hundred dollars. When comparing prices, also compare other features. Sometimes the battery life or charge time can make a product more expensive. Often times it's actually the brand that increases the price of a product.
Motor
Since we're dealing with cordless leaf blowers, it's especially crucial to pay attention to the motor. This is the part of the leaf blower that uses the power the battery provides to make the leaf blower work.
Older leaf blower models use carbon brushes these can be quite inconvenient and some of the charges can even get lost due to the friction of the brushes.
One of the best things that have ever been done for power tools is the creation of a brushless motor. Brushless motors use modern technologies such as magnets to help transmit a charge without bringing any other parts into Contact.
Brushless motors are known for being very quiet, yet incredibly powerful. They will often help the machine to have a longer life and provide a more reliable tool.

FAQs: About Cordless Leaf Blowers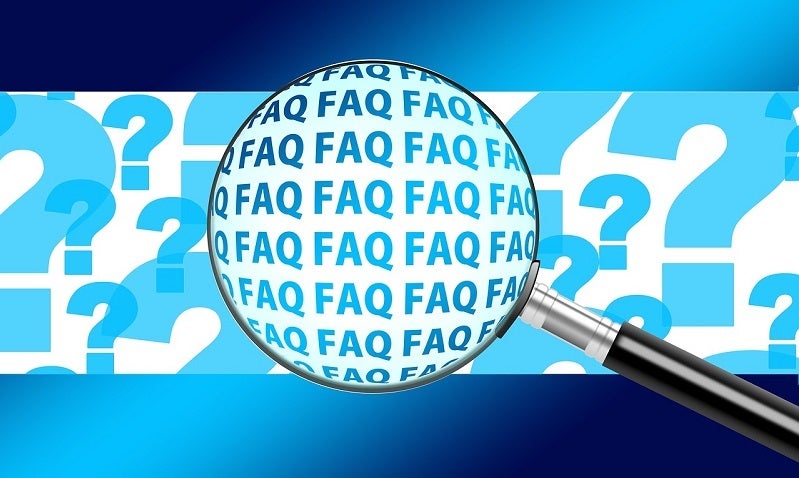 Q: How does a cordless leaf blower work?
A: A leaf blower is a gardening tool that pushes a powerful stream of air out of a nozzle with which you can move leaves or grass cuttings around.
These air blowers are also suitable for cleaning up sawdust or other debris. Leaf blowers feature a motor that is either powered by gasoline or electricity.
Electric models require a power source, and because using an outlet would require a long and impractical extension cord, manufacturers use rechargeable batteries. The models we have reviewed are all electric battery-powered cordless leaf blowers.
Q: What are the advantages of a battery-powered cordless leaf blower?
A: In comparison to gas-powered and corded models, cordless leaf blowers are lightweight, compact and more portable with no emissions and less noise. They're easy to start and use and require little maintenance.
Q: What do all these terms mean: MPH, CFM, Ah, V?
A: These terms refer to the power of the motor and the battery of a cordless leaf blower. MPH stands for miles per hour and specifies at which speed the air-stream comes out of the nozzle.
However, this tells you little about the blower's actual power, since a small nozzle might went air very quickly while being practically ineffective. CFM means cubic feet per minute and specifies the volume of air a blower can move per minute.
A larger number is better, meaning there is more air coming out of the nozzle. A powerful leaf blower will have high values for both MPH and CFM. Ah specifies Ampere hours and is the capacity of the battery.
A higher capacity means you can run the motor for longer. V for Voltage is another battery measurement. With higher voltage, a battery can produce more electrical current and therefore power a more demanding motor.
Q: What is the correct way to use a cordless leaf blower?
A: Many people think a leaf blower can fully replace a garden rake, but this is not the case. However, proper use of a leaf blower makes the job of raking leaves easier.
You should use your leaf blower to gather loose leaves, grass or debris in one big pile or a few smaller piles, then rake them onto a tarp or into a basket. It's not effective to use a leaf blower for moving an entire large pile across a yard.
Chances are that the battery won't last long enough. Correct leaf blower use means less noise and less battery power consumed.
Q: What maintenance does a cordless leaf blower require?
A: General tips for cordless leaf blowers are: don't leave it in the rain, don't drop it, and don't block the air in-take. You should avoid any debris or loose material getting stuck in the fan that sucks up air.
Keep the air intake and the blower in general clean and fully the manufacturer's instructions regarding cleaning, maintenance, and battery charging. Avoid overcharging or fully draining the battery.
For long-term storage, fully charge the battery, then take it out of the unit and avoid extreme temperatures.
Q: Is there any other equipment I need?
A: A cordless leaf blower is a straightforward way to assemble loose leaves in your garden into a pile. But in order to easily collect them and gather them up for composting or disposal, you still need a garden rake and tarp or leaf basket.
Regardless of the noise emission level of your leaf blower, you should wear ear protection when working with a leaf blower for extended time.
The Mpow Noise Reduction Safety Ear Muffs or the Neiko Safety Ear Muffs effectively shield your hearing from noise. If you're blowing dust or other fine particles, wear goggles and a dust mask.
Q: Are cordless leaf blowers any good?
A: That's an easy question to answer, YES! Of course they have a battery and cannot go forever like a corded model can but with lithium ion batteries not only do you get long life you can also swap out the batteries when needed.
The latest 40V models have about the same power or CFM as a corded leaf blower with the huge advantage of no cord.
Gas models have the same advantage of no cord BUT suffer from the disadvantage of maintenance and having to put both gas and oil in it. Do it wrong and you will ruin the blower. Also they are noisier, and pollute the environment.
Best Leaf Blower Brands
Dewalt – Most anyone who uses tools at all knows the Dewalt brand which is synonymous with quality. Their products are usually commercial quality and can be counted on to last for years. Expect to pay a bit more however.
Black & Decker – They are a household name and have been around for what seems like forever. They products are usually of good quality but not in the class of Dewalt.
Makita – Another brand that is of commercial quality and can be counted on to deliver good performance at a good price.
Greenworks – A newcomer to the home and yard equipment category. They make good quality consumer grade products at a fair price.
Final Thoughts
A cordless leaf blower can definitely save you time and effort when you're living on smaller or medium-sized property and are cleaning up after few trees.
Leaf blowers can also perform tasks that a simple garden rake can't do, such as cleaning flower beds, paths, gutters, or decks.
If you require a heavy-duty model, check out our editor's pick; the medium power blowers are great for lighter tasks, and the light sweepers work well on hard surfaces.
Use our guide in making your selection and save time with the best cordless leaf blower!
How We Researched
To come up with the top cordless leaf blowers, we researched a variety of sources for reviews such as Home Depot, Lowes, Target and AcmeTools along with our own personal experience.
We also consulted online magazines for product research and reviews to get as much unbiased information as we could. To help weed out fake reviews we used Fakespot.com to make sure we only looked at genuine reviews.
With so much quality gear available, we had to narrow it down based on what we felt were the best options were for the price. The staff authors have a wide and varied background in yard maintenance and home repairs.
The authors have decades of experience and are eager to share their knowledge with readers.
To help narrow down the selection we used personal experiences along with recommendations from landscapers, bloggers and contractors.
After extensive research, we came up with our list to help you choose the right one for you.
Sources
Notice:
OutsidePursuits.com is a participant in the Amazon Services LLC Associates Program, an affiliate advertising program. OutsidePursuits.com earns fees from products sold through qualifying purchases by linking to Amazon.com. Amazon offers a commission on products sold through their affiliate links.