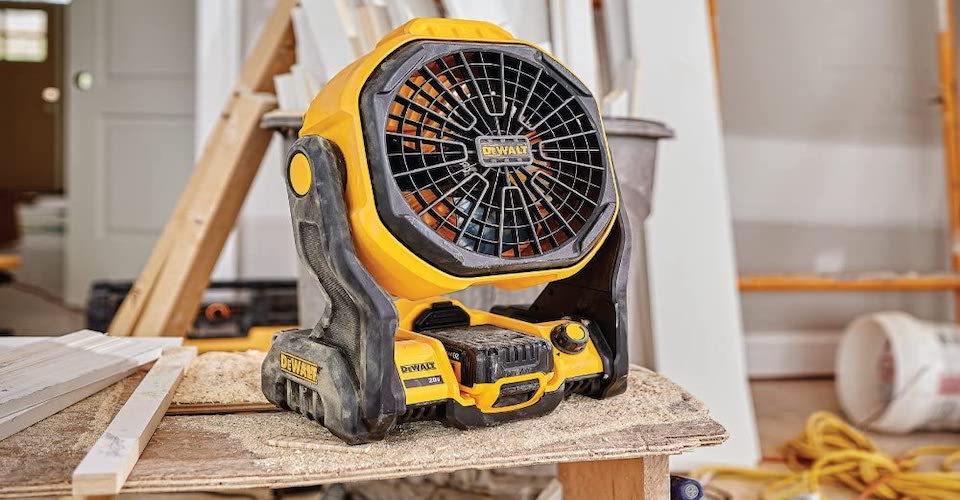 Our Editors independently research, test, and rate what we feel are the best products. We use affiliate links and may receive a small commission on purchases.
Cordless fans are a must-have on those hot, sticky summer days when there are no power outlets in sight.
Whether you're working long hours at a hot jobsite, camping in the sweltering heat, or just laying out by the pool, a battery-operated portable fan can be a total lifesaver.
The good news: there are a plethora of different models available online. The bad news: the oversupply can make it harder to find the right one for you!
Picking the best option can be tricky, so we've reviewed the top cordless fans on the market to make your choice a little easier.
By the time you're done reading, you'll have no doubts about which fan is just right for you.
Best Cordless Fans
For more of my home and garden recommendations, have a look through these popular Outside Pursuits guide links: Outdoor Misting Fans, Outdoor Bluetooth Speakers, Motion Sensor Lights.

Quick Answer: The 7 Best Rated Cordless Fans For 2021
Our reviews of the top rated cordless fans with our comparison table and buyers guide will help you choose the right one for you.
---
Cordless Fan Reviews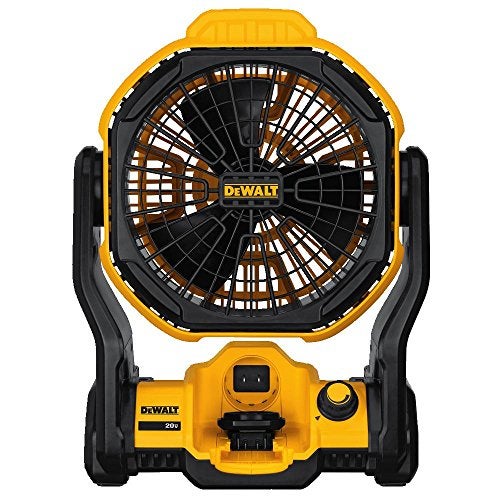 DEWALT MAX Cordless Fan at a Glance
:
---
Dimensions: 12 x 8 x 17 Inches
Run Time: 7 Hours
Speed Settings: Variable
Battery: 4.0 AH, 20V
Let's start our list off strong with the DEWALT MAX Cordless Fan.
This model delivers all the necessary components of a reliable and powerful jobsite fan, at a price you simply can't beat.
With variable speed control, a 7 hour run time, and multiple hanging options (freestanding, hooks, wall mount), you'll be well-equipped to cool down the steamiest of rooms.
This fan sports 7 inch blades and blows air at a rate of 500 cubic feet per minute (CFM), so you'll be able to achieve a rapid cool-down effect.
Play around with the wide range of speed settings to adapt to whatever environment you happen to be in.
All things considered, this is one of the best battery powered fans we've seen yet.

---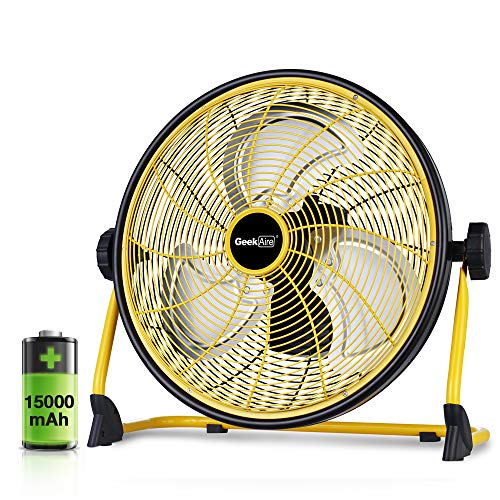 Geek Aire Rechargeable Floor Fan at a Glance
:
---
Dimensions: 21 x 9 x 19 Inches
Run Time: 2-18 Hours
Speed Settings: Variable
Battery: 15.6 AH
The Geek Aire Rechargeable Floor Fan is a durable, powerful, and versatile model that will serve you well for years on end.
This 16-inch model is driven by a 15AH Lithium-ion battery which takes only 3 hours to fully charge, but lasts up to 18 hours in run time. That's a full day of cool air!
With variable speed settings, a max air flow of 2500 CFM, and a 120-degree oscillating feature, it is uniquely powerful and extremely adaptable.
Designed with durability as a top priority, it features an IPX4 water-resistant structure which protects it from inclement weather, such as sudden showers during outdoor work or camping.
It also sports a strong metal frame and anti-slip rubber feet, which help it withstand the volatility of busy job sites.
For all its strength, the Geek Aire still remains surprisingly light – clocking in at only 12 pounds, you won't have a single problem with transportation.
If you didn't need another reason to add this to your cart, it also comes with an LED battery indicator and a portable power bank so you can charge your digital devices on the go.
With all these advantages, it's hard to find a single drawback. This is certainly one of the best cordless fans available on the market today.

---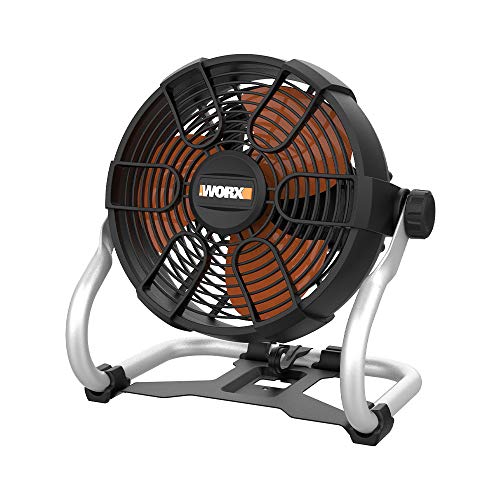 WORX WX095L Cordless Fan at a Glance
:
---
Dimensions: 14 x 14 x 10 Inches
Run Time: 2 – 6 Hours
Speed Settings: High + Low
Battery: 20V, 2.0AH
Next on our list is the WORX WX095L cordless fan.
This model is lightweight enough for easy portability, while remaining powerful enough to cool down any workspace.
It features 2 speed levels (low + high) which offer airflows of 310 CFM and 450 CFM, respectively. It also has a 360-degree oscillation feature so you'll be able to blast cool air in any direction!
This fan works well on flat surfaces like floors and desks, but also features a convenient hanging hook for wall mounting in case you don't have extra space.
Its 20V, 2.0AH battery has an average runtime of around 4 hours, but only requires 1.5 hours of charge to replenish its full power.
Better yet, you can share the battery between any other WORX tool you may have.
Despite its surprisingly light weight of 5 pounds, the WORX's durable metal frame makes it both fall and shock-resistant!
There are very few drawbacks to this model, making it one of the best battery fans you can find.

---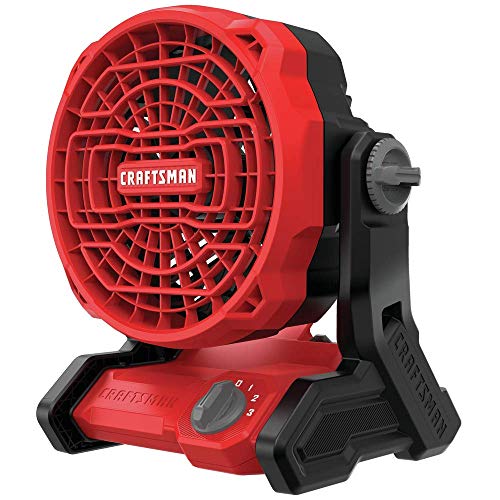 CRAFSTMAN Cordless Fan at a Glance
:
---
Dimensions: 14 x 13 x 10 Inches
Run Time: 8 Hours
Speed Settings: 3
Battery: 20V
Next up, we have the CRAFSTMAN Cordless Fan.
Available in a delightfully vibrant red color, this model is sure to cool down rooms and turn heads.
Capable of moving air at up to 650 CFM and featuring 3 different speed settings, you'll be able to adapt its power level to whatever environment you happen to be in.
It also features a 240-degree pivoting head which allows you to direct airflow where needed.
The CRAFSTMAN has one of the longest runtimes of all the fans on our list – capable of up to 8 hours on its highest setting, and over 24 hours on its lowest.
Weighing in at a mere 4.4 pounds, you won't have a single issue transporting it from point A to point B.
With its versatility, portability, and unmatched run-time, this is one of the best battery operated fans we've seen yet.

---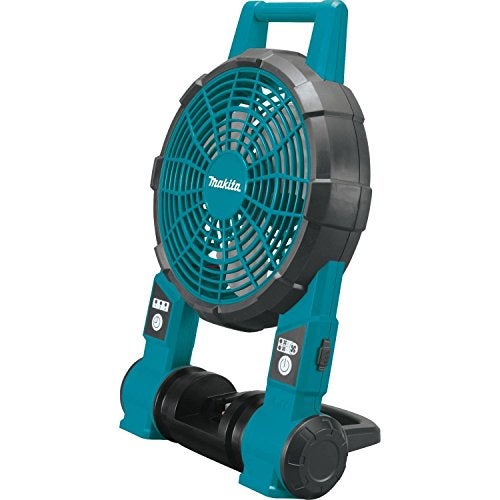 Makita DCF201Z at a Glance
:
---
Dimensions: 5 x 14 x 21 Inches
Run Time: 5.5 Hours
Speed Settings: High + Low
Battery: 18V, 5.0AH
The Makita DCF201Z is another powerful and portable solution for painters, contractors, or families looking for a fan to take on their next adventure.
It offers 2 settings for optimal air velocity control, and a 3-stage automatic timer with 1,2, and 4 hour power-off selections.
Its durable design, including thoughtful features like protective bumpers and a shock-resistant build, also make it ideal for high-stress environments.
Portability won't be an issue either, as this unit sports a large carrying handle for easy transport.
One key benefit of the Makita is that it comes equipped with the brand's patented Star Protection computer controls.
Star Protection is a communications technology that allows the battery and fan to exchange data in real time,in order to prevent overloading and overheating.
Clearly, this fan comes with all the safety bells and whistles included! This brand manufactures a number of different models, but this is by far the best Makita fan on the market.

---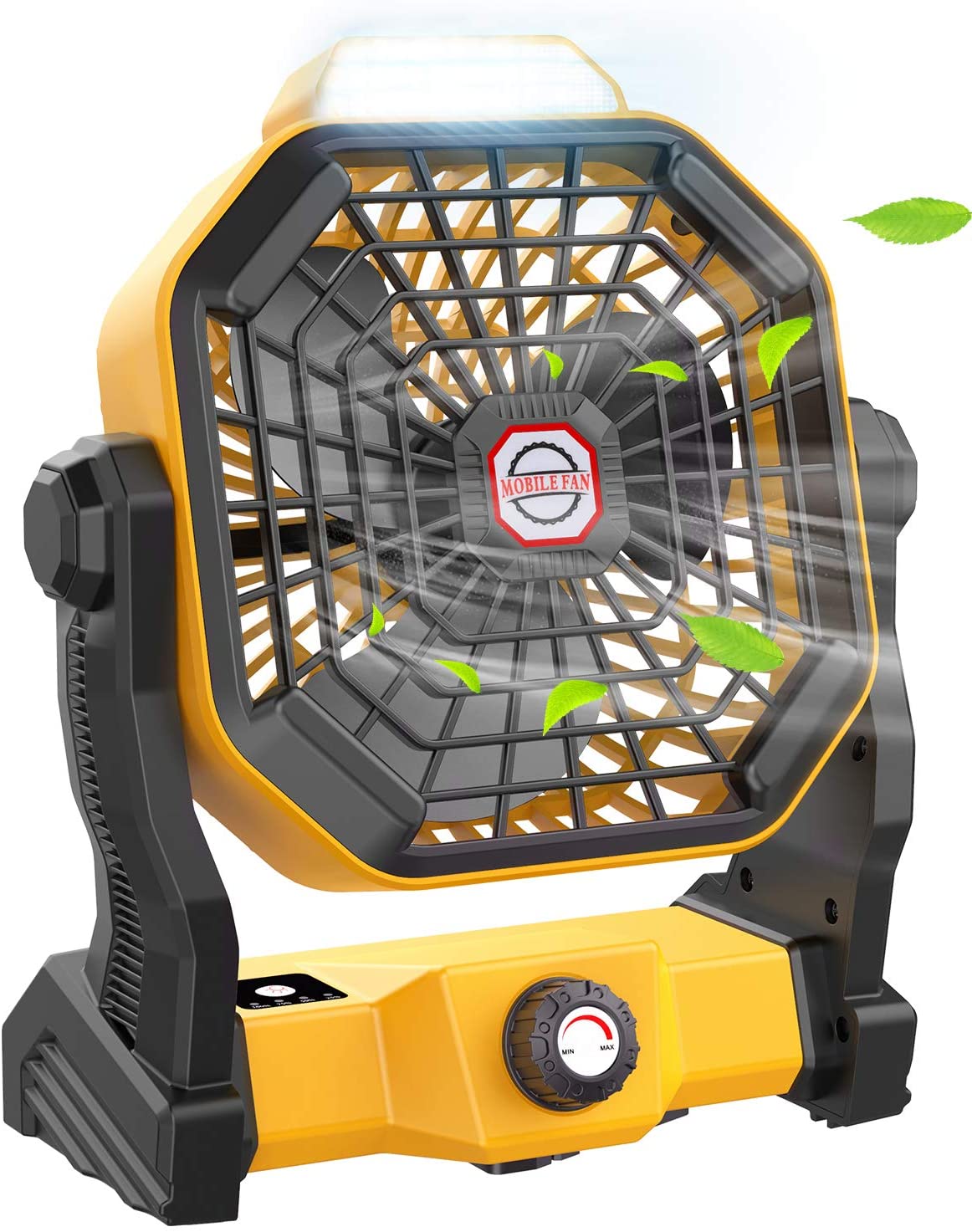 JINLICTE Rechargeable Outdoor Fan at a Glance
:
---
Dimensions: 8.7 × 4.3 × 10.0 Inches
Run Time: 8 – 36 Hours
Speed Settings: Variable
Battery: 10400 mAh
The JINLICTE Portable USB Rechargeable Fan utilizes a brushless motor to ensure high-speed airflow at all times and stays under 30 decibels for continuous quiet operation.
One of the strongest options on our list, it features variable speed settings, 270-degree oscillation, and upgraded fan blades for simultaneous power and noise control.
Despite its strength, it's incredibly compact and portable. Clocking in at under 2 pounds, this unit doesn't take up much space and can be transported nearly anywhere.
Due to its high-capacity rechargeable battery, the JINLICTE can run for a whopping 36 hours after being fully charged, which makes it an ideal choice for frequent campers.
This model is so special because of its unique LED light feature, which includes 3 brightness levels.
This is the perfect partner for your next outdoor adventure! We'd consider it to be one of the best rechargeable battery fans on our list. 

---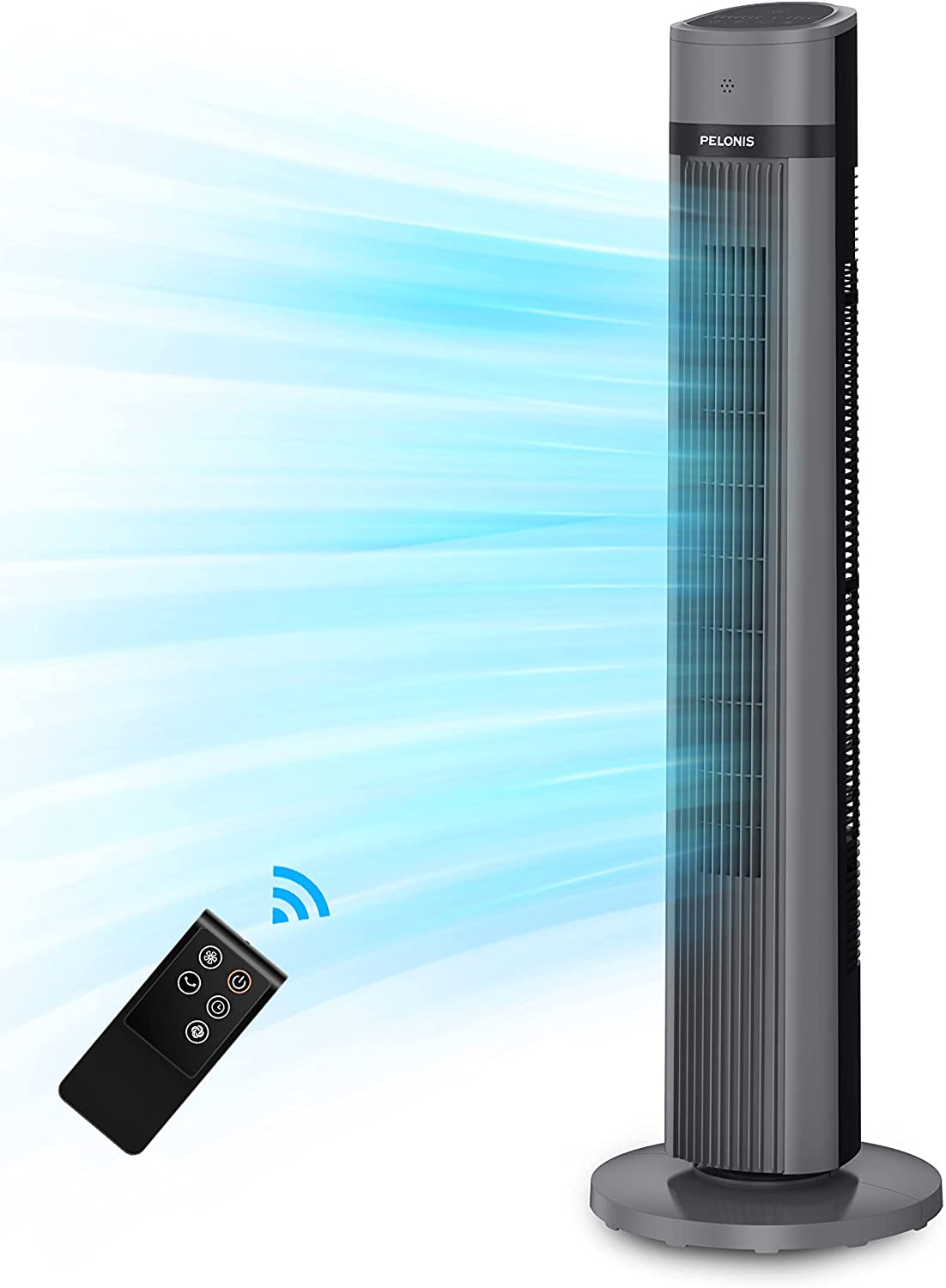 PELONIS Cordless Tower Fan at a Glance
:
---
Dimensions: 40x 12 x 12 Inches
Run Time: 15 Hours
Speed Settings: 3
Battery: 5.0 AH
Last but certainly not least, we have the PELONIS Cordless Tower Fan.
Set apart from competing models by its vertical design, this fan saves a significant amount of space, making it ideal to keep in the office, study, or in crowded backyards.
With 90-degree rotating capacity, 3 different speed modes and a runtime of 15 hours, it is a lightweight and reliable option for nearly any situation.
The PELONIS comes equipped with a remote controller which can be used from a distance of up to 16 feet for easy access to its settings.
As one of the best tower fans on the market today, its no wonder this model is flying off the shelves!

---
Cordless Fans Comparison Table
How to Choose the Best Cordless Fan – Buying Guide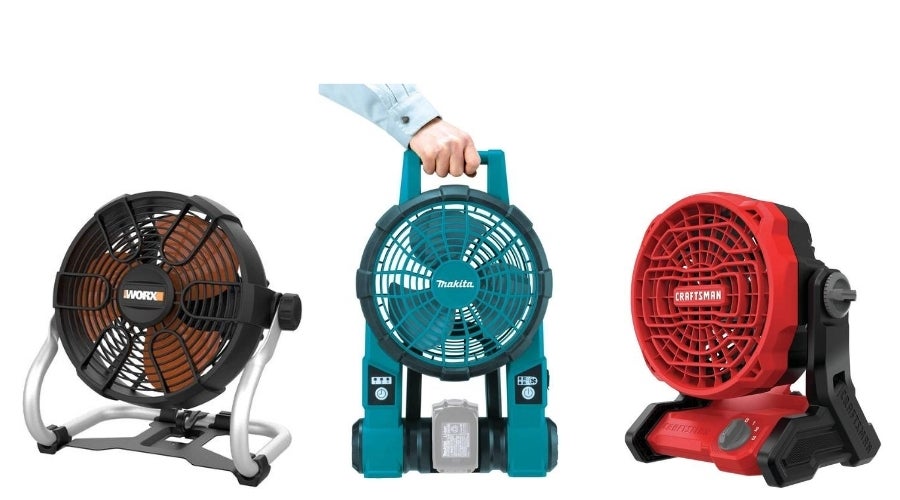 Now that you've seen the best rechargeable fans the market has to offer, its time for the hardest part – figuring out which one to take home!
Because making a decision can be difficult, we've put together a comprehensive buyers guide which will walk you through each key aspect of selection.
By the time you're done, you will have no doubts about the model for you.
Utility
First and foremost, you must ask yourself what exactly you plan on using your cordless fan for.
Most people search for these in order to cool down areas with no available power supply. With that said, your environment will dictate the model you choose.
If you're picking up a cordless fan for a job site where you'll be working long hours in high temperatures, go for one of the stronger fans with a long run time and high voltage battery (indicators of long battery life).
Also consider getting a fan which oscillates, so the cool air can follow you as you move around and lower the overall temperature of the area evenly.
Durability is another consideration here – even the best rechargeable battery fans are prone to breaking if they are knocked into or if they fall from high levels.
If you're working at a busy job site, you should buy a fan with the capacity to withstand the shock of getting thrown around or manhandled a bit.
In contrast, if you're looking for something to take camping, road tripping, or in your car, you may need to prioritize portability – that is, weight, size and ease of transport.
Many families decide to buy cordless fans in the summer, to place by pools, hot tubs and patios. In this case, durability and strength are much less important.
These small considerations will play a fundamental role in determining which model is ultimately ideal for you.
Portability
Being that the entire point of a cordless fan is to provide a cooling source in hot areas which lack functional power outlets, portability is pretty important!
Though in some cases it's wiser to prioritize other features, chances are that no matter where you're planning on using your fan, you'll have to move it from point A to point B.
If you intend to bring your battery powered fan around with you to different locations, check its weight, dimensions, and whether it has a carrying handle.
If the fan is too big, it may be awkward to take on trips or carry around for long periods.
If you plan on placing your fan only once and then leaving it in a fixed location, this is a less important factor.
Battery Life
A key facet of portability is battery life. If you take your fan out camping, road tripping, kayaking, or on any other adventure, it will be next to impossible to recharge it when it dies.
That's why battery life and runtime are such important considerations.
The recommended fans on our list have run times which range from 2 hours to 24 hours, so make sure you're checking the battery life information before making a purchase.
Speed & Air Flow
Another thing to keep an eye out for is the speed and air flow settings of the fan you choose.
A fan with a wider range of speed settings is desirable because it grants more control over airflow.
If your fan has only one or two speed settings, it may end up being either too strong or too weak for your liking.
Speed variability also allows you to adapt to whatever environment you're in.
The weather changes daily, so the fan power you'll need is also bound to change!
However, fans with high speed capacities are often often also louder. If high noise levels bother you, you'll want to keep this in mind.
FAQs About Cordless Fans
Q: How long does a battery powered fan last?
A: This varies depending on the fan! Each model is equipped with, or compatible with, a different battery.
Check out the run time of each unit (listed on the product information and in our comparison charts) to discern how long your battery powered fan will last.
Q: Do battery operated ceiling fans exist?
A: Yes! Portable, battery operated ceiling fans do exist, and are typically manufactured for camping or outdoor adventures.
Q: Can Alexa turn on a battery operated fan?
A: No – at least not yet! The technology for a battery operated fan that can also connect to IoT (the internet of things) has not yet been created.
Amazon's Alexa is a smart speaker that connects to wifi and can transmit data. We are unaware of any battery powered fan that can do that (yet).
However, there are a number of smart fans which exist and can connect to Alexa! They aren't cordless, though.
Tips For Choosing Cordless Fans
#1: Check the dimensions.
As with practically all items, size matters!
Make sure you've checked your fan's dimensions before purchase. If you skip this step, you run the risk of investing in a fan that's too big or too small – which poses a serious issue in terms of portability and usability.
#2: Consider utility.
Know where and when you'll be using the fan. This will help you determine what model is best for you, and what your key priorities are.
#3: Know your priorities.
Will you be prioritizing strength, speed and durability, or portability and noise control? Know the answers to these questions before investing in a cordless fan.
Summary
Now that you know all about how to select a good cordless fan, it's decision time!
No matter which product you choose, know you'll be getting one of the top contenders on the market.
Thanks for reading & happy shopping!
How We Researched
To come up with the top cordless fans, we researched a variety of sources for reviews such as Home Depot, Lowes, Target and Wayfair  along with our own personal experience.
We also consulted online magazines for product research and reviews to get as much unbiased information as we could. To help weed out fake reviews we used Fakespot.com to make sure we only looked at genuine reviews.
With so much quality gear available, we had to narrow it down based on what we felt were the best options were for the price. The staff authors have a wide and varied background in yard design and home repairs.
The authors have decades of experience and are eager to share their knowledge with readers.
To help narrow down the selection we used personal experiences along with recommendations from landscapers, bloggers and contractors.
After extensive research, we came up with our list to help you choose the right one for you.
Sources
Notice:
OutsidePursuits.com is a participant in the Amazon Services LLC Associates Program, an affiliate advertising program. OutsidePursuits.com earns fees from products sold through qualifying purchases by linking to Amazon.com. Amazon offers a commission on products sold through their affiliate links.