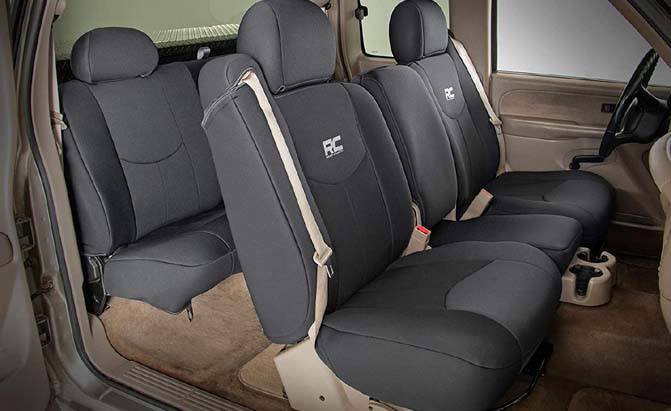 Our Editors independently research, test, and rate what we feel are the best products. We use affiliate links and may receive a small commission on purchases.
Updated August 26, 2022
Your car and/or truck is important to you, and you want to keep it looking good as much as possible, and this often means finding the best seat covers to fit your ride. The seats take a lot of abuse. Besides the wear and tear of you sitting on them, they catch spills and stains, and that's not even including if you have pets. The best car seat covers will keep your car's interior in pristine condition while also increasing style and comfort. The auto seat covers market is pretty massive, though. It is important to know what seat covers will best fit your needs. How to Choose the Best Car Seat Covers starts with knowing what you want, and how well you want the covers to perform. While there are some brands that are specific to your exact model and options, there are plenty of high-quality seat covers that fit a wider range of vehicles.
Best Car & Trucks Seat Covers Brands
Also see: Car Seat Covers Comparison Table
---
Quick Answer: The 7 Top-Rated Car & Truck Seat Covers Brands
---
Best Car & Truck Seat Covers
DuraFit Seat Covers at a Glance
:
---
Located in Arlington, TX
Founded over 25 years ago
Family-owned
Options for all makes and models
Covers customized for specific vehicles
Precision-cut by machine
Carefully hand-sewn
Variety of styles and patterns
High-quality fabrics
Our very first pick for the best car seat cover brand out there is DuraFit Seat Covers. This is an incredible family-owned company located in Arlington, Texas. It was first founded over 25 years ago and has really grown into an outstanding company focused on quality and customer satisfaction.
While many similar brands make universal car seat covers, DuraFit wanted to offer the versatility of universal covers and the fit of custom covers. They accomplished this by creating covers that are specifically designed for each make, model, and year of vehicles out there. All of their car seat covers are precisely cut by machines. This guarantees a nice level of consistency and quality to ensure each cover has the perfect fit for its intended vehicle seat. Then, the covers are hand sewn. This brings a personal touch to the table that ensures durability and allows for easy quality control.
DuraFit has many styles and patterns perfect to fit anyone's taste. They offer several high-quality fabrics including velour, endura, and twill. They even have what is called leatherette fabric that mimics leather car seat covers for a more affordable price with high durability and easy care. As far as the average cost of DuraFit car seat covers, you can expect to land in the mid to high price range compared to other options in the market.
Of course, that doesn't mean they aren't valuable or worthwhile. Their high-quality fabrics, careful designing, and overall durability makes them well-worth the extra cost.

---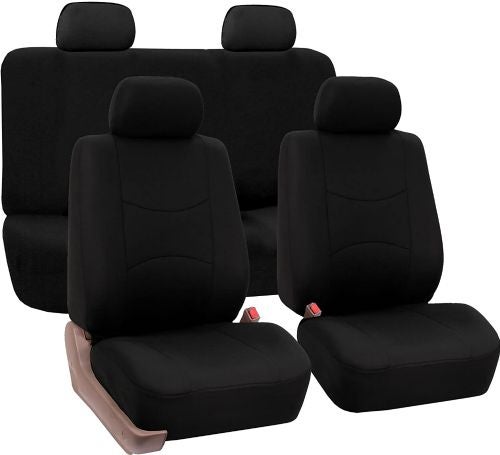 FH Group Car Seat Covers at a Glance
:
---
Teamwork oriented company
Semi-custom seat covers
Offers a custom fit for a wide variety of vehicles
Variety of fabric types
Variety of styles and patterns
Offers a wide range of car accessories
This next top pick of ours is called FH Group. This is a teamwork oriented company that truly believes in all working together to create innovative, high-quality products that blow away customer expectations. They believe in doing their collective best to create the best car seat covers out there.
FH Group car seat covers are what is called semi-custom seat covers. They fall somewhere between custom seat covers and universal seat covers. Each cover is designed to fit a wide range of different makes, models, and years for various vehicles. It lets them keep prices lower and increase versatility without sacrificing an incredible fit.
From leather and faux leather to neoprene, corduroy, and mesh, FH Group has a huge range of fabric options for you to choose from. Tons of stylish, fun, classic, and modern designs make these great regardless of what look you may be going for. These are very affordable car seat covers that still hold on wonderfully to their overall value and durability.

---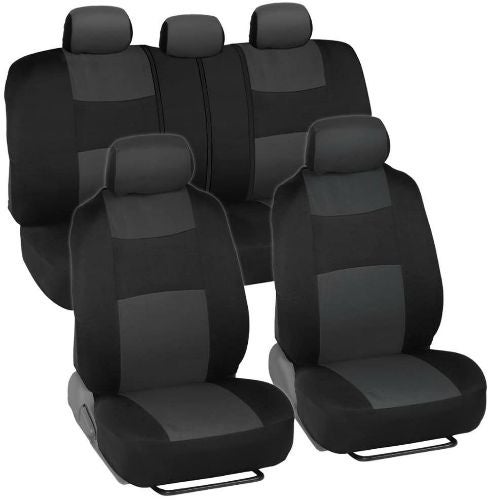 BDK Automobile Seat Covers at a Glance
:
---
Founded in 1990
Family owned and operated
Universal fit covers
Variety of fabric types
Variety of styles
Fun logo designs
Offers additional matching car accessories
Easy to install
Seamless design
Here is another wonderful family-owned company! BDK Automobile has both been family-owned and operated since it was founded all the way back in 1990. That makes it even a bit older than DuraFit. BDK Automobile seat covers all feature universal designs. While many universal covers may not fit super well on most seats, these are different. They are very carefully designed with a large amount of stretch built-in. They are not just easy to install but they have that glove-like fit on the majority of vehicle seats.
Tons of fun and unique styles bring an exciting feature to these car seat covers that a lot of people love. They even have some cool branded logo seat covers for superheroes and so much more. A seamless design creates a smooth look. Something a lot of people appreciate about this brand is the variety of matching accessories that they sell to go along with their seat covers. Things like floor mats and steering wheel covers really help pull your car's look together. While these are quite affordable, they aren't the least expensive on the list. Overall, they fall around low to mid in regard to the price range of car seat covers in general.

---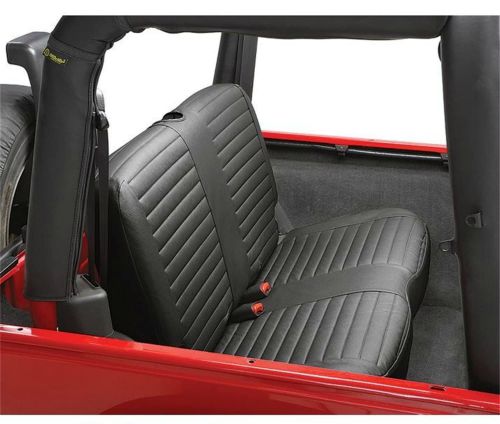 Bestop Auto Seat Covers (for Jeeps) at a Glance
:
---
Originally founded in 1954
Located in Louisville, Colorado
Broad line of Jeep and truck products
Semi-custom seat covers for all Jeeps and most trucks
Safe and secure installation
UV inhibitors and color stabilizers
Variety of fabrics and styles
Easily the oldest and most renowned brand on our list, Bestop offers a wide variety of accessories for Jeeps and has branched out with many options for trucks as well. Of course, this includes some marvelous top-of-the-line seat covers. Bestop offers semi-custom car seat covers that are specifically designed for all makes, models, and years of Jeeps.
They also offer options customized for most trucks. Their seat covers offer easy installation that is safe and secure. The style options are highly varied with looks to match simple classic designs as well as more colorful designs that really pop. An outstanding variety of high-quality durable fabrics provides the best comfort and protection for your seats. Bestop also puts UV inhibitors as well as color stabilizers into their seat covers. This keeps the seat covers themself in pristine condition and means you don't have to worry about replacing them over time.
Bestop is a brand that works hard to stay ahead of the competition, always releasing new and more advanced products. Of course, that does add up in terms of price. While the quality, durability, and longevity can definitely be worth it, these are the most expensive seat covers of all those we have reviewed here.

---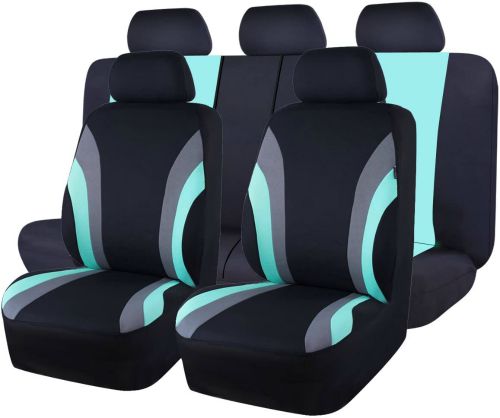 CAR PASS Auto Seat Covers at a Glance
:
---
Located in San Francisco, CA
Universal seat covers
Sideless design
Variety of fun, cute, and sleek designs
Variety of fabrics
Offers other matching car accessories
This California-based company is another that focuses on keeping prices low to be more inclusive of all customers regardless of budget. They create stunning universal seat covers that fit easily over almost any vehicle seat. A sideless design helps ensure that nothing functional about the seat is affected by the cover. This could be things like side controls and armrests.
Tons of fun and cute designs make this a great choice for a variety of people. Whether you want something with simple style or something with a loud, bold print, this is a great brand with tons of good options. The fact that they sell other matching car accessories also makes it easy to create a complete look for your vehicle when choosing this brand. These are definitely on the low-end of the price spectrum, too, which is a great bonus.

---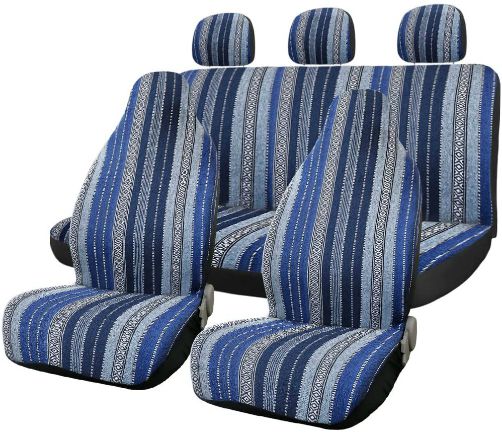 Uxcell Car Seat Covers at a Glance
:
---
Factory-direct e-commerce company
Careful quality-control
Variety of fabrics
Variety of styles
Universal car seat covers
Easy installation
Easy to clean
This next brand is Uxcell Car Seat Covers. It is a factory-direct e-commerce company. This is important because it provides a unique opportunity for the company to offer high-end products with great quality while also keeping costs low. They believe strongly in careful quality-control to keep the products top-notch for all of their customers.
Uxcell offers seat covers for almost all vehicles in a simple universal style. While Uxcell does have some very nice sporty seat covers, they are especially liked and known for their variety of boho-style seat covers. These come in a variety of patterns and colors that can create tons of different looks. They are also super easy to install and to clean. The best part, though, is that these are easily the least expensive option of car seat covers of all the choices we have reviewed. Even though they are very low in terms of cost within the market, they are still nice and durable covers that will protect your seats nicely.

---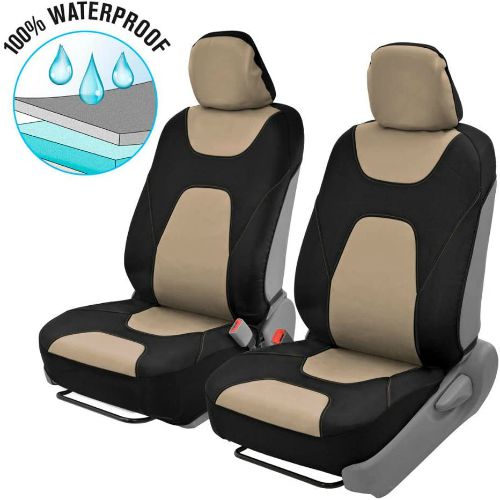 Motor Trend Car Seat Covers at a Glance
:
---
Owned by the Windflower Group
Universal car seat covers
Variety of fabrics
Waterproof options
Variety of styles and designs
Sideless options
Cooling gel options
Finally, we have the Motor Trend Car Seat Covers brand. This brand is owned by the Windflower Group. This is an agency that specializes in ecommerce as well as licensing. It builds and optimizes brands with Motor Trend having particular success. Motor Trend creates some really nice universal car seat covers.
A wide variety of fabrics, styles, and designs helps to meet anyone's preferences for their vehicle. Many of their covers are waterproof, which can be an important feature to effectively protecting your seats underneath the covers. Sideless options help to make sure you still have full use of any side controls or arm rests. They even have some offerings that are hard to find elsewhere. Their chill drive seat covers feature a special cooling gel that helps keep you cool and avoid sweating on those hot days.
When it comes to cost, these are very reasonably priced. This is especially true when you are taking into consideration some of the special features you get with certain Motor Trend car seat covers.

---
Car & Truck Seat Covers Comparison Table
---
How to Choose the Best Car & Truck Seat Covers
It is always a good idea to do your best to protect and preserve the interior of your vehicle. Not only will it keep it looking and feeling nice longer for you, but it will also increase the resale value when you are ready to sell the vehicle. There is little question that the most effective way to protect your car's interior is with car seat covers.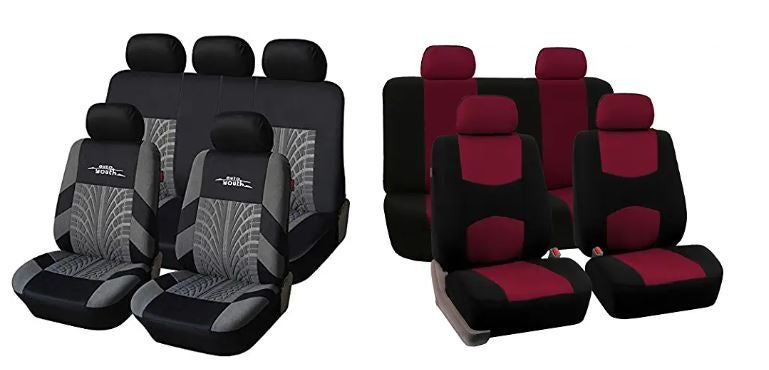 There are a lot of people who simply don't realize how much can vary between different car seat covers. There are a lot of features and details that you may want to consider as you search for the best car seat covers. This is something that can have an impact on your daily comfort if you're like most people that spend time on the road every day. Below, you can check out the top considerations to make as you settle in on a decision for what the best car seat covers are for you specifically.
Fit Compatibility: Universal VS Custom
The number one most important thing you have to consider when purchasing seat covers for your car is the fit compatibility of the covers to your specific vehicle. Car seat covers come as either universal or custom.
Universal car seat covers are designed with a generalized shape and a decent amount of stretch usually. They fit almost any vehicle seats regardless of make, model, or year. These are much more affordable to make and therefore cost much less for the consumer – that's you.
Unfortunately, with a more generalized design, they don't always fit smoothly and snugly on your seats. Custom car seat covers are made for your specific vehicle but tend to cost a lot more. There are more and more brands that are now offering semi-custom covers. This is simply where they mass-produce seat covers that are customized to specific makes, models, and years of vehicles. They are more versatile yet still affordable.
Fabric
It is also important to choose what type of fabric you want for your car seat covers. This affects durability, appearance, and the comfort of the seats.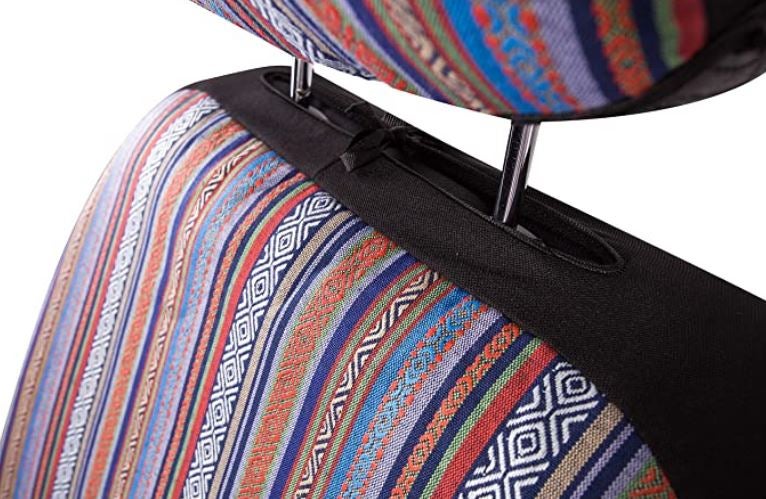 More than anything, this comes down to personal preference. Materials like twill and polyester are very affordable and often come with fun designs and colors.
For something more durable, though, you may want to consider neoprene. This is a special fabric with a high amount of durability that protects your seats more effectively. There are also leather car seat covers and faux leather covers to consider.
UV Inhibitors
Some brands also add what are called UV inhibitors to their car seat cover fabrics. This is great because they block the harmful UV light from the sun. It helps reduce wear of your covers overtime.
Color Stabilizers
Going right along with UV inhibitors, some brands add color stabilizers to their car seat cover fabrics. These help to keep the colors bright and bold within the fabric. With UV inhibitors, this helps to reduce wear and fading of your car seat covers meaning that you don't need to worry as much about replacement in the future.
Sideless Design
You will definitely want to decide if you want car seat covers that feature a sideless design or not. While many car seat covers encompass the entire vehicle seat, others leave the sides completely or mostly open. This generally means an easier installation. It also ensures that you will still have full access to anything important on the sides of your vehicle seats. This could be something like buttons to control seat position or even the armrests of your seat.
Waterproof
One thing that you will really want to take into consideration is if your car seat covers are waterproof or not. For maximum protection of your car seats, you definitely want this option. It will prevent liquids from penetrating down and reaching your actual car seats. This will go a long way in terms of protecting the seats and keeping your vehicle's interior in the best condition possible.
Style
Car seat covers are wonderful for protecting your car's interior, but they are also the perfect thing to add some more personalized style to your ride. You want to think about if you want seat covers that are simple, solid, neutral colors or if you'd like something sporty with a little color or maybe even something bright and fun with a variety of colors.
The options are really endless and there is undoubtedly a perfect option for every style out there!
Ease of Installation
Another thing to think about when choosing your car seat covers is how difficult installation will be. Most car seat covers have this taken into consideration ahead of time and shouldn't be too hard to get into place properly. However, it is definitely true that some are easier than others. If this is something that concerns you, look for options that are specifically designed with ease of installation in mind.
Sideless options, especially, should be some of the easiest to install.
Cooling Gel Integration
One more feature that is not at all common, but absolutely worth your consideration is the integration of cooling gel within the car seat cover. This is the kind of thing that once you have experienced, you may never want to go back to living without it.
Seat covers with this cooling gel in them will help your whole body stay cooler even on the hottest day. This may be especially worth your consideration if you do live in a hotter climate.
Cost
Last, but never least, is the cost of the car seat covers. Everyone has different budgets, so you will need to decide for yourself what yours is when it comes to car seat covers. You have to balance the actual cost of the car seat covers with what you want to get out of them.
It is always great to get a good deal, but it isn't worth it if you end up not getting what you want or need out of the product. Consider what is most important to you in the covers and find a good price point that can get you the features you want with a price you can afford.
Car Seat Cover FAQs
Which car seat covers are best?
What car seat covers are best will vary from person to person and vehicle to vehicle. You have to decide what is most important to you in a car seat cover. Always look for good protection for your car's interior as well as a style you love that will be nice and comfortable.
Are car seat covers worth it?
Absolutely! Protecting your car's interior can be a serious investment when it comes time to sell that vehicle. It really improves resale value if the interior is in good shape. Plus, it can increase your own daily enjoyment of your vehicle.
Are car seat covers universal?
Some car seat covers are universal and will fit nearly any vehicle seat. Others are custom designed to fit vehicle seats of specific makes, models, and years.
Are seat covers safe for car seats?
As long as car seat covers do not inhibit the use of your seatbelt, they are completely safe for use. Always follow the instructions of your car seat cover manufacturer as well as your vehicle's manufacturer to guarantee maximum safety.
Also, please keep in mind that this is in regard to covers for the seats built into your vehicles. The same does not apply to children's car seats that you install into your vehicle. Covers for these can be dangerous and you should refer to your child's car seat manual before considering the use of any car seat aftermarket products.
Buyer's Tips for Car Seat Covers
There are many reasons that you may decide to look into car seat covers for your vehicle.
They offer protection to your car's interior, increase resale value of your vehicle in the future, can provide additional comfort for your seats, and can add a personal touch of style.
Whatever leads your decision to get some car seat covers, you want to make sure you choose the right ones for you and your vehicle.
The most important thing is to choose car seat covers that will fit your seats. From there, you want to consider fabric, style, and any special features that interest you.
Don't forget that choosing a retailer to purchase the covers from is highly relevant as well. You don't want to order from just anywhere.
Always look for a retailer with a good solid reputation with an emphasis on good customer service. This can make or break a successful transaction and we consistently find Amazon to be one of the best options.
Even when not choosing Amazon, just be sure to choose a reputable option and it won't be long before you're riding in style while simultaneously protecting your interior.
How We Researched
To come up with the top car and truck seat cover brands, we researched a variety of sources for reviews such as 4×4 Magazine and Outside Online Magazine along with our own personal experience.
We also consulted online magazines for product research and reviews to get as much unbiased information as we could. To help weed out fake reviews we used Fakespot.com to make sure we only looked at genuine reviews.
With so much quality gear available, we had to narrow it down based on what we felt were the best options were for the price. The staff authors have a wide and varied background in offroading, motorcycling, and auto mechanics. They are eager to share their knowledge with readers. To help narrow down the selection we used personal experiences along with recommendations from fellow auto-enthusiasts and industry experts. After extensive research, we came up with our list to help you choose the right one for you.
Notice:
OutsidePursuits.com is a participant in the Amazon Services LLC Associates Program, an affiliate advertising program. OutsidePursuits.com earns fees from products sold through qualifying purchases by linking to Amazon.com. Amazon offers a commission on products sold through their affiliate links.