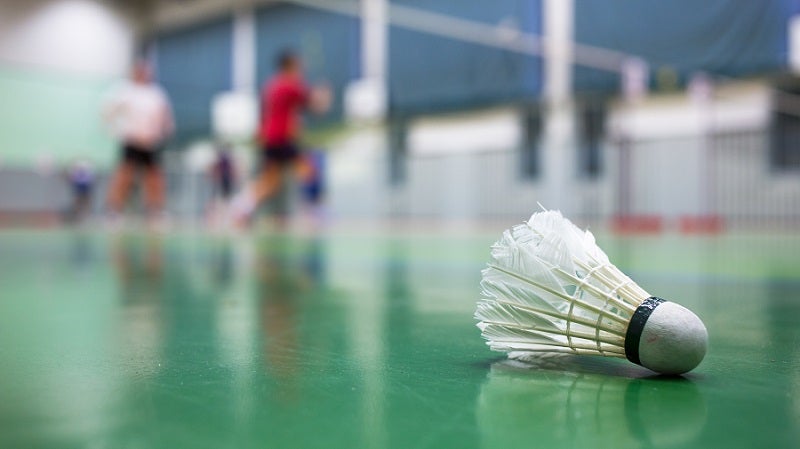 Our Editors independently research, test, and rate what we feel are the best products. We use affiliate links and may receive a small commission on purchases.
Badminton is a fun and competitive sport for people of all ages that can be played both indoors and outdoors.
Who doesn't love a good game of badminton in their backyard?
There are a wide variety of rackets to choose from with and you will need to consider your style and skill level when choosing the best badminton racket for you.
Are you a beginner or an advanced player? Are you a player who focuses more on power or control in their game?
We have reviewed some top rated badminton rackets and a few complete sets as well to help make your decision easy!
Quick Answer: The 7 Best Badminton Rackets For 2021
Best Badminton Raquets
| | Senston N80 Graphite Badminton Racket | Yonex Muscle Power Series Badminton Racket | Wilson BLX Blade Badminton Racquet |
| --- | --- | --- | --- |
| | | | |
| | | | |
| Material: | Graphite frame, graphite shaft | Graphite frame, graphite shaft | Karophite Black (Graphite) |
| Size: | 27 inches (675mm) length | 5 x 1.8 x 9.8 inches | 54 inches / 67.4 cm |
| Weight: | 2.8 oz, 75 g | 2 oz, 85 g | 2.89 oz / 83 g |
| Shape: | Isometric | Isometric | Isometric |
| Stringing: | 18-26 lbs supports high pounds strings | n/a | Comes prestrung from the manufacturer at mid tension |
| | | | |
Badminton Racket Reviews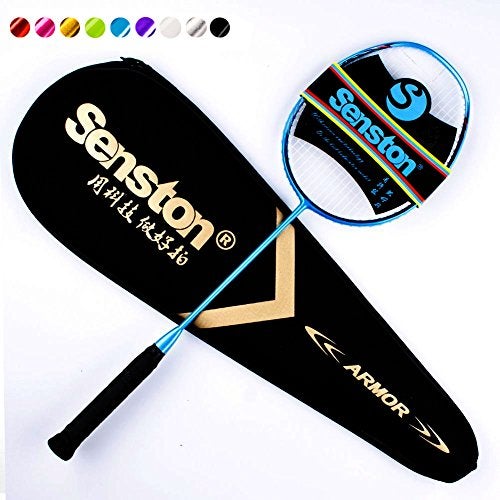 Senston N80 Graphite Badminton Racket at a Glance
:
---
Material: Graphite frame, graphite shaft
Size: 27 inches (675mm) length
Weight: 2.8 oz, 75 g
Shape: Isometric
Stringing: 18-26 lbs supports high pounds strings
Extras: Bag included, 9 colors available
If you are beginner or intermediate player looking for a racket with an edge, the Senston N80 offers a fantastic value for its price. With its durable all-graphite body, this racket offers accuracy and precision in movement.
Its thin and light-weight frame has outstanding aerodynamic properties, and the racket is a high-speed performer. The isometric shape of the head provides a larger sweet spot, making it easier to hit the shot efficiently.
The N80 comes in 9 distinct colors and comes with a case. The Senston N80 offers the best value in terms of price for the features.

---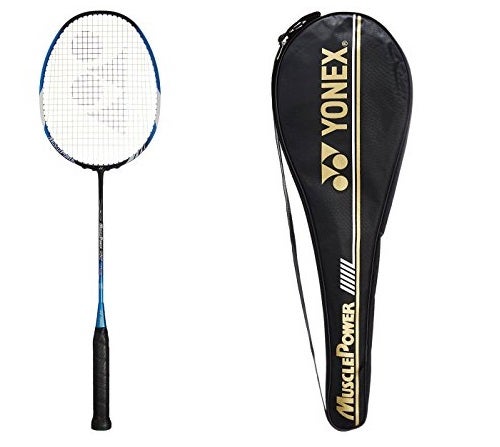 Yonex Muscle Power Series Badminton Racket at a Glance
:
---
Material: Graphite frame, graphite shaft
Size: 5 x 1.8 x 9.8 inches
Weight: 2 oz, 85 g
Shape: Isometric
Extras: Full cover
Yonex muscle power series rackets have something to offer to players of levels from beginner to advanced.
Muscle Power seats the string on Round Archways: this revolutionary stringing creates a unity of the frame and strings in much closer and tighter contact.
The head stability that results from rounding the corners allows for a more powerful play. While the features of Muscle Power are a great fit for an expert player, the Isometric head shape allows for a bigger sweet spot that is suitable for a beginners.
This racket comes with a protective carry case and is a well rounded choice for any player.
---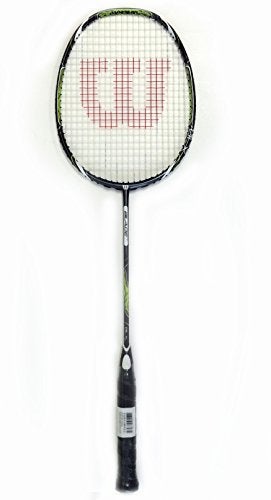 Wilson BLX Blade Badminton Racquet at a Glance
:
---
Material: Karophite Black (Graphite)
Size: 54 inches / 67.4 cm
Weight: 

2.89

oz / 83 g
Shape: Isometric
Stringing: Comes prestrung from the manufacturer at mid tension.
Extras: Wilson BLX Full Cover
The Wilson Blade BLX badminton racket is a great choice for a more advanced player looking for a very flexible racket with a solid power and feel.
The racket weighs only 82 grams, has high flex shaft, and a head-heavy balance feel for the more aggressive player. The new isometric square head shape provides more power and larger hitting area.
BLX features Basalt, which is a natural volcanic rock, on both its head and shaft. This racket is the preferred choice for an offensive/attacking playing style.

---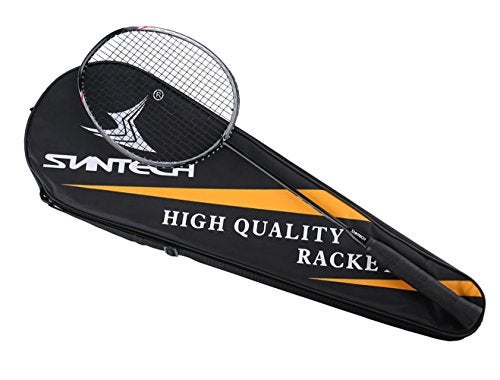 Suntech Carbon Fiber Badminton Racket at a Glance
:
---
Material: Graphite
Weight: 2.92 oz, 83g
Extras: Fabric Carrying Bag
This Suntech badminton racket is very lightweight at about 83 grams, but has a very sturdy construction. A full-carbon head and shaft mean the racket can withstand high power rounds.
It features a sturdy grip for powerful strokes with more impact. It is generally a racket that is intended for beginners and recreational players, and it comes in three different colors.

---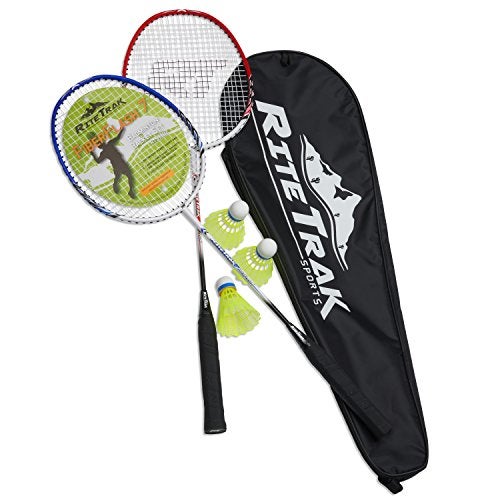 RiteTrak Sports FiberFlash Badminton Racket Set at a Glance
:
---
Material: Graphite
Size: 67cm
Weight: 3.17 oz, 90 g
Stringing: 22-24lbs
Extras: Set of 3 shuttlecocks with a yellow nylon skirt and a composite wood head packed in a plastic tube to prevent crushing.
This set is intended for recreational use, however it features a very solid one-piece racket construction that gives these rackets durability and stability.
The FiberFlash 7 series of rackets features a one-piece carbon design with a smooth connection between the shaft and the head of the racket. It's a sturdy, yet flexible choice with excellent durability.
This set includes two pre-strung rackets and comes complete with 3 nylon skirt shuttlecocks and a zippered, lightweight fabric carrying bag made of 420D polyester with an adjustable web carrying strap and a fabric loop at the top of the bag for hanging on a wall hook.
A great choice for couples and social gatherings.

---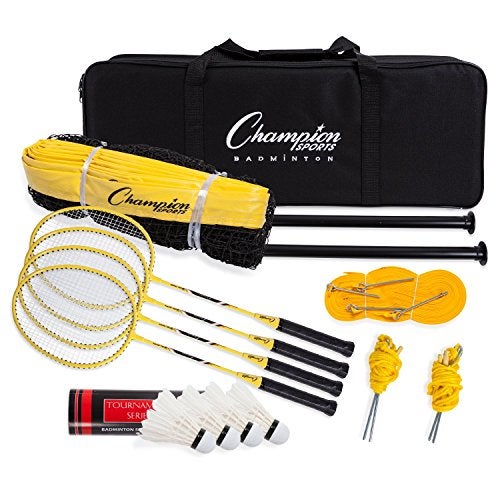 Champion Sports Outdoor Badminton Set at a Glance
:
---
Two 3-Piece Black Powder Coated Adjustable Aluminum Poles
4 Aluminum Tournament-Quality Rackets
2 Tournament-Quality, Goose Feather Shuttlecocks/Birdies
2 Nylon Practice Shuttlecocks
Four 10-Inch Steel Stakes
This set includes everything you need to play a competitive badminton game. While the set is geared towards recreational use, it's a great quality option.
Included are four aluminum rackets,  two aluminum poles, a mesh net, four birdies or shuttlecocks, boundary lines, stakes, and a carrying case.
This badminton set is perfect for recreational use. The poles have a heavy-duty black powder coating to endure even the most powerful smashes, and the net has waterproof tarpaulin tapes.
The 1.5 inch diameter poles reach 5.5 feet in height, and the 128-foot boundary line. All of the equipment is very portable and is quick to assemble and take down, either on grass or sand and includes everything you need to get started

---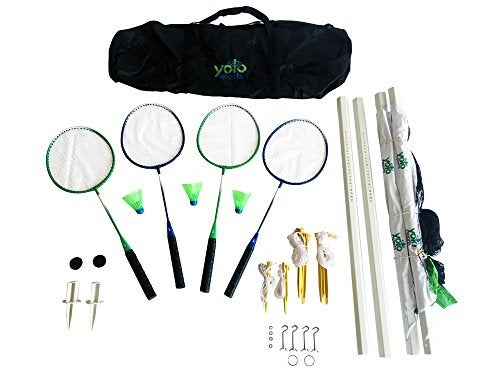 Yolo Sports Badminton Set at a Glance
:
---
1.5" Telescoping hexagon composite poles
20' x 2' 6 ply net
4 Tempered steel racquets with contoured padded grips
3 Recreational shuttlecocks
Carrying bag[/checklist]
This outdoor set is great for family and recreational use and provides hours of entertainment for everyone! The YOLO badminton set includes everything you could need to get started.
Included are 1.5" telescoping hexagon composite poles, 20' x 2' 6 ply net with top net cable and tension adjuster, four tempered steel racquets with contoured, padded grips, three recreational shuttlecocks, ground stakes, and a large carrying bag.

---
Best Badminton Raquets Comparison Table
How To Choose The Best Badminton Racket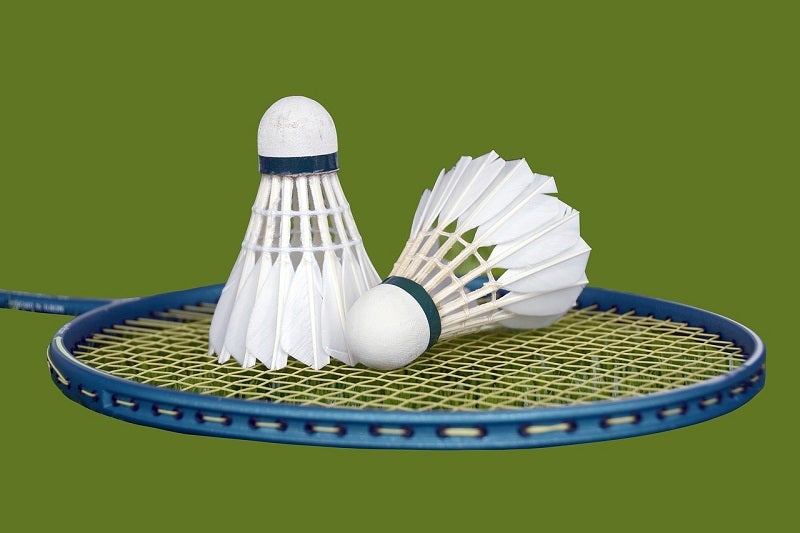 Badminton Raquet Considerations
When choosing a badminton racket, whether you are a beginner or an advanced player, consider several factors.
Weight of the Racket
Lightweight badminton rackets are generally better for beginners and weigh anywhere between 80g to 90g. Lightweight rackets are easier to control, and allow for quick stroking speeds and recovery.
Lighter rackets enable you to perform quick serves and easy switching between different strokes. They are also easier on the wrist and shoulders, reducing the chances of fatigue and injuries.
Shape of the Head
There are two types of racket head: oval and isometric. The tip of the isometric racket head is 'flatter' or more squarish, compared to an oval-head racket. Every racket has a "sweet spot", an area on the string bed which will give you the most power.
An oval headed racket has a smaller sweet spot, but if you connect it with the shuttlecock, it gives you a slightly more concentrated power.
Generally speaking, isometric head shape is more preferable for beginners, while oval headed rackets are better for advanced players who have better control, and are looking to put more power into their strokes.
Balance Point
A higher balance point means that the racket is heavier at the head. More experienced players may decide on this type of racket, since it allows the player to channel more power into a stroke.
However, these rackets can be difficult to control due to the extra weight, and may not be suitable for every player.
String Tension
String tension simply means how loose or tight the strings are. This can be tested by pressing the palm of your hand against the strings, and seeing how far it stretches. 1mm depth of the strings is the ideal tension for most players.
If you have a tendency to channel more force into your strokes, you will need a higher tension for your racket strings. A lower tension of 18-23 lbs is generally recommended for beginners, while a higher tension of 24-30 lbs is more suitable for advanced players.
A common beginner mistake is to string a racket with too much tension, which requires great energy in order to generate a powerful hit and will be hard on your body.
Especially in the case of beginners this may cause an injury. Tension standards also depend on on geographical location due to temperature differences: for example higher racket tensions are usually required for people living in the tropics as strings tend to expand in warmer temperatures.
Hand Grip
There are two major factors that affect the grip of a racket, namely its type – towel or synthetic – and size. Towel grips are softer, and provide a steady grip and absorb moisture.
They generally  require frequent replacement compared to synthetic grips, which are smoother to the touch. While synthetic ones last longer, they are not as comfortable, since they do not absorb moisture.
Most racket grips come in four sizes. Bigger grips provide increased power due to tighter control, while smaller grips allow for better maneuverability.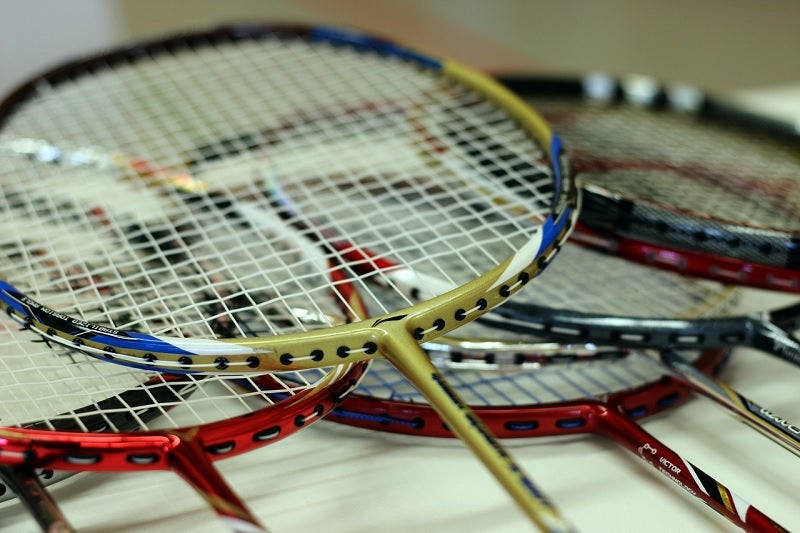 Badminton Racquet Summary
Balance Point: Head heavy racket for advanced players, and lower balance point for beginners
Weight: Lightweight rackets are generally in the 80-90g category. Anything above is considered a heavier racket.
Frame Shape: The head comes in either oval shape with a smaller sweet spot and more power, or an isometric shape with a more balanced head and a larger sweet spot.
Material: Materials generally range from durable graphite (used on professional and high quality rackets), aluminum, and steel – with latter of the two generally used for recreational use.
Stringing
Stringing ranges are as follows:
Beginner/intermediate :  18 lbs – 23 lbs
Advanced/Professional:  24 lbs – 30 lbs
How to Play Badminton
Basic Badminton for Beginners.
Conclusion
When deciding on the appropriate racket the first thing to consider is your the level of your game, what is your game style and on what level you plan to be playing.
For a beginner it's important to get a more well rounded light-weight racket, with a large sweetspot area, that gives better control, while an advance player who already controls their game will look for power.
Recreational players, may opt for a badminton set that gives them a complete set-up, with a possibility to play in outdoor spaces, and social occasions.
How We Researched
To come up with the top badminton rackets we researched a variety of sources for reviews such as Target, Dicks Sporting Goods and Big 5 Sporting Goods along with our own personal experience.
We also consulted online magazines for product research and reviews to get as much unbiased information as we could. To help weed out fake reviews we used Fakespot.com to make sure we only looked at genuine reviews.
With so much quality gear available, we had to narrow it down based on what we felt were the best options for the price. The staff authors have extensive experience with a variety of outdoor sports like paintball, roller skating, baseball and golf.
To help narrow down the selection they used their personal experience along with recommendations from instructors and retailers.
After extensive research, we came up with our list to help you choose the right one for you.
Sources
---
I hope this guide was helpful for finding the best badminton racket to fit your needs. If you want to comment or recommend a racket I didn't include, please use my contact form to get in touch.
Have fun!
Notice:
OutsidePursuits.com is a participant in the Amazon Services LLC Associates Program, an affiliate advertising program. OutsidePursuits.com earns fees from products sold through qualifying purchases by linking to Amazon.com. Amazon offers a commission on products sold through their affiliate links.