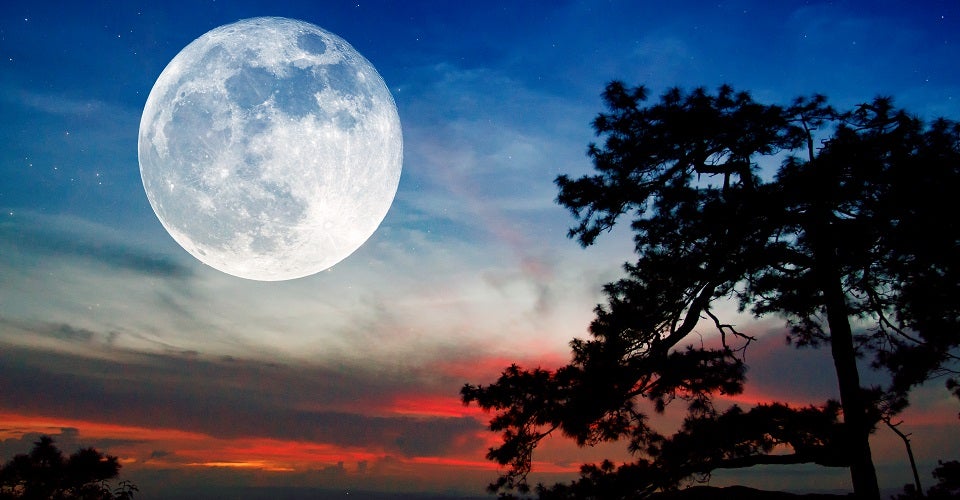 Our Editors independently research, test, and rate what we feel are the best products. We use affiliate links and may receive a small commission on purchases.
Are you on a quest to find the best astronomy binoculars ever to help you see the planets, moon and other celestial phenomena?
You should know by now that when it comes to binoculars, quality is everything. Unfortunately, quality is often hard to come by in this market.
So to help you choose we have done the research so you don't have to. Let's get started!
Best Binoculars For Astronomy
For more of my gear recommendations, have a look through these popular Outside Pursuits guide links: Monoculars, Compact Binoculars, Camera Backpacks.

Quick Answer: The 7 Best Rated Astronomy Binoculars – 2021
Our reviews of the top-rated astronomy binoculars with a comparison table and buyers guide will help you choose the right pair for you.
---
Astronomy Binocular Reviews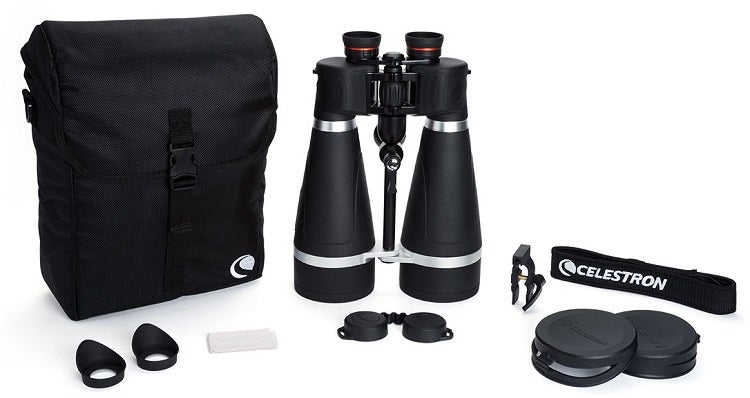 Celestron SkyMaster Pro High Power Astronomy Binoculars at a Glance
:
---
Magnification: 20x
Objective Lens: 80mm
Tripod Adapter: Yes
Tripod Included: No
Smartphone Mount: Yes
Let's get started with some of the best astronomy binoculars out there today: the Celestron 20×80 SkyMaster Pro High Power Astronomy Binoculars.
Featuring large, 80mm objective lenses and 20x magnification, you'll have no problem seeing all the celestial sights in the sky.
As they're the ideal binoculars for use in all types of lighting conditions, you can expect to see stunning planets, galaxies, nebulas and more with the kind of clarity we don't often get to experience.
At first glance, you can see that this pair is extremely stylish, with a rubber armored exterior coming in black and silver.
Not only does it look sleek and modern but works to provide improved ergonomics and protection from regular use. They're also waterproof and nitrogen purged so you can utilize them in sun, rain, snow, wind, and more.
Nitrogen gas will help keep lenses from fogging when you transition between temperatures/climates. With all air-to-glass surfaces being multi-coated with a proprietary XLT coating, you're sure to have a clear optical path.
Even if you don't currently have a tripod, having the ability to mount your binoculars to them is important.
The built-in tripod adapter that comes with this model is a nice addition, as many models don't come with them, which will obviously cost you more money if you need one.
Aside from that, you'll also receive a Reflex Sight Rail (RSR), objective lens caps, rainguard, neck strap, lens cloth, and interchangeable standard/flared soft eyecups.

---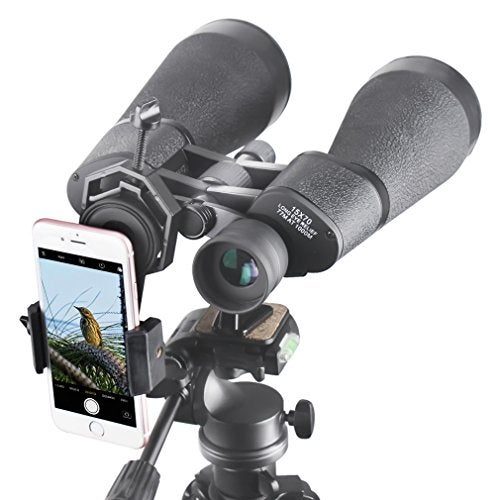 Gosky SkyView Astronomy Binoculars at a Glance
:
---
Magnification: 25x
Objective Lens: 70mm
Tripod Adapter: Yes
Tripod Included: No
Smartphone Mount: Yes
Are you on the hunt for some of the best binoculars for astronomy, but are on a tight budget? If so, then take a look at the Gosky SkyView 25×70 Astronomy Binoculars.
Not only are they ideal for stargazing, but bird watching, sightseeing, shooting, and more.
What's also cool about this pair, is that it comes with a smartphone mount so you can seamlessly take videos and photos hands-free of planets, wildlife, sporting events, and more.
Thanks to the 70mm objective lenses and multi-coated optics, every image is crystal clear with high-resolution, leaving you with a natural view no matter what kind of lighting conditions you're in.
Regarding the exterior, it's covered with a tough armor to be able to hold up against all kinds of weather conditions so you can use it indoors and outdoors all year long.
25x magnification power lets you see incredible detail literally worlds away.
If you're just starting out using binoculars, these are also an excellent selection as they're so user-friendly.
Simply use the center adjustment to focus the left eye, then close that eye and adjust the right eyepiece until it's completely focused.

---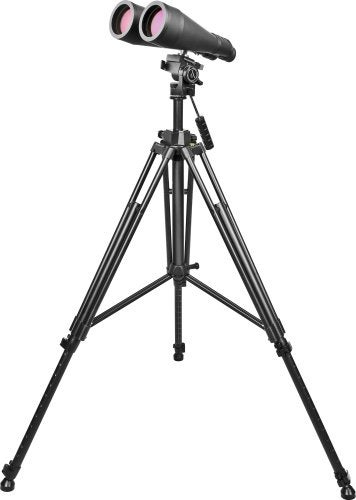 Orion Astronomical Binocular & XHD Tripod Bundle at a Glance
:
---
Magnification: 20x
Objective Lens: 80mm
Tripod Adapter: Yes
Tripod Included: Yes
Smartphone Mount: No
If you're on the market for some of the best binoculars for stargazing, complete with a tripod, then give the Orion 20×80 Astronomical Binocular & XHD Tripod Bundle a serious look.
Coming with an integrated tripod adapter, attaching binoculars is simple.
You'll be able to enjoy observing sessions any time of the day or night, with the convenience of sitting down and not having to hold them the entire time.
As far as the tripod goes, they come with large aluminum legs that are very sturdy while remaining lightweight and easy to transport.
With their heavy-duty lock lever clamps, setting up and taking them down takes less than a minute! Each leg also comes with graduated reference etchings to let you rapidly extend each leg to the same length that you choose.
Now, let's talk about the binoculars, themselves.
Featuring a center focus wheel, they're easy and quick to adjust. You'll also get lens caps with a deep flange and rubber-coated brow sockets around the lenses to provide you with an incredibly secure lens cover system.
The rubber interface also keeps out moisture completely, so you can use them in all kinds of weather conditions. Fully multi-coated optics and large 80mm objective lenses provide you with a 3.2-degree field of view.
Not only that, but you'll get 20x magnification to clearly view the stars, wildlife, and other impressive scenery.

---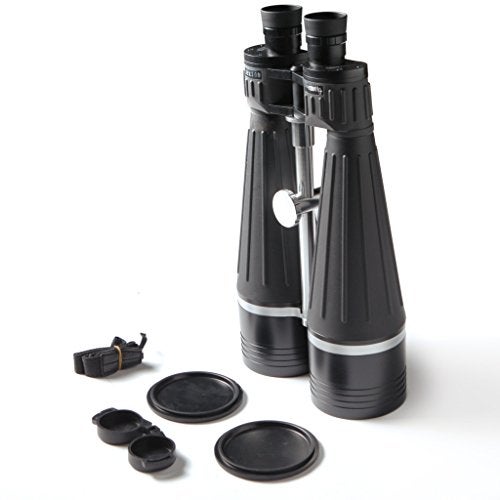 Zhumell Tachyon Astronomy Binoculars with Case at a Glance
:
---
Magnification: 25x
Objective Lens: 100mm
Tripod Adapter: Yes
Tripod Included: No
Smartphone Mount: No
While the binoculars we have reviewed so far are definitely some good choices but if you're looking for something stronger, check out the Zhumell 25×100 Tachyon Astronomy Binoculars.
The industrial strength pair are actually used by many professionals out there, complete with 100mm objective lenses and 25x magnification to easily see all kinds of far away objects like craters on the moon or details on the surface of our planet and others.
Accepting standard 1.25" astronomical filters, imagery will be even further enhanced when it's used for astronomy.
The individual eyepiece focus system is similar to that of the Gosky Titan's we just covered, giving you some of the most precise adjustment available.
If you're going to be using them outdoors, you need to make sure they're durable.
With fully multi-coated lenses, tough metal construction, and a waterproof/nitrogen-purged body you're ready for any kind of environment without worry your binoculars will be damaged.
If you're planning on using a tripod with this model, you'll be happy to find the built-in tripod adapter rail which will give you a much more comfortable experience.
Unfortunately, it doesn't come with the tripod, but it's still a nice addition. Aside from that, you'll also get a locking metal case, objective lens cap, rain guard, lens cloth, and instruction manual to cover any questions you may have.

---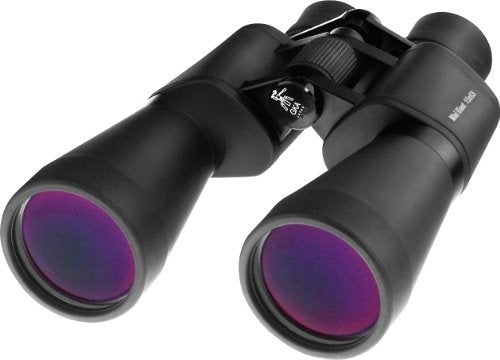 Orion 09466 Mini Giant Astronomy Binoculars at a Glance
:
---
Magnification: 15x
Objective Lens: 63mm
Tripod Adapter: No
Tripod Included: No
Smartphone Mount: No
Orion is one of the most well-respected names in the binocular world, and their 09466 Mini Giant is one of the better astronomy binoculars they've produced.
Their Mini Giants work to pull in more light than a 50mm glass, but don't come with the extra weight that the "giant" models can burden you with.
The high-powered pair are ideal if you're really looking for serious magnification to view dim nebulae or precise details on the moon.
The 63mm objective lenses work to really grab a lot of light, which make them perfect for viewing in night and daytime.
Due to the fully multi-coated BAK-4 prisms and binocular lenses, they transmit light quite well, leaving you with clear and bright imagery.
The barrels are also internally glare-threaded to avoid any ghosting and to give you a rich, natural-looking contrast.
We felt that this model was one of the most comfortable, as you don't need to press the eyepiece housings into the eye sockets to take advantage of a full field of view.
The smooth rubber armoring also ensures you have a solid grip on the binoculars the entire time you use them.

---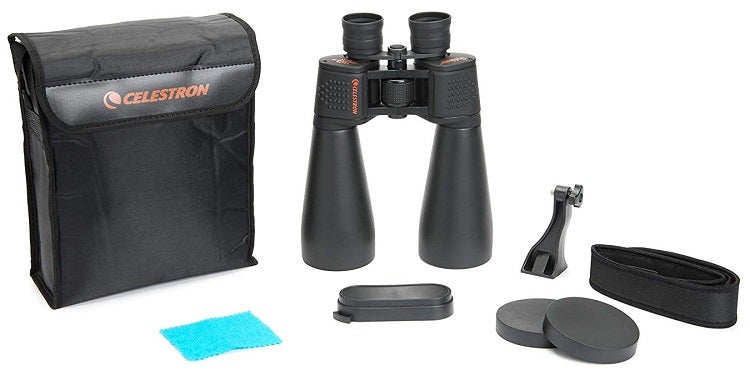 Celestron SkyMaster Giant Binoculars with Tripod Adapter at a Glance
:
---
Magnification: 15x
Objective Lens: 70mm
Tripod Adapter: Yes
Tripod Included: No
Smartphone Mount: No
If you're looking to get a good pair of binoculars for astronomy but don't want to empty out your wallet, then take a good look at the Celestron SkyMaster Giant 15×70 Binoculars.
Consistently ranking on the top of Amazon's best sellers list, we had to check them out and can confidently say that we agree with their ratings.
While they may be a bit weak for more experienced viewers, they're absolutely perfect for novices and those who aren't yet ready to invest a lot of cash in the hobby.
With a large aperture and 70mm objective lenses, this model is great for low lighting and maximum image brightness that is necessary for quality stargazing.
Multi-coated optics and BaK-4 prisms aid in this, giving you wonderful light transmission to help create brighter images.
While it doesn't come with the tripod, itself, it does come with a useful tripod adapter so if you already have a tripod you're all set.
So, were there any downsides?
Yes, but just a couple. First, we noticed the outer 25% of the field was quite soft and even blurry at times. Not only that, but the pair are a bit heavy for extended use without a tripod.

---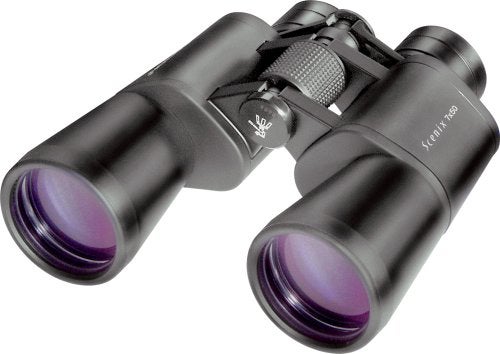 Orion 98332 Scenix Wide Field Linear View Binoculars at a Glance
:
---
Magnification: 7x
Objective Lens: 50mm
Tripod Adapter: No
Tripod Included: No
Smartphone Mount: No
Last but certainly not least, we're back again with Orion.
This time, we bring you the Scenix Binoculars, which are another relatively affordable pair that come with superior construction to give you an excellent view every time.
Incorporating porro prisms comprised of BaK-4 optical glass, they're comparable to the models more than twice its price tag.
You can easily use them in all kinds of lighting conditions, viewing the stars, wildlife, and much more.
The 7.1-degree field of vision are perfect for viewing large scenic vistas, also making them ideal for hunting or birdwatching.
We noticed they're also one of the most lightweight pairs we've tried, which make them attractive for carrying on long walks. Despite this, the housing is made out of metal as opposed to the cheap plastic many other manufacturers use.
As they're ideal for beginners, they're incredibly user-friendly. In the center, you'll find a large focusing mechanism to ensure detail and quality each time you step out of the house.
Aside from the tripod adapter, you'll also receive a soft carrying case, lens caps, and deluxe wide neck strap to keep them available at all times.

---
Astronomy Binoculars Comparison Table
How to Choose the Best Binoculars for Astronomy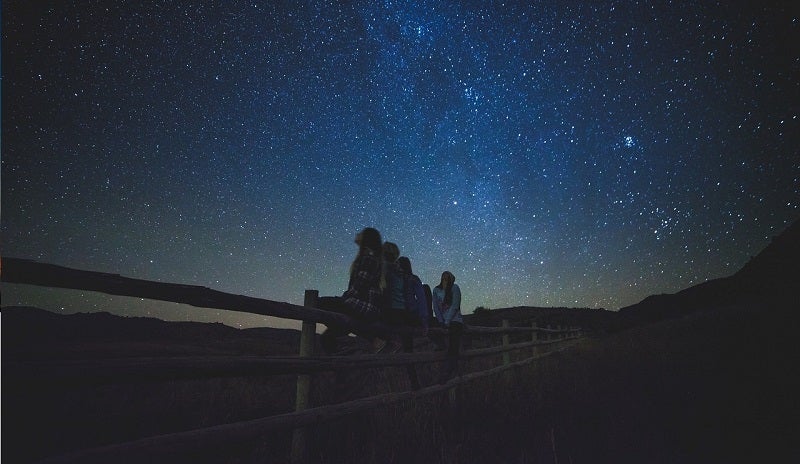 Now that you're practically an expert when it comes with the best astronomy binoculars, which model will you be taking with you on your adventures? If you're still uncertain, that's perfectly normal.
We know how difficult it can be to make a decision when there are so many great options to choose from. That's why we've decided to take it upon ourselves to write up the comprehensive buying guide, below.
This guide will lead you through each step of the selection process to ensure that by the time you're done reading, there will be no doubt which binoculars are the ones for you.
Why Use Binoculars For Stargazing?
Perhaps the biggest advantage is the ability to use both eyes. This makes it a much more comfortable for long periods of time.
The Field of View (FOV) of binoculars is MUCH wider giving you the ability to see more of the sky. It's also much easier to find objects with a pair of binoculars.
Binoculars are much more versatile. You can also use them for birding, sporting events or wildlife viewing.
Cheaper, a good pair of stargazing binoculars and tripod can be had for under $300 like the Orion Astronomical Binocular & XHD Tripod Bundle.
Waterproof
Most likely, you're going to be using your binoculars outside. Even if you don't, you don't want to risk accidentally spilling your coffee on them and ruining them completely.
Not only that, but water is a very complicated thing. It can come in the form of rain, condensation, or a puddle; all potential enemies to you your binoculars if they're not properly protected.
Most modern binoculars are going to come with rubber on the exterior which not only protect against water, but shock, as well.
If you can, really try selecting a pair that's been nitrogen-purged before the manufacturer bottles up the optics. Otherwise, it will just be a matter of time before the binoculars start fogging or rusting.
Prisms
If you're not already familiar with prisms in relation to astronomy binoculars, you're about to be. One of the easiest ways of figuring out whether or not a pair of binoculars is of good quality, is by checking out its prism design.
Porro prisms
These are the original prisms and are inexpensive and work just fine. When you get 2 geometric Porro prisms glued together at right angles, they fold and make the light path longer while correcting the image.
They're what give your binoculars that rounded, curved look and also fit better in your hands. Put simply, they work well in dim lighting which is ideal for sky watching.
Roof prisms
Have become quite common and are designed in a way to make them more weatherproof and compact. They're often found in less expensive models, but depending on the material they're made with, can still deliver crisp and clear results.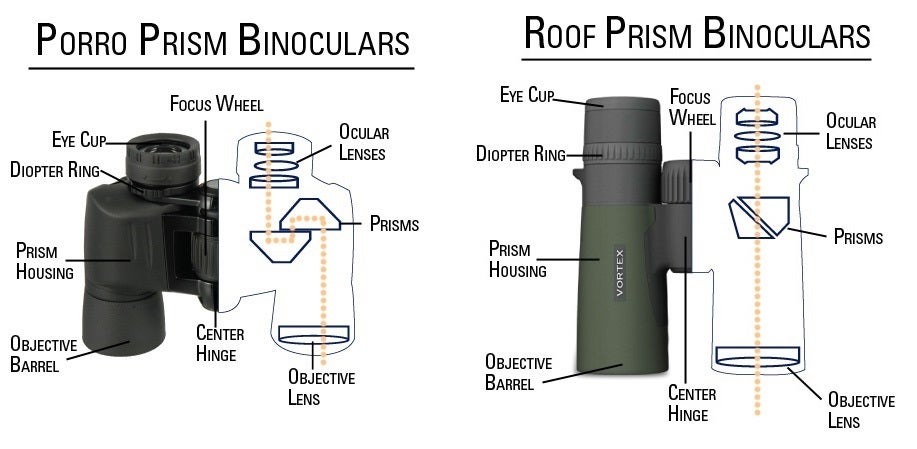 Build Quality
You'll want your new binoculars to be heavy-duty, but not too heavy in weight. The pair you get should have the center of mass sitting right in the palms of your hands to make them easier to hold for longer periods of time. No one wants their hands cramping up when they're trying to see Jupiter!
As previously mentioned, tons of manufacturers have chosen to use plastic when making the binocular body. While plastic is definitely less expensive, it's often heavier and is almost always going to be less durable than metal will. Our favorite binoculars feature aircraft-grade aluminum bodies that are ultra-lightweight and can take a beating.
Tripod
To use high power astronomy binoculars you will need to mount them on a tripod for steady, shake-free viewing. Binoculars for stargazing will have a tripod mount that mounts on a standard adapter.
Using a tripod not only gives you a steady view it also takes the strain off having to hold them. Since astronomy binoculars tend to be heavy with their large optics you will find a tripod indispensable.
Coated Lenses
To get the most clarity out of your images, you should get a model with coated lenses. If you can get a pair with fully multi-coated lenses, that's even better. They'll make sure to never block or diminish the quality of your views.
By reducing the amount of light that reflects off each lens in the binocular, a clearer and brighter image is left for the viewer.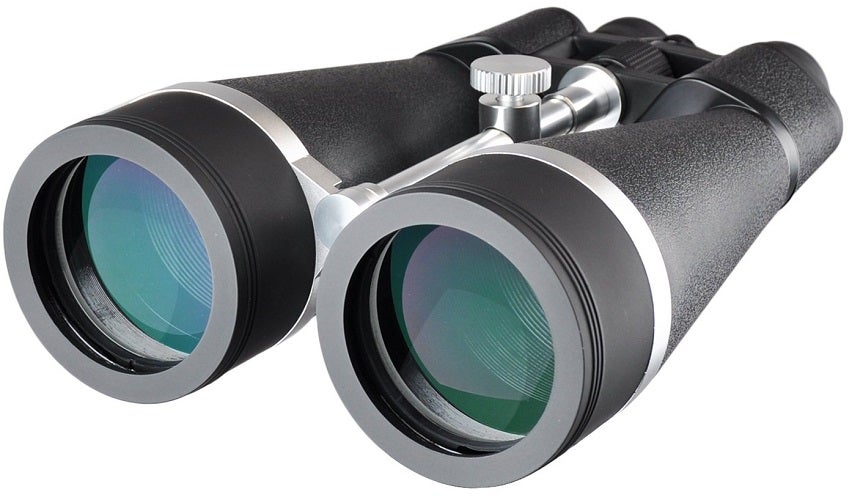 Magnification
Magnification is shown on binoculars together with the aperture. You'll often see 15 x 70, 10 x 50, and so on. The magnification will tell you how much larger the model can zoom an image, but remember that bigger isn't always better.
When you get really high magnification, you'll also get a loss of detail and light – sometimes. If you're just starting out, around 7x power and a bit higher is ideal. However, once you get up to the 15x and up range, we highly recommend mounting them onto a tripod.
Why?
Because if you're holding them in your hands, any kind of unsteadiness or shaking will also be magnified. Not only will this make for lousy viewing, but can make your dizzy real quick.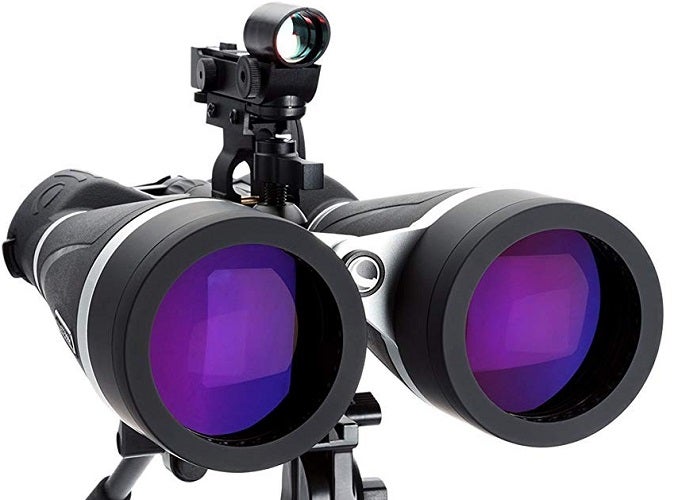 Field of View (FOV)
Along with magnification, you need to seriously take field of view into question, too. Field of view is the window frame of your view, essentially. It's taken in angular degrees, informing you of the width of sky you'll be able to see or capture at once.
A narrow field of view will come along with higher magnifications, showing less sky at once. A wide field of view is the opposite, showing more sky at once but with lower magnifications. If you can, get a model with a wider field of view.
Exit Pupils/Eye Relief
Take your binoculars in your hands, and extend your arm with the eyepieces facing towards you. You'll see a little round dot of light in each eyepiece. These are known as "exit pupils" and come measured in millimeters. You'll generally want these to be small. You can also get the size by dividing aperture by magnification!
Eye relief is the space between your eyes and the eyepieces, and also come measured in millimeters. This shows the distance you can move your eyes away from the eyepieces while still maintaining a complete field of view.
If you wear glasses, you should definitely get a pair with a long eye relief. Try to look for a minimum of 14mm.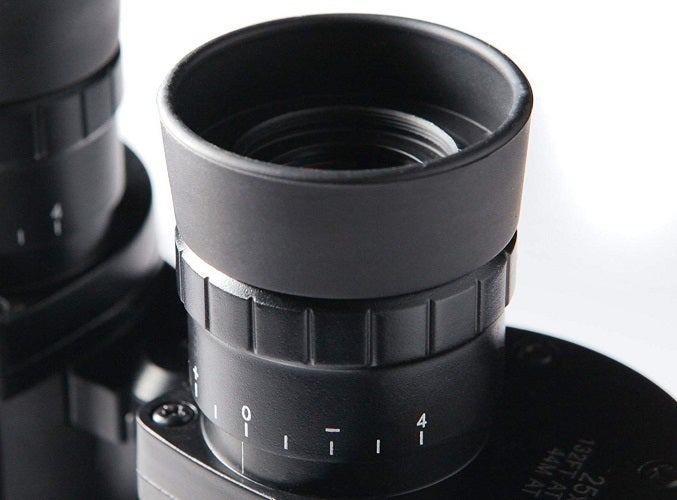 Fogproof Inert Gas
Most of the high-end binoculars will be fogproof. So how to manufacturers achieve this feature? There are two methods:
First, manufacturers apply fog resistant coatings to lens exteriors or interiors. This is an inexpensive way for them to create fog resistant binocular lenses.
Second, and pricier, is the inert gas option. Some manufacturers will fill the inside of the binocular with a special gas.
Instead of atmospheric gas which may contain moisture, binocular makers can choose to fill the binocular with inert gas and seal the binocular to outside air. This means the binoculars can't fog up unless air leaks in.
Price
How much are you willing to spend on a pair of the best binoculars for astronomy? If you're unsure, then it's a good idea to come up with a number before you start really digging in to the various options out there.
You don't want to accidentally end up spending more than you'd intended to, just because you got carried away. That's how buyer's remorse happens, and we want you to be 100% happy with your selection!
FAQs About Astronomy Binoculars
Q: What is the difference between astronomy binoculars and telescopes?
A: There are a ton of differences! While both work to make objects look bigger and gather light, the more a telescope magnifies an object, the dimmer that object appears.
When you're trying to look at comets, galaxies, etc. this becomes an issue because everything will look way too bright and with little detail. Telescopes usually have just a single eyepiece and show a small area. Binoculars have two eyepieces and show a much larger view at once.
Q: What does the "x" on my binoculars mean?
A: The "x" that separates the two numbers on a pair of binoculars is "by". For example, "25×70" would be stated as "25 by 70", meaning the pair would make an image appear 25 times larger than your unaided vision would.
Q: If I'm a beginner, should I start out viewing the moon with my binoculars?
A: The moon is the ideal target if you're a beginner, and the easiest time to see it is in twilight when the glare isn't so bright and you can better see details. After that, move on to viewing planets and once you've mastered that, the Milky Way!
Tips For Using Your Astronomy Binoculars
#1: If you're going to also be using your astronomy binoculars for things like sporting events or bird watching, make sure they can focus at closer ranges.
Also try to make sure the center-focusing knob can easily jog both light paths to give a sharper image for your brain to process.
#2: If you don't have a tripod, then find a smaller pair of binoculars.
You don't want to fatigue early on and have your hands shaking. You're not going to enjoy your experience, and it's not going to encourage you to get better at your hobby.
#3: For the best viewing experience and a longer lifespan for your binoculars, make sure to regularly clean them.
As binoculars area essentially an everyday item, they'll likely be dirty. You can easily clean the casing with a cloth, but the lenses are much more delicate. Oftentimes, there will be sensitive coatings on them that can become damaged if you're too rough or use the wrong kind of cloth.
A microfiber cloth or other very soft cloth is ideal, making sure it's completely clean before using it. Wipe gently in circular motions, and put the caps back on the lenses once they've been cleaned or every time they're not in use.
Summary
Now that you know just about everything you could ever want to about the best astronomy binoculars, which ones are the perfect product for you?
No matter which pair you get, know that you'll be receiving one of the best on the market today. We hope that our guide has helped you to select exactly that. Thanks for tuning in with us, and we'll see you again soon!
How We Researched
To come up with the top astronomy binoculars we researched a variety of sources for reviews such as REI, Dicks Sporting Goods and Bass Pro Shops along with our own personal experience.
We also consulted online magazines for product research and reviews to get as much unbiased information as we could. To help weed out fake reviews we used Fakespot.com to make sure we only looked at genuine reviews.
With so much quality gear available, we had to narrow it down based on what we felt were the best options for the price. The staff authors are avid photographers and birders.
To help narrow down the selection our authors used their personal experience along with recommendations from fellow hikers, photographers and birders.
After extensive research, we came up with our list to help you choose the right one for you.
Sources
---
Notice:
OutsidePursuits.com is a participant in the Amazon Services LLC Associates Program, an affiliate advertising program. OutsidePursuits.com earns fees from products sold through qualifying purchases by linking to Amazon.com. Amazon offers a commission on products sold through their affiliate links.