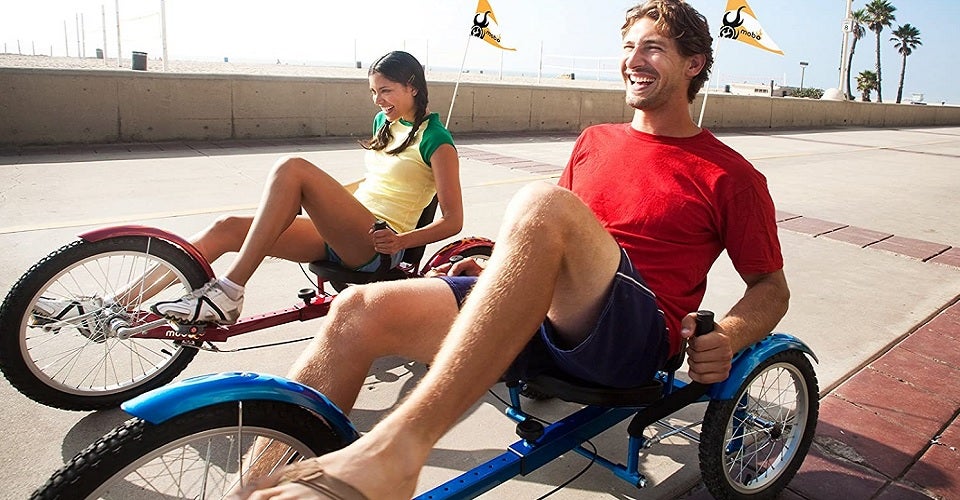 Our Editors independently research, test, and rate what we feel are the best products. We use affiliate links and may receive a small commission on purchases.
When we were kids, many of us loved pedaling around on our tricycles, but did you know that that fun doesn't have to end?
That's right, there are adult tricycles out there, that are perfect for helping you stay mobile while having a great time.
These 3-wheeled bikes are perfect if you don't have the best balance yet, and often come with large rear baskets which is perfect for trips to the grocery store!
We've spent over the last month or so testing out countless models to provide you with a comprehensive guide on the top adult tricycles on the market today. Let's get rolling!
Looking for a different type of bike? Read our comprehensive guide to every type of bicycle. 
Best Adult Tricycles
Schwinn Meridian Adult Trike
Mobo Triton Pro Tricycle
Barbella Adult Tricycle
Style:
Tricycle
Recumbent
Tricycle
Speeds:
One
One
Seven
Wheels:
24"
20" Front
16" Rear
24"
Colors:
7
4
11
Basket:
Yes
No
Yes
Rating:
4.0 / 5.0
4.1 / 5.0
4.2 / 5.0
For more of my top biking gear recommendations, have a look through these popular Outside Pursuits guide links: Bike Helmets, Bike Locks, Bike Pumps.

Quick Answer: The 7 Best Rated Adult Tricycles For 2021
Our reviews to the top rated adult tricycles with our comparison table and buyers guide will help you choose the right adult tricycles for you.
---
Adult Tricycle Reviews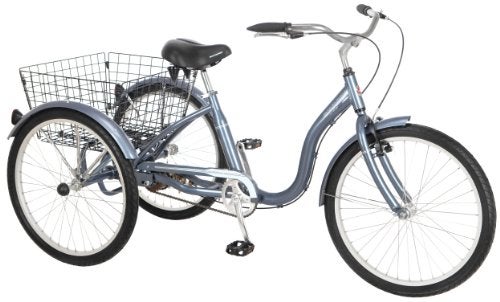 Schwinn Meridian Adult Trikeat a Glance
:
---
Style: Tricycle
Speeds: One
Wheel Size: 24″
Colors: 7
Basket: Yes
Regularly considered to be the best adult tricycle, the Schwinn Meridian Adult Trike sure does do the trick.
Schwinn is one of the most recognizable most well-respected brands in the bike world, so it makes sense that this model is one of the highest ranking.
Built with quality and detail in mind, you can count on having this adult tricycle for many years to come!
You get your choice of 7 different colors like Slate Blue, Black Cherry, Dark Silver, Green, and more.
Each shade is unique and exceptionally elegant – sure to turn some heads as you're driving by. However, the bike offers so much more than just great looks!
Made of aluminum, the frame features the perfect balance between lightness and durability. You'll be able to easily navigate around, while pedaling effortlessly.
Full-wrap fenders and sweptback handlebars provide even more comfort for all-day cruising.
You can adjust the handlebar height from 37 to 40 inches high to make sure that you're not too hunched over nor keeping your hands at an uncomfortable position.
The alloy 24-inch wheels make for a smooth ride, while the large springer cruiser seat with quick-release adjustment places comfort at the forefront of this design.
If you're going to pick up a few things at the farmer's market or heading to work/school, you'll be able to take advantage of the huge rear-folding basket which can easily hold a backpack or grocery bags.

---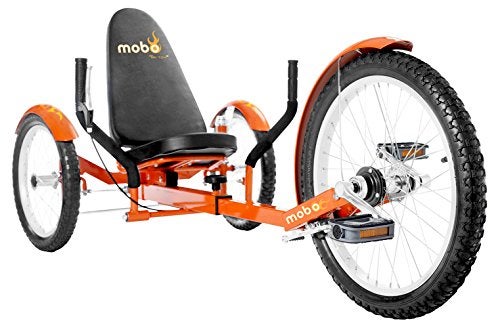 Mobo Triton Pro Adult Tricycle at a Glance
:
---
Style: Recumbent
Speeds: One
Wheel Size: 20″ Front, 16″ Rear
Colors: 4
Basket: No
Next up, we have quite a different model: the Mobo Cruiser Triton Pro Adult Tricycle for Men & Women.
Instead of the upright tricycle design, this one comes as a recumbent alternative that's great for really relaxing and taking in the day.
Made for both women and men, it's a nice selection to be used by the entire family! This model is definitely not the kind you rode around on when you were a kid.
The level of class and sophistication is taken up a notch, coming in 4 cool shades: Silver, Red, Blue, and Orange. Each one looks expensive and will have everyone begging for a turn!
While it's not ideal for carrying around bags or other equipment like the previous model, it's perfect for getting in some low impact exercise.
As you're reclined a bit in the seat, you'll experience minimal stress on your back and knees. The seat itself is also very cushy and luxurious, so you won't feel any sore spots or discomfort.
Mobo Triton Pro: The Ultimate Three Wheeled Cruiser
Made for flat, paved surfaces and gentle slopes, it is only one speed so keep in mind it's not made for taking on rough surfaces or steep inclines.
The low center of gravity offers the best balance you could have, and the dual-joystick steering makes it easy and intuitive to maneuver with basic movements.
Not only that, but it's really fun and almost feels like you're in a video game!
Adjusting to suit riders who stand from 4'2" to 6'3" and weigh up to 250 pounds, it works with a wide array of users.

---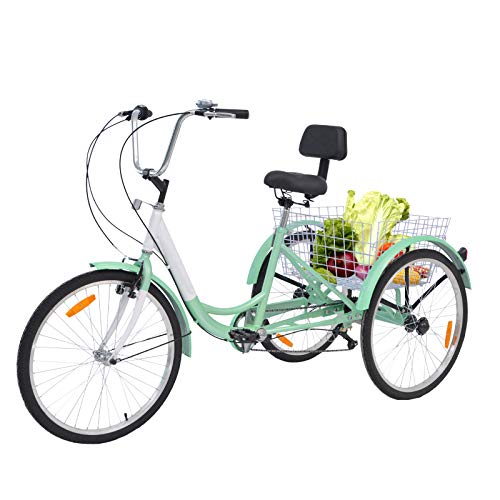 Barbella Adult Tricycle at a Glance
:
---
Style: Tricycle
Speeds: Seven
Wheel Size: 24″
Colors: 11
Basket: Yes
On the hunt for the best adult trike? Well, we have one that you're sure to love: the Barbella Adult Tricycle.
This one is perfect for trips in all kinds of terrain and cityscapes, making it a wonderful choice is you want to pedal to work, school, or while running errands.
With unique color schemes, you'll get shades like Apple Green, Light Pink, Burgundy, and other remarkable selections that are sure to capture some attention.
Stylish, full-wrap fenders offer a clean modernity combined with old school vibes.
Lightweight alloy rims always provide a smooth and even ride, along with the large, soft saddle which is great for extended periods of time.
It's definitely a tricycle that means business, with sturdy carbon steel construction and high-quality iron.
Aside from being able to handle just about anything you throw at it, it can also support up to 331 pounds, combined rider and cargo weight.
The large wheels will keep heavier loads stable and secure, too, so your bag or food doesn't fall out from the basket that comes in the rear of the bike!
The only downside for us was the fact that the included instructions were simply not very clear, so it's best if you have someone who can help you put it together!

---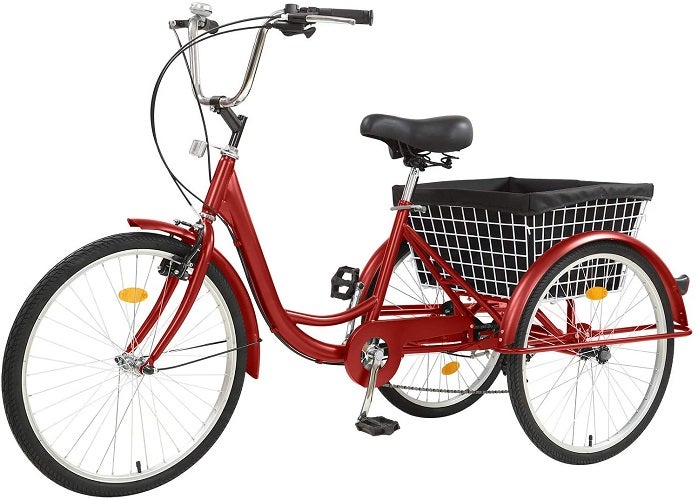 Slsy Adult Tricycle at a Glance
:
---
Style: Tricycle
Speeds: Seven
Wheel Size(s): 24″, 26″ Available
Colors: 11
Basket: Yes
Last but not least, we present you with the Slsy Adult Tricycles 7 Speed Bike. This is easily one of the most versatile adult trikes on the market today and is also great for entire families due to the flexibility it offers.
It comes with upgraded features like front disc brakes and a front suspension fork for extra comfort and stopping ability.
Coming in an array of interesting colorways (Cool Blue, Bright Orange, Light Sea Green, Pink, etc.), you're sure to find something that matches your personality, too!
Installation is probably the easiest we've come across; they even feature a handy YouTube video showing how to install all 3 tires.
Moreover, each tricycle comes with a comprehensive user manual, assembly tool, and water bottle cage so you're always well-hydrated.
With quality in every aspect of the design, you can expect the frame to be incredibly resilient.
The sturdy steel construction will hold up exceptionally well, and can even support up to 420 pounds which will accommodate the vast majority of people.
The 3-wheel design ensures you can ride confidently without having to worry about staying balanced. It also makes it easy to cruise around various types of terrain and surfaces.
Load up groceries, supplies, or anything else you need to transport with ease thanks to the nicely-sized basket in the rear.

---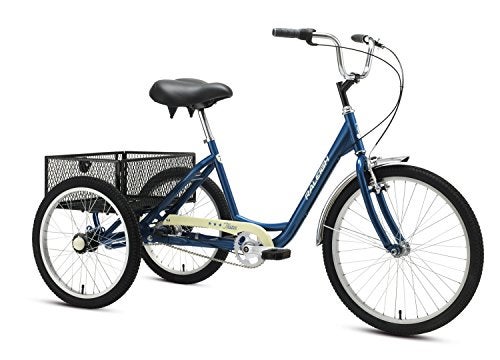 Raleigh Bikes Tristar Trike at a Glance
:
---
Style: Tricycle
Speeds: Three
Wheel Size: 24″ front, 20″ rear
Colors: 3
Basket: Yes
The Raleigh Torker Bikes Tristar 3-Speed Trike may be simple, but it's regularly to considered to be one of the best 3 wheel bike on the market today.
If you're looking for an affordable tricycle to get you from point A to point B in style, then stay right in your seat.
It's perfect for users of all ages, but really caters to older riders who may not have the best stability anymore but still enjoy pedaling around in nature.
Coming in either Blue, Brown, or Red, each of your color options are very basic but give a kind of classic feel to the design.
The frame keeps consistent with this, with a steel step-through frame which makes it easy to get on and off of the bike.
With a 24-inch wheel in the front and two 20-inch rear wheels, it's extremely stable and perfect for riding around town, down the beach, or whenever you'd just like some fresh air.
2018 Raleigh Tristar 3 Speed
The front fender and chain guard will protect you from any dirt or debris that gets flown back,
We really appreciated the low-maintenance design, with a 3-speed internal geared hub and front V-brake locks to make parking easier as well.
Finally, the rear basket is nice and spacious and perfect for picking up deliveries, holding your groceries, and much more. Expect to spend around 30 minutes to an hour on assembly!

---
Hiram Adult Tricycle at a Glance
:
---
Style: Tricycle
Speeds: Three
Wheel Size: 24″, 26″
Colors: One
Basket: Yes
In contrast to our previous product, if you don't mind spending a bit more for more features, then check out the HIRAM Adult Tricycle Trike with Rear Basket.
This one is made with some of the highest quality materials out there, so if durability is one of the most important characteristics for you, you may want to give it a shot.
While it does only come in yellow, it looks smart and ready for action!
Made from high carbon steel, the frame is very light yet incredibly sturdy and stable. You don't have to worry about it bending or breaking, even if you use it every day!
The 3-wheel design is made to keep you upright so you can pedal confidently.
Despite this, the max weight capacity isn't quite what you'd expect out of something so tough.
It only supports up to 220 pounds, which is almost 100 pounds less than some competitor models can support.
However, it still suits most users, and even comes with a convenient basket for groceries, supplies, backpacks, or whatever else you need to transport.
Extra cushioned seats and anti-skid wheels are there to make things easier on you.
The saddle comes with springs to absorb shock and keep you well-cushioned, while the wheels come made from an all-natural rubber to keep you riding safe and smoothly.
---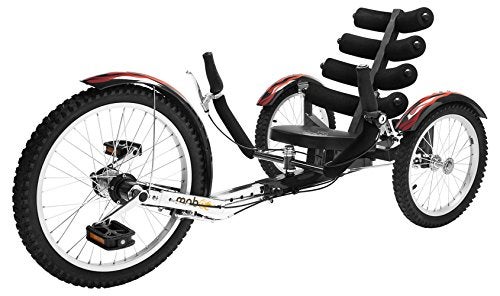 Mobo Cruiser Mobito Ultimate Cruiser at a Glance
:
---
Style: Recumbent
Speeds: One
Wheel Size: 20″ Front, 16″ Rear
Colors: Three
Basket: No
The Mobo Cruiser Mobito Ultimate Three Wheeled model is a great teens to adult model made for cruising and speeding around on flat terrain to gentle slopes.
As they don't require any balance, it's great for all ages with no real skills needed.
The low-to-the-ground design not only feels fun but makes it much safer and more secure to use. The dual-joystick steering is very easy to use, making navigation smooth and seamless.
This means it's great for transportation purposes, but also provides a low impact workout which is great on the joints and perfect for long days out of the house.
To add to the high level of comfort, you'll find the back is comprised of durable foam rollers to offer a kind of back massage while avoiding hot spots and adjusts to 6 angle adjustments.
Mobo Shift - The World's First Reversible Cruiser
As we mentioned previously, it's ideal for adult riders and will adjust to fit riders from 4'0" to 6'3" and weighing up to 250 lbs.
Made out of Hi-Ten steel, the frame is incredibly tough, with no maintenance required due to the lack of chains and excess gears!

---
Adult Tricycle Comparison Table
How to Choose the Best Adult Tricycle – Buying Guide

Now that you've had the chance to read all about some good adult tricycles, do you know which one you'll be riding in the near future?
If you're still undecided, there's no need to worry. We know that it can be difficult to choose just one when there are so many options available.
If you've never ridden an adult tricycle before, it may be challenging trying to figure out which characteristics as well.
That's why we've taken it upon ourselves to write up a user-friendly buying guide. This guide will take you through each feature to consider, depending on your body, your lifestyle, and more.
By the time you're finished reading, there will be no doubt which is the trike for you!
Operation
Before anything else, make sure you know how your tricycle operates.
They're very similar to regular bikes, though it's still important to be aware of these things. Let's take a look at the most vital features:
Brakes – This is obviously one, if not the most, important feature of any tricycle as it controls a huge part of your safety.
Similar to the brake system used by bicycles, these have rim-activated brakes which are usually less expensive than alternatives like hydraulic or disc brake systems.
Shifter – Shifters are the geared levels found on the multi-speed tricycles.
They help you move around over various types of terrain more easily and help to prevent you from injurying yourself by slowing you down.
Drivetrain – this is the section of your trike which transmits your power to the wheels. They vary quite widely in design, based on the mechanism applied.
Materials
As you probably already noticed, the models on our guide are comprised of either steel or aluminum.
These are without a doubt the most popular materials used in the best adult tricycles. However, there is still a bit of variation between them.
Steel: Steel is the most heavy-duty that you can get. It's usually the least expensive option of the two, and can take a beating.
You can expect steel to be able to support heavier weight as well, so if you need a larger weight capacity, this would be the route to go.
The downside is that it's significantly heavier than aluminum, which can make it more difficult to maneuver.
Aluminum – Aluminum is also very sturdy and long-lasting, though it's typically more expensive than steel.
The upside is that it's also very lightweight, making it easy to move around while pedaling or rolling it along.
Gears/Environment
Not only is it important to consider the weather you'll be riding in, but the environment as well.
If you live in San Francisco or Seattle, for example, there's a strong chance you'll be riding up and down steep inclines.
In that case, you'll need a higher number of gears to ensure you can navigate them with ease.
On the other hand, if you live by the beach and will simply be cruising around on flat, paved surfaces, then you can get away with a single-speed bike.
Seat/Saddle
The seat is going to play a huge role in how often you use your tricycle. If it's uncomfortable, you're simply not going to want to use it.
However, comfort also varies from person to person. Some people enjoy smaller, harder saddles while others really like the spacious, luxurious feel.
You'll usually find the more traditional bike saddles on tricycles, and the full-length seats on recumbent bikes.
Handlebars
Handlebars of tricycles and recumbent bikes are usually pretty different.
You may have looped or cured handlebars which are pretty similar to those commonly found on bicycles.
Swept-back handlebars are some of the most sought-after as they place you in an ergonomic position that won't hurt your back and neck, while letting you easily move the trike about with precision.
Price
Just as with most things in our lives, we base a lot on pricing when it comes to the best adult 3 wheelers.
No matter what your budget is, we're confident that we have at least one model that will suit yours perfectly. However, know that by going up in price a bit, you could be receiving a whole lot more.
When you go up in price, you can expect extras like 2 different sets of brakes, more attention to detail, added durability, and much more. Ultimately, it could end up paying for itself.
Warranty
The warranty kind of goes hand-in-hand with the price of the model.
It's incredibly important to pay attention to, as it could be the difference between you having a model that lasts for years upon years, or having to shell out more money for a new one.
We highly recommend never choosing a trike with a warranty for less than 6 months. However, if you can get one for 1-3 years or more, then that's even better.
You'll be able to buy with peace of mind knowing that your bike is going to work properly, and if something isn't working 100% to your satisfaction, that you'll be covered.
FAQs About Adult Tricycles
Q: Is an adult tricycle more difficult to ride than on a bicycle?
A: No. In fact, they're much easier to ride, which is why toddlers can also ride them with ease! They provide much more balance, thanks to the two rear wheels.
Q: Should an adult tricycle be more difficult to ride?
A: No, they're not only made for leisurely fun, but they're designed for those who have trouble balancing on bicycles.
Q: What is the best adult tricycle?
A: The Schwinn Meridian Adult Tricycle is going to be your best bet if you're simply looking for the top performer.
It's stylish, with a cruiser styling, springer seat, swept-back handlebars, and more.
On top of that, it comes with a lightweight-yet-durable aluminum frame and is very low-maintenance, among other appealing points.
Q: What are the advantages of tricycles over bicycles?
A: They're simply easier to ride. As you have the two wheels in the rear, you don't have to worry about balance at all.
This is perfect if you're just regaining your balance or don't have it at all. You can stay mobile and get around town without struggle at all.
Q: Whats the difference between a tricycle and a recumbent bike?
A: They both have the same wheel design, but a recumbent bike is oftentimes much lower to the ground.
On top of that, it features a seat back and comes slightly reclined (some are adjustable) which makes it much easier on the neck and back and is extremely low maintenance.
Tips For Choosing Adult Tricycles
#1: Make sure you can properly assemble your trike.
If you're not particularly savvy in assembly, then there's no need to worry.
There are many models which come with thorough manuals or even YouTube videos online that will lead you through the process.
If you don't feel comfortable with that, then just make sure you have someone who can help you out!
#2: Consider the kind of weather conditions you'll be riding your trike in.
Did you know that many tricycles can be used in rainy and even lightly snowy conditions? It's true! However, not all of them are designed for slippery conditions, so make sure yours is very stable and can handle it.
#3: Do you value back support or storage more?
This will help to determine if you opt for a traditional tricycle or a recumbent bike. The latter is going to come with a full backrest so you really can relax while pedaling away.
The former is still quite comfortable but offers a more "bicycle" feel, with a seat that most of us are somewhat used to already.
In addition, they'll come with large baskets in the back of the tricycle which is perfect if you find yourself in need of some extra help.
Summary
Now that we've come to the end of our guide and you've read all about the top adult tricycles on Amazon, have you decided which one you'll be cruising around in this year?
If you haven't made up your mind, there's no need to worry. No matter which one you select, you can rest easy knowing you'll be receiving one of the top models in the world, currently.
However, what is most important is that you select one that suits your needs and preferences just right.
We hope that our guide has helped you do just that. Thanks for tuning in, and we'll see you again soon. Happy pedaling!
How We Researched
To come up with the top road adult tricycles, we researched a variety of sources for reviews such as CompetitiveCyclist, JensenUSA, REI, EVO along with our own personal experience.
We also consulted online magazines for product research and reviews to get as much unbiased information as we could. To help weed out fake reviews we used Fakespot.com to make sure we only looked at genuine reviews.
With so much quality gear available, we had to narrow it down based on what we felt were the best options for the price. The staff authors have a wide and varied background in road cycling, racing and bike packing.
The authors have decades of experience in cycling and eager to share their knowledge with readers.
To help narrow down the selection we used personal experiences along with recommendations from fellow cyclists, bloggers and bike shops.
After extensive research, we came up with our list to help you choose the right one for you.
Sources
Notice:
OutsidePursuits.com is a participant in the Amazon Services LLC Associates Program, an affiliate advertising program. OutsidePursuits.com earns fees from products sold through qualifying purchases by linking to Amazon.com. Amazon offers a commission on products sold through their affiliate links.