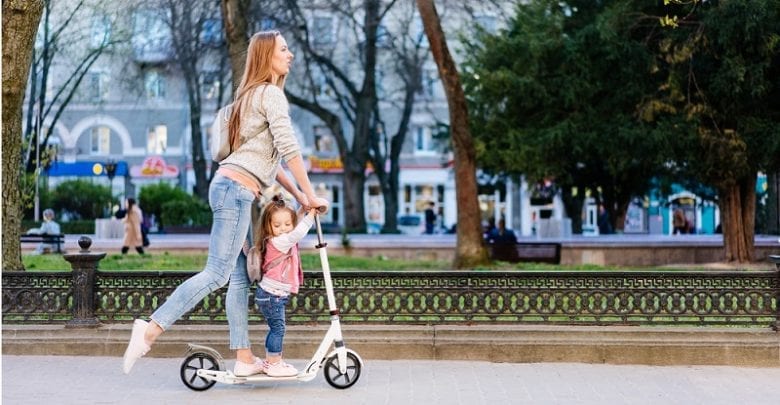 Kick scooters as we know them today were first created at the turn of the century and became really popular with kids of all ages. Now, they are making a comeback and they aren't just for kids anymore.
But before you go out and buy any old kick scooter you can get your hands on, you should know that not all kick scooters are created equally.
Whether you want to ride along with your kids or commuting, we're going to look at the best adult scooters on the market!
For more of my top gear recommendations, have a look through these popular Outside Pursuits guide links: Inline Skates, Quad Roller Skates, Kids Kick Scooters, Electric Skateboards.

Quick Answer: The 7 Best Adult Kick Scooters For 2018
To help you decide we have created this buying guide along reviews of what we believe to be the 7 top rated adult scooters. We also have a comparison table to help you choose the right kick scooter.
Best Scooters For Adults
Razor A5 Lux Scooter
Hudora Kick Scooter
Xootr Adult Kick Scooter
Handlebars:
31.1" to 40.9"
32.7" to 41.9"
25" to 38"
Weight Limit:
220 lbs
264 lbs
800 lbs
Deck:
28.7" x 4.4"
17.5" x 5.5"
25" x 7.4"
Wheels:
200 mm
Front: 230mm
Rear: 205mm
180 mm
Adult Scooter Reviews
After scouring the internet, doing plenty of research, and putting them to the test these are the reviews of the 7 scooters that we believe as the best overall.
With a large variety of colors, styles, and features, you are sure to find something that you'll like.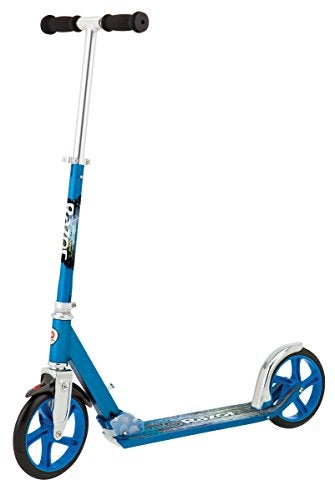 Razor A5 Lux Scooter at a Glance
:
---
Handlebar Height: 34.3" to 40.2"
Deck Size: 13.4" x 5.5"
Weight: 9.4 lbs
Extras: Kick stand
Rating: 4.7 / 5.0
This Razor A5 folding scooter for adults is our Editors Choice for the best adult scooter. It has a low aluminum deck designed for comfort and ease when you are ready to roll.
It has 200 mm wheels and is capable of supporting up to 220 pounds. It has a kickstand and when you are ready to pick it up and go, it has a quick and easy single-action folding mechanism. It only weighs 9.4 pounds because it is made of lightweight aluminum.
It has adjustable and squishy handlebars to reduce vibration for a more comfortable riding experience. The back wheel has a fender cover which doubles as a brake in the traditional scooter style.
There are 3 colors suitable for men or women and is an Amazon's Choice for kick scooter!
---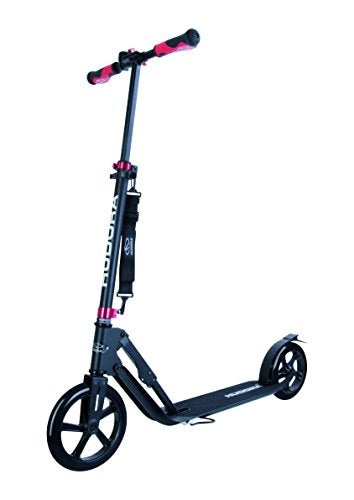 Hudora Kick Scooter at a Glance
:
---
Handlebar Height: 32.7" to 41.9"
Deck Size: 17.5" x 5.5"
Weight: 11 lbs
Extras: Carry strap & kick stand
Rating: 4.5 / 5.0
This kick scooter is suitable for plain, bumpy, and rough roads with a 230 mm wheel on the front and 205 mm wheel on the back with a brake on the back tire.
The German Patented 3-Seconds Easy-Folding Mechanism is a single-action mechanism that makes it super easy to fold down and the carrying strap makes it easy to take with you on the go.
It has a maximum weight capacity of 264 pounds and handlebars adjust up to about 3 1/2 ft making it suitable for people who are taller than 6 feet.
The fact that the scooter comes fully assembled and ready to use right out of the box it a major plus. It has an aluminum deck with reinforced wings making it stronger with more support.
The sleek black or white color options make the sturdy design look good too. It even comes with a carry strap a bell so everyone knows when your coming.
---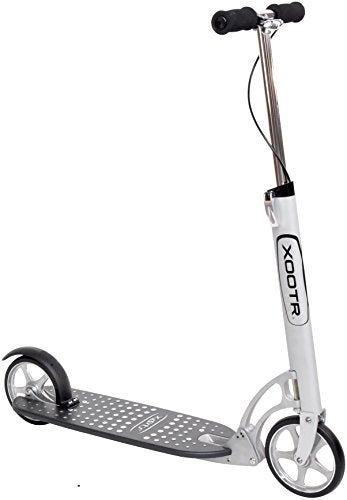 Xootr Adult Kick Scooter at a Glance
:
---
Handlebar Height: 25" to 38"
Deck Size: 25" x 7.4"
Weight: 10.9 lbs
Extras: Hand brake
Rating: 4.4 / 5.0
This Xootr kick scooter might not look like much but if you find yourself to be on the slightly larger than average size and can't find a scooter to support more than 220 pounds, this is the scooter for you.
With a maximum weight capacity of 800 pounds, it can support almost any sized rider. It is the solid magnesium deck that makes it super strong and able to support such weights.
The 180 mm wheels, you can glide smoothly and quickly over the pavement. I really like the double brake option with a bike-like handlebar brake and the typical scooter brake on the back wheel makes it one of the best kick scooters for commuting.
It comes fully assembled is made in the USA. It doesn't include a kickstand or a carrying strap are the downsides to this scooter.
---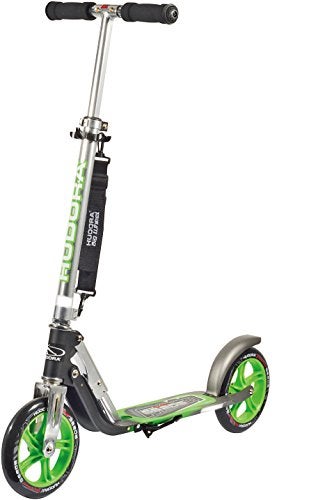 Hudora 205 Adult Folding Kick Scooter at a Glance
:
---
Handlebar Height: 31.1" to 40.9"
Deck Size: 28.7" x 4.4"
Weight: 8.8 lbs
Extras: Carry strap & kick stand
Rating: 4.4 / 5.0
Hudora is a very well-known brand across Europe. This Hudora 205 scooter comes with two 205 mm wheels and handlebars that feel almost like soft sponges to help reduce the vibrations felt through the handlebars.
It does not include any form of suspension but the handlebars do help to cut down on the vibrations. The single-action folding mechanism makes it easy to close in one step and comes with a carry strap for commuters.
It also has a carrying strap for easy transportation when not in use or you can stand it up on the kickstand if you prefer.
It has a weight capacity of 220 pounds and it only weighs 8.8 pounds. Of all of the Hudora scooters sold on Amazon, this one was voted Amazon's Choice.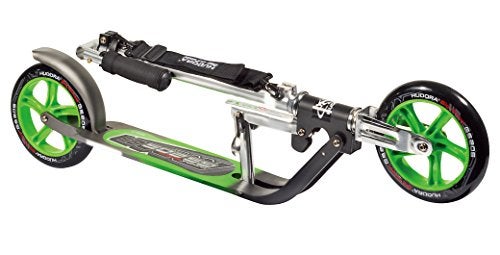 It is suitable for people between 3' and roughly 6'5" though that depends on how whether the rider feels comfortable with the handlebar heights. It also comes with a one-year warranty and is our pick for the best commuter scooter.
---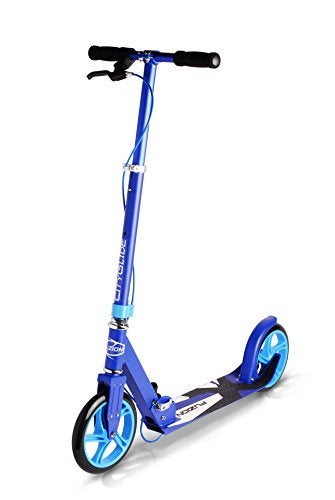 Fuzion Cityglide B200 Adult Kick Scooter at a Glance
:
---
Handlebar Height: 29" to 36"
Deck Size: 13" x 4.5"
Weight: 11 lbs
Extras: Hand brake
Rating: 4.0 / 5.0
The CityGlide comes in a flashy midnight blue for those who like to ride in style with a flash of color. It has both types of brakes, bike-like and the traditional scooter brake on the rear wheel.
The folding system is a simple three-action mechanism. It will support up to the standard 220 pounds. It doesn't come with a carrying strap but you can buy one and attach it easily.
Some assembly is required but its really simple and doesn't require any extra tools.
---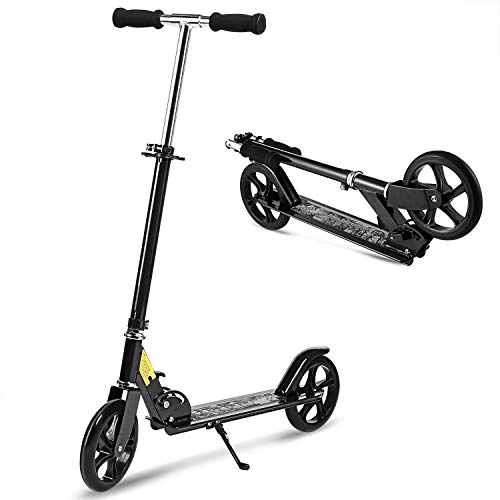 Hikole Scooter for Adults & Teens at a Glance
:
---
Handlebar Height: 35.1" to 39"
Deck Size: 18" x 5.5"
Weight: 13.5 lbs
Extras: Shoulder strap, kickstand, fenders
Rating: 4.5 / 5.0
This kick scooter comes with both front and rear suspension. Because of its small size, it is suitable for smaller adults and even some children.
It does weigh 13.5 pounds, making it the heaviest scooter on my list but that is because of the added weight from the suspension. It supports up to a 220-pound rider.
The brake is located on the rear wheel and there is a front fender on the front wheel. I like this feature because it will prevent you getting sprayed if you go through a puddle or in the rain.
Even at a bargain price, the Hikole comes with a carrying strap, a kickstand. With 200mm wheels and high end ABEC-7 bearings, so it glides smoothly and easily.
The single-action folding mechanism makes it really easy to switch between open and closed so it's perfect for commuting around town.
It is made from aluminum alloy and is painted with rust-resistant paint. As long as the paint doesn't become damaged, the body of the scooter shouldn't rust. Coming in under $100, it's the best kick scooter for the money!
---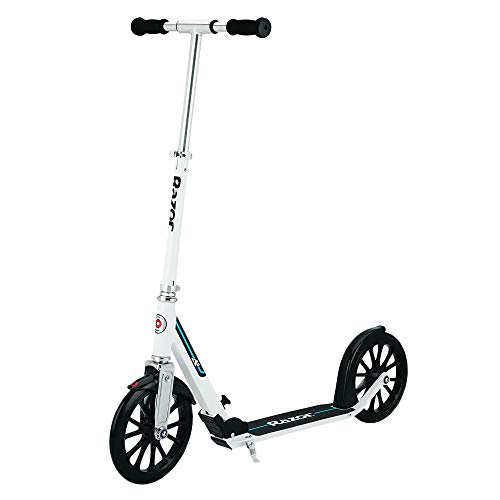 Razor A6 Scooter at a Glance
:
---
Handlebar Height: 30.4" to 42"
Deck Size: 13.5" x 4.5"
Weight: 9 lbs
Extras: Kick stand

Rating: 4.4 / 5.0
The last scooter on my list but certainly not least, is the Razor A6 Lux Scooter. As you can see from the Amazon rating its a well loved scooter!
It has largest wheels of any of the scooters on our list at 254mm (10 inch) for smooth, fast cruising. The handlebars have a wide height adjustment (up 42″) to fit just about any rider and supports up to 240 pounds. Being a Razor, it has high-quality wheels and wheel bearings to help to reduce vibrations while you ride.
It is available in three colors: blue, pink, and red. The three-action folding mechanism is easy to use. This big wheel scooter comes fully assembled with a kickstand, ready to ride right out of the box.
The one knock is it does not include a carrying strap. The rear fender brake provides quick stopping power, overall I would say this is the best razor scooter for adults!
---
Adult Kick Scooter Comparison Table
How to Choose the Best Scooter For Adults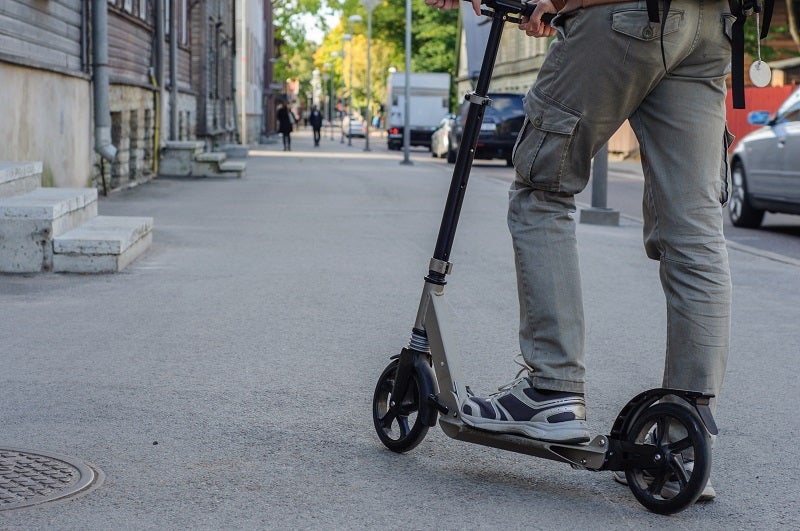 Before you go shopping, you need to first decide what is important to you in a scooter. You also need to know what options you have to choose from.
Varying wheel sizes, height options, and colors are just a few choices you have. There are many more. Consider these five things before you make your purchase:

Folding Mechanism
There are typically two types of folding mechanism a three-action and a single-action. The three-action folding mechanism is the most common which involved three steps: releasing the clamp, moving the pin, and securing the clamp in place.
The single-action mechanism is a newer concept which basically skips the first and last step and lets you just move the pin where you want to without dealing with a clamp.
Some would argue that this design is not as reliable while others say that it is better because of the convenience. There is no reason to not choose a scooter based on the folding design as they both work it only takes a few extra seconds to fold the scooter with the three action.

Suspension (or lack of)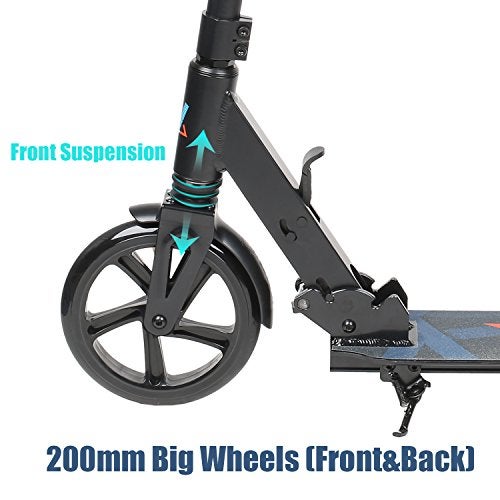 Suspension is a spring-like mechanism attached to the front and/or back of the scooter. It is usually located on the front stem. Suspension serves the purpose of absorbing shock i.e. reducing the amount of vibrations that you feel in your feet and your hands while you are riding.
The advantage of course of a suspension is that it does make the ride more comfortable. The downside is that it adds a significant amount of weight because the overall scooter design is usually larger.
In the end, whether you should buy with suspension depends on how rough the roads are where you are riding.

Brakes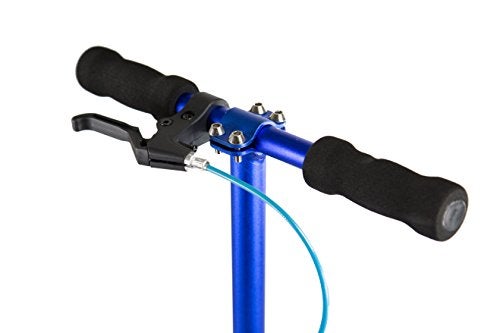 Kick scooters are traditionally designed with a brake on the back wheel that the rider can push down with their foot. Even today, this is the most common design.
Though it is not the only design on the market today. Some scooters now have a brake lever on the handlebars, just like if you were riding a bike. It is usually connected to the back wheel for safe stopping.
Some people prefer the traditional style. While other people like the bike-style because they don't have to look behind them to see where the brake is.
This is a comfort and convenience feature. Making sure you can stop safely is the most important thing and both types of brakes will do the trick.

Deck Size
The deck of the scooter is the part that you stand on. There are two main sizes, large and small. Though the large-sized decks may vary by an inch or so, compared to the smaller decks, you have a good bit more space.
If you are new to riding a scooter, have bigger feet, or you prefer comfort to convenience, the large deck is probably the best choice for you. If you want a scooter that is lightweight more than anything else, choose the smaller deck.

Wheel Size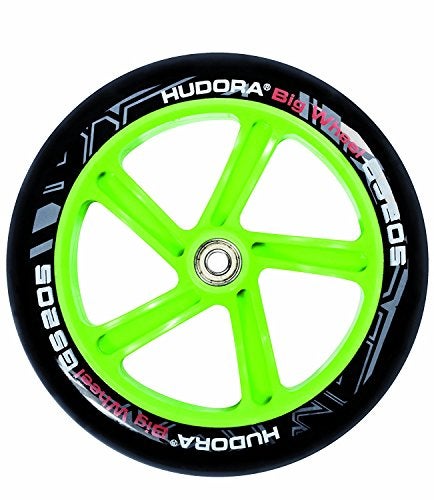 When you look at different scooters, you will probably notice the different wheel sizes. Some have two wheels that are the same size while others have a large one in the front and a small one in the back.
There are actually 7 different wheel sizes, three large and four small. They range from 100 to 230 mm.
Larger wheels offer more stability and absorb more shock but they can add a significant amount of weight to the scooter. Smaller wheels much lighter in weight making the scooter easier to carry and they make it easier speed up more rapidly.
But because they don't absorb as much shock, you are more likely to feel the vibrations of the road in your feet and in the handlebars.

Other Features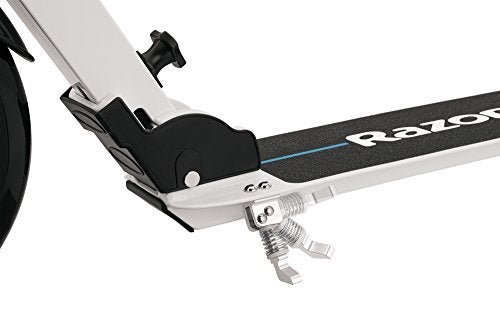 Kickstands and carry straps are other features that are not included in every scooter design. If you have a scooter with a kickstand, you don't have to lay it on the ground or fold it up when you aren't using it.
You can lower the kickstand and leave the scooter standing and out of the way, like a bike.
Though carrying straps aren't required and you can easily hold the scooter by the steering column for transporting it when it is not in use, a strap makes it easier.
With a strap, you can through it over your shoulder for easy hands-free carrying. It is not required but it is a nice additional feature to have.

FAQ About Adult Scooters
These are the most commonly asked questions about adult scooters before and after people have made their purchase:
Q: Can my kids use the scooter?
A: That depends on how tall your kids are. The scooters I reviewed range from 25" to 35.1" at the shortest height. If you kid is shorter than 3 ft, it will probably be difficult for them to use.
Another thing to consider is how heavy it is. Most of the ones I mentioned are lightweight, all being under 15 pounds. If you feel that they can use it safely and they are tall enough, then sure, they could use it.
Q: Do I need tools to put it together?
A: Most scooters come already pre-assembled though this is not always the case. It is always best to double check with the seller but as a general rule, it should be no assembly required.
Q: How much weight does the scooter support?
A: Again, this depends on the specific scooter. Though most are capable of supporting around 220 pounds. There are a few that claim to be able to support 500 pounds or more but those are uncommon. Since aluminum is a thinner and lighter weight metal, it probably can't support as much weight. That's why weight limits are less than 250 pounds.
Q: Can I ride it in the rain or on wet grounds?
A: Though the scooter itself might be water-resistant because it is made of aluminum and rust shouldn't be an issue, it is not advisable to ride in the rain or on wet roads. This is mostly due to the narrow rollerblade-like wheels that have limited to no traction on wet surfaces. If you do choose to ride it on a wet surface, be cautious and ride slower than normal.
Q: Can I do stunts on the scooter?
A: There are certain scooters that are made for doing stunts. But not all scooters are capable of absorbing the shock caused by the impact of stunts and it could cause the metal frame to buckle and bend. Make sure you are buying a scooter meant for doing stunts or you might end up breaking it on your first jump!
Video: How to Scooter, what you need to know.

Time to Roll!
That's it, everything you absolutely should know before buying an adult scooter and then some. Now that you have a better understanding of the wonderful world of adult scooters, I dub you officially prepared to purchase your own.
Once you have found the perfect one for you, you will be ready to kick and roll your way into the sunset in style. Don't forget your safety gear!
---
I hope this guide was helpful in picking the best adult kick scooter to fit your needs. If you want to comment or recommend a scooter I didn't include, please use my contact form to get in touch.
Have fun and be safe out there!
Notice: Outside Pursuits is a participant in the Amazon Services LLC Associates Program, an affiliate advertising program to provide a means for sites to earn advertising fees sold through by advertising and linking to Amazon.com. Amazon offers a small commission on products sold through their affiliate links. Each of your purchases via our Amazon affiliate links supports our efforts to bring you the best possible product reviews at no additional cost to you. We appreciate your support here at OutsidePursuits.com